Here are some of the best places to eat in Tokyo and Kyoto on a budget. When you travel to Japan you must try the amazing food. We set out to explore the high energy city of Tokyo and the peaceful city of Kyoto and find the best budget-friendly places to enjoy all the deliciousness that Japanese cuisine has to offer. Below are our top foodie finds that offer exceptional value for the dollar. This is the best travel guide for budget eating in Japan.
Best Places to Eat in Tokyo and Kyoto on a Budget | Japan Travel
Hoshino Coffee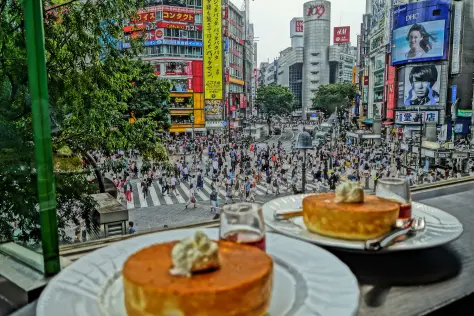 Sunday mornings at our condo consisted of a coffee clutch and Harry making his famous pancakes, so it's no wonder that Hoshino Coffee caught my eye! Our first night in Tokyo, I saw an advertisement in a local magazine and exclaimed, "We must find these pancakes!"
Situated directly above Shibuya Crossing, it was a great place to enjoy these thick, soufflé style pancakes. It was so good, we went twice! Price for 1 pancake: USD 4. Price for 2 pancakes: USD 6.
Budget Tip | Eating in Japan
Wait for a window table…it's worth it. Just try to be patient when you see locals playing on their phones rather than looking out the window at the famous Shibuya Crossing (taking up the very few seats with a view).
Also, don't make the same stupid mistake that we did on our first visit. Purchase one plate, with two pancakes. It's significantly cheaper than buying two individually pancake plates. DUH!
Green Tea Ice Cream Vendor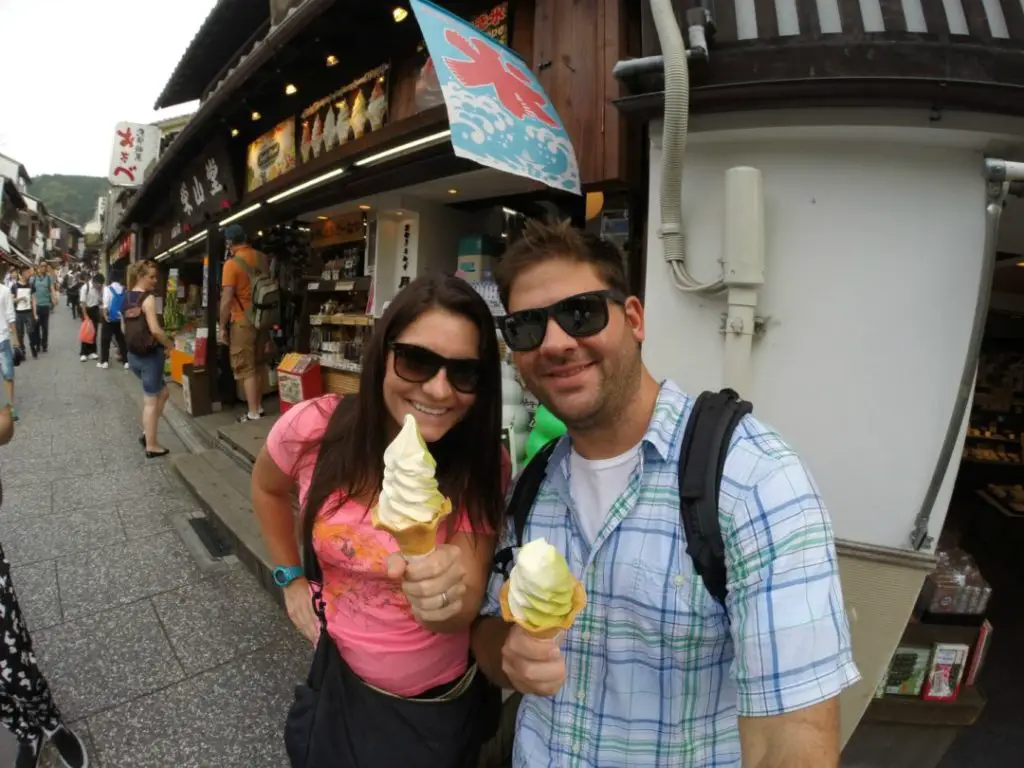 Very much a Japanese summer treat. There seems to be a stand selling it everywhere, especially in Kyoto. Our curiosity finally got the best of us and we purchased two cones. Very light in flavor, we were glad we tried it, but I'd opt for the sweetness of chocolate or the creaminess of vanilla instead. Price: USD 2-3 per cone.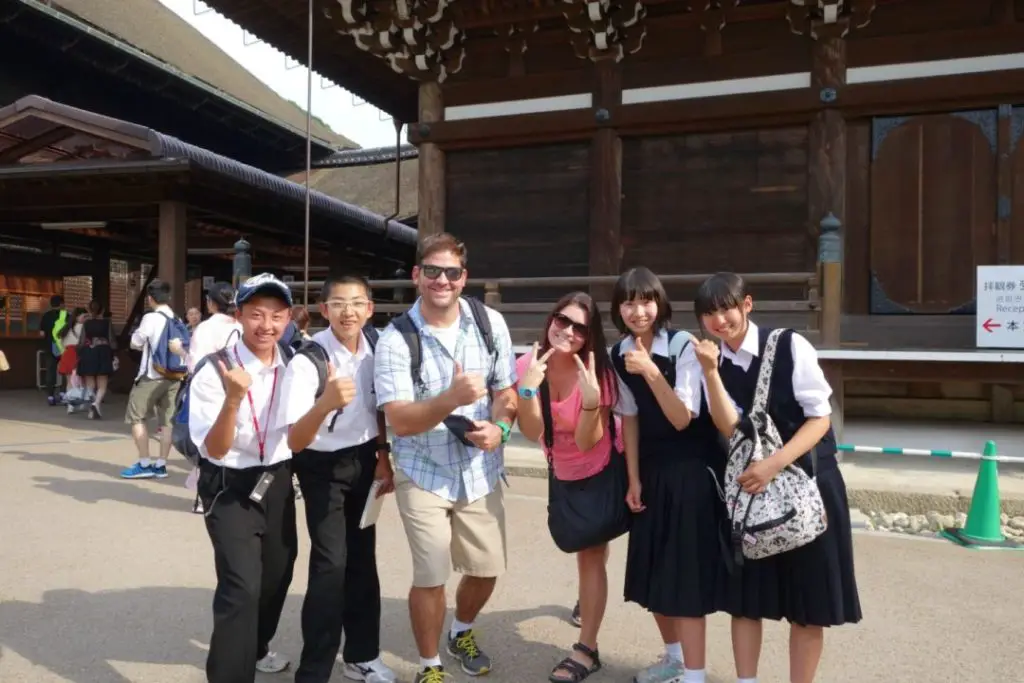 Budget Tip | Eating in Japan
-Follow the kids in school uniforms. (Innocent minds won't find that comment creepy!) They know where to get the best ice cream at the best price.
Sometaro Okonomiyaki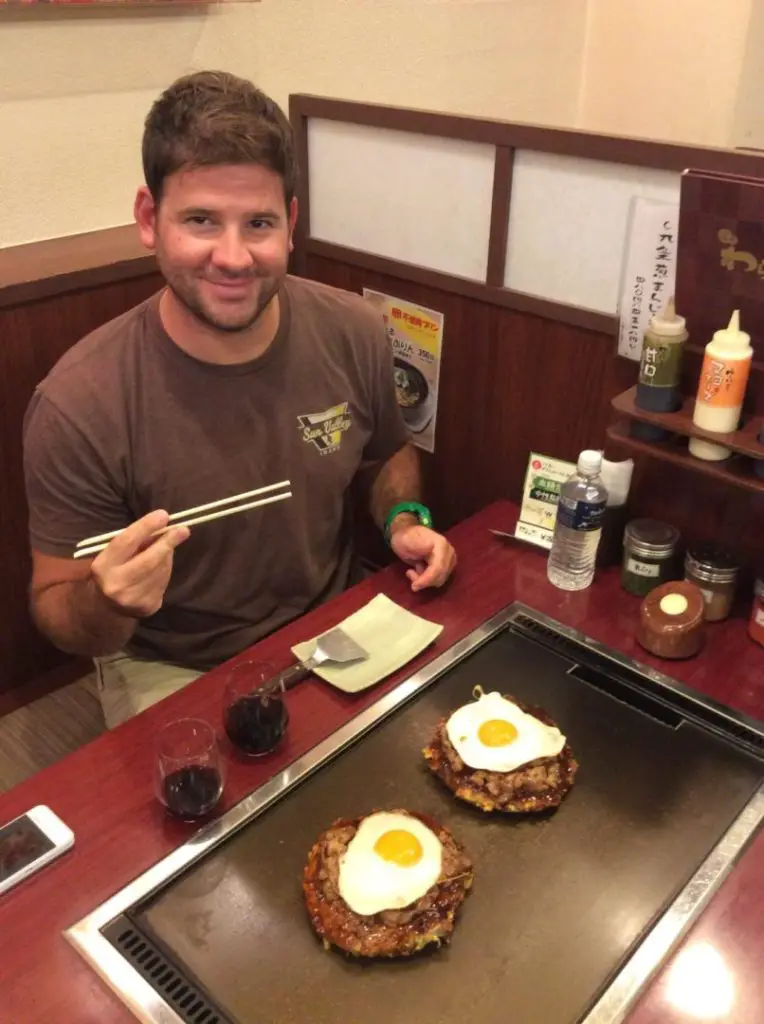 These cabbage pancakes are a must-try for a filling and cheap meal while in Japan. Prepared with, oh who cares, it's fried! They're cooked in a pancake-type shape and then placed on a large, hot skillet before you with two chopsticks.
It's similar to the Chinese Egg Foo Young. We enjoyed it on a few occasions throughout Japan, but only Sometaro Okonomiyaki in Asakusa stood out to us for its quality. Price: USD 7-8 per "pancake."
Budget Tip | Eating in Japan
Unless you like to sweat as you eat, wear light clothing as the tabletop grills get hot. Still wondering what the ingredients are? <Check them out here>
Sushi Genki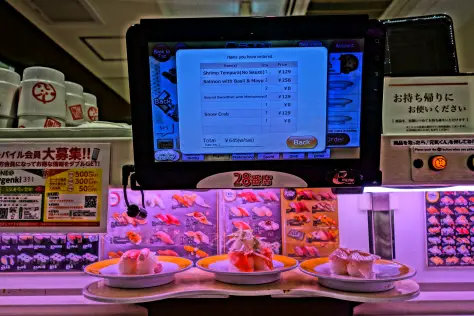 Harry and I were kinda late to the sushi craze. As Chicago natives, we always felt like we weren't getting the freshest fish at our local sushi restaurants. However, knowing the Japanese take such pride in their freshly prepared fish, we had to try it! We tried 3 different sushi restaurants and this one was our favorite.
Sushi Genki in Tokyo was one of our most memorable dining experiences while in Japan. Fast, fresh, and technology-based, you order your dishes by touch screen and it is brought within minutes by conveyor belt. We took our time here, trying numerous plates of deliciousness. My favorite was the tuna with basil and mayonnaise topping. Price: USD 1-2 per plate.
Budget Tip | Eating in Japan
It gets crazy busy here. Head over for an early dinner at around 5 pm to beat the sushi crazed locals who know where to get good, cheap sushi!
Gindaco Takoyaki Vendor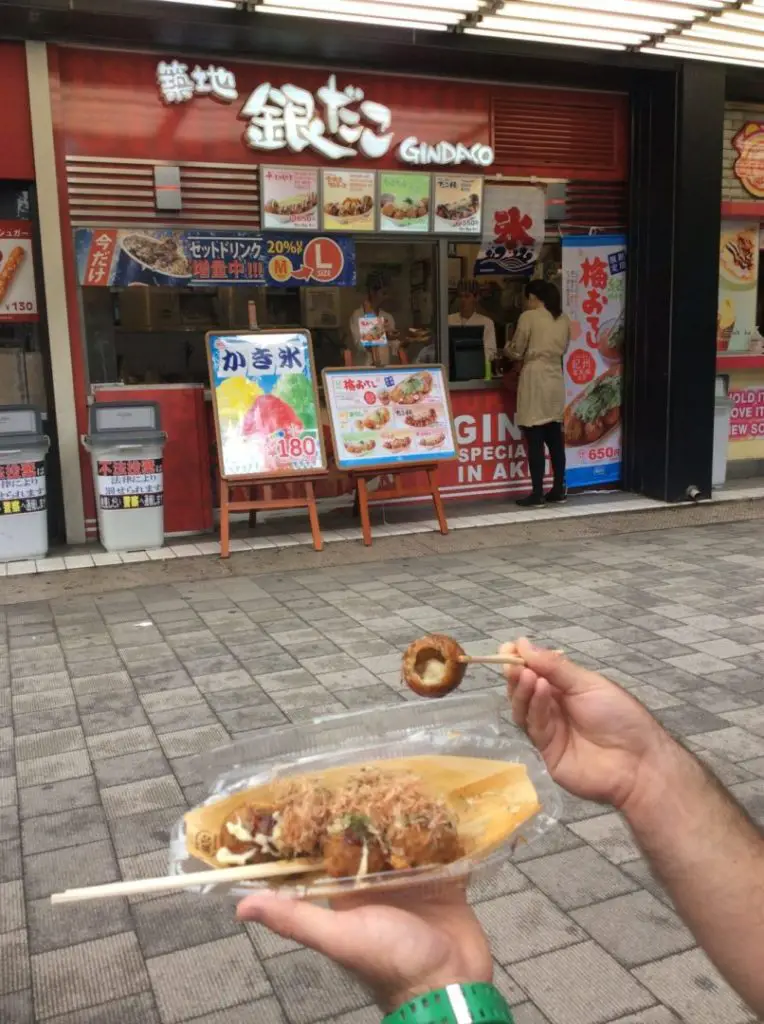 A Japanese version of street food, these balls of dough are a great, cheap snack to enjoy while walking around the city. We enjoyed ours in Akihabara while watching the Japanese maid girls try to lure Harry into their nonsexual world of pleasure. Hot and filling, they cost about USD 3-4 for a tray of 6-7.
Gyoza Dumplings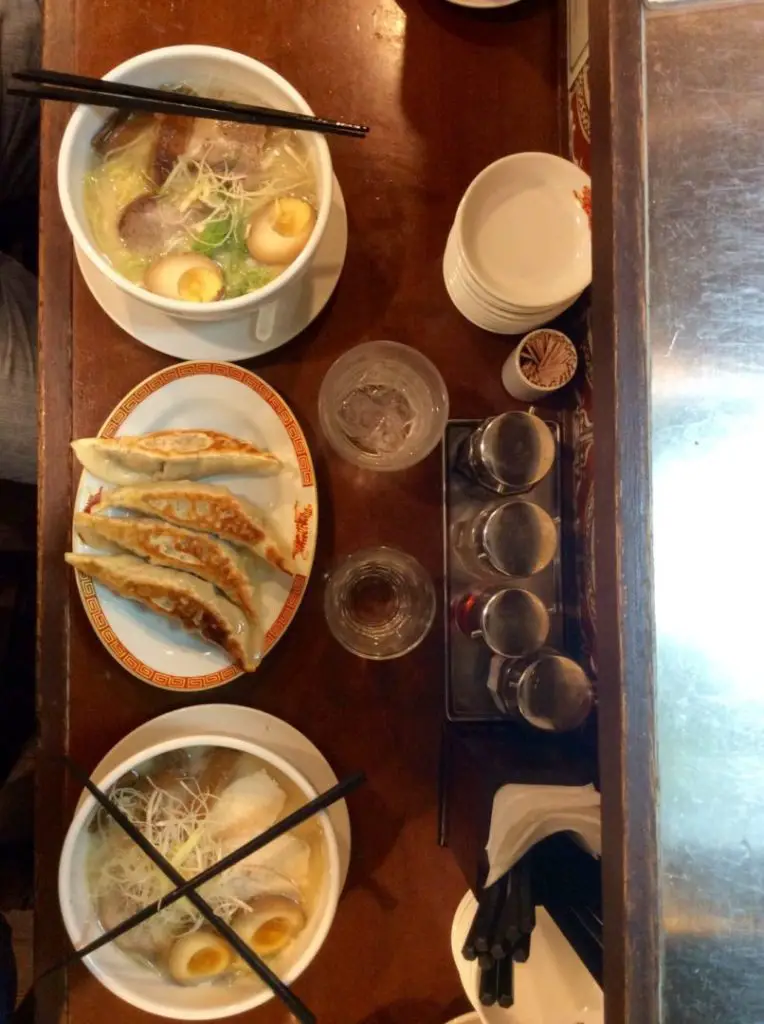 Two places sold a nice Gyoza dumpling; Hidakaya and Gyoza Tiger Hall. Both are chain restaurants that can be found throughout Tokyo.
Hidakaya was our favorite because it was full of locals, especially at the lunchtime rush. With a Denny's Restaurant-vibe, we enjoyed a huge plate of eight dumplings for only a few dollars.
Also, the staff did not speak English, so we knew we were getting off the beaten path. And of course, we always accompanied our dumplings with a nice hot bowl of Ramen noodles.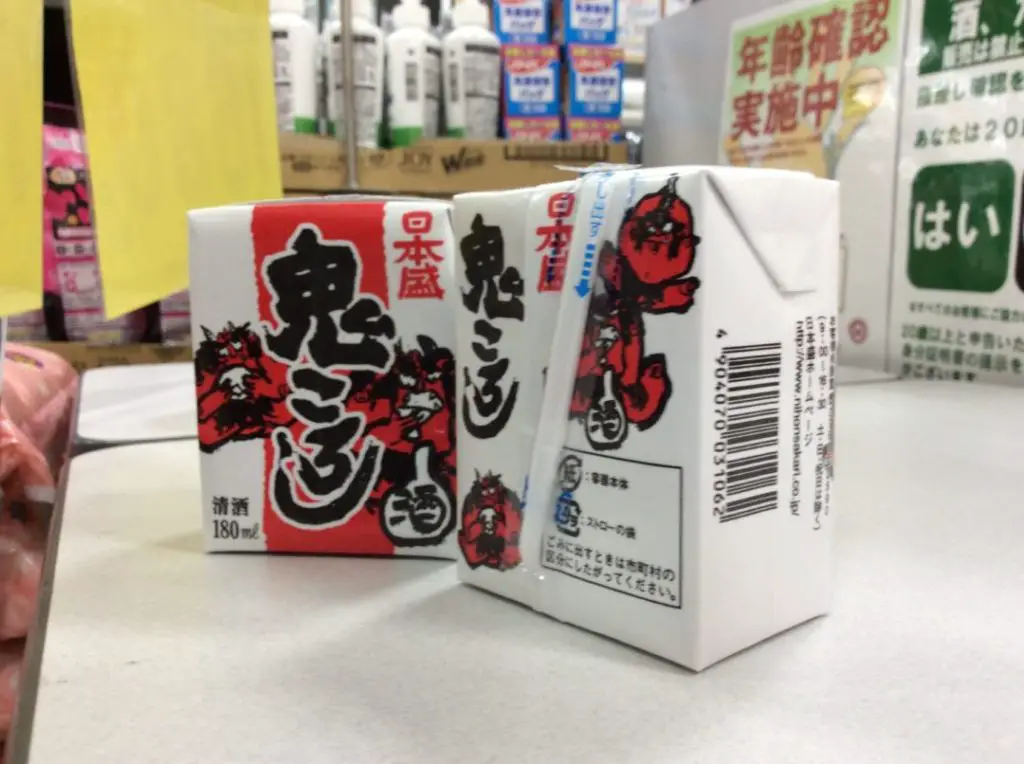 Budget Tip | Eating in Japan
Wash it all down with a nice room temperature sake. After all, you're saving a bunch of money by not going out to a fancy restaurant.
Musoshin Gion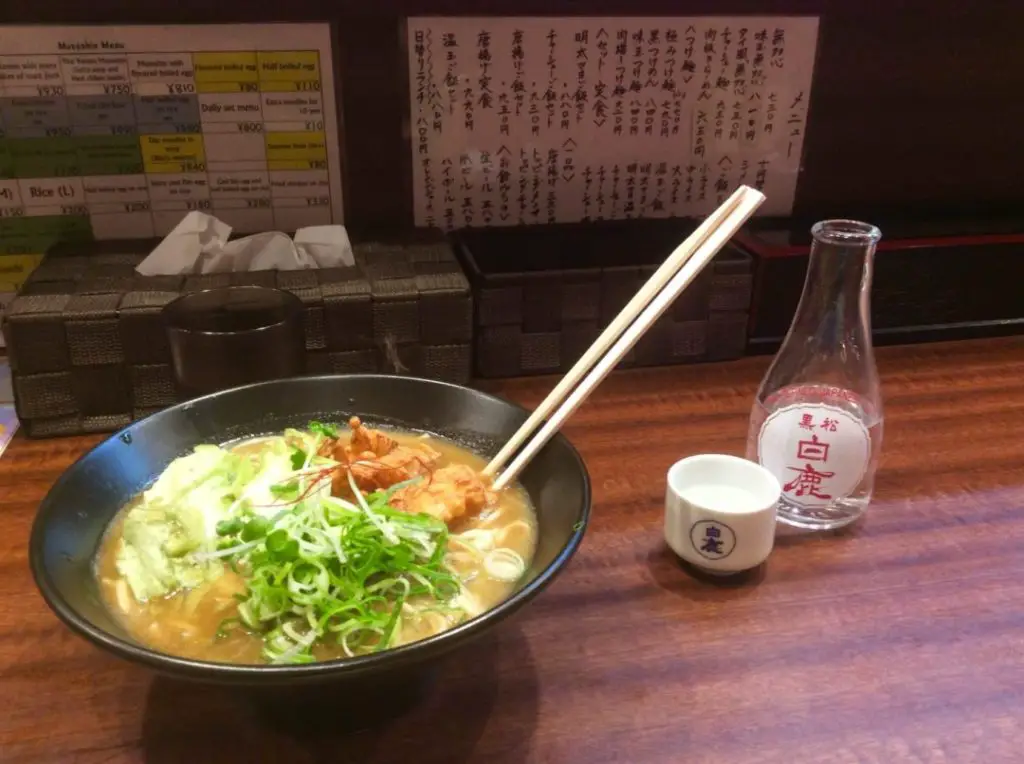 Being a soup lover, Japan was my happy place. We had Ramen in various forms all over the country – from local dives, nicer sit down restaurants, to fast food chains.
It's the go-to meal for locals and everyone will vouch for their favorite. For us, only one restaurant stood out to us as going above the average bowl of noodles. This was Musoshin Gion in Kyoto.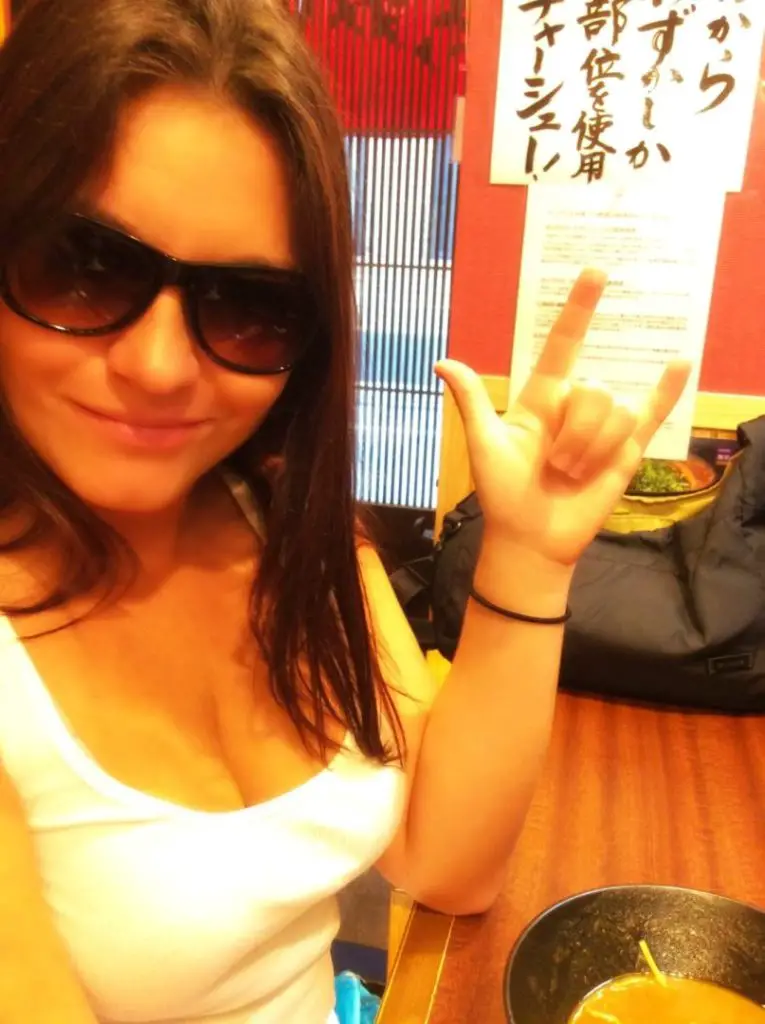 They prepare their broth and noodles the night before. This gives their Ramen a heartier, tastier broth with a slightly spicier finish. We went twice, each time the young chefs had Showtek playing as they cooked and their customers ate.
Funny to see the older Japanese diners, listening to high energy, Euro-dance music as they slurped their noodles. You know it must be good if they're willing to put up with the music! If in the area, it was our favorite and a great stop for the sake and a big bowl of Ramen!
We recommend ordering the Ramen with fried chicken as pictured above.
Menbakaichidai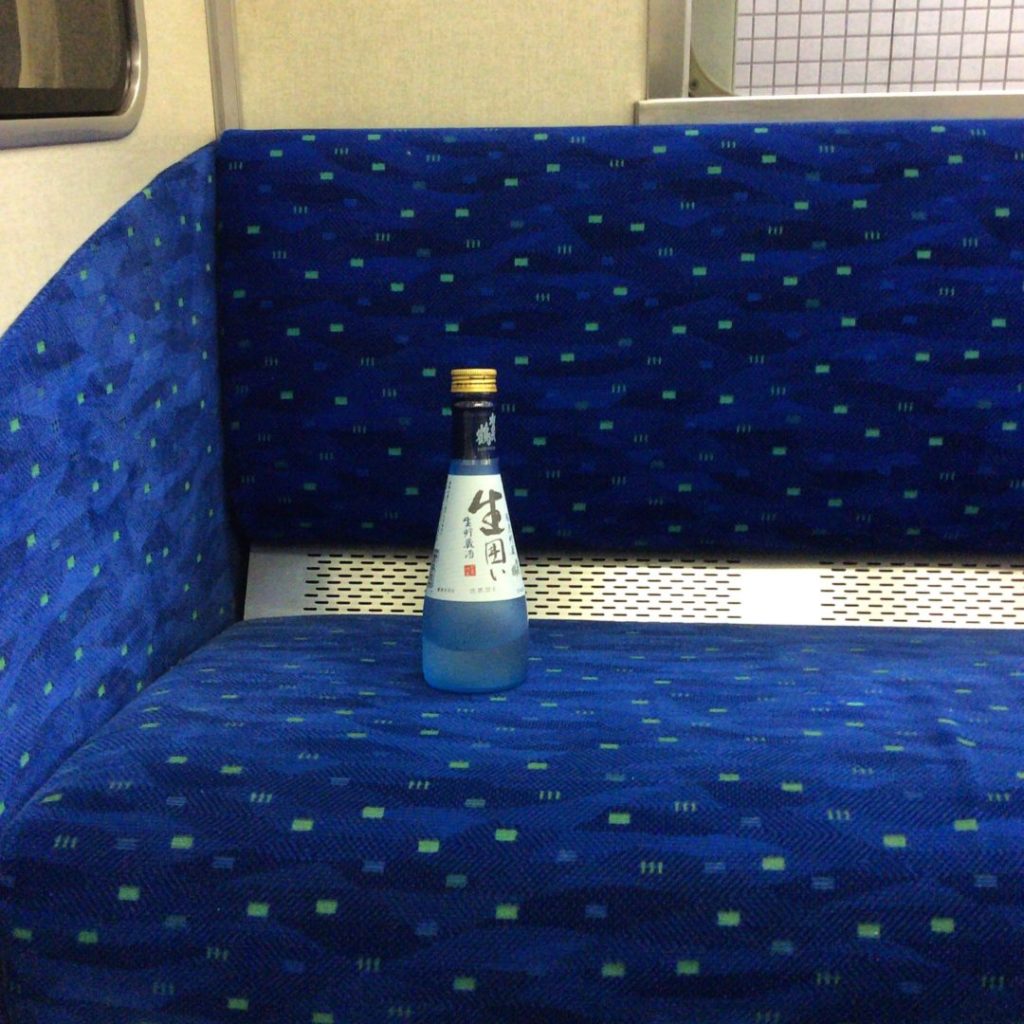 Menbakaichidai | Fire Ramen
While researching cheap eats on Trip Advisor, I came across Menbakaichidai. It was ranked extremely high and we wanted to see what all the fuss was about. It's not often that a cheap eat ranks so high! Travelers were raving about the experience calling it, "Hilarious!" and "Simply Brilliant!"
Watch the video below to catch a glimpse! Price about USD 10 per bowl.
We quickly decided it was worth the subway trip. (Also, alcohol is allowed on the subway so we bought two sakes to make the trip a little more enjoyable!) The owner appears stern and barks out orders at guests, but it's all part of the act!
We had a great quick meal here. If in the area, bring your camera and your appetite. It's a unique opportunity to enjoy a piping hot bowl of soup that was literally on fire!