One of the fastest and easiest ways to overcome the tapas learning curve is by going on one of the many available tapas tours in Barcelona. With names like calamares fritos, boquerones en vinagre, and jamón Ibérico de bellota searching for the perfect place to taste these small portions of food can feel overwhelming and intimidating, even for experienced travelers. Nevertheless, for an authentic tapas experience, you must visit Spain.
We recently toured Barcelona, and one key takeaway we walked away with is that there are an obscene number of low-quality restaurants looking to take advantage of tourists—the amount of processed Sysco-like eateries is shocking. Whether it's paella in a bag at seafood restaurants, premade pizza crusts at pizzerias, or mass-produced pastries at bakeries we were underwhelmed by a proportion of Barcelona's food scene.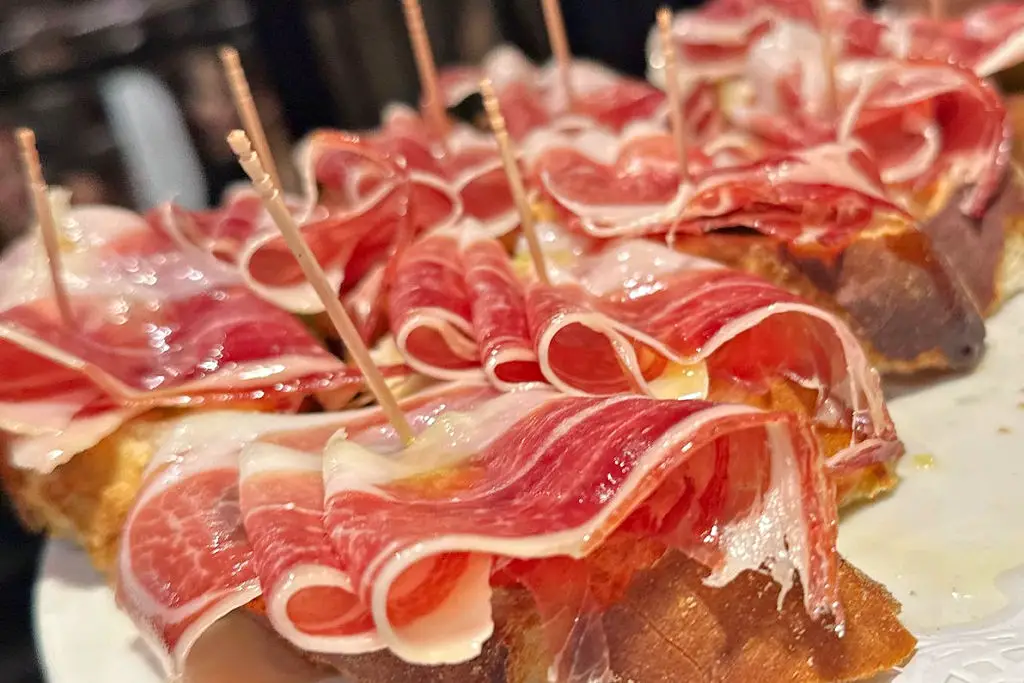 After all, we came to Europe to dine on homemade traditional dishes made from scratch—not ultra-processed foods like back in the States. To make sure you taste properly-made tapas and paella, we recommend first-time visitors to Spain take one of the below tapas tours in Barcelona.
However, before we dive into the best tapas tours in Barcelona, let's discuss what exactly tapas is.
What Are Tapas?
The word tapa/tapas is derived from the word tapa/tapar, meaning "top/cover."Ancient Spanish legend states: One day, a man was sitting at a restaurant with a glass of red wine and was bothered by the flies that were constantly landing on the rim.
Noticing the aggravated patron, an observant waitress took a piece of bread and covered the wine glass with it. Little did she know that the man would take the bread and dip it in the wine. He loved the combination, and voila—tapas was invented!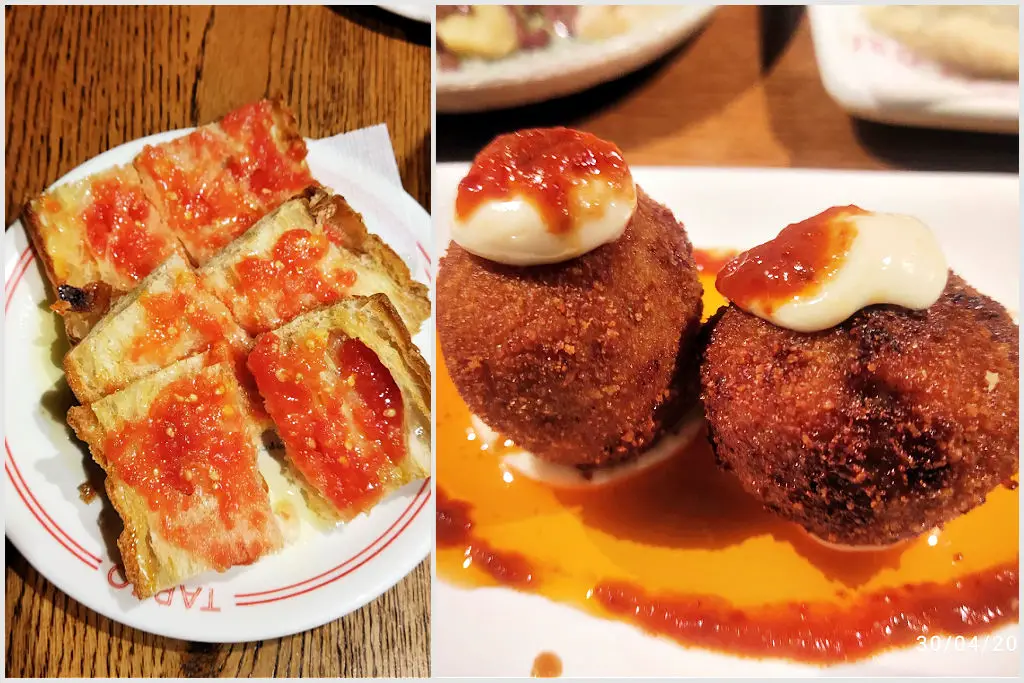 While tapas could simply be a slice of bread, typically tapas are small portions of dishes that are eaten as snacks or appetizers and traditionally are served with a beer or glass of wine. Of course, they can lead to a full-blown meal if continually ordered.
There are classic tapas like slices of fresh bread with olives, anchovies, or Iberian ham, and more complex ones like bombas which are delicious deep-fried balls of mashed potato that are filled with meat and covered in either alioli (garlic) or bravas (tomato) sauce. However, just as appetizers in the U.S. are constantly changing, so too are tapas.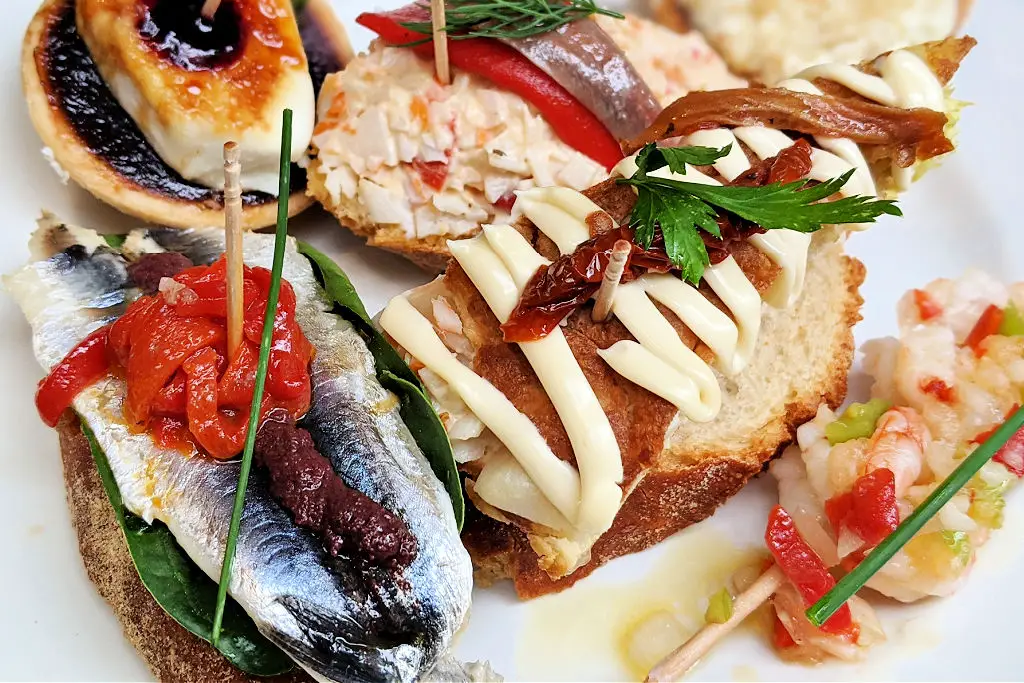 For example, up until recently, pintxos or pinchos, which are essentially open-faced sandwiches held together with a toothpick, were mainly served in the Basque country (northern Spain). Nowadays, however, they're served in many "tascas" or tapas bars in Barcelona.
#1 Reason You Should Take a Tapas Tour in Barcelona
Going into a popular tapas bar in Barcelona can be an intimidating experience for tourists, especially Americans who are used to being formally seated. For instance, the good ones are jam-packed—you will have to plow your way to the bar and gain the attention of the bartender or wait staff.
Unless you're ultra-aggressive, many tourists will find the experience challenging and offputting. Introverts may simply starve to death as the timid will never be served—just kidding, sort of. Nevertheless, tapas are a fun and adventurous way to explore a variety of local dishes.
💰
Save up to 50% on Vegas Attractions
One of the easiest ways to save a ton of money in Barcelona and enjoy a tapas tour is with a Go City Explorer Pass. It includes all the best attractions, tours, and activities at one affordable rate, including a tapas tour. If you plan on hitting up just a couple of the major tourist attractions, it's an absolute no-brainer.
For example, taking a guided tour of either the Sagrada Familia or Casa Batlló are two of the best things to do in Barcelona. Luckily, they're both included in Go City's 3-Day All-Inclusive Pass, making it more affordable than most think! If you want to see a ton of stuff and save a lot of money, we highly recommend the pass. Be sure to check out the 45+ attractions by clicking here. 👇
💡 Our suggestion: Go on a tapas tour early on in your trip. Learn the ropes so that for the rest of your trip you know where to go, what to do, and what to eat, and receive insider tips so that you can enjoy your own solo experience without the assistance of a guide.
5 Cheap(ish) Tapas Tours in Barcelona
Luckily, you won't have to pay a lot to go on fun and cheap Tapas Tours in Barcelona. Below are our favorite excursions—these all are both educational and entertaining.
1. Bike Tour With Tapas
Not only are city bike tours a great way to cover a lot of ground but they're also one of the most popular things to do in Barcelona. So why not include a tapas tour while you're at it?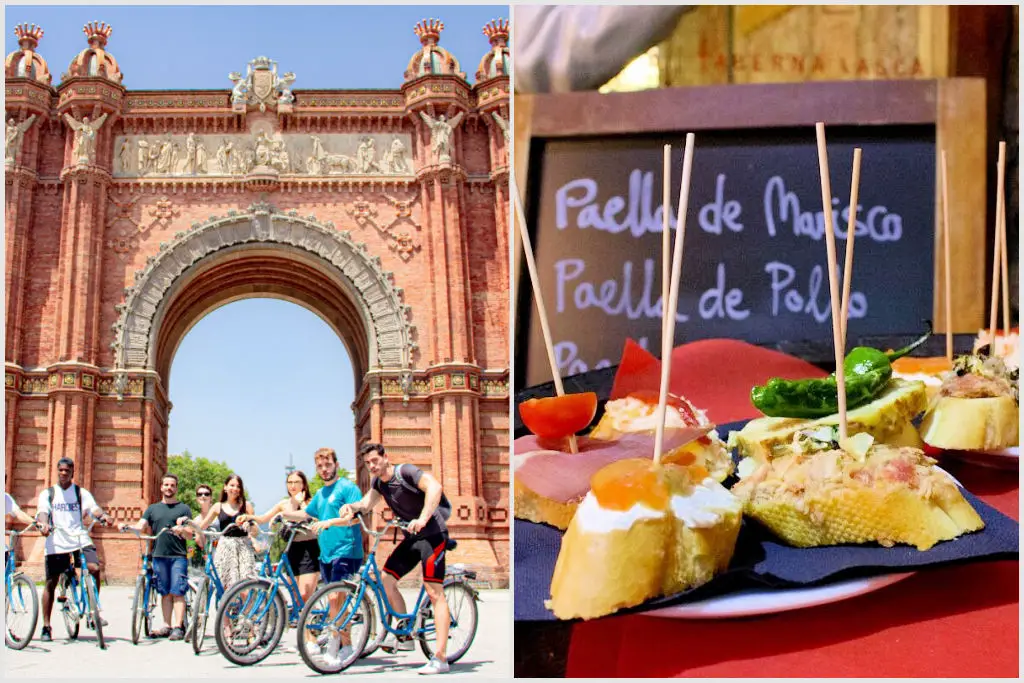 This 3-hour biking and tapas tour takes guests through El Born, one of Barcelona's oldest neighborhoods. Furthermore, bikers will cruise along the waterfront in the La Barceloneta neighborhood, also known as the fisherman's district. After sightseeing, guests will ditch the bikes for a bit and dine near the sea on tapas and Spanish wine.
🚲🦐🍷 Bike Tour With Tapas > Check Availability
💡 Tour Tip: If a standard bicycle sounds too strenuous be sure to check out this e-bike tour.
2. Walking Tour Through El Born With Tapas and Drinks
Visitors who enjoy walking tours with knowledgeable guides and scrumptious tapas and drinks are going to love this tour. Stroll through the medieval neighborhood of El Born, one of our favorites, and learn about the history and culture of Catalonia and its cuisine along the way.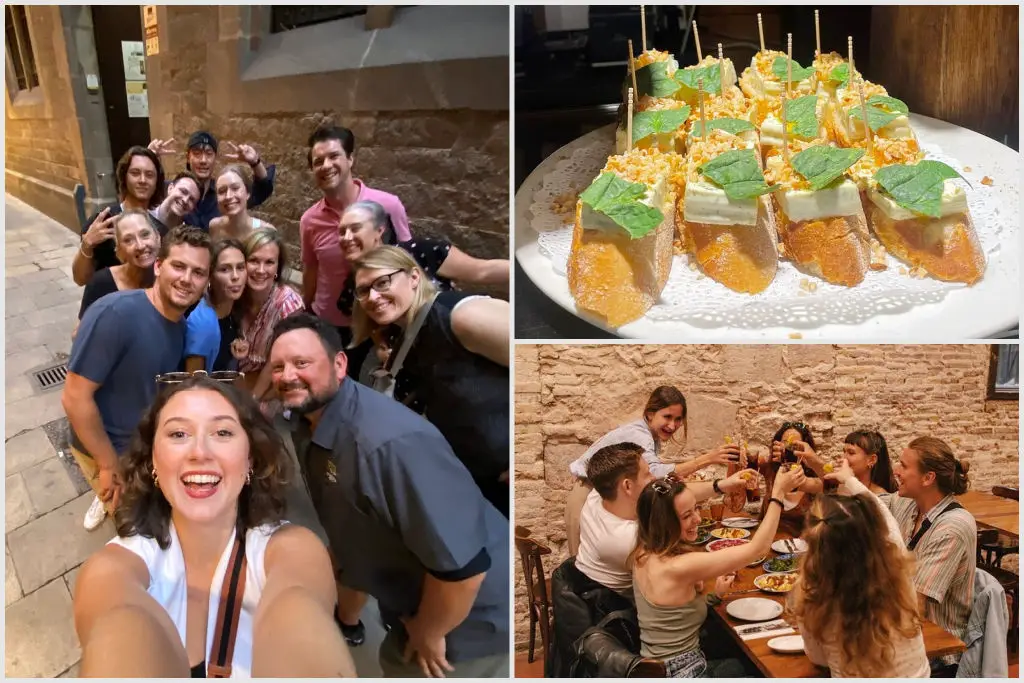 We like this tour because it includes drinks at every stop including sparkling Spanish wine and other wines, beer, and shots of liquor. Also, you'll visit four excellent tascas (tapas bars) so you won't have to worry about being hungry. Take the 5 p.m. tour to kick off a fun night in Barcelona!
🚶‍♂️🦑🍺 Walking Tour With Tapas > Check Availability
3. Gothic Quarter and Tapas – Walking Tour
No visit to Barcelona is complete without touring the Gothic Quarter and there's no better way to do it than with an experienced guide. During this 2.5-hour walking tour, guests will explore the Gothic Quarter, Barcelona's most dramatic neighborhood.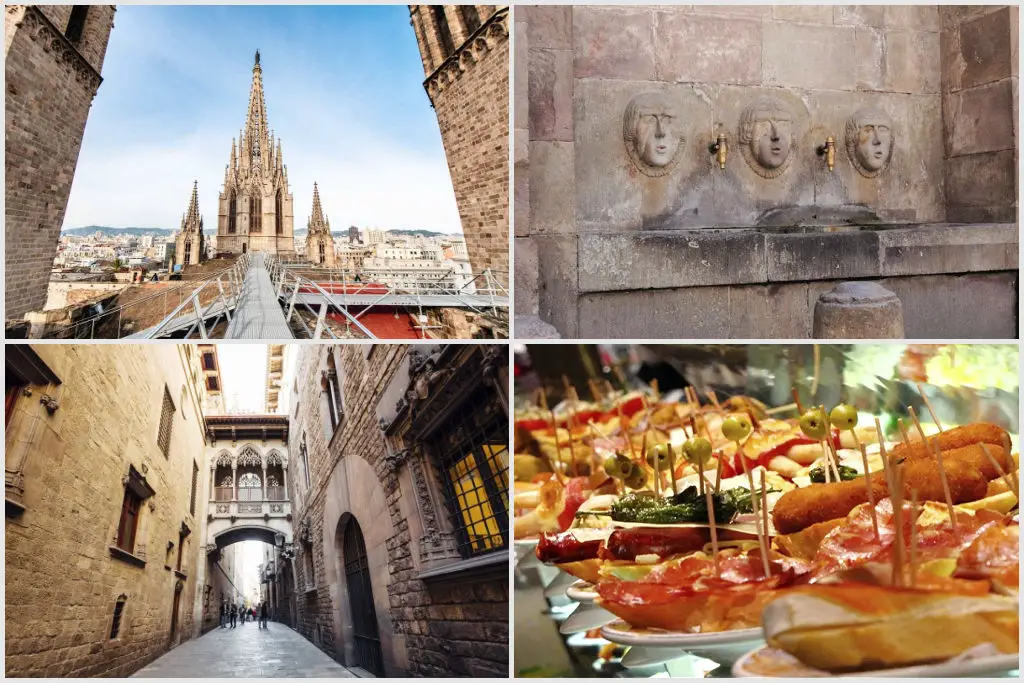 Not only will you visit many sites that ordinary tourists miss, such as a Roman temple hidden in a medieval house but you'll be treated to pintxos or pinchos (open-faced tapas from Northern Spain) at the end of the tour.
🍠🚶‍♂️ Walking Tour With Tapas (Pintxos)  > Check Availability
4. Flamenco Dancing and Tapas for Dinner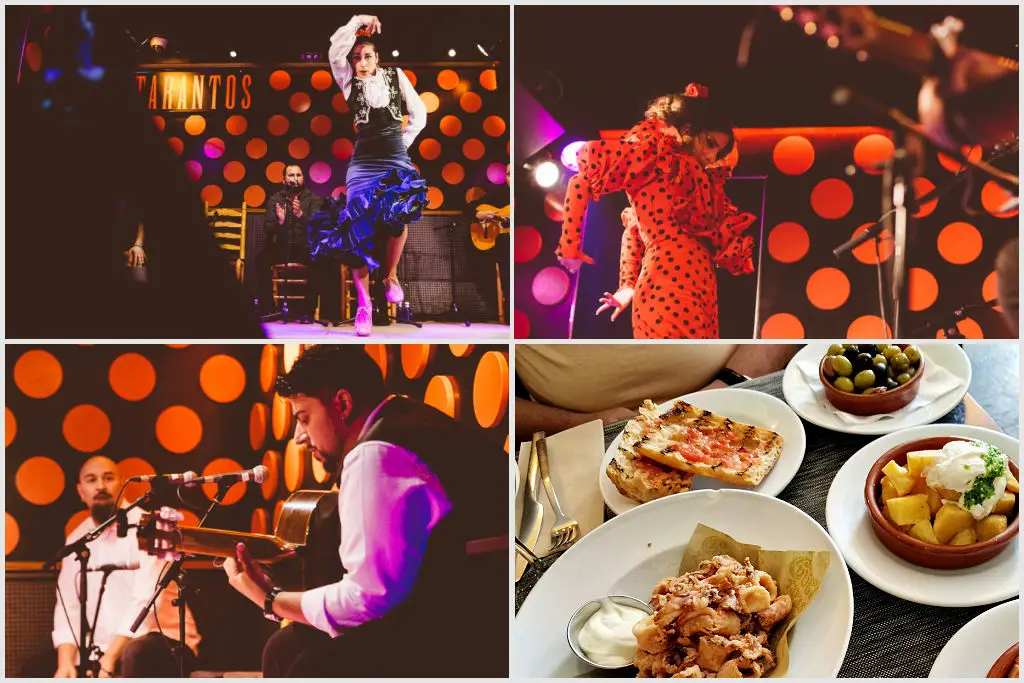 Tapas isn't just an appetizer but sometimes a dinner. Kick off this 8 p.m. tapas tour in the Gothic Quarter with a visit to a flamenco theatre to watch a 30-minute traditional Spanish flamenco show. Afterward, visit a local tapas bar to taste up to nine various tapas—also, complimentary sangria is provided throughout dinner.
💃🐟🍷 Flamenco Dancing and Tapas Tour > Check Availability
5. Create Your Own Tapas and Paella
One of the best ways to learn about a foreign culture is through its food and there's no better way to do that than by preparing it yourself—with the help of a master chef, of course. During this 3-hour cooking class, you'll learn how to purchase fresh ingredients at La Boqueria market and make tapas, sangria, and paella. More importantly, you won't get ripped off by a restaurant selling paella in a bag, and you'll find out what real paella is supposed to taste like. 😋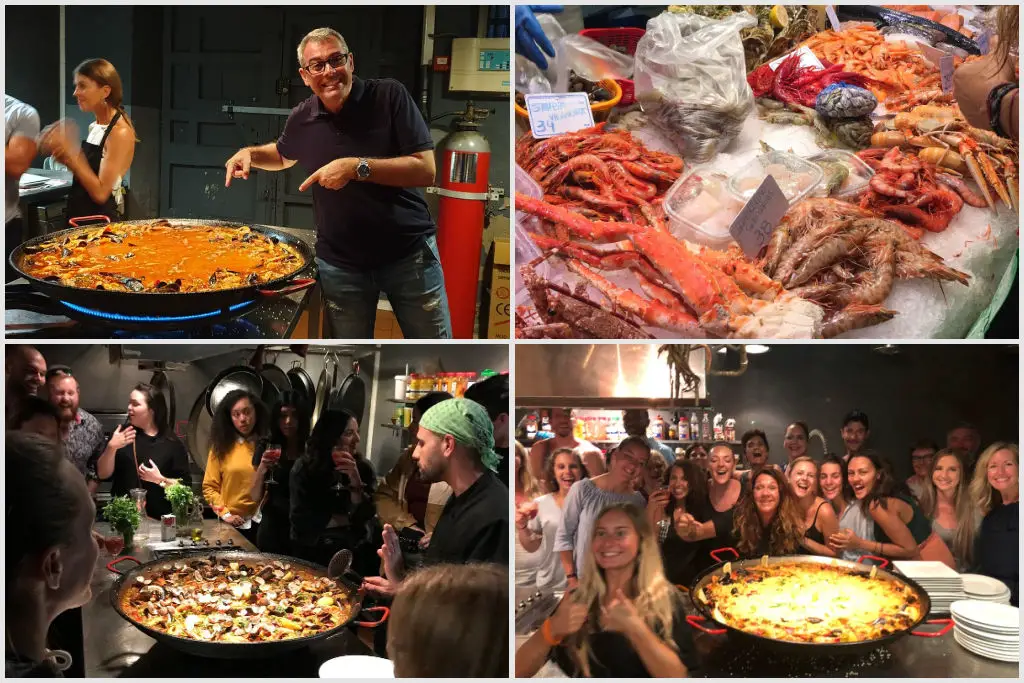 Not only will you be able to feast on what you made, but you'll also gain the knowledge to prepare the dishes at home which is the ultimate souvenir! Finally, the unlimited sangria makes everything all the more enjoyable.
🥘👩‍🍳🍷 Tapas and Paella Cooking Class > Check Availability
We Need Your Help
Did you find this article useful? If so, bookmark it and when you're planning your next vacation click on any of the links below before finalizing reservations. You'll get the best price, we'll earn a small commission, and you'll help support future articles.
Thank you!
TRAVEL TIPS
🏘️ Book Your Accommodation
We use Tripadvisor and Priceline's Express Deals to compare prices and reviews in advance and check availability
✈️ Book Your Flight in Advance
To find the cheapest flight options, you can use WayAway and Skyscanner to find the most suitable choice for you
🚗 Reserve Your Rental Car
Use DiscoverCars and Skyscanner to compare prices and view the largest selection of vehicles