Purchasing an inflatable pontoon fishing boat is an investment that needs to make sense and pay off. The craft should help in the pursuit of the ultimate fishing trip by finding the fish and having a good time. Most of us consider fishing to be a relaxing activity to clear our heads, which is why we're always looking for the easiest and quickest way to get out on the water.
Top Inflatable Pontoon | Ultimate Fishing Trip
Just imagine yourself out on a boat, you're surrounded by nature from all sides and you're breathing in the fresh air. You're surrounded by absolute silence. For me, that's a feeling that can cure pretty much any frustration or anxiety. Not everyone enjoys nature and being out on a boat, some consider it to be boring or humdrum. However, for many of us, life doesn't get much better than this.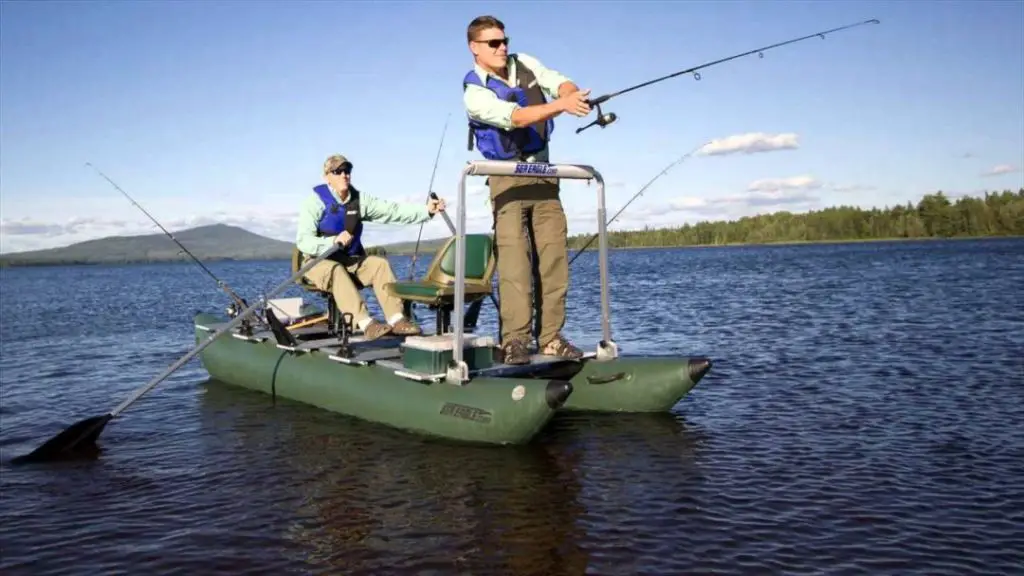 Like all tasks in life, it's all about having the correct tool for the job. Everything in your tackle box has a purpose and so should your boat. Inflatable fishing pontoon boats are perceived as being better than your typical hard-shell boat because of their long life spans, they're also easily transportable, provide tons of storage space, and they're extremely versatile, stable, and economical.
Buy Now: AQUOS 2021 For One Person or Two Person (with trolling motor)
For example, an inflatable fishing pontoon boat will handle great in a lake with choppy water or in a flowing river. The balanced design will help keep the craft upright and allow the operator to keep the vessel in one stable spot. Anyone onboard can even stand fully upright on an inflatable pontoon. Good luck doing that on other inflatables!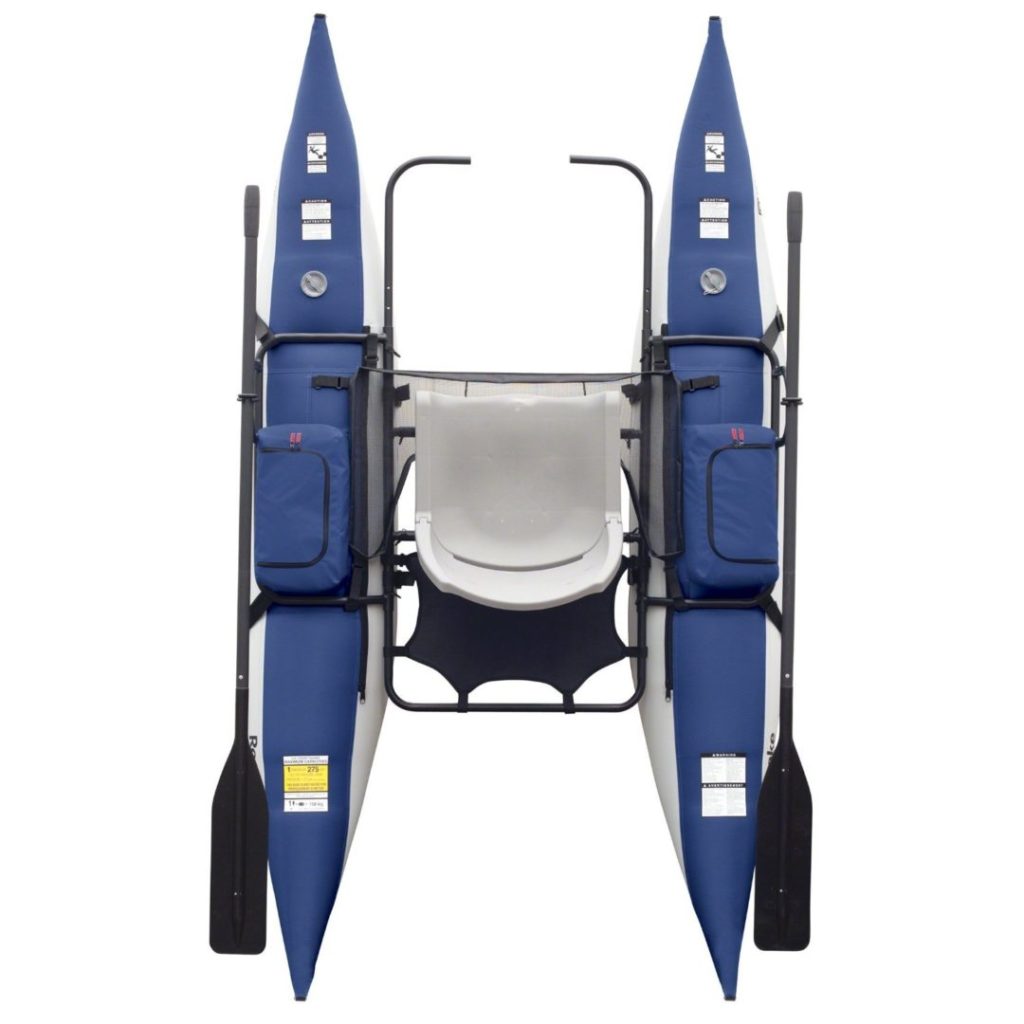 Take On Your Next Vacation
Many of us dream of driving down to Florida on a vacation and doing some fishing in the Fort Myers area, with all of its mangrove-lined shorelines, open flats, and countless passes and inlets leading to the Gulf of Mexico. It would be so costly, frustrating, and time-consuming to have to rent a watercraft every day and then worry about bringing it back at a certain time. No thanks!
Fortunately, nowadays inflatable pontoon boats are readily available and come in multiple varieties. Because of this, they have become extremely practical and very popular with anglers and everyone else who just enjoys being out on the water.
Major Advantages of an Inflatable Pontoon Fishing Boat
Long Life Spans
Inflatable pontoon fishing boats are typically much more reliable than regular boats, kayaks, etc. An inflatable boat will stay functional for a long time. For example, the average life span of an inflatable pontoon fishing boat is about 10-15 years. Very few boats last longer. Most don't come anywhere near the life span of an inflatable pontoon.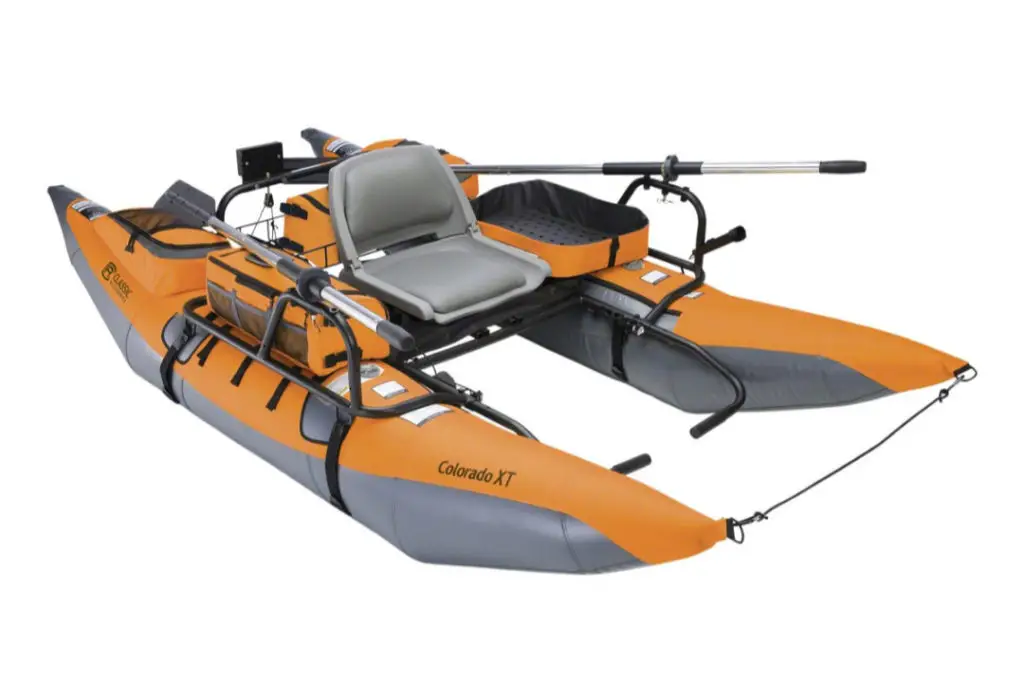 For example, a PVC boat that resides in the tropics could be beyond repair in less than 5 years! This is why the value of an inflatable pontoon fishing boat is so immense. Its durability is something that attracts most consumers.
Easy to Transport
Most of the smaller inflatable pontoon fishing boats (this one's unique!) can easily be transported by one person. Usually, when they're packed up they're about the size of a large backpack or duffel bag. The bag can easily be walked right next to the shore and set up and inflated in about 5-10 minutes.
Tons of Storage Space Onboard
Of course, if you're planning on going fishing then you'll need to bring all of your equipment. This will typically include rucksacks with bait, snacks, drinks, tackles, hooks, traps, etc. Many of the low-end boats are too small and won't be able to fit all of this equipment. Standard features usually include rod holders, pockets or sleeves, oars, and a board frame that will allow you to attach a variety of fishing accessories.
The top inflatable pontoon fishing boats are uniquely designed to have a ton of storage space and should be able to handle all the gear that one or two anglers may need to bring with them. After all, the tools you need to bring with will you are all important. You shouldn't have to leave some pieces behind because there's nowhere to store them on the boat.
Extremely Versatile
Inflatable pontoon fishing boats will never be in the same league as an expensive multipurpose boat. However, for the low price, they do provide the owner with some quite versatile features. For example, you'll have the advantage of reaching remote fishing spots that other bigger boaters may not even know exists.
Also, depending on your preference, you may be able to attach a gas or electric motor for a small additional cost. This way, you can paddle for enjoyment and exercise and use the motor only when it's needed.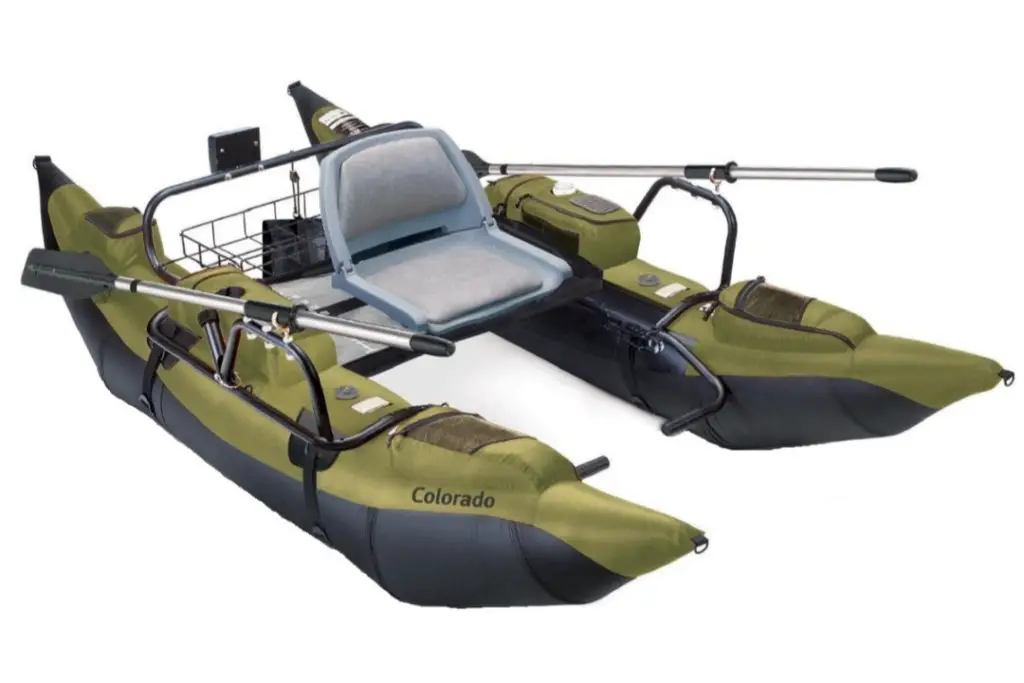 Amazingly Stable
Under reasonable weather conditions, you'll never have to worry about tipping over. Inflatable pontoon fishing boats are known for their stability and efficiency. Therefore, you'll be able to relax and enjoy your time out on the water without having to worry about capsizing. After all, we all that a rocking boat will tend to scare fish away.
Many inflatable pontoon fishing boats are even classified for use on Class IV rapids. But generally, most will be used on calm waters such as ponds, lakes, smooth-flowing rivers, and bay areas.
Extremely Economical
Inflatable fishing boats cost way less to maintain than nearly all other types of watercraft. Because of their lightweight, even if you attach a trolling motor you won't be spending a lot of money on fuel or charging the battery.  In other words, you'll get a lot of fishing for the amount of money that was spent.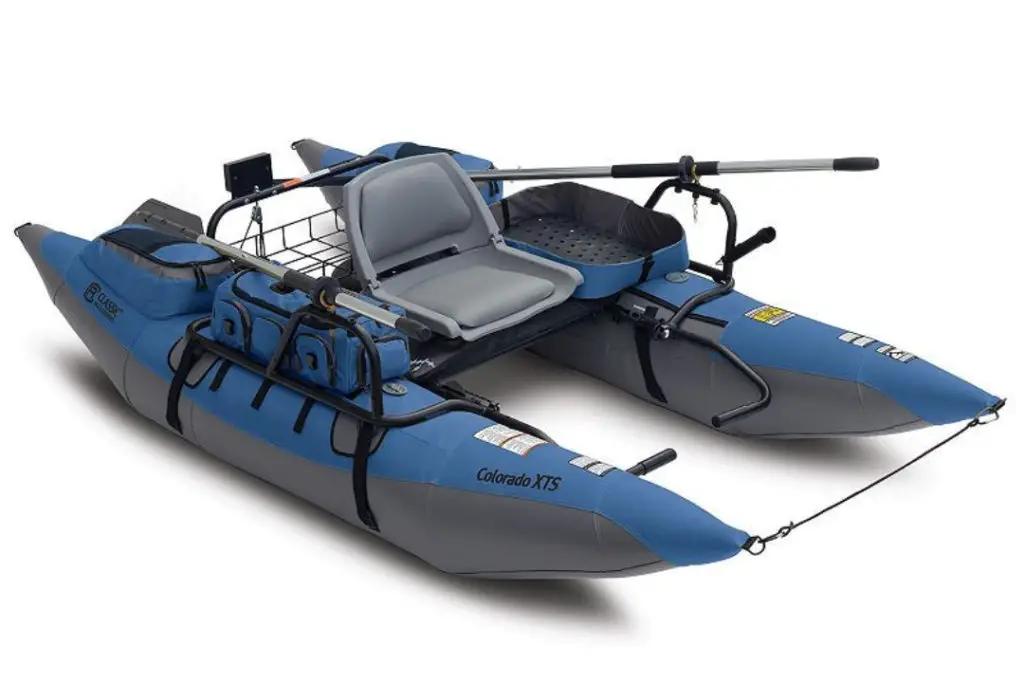 Also, they're easy to maintain. You'll have to rinse them and check if anything is broken from time to time, but other than that, it's extremely low maintenance. Having an inflatable pontoon fishing boat is extremely practical too. For example, the typical cost to rent a hard-shell kayak or boat can easily reach $50-$100 per day.
If you love being out on the water and fishing, but perhaps you live away from the water, then purchasing an inflatable fishing pontoon boat is a smart investment. You'll get a boat that is easy to transport and you'll spend more time out on the water fishing. They offer long life spans, they're easily transportable, provide tons of storage space,  and they're extremely versatile, stable, and economical. Especially, when compared to hard-shell boats.
Climb Aboard
Remember to keep in mind, that these inflatable fishing boats aren't toys. They're for individuals looking to do some serious exploring and who enjoy a good adventure. If this sounds like it's right up your alley, then climb aboard and invest in one today! Having spent some time on inflatable watercraft we know, you simply won't regret it.