During summer, travelers are sure to visit one of the best beaches in Ohrid, Macedonia. Typically from May through October, Macedonia's weather is warm and dry. This makes for sunny, blue skies that are perfect for water sports, swimming, and other outdoor activities.
One of the alluring aspects of a visit to Macedonia is the beach scene. The list below summarizes some of the best spots in Ohrid and Macedonia to relax by the lake. Whether you're a local or a tourist, crave a beach bar, desire to hang glide, fancy a jump off a bridge, enjoy sweeping mountain views, or just have a yearning to swim, Macedonia has the perfect beach waiting for you.
Before you go to the article, let me give you this short list of the best-guided tours in Ohrid:
Most Popular Tours in Ohrid
11 Best Beaches in Ohrid Macedonia and Beyond!
There's no better way to spend a summer day in Ohrid, Macedonia than by enjoying one of the many beautiful beaches. Behold, eleven of the best beaches in and around Macedonia, with insider tips for the best way to make the most of each spot.
1. Labino Beach, Ohrid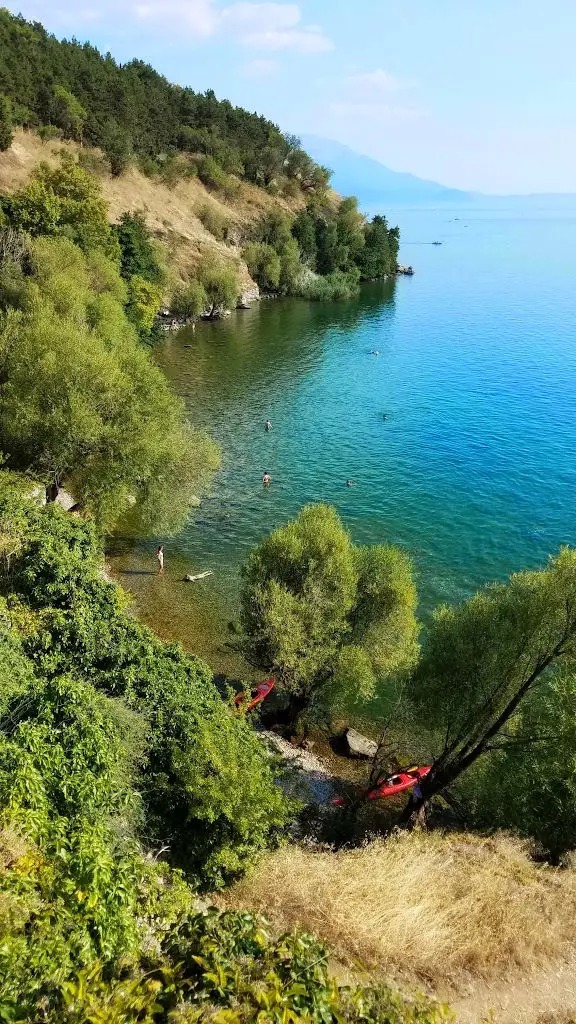 A little more wild and rugged, Labino Beach is where the locals go to escape the tourists for a refreshing dip in Lake Ohrid. Tucked away under the walking paths near St. John at Kaneo Church, this portion of the lake is made up of small pebbly coves under the shade of tall trees.
A pathway in Old City Park takes visitors down from the top of the hill to the bottom of the lake.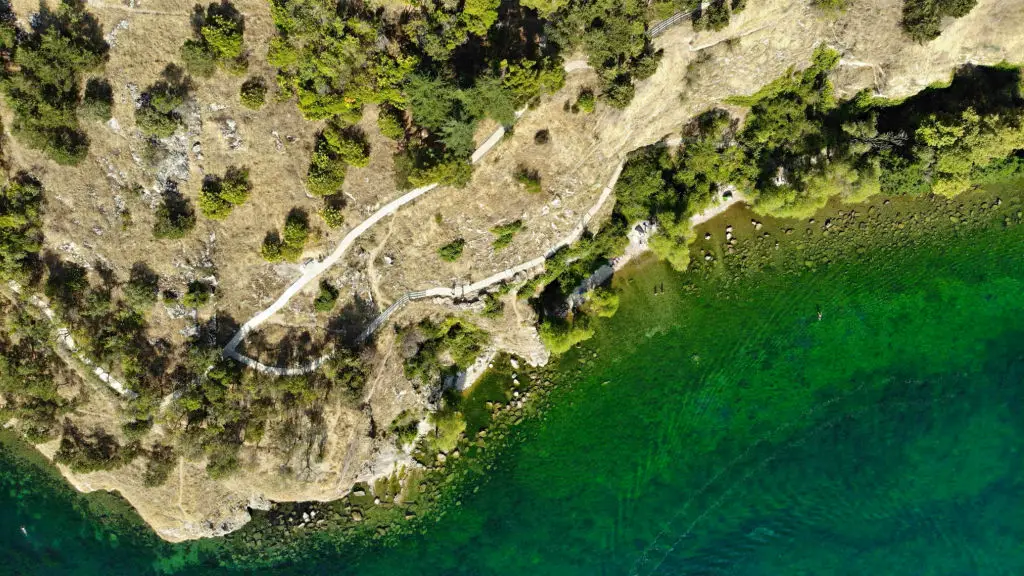 Where to Stay
Labino Beach is located within a short walking distance from Ohrid's old town. Therefore, if this beach looks 'up your alley,' then you should stay at Villa Sofija or Villa Varosh, two lovely apartments near the Church of St. John at Kaneo.
If you prefer the comfort of a hotel, you can reserve a nearby hotel room.
2. Trpejca Beach, Ohrid (The Saint-Tropez of Macedonia)
If you are planning on spending some beach time along Lake Ohrid's shores, Trpejca Beach is a must. Locals have deemed it Macedonia's version of Saint-Tropez due to the insane clarity of the lake water and its pebble beach.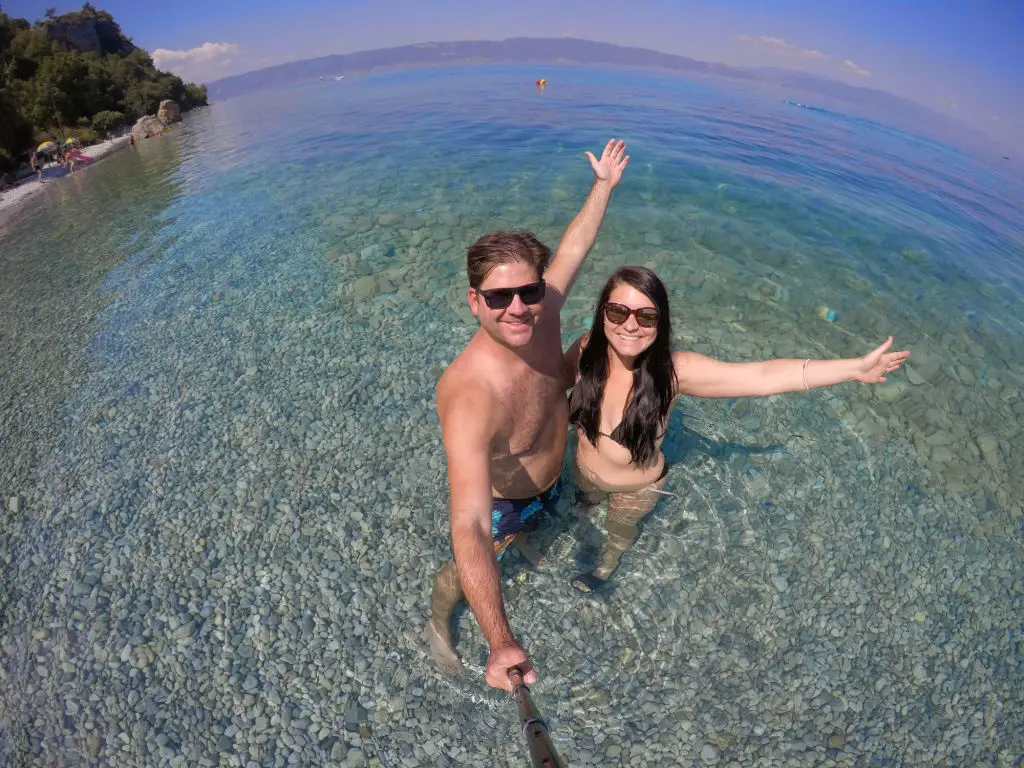 Although the actual beach is very small, there are several tasty restaurants along the shore to enjoy drinks or meals. Our personal favorite is Ribar Restaurant with an outdoor dining patio, serving the best river trout with garlic makalo.
Local tip: If Trpejca Beach is quite crowded, a walk past the steel cross heading north will open another cove of quiet beachfront (pictured below.)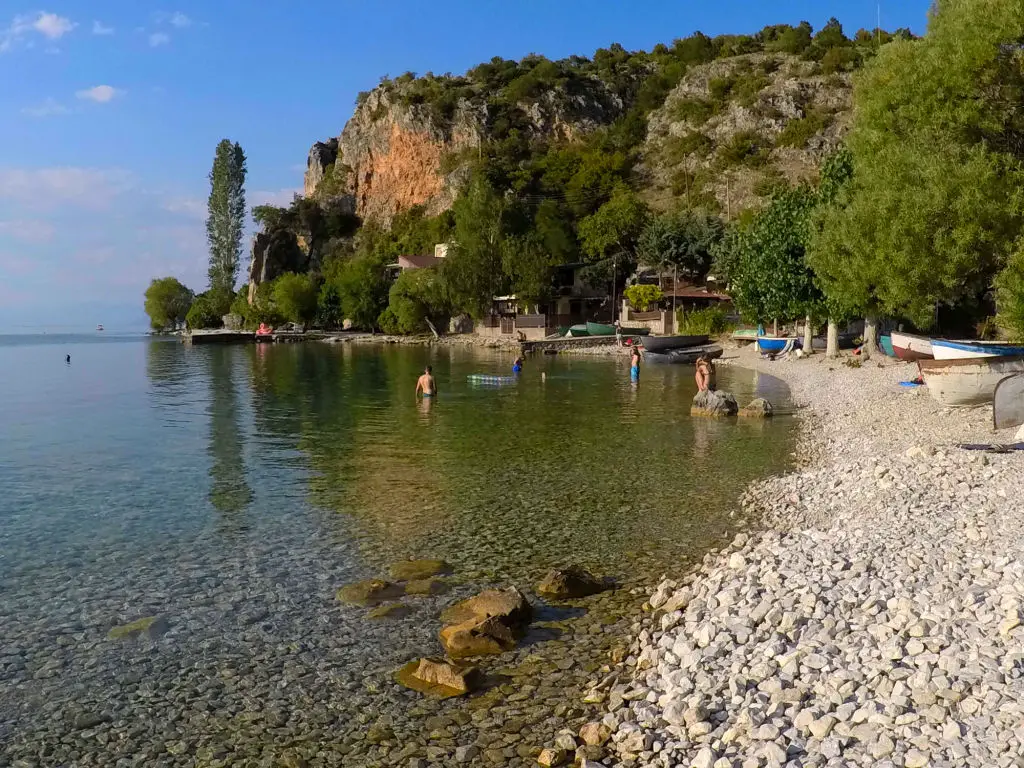 Trpejca Beach also has some other fun features to discover. They include a huge isolated rock formation for jumping and a mini-Orthodox church replica and a gorgeous steel cross that is placed directly next to the lake.
Budget Tip: Reserve a private full-day boat tour of Lake Ohrid. This way, you'll see all of the lake's best sites on one wonderful day!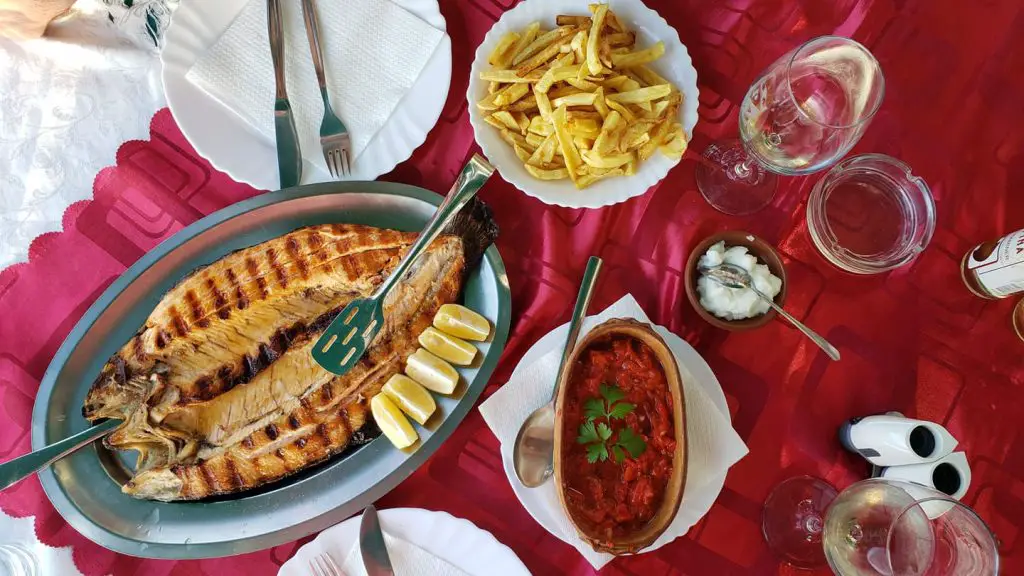 Where to Stay
Although Trpejca may offer the most gorgeous beachfront along the Ohrid shoreline, as a quaint village, accommodation choices are quite limited. Truly the standout accommodation in Trpejca is Villa Trpe with consistent raving reviews—we've wanted to stay there but it's always been booked. The property offers a poolside breakfast and an outdoor pool, and it's only a short walk to one of Macedonia's most breathtaking beaches.
Check Out These Excursions To Explore Ohrid:
3. Dupeni Beach, Lake Prespa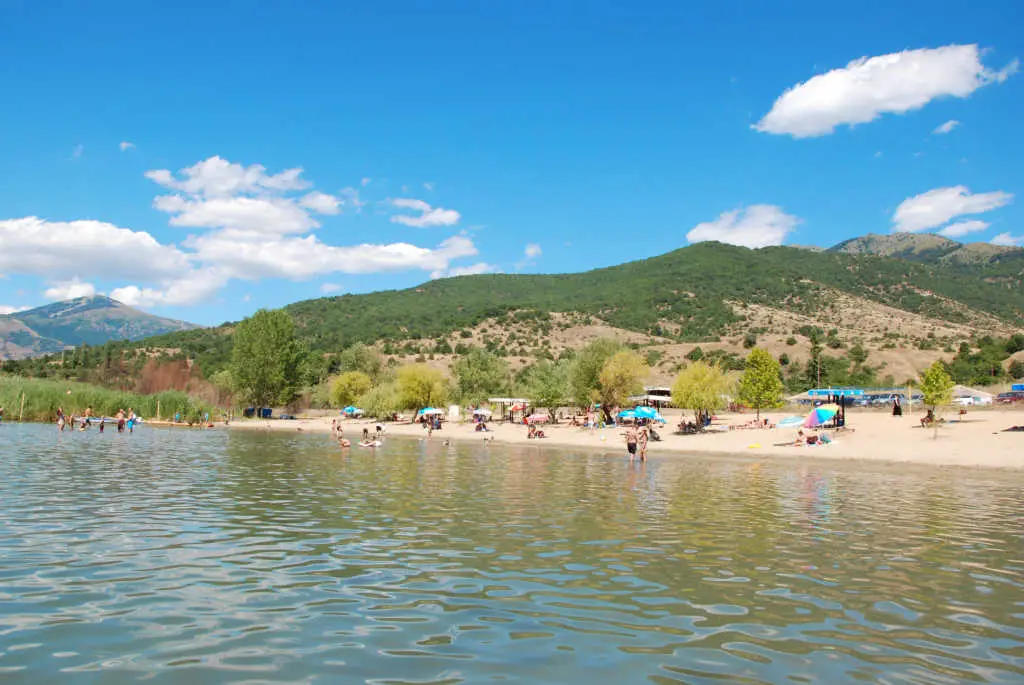 One of the most natural beaches on Lake Prespa is Dupeni Beach. The beach is popular with families, due to its shallow, clean water. The beach sits on the border of Greece and offers an onsite restaurant which is a good place for a coffee, a cold drink, or a convenient lunch.
Where to Stay
There are very few lodging accommodations on Lake Prespa. However, there's little doubt that Villa Prespa is the best option. Its traditional architecture surprises guests with a modern twist—the balcony in the family suite is dreamy. The cozy beds, aged wooden beams, and Macedonian hospitality will make you wish you would've booked a few more nights.
4. Slivnica Beach, Lake Prespa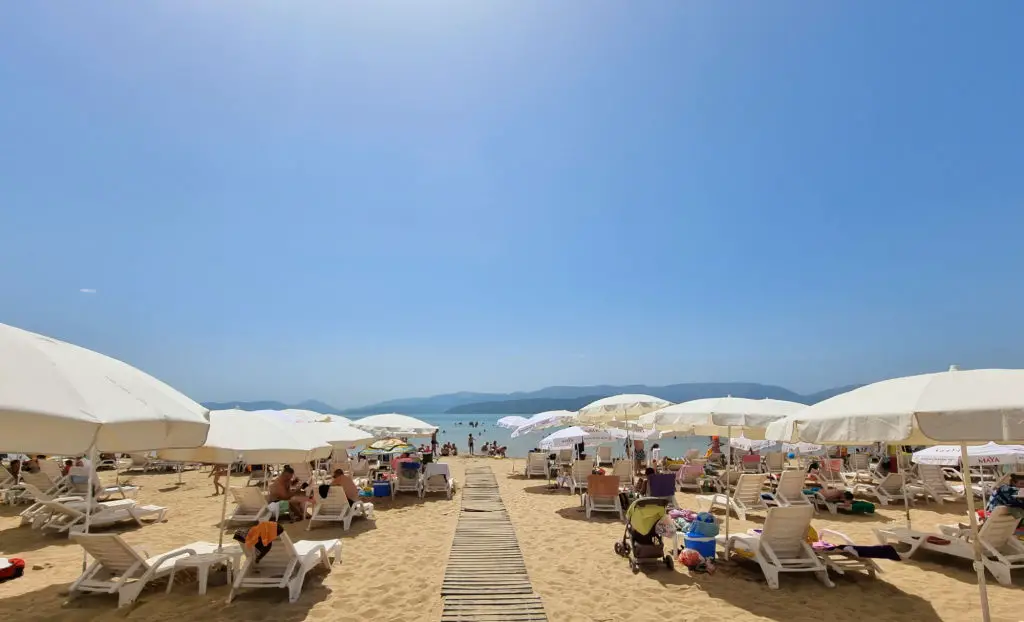 The most popular touristic beach at Lake Prespa is Slivnica Beach. This wide sandy beach has trees for shade and is a great place to watch the sunset. Due to its more remote location, the vibe of Prespa Lake is generally quite different than Lake Ohrid—more laidback and less congested.
5. Potpes Beach, Ohrid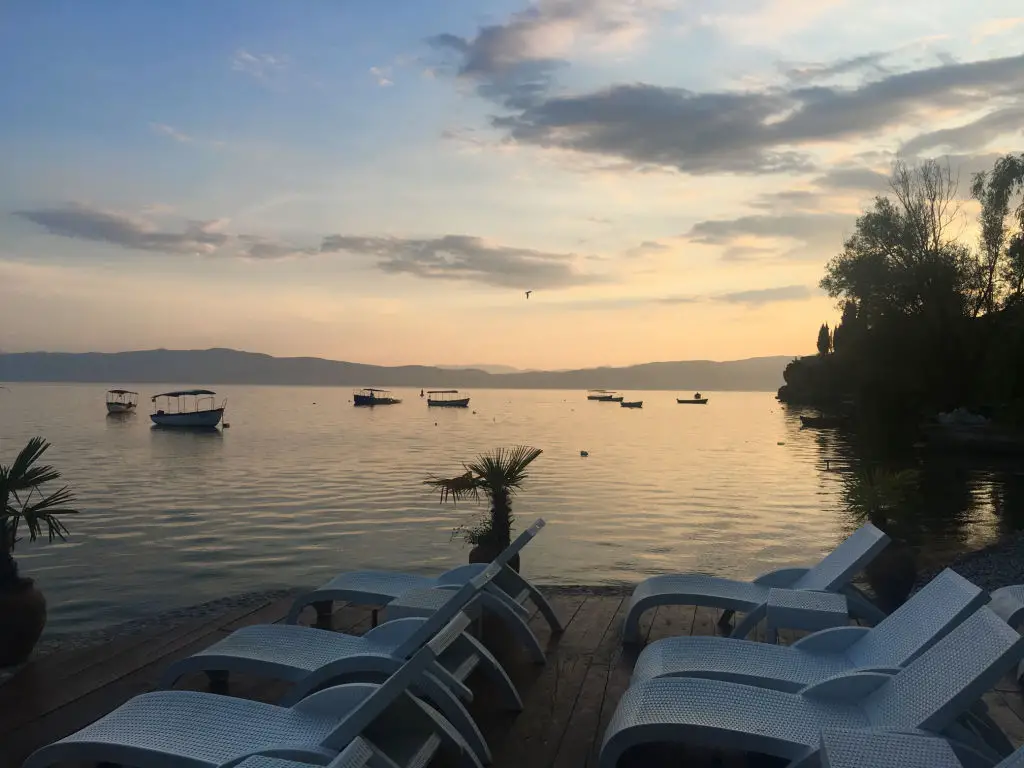 If you're taking the walk to the iconic St. John Church at Kaneo, consider a stop at one of the rocky coves along Potpes Beach. This part of the lake features lakeside restaurants, small piers, and opportunities to organize a boat ride around the lake from one of the eager locals.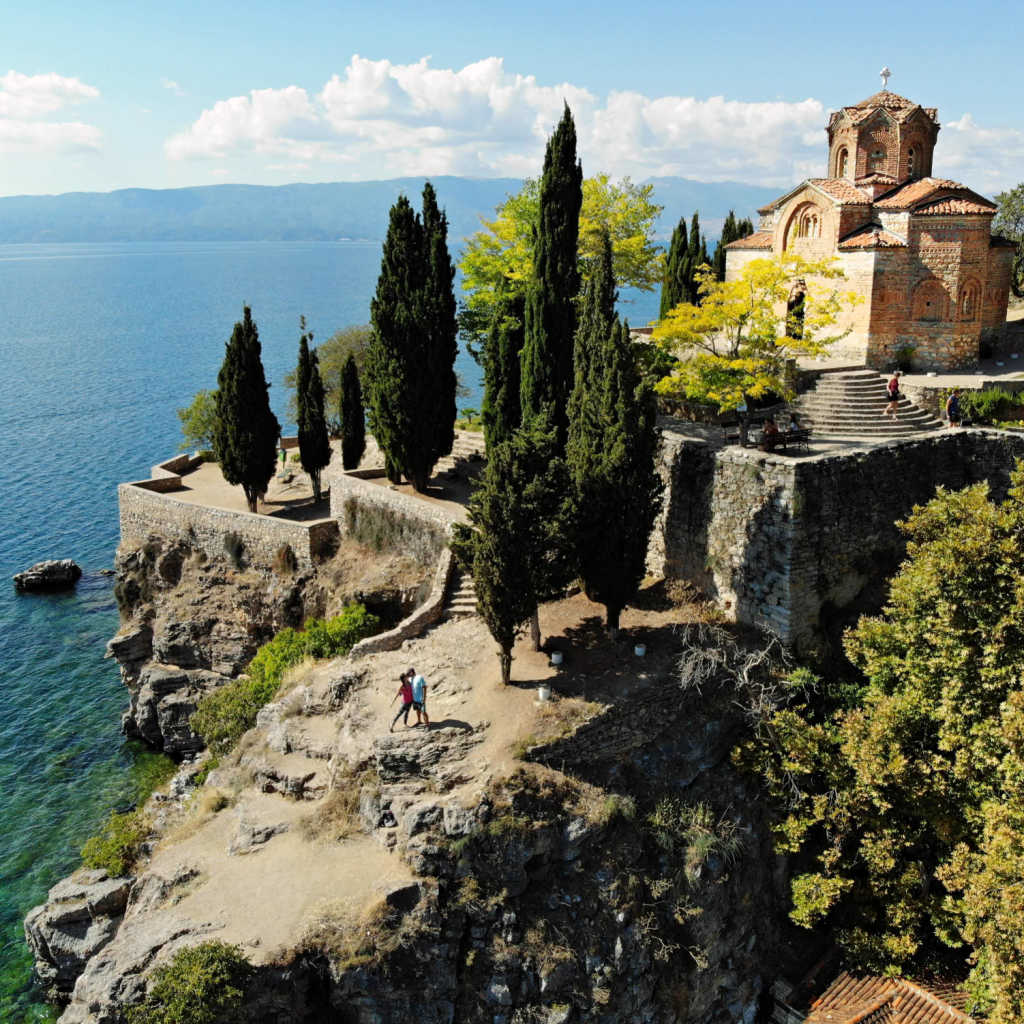 During the height of the summer holidays, this part of the lake can get busy with tourists touring the iconic Macedonian Orthodox Church and enjoying a tasty lunch. The idea is to arrive early, vying for a spot to enjoy some of the best views of Ohrid.
Where to Stay
Summers at Lake Ohrid are all about partying and enjoying life. If you want to be "Big Biznis" you should stay at Villa Jordan or Villa Kotlar. Both accommodations feature pools and terraces.
6. Sveti Naum Beach, Ohrid
One of Lake Ohrid's most notable tourist spots is the Monastery of St. Naum. The beach offers a choice of relaxing on the soft sandy beachfront or the grassy lawn. The water at this part of the lake is refreshingly cool, with the freshwater spring located nearby.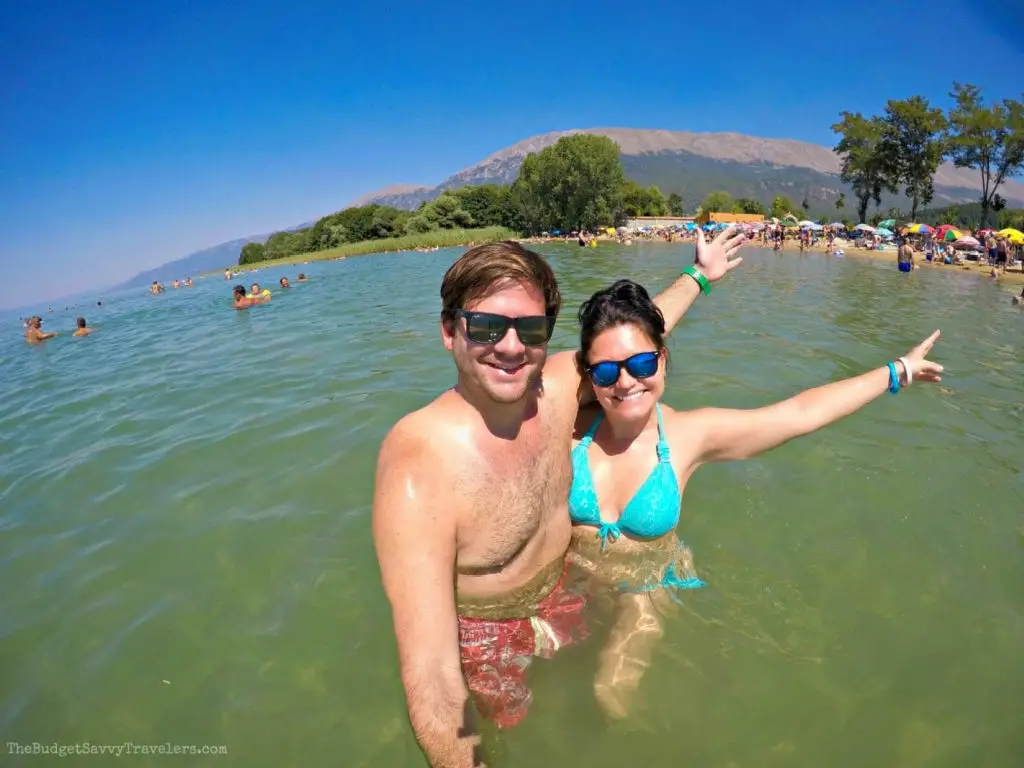 In addition to swimming, visitors can explore the monastery grounds and enjoy the peacocks. For a few dollars, locals will take you on a small 20-minute boat ride around the gorgeous springs. During the summer season, there are several restaurants available overlooking the springs—some sections even float above the water.
Read: Cool and Unusual Things to Do in Ohrid Macedonia
There are also stands selling religious memorabilia, souvenirs, and small treats like ice cream. Public toilets are pay-to-use. St. Naum can be visited by ferry from Ohrid's city center, by private rental boat, or by paying a small fee to park on the grounds.
Where to Stay
If you prefer to stay near or at the monastery, Hotel St. Naum is the traveler's best option. However, take note that the property does get mixed reviews, especially regarding the dining options, and from our experience is a bit overpriced. Therefore, it may be worth your time to travel back to Villa Trpe in Trpejca or Aleksandar Villa & Spa located along the east coast of Lake Ohrid.
7. Partizan Beach
Located near the campsite with the same name, Partizan Beach is where the summer campers go to enjoy long, lazy days along the Lake Ohrid shore. This portion of the lake is bustling—busy with families, seniors drinking Skopskos, and make-shift picnic tables.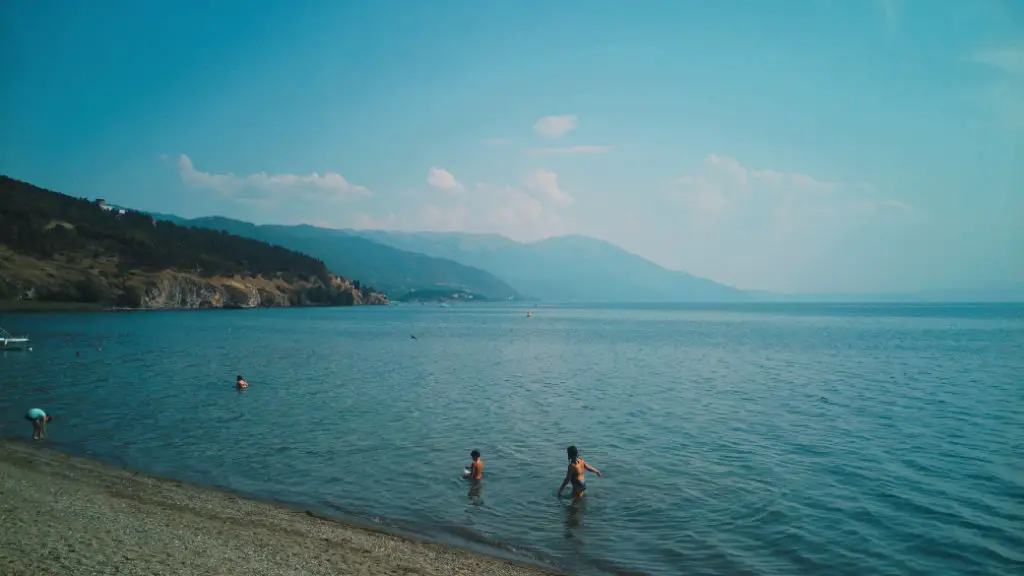 The beach is shallow, perfect for little ones, and full of lounge chairs, beach umbrellas, and loud music. This is the beach to make new friends, be among the summer tourists, and people-watch.
8. Ljubaništa Beach
As the main beach for this campsite and RV park, Ljubaništa Beach is a hotspot for locals. The beach is quite stunning, with a mountain backdrop, sandy beach, and clear waters. At the height of the summer season, you may have to pay a small fee to park in the lot.
Also, if you're planning on spending the day, bring a picnic, snacks, and cold drinks because there are no restaurants or café bars nearby like with some of the other more popular beaches. Ljubaništa Beach is about a 30-minute drive from the Ohrid city center.
Where to Stay
The east and southeastern edge of Lake Ohrid has several apartment options available. One of the best is Aleksandar Villa & Spa—the 4-star exclusive boutique hotel's ideal location makes it easy to visit all of the beaches from Ohrid to Sveti Naum.
9. Gradishte Beach
Associated with the Gradishte Campgrounds, the Gradishte Beach area consists of four gorgeous bays with the most beautiful blue-green water. The beaches here are known to be some of the cleanest on the lakefront. Additionally, restaurants, café bars, and bathroom blocks make a day-long stay enjoying the gorgeous scenery quite easily.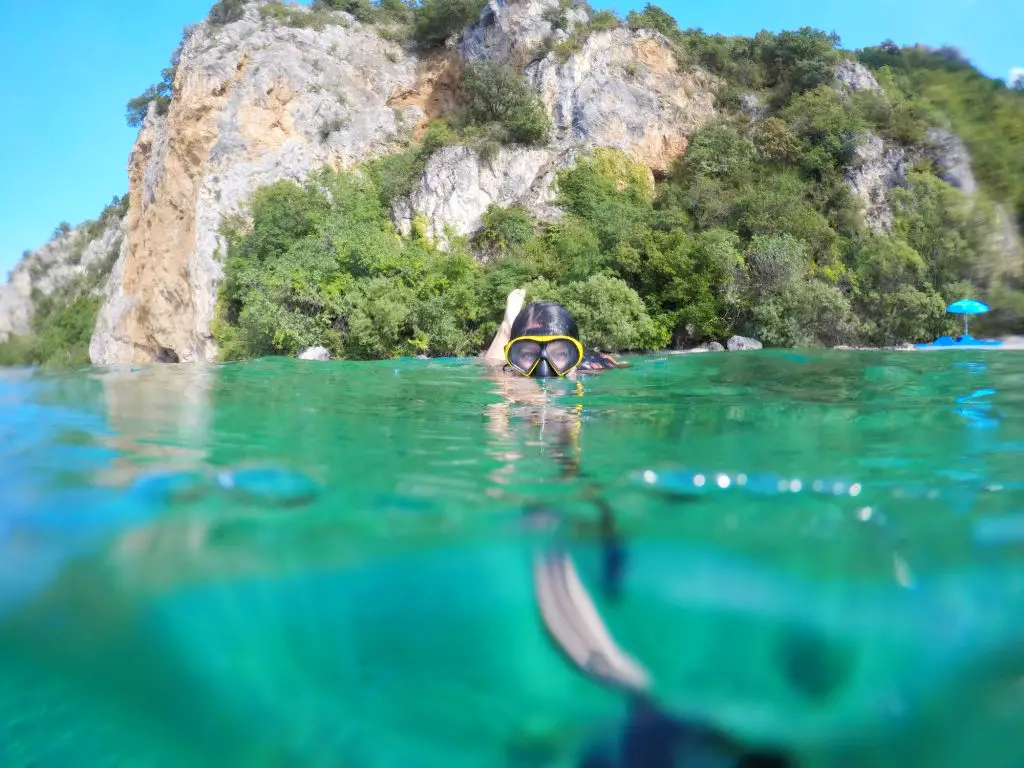 As one of the most popular beach destinations in Macedonia, the beaches can be loud and congested during July and August. The campground is open to the public, but during the height of the summer season, the parking may be limited and fee-based.
10. Lagadin Beach, Ohrid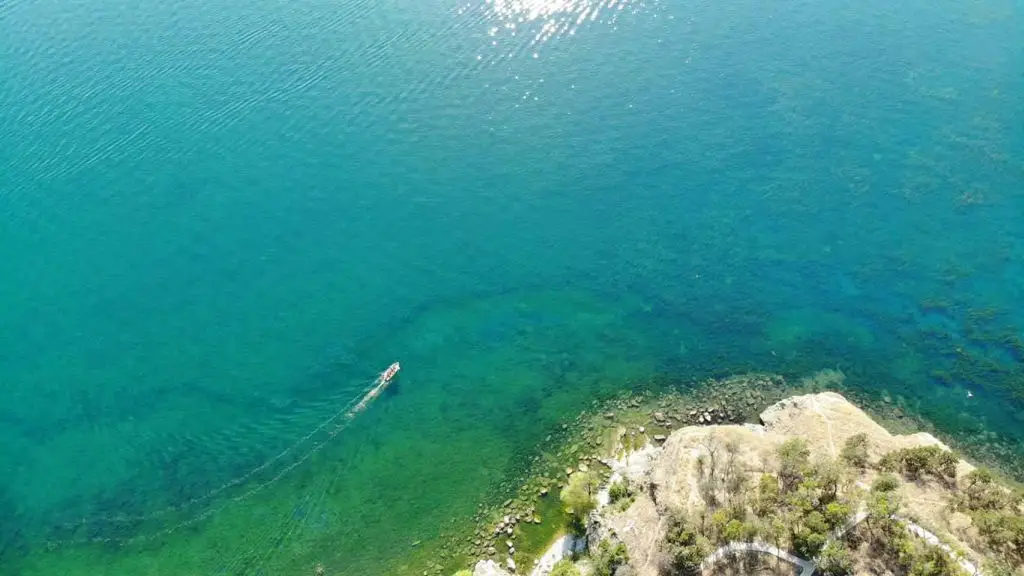 Located at the foot of Galčica National Park, Lagadin Beach is a popular beachfront village. Although it's away from the busy Ohrid city center, it is near bars, hotels, and restaurants, making it easy to spend the day in one central destination. In fact, Hotel Lagadin is a popular hotel option due to its large rooms, stunning views, and private beach located directly on Lake Ohrid.
Stay: Private beach on Lake Ohrid at Hotel Lagadin
11. Struga's River Drim
Lying on the shores of Lake Ohrid, about a 20-minute drive from Ohrid, Struga offers a fun day trip for travelers. The city is spread out along the Drim river and is lined with several bridges. In the 11th century, Stuga earned the nickname, "City of 100 Bridges."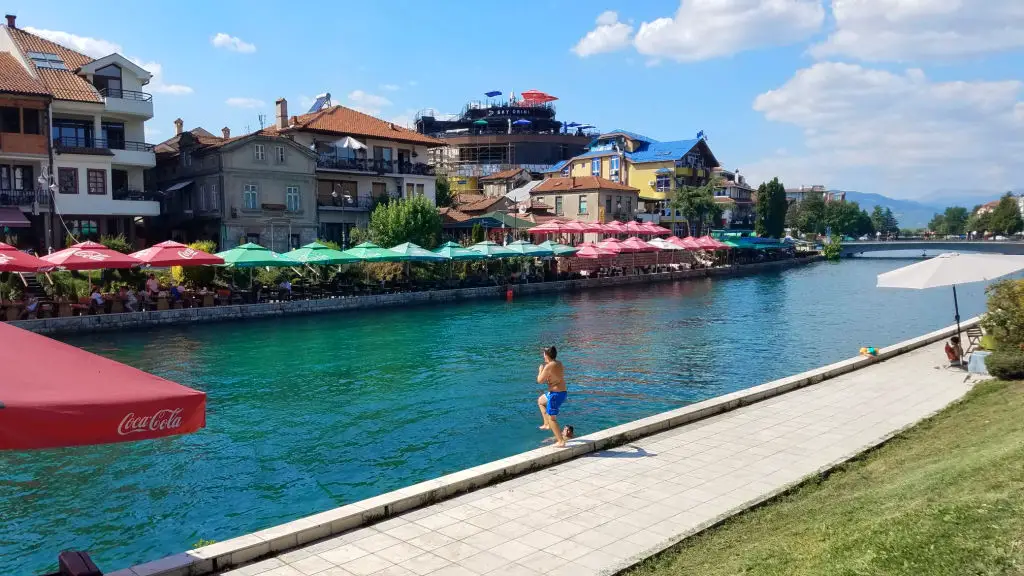 The best time to visit Struga is in the summer when both locals and tourists spend the day chilling along the Drim river. Cafe bars and restaurants line the clean, clear water.
Read: Struga Macedonia | Poetry, Bridge Jumping, Nightclubs, and Food!
All day long, people of all ages can be seen jumping from the bridges or the river promenade. We were unaware of the bridge jumping until some local Macedonian friends told us that doing so is a rite of passage.
Where to Stay
With approximately 80 percent of the country comprised of mountainous scenery, Macedonia is a popular choice for camping for both tourists and locals alike.
In fact, the Lake Ohrid region offers many great opportunities for camping, RVing, caravaning, and enjoying van life. Foreign campers and European van lifers may want to consider looking into the new and highly ranked Sunrise Hotel & Camping for a property geared toward caravaning and van life.
We Need Your Help
Did you find this article useful? If so, bookmark it and when you're planning your next vacation click on any of the links below before finalizing reservations. You'll get the best price, we'll earn a small commission, and you'll help support future articles.
Thank you!
BEST TRAVEL SEARCH ENGINES
🏘️ Book Your Accommodation
We use Tripadvisor and Priceline's Express Deals to compare prices and reviews in advance and check availability
✈️ Book Your Flight in Advance
To find the cheapest flight options, you can use WayAway and Skyscanner to find the most suitable choice for you
🚗 Reserve Your Rental Car
Use DiscoverCars and Skyscanner to compare prices and view the largest selection of vehicles