If you're looking for the best places to stay in Lake Havasu City then look no further. These are the best hotels and resorts for all budgets!
There were only a couple of Lake Havasu City hotels in the area when the London Bridge was completely reassembled back in 1971. Now, this tourist oasis is home to 50,000+ permanent residents and dozens of accommodation options with many more to come.
There's a wide variety of lodging to choose from including motels, standard hotel chains, boutique hotels, and resorts. Of course, each one comes with its own perks. For example, one establishment may be expensive with a pool and be near the beach while the other may be cheap and comes with breakfast.
With each hotel having its perks and benefits, it can be challenging to narrow the choices down to one. No worries! There are plenty of alternatives to choose from—no matter what the budget. However, if you're looking for a fully immersed experience then you'll probably want to stay near London Bridge.
4 Best Places to Stay in Lake Havasu City
Just like at the grocery store, too many options can cause decision paralysis. There's no benefit to agonizing over which accommodation to select—and no need to. After all, when it comes to staying at one of the best Lake Havasu City hotels, we did the work for you.
Whether you're planning on bringing your boat and hanging out in the Bridgewater Channel or renting a jet ski and going sightseeing around the lake, the options below have you covered.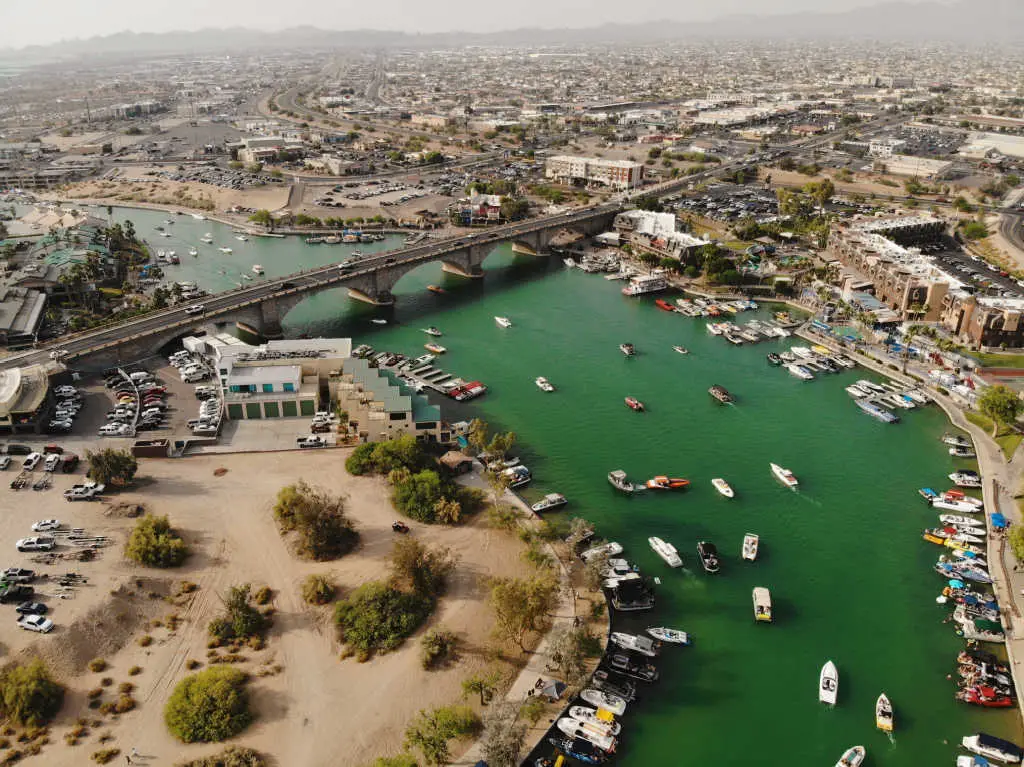 To select the best Lake Havasu hotel for your trip, we've categorized the options by nightly budget into three categories. Within each of the three categories below, we're going to recommend up to three accommodations based on your personal preferences.
1. Best Budget Hotels
Value or budget Lake Havasu City hotels are a great way to receive exceptional value and typically cost less than $100 per night. Many of Lake Havasu City's budget hotels provide breakfast, have pools, or are within a short driving distance of the most popular beaches.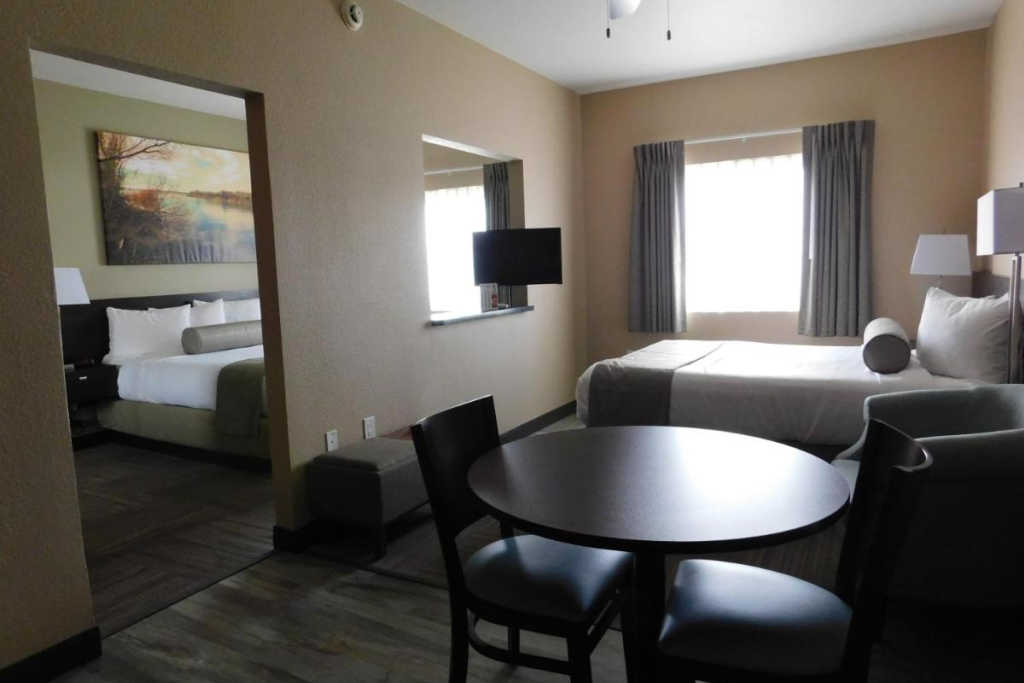 By far, our favorite budget Lake Havasu hotel is Island Suites—we've stayed here twice! Island Suites is within walking distance of the London Bridge and has massive suites with a dining area and full kitchen. Also, they have plenty of parking for small boats and a pool.
Budget Chain Hotels
In regards to budget chain motels and hotels, there are several solid places to stay if you're simply looking for basic amenities. For instance, there's Travelodge, Quality Inn & Suites, and Days Inn. Of the three only Days Inn offers breakfast. Also, while both Days Inn and Quality Inn & Suites have pools, the pool at Quality Inn & Suites is much nicer.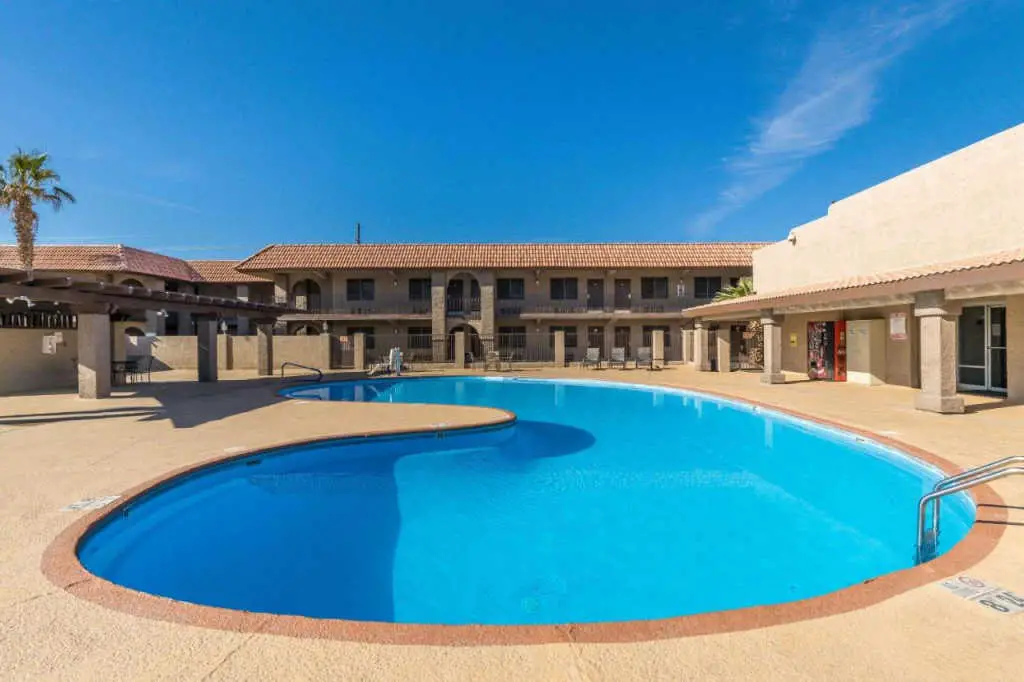 A nice alternative to the budget chain hotels is staying at the Havasu Landing Resort & Casino, on the California side of the lake. For only $4, guests of the hotel can travel by ferry roundtrip to Lake Havasu City. Also, when compared to the budget chain hotels, Havasu Landing has many more amenities and has an overall nicer ambiance.
Budget Tip: It's worth mentioning that prices for Lake Havasu hotels increase quite dramatically during the weekend. Therefore, a great way to save money is to book a trip from Sunday to Friday and avoid the weekends.
2. Best Mid-Range Hotels
Moderate or mid-range Lake Havasu hotels may offer better locations or better amenities than some of the budget hotels and typically cost $100 to $200 per night. Also, basic vacation rentals may fit into this category.
The best mid-range hotel is the Havasu Dunes Resort. Furthermore, the property features studio, one-bedroom, and two-bedroom villas, three swimming pools and hot tubs, barbecue areas, and free covered parking. In short, Havasu Dunes Resort is the perfect location for anyone looking for a quieter more intimate experience.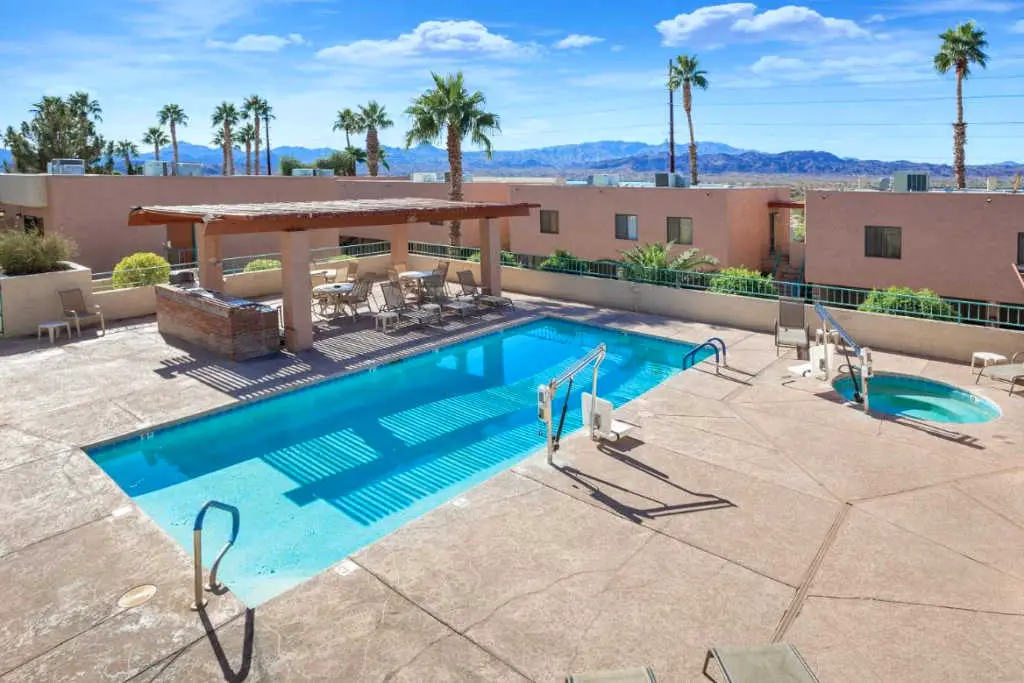 Other popular mid-range hotels include the brand-new Home2 Suites in an excellent location, Holiday Inn Express & Suites, and the Hampton Inn. Both hotels are nice, however, the Holiday Inn is much newer, and in a better location.
Mid-Range Vacation Rental
Another option that many travelers find appealing is to rent a vacation home. For example, this three-bedroom Family Home comes with a full kitchen and has plenty of room to park a boat. Moreover, the home comes with a lovely outdoor space and a barbecue grill.
3. Best Luxury Hotels
Deluxe or luxury hotels are the most expensive accommodations. Typically, they will have the best pools, and largest rooms, are near the beaches, and have other perks. These are the places to stay when money is no object. Also, luxurious vacation rentals may fit into this category.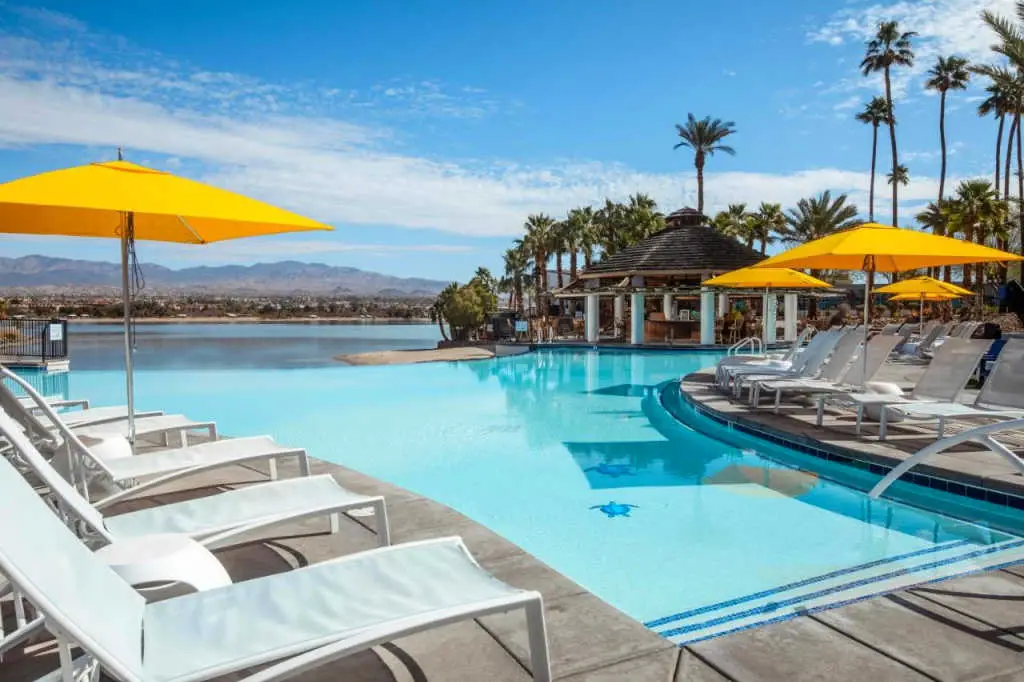 While not our first pick, visitors looking for the best view of London Bridge and a great waterfront location will appreciate the Heat Hotel. This modern sleek boutique hotel has a patio bar and a boat dock.
Sadly, it's missing a pool and, as a result, feels a bit overpriced. Also, guests who are looking for a quiet experience may want to avoid the weekends as this hotel can get a bit wild.
Best Luxury Hotel For Families
With its countless amenities, families seeking out the best resort in the area will enjoy The Nautical Beachfront Resort. This waterfront resort offers on-site dining and a pub, has a beautiful infinity pool, and a waterpark for children, and is next to the Lake Havasu Golf Course.
Best Luxury Hotel For Couples or Families With Older Children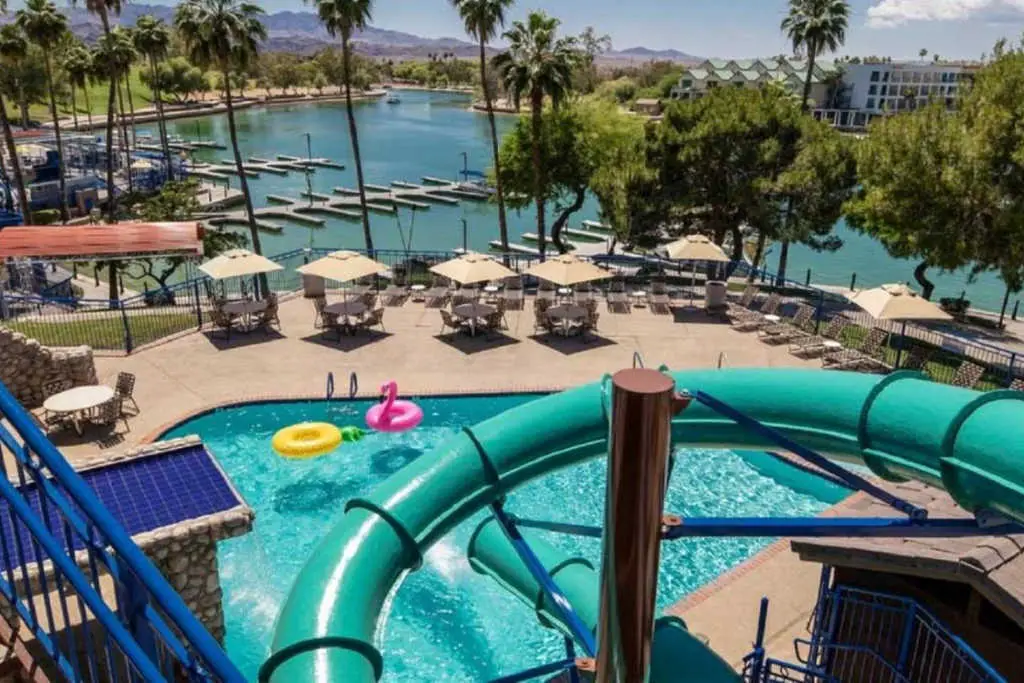 Simply put, the London Bridge Resort is the place to stay if you're looking for a party atmosphere. Located near the London Bridge, on the Bridgewater Channel, the London Bridge Resort has all the amenities you can think of, including three outdoor pools, a waterslide, restaurants, an outdoor pool bar, spacious suites, a marina, a spa, and a 9-hole golf course. In short, while the resort is a bit dated, if you're looking for a fun vacation this is the resort for you.
Best Luxury Vacation Rentals
Vacation rentals tend to get quite expensive when taxes and cleaning fees are included in the total price. However, many times, they offer better value, especially if you have a large number of people in your family or group.
Below are the three best luxury vacation rentals in Lake Havasu.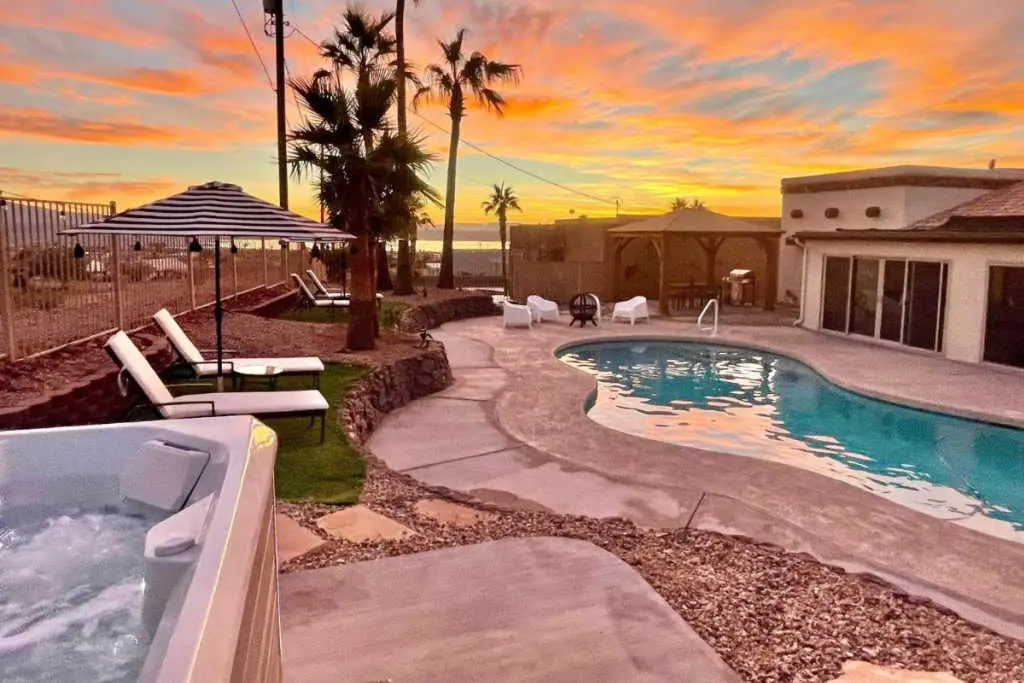 Lake Havasu Luxury Family Home with Outdoor Oasis – 2400 ft²: This four-bedroom and two-bath home sleep 10, with a pool. Furthermore, the outdoor space truly feels like an oasis in the desert.
Palm Paradise Water Views Heated Pool & Spa – 2600 ft²: You'll be welcomed to a three-bedroom three-bath ranch located on one of Lake Havasu City's loveliest streets. The spacious home sleeps 12.
Trendy Desert Getaway Pool, Spa, Game Room – 3200 ft²: This swank four-bedroom home sleeps 12 and is the creme de la creme of vacation rentals. Amenities include views of the lake, a sexy pool, a jacuzzi hot tub, and a jaw-dropping terrace.
Willing to choose the best places to stay by yourself or are you interested in getting off the beaten path? Try VRBO: a service comparing the best vacation rental prices.
Best Lake Havasu City Hotels for Large Boats
On busy weekends, boaters with watercraft may struggle to find adequate parking at Lake Havasu hotels. Typically, during the weekdays this will likely not be a challenging endeavor, however, during holidays guests should expect parking lots to be quite full.
The best Lake Havasu hotels with the largest parking lots include from least expensive to most expensive:
Selecting one of the best Lake Havasu hotels mentioned above for your travels will ensure your trip to this desert oasis city goes off without a hitch. Also, no matter where you decide to stay, or how big your budget is, Arizona's outdoor playground is waiting for you to enjoy!
Lake Havasu City Frequently Asked Questions
Below are the most frequently asked questions related to vacationing in Lake Havasu City.