We compiled this information to share with other travelers to assist with budget planning for their own RTW trip. Sure, we probably could have spent less, but we pride ourselves on the fact that we travel very comfortably and do extensive research to find great value for the dollar. Following Australia (where we spent the latter part of month 6), we set a course for Asia, where we visited India, Thailand, Borneo, and Japan. Near the end of month 9, we flew from Asia to Western Europe where we began exploring Portugal and France.
The chart below breaks out the total cost and average daily expenses for months 7 through 10. During this 4-month time frame, we traveled to 6 countries and 2 continents. We spent a total of $19,678. Our daily average for this initial time frame equates to $153 per day. *Click on chart to expand.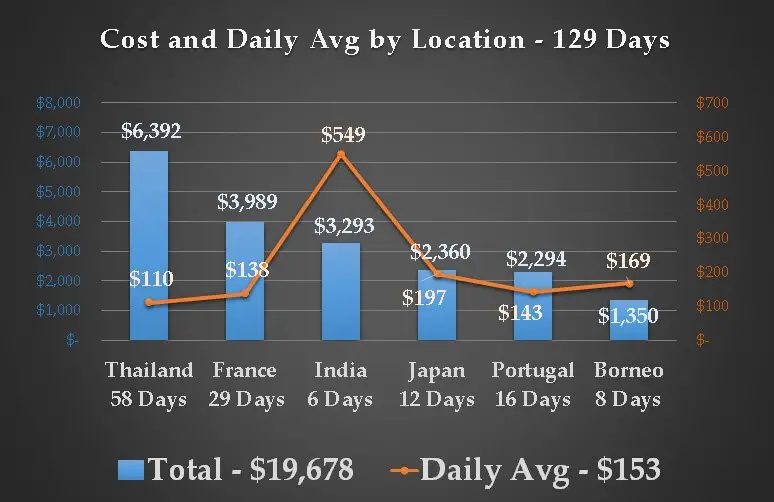 After 10 months on the road, including traveling through 13 countries and 5 continents, we've spent a total of $43,412. Our daily average for this time frame equates to $141 per day. *Click on chart to expand.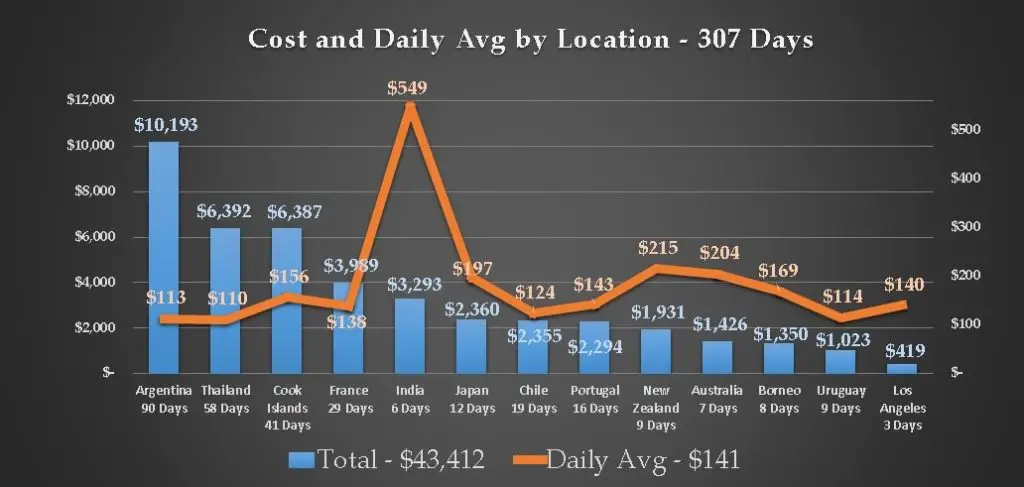 FOOTNOTES:

We did not use any of our remaining airline miles during this period. We were able to find some exceptional airfare deals using Google flights. Also, we prefer to save miles for transoceanic flights as they tend to offer the best bang for the buck.
Thailand – The flight from Sydney to Phuket was $413 per person. During our stay in Thailand, we rented an ocean view condo, a scooter (for the entire stay), and ate nearly every meal at a restaurant. In other words, we were living the "good life."
India – Our round-trip flight from Phuket to India was $312 per person. The daily average is extremely high at $549 per day because we went spent 4 nights at the <Ranthambore Tiger Reserve> where we went on daily tiger safaris.
Borneo – The flight from Thailand to Borneo was $136 per person. During our visit we went on a <3 night river safari on the Kinabatangan River.>
Japan – The flight from Borneo to Tokyo was $214 per person. Transportation costs within Japan included a 7 day JR rail pass at $244 per person.
Portugal – The flight from Tokyo to Lisbon was $430 per person. We thought this was a really great deal considering it's halfway around the world. Came in at $.06 per mile!
France – The flight from Porto to Paris was $34 per person. Came in at $.05 per mile! We also completed a <lease buyback> transaction on a brand new Peugeot for 22 days which added $620 to total transportation costs. Essentially, we rented a brand new car for only $28 per day, which is unheard of!
Of course, we have to include everyone's favorite, "How many?"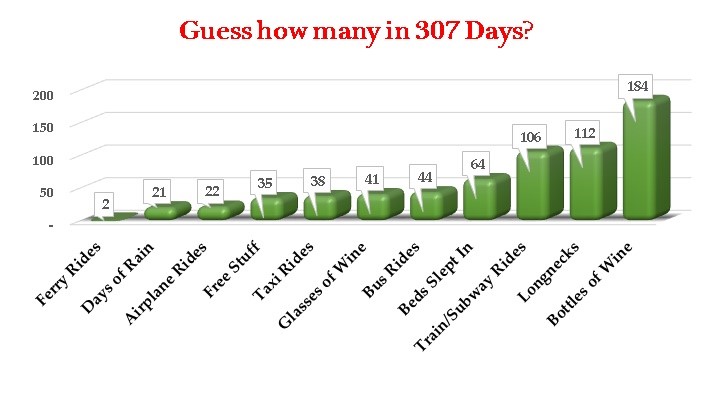 Location Breakout
The table below categorizes expenses by type for each country/location visited (for months 7-10). From this data, it's easy to see where expenses were incurred. *Click on table to expand.

Transportation: All costs to get to the country/location including flights, buses, ferries, taxis, gas/petrol, etc.
Excursions: All costs related to exploration/adventure travel. It usually includes a guide and a lot of fun!
Lodging, Eating-Out, Groceries, Alcohol, and Misc: Self-explanatory