Today we have officially been on the road for one glorious year, visiting our top travel destinations! As part of our celebration, I wanted to document and share my top 5 travel experiences thus far on our RTW. This past year, we traveled to 6 continents and 16 countries.
Our Top Travel Destinations Revealed
We've cherished this priceless freedom to be out in the world exploring each new day, hand in hand. These are the stand out moments; my favorite locations and some of the very best memories that I've collected so far along the way.
Every traveler has places in the world that they hold close to their hearts. Maybe some of my top picks will help to inspire a new place to hold close to yours.
Coming "Home" to Poland
Truth be told, when Harry was planning our time in Poland, I kept whining, "But why are we going there for so long?" Little did I ever think that I would come to love this country so much.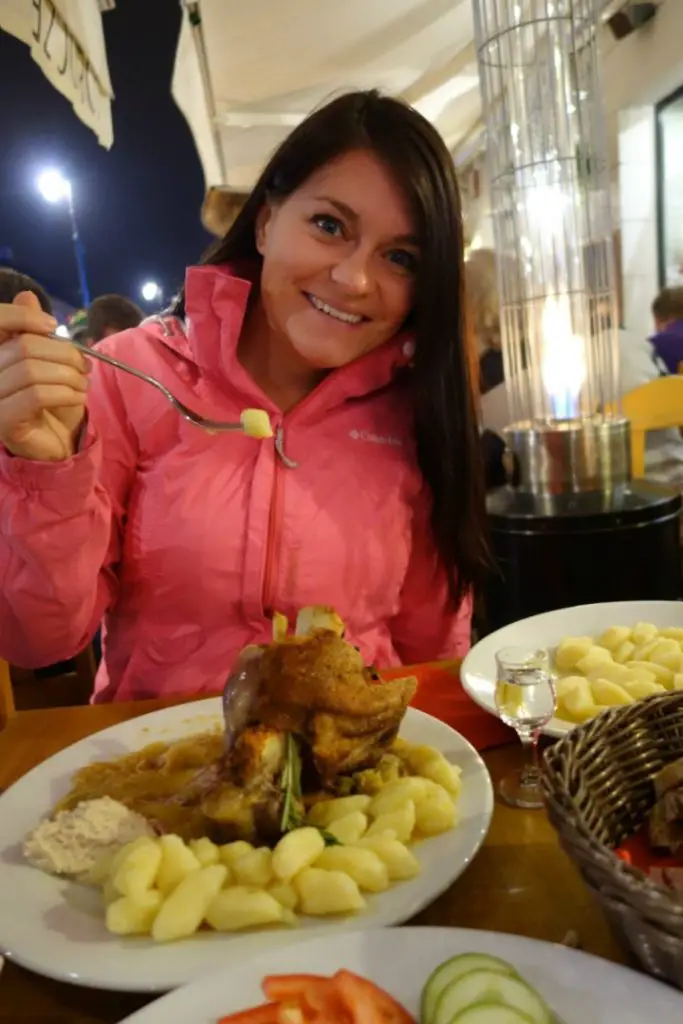 I think it's because I've never visited a place that felt like being home before. Everything was wonderfully familiar, and when you're on the road for so long, you appreciate that feeling. The cuisine was the best we've encountered on our travels so far, possibly because they were the same dishes that were on our dinner tables when growing up.
The rows of brick houses with manicured lawns reminded me of my childhood neighborhood in Chicago. Every apartment we stayed in was accented with potted plants, crochet blankets, and lace; all items we find scattered in our families' homes. We noticed familial resemblances in faces and in mannerisms.
We found the Polish to be good-natured, hardworking people, who love to clean (like me!) and enjoy a beer or vodka after a hard day's work (like Harry!) After exploring a lot of Europe, we found Poland to be inexpensive, safe, charming, and full of history. Poland is definitely our top pick in Europe. We are already planning to return.
Becoming 7th Continent Club Members in Antarctica
Like many travel junkies, stepping foot on all seven continents was always a goal of mine. However, the journey to reach Antarctica> by boat was no easy feat. The human body is subjected to so much force for such an extended period of time.
For days, we crossed the most treacherous, turbulent waters in the world. Harry and I will never forget the sensation. As you lay flat in your bed, (because frankly, the last thing you want to do is stand up!) your body feels a surge of a free fall, then a great push in an upwards, circular motion as you take wave after relentless wave.
In the end, all the discomfort and nausea was worth it because there is no other place on the globe like Antarctica. The wildlife, the vast landscape, the eerie, isolated feeling all contribute to this surreal, magical place that truly is the "end of the world." But looking back on our experience, surprisingly it's never the time on land that we reminisce about, but rather our Drake Passage crossing.
I know we'll never forget the time we were caught in that Antarctic hurricane, riding 30-40 foot waves.  We often relive our expedition, shaking our heads in astonished amazement, exclaiming, "We can't believe we made it through that!"
Hiking 100-Miles on the West Highland Way in Scotland
Scotland was a hidden gem for me. I always knew I wanted to incorporate a long distance "epic" hike into our RTW plans and the West Highland Way did not disappoint. Scotland's terrain easily rivals some of the world's best with its lochs, waterfalls, green rolling meadows, forests, and mountainous terrain. After a year on the road, one thing we've discovered is that it is very difficult to find quiet out in the world.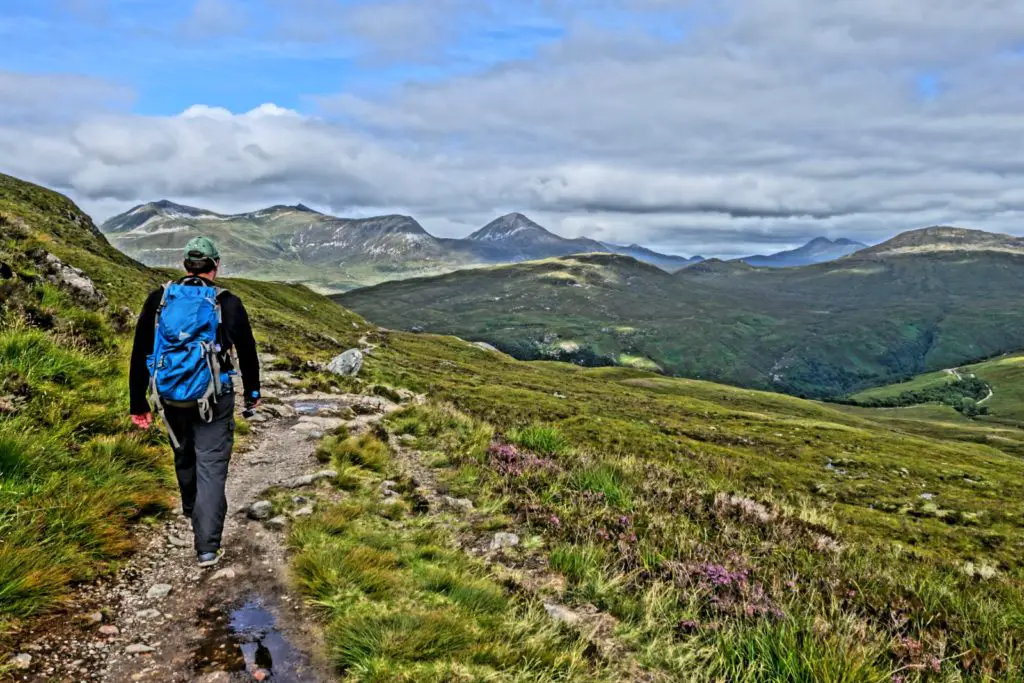 But on the WHW, for mile after mile, we often wouldn't see another human in sight. Scotland's isolated wilderness finally granted us the tranquil serenity that we often crave.
Afterward, as I reflected on our 100-mile journey, I found that there is a peaceful rhythm to long distance hiking. Life becomes simple when your daily goal is simply putting one foot in front of the other. I very much enjoyed the challenge and was glad to find respite in a beautiful part of the world that is still very much under the radar.
Chasing Orangutans Through Borneo
As an animal lover, <Borneo> was a dream destination for me. I would feel a surge of energy, always with my binoculars or flashlight in hand, every time we boarded our boat on the Kinabatangan River.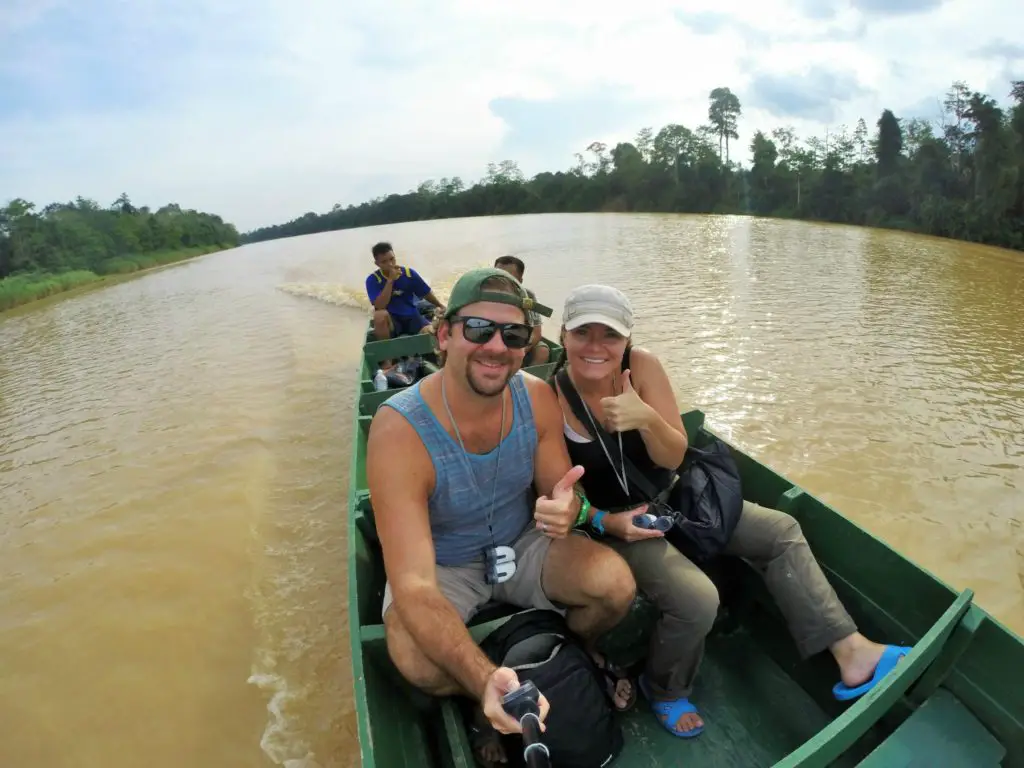 As a person who loves the thrill of the find, not knowing what wildlife we would find in the Malaysian jungle was such a natural high! Seeing elusive orangutans in their natural habitat, having our local guide take us down isolated river tributaries, and afternoon coffees in a basic jungle camp almost made us feel like early, turn of the century explorers. These days, that's not an easy feeling to replicate.
Living Island Life in the Cook Islands
I've never felt as carefree and relaxed as I did in this little piece of paradise in the South Pacific. It felt like a vacation from the outside world and a second honeymoon after ten years of marriage. Here we could concentrate on one another as we were forced to abandon all the technology that often encourages couples to stare at a screen as opposed to each other.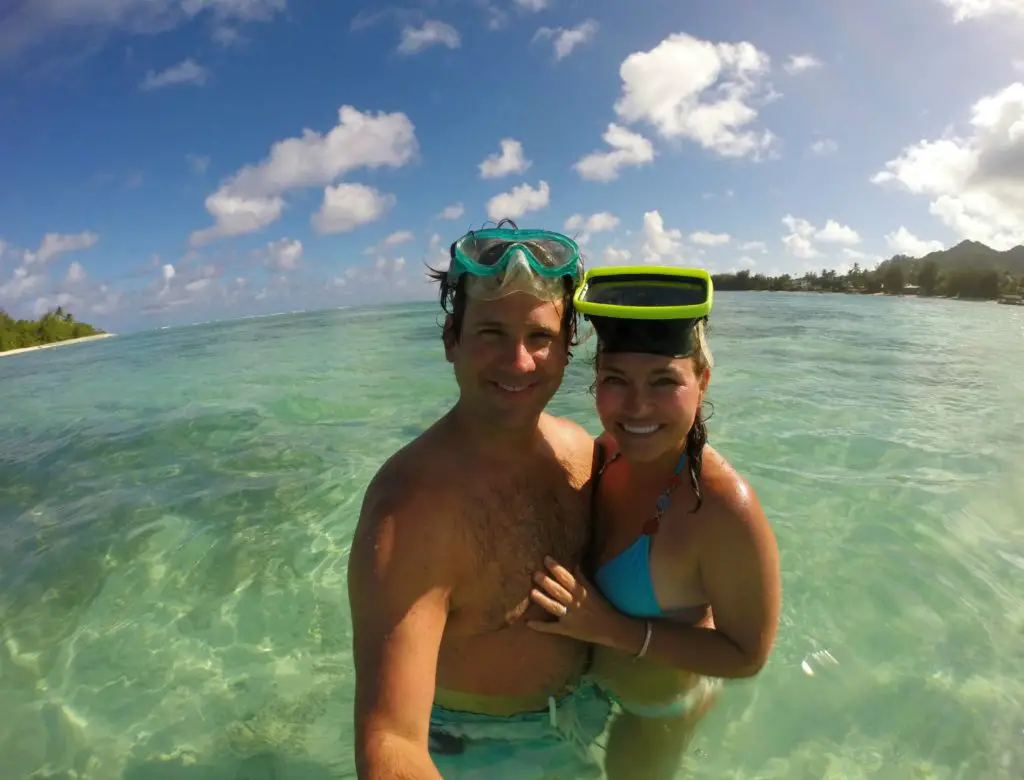 Our nightly entertainment consisted of one local radio station that played great music, but broadcasted in the local Mooari language. In the <Cook Islands>, we felt blissfully removed from the world. It is here that we spent 40 lazy days; getting dressed meant putting on a bathing suit, eating fresh meant hand picking fruits and coconuts right outside our door, and exercise consisted of outdoor Zumba with a hula dancing flare.
What a blessing to have the hardest decision of the day to decide what type of fresh fish to get for dinner, or what quiet beach we were heading to for our afternoon swim. The Cook Islands will always be our happy place and our vision of paradise.