Planning a tour of French wine country can feel overwhelming and frustrating, especially when you're trying to do it on a budget. France is an expensive country to visit and there's a huge amount of ground to cover.

French Wine Country – Itinerary
Starting in Paris and heading counterclockwise, we worked our way west to the beaches of Normandy, south to Marseille, and ended in a beautiful Champagne country. Our itinerary covered 22 days. In this guide, we explain how we got around, where we stayed, where our best wine experiences occurred, and the general sites and highlights we visited along the way.
Getting Around
After tons of research and planning, we realized that the best way to tour France was by renting a car through one of the short-term lease buyback programs through Auto Europe. However, if you're looking to rent a vehicle for less than 21 days, you'll get the best price going through Auto Europe's short-term rental program. Either way, you'll get the best price for the duration of your stay.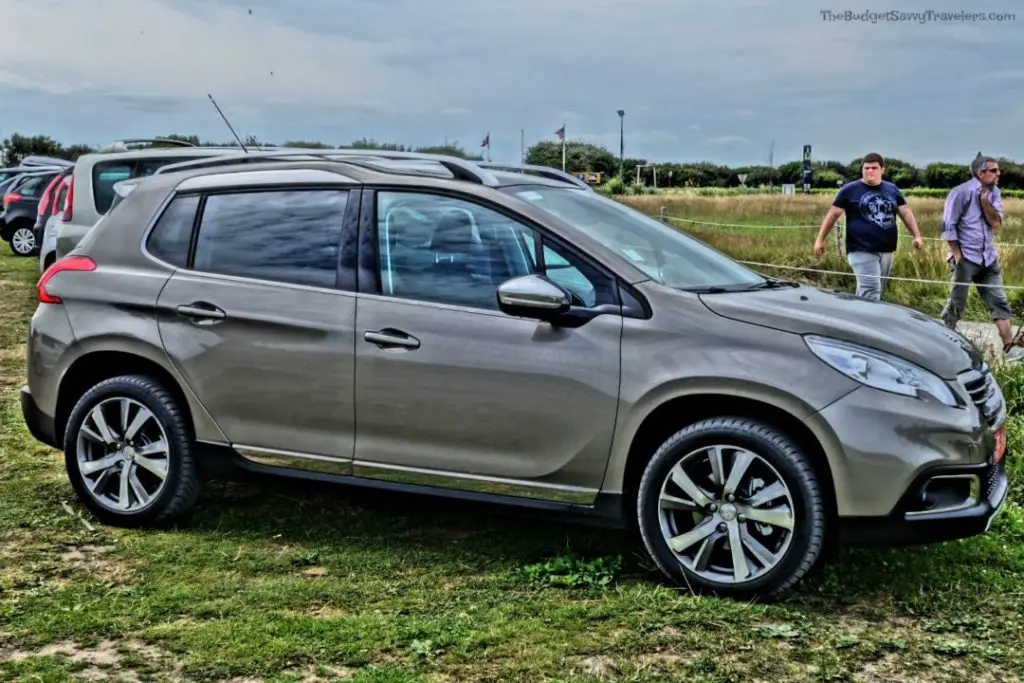 Instead of renting a car, we bought one through a short-term lease. If you're traveling for more than 15 days by car in Europe, this is by far the absolute best option. Our 22-day rental cost a total of USD 622, or $28 per day.
Here's our contract proving the price. We ONLY paid the deposit of $622. We spoke with another couple on a short holiday who were paying $45 per day for an old used car! $622/22 days = $28 per day!!
Find out the details behind the rental by visiting our other post. The highlights of the rental include:
All vehicles are covered by a $0 deductible, fully comprehensive insurance policy!
Unlimited mileage (we drove 3,000 miles), 24-hour roadside assistance, and no VAT, road taxes, or airport fees.
Additionally, the vehicle came with Peugeot's in-car GPS navigation system.
Lease buyback vehicles also offer full factory warranties.
Our 29-day tour of France, including our time in Paris, cost a total of $3,988, or about $69 per day per person!
We use this budget-savvy travel health insurance to protect our trips – get a quick quote.
Itinerary
Renting a car through the lease buyback program allowed us to drive to the cheapest accommodations in the area, no matter what part of the country we were visiting. Staying outside of the city center significantly brought down our average daily cost.
We budgeted about $40 to $60 per night on lodging. Depending on the length of stay, the area, and the price we either chose to stay in a hotel or apartment using booking.com to get the best price.
Day 1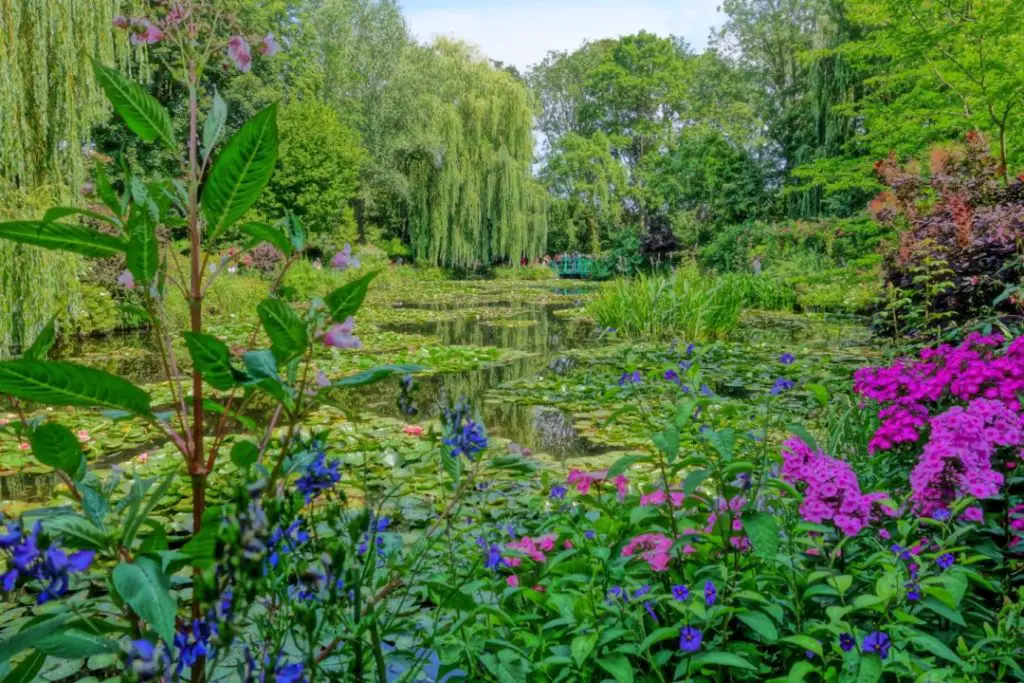 Departing Paris, our first stop was in Giverny to Monet's Garden. This is a beautiful place to stop on the way to the beaches of Normandy. We stayed in the small village of Trouville-la-Haule at Chambres d'Hôtes A L'ecole Buissonniere, a bed & breakfast.
Day 2 and 3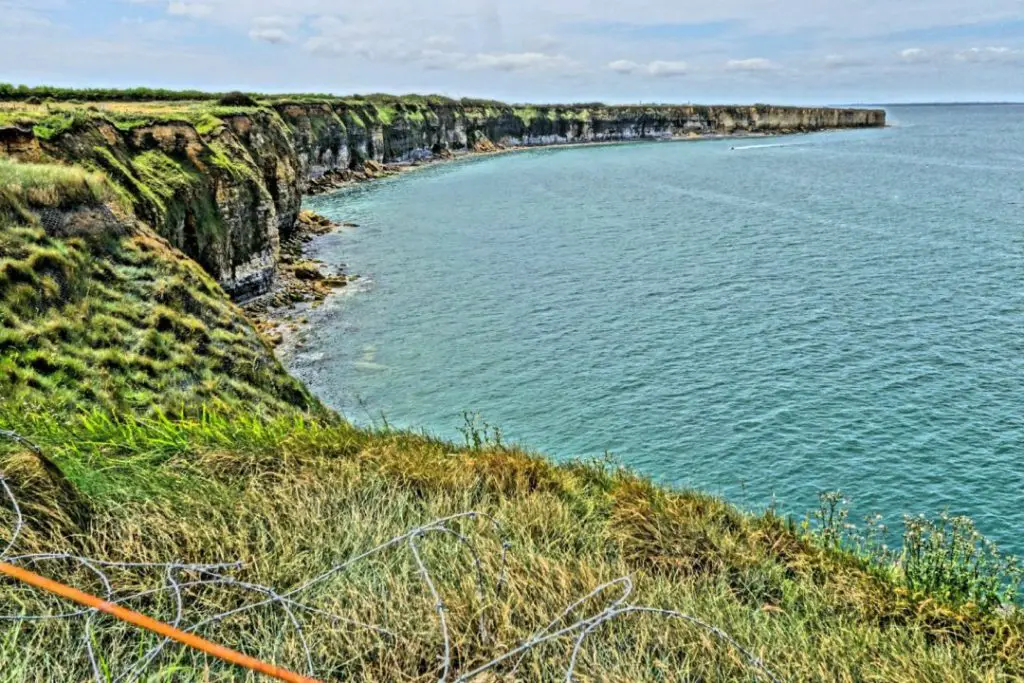 We spent days touring D-Day sights: Normandy Beach, American Cemetery, Pointe du Hoc, Omaha Beach Memorial Museum, Church of Sainte-Mère-Église, the Overlord Museum, and the Airborne Museum. We spent the first night at Gold Beach Hotel and the following night at Hôtel Kyriad Rennes Sud in Chantepie.
Day 4 to 6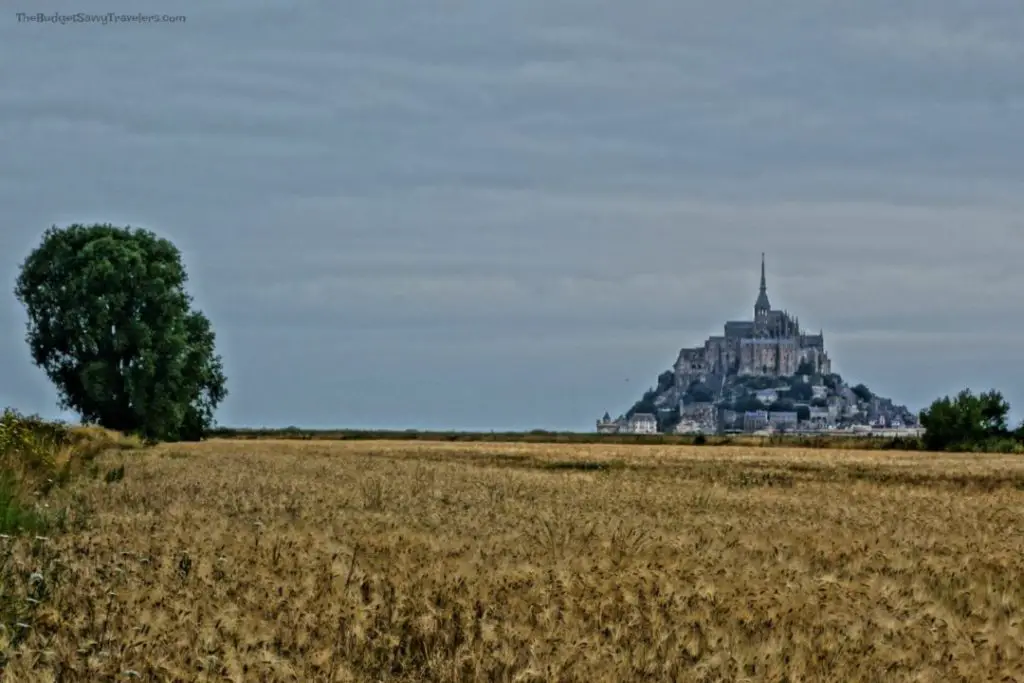 We were hoping to visit Mont Saint-Michel on day three but we arrived too late at night (on day three) and were forced to drive back on the morning of day four. In other words, we had to backtrack because we pre-booked the hotel in Chantepie.
We drove from Chantepie back to Mont Saint-Michel and ended our day in Angers in the Loire Valley. Our first stop in Angers was the Maison des Vins d'Anjou et de Saumur.
Loire Valley
The sub regions and varitels in the Loire Valley include:
Pays Nantais: Muscadet
Anjou: Chenin Blanc
Saumur: Chenin Blanc (sparkling wine) and Cabernet Franc.
Touraine: Chenin Blanc, Chinon, Cabernet Franc, Sauvignon Blanc, Gamay, and Malbec.
Centre-Loire: 80% Sauvignon Blanc, 20% Pinot Noir.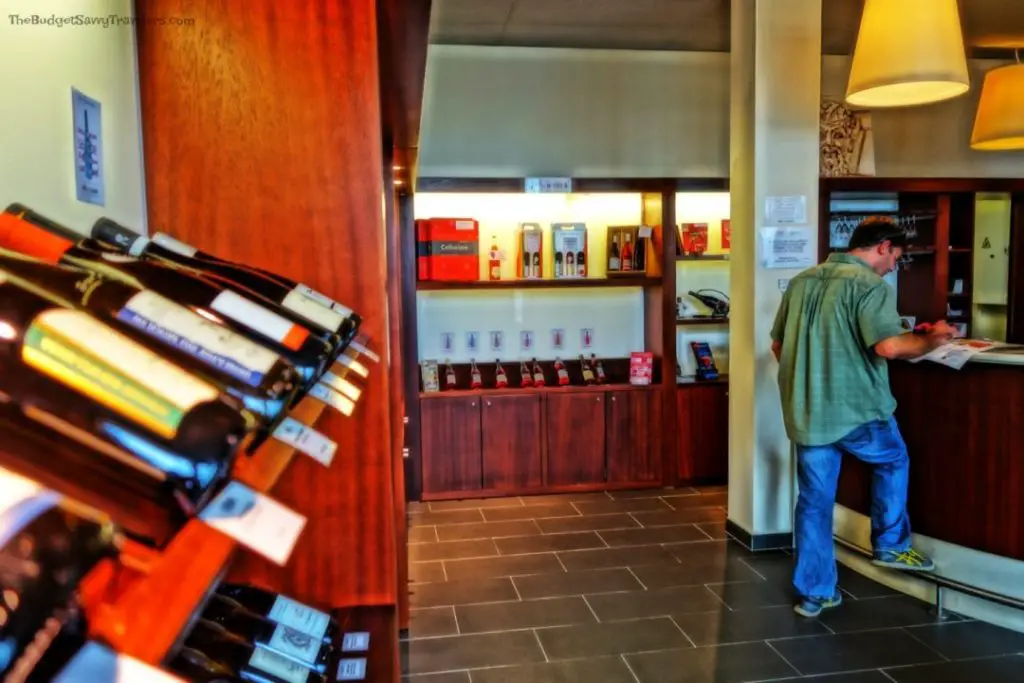 We found out that the Maison des Vins (House of Wines) are located throughout France and offer visitors free wine tastings of local wines, tips for what wineries to visit in the area, maps, information about the various varietals in the region, along with other news and information about what is currently happening in the region.
The Maison des Vins are extremely important to visit because the staff provides great insight and suggestions on what wineries to visit based on time of year, hours of availability, and local specialties. They also provide FREE tastings and contact wineries to make reservations for tourists.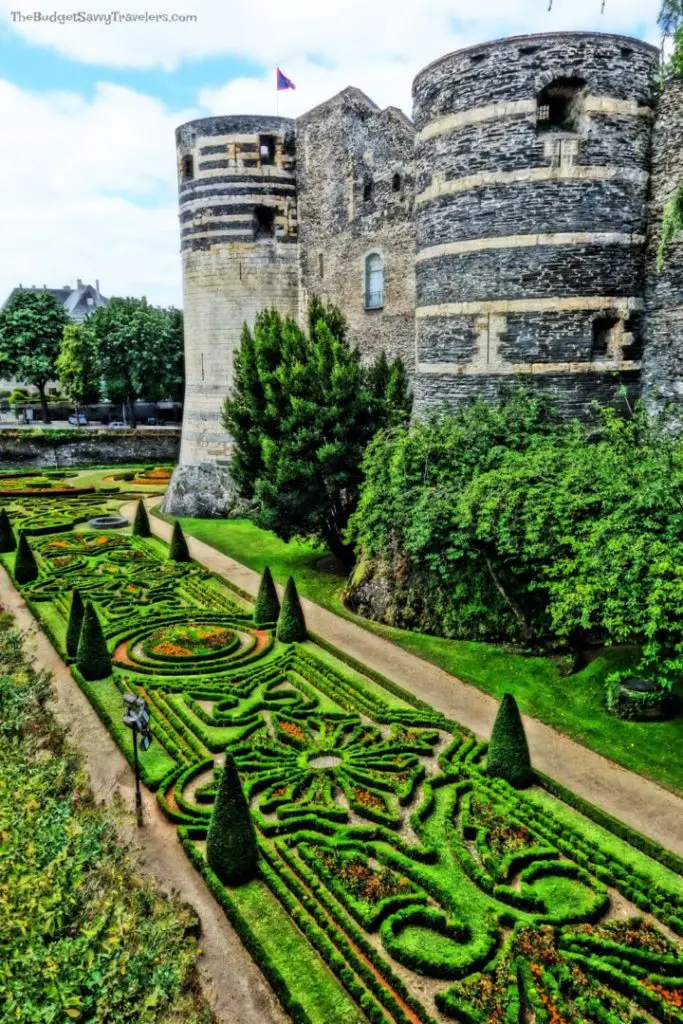 We stopped at various wineries throughout the Loire Valley, mainly based on the recommendations of the Maison des Vins and the endorsements for other wineries from the wineries we visited.
Across the street from the Maison des Vins is the Château d'Angers, a beautiful castle built between the 9th and early 13th centuries. We also visited the Cointreau Factory. The first night we stayed at Kyriad Angers Ouest Beaucouzé and on the second night, we stayed at the ibis budget Amboise.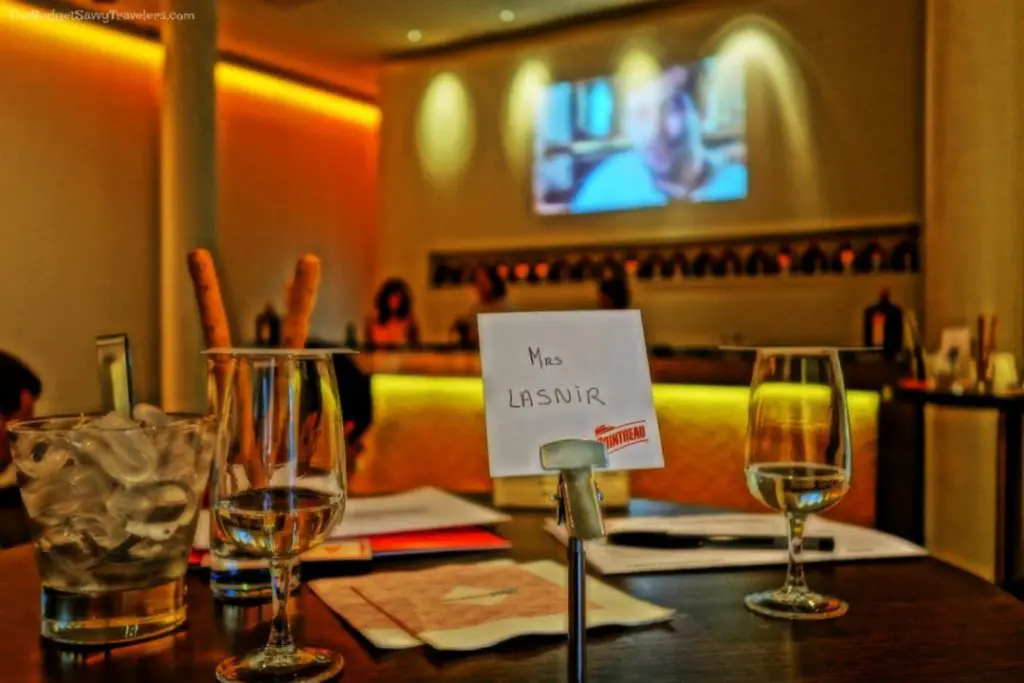 Day 7 and 8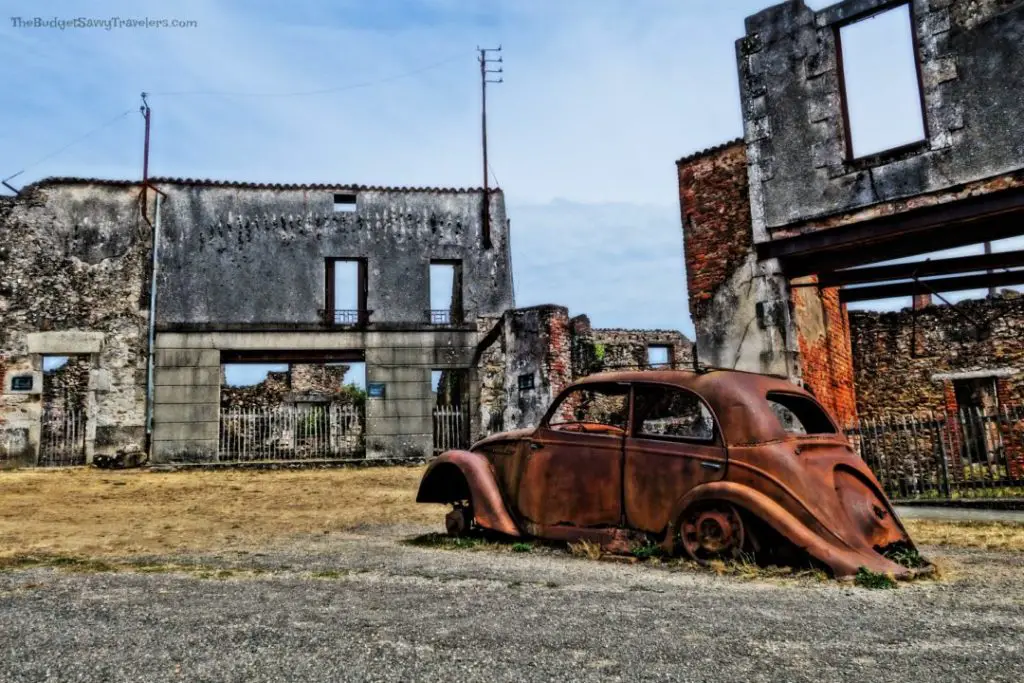 Today we headed to Cognac country. Along the way, we stopped at the site of the Oradour-sur-Glane massacre. This was the most shocking and disturbing WWII site that we encountered on our tour of France. We stayed in an apartment on booking.com and visited Martell, the oldest of the great Cognac houses.
Cognac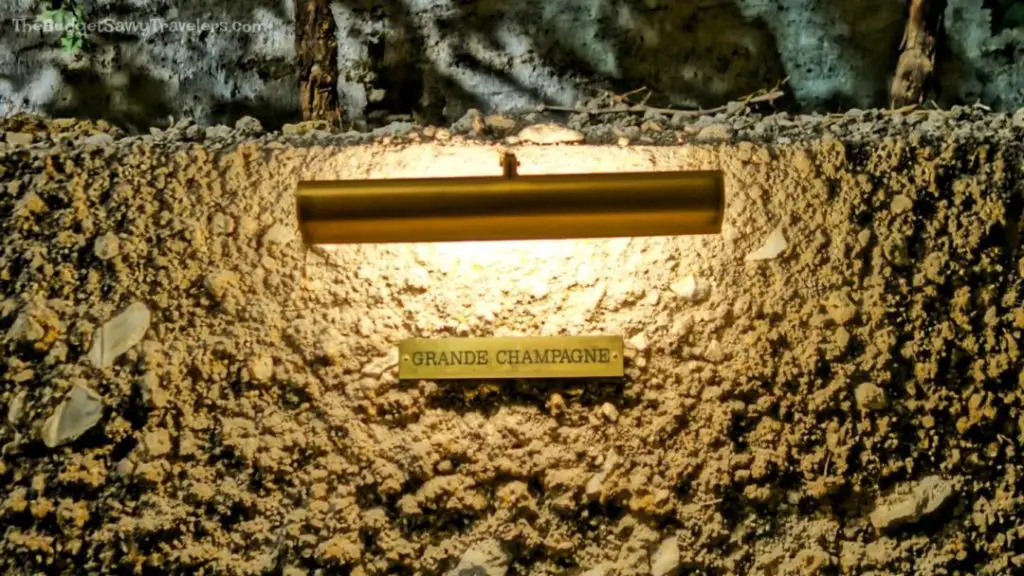 Below are the sub regions in Cognac:
Grande Champagne, Petite Champagne, Borderies, Fins Bois.
The three main white grapes used in the production of Cognac are Trebbiano Toscano (Ugni Blanc), Folle Blanche, and Colombard. Ugni Blanc is the main varietal and is occasionally blended with Folle Blanche or Colombard.
Day 9 to 11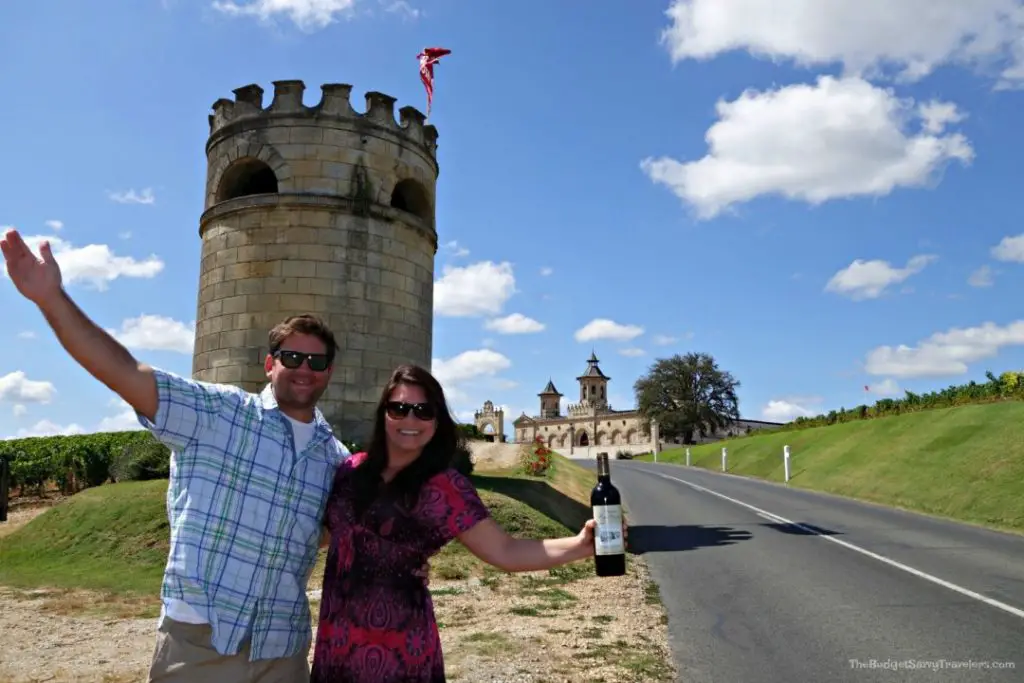 We departed Cognac and headed to the Bordeaux region. We stayed in an apartment and visited many wineries in the area. Take some time to visit the city center, it's worth exploring. We made sure to stop at the Maison du Vin de Bordeaux and the Maison du Vin de Saint Estèphe to find the best wineries to visit during our stay.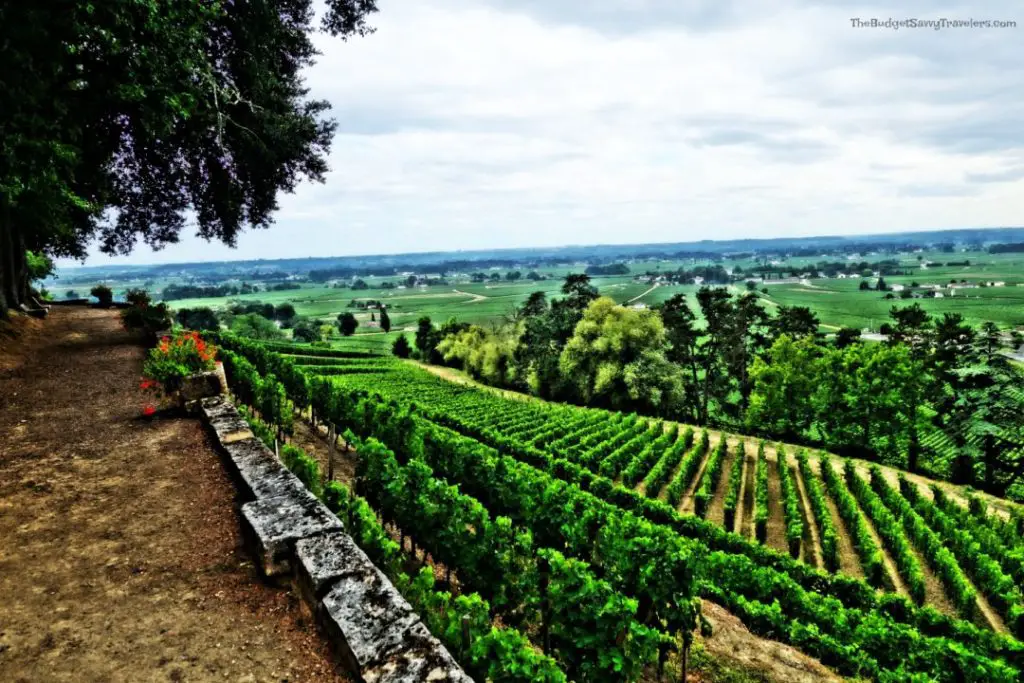 Bordeaux
Below are the sub-regions in Bordeaux:
Left Bank: Médoc and Graves.
Right Bank: Libournais, Bourg and Blaye.
Types of red grapes include Cabernet Sauvignon, Merlot, Cabernet Franc, Malbec, and Petit Verdot. Most are blended wines, with the Left Bank being predominately Cabernet Sauvignon, while the Right Bank is predominantly Merlot.
Types of white grapes include Sauvignon blanc, Sémillon and Muscadelle.
Central Bank: Entre-Deux-Mers (Between-Two-Seas), mainly considered very good table wine.
Day 12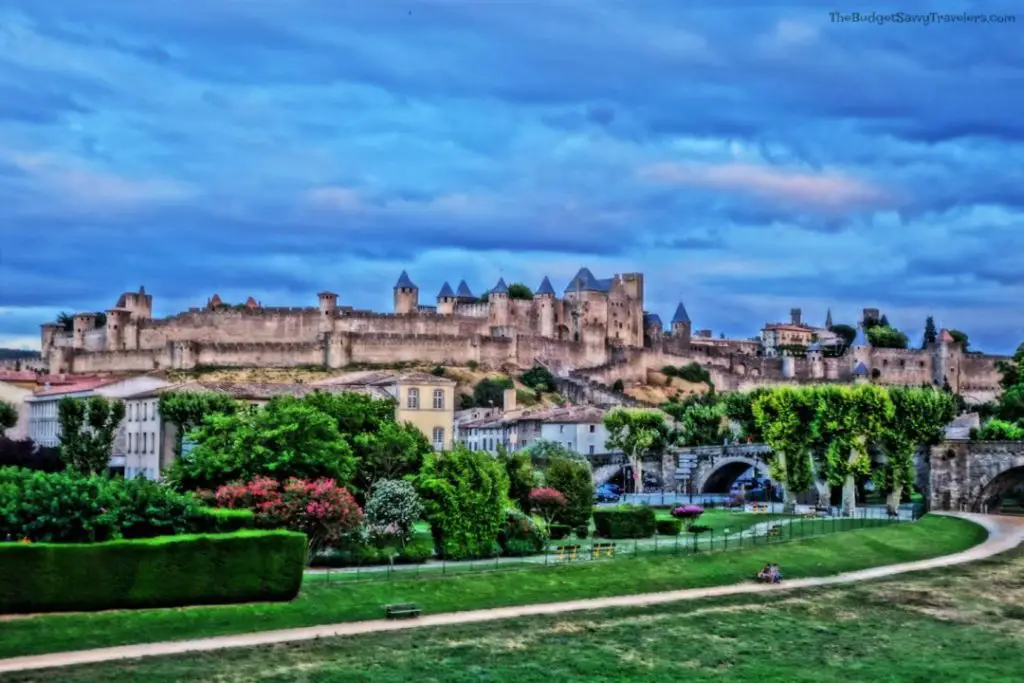 We departed Bordeaux and headed to the French Riviera. Along the way, we stopped in Carcassonne to break up the drive and visit the Château Comtal. We stayed at the Hotel ibis budget Carcassonne Aeroport.
Day 13 and 14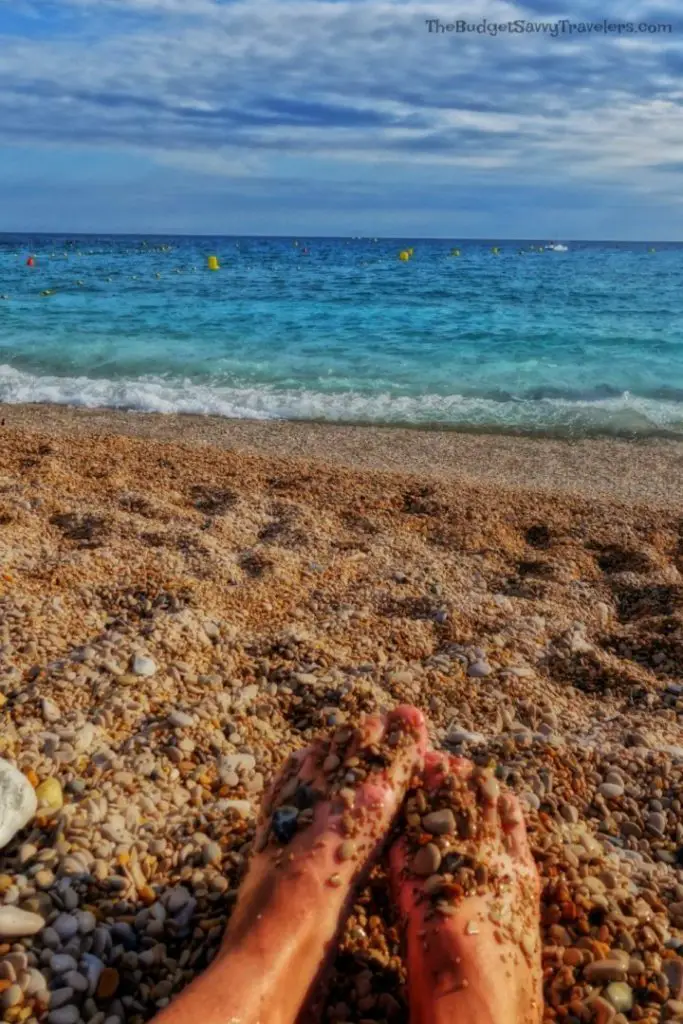 We decided to stay in Baumettes, a village town outside of the main city of Marseille. We rented a small loft-style apartment through Airbnb and took a day trip to Cassis, the most western town along the French Riveria. The drive from Marseille to Cassis through Calanques National Park is spectacular.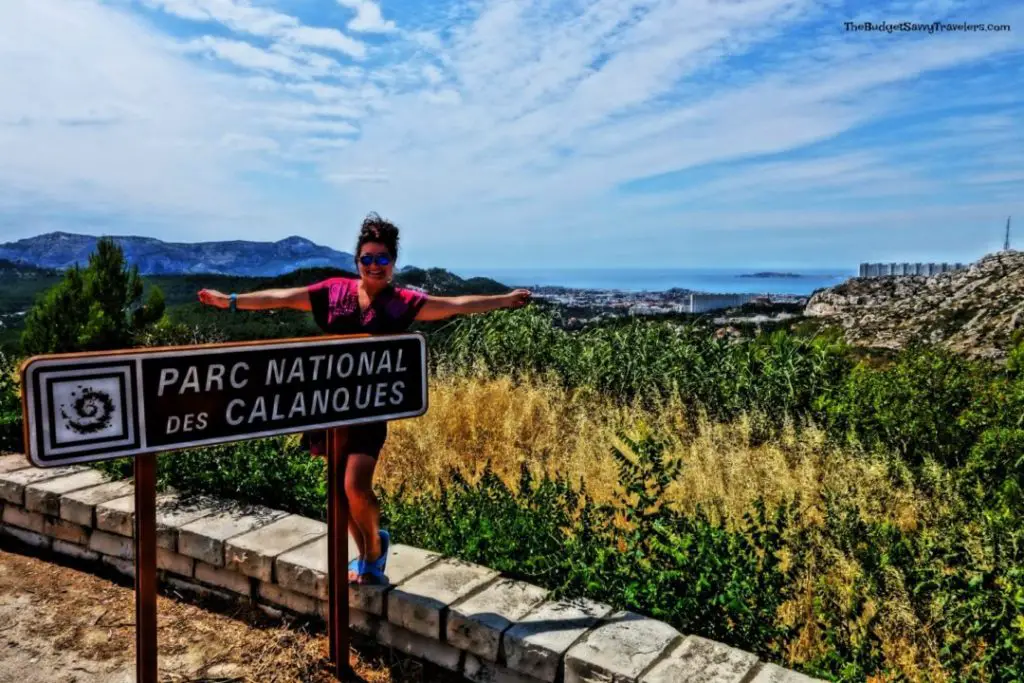 Day 15
Departed Marseille and headed to Lyon, driving through the Rhône Valley wine region. This wasn't a wine region that we were interested in visiting or spending too much time in. We decided to spend our extra days touring the Burgundy and Champagne regions. Therefore, this was more of a scenic driving day. We stayed at the Hôtel Première Classe Lyon Est Saint Quentin Fallavier Aéroport.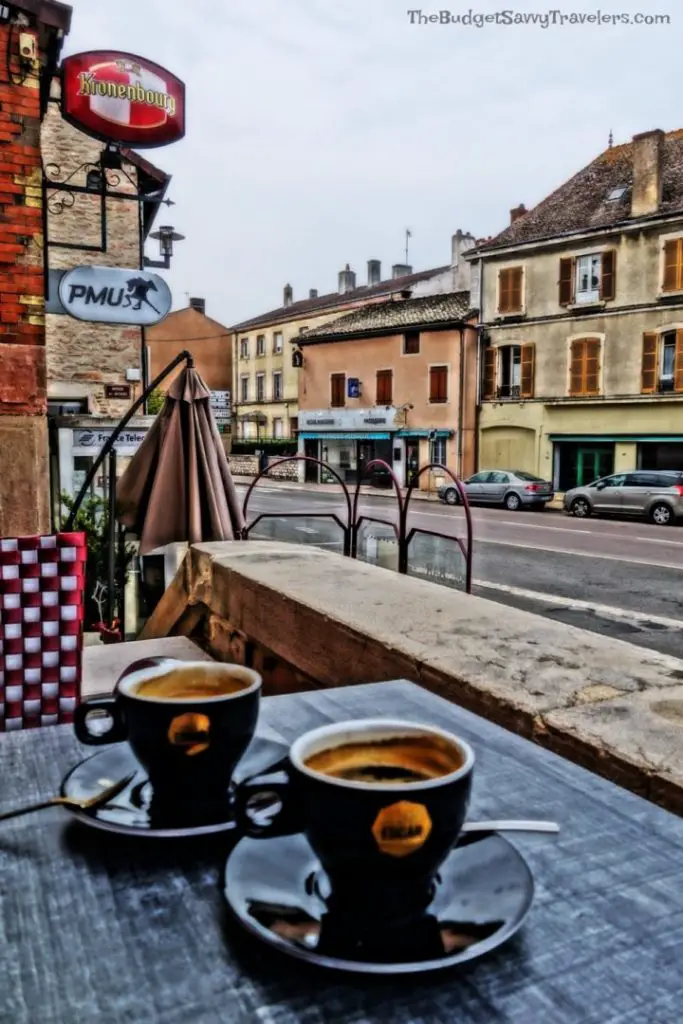 Rhône Valley
Below are the sub-regions in the Rhône Valley:
Northern Rhône: Syrah, Viognier, Marsanne, and Roussanne.
Southern Rhône: Types of red grapes include: Châteauneuf-du-Pape (a blend), Grenache, Syrah, Mourvèdre, Carignan and Cinsault.

Types of white grapes include Ugni Blanc, Roussanne, Bourboulenc, Picpoul, and Clairette.
Day 16 to 18

To us, this was the highlight of the French wine country. We took a seated wine tour of the region at La Cave de l'Ange Gardien, in Beaune. This is where we learned from the Doctor of Wine himself, Pierre Jaboulet-Vercherre.
We strolled the city center of Beaune and took in its small-town splendor, and spent the rest of the time visiting scenic vineyards and driving through this spectacular wine country. We stayed in Dijon in an apartment.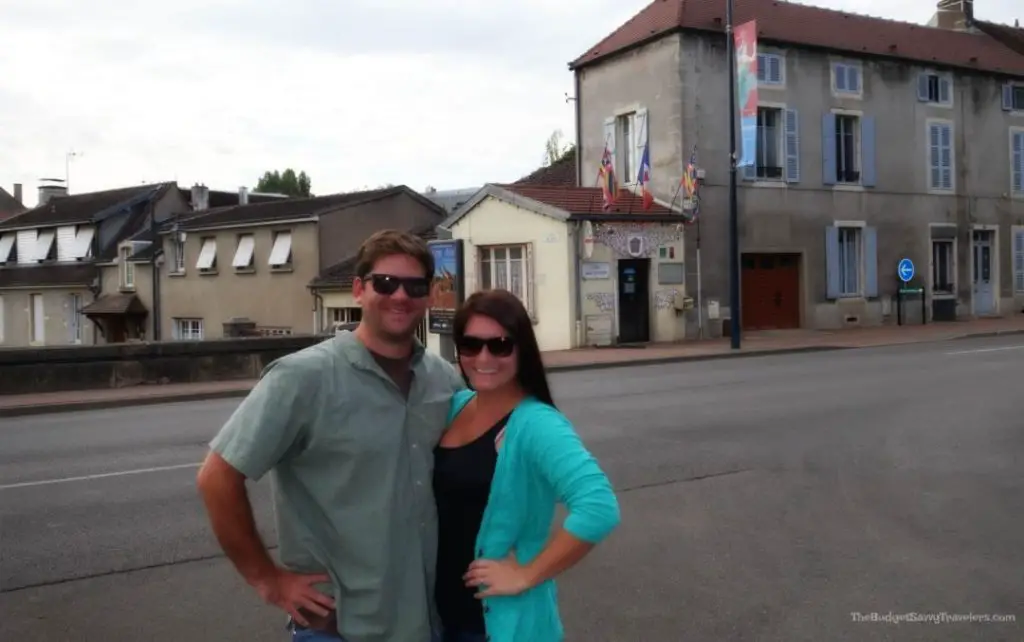 Burgundy (Bourgogne )
Below are the sub-regions in Burgundy:
There are really only two grapes grown here, Pinot Noir and Chardonnay. You can tell the type of grape being grown by the color of the soil (terroir). Reddish-brown soil indicates Pinot Noir, while a yellowish-brown soil indicates Chardonnay.
Chablis: Chardonnay
Côte de Nuits: 80% Pinot Noir, 20% Chardonnay—Côte de Beaune: 90% Pinot Noir, 10% Chardonnay⁠—Côte Chalonnaise: Chardonnay and Pinot Noir
Mâconnais: 80% Chardonnay, 10% Pinot Noir, 10% Gamay

Travel Tip – Just south of Mâconnais is the Beaujolais region. This region specializes in Gamay, the little brother of Pinot Noir. If you like Pinot Noir you'll most likely enjoy Gamay. Because Gamay is not as popular as Pinot Noir you should be able to find a very nice bottle of wine for a great price!
Day 19 and 20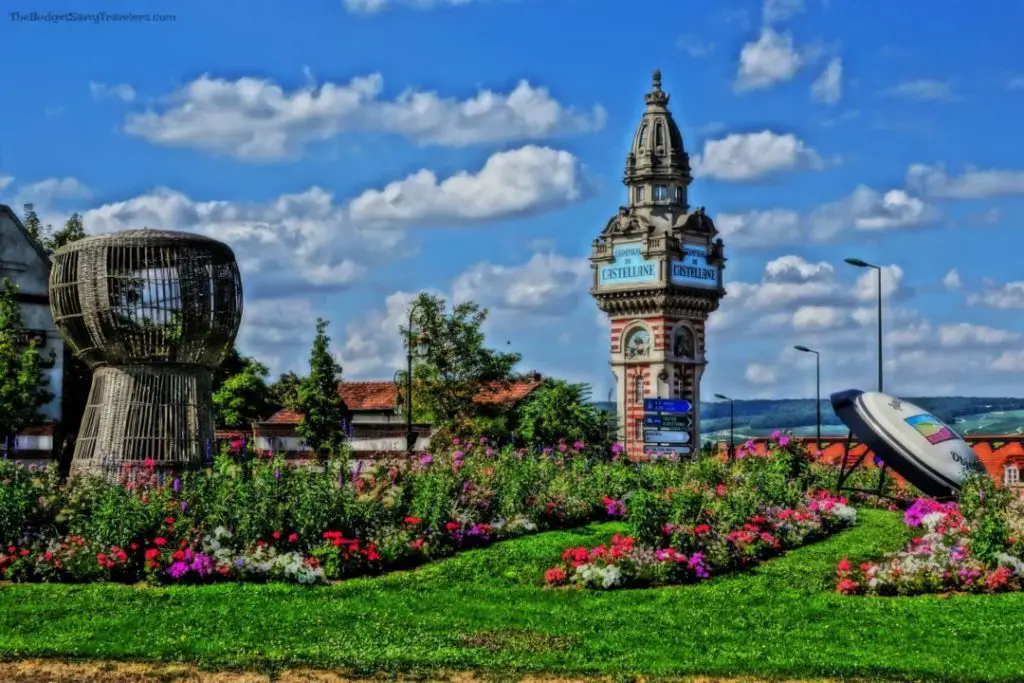 We decided to close out our tour of the wine country by visiting Épernay, the home of Champagne. Strolling along the Avenue de Champagne (The Champagne Avenue), we took in the wonderful architecture. We also went to the nearby village of Hautvillers to see the site where Champagne was invented.
Out of all of the French wine country we visited, we felt like this was the most beautiful area. Make sure to stop in the Tourist Office of Epernay 'Pays de Champagne', to find out which cellars are open for tastings and tours. We stayed in Reims at an apartment.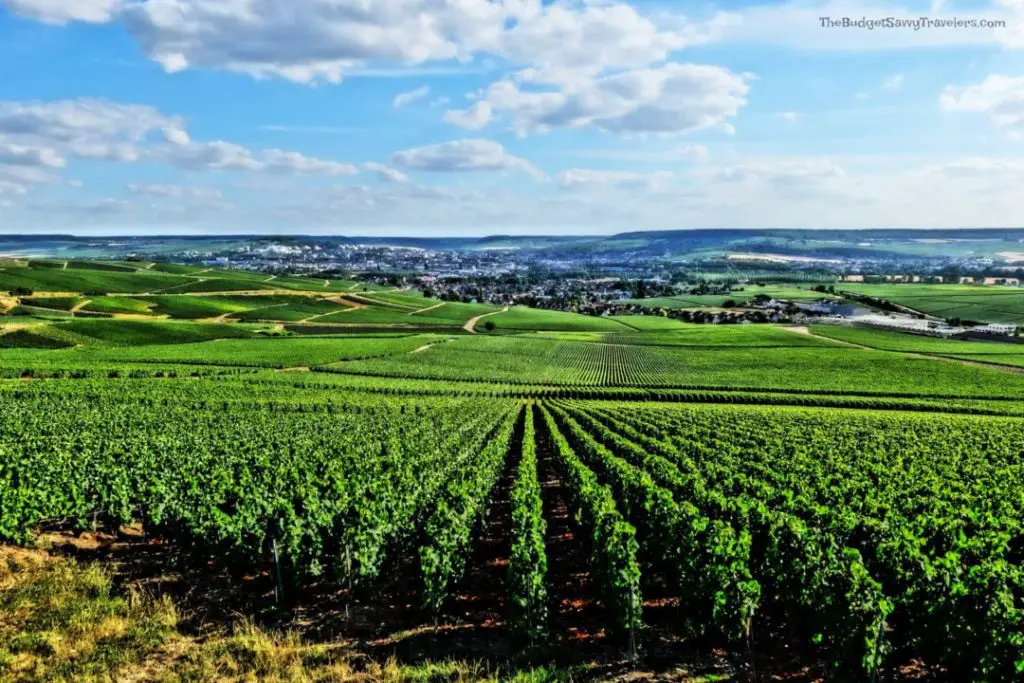 During our limited time, we visited the Mercier House and took the cellars tour. The cellar is below ground and is so large that the tour is done on a little automated tram/train. No walking! The cellars are over 10 miles long. Audrey described it as a Walt Disney World-like experience, that was, "Very nicely done."
Champagne
Below are the sub-regions in Champagne:
There are really only three grapes grown here, Pinot Noir (40%), Pinot Meunier (30%), and Chardonnay (30%). One of the main attributes of Champagne is the level or amount of sweetness, ranked from dry to sweet: Brut Nature, Extra Brut, Extra Dry, Dry, Demi-Sec, and Doux.
Montagne de Reims: Pinot Noir
Côte des Blancs: Chardonnay
Vallée de la Marne: Pinot Meunier
Côte des Sézanne: Chardonnay
Aube (aka Côte des Bar): Pinot Noir
Day 21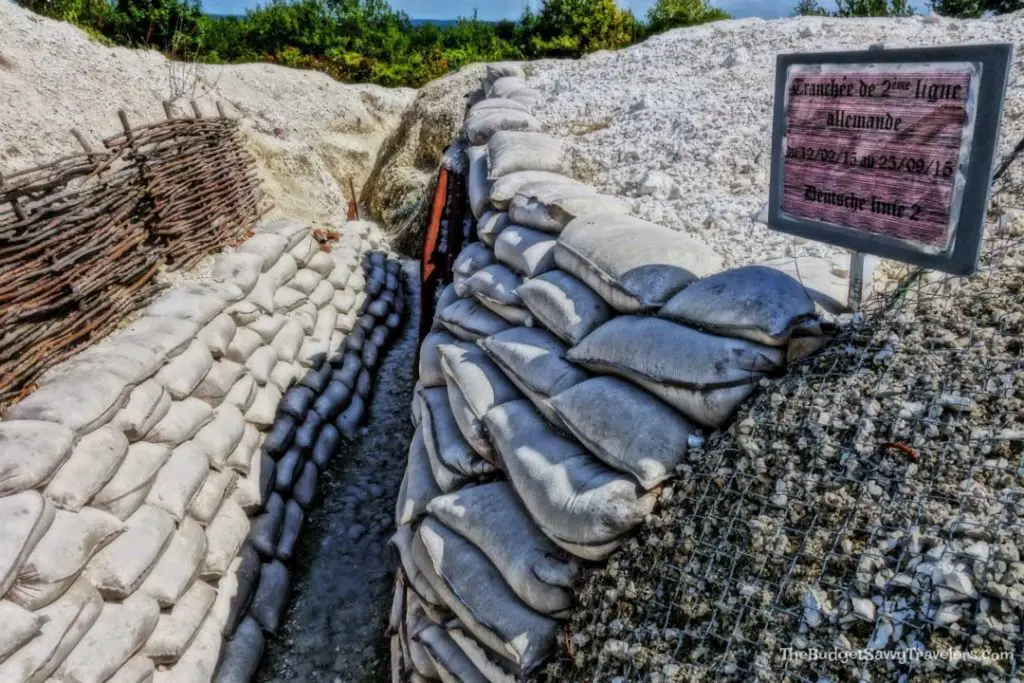 We drove from Reims to Saint-Witz, near CDG airport. On the way we took a stroll through central Reims, next we visited the countryside to tour La Main De Massiges, old WWI trenches. This is a must-stop for anyone interested in World War history. Next, we visited the nearby Valymy windmill. Afterward, we drove to Saint-Witz, to stay at the Première Classe Roissy Survilliers Saint Witz, near the Charles de Gaulle Airport.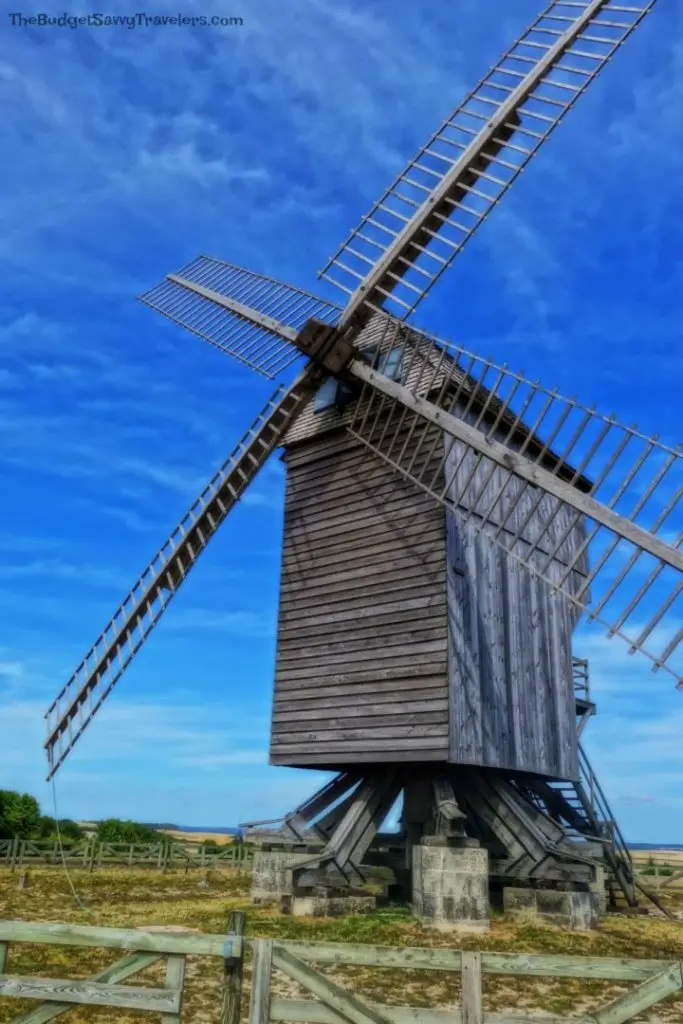 Day 22
Today we dropped off the rental car at the airport through the Peugeot Lease Buyback Program. As the car was fully insured there was no annoying and cumbersome inspection done, it was simply and quickly dropped off.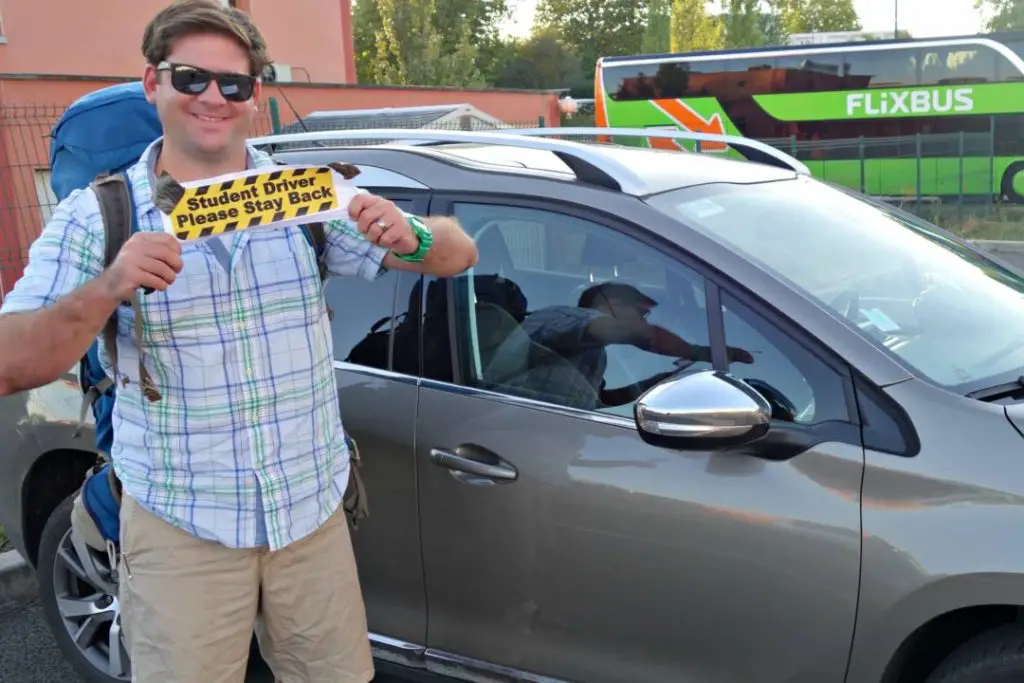 Travel Tip
One aspect of France that we struggled with was eating on a budget. It's very expensive to eat out.
We overcame this by visiting the larger grocery store chains like Carrefour, E.Leclerc, and Lidl. These stores offered nice and healthy prepackaged meals that were affordable and filling. Meal options included salads, sandwiches, and couscous, meats, cheeses, and of course, the traditional French baguette.