We had a blast doing the five best things to do in McHenry County. Luckily, we visited during restaurant week and enjoyed such lovely food. When we have access to a fully stocked kitchen, our souls seem to illuminate with some sort of inner-spiritual foodie-ness.
We love researching recipes, preparing elaborate multi-course meals, and pairing everything with the perfect sip of wine.  We are foodies and we are loud and proud.
While traveling to different cities, we always make it a priority to try new restaurants, wines, and cuisines. The beauty of food is that it can take us on a new adventure, a culinary journey if you will, and you don't have to travel far to find one.
5 Best Things to Do in McHenry County 2023
Around this time of year, regions around the country are organizing and celebrating Restaurant Week. It's an opportunity for folks to sample some of the best dishes that local restaurants have to offer, typically at a discounted rate.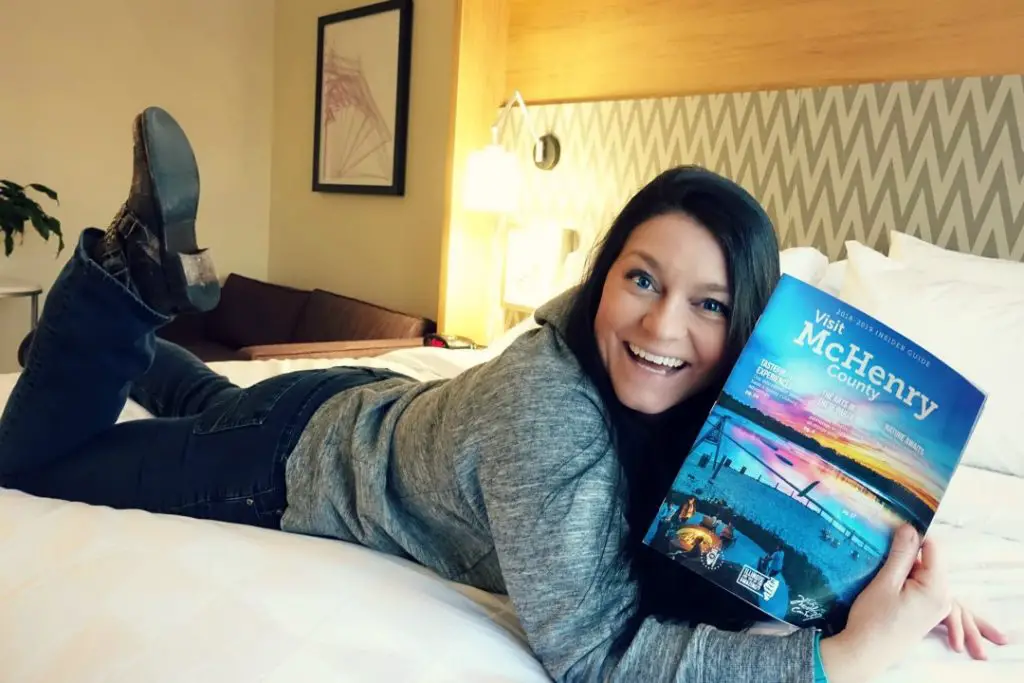 With lots of fabulous dining establishments to spotlight, McHenry County, Illinois has officially joined the bandwagon. This year, the tourist board is hosting the region's first inaugural Restaurant Week. In the spirit of being fervid foodies, we were warmly invited to preview some of the participating restaurants and to see what other gems McHenry County has to offer. 
1. Dine at 1776 Restaurant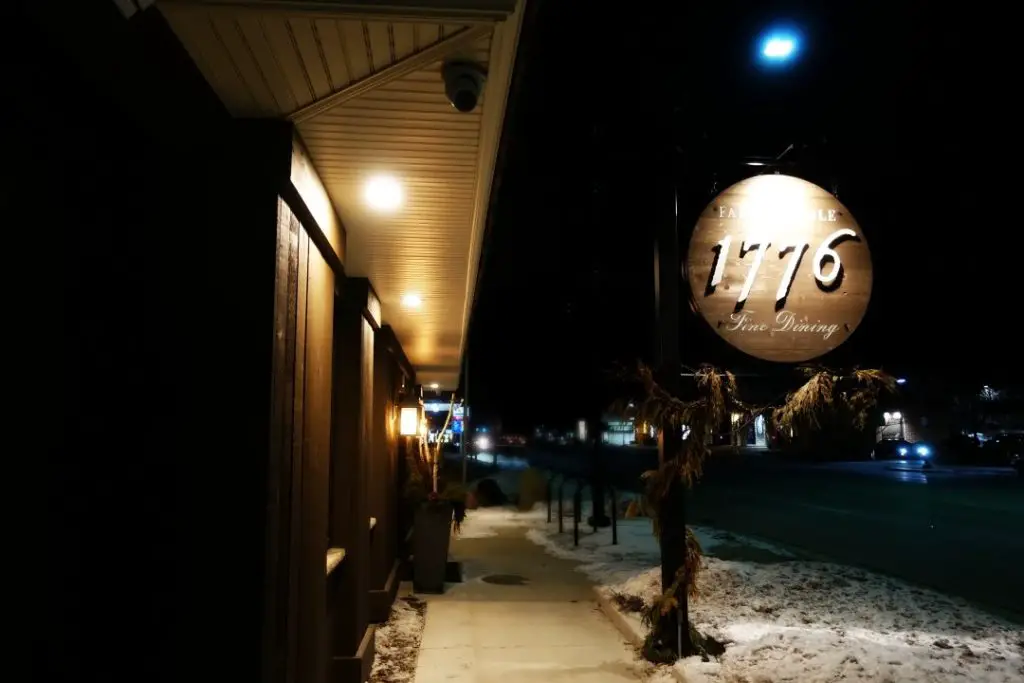 Some restaurants serve food and some restaurants know food. 1776 Restaurant celebrates the notion that fine dining is accessible and available to all.
This is evident in the fact that Rhienna, owner and Crystal Lake native, passionately caters to folks with food allergies and special dietary restrictions.  For us, it means getting the opportunity to enjoy high-quality cuisine at a reasonable price. It's no surprise that the restaurant's philosophy here is "Building Community through Food."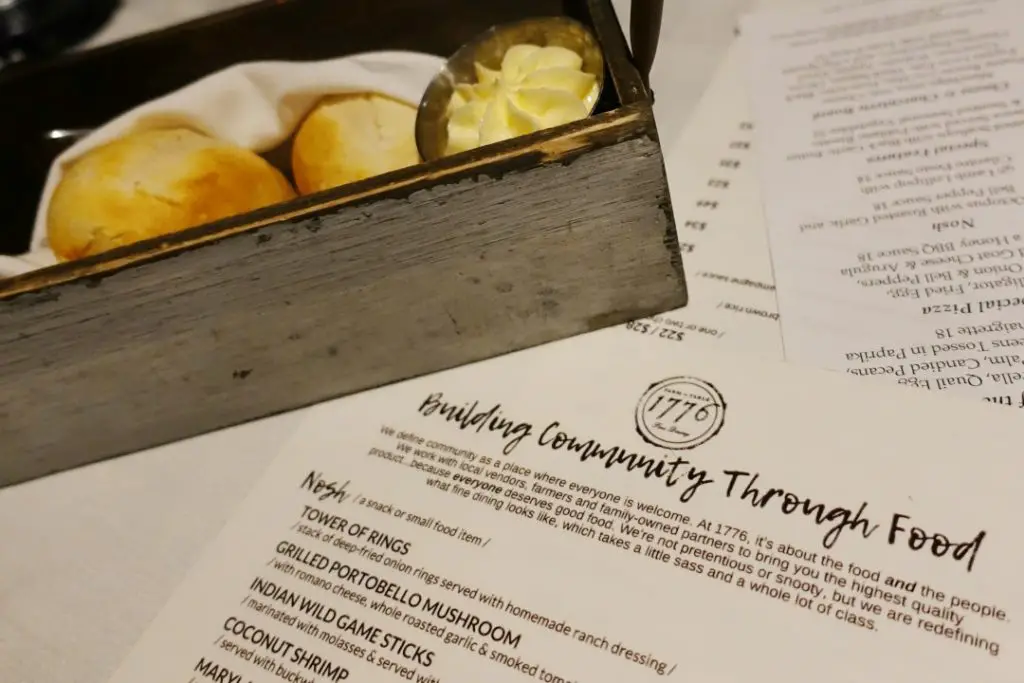 Pair up some exciting dining experiences along with some exploratory fun, and you'll see that McHenry County offers quite the getaway.
The menu is pleasingly varied, but not overwhelming which is how we prefer it. Many dishes feature game and seafood, but there are some creative takes on salads and pizzas too. This was one of the best dining experiences we've had in a while, so let's go on a mini-foodie tour to show you what we ate!
Nosh (Sophisticated Snack or Food Item)
The meal begins with a warm bread basket to enjoy as you look over the menu and dinner specials. We arrived excited to dine, so we started with some of what is referred to as Nosh, snacks, or small food items.
We are big seafood lovers so were delighted to try the Maryland Crab Cakes and the Grilled Octopus. For us, one of the most alluring factors of 1776 Restaurant is the opportunity to experience cuisine that is often difficult to find on restaurant menus. It's not every day we can enjoy a beautifully prepared octopus here in the Midwest.
Maryland Crab Cakes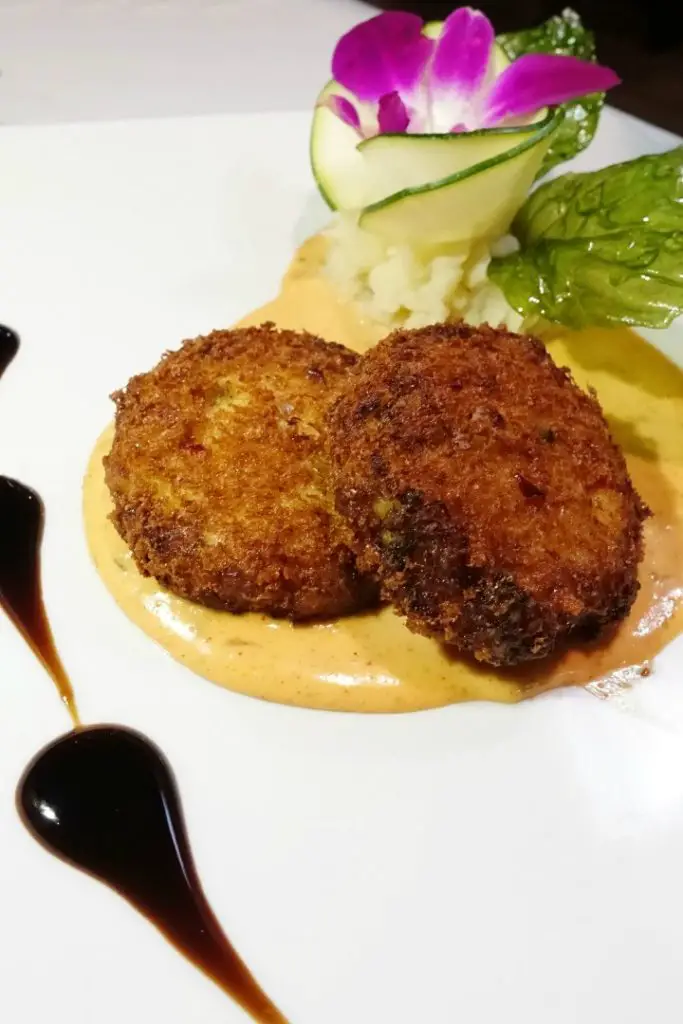 Cheese and Charcuterie Board
Wine lovers will appreciate the pairing flavors of this lovely Cheese and Charcuterie Board full of bold cheeses and meats like Prosciutto and Black Pepper Liver Pâté. Our server tipped us off that we'd enjoy the bright red pepper dews (seen below) and she was right. The small bites of explosive spiciness were a fun and tasty sensory experience.
Grilled Octopus with Roasted Garlic and Bell Pepper Sauce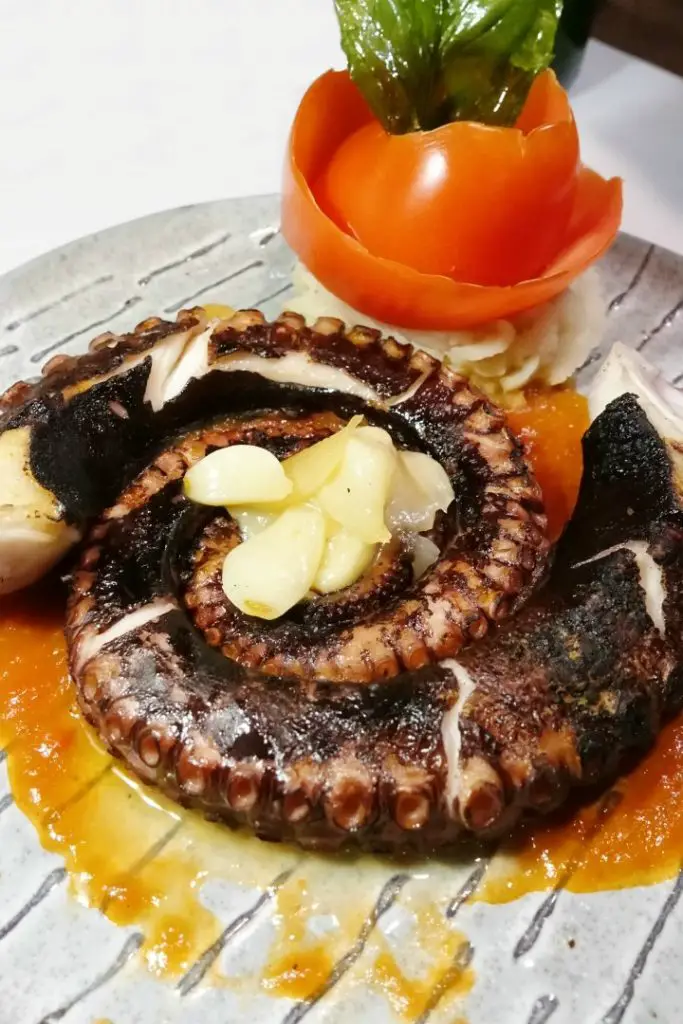 Features
1776 excels in their meat dishes and game is one of their specialties. When we saw the Friday Night Surf & Turf Special of Beef Wellington and Grilled Shrimp at an amazing price of $25 we knew that this was a must-order dish.
We've always wanted to try Beef Wellington, but somehow it has always eluded us. This is probably because it's rarely on a menu. Gaze at this Beef Wellington & grilled shrimp served with garlic mashed potatoes and blueberry Merlot reduction prepared medium-rare, seasoned perfectly, with a puff pastry crust.
Our second dish was the Wild Game Trio, which is a popular choice among patrons. The meat selections do rotate, but this evening the kitchen offered quail, elk, and bison. Meats were succulent and tender without a hint of gaminess.
Additionally, each main course comes with salad and sautéed vegetables which are of great value. We recommend trying both of these featured dishes.
Beef Wellington and Grilled Shrimp (Friday Surf and Turf Special)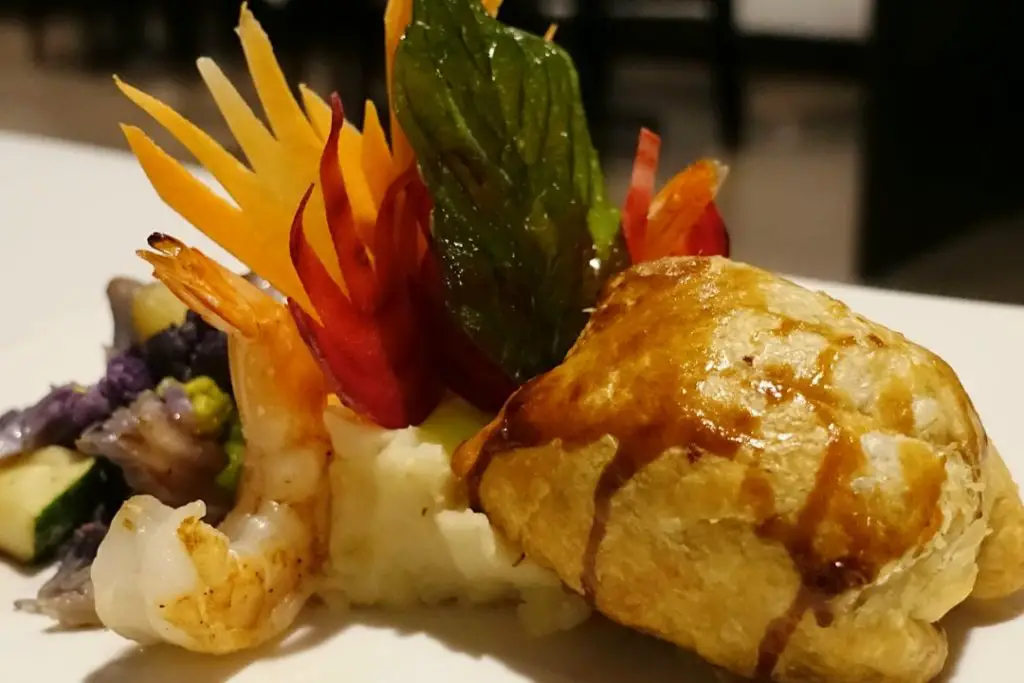 Wild Game Trio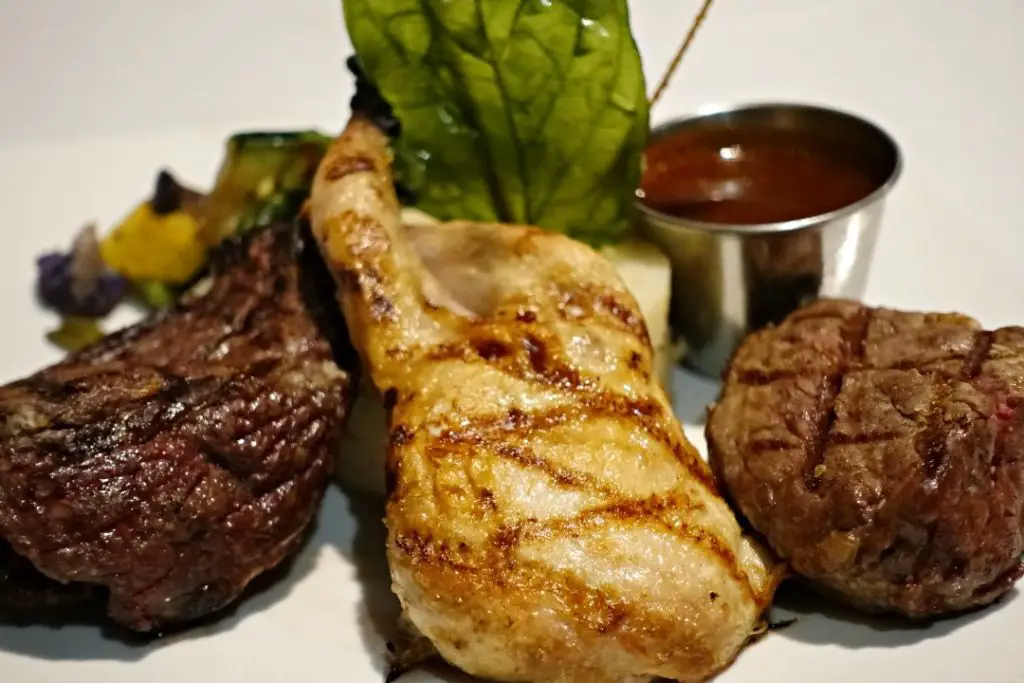 Dessert!
1776 Restaurant is a "scratch" kitchen. This means everything is made in-house from scratch including their delicious desserts. We tried the Blueberry and White Chocolate Mousse Cake and the Crème brûlée.
Harry later reflected that the mousse cake was one of the best desserts he's ever tasted. It was the perfect combination of both light and sweet. After feasting on such a delicious array of flavors and spices, the desserts were an excellent way to satisfy that end-of-meal sweet tooth craving.
Blueberry and White Chocolate Mousse Cake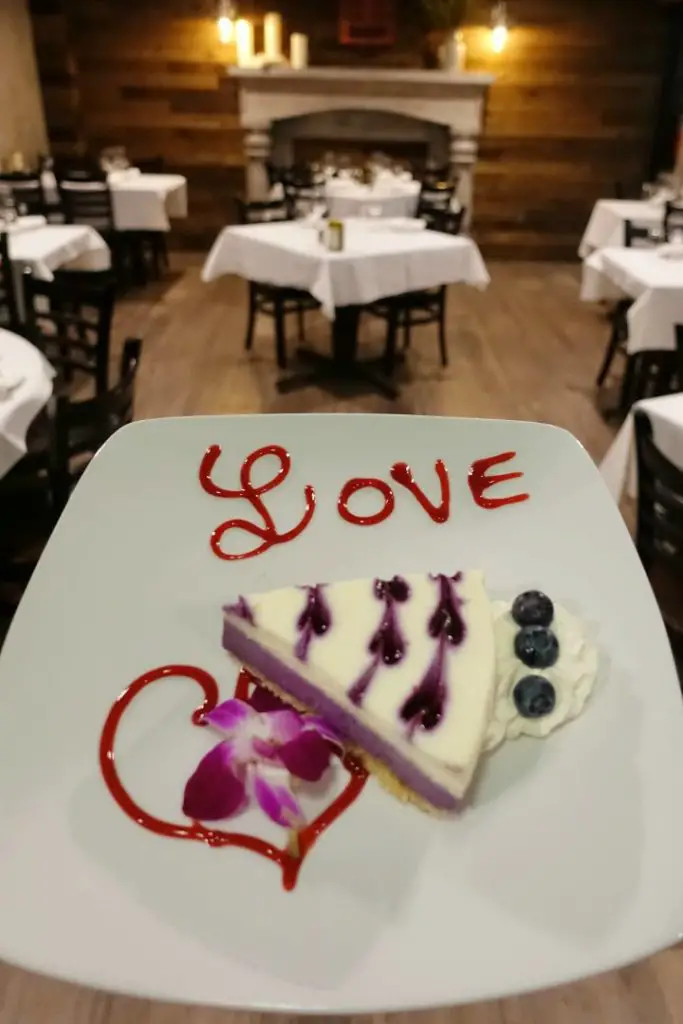 Crème Brûlée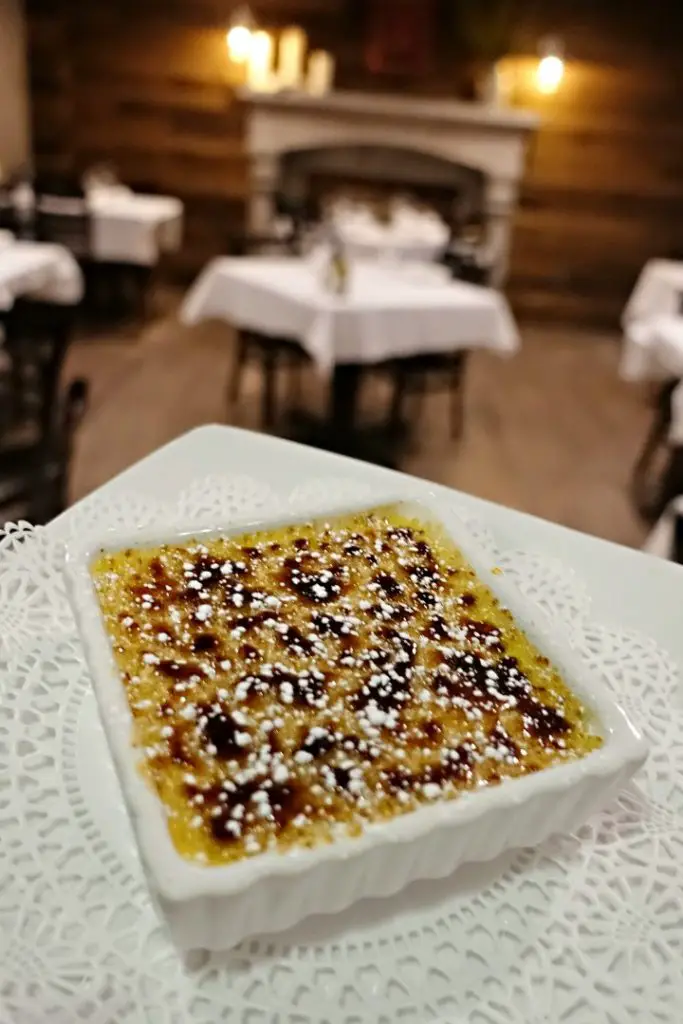 Withitsr superb dishes and stand-out service, 1776 Restaurant is a great choice for folks looking for a cozy, yet sophisticated dining experience. They're also our top pick for McHenry County's Restaurant Week.
1776 Restaurant
397 Virginia Street (Route 14)
Crystal Lake, IL 60014
815.356.1776
2. Explore Woodstock Historic Square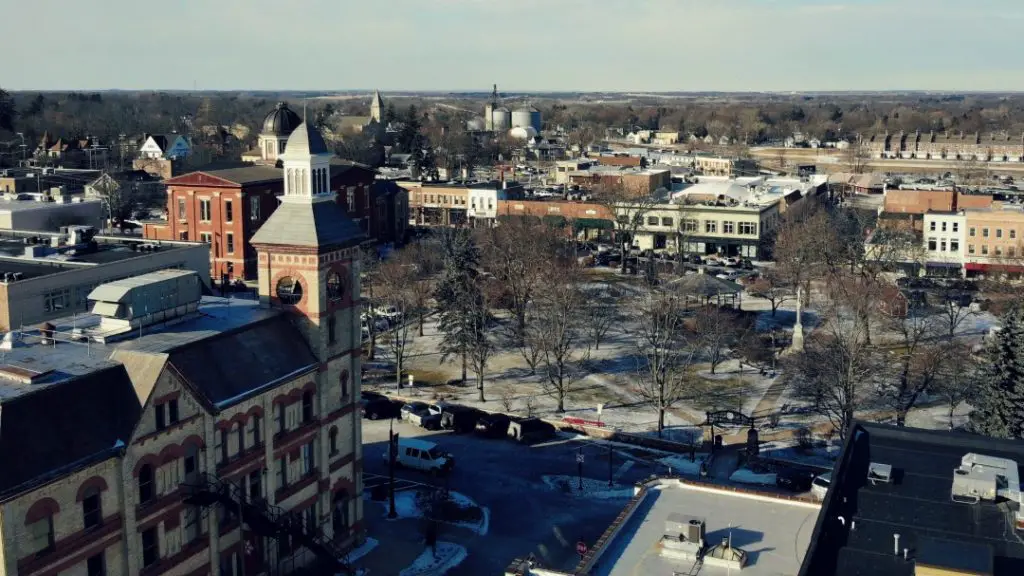 After all that delicious feasting, you'll probably be ready for a movement break.  Step outside of the Double Yolk Cafe and you'll be standing in the center of one of the most charming towns in Illinois.
Groundhog Day Filming Locations
We had fun recreating the romantic moment where Andie MacDowell and Bill Murray dance in the gazebo as seen in the beloved film Groundhog Day.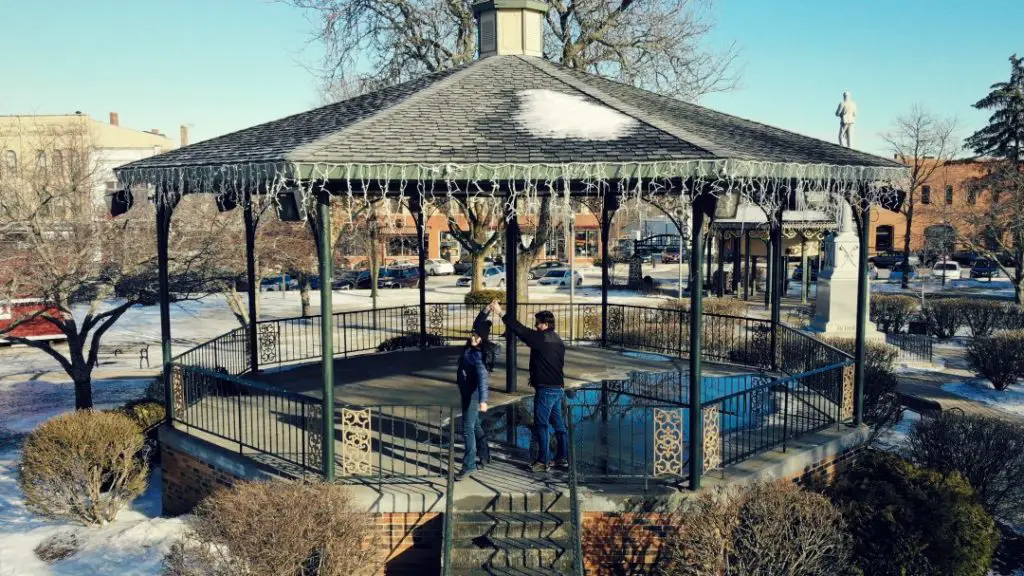 Here in the heart of Woodstock, you can step (or dance) right into the scenes of a Hollywood movie classic, Groundhog Day. Most visitors enjoy taking a self-guided walking tour to check out the locations where the movie scenes were filmed.
Woodstock lovingly embraces its correlation to the 90's movie. So much so, that the speakers in the town's square play various polkas and the movie's token song, "I Got You Babe."
Tip Top Cafe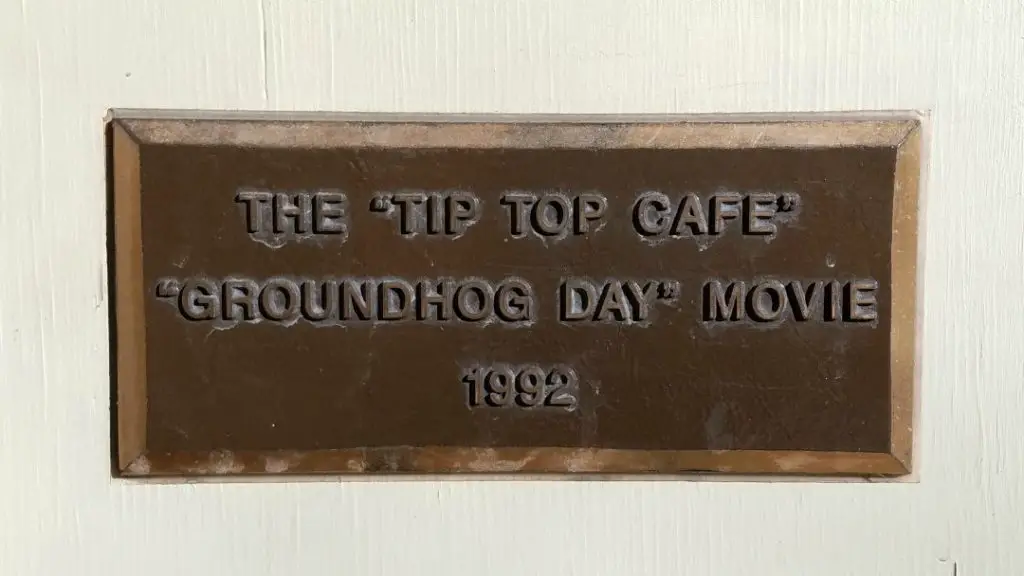 Some token stops along the route include the historic Alpine Theater, the Woodstock Opera House, and Gobbler's Knob. Our favorite part of the tour was the Mural Pedway down Main Street. This lane is a cool part of the town with some great photo opportunities.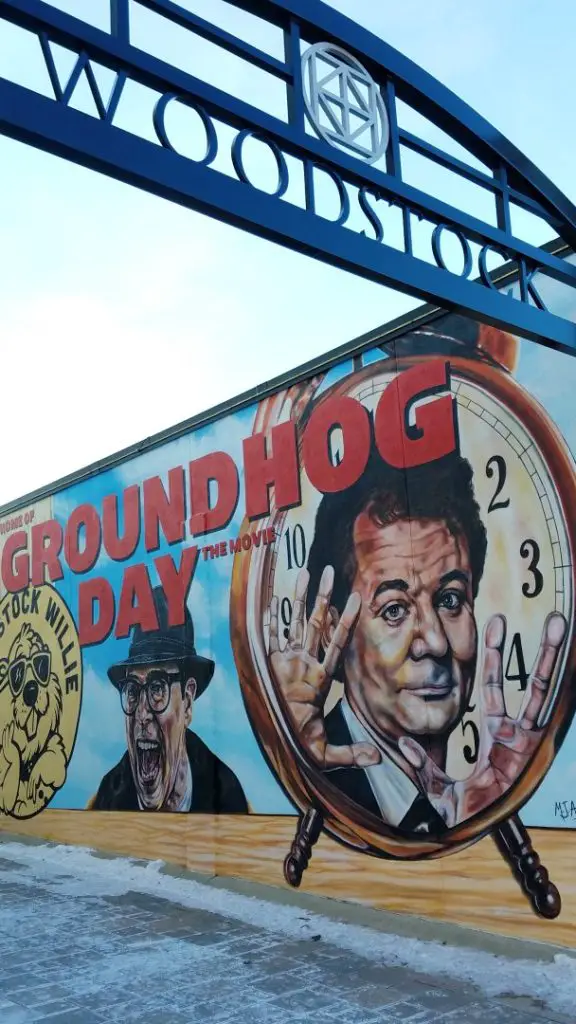 Once you've seen all the stops on the walking tour, consider checking out some cool shops around town. Ethereal Confections, Jackass Charm Soap Company, and Read Between the Lynes are some local favorites.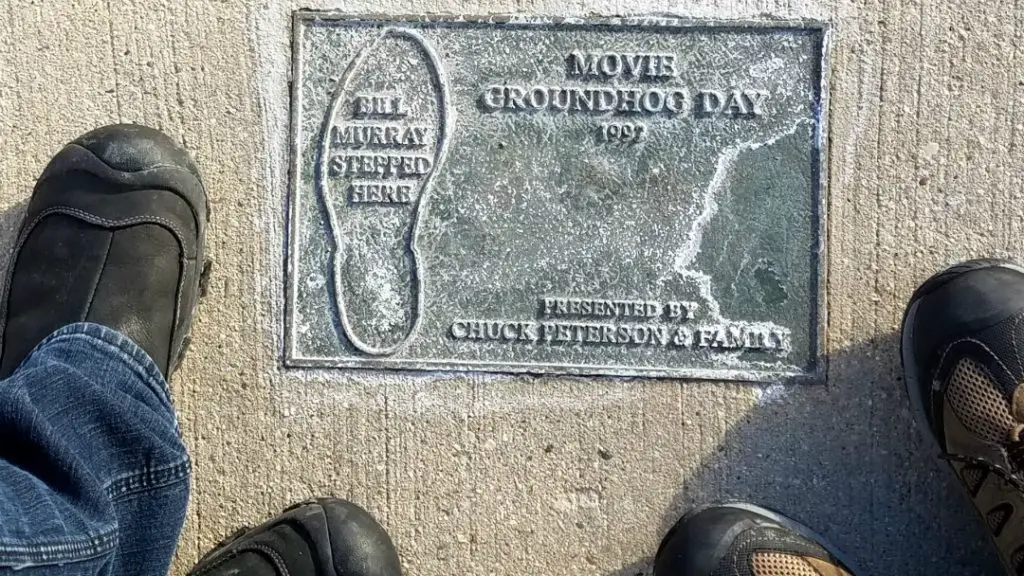 While exploring beyond the city center, be sure to take a short drive through the surrounding neighborhood to see the Cherry Tree Inn. This beautiful mansion was featured in Groundhog Day and is a great example of Victorian architecture that is prevalent in the region.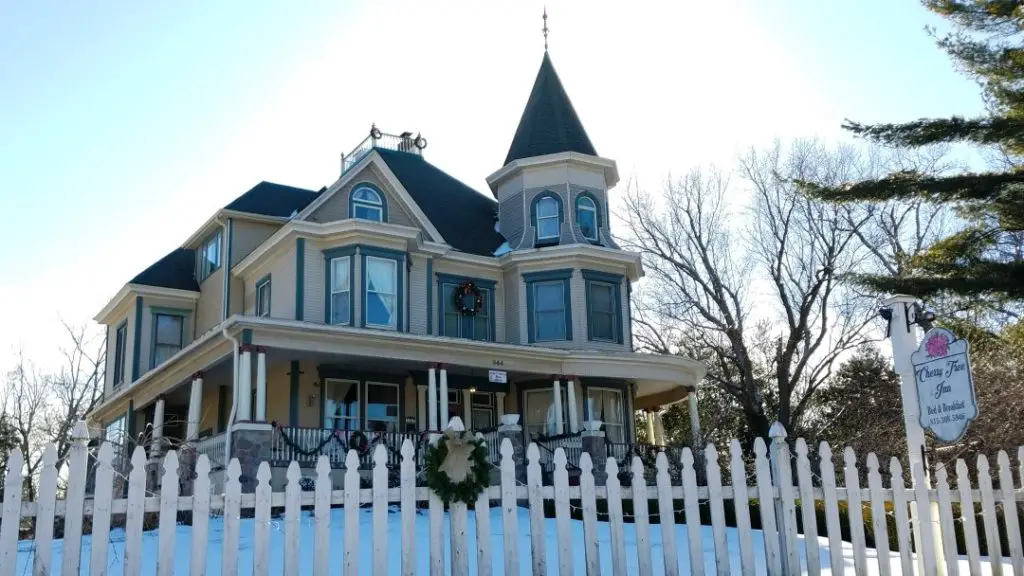 Come make your movie magic, just like we did, in one of the most charming small towns in Illinois.
3. Brunch at Double Yolk Cafe
After a good night's rest, we were off to continue our foodie fest at a local brunch hotspot. Located right on the Historic Woodstock Square, The Double Yolk Cafe is one of Woodstock's favorite family restaurants. They offer a great selection of hearty breakfast and lunch items and daily drink specials, including their signature Bloody Mary and Mimosas.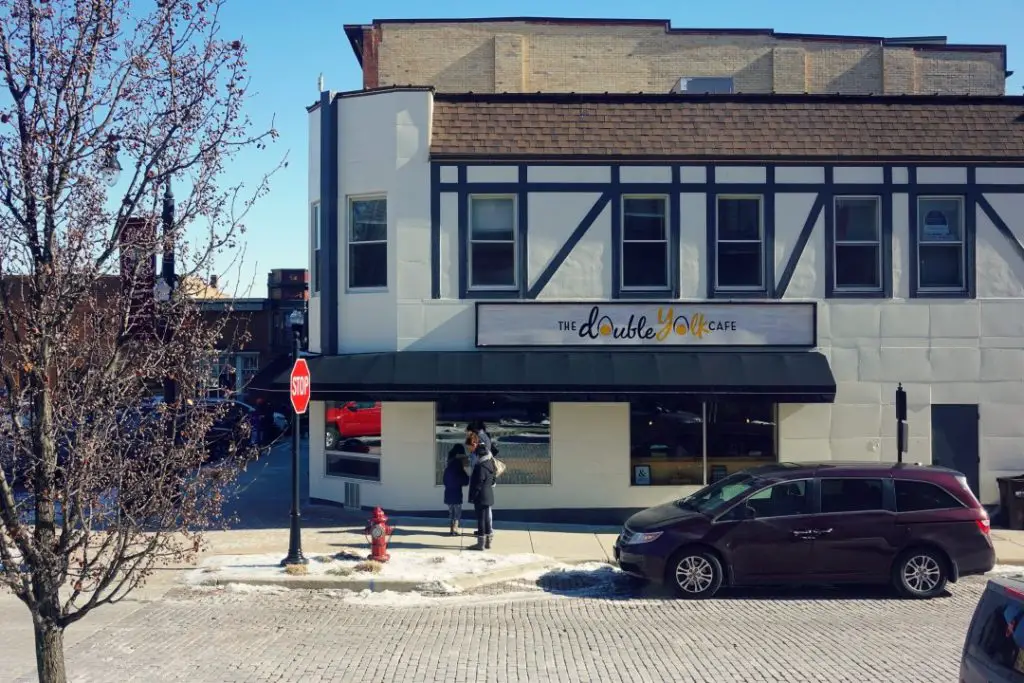 The Double Yolk Cafe is one of those quintessential local haunts where folks of all ages go for some good old-fashioned brunching. Here you can eat pancakes the size of hub caps, huge breakfast skillets, and linger over never-ending cups of hot coffee.
So what did we order? We enjoyed Cinnamon Swirl Pancakes topped with Cheesecake batter icing, Smoked Salmon Eggs Benedict, and one of their signature Chicken and Waffles.
The Double Yolk Cafe
117 E. Van Buren St.
Woodstock, IL 60098
815-338-0180
4. Stay at the Crystal Lake Holiday Inn
With all the available options at your fingertips, why not take the opportunity to turn McHenry County Restaurant Week into a mini-getaway? If you're looking for a great budget-savvy place to stay, consider the Crystal Lake Holiday Inn.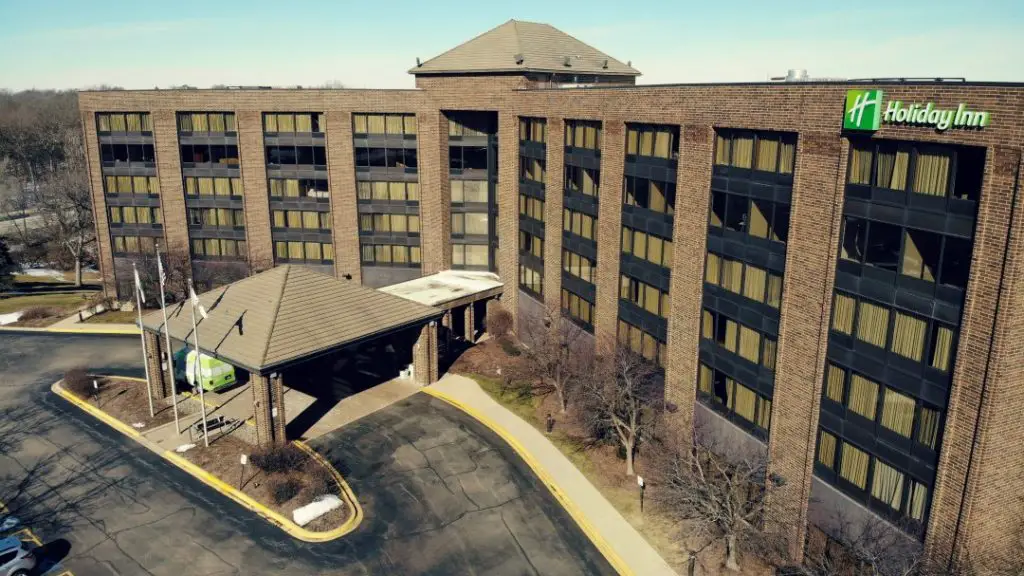 The hotel is recently renovated to modernize guest rooms while also upgrading all of its technology and facilities. We were one of the first guests to stay in one of their updated rooms and it was so nice!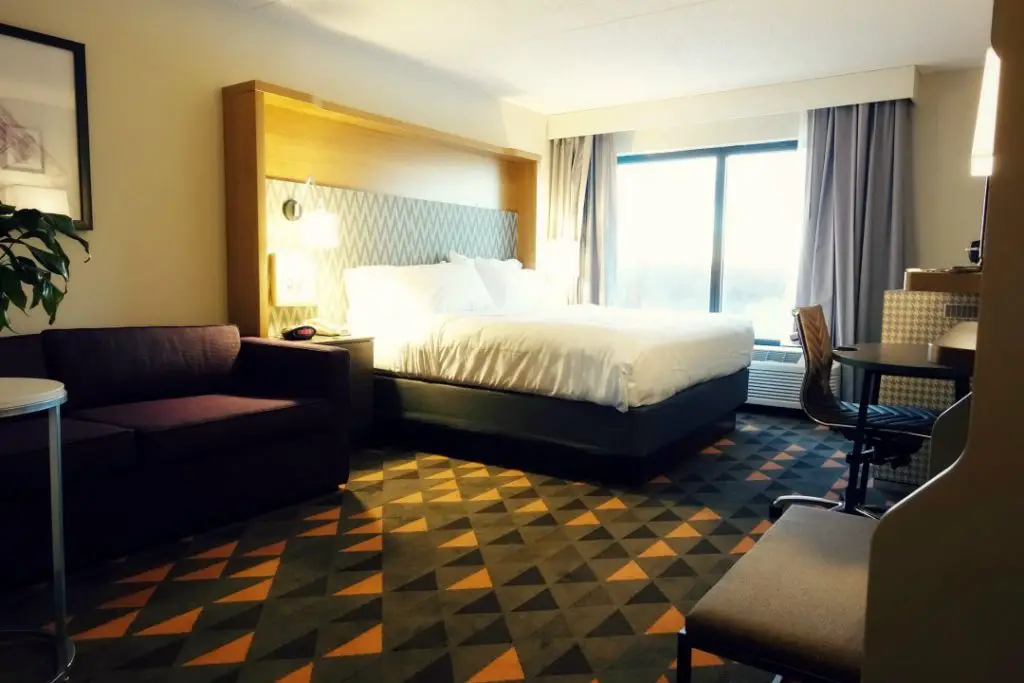 Our room was spacious with a cozy bed, fast Wi-Fi, and even a fridge which was perfect for all of our leftovers! Additionally, this Holiday Inn offers an indoor pool which only adds to the getaway vibe. We arrived right at check-in to ensure time for some fun in the pool before dinner (and to throw in a few laps or two).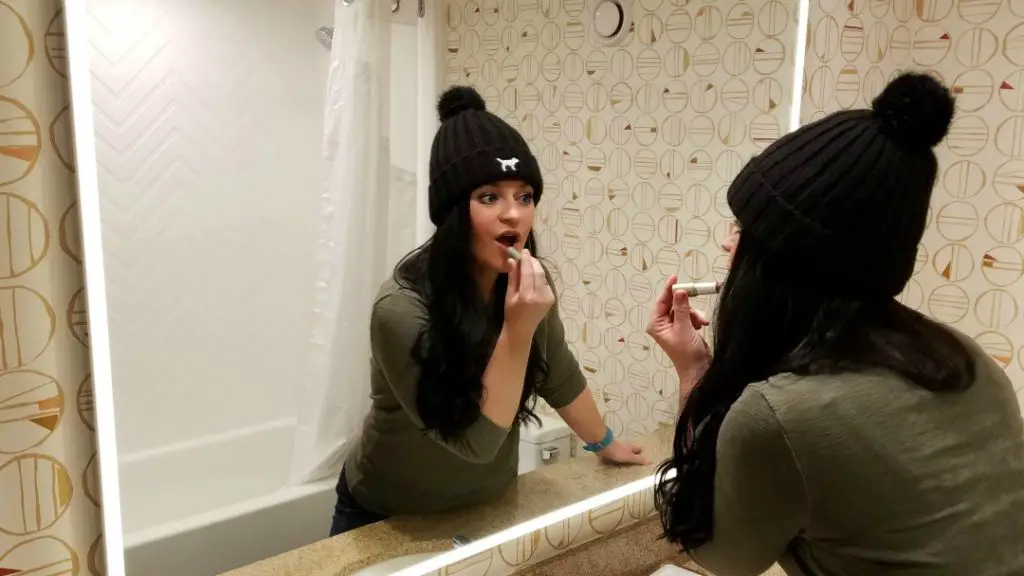 The new rooms pass our budget-savvy traveler checklist: affordable, modern, and clean! Other great lodging options in McHenry County include:
Budget: Holiday Inn
Mid-Range: Best Western Woodstock Inn
Luxury: Hampton Inn
5. Visit McHenry County During Restaurant Week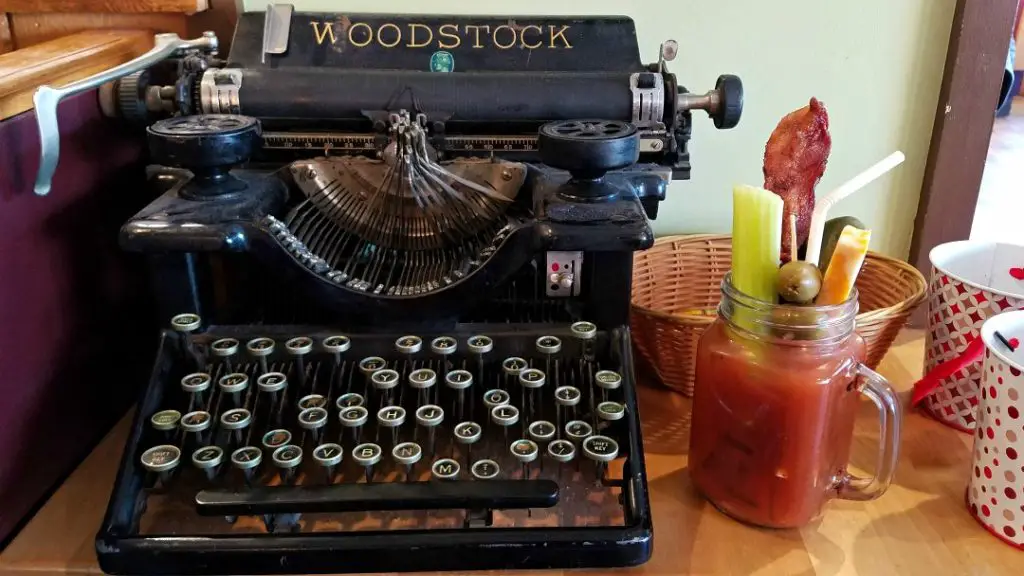 If you're considering checking out McHenry County Restaurant Week and are not quite sure where to start, we organized a sample itinerary for a mini-getaway to the area. Remember, with many unique restaurants participating, you can tailor the itinerary to accommodate any curious taste buds best or to enjoy your favorite cuisines.