Are you visiting Split, Croatia, and looking for something to do on a rainy day? Hi, we're Audrey and Harry and we have a serious addiction to… escape games.
Split Croatia > Room Escape
After visiting RoomEscape Split, we're on a mission to encourage others to try out the newest craze of live gaming fun. If you haven't experienced an escape game yet, we want to warn you! Be prepared for an intense hour that gets your heart racing!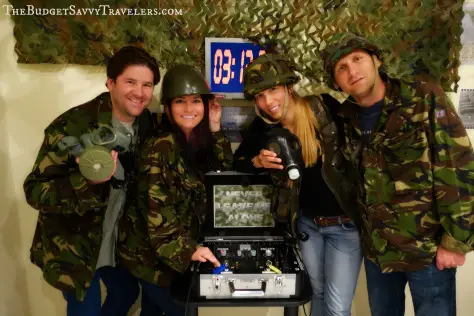 Players get 60 minutes to complete the mission or escape the room using elements supplied. Once the door closes behind you, the countdown begins. The rooms are so thoughtfully crafted that you feel as if you were just teleported to another place in time. In our particular game, we were special agents on a mission to save the world from a nuclear catastrophe. Can you say PRESSURE?
What Type of Person Likes Escape Games?
The beauty of an Escape game is that it can be enjoyed by so many different groups of people – couples, friends, families, or even colleagues. We tried it with two of our friends and we are still talking about the experience!
After spending the day seaside, RoomEscape is the perfect way to spend the evening. It's open late, so if you're not quite ready to call it a night, head over to take the challenge. If you are looking for a great rainy day activity to do while in Split, this would be our top recommendation. They have two thematic rooms to chose from; the bunker room and the prison room.
And if our raving review wasn't enough to convince you, take a look at our highlight reel below. Book now! You won't be disappointed!
You Must See Our Experience in This Funny Short Clip!

At RoomEscape Split, our mission was to save the world by working frantically to solve clues to deactivate a bomb in the bunker room! 
Special thanks to our friends at RoomEscape Split for hosting us and giving us an amazing night that we won't ever forget!