In Istria, Croatia, we were shocked to find out that the coastline has two sets of dinosaur footprints! It's not every day that you come across the opportunity to place your hands in a piece of paleontological history.
Our first stop on our tour of Istria, a region in northern Croatia, was Pula. Pula is a seaside town, the largest city in Istria, and is known for its Roman ruins, especially the Roman Arena.
The amphitheater is considered to be extremely special because it has four surrounding side towers, three of which are entirely preserved.
Chasing Dinosaur Footprints and Finding Tracks in Istria Croatia
When we arrived in Pula, we were warmly greeted in true Croatian hospitality, by our host and her mother. Over several glasses of homemade Rakia, together we looked over city maps on their garden patio.
We were so lucky to have their expertise to guide us otherwise we would have never had the opportunity to find a hidden gem. We learned about this tip from our VRBO host in Pula. One of the reasons we love using VRBO is that we always get such great travel tips from our hosts when visiting their city. However, for short stays, you may consider staying at one of the top 10 hotels in Pula.
Our new local friends tipped us off to what they believed was one of the most beautiful stretches of the Istrian coastline on the Kamenjak Peninsula. This is where unbeknownst to us, we were headed to retrace the footsteps of the dinosaurs.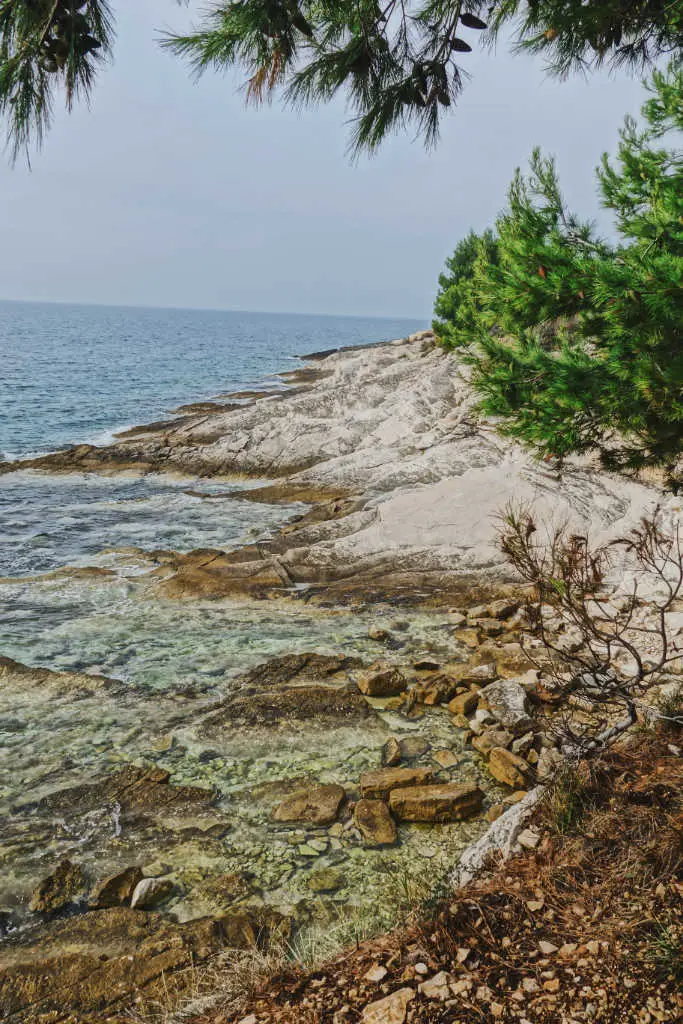 Kamenjak National Park – Istria Croatia
We drove about 20 minutes from Pula to Premantura, a small town that serves as the entry point to Kamenjak National Park. Typically the admittance fee is 40 kunas per car (~ USD 6), but because it was late October, the Premantura tourist office told us that off-season it is free. (Simply drive up to one of the gates and it will open automatically.)
The tourist office gave us an Italian map, so we relied on our favorite free travel map app, and this is when I noticed an amazing discovery….on the coast, it stated "DINOSAUR FOOTPRINTS." Say what?!
We were shocked to find out that on Croatia's coastline were two sets of dinosaur tracks! It's not every day that you come across the opportunity to place your hands in a piece of paleontological history.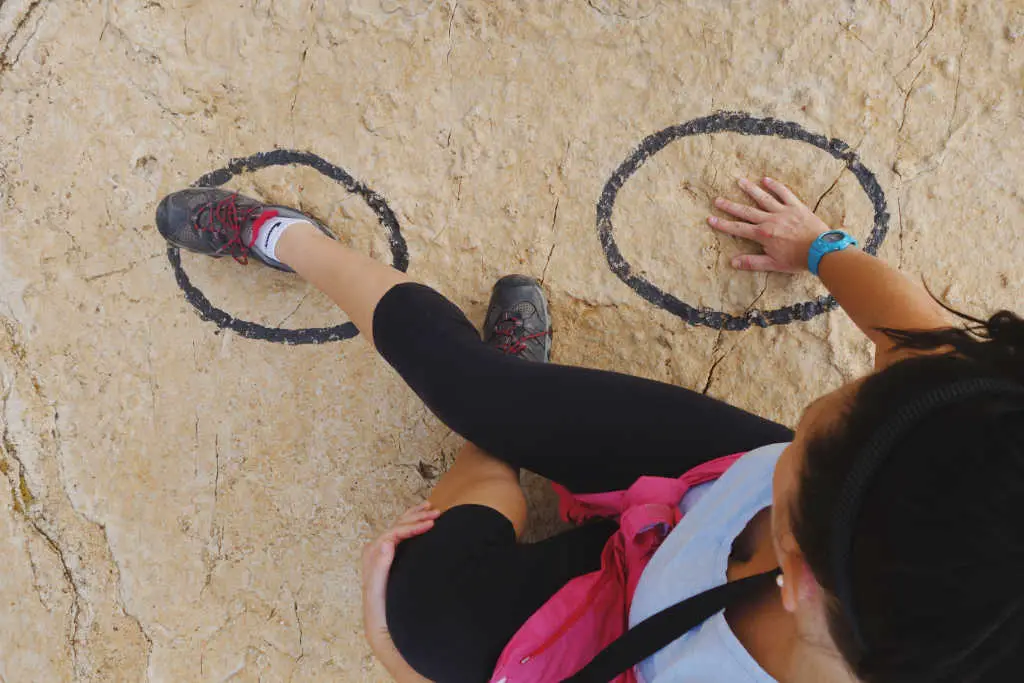 Dino Guide
On the west side of Cape Kamenjak National Park, is a flat rocky cliff where the dinosaur footprint site is located. Park in the small parking lot near the "Welcome to Grako Park" sign.
It is here where the start of the trail begins. The trail is rocky, yet easy. Great for exploring with kids and little ones.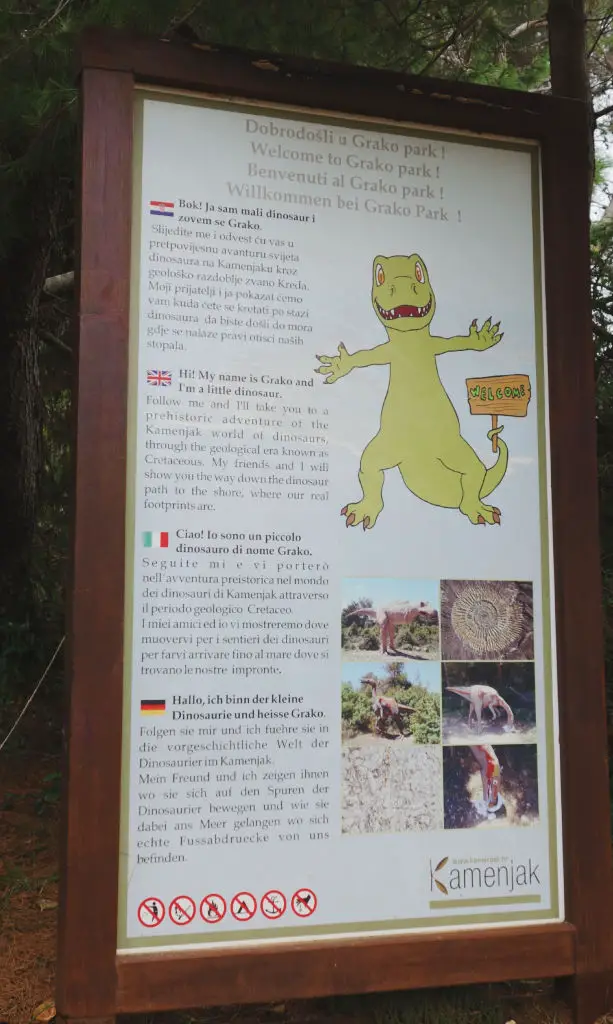 As you make your way along the trail, there are dinosaur and animal sculptures along with an educational description for each one. Therefore, if you're traveling with kids, this is a great place for them to get out and stretch their legs.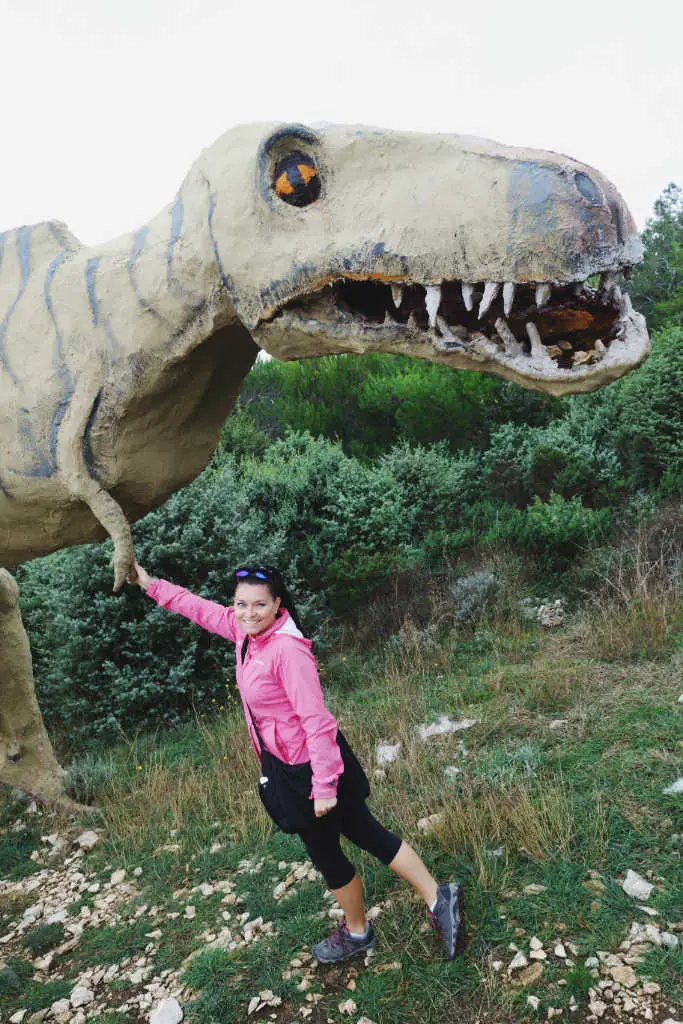 As you continue down the trail, you'll reach the coastline with some signage informing you of the distance to the dinosaur footprints site. Also, if you look closely, you'll observe the prints are circled in black making them easy to see.
There are nine footprints located here, all of which are tridactyl. This means that the dinosaurs were believed to have walked on two legs.
There are three other footprints located on a nearby island. Due to erosion, there is not enough evidence to identify the specific species of dinosaurs who made these prints.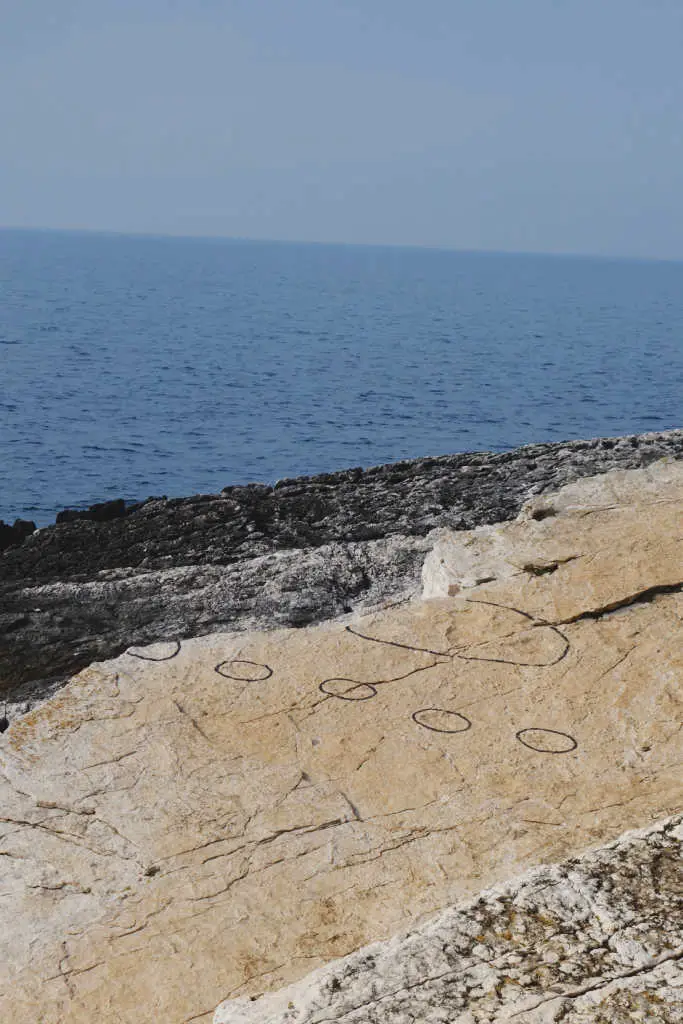 Pinizule Beach
If you visit during warm weather, you may consider stopping at Pinizule Beach (pictured below) which's nearby for a quick swim. Furthermore, visitors typically sunbathe and enjoy picnics on the flat, rocky ledges along the sea.
Pinizule Beach is a small beach just steps away from the footprints. When you see the blue Dinosaur sign with an arrow you know you made it to the location of the dinosaur footprints! It's at this location where you'll feel like you're walking back in time 65 million years.
Tip – Be sure to grab a map to help navigate around the peninsula because the signage isn't that great. Another option is to download our FREE favorite travel map app MAP.ME. Also, we rented a car to explore the Istria region at an awesome rate of ~ USD 8 a day.
There are not many places where you can easily enjoy dinosaur prints found openly in nature. This is truly another fantastic, hidden gem found in Croatia!