Chisinau, Moldova was not what we expected at all. I'm going to let you in on a little secret. We set off to visit Moldova simply to add a tally to our country number count. We also wanted bragging rights to say that we ventured into Europe's least visited country.
Travel bloggers who have traversed before us have called Moldova "uncharming," "bland," and joked that "we found delicious smoked cheese knots and a cool old Soviet bike….but that was it."
Best Things to Do in Moldova – Wow Not What We Expected!
We had a completely different take on our experience here. After our time in Romania, crossing over Moldova's border offered us a fresh start. If I could offer a ballsy comparison, Romania was the high-strung, pretentious cousin of a humble, down-to-earth Moldova.
Interestingly enough, while travelers claim that there is nothing there, we found ourselves extending our stay to enjoy a country that literally seems to be emerging out of the rubble.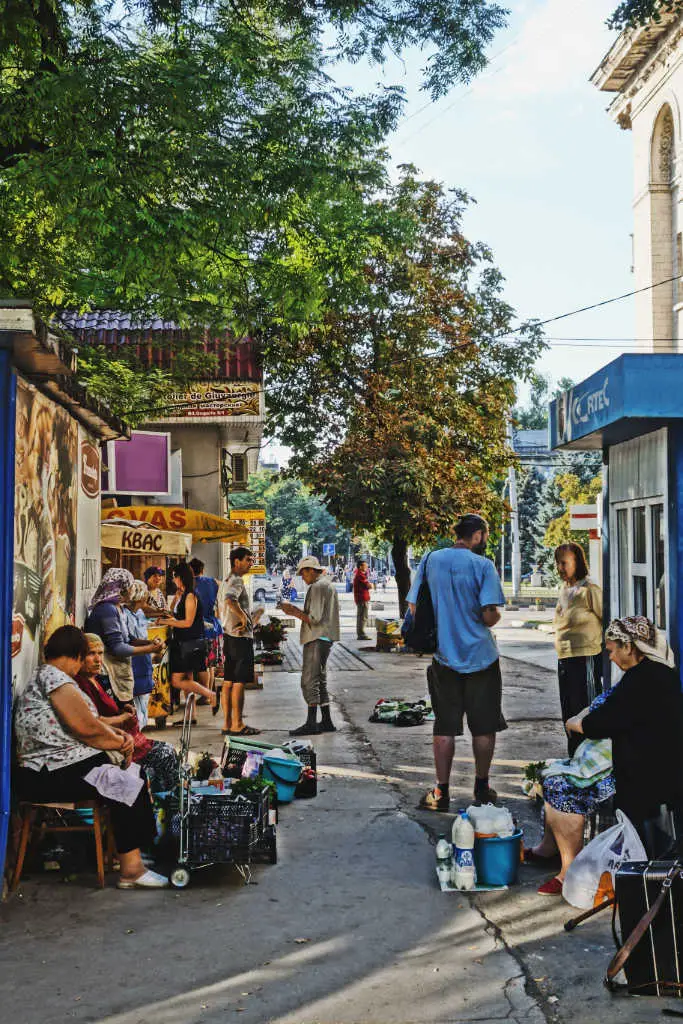 Moldova is wedged between Romania and Ukraine, and little is known about it. I bet if I challenged others to point to it on a globe, most would have no idea even in what vicinity it would be.
Moldova used to be part of the Soviet Republic, but it has cultural links to neighboring Romania. It's also considered the poorest country in Europe and one of the lowest cost of living indexes in the world, which is a sad truth that makes it very cheap for long-term, budget travelers.
25 Years of Independence – 1991
During the time of our visit, Moldova was celebrating 25 years of Independence from the Soviet Union in the capital city of Chisinau. However, the Soviet-era architecture and young, stoic soldiers that patrol the streets still give reminders of its Communist past.
For three days, a Moldovan band practiced these military-like, proud marches on a stage in the city center. The songs could be heard throughout the city in preparation for the upcoming Independence Day concert. It gave a very eerie vibe to the city.
After over a year of visiting European cities, you learn there's a checklist of sorts to exploring every single one of them. From large cities like Budapest to one of the smallest towns in the world like Hum, Croatia, the activities are always the same.
So to us, it's almost a ridiculous notion when some bloggers claim, "there's nothing in Moldova." By using our "European City Checklist," one can see that Moldova offers a travel experience much like many other cities in Europe.
1) Visit Churches, Landmarks, and Museums
Every city has its iconic buildings and Chisinau is no different. The Triumphal Arch, City Hall, The Metropolitan Cathedral "Nativity of the Lord," the Water Tower, the Alexander Pushkin Statue, and the iconic St. Great Martyr Tiron's Cathedral are all signature landmarks of Chisinau.
2) Chow Down on Local Food and Drink
La Placinte is a local restaurant chain serving traditional, Moldovan food in major cities in Romania and Moldova. Although it may not feel "authentic," this is where local folks go to get delicious cheap eats and drinks. We tried it once and were hooked!
For around ~ 15 USD, we dined on carafes of really nice house wine and stuffed ourselves silly with plate after plate of typical regional dishes. We recommend the stuffed cabbage rolls, dumplings with sour cream, and the baked cheese and meat trays served in a ceramic pan. There was so much food we always had leftovers for lunch the next day!
3) Explore Parks and Outdoor Spaces
In this part of the world, wifi is set at super speed. Free wifi can be accessed in city parks and we observed many working on laptops on park benches and enjoying warm, summer days.
Walk under the trees, enjoy a cappuccino, or admire summer fountains in Ștefan cel Mare Central Park. A 30-40 minute walk from the city center of Chisinau, you'll find Dendrarium Park. It has one main, gated entrance and an entry cost of about 1 USD.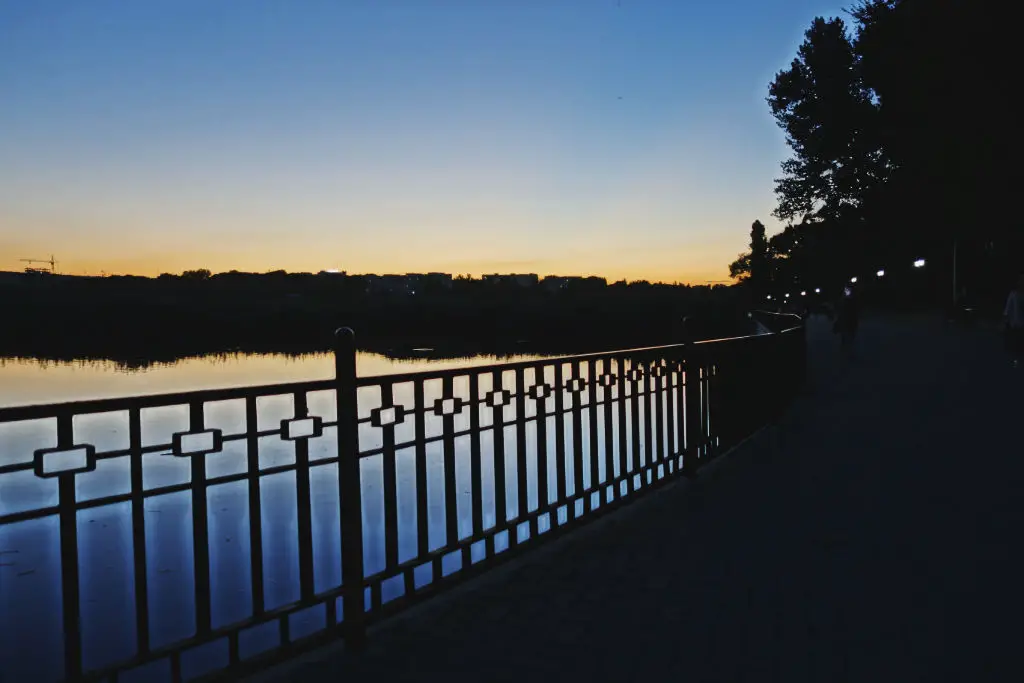 If you've come this far, be sure to take time to explore one of our favorite sites the Old Jewish Cemetery. (See if you can find the gravestone with the huge airplane propeller perched on the top. We've never seen anything like it.)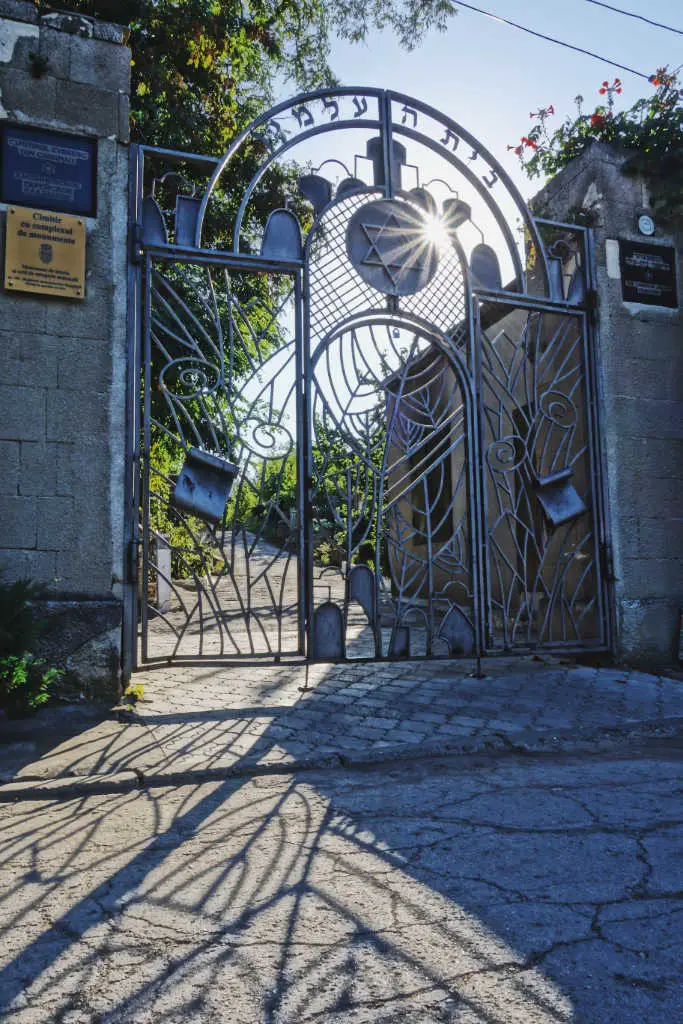 In the evenings, locals head to Valea Morilor to walk the paths around the lake. Some bloggers suggest swimming in the lake since it does have a sandy beach. However, it is actually a huge retention pond and the signs warn of health risks if you go in the water.
4) Admire the Architecture
Chisinau has a variety of modern, Neo-Classical, and Soviet-era architecture. When researching Moldova, you come across many articles stating that it doesn't have the same architectural "glory" as the rest of Europe. However, it was the uniqueness and vast differences that appealed to me!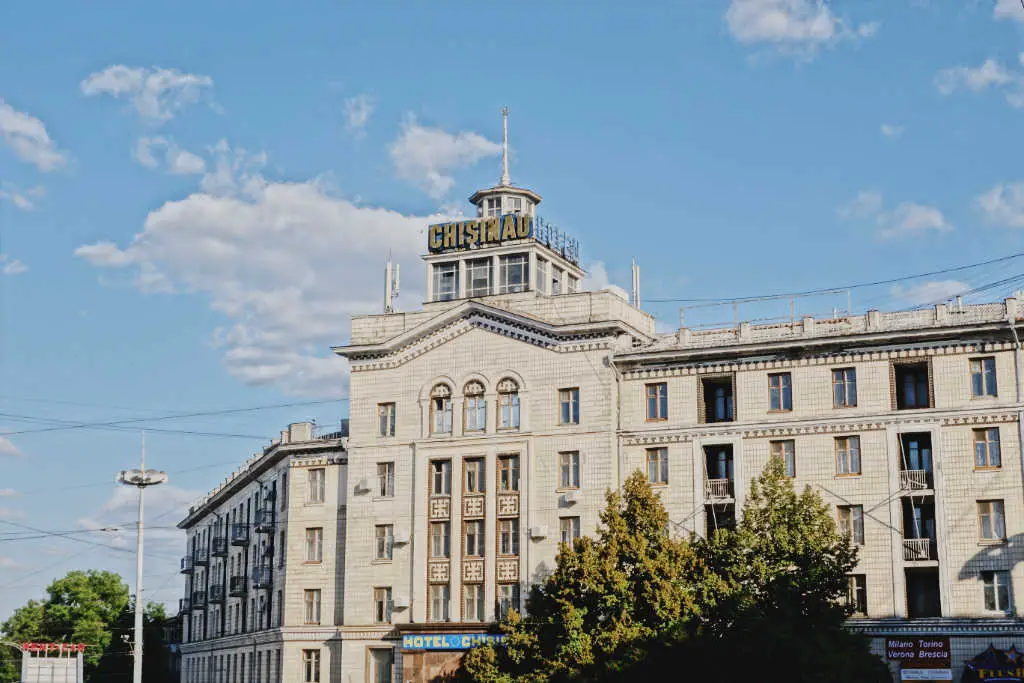 After traveling around Europe for so long, I appreciated something visually different. I remember walking around in awe, looking up at the Communist buildings that almost generate a feeling of uneasiness when you're in their presence.
5) Browse Outdoor Markets 
Markets are always a great cultural experience and offer a unique capture of daily life in a city. Piata Centrala, located near Chisinau's city center, is the market of all markets. We spent hours getting lost in the stands and stalls, watching locals carry on with their day and doing a little shopping ourselves. Everything from food to clothing, electronics to cosmetics is on display and for sale.
Watch this short clip of our time in Moldova
6) Check Out Festivals, Concerts, and Celebrations
During the time of our visit, Moldova was celebrating 25 Years of Independence. Chisinau was alive with music, traditional arts and crafts booths, and lots of street food vendors.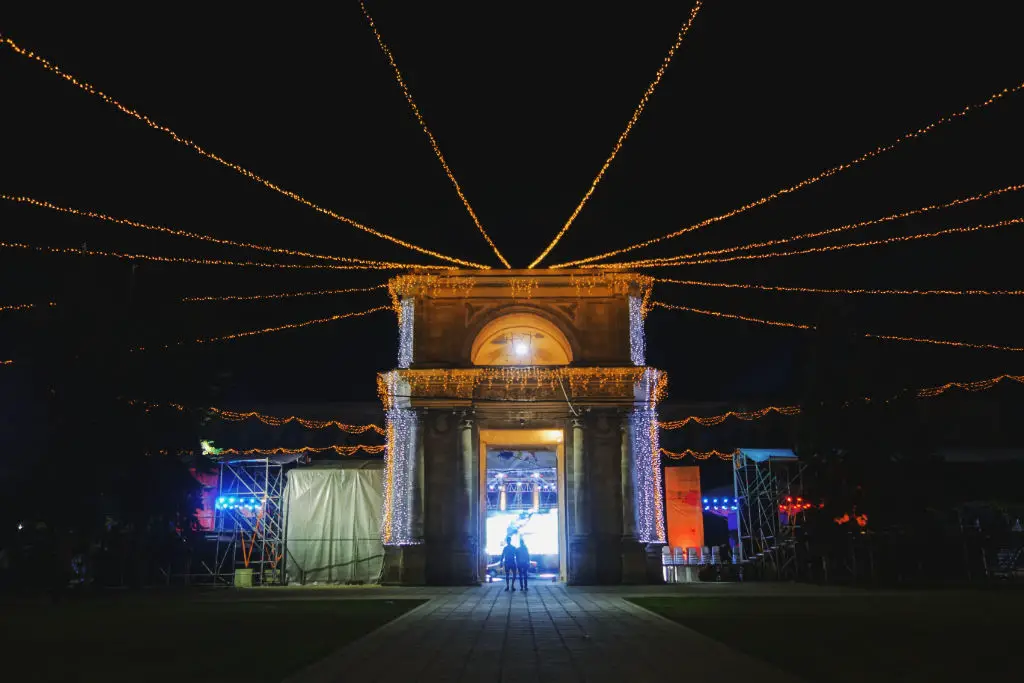 Flags and lights draped the city providing a festive, patriotic feeling. This may be one of the reasons we enjoyed our time here. It may be worth it to check out a calendar of events and plan your visit at a time when exciting events are taking place.
Travel Tip
Although we crave these off-the-beaten-path experiences, Moldova seems to have little experience in tourism. This does add a challenge for tourists wanting help to get more from their visit. For example, wine is big in Moldova and wineries rank high on the "things to do" lists. However, not one winery responded to our inquiries, even for a simple visit and wine tasting.
Also, we connected with a tourism specialist who invited to meet us for coffee, but never responded when we agreed to any time that worked well for his schedule. There wasn't a tourism office or tourist map to be found. Just be aware, do some research in advance, and come prepared.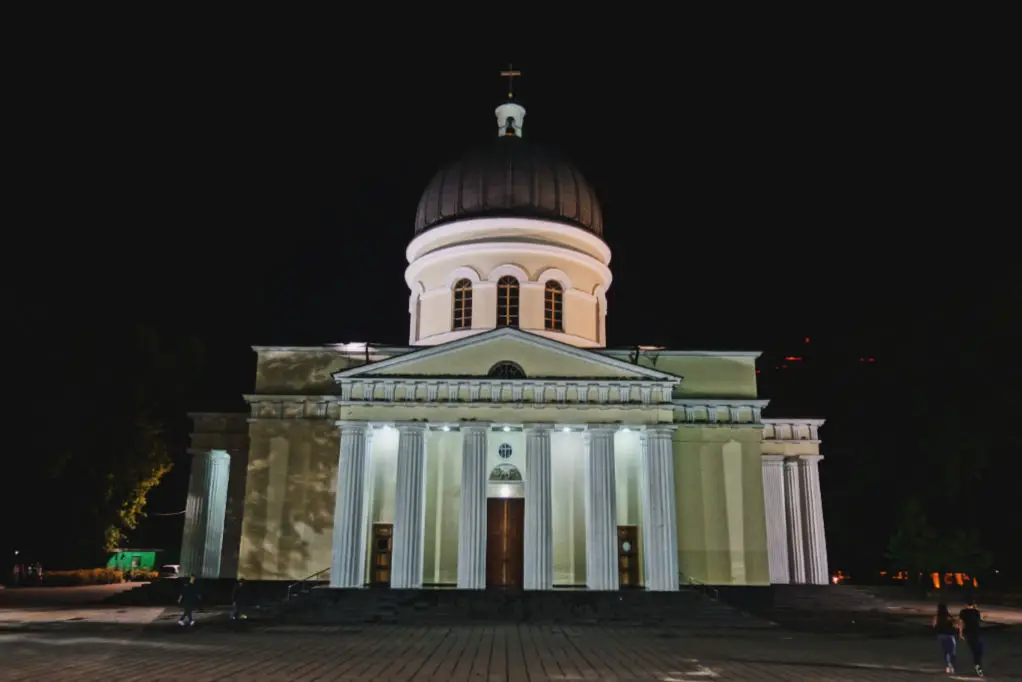 Transportation
We reached the capital Chisinau from Iasi, Romania via a minibus. Bring your patience and flexibility because there's a little (okay, a lot) of disorganization surrounding transportation. The ride was a long five hours in a very hot van. The infrastructure in Moldova is still developing, so unpaved roads make for an extremely bumpy ride.
Also, be prepared for a long border crossing. We ran off to have a nature toilet experience because you have to pay to use the bathroom facilities.
I'm always amazed rest stops at border crossings require you to pay to use the bathroom. Think about it. Where are you supposed to get the local currency to pay if you've just crossed over the border?!
It's not like there's an ATM next to the restroom. You'll understand more by watching Episode 54 below. International bus routes regularly run to Bucharest, Odessa, and Kyiv and international train routes run most regularly to Odessa.
Accommodation & Practicalities
We stayed in a nice Airbnb unit at a rate of 37 USD per night. Expect Russian TV and don't drink tap water. Even many locals don't drink from the tap.
Harry drank a lot of it one time and he ended up having an interesting ride from Moldova to Odessa, Ukraine. You can watch it below.
Wi-Fi in Moldova
WiFi in Moldova is extremely fast. One important thing to note is that we struggled with finding grocery stores and buying supplies without using public transportation in Chisinau. Local grocery stores are extremely small (similar to convenience stores) and are hard to come by.
Most locals in Chisinau shop at the huge outdoor market, but it doesn't stay open late and we wanted perishables like milk and yogurt for breakfast. We found ourselves eating out for most meals.
When you arrive, shop early to get water and any other items you may need. We arrived in town late and were worried we would die of thirst when we had difficulty finding a store to purchase bottled water after 8 pm.
Budget 
We stayed for 5 nights spending a total of 329 USD, or 66 USD per day for two people.
Consider Transnistria? 
I wanted to include a segment on Transnistria because I think Harry and I missed out on a great travel opportunity. It was only when we were in Ukraine, that we spotted Transnistria on a map and wondered what it was.
Transnistria is a travel enigma. It considers itself an independent country, but the world doesn't recognize it as such.
When trying to learn more, I connected with a fellow travel blogger who had just visited and written an excellent firsthand account of what to expect when visiting. This may be a very unique travel experience for those to consider if traveling in this region.
Would you like to get an armchair tour of Moldova? Come join us as we explore the least visited country in Europe in our vlogs below.
Conclusion | Not What We Expected!
If you're traversing through this area, you may find that you will enjoy the stop as we did. Yes, Chisinau isn't a city full of glitz and glamour; the sidewalks are crumbling, the buildings are graffiti-covered, and the city trams could not be any more slow and rickety. But when travelers claim, "there's nothing in Moldova," we couldn't disagree more.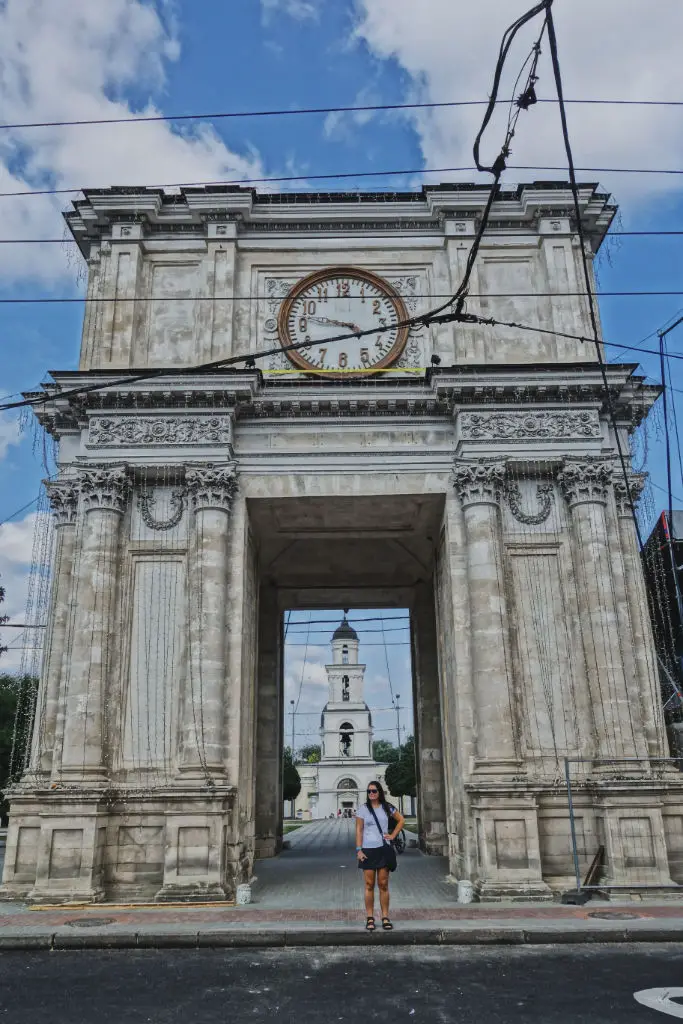 We found down-to-earth people, great food, and a unique travel experience in which we felt like we were the only tourists in the city. If you crave those off-the-beaten-path travel vibes, we think you'll appreciate the stop. Just remember, the same people who claim that Moldova has "nothing to offer," are probably the same people looking for beach life and a refreshing swim in the local retention pond.