Niš Serbia is the third-largest city in Serbia and is just at the beginning stages of international tourism. It is quaint, safe, and walkable. After three days of exploring this town, we developed a practical guide to help others get the most out of their stay here.
We love getting off the well-worn track of Europe's major tourist hubs. We've found that the closest you'll get to that "1970's Backpacking in Europe Vibe," is by venturing into cities in Eastern Europe that are just on the brink of tourism.
7 Best Things to Do in Niš Serbia | Get Off the Beaten Path
There are about 10 main sites to see while in Niš. If you want to experience them all on foot, you'll need two days to visit. If you use local buses, costing from 60-80 ($0.50-0.70) Dinar per trip, you'll probably see all the main attractions in one day. The seven best things to do in Niš, Serbia are:
Trvdava Fortress
Niš Concentration Camp
Skull Tower (Ćele Kula)
Memorial Park Bubanj
Archeological Hall
Tinkers Ally
Niš Greeters
We toured on foot, and although it was a lot of walking, it was always on pleasant sidewalks or footpaths. Although some websites claim otherwise, signage is excellent and in English. In this post, we'll briefly share why we enjoyed each attraction. You'll want to learn and discover more on your own.
The Tvrdava Fortress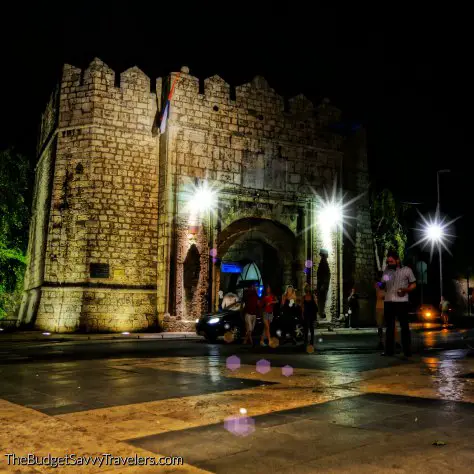 Why go? Enjoy walking the shady paths among archeological ruins. There are fun trams for kids. Walk the wall of the fortress and get a great view of the city, Nišava river, and Suva Planina off into the distance. There is no cost as it is a local park.
Niš Concentration Camp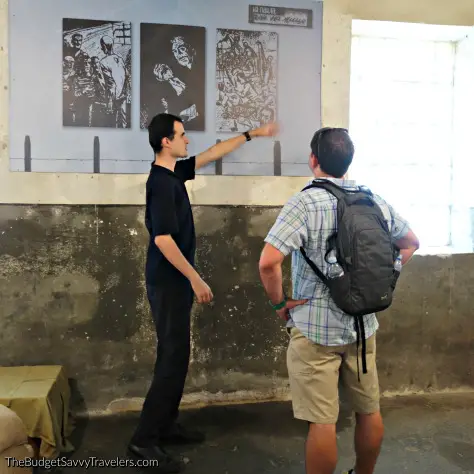 Why go? Those interested in WWII history will want to take the time to visit this camp. With few visitors, we enjoyed a phenomenal, 1:1 guided tour of the grounds by a local historian who was passionate about informing others on this significant part of history. This was Harry's most memorable stop while touring Niš.
Skull Tower (Ćele Kula)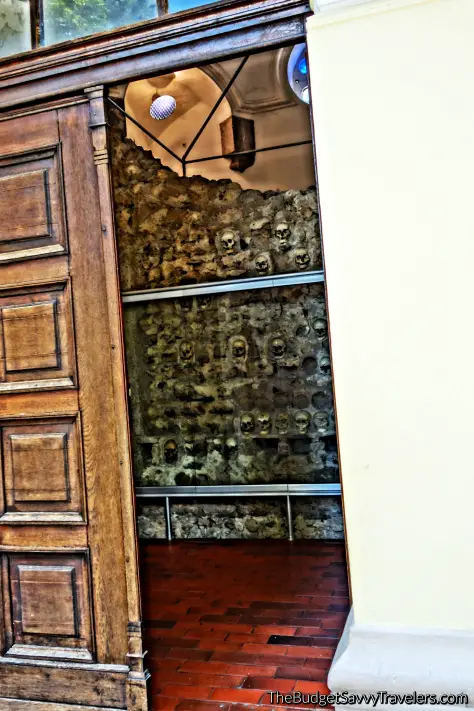 Why go? Harry and I really appreciate travel oddities and unique sites. This memorial is one of a kind and the history behind its origin is both fascinating and eerie.
The Skull Tower (Ćele Kula) is a unique monument in the world, visited by over 30,000 people every year. It is the tower made of human skulls, built after the battle for the liberation of Niš in 1809. This horrific monument was built as a warning to anyone rising against the Ottoman Empire. Originally there were 952 skulls built into the tower. Today, 59 skulls remain and they still illustrate the horrors of the original tower.
Memorial Park Bubanj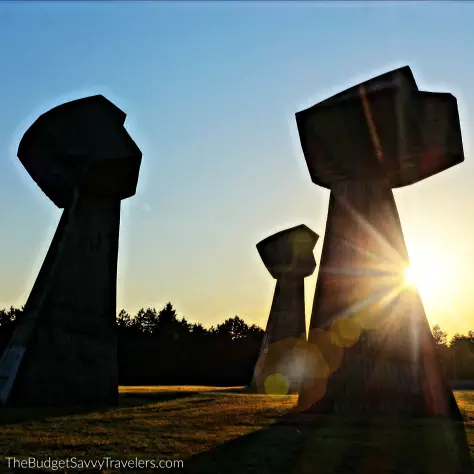 Why go? History buffs or folks who want to take time to reflect on the estimated ten to fifteen thousand who were brutally murdered here will want to visit.  It's located approximately 2 miles from the city center.  It was a long uphill walk to reach the monument which is located in a large, and now peaceful memorial park. It may be a good idea to take public transportation or a taxi on the way there and then walk back.
Archeological Hall
Why go? We visited as it was included in our 3-for-1 ticket. It was a good place to stop, cool down, and see some really old artifacts from 6000 BC! Watch our Niš vlog below for a good laugh at our reflections of the surprising way the artifacts are displayed.
Travel Tip – If you are planning on visiting the Skull Tower, Niš Concentration Camp, and the Archeological Hall, purchase one ticket for all three admissions. Price per person for 3 attractions? Only 200 dinars, or about USD 2.
Tinkers Ally
Why go? This cobblestone path was once an old craftsmen street. We visited during the day for ice coffees (which are really more like frappes in Serbia) to cool down at Pleasure Club, which is ranked as the number one restaurant in the city. (We didn't eat there.)
However, the street is more charming and has a lot more energy when night falls. If you want to experience Serbia's cafe culture at its finest, head there in the evening for a stroll, dinner, or a drink. It's definitely the hot spot of Niš.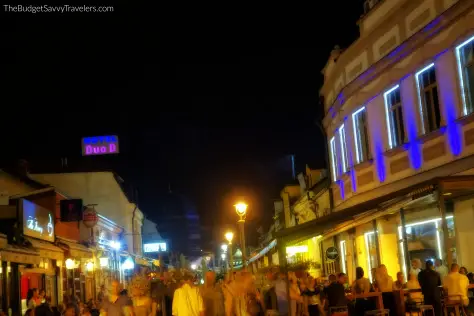 There are also many cathedrals and monuments around the city. Mediana (an archeological Roman site) and Niška Banja Spa are slightly out of walking distance so we opted not to visit. You can access local bus number 1 or 10 in the direction toward Ćele Kula (Skull Tower) and it will get you there for 60-80 dinar. Ask a local or the bus driver to direct you to the correct stop.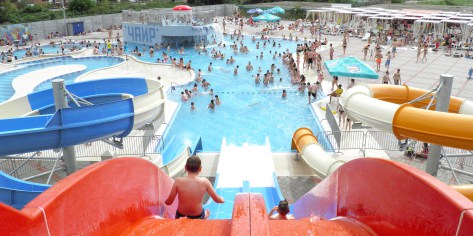 At the time of our summer visit, Niš was swelteringly hot. We toured around exclaiming, "How do people cool off here?!" At the beginning of our train ride leaving Niš, we passed a very new waterpark! We wondered why we didn't hear about this as it looked like an oasis in the summer heat. It's called Akva Park Čair. You may also want to inquire about Green Paradise Pool located in Niška Banja Spa and Park.
Niš Greeters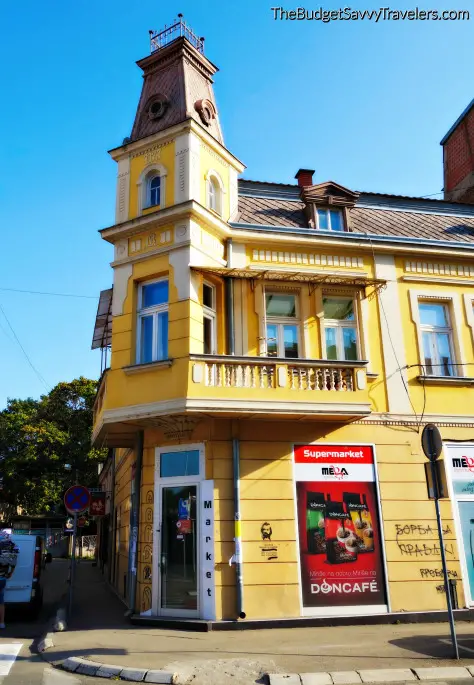 Like many cities, Niš is offering a new service that pairs you up with a local from the city. These volunteers are excited to share their city with tourists. If you are looking for a guide, or maybe a new friend to spend the day with, this may be a good option for you. The cost is free, but we're sure they would appreciate a tip for their time and knowledge shared.
Foodie Finds | Niš Serbia
Eating around Niš is cheap and easy. The city is loaded with bakeries, pizzerias, and fast food grills that prepare fresh bites. Unlike other cities we've explored, these local stands are clean and appetizing.
One day we grabbed a huge piece of Burek for lunch at a local bakery, costing only USD 1 which fed both of us. Ice cream sundaes are around 1 USD. If you're craving it, there's even a McDonald's in the city center.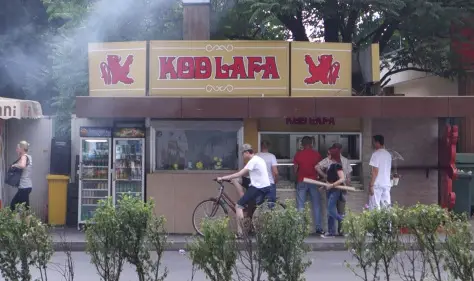 Plenty of restaurants in Niš serve Balkan food, but if you're looking for comfort food then the place to go is Crazy Horse Irish Pub. Now, most Irish pubs are not known for their cuisine, but we dined here multiple times and each experience was great.
They have a really unique and surprising menu with many dishes you normally wouldn't find on a traditional Irish menu.  Every time we visited it was packed with locals. This was our top foodie find for Niš.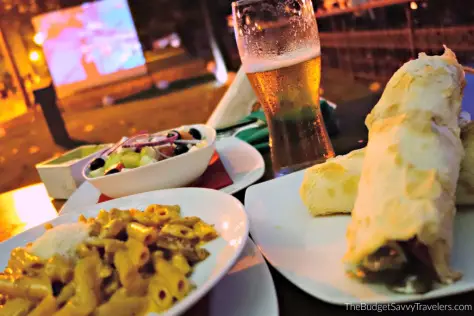 This is where locals go for the best drinks and outside sports watching along the river. We tried other places along the river, such as Loco Cafe, but we were not pleased with our experience.
Accommodations  | Niš Serbia 
We typically stay in Airbnb units but were lucky to connect with Hotel Sole, a boutique accommodation near the heart of Niš. The service here is excellent! It was helpful to have kind, knowledgeable staff that assisted us in planning our day and provided transportation advice.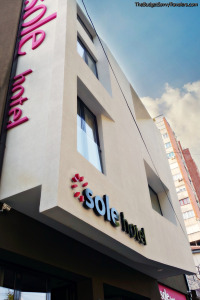 We had the best sleep we've had in a long time with high-quality beds and linens. All rooms are modernly furnished and feature a cable TV, a minibar, and a private bathroom with shower, hairdryer, and free toiletries. The highlight? The complimentary morning breakfast spread and delicious cappuccinos! We recommend the traditional Serbian scrambled eggs.
Hotel Sole also had excellent wifi, which is unique for a hotel stay. In fact, using a speed test, it was the fastest speed we'd had in the Balkan region making it great for getting work done efficiently. These amenities make it our top choice for accommodations while in Niš.
Transportation
After visiting Belgrade, we traveled by bus about 2.5 hours to Niš. We used Kanis Bus Company, which offered a more comfortable and nonstop experience than Niš Express. The cost was ~1100 dinar (~ USD 10).
Leaving Niš, we took the train to Sofia. The cost per ticket was ~ USD 10. The taxi from our hotel to the train station cost 190 dinars (USD 1.70). If you are following a similar route, we recommend that you take a bus rather than the train, see why in the video below.
It took us over 8 hours to reach Sofia by train, and it was during the summer and the train car lacked air-conditioning. It was a hot ride. Instead, take a bus, not the train. Locals bus it (~2.5 hours), uninformed backpackers or people looking for an adventure take the slow and unreliable train (~5+ hours). Did we mention that you should take the bus and not the train?

Thank you to Sole Hotel for a most pleasant stay. The central location, comfortable beds, and amazing breakfast cuisine make this our accommodation of choice when exploring Niš, Serbia.