Finding affordable lodging in Jackson Hole, Wyoming can feel overwhelming. No matter the time of year, everything is so expensive. For example, Super 8 which is an extremely basic hotel can easily exceed $250 per night, even on a weekday. No worries though. There are some options for budget-savvy travelers that won't break the bank.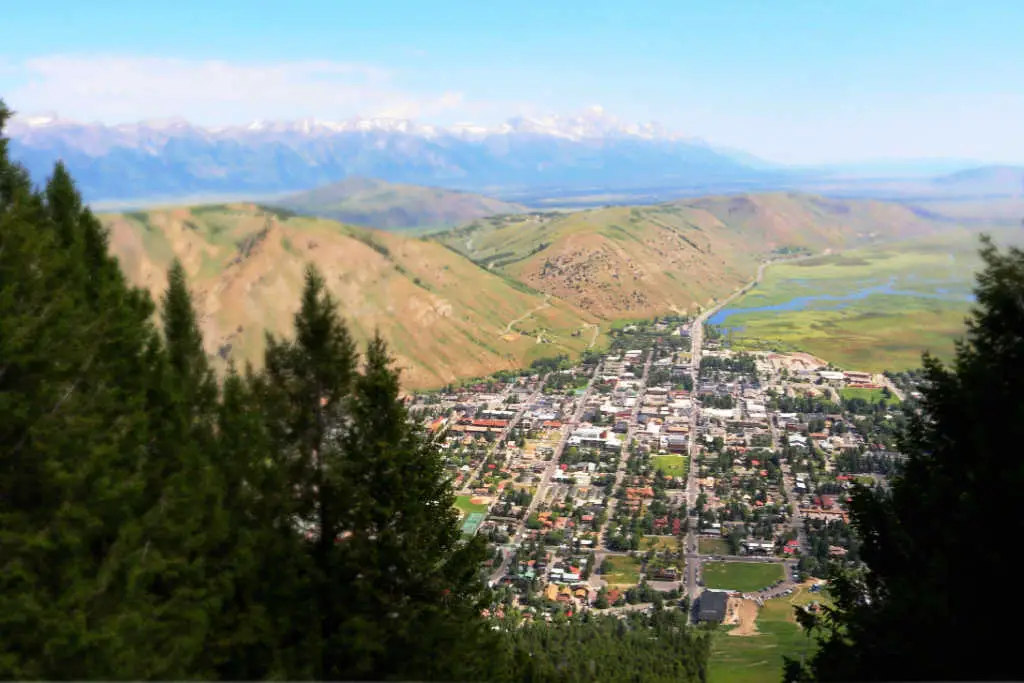 People from all over the USA and the world flock to northwestern Wyoming to visit Grand Teton and Yellowstone national parks. During our last visit in the spring of 2023, we saw vehicles from Poland, Belgium, France, Germany, Netherlands, and even Luxembourg. As a result of this abundance of travelers, there's a huge demand for lodging in Jackson Hole and thus prices are through the roof.

Flying Into Jackson Hole
Travelers short on time may consider flying directly to Jackson Hole Airport. However, a quick flight search will reveal that it's quite expensive to fly in or out of Jackson Hole Airport.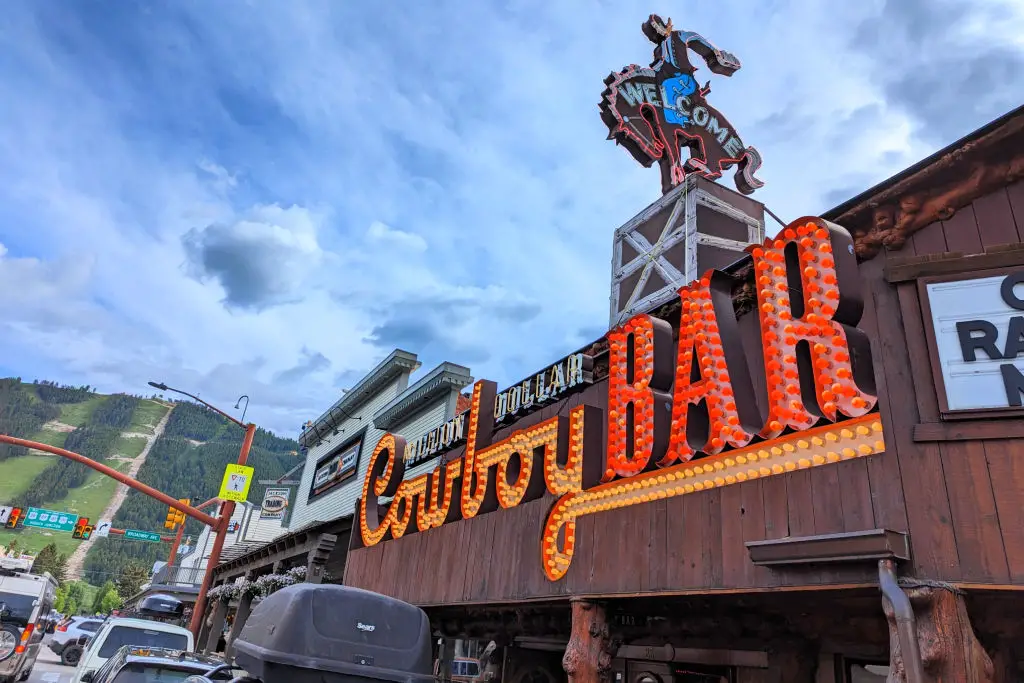 If you're looking for cheaper flights into the area consider flying into Bozeman to the north, Idaho Falls to the west, or Yellowstone Regional Airport to the northeast located in Cody, Wyoming. We always compare prices and routes using Skyscanner because they include low-cost carriers in their search—most travel search engines do not, including Google Flights.
Traveling a Lot? Get Your Cashback From Every Trip 🤑
💲 With WayAway membership plan you will receive cashback on flights, hotels, car rentals, and more. Their travel concierge will handle all travel-related queries and share hidden gems in every city with you!
Renting a Car in Jackson Hole – Important Tip
Be careful about which airport you rent a car from as prices can vary quite dramatically. For example, you may decide to fly into Bozeman rather than Jackson Hole because of cheap flight tickets but renting a car may cost several hundreds of more dollars in Bozeman. For this reason, if you're planning on renting a car be sure to compare rental car pricing on Skyscanner before finalizing airfare.
Why Stay in Jackson Hole
When it comes to Yellowstone National Park's most standout towns, there's little doubt that Jackson is number one. Located just 60 miles south of the park and about 25 from Grand Teton National Park, Jackson's is ideally located for exploring the area.
🏨 BEST-VALUE LODGING OPTIONS IN JACKSON HOLE
Below is a brief description of each property along with the average nightly rate.
Of all of the towns surrounding Yellowstone, Jackson (and Jackson Hole) is by far the poshest with multi-millionaires bumping shoulders with city slickers, ski bums, and real-life cowboys. Within the last decade, the elite has been fervently buying up real estate—causing prices for everything to skyrocket. It's gotten so bad that billionaires are pushing millionaires out—no joke.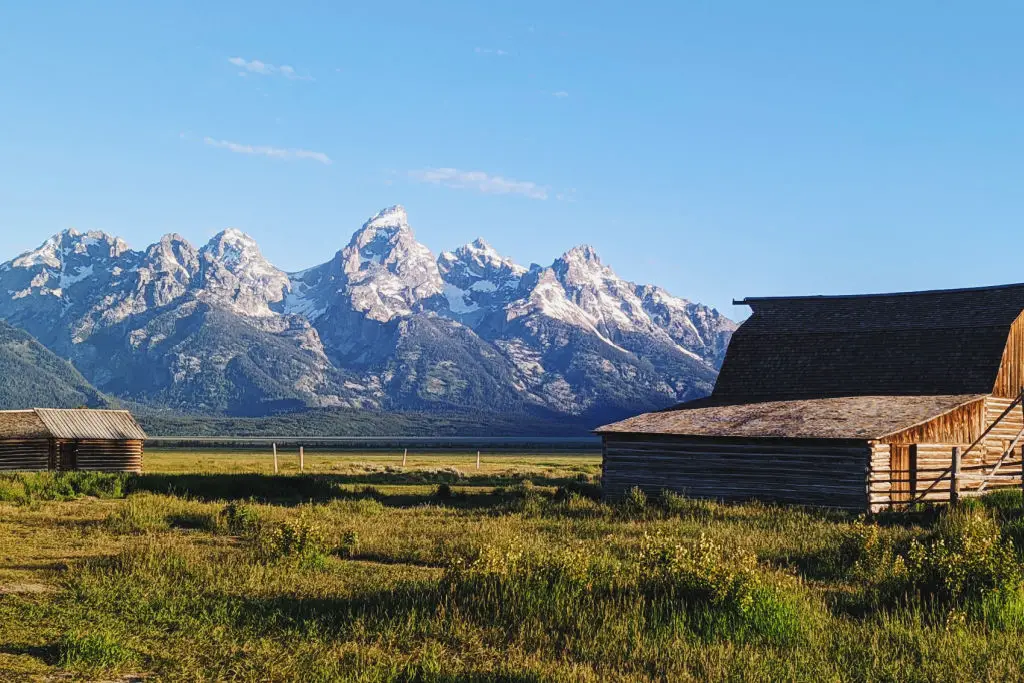 Luckily, there are still some affordable options available in Jackson Hole, Wyoming. However, if you're looking for even steeper discounts we'd encourage you to check out our Yellowstone Itinerary which outlines the cheapest places to stay around all of Yellowstone. For example, we've found West Yellowstone, MT, and Gardiner, MT have tons of accommodation options and lower rates.
Nevertheless, even with exorbitant pricing, we stayed a few nights in Jackson. With Grand Teton National Park and the National Elk Refuge basically, at your door, it's hard to resist the hefty price tag.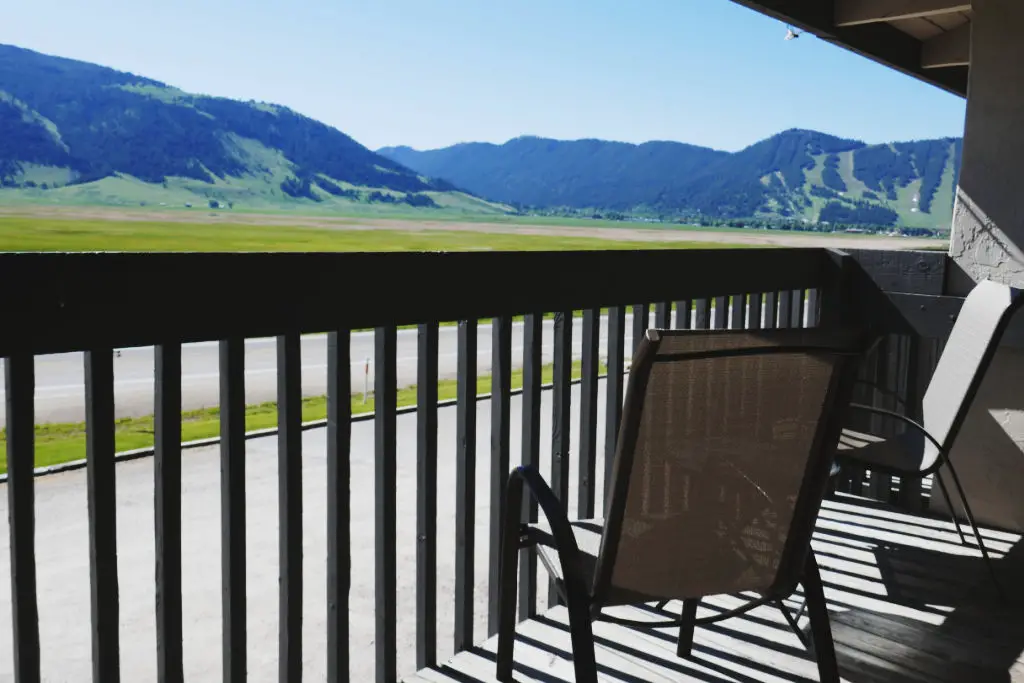 Below are the 10 best-value lodging options in Jackson Hole, Wyoming. Also, we'll highlight where we stayed (#8 on the list below) in case you're wondering.
Best-Value Lodging Options in Jackson Hole
The nine lodging options below in Jackson Hole are some of the highest-rated and lowest-priced. Furthermore, we've gone ahead and sorted them from the cheapest to the most expensive. Finally, the prices below are based on summer rates as rates can vary quite dramatically throughout the year.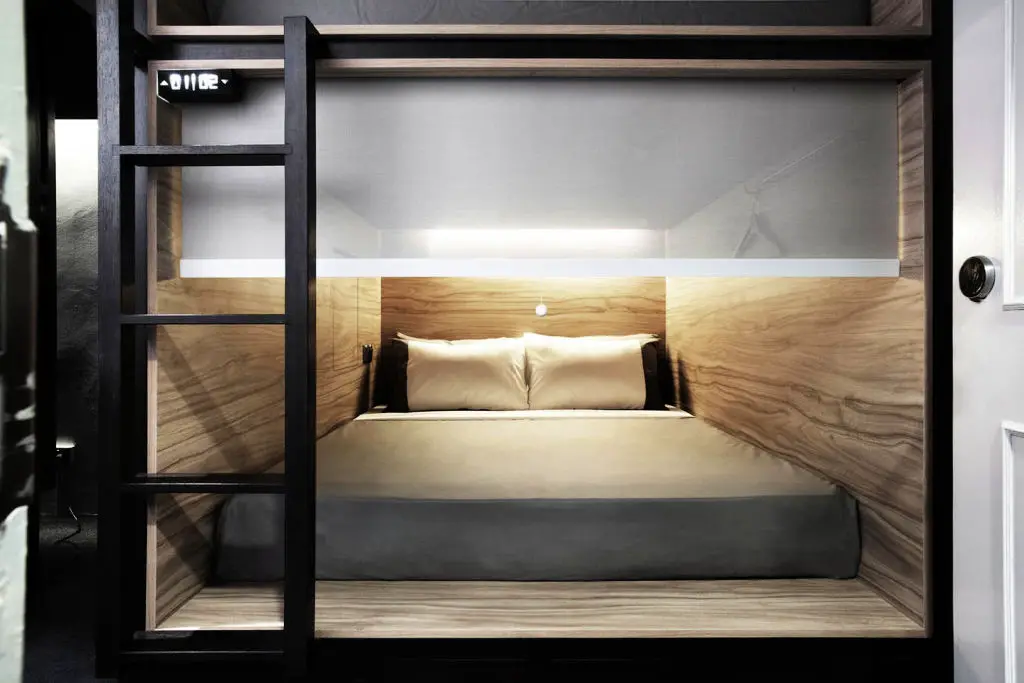 If your goal is to be close to Jackson and stay at the most affordable lodging in Jackson Hole, look no further than the Cache House. Providing guests with clean queen/full-size pods, showers, lockers, free bikes, a shared lounge, and a restaurant. However, what it doesn't have is a place for guests to cook or eat their food, and parking can be a hassle. Also, there's a resort fee which doesn't make a whole lot of sense.
From $81 per night.
Cache House > Check Availability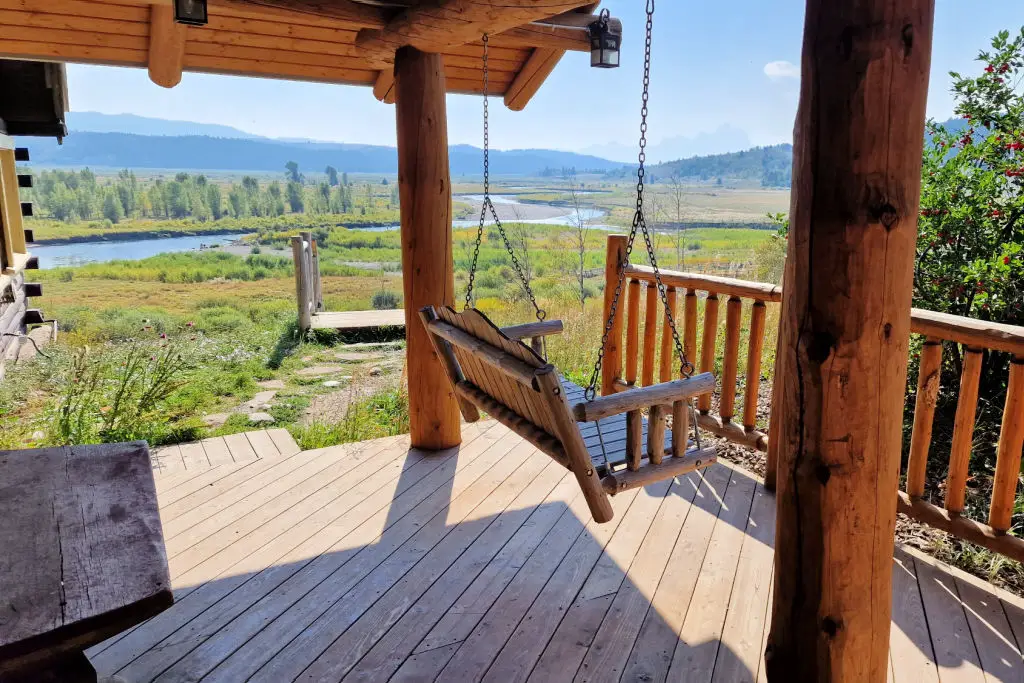 As a working ranch, guests should expect rustic accommodations and "Old West" hospitality. Realistically, guests should expect a dude ranch experience. Consider only staying here if you love horses, if you're interested in going on one of the ranch's horseback riding tours, and/or if you want sensational views of Grand Teton right from your door. Finally, the ranch does have a cafe/restaurant that serves basic meals.
From $189 per night.
Heart Six Ranch > Check Availability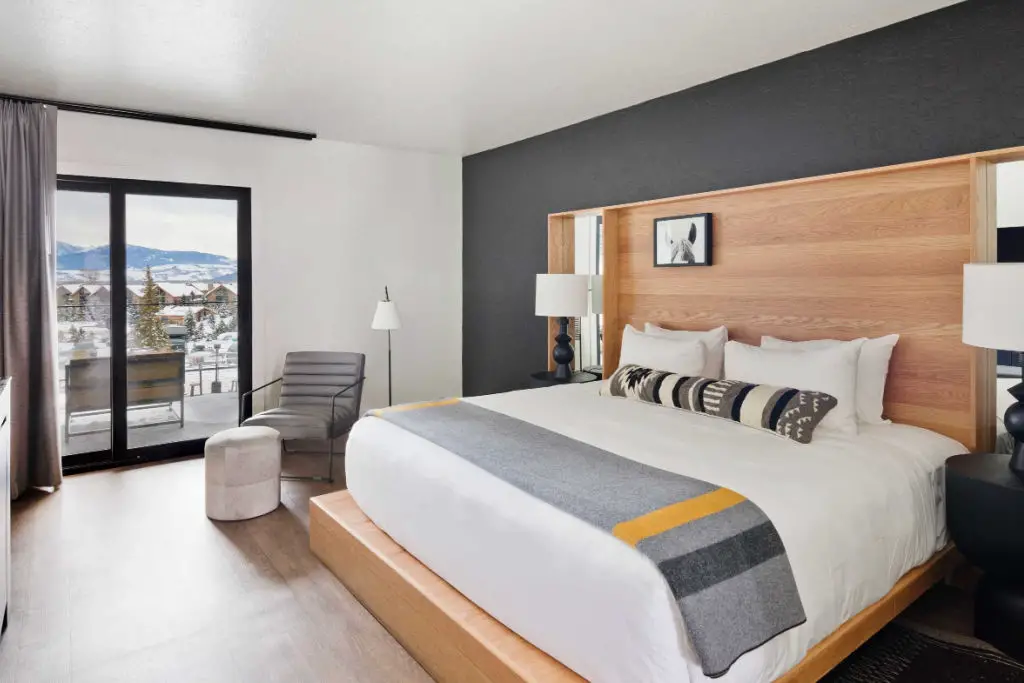 Outside of the ski season, Continuum Hotel is quite an affordable hotel to stay at, and one of the cheapest in Jackson Hole. Located in Teton Village, this newly remodeled 90-room boutique hotel features a heated pool, a hot tub, a restaurant, and a bar. Sensitive sleepers should look elsewhere though as walls are thin.
From $247 per night.
Continuum Hotel > Check Availability
Top-5 Tours in Jackson Hole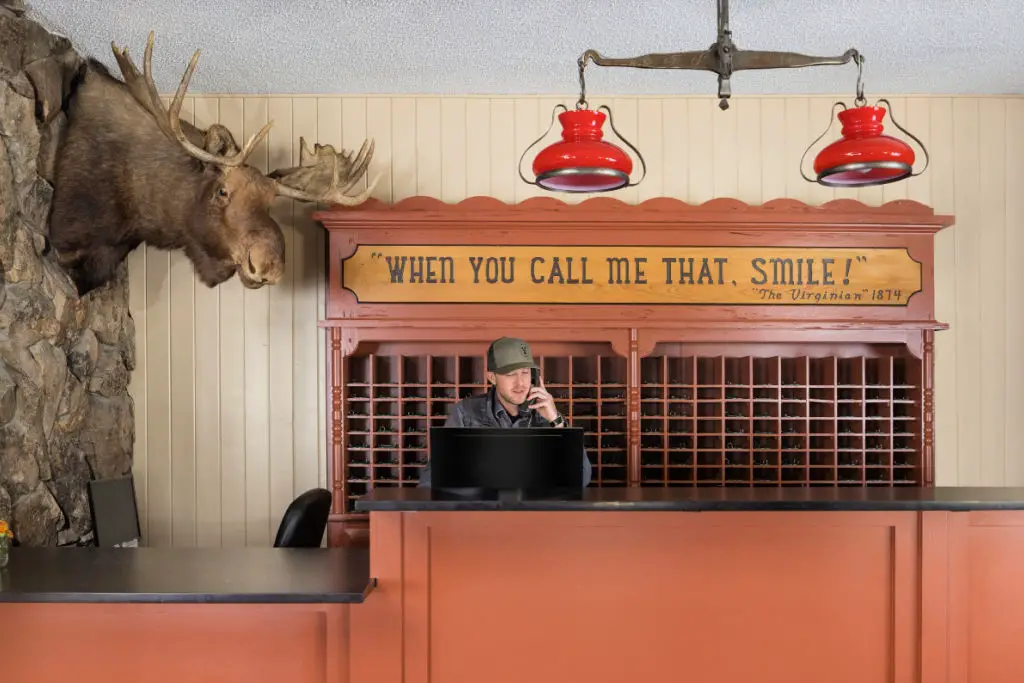 Located along Route 191, just south of the town square, The Virginian Lodge is renovated motel with retro vibes. Amenities include several outdoor fire pits, a large outdoor pool with a hot tub, a spectacular mountain views. The property definitely feels like something out of a Wes Anderson movie.
From $271 per night.
The Virginian Lodge > Check Availability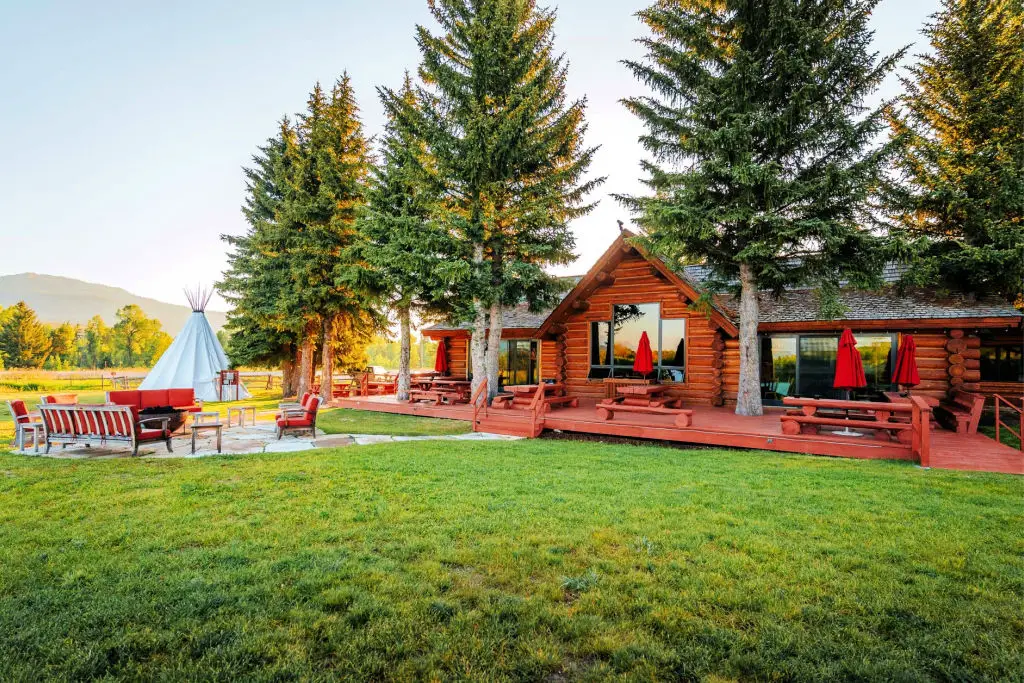 Located just about an equal distance from Yellowstone's south entrance and Jackson in northern Jackson Hole, The Hatchet Resort features standard hotel rooms and cabins that are crafted in western-style logs. Two convenient onsite restaurants serve breakfast, lunch, and dinner. Finally, the fire patio and the restaurant's outdoor deck add a splendid level of serenity—you may even have some wildlife walk right by you!
From $274 per night.
The Hatchet Resort > Check Availability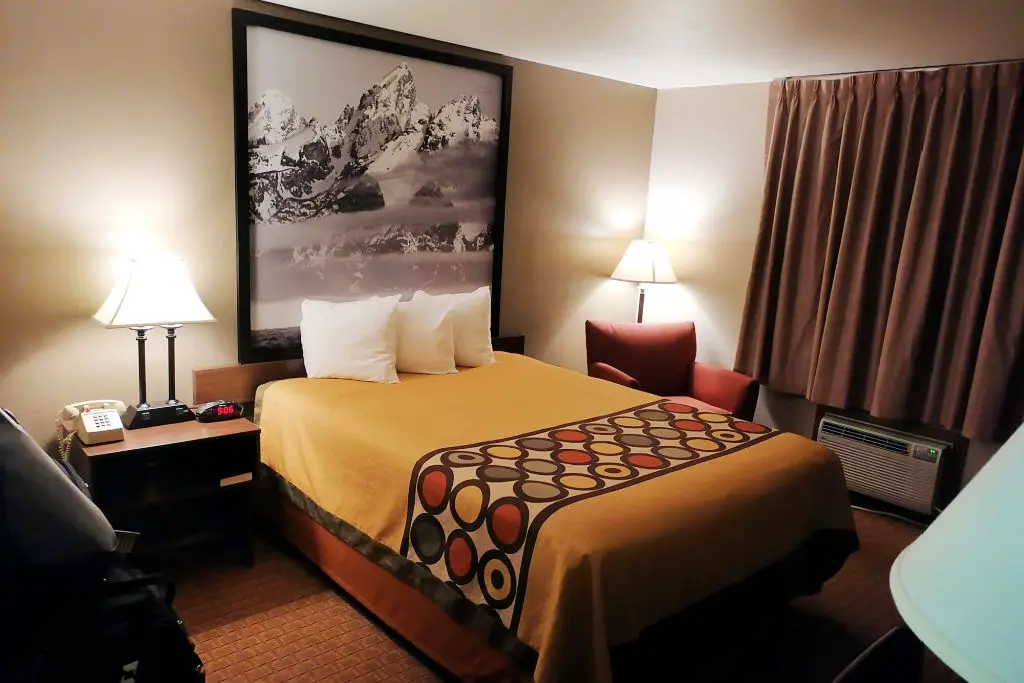 We've stayed in our fair share of Super 8's, and this one is just okay. For those that haven't previously stayed at a Super 8, the experience is just about as basic as a hotel can get before it falls into the motel category. Highlights include being near the free city bus and ski shuttle stop, laundry facilities, complimentary breakfast, and evening cookies and popcorn. This might be one of the most expensive Super 8's in the country.
From $279 per night.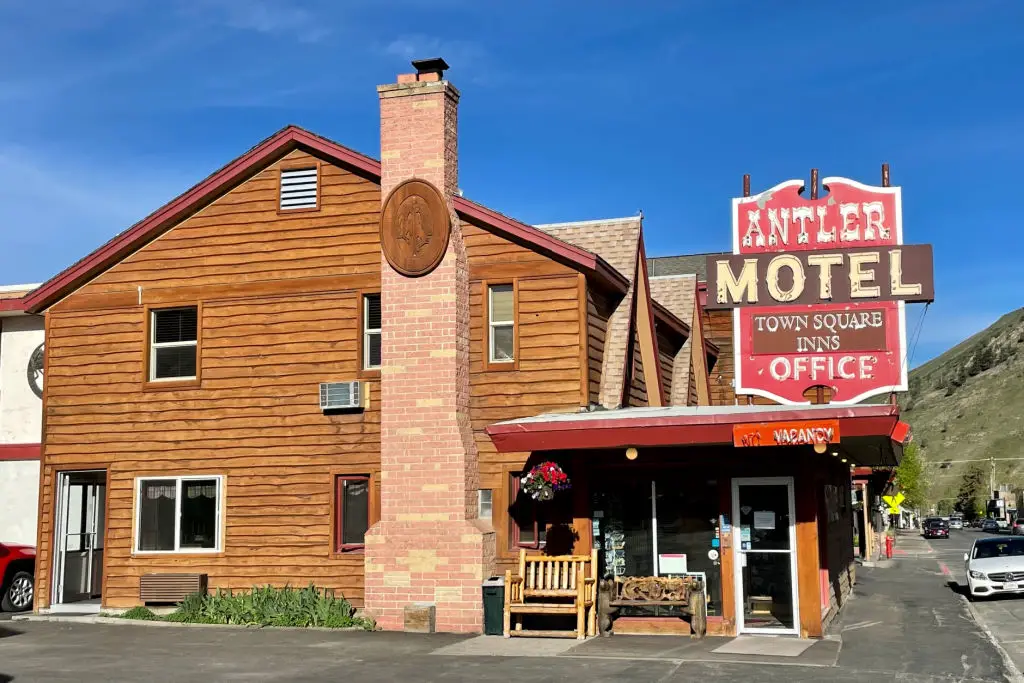 It's all about location. Close to everything in Jackson, the Antler Inn is a great option for those visitors that desire to park their car at the end of the day and walk to dinner, or tour the town on foot. Antler Inn's outdated but clean (enough), think of an old Super 8 with a lodge theme. Nevertheless, it's pretty much the cheapest hotel in Jackson so you can't really complain, not that anyone would listen anyway.
From $299 per night.
Antler Inn > Check Availability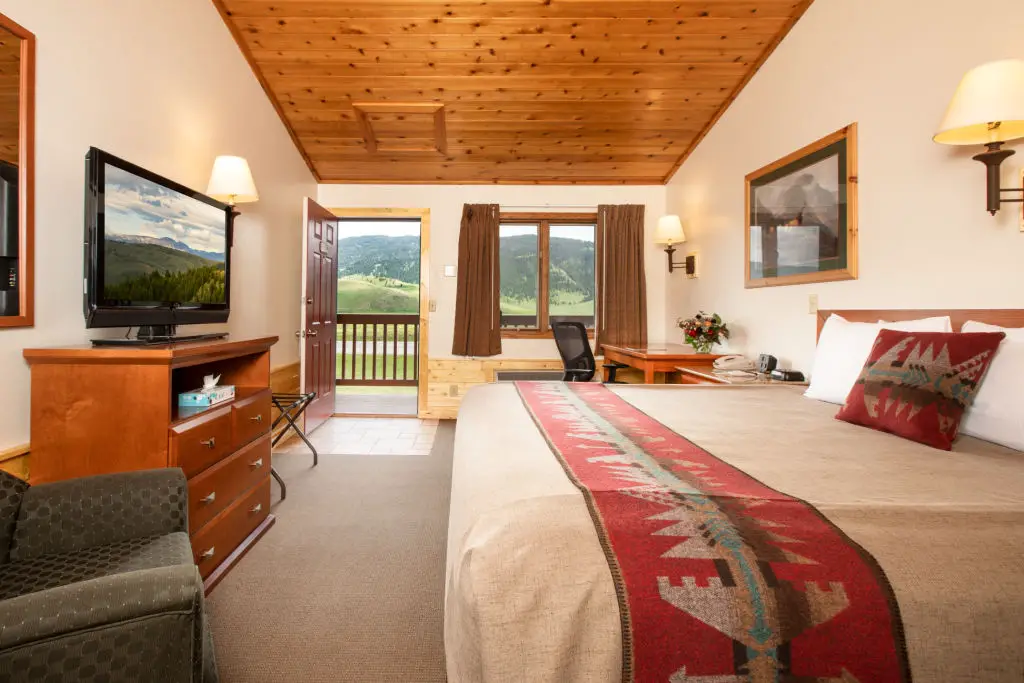 In terms of the best value lodging options in Jackson Hole, we consider Flat Creek Inn and Elk Refuge Inn first-rate. Both accommodations are located right next to each other just outside Jackson, on the way to Grand Teton NP, and all rooms have spectacular rooms of the National Elk Refuge.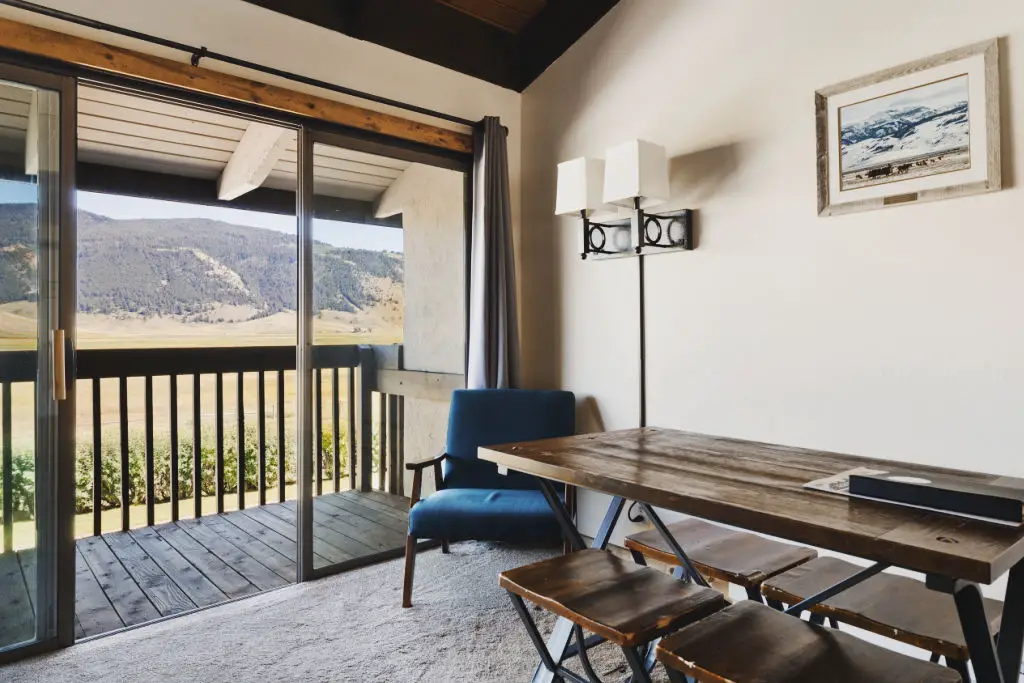 While Flat Creek Inn's rooms are a bit more updated and cheaper, Elk Refuge Inn has second-floor rooms with private balconies making it just a little bit nicer, in our opinion. During our time, we opened a bottle of wine at sunset and simply enjoyed the views and the wildlife. Both accommodations are excellent options, however, if you can't score a room with a private balcony then simply pick the property offering the lowest price.
Elk Refuge Inn from $304 per night.
Elk Refuge Inn > Check Availability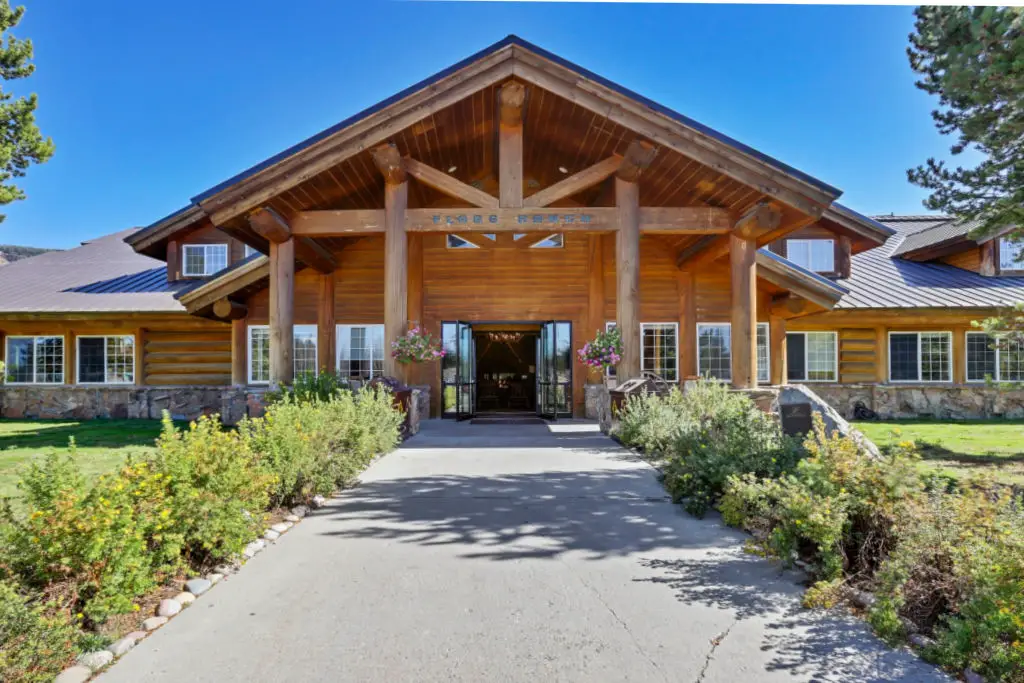 Camping enthusiasts may find the ideal blend of comfort and access to the great outdoors at Headwaters Lodge & Cabins at Flagg Ranch. Located in Moran, about 30 miles north of Jackson, and positioned smack dab in the middle of Yellowstone and Grand Teton national parks, Headwaters include cabins, camper cabins, tent sites, and RV sites with full hookups.
From $325 per night.
Headwaters Lodge & Cabin > Check Availability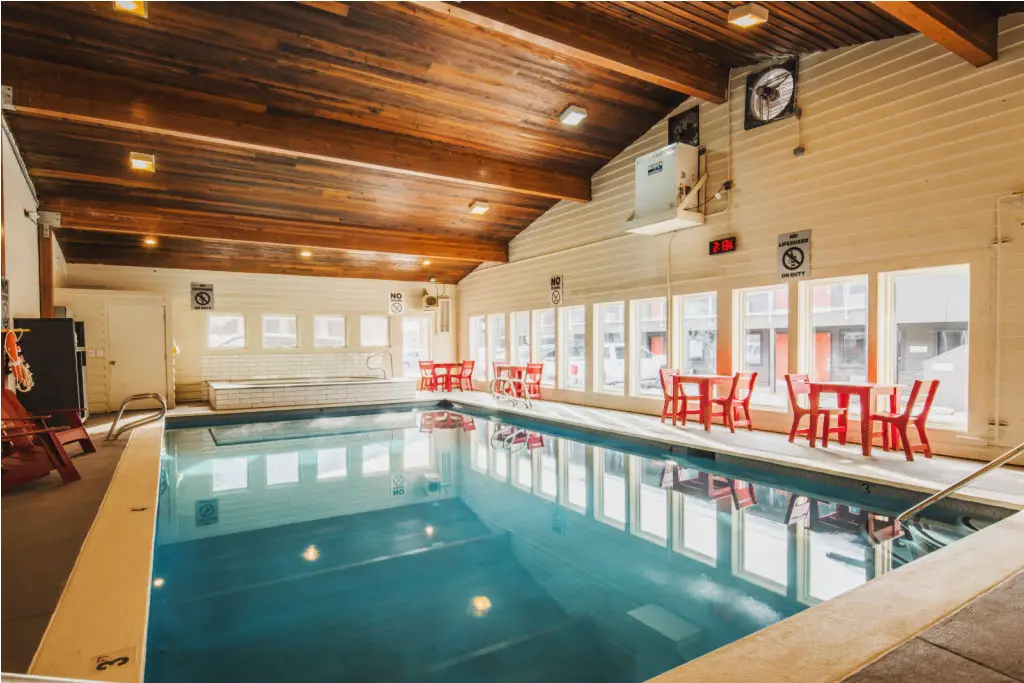 Motel only in name, Mountain Modern Motel is a chic boutique hotel with contemporary finishes, a pool, an oversized hot tub, a salon, a bike repair station, laundry facilities, and a restaurant. Also, it's located in the heart of Jackson. This is the nicest hotel in Jackson Hotel before you start approaching the average nightly rate in the area of about $450 per night.
From $359 per night.
Mountain Modern Motel > Check Availability
TRAVEL TIPS
🏘️ Book Your Accommodation
We use Tripadvisor and Priceline's Express Deals to compare prices and reviews in advance and check availability
✈️ Book Your Flight in Advance
To find the cheapest flight options, you can use WayAway and Skyscanner to find the most suitable choice for you
🚗 Reserve Your Rental Car
Use DiscoverCars and Skyscanner to compare prices and view the largest selection of vehicles