If you're visiting Motovun in Istria, Croatia, you can't help but get caught up in the underground treasure hunt that is known as the Truffle. Many are aware of Italy's culinary truffle tradition, but did you know that neighboring Croatia's truffle industry is booming? There are truffle hunting tours, truffle fests, and souvenir shops dedicated to endless products made from truffles.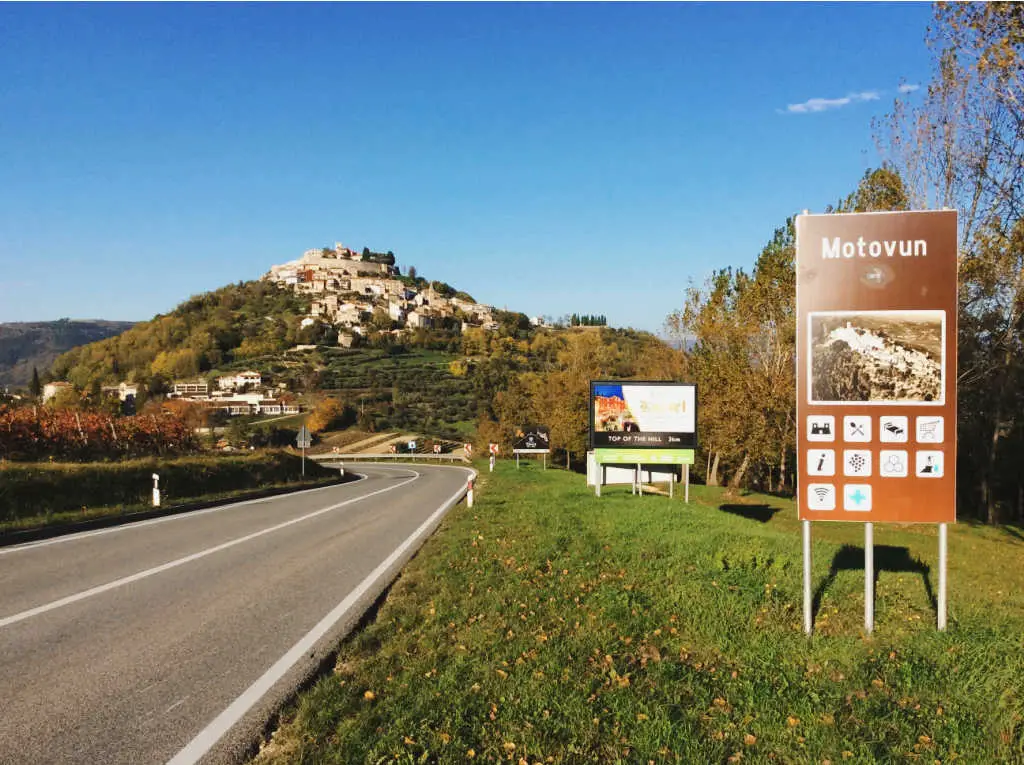 Harry adores truffles. I, on the other hand, don't see what all the fuss is about. However, in the spirit that you should try everything at least once, our goal is to guide you so you can decide for yourself! As dedicated foodies, we set out to try to experience this delicacy in the best budget-savvy way that we could.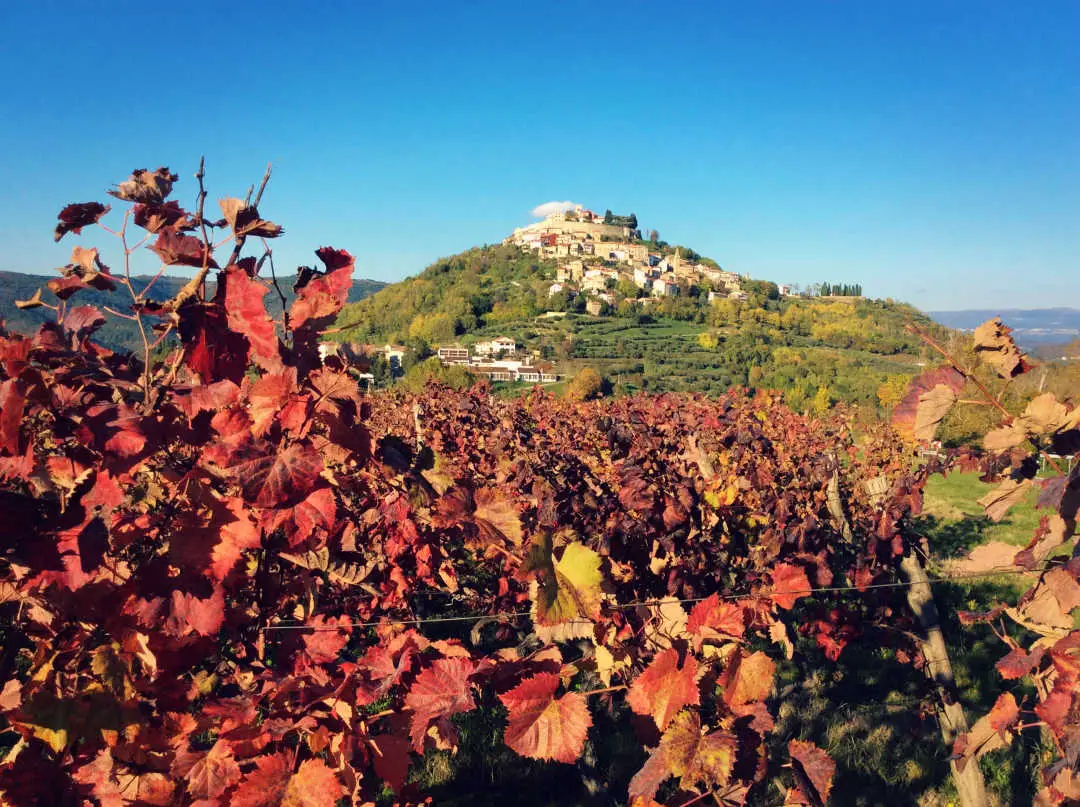 4 Best Truffle Tours in Croatia
Sure, you could simply go to a restaurant and taste truffles but wouldn't it be fun to see where they come from and how they're retrieved? Below are the four best truffle tours in Croatia.
Motovun Istria – Best Places to Taste Truffles
Motovun often serves as a base for exploring the surrounding truffle region and was my favorite city on our tour of Istria. With the Italian influence, the Croatian hill town is so dreamy that Google Co-Founder & billionaire Larry Page celebrated here on his sister's wedding day.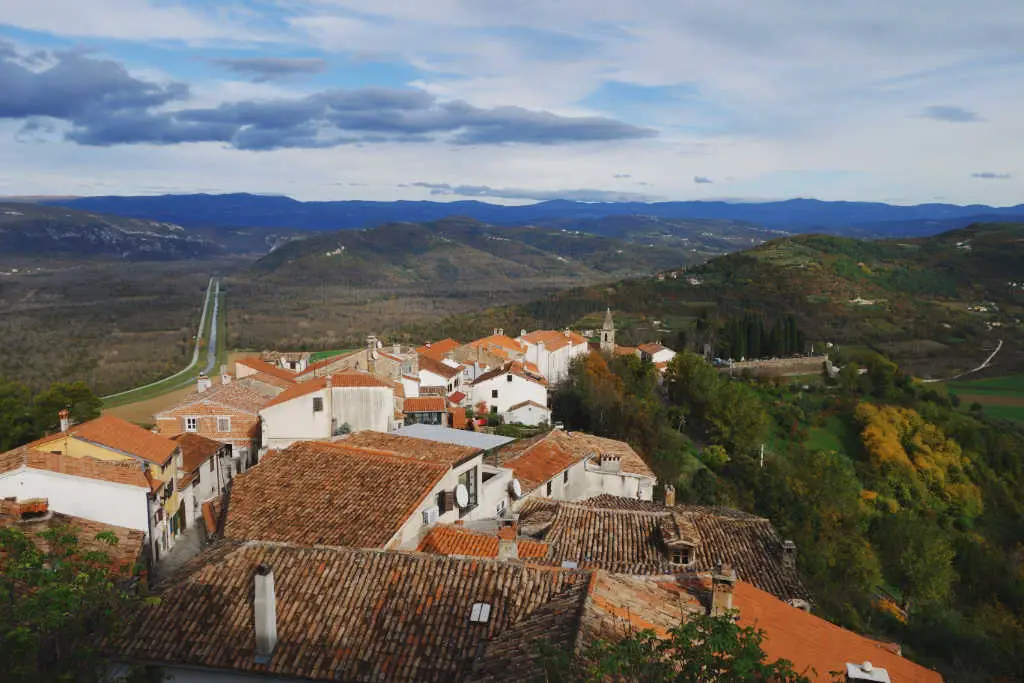 Truffle Hunting and Taste Testing
With our USD 8 per day rental car, we drove to a nearby hill town called Paladini to reach Karlić Tartufi, a third-generation family-run truffle hunting business, and shop. We decided to stop by because our apartment host gave us a brochure advertising their free truffle tasting.
Upon our arrival, we were warmly greeted by Ivan who is the grandson of the founder. Along with his three dogs, he takes guests out truffle hunting in the Motovun forest. Although truffle hunting sounds like something we'd love to do, it is a costly activity.
Istria Wine Tours offers a unique experience for tourists that includes sumptuous wines, superb olive oil, and famous truffles. During the Istrian Tapestry tour, guides will show you how to hunt for truffles in the forest.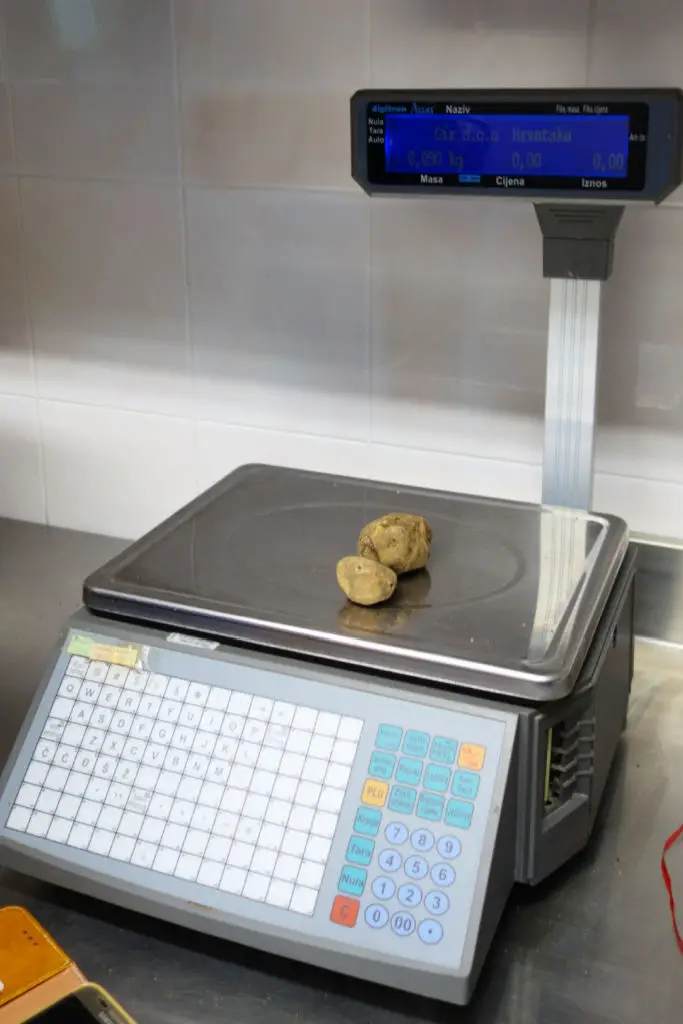 During our visit, Ivan kindly gave us a behind-the-scenes look at the truffle business. He told us about the history of truffle hunting and showed us the truffles he had found on his tour that day.
Naively, we had originally thought they were going to let us sample actual truffles. We learned that truffles are way too costly just to sample for free. However, the folks at Karlić Tartufi did offer us a nice (free) selection to taste of meats, cheeses, patês, and a Nutella-like spread called "Truffella," all of which included truffles.
Taste Truffles For Free
We were able to taste a wide variety of truffle-made products for free. Our favorite product was the white truffle patê (~ USD 10). We purchased one to say thank you for all the time spent with us and also as a souvenir.
Even if you don't fancy the taste of truffles, it has a nice flavor. We paired it with fresh bread, local cheese and prosciutto, and Istrian olive oil. Delish!
Where to Taste Truffles in Motovun Istria
All the restaurants in the area have truffles on the menu. The challenge is finding the best one, especially if you are on a tight budget like us.
With a little research, many visitors learn that Anthony Bourdain visited Motovun and dined at Konoba Mondo. We think that due to his visit, and its central location within the hill town, tourists flock to this restaurant making it #1 on TripAdvisor.
If you've been following us, you already know how we feel about Anthony Bourdain. (If not, you can learn more here.) Also, if you look at reviews for Konoba Mondo they are very hit or miss!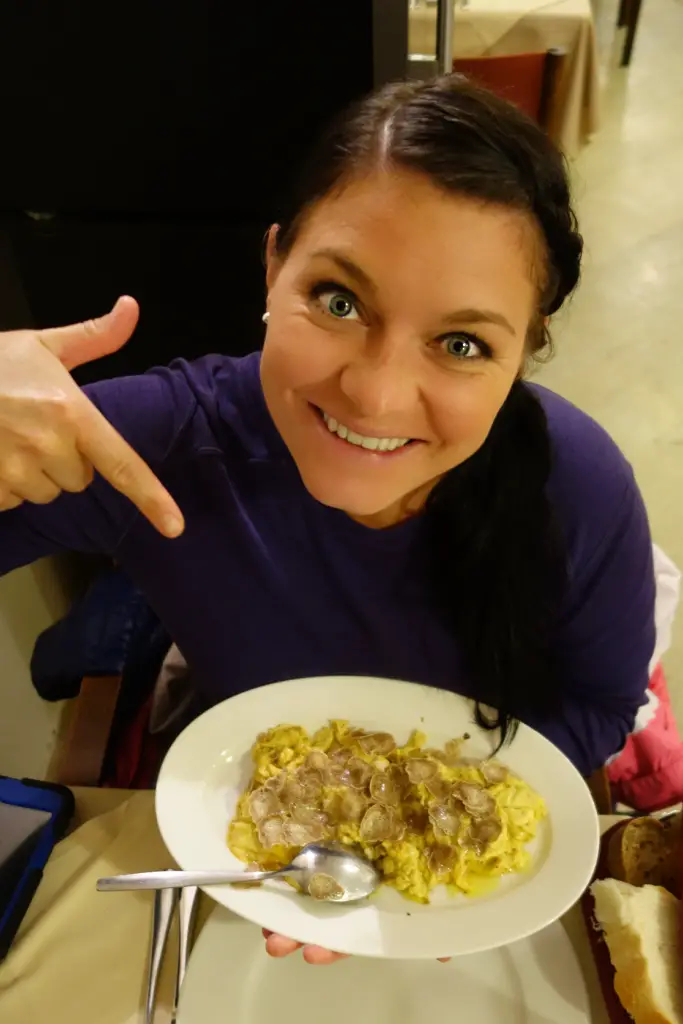 Many guests claim that the truffles were tasteless or appeared "old" and "unfresh." Guests also complained of receiving just a few slivers of the costly truffle on their dishes.
White truffles only stay fresh for about 5 days and black truffles for about a week. After that, they begin to lose their flavor. In theory, to get the best experience, you want truffles served 'straight out of the ground' fresh.
Gostionica Tartuf > Livade Croatia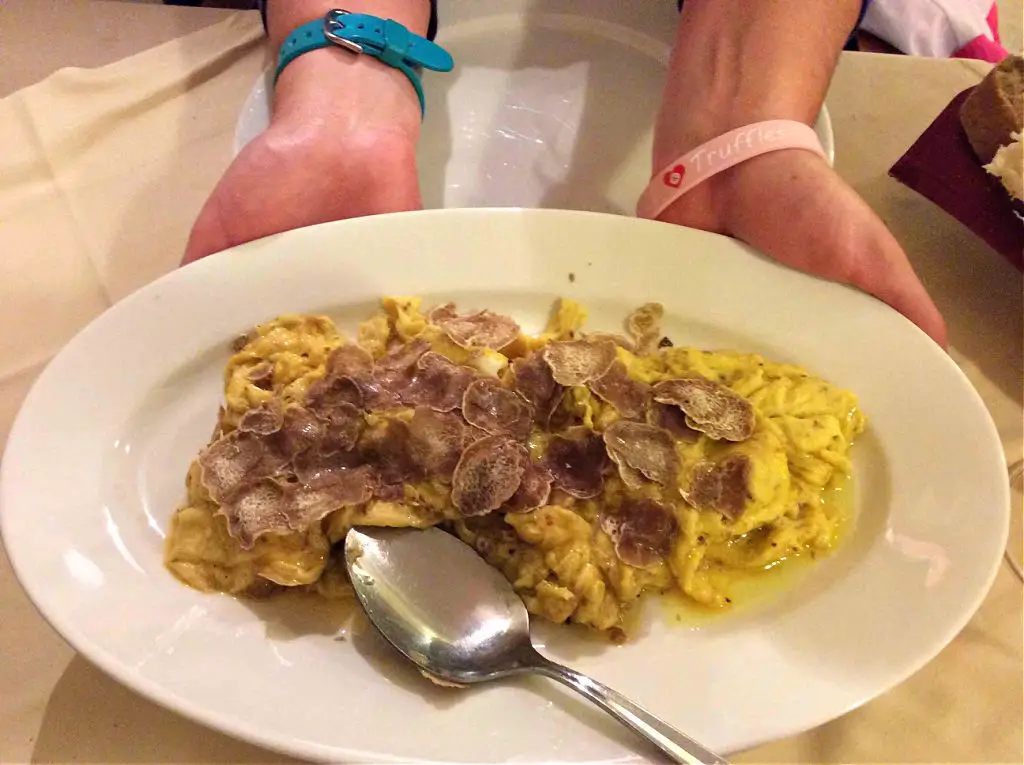 Ivan was kind enough to offer us a local, insider tip! He works closely with a family-run restaurant called Gostionica Tartuf that buys his truffles directly from him.
He sent us there with the promise to be served the freshest truffles in the area. The restaurant is located in Livade, less than a ten-minute drive from Motovun.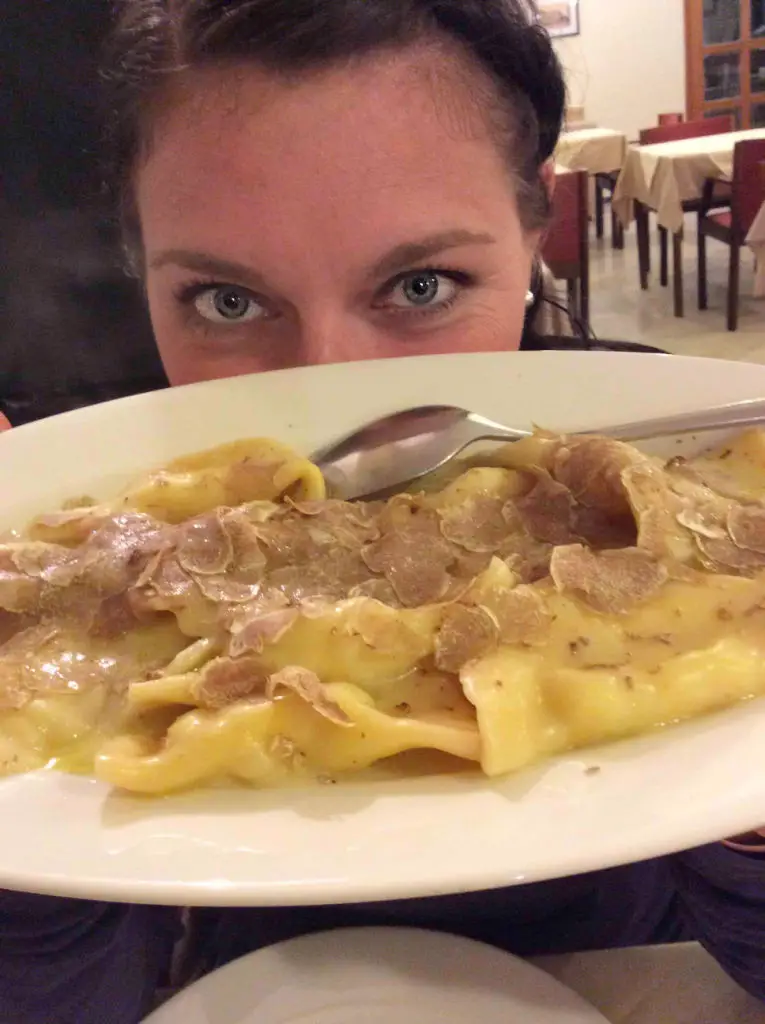 We ordered the scrambled eggs and white truffles dish and ravioli with white truffles. Just as Ivan promised, the white truffle flavor was bold and our truffle servings were very generous.
We shopped around and the prices were considerably lower than other restaurants. For two large soups, fresh bread, two white truffle dishes, and a bottle of local Istrian wine, our meal cost a total of USD 62.
Our only minor complaint? The bread service is an extra charge. Without asking, a waitress brought us another basket at the end of our meal and charged us for it.  The hours are from 10-22 and the restaurant is closed on Tuesdays.
Truffle Fests & Best Time to Visit
Truffles are a type of fungus. The fall season is the peak time for white truffles, which are more expensive and better tasting. Summer is the season for black truffles, which are milder in taste and a little cheaper.
We believe fall may be the best time to enjoy the truffle country. From September through November, there are many fairs and truffle festivals to enjoy on weekends. The leaves in Istria are also at their peak making driving around the towns quite beautiful.
Accommodations and Other Restaurants
We stayed in a quaint Booking.com apartment near the top of Motovun. It had a lovely outdoor patio with rolling hill views. Our host provided us with a parking pass so parking was not an issue. There are also plenty of nice accommodations, below are some of the best places to stay in Motovun.
Budget: Bed & Breakfast Antico (center of Motovun) or Guesthouse Villa Marija (lovely balconies)
Mid-Range: Villa Provvidenza
Luxury: Wine & Heritage Hotel ROXANICH (amazing design & pool!)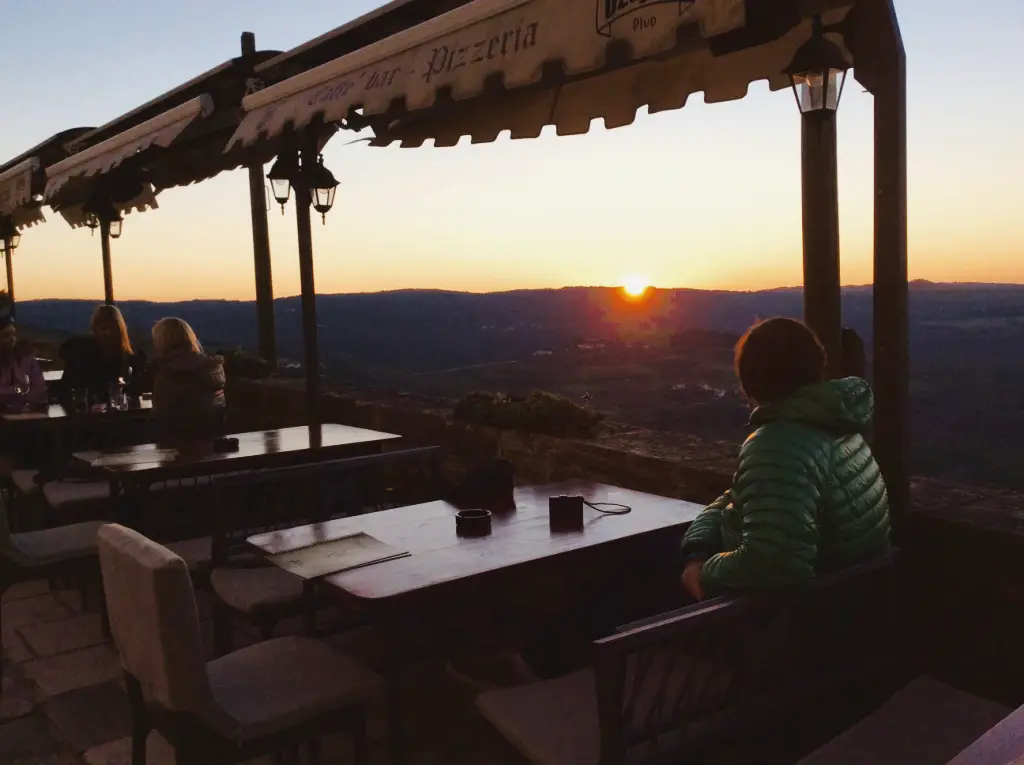 Favorite Restaurant in Motovun
While in Motovun, we recommend dining at Restaurant Montona Gallery for its simple, affordable eats (~ USD 10 per person) and gorgeous sunset views.
Please note, this post was written from our personal experience and nothing was neither sponsored nor paid.
We Need Your Help
Did you find this article helpful? If so, bookmark it and when you're planning your next vacation click on any of the links below before finalizing reservations. You'll get the best price, we'll earn a small commission, and you'll help support future articles.
Thank you!
BEST TRAVEL SEARCH ENGINES
🏘️ Book Your Accommodation
We use Tripadvisor and Priceline's Express Deals to compare prices and reviews in advance and check availability
✈️ Book Your Flight in Advance
To find the cheapest flight options, you can use WayAway and Skyscanner to find the most suitable choice for you
🚗 Reserve Your Rental Car
Use DiscoverCars and Skyscanner to compare prices and view the largest selection of vehicles