Why we're loving virtual reality travel vlogging. If you've been following us along on our vlogging journey, you will have noticed that we've been exploring the latest in technology trends by documenting our travels in a 360 Virtual Reality (VR) format.
Why We're Loving Virtual Reality Travel Vlogging
VR use to be reserved for gamers and technology geeks, but it is slowly grabbing the attention of everyday folks, like us, who experience it and are blown away by an extraordinary, almost out of this world experience.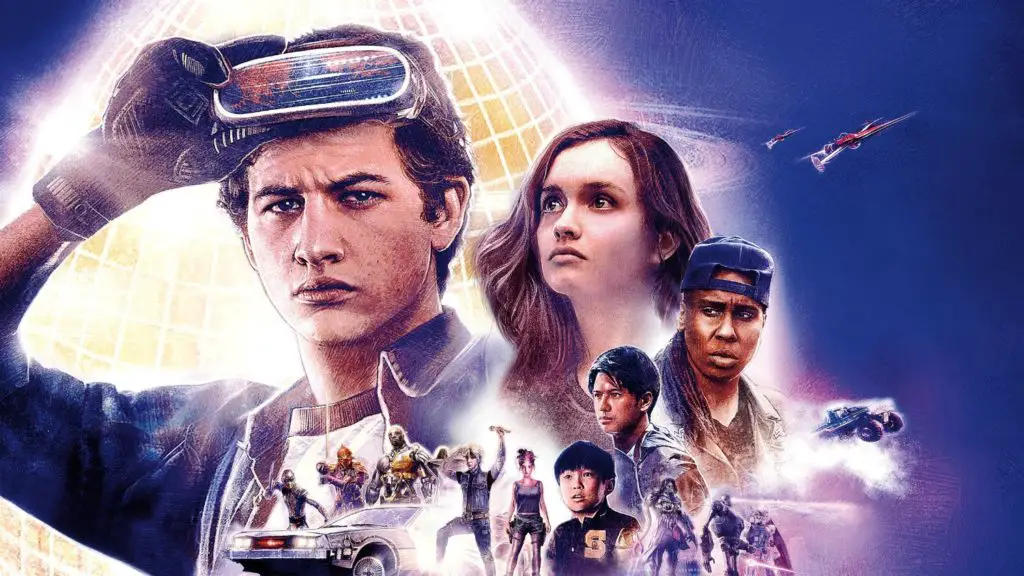 With the popularity of Steven Spielberg's latest Sci-Fi movie, Ready Player One, based on Ernest Cline's bestselling book by the same name, the idea of Virtual Reality is sexy, intriguing, and alluring. Harry and I both read Ready Player One a few years ago and it was a phenomenal read.
---
In the virtual world, people can go anywhere, do anything, and be anyone.
---
Briefly, the story is set in 2045 with the world on the brink of chaos and collapse. The people have found salvation in what is called the OASIS, an expansive virtual reality universe.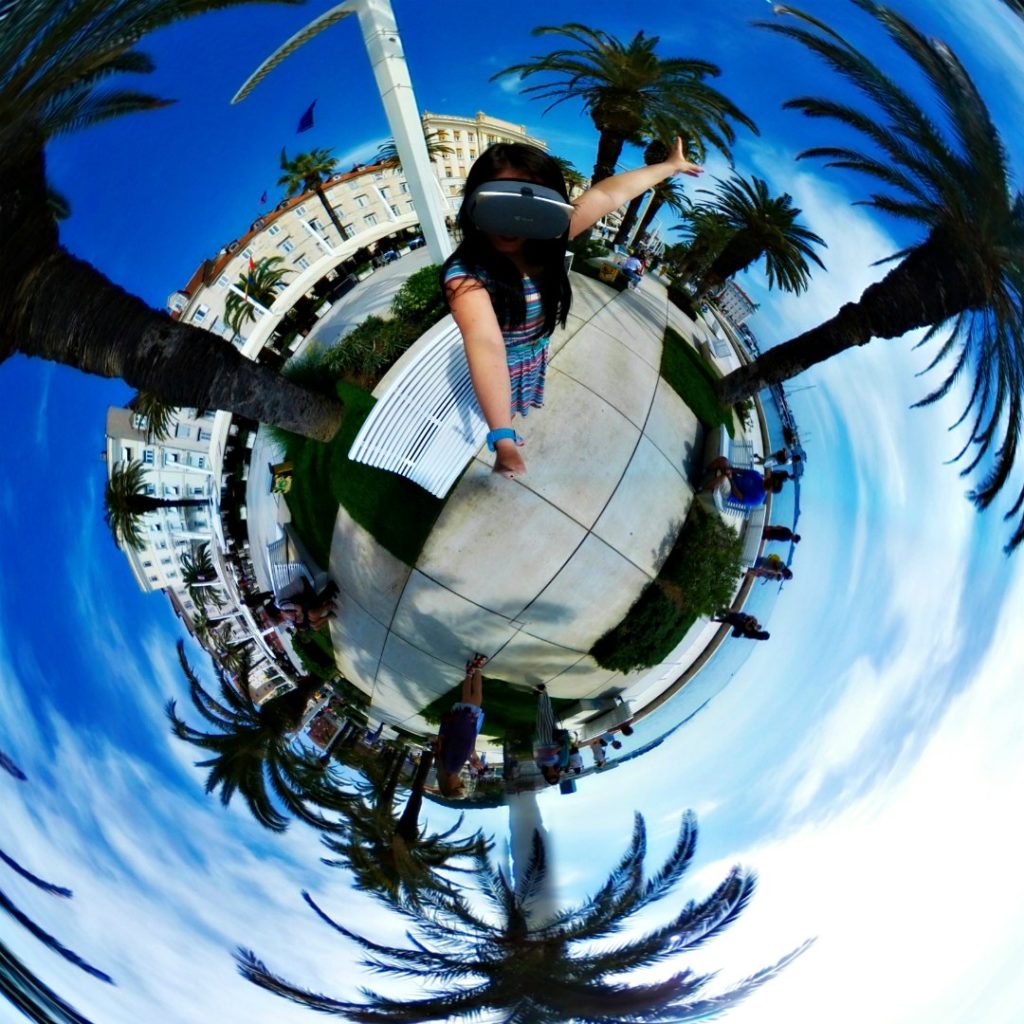 Now consider the possibilities of virtual exploration in the world of travel. In the virtual world, people can go anywhere, do anything, and be anyone.
While in Chicago, a friend who is really into technology gifted us our first 360 camera. So in the past few months, we've been dabbling around with the VR style of vlogging. We knew it was important to stay current with the latest technology trends.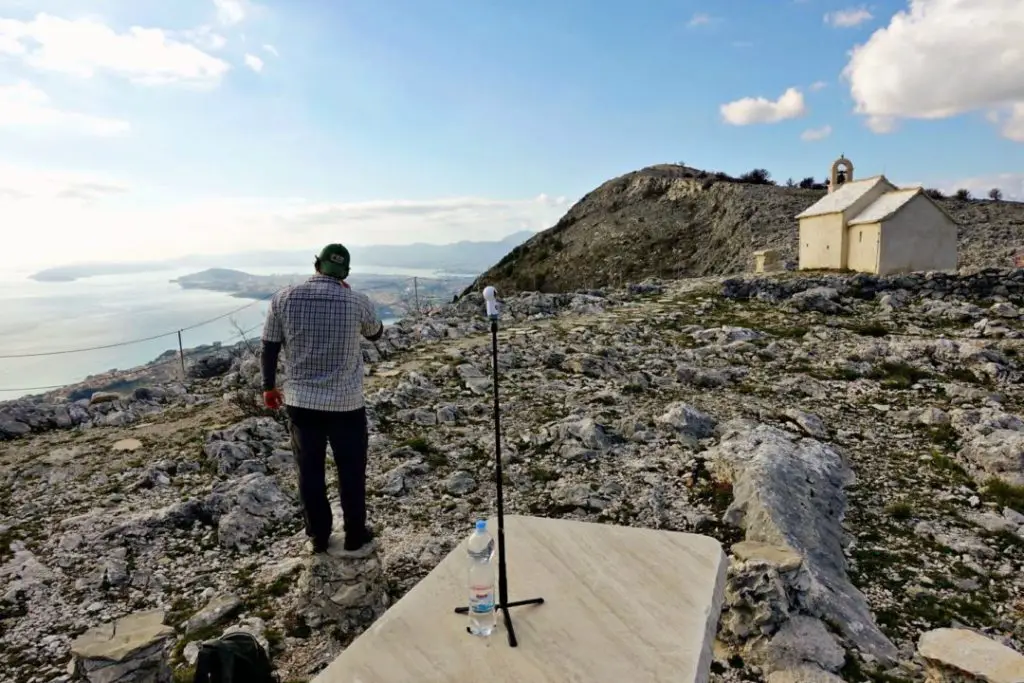 Truth be told, it honestly took me some time to get excited about the new format. Vlogs in the traditional format can be more creative and more visually pleasing because you can combine clips from a variety of different cameras to offer different perspectives.  Traditional vlogs are also less work for the viewer. It's as simple as click, play, watch.
---
"When one of us dies, this is as close as you can get to reliving that memory. It's like you're standing right here next to me!"
---
However, this week we had the opportunity to watch our 360 vlogs for the first time while wearing a VR headset. As I watched our videos, I was floored at the realistic perception of being transported right back to our recent adventures like hiking in Scotland and touring Old Town Latvia. It was like I was being teleported back in time!
My initial VR impressions may sound a little morbid, but my first thoughts were sentimental in nature. I said to Harry, "When one of us dies, this is as close as you can get to reliving that memory. It's like you're standing right here next to me!"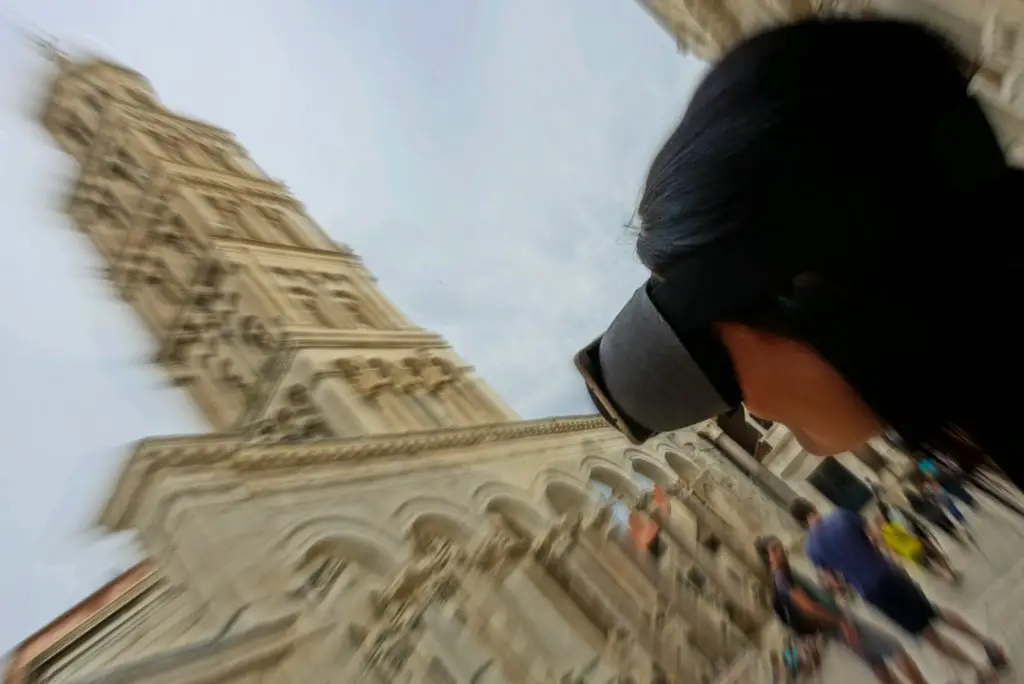 It was right then and there that I saw the beauty and value of documenting our life in this tech savvy way.
VR offers the opportunity to share amazing life experiences, in the most extraordinary way. This week we've ridden roller coasters in Asia, floated in space with Russian astronauts, and skydived over Dubai.
As VR becomes more mainstream, people are going to see how it naturally lends itself to the world of travel and to documenting memories. I love that I can strap on a headset and instantly be standing in another place around the globe. I'm amazed that I can go back in time and experience my favorite memories all over again.
---
Consider if you had 360 recordings of your old family vacations. Imagine being virtually transported back to a time when your kids were little or reliving the fun memories you had with your parents or grandparents. Virtual reality allows you to stand within those moments once again.
---
Virtual Reality Technology and Gear
If you're interested in tapping into the 360 Virtual Reality world, we have a few suggestions to help you get started.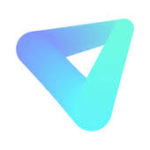 The first thing you'll want to do is download the VeeR VR app. VeeR is one of the largest and fastest growing global virtual reality video platforms. They aim to provide the best VR viewing experiences for audiences around the globe. (That's why we're there!) Get familiar with the 360 format by exploring videos with the swipe of a finger or moving your phone or tablet around you to move different parts of the video.
2. Consider purchasing a budget friendly VR headset
Seriously, using the headset to view 360 content was game changer for me. We suggest the VeeR Fabric 3D VR Headset. At $16.99 USD, it's a budget friendly piece of equipment that will complete your virtual reality experience. Currently, if you purchase this headset you'll get an $80 VeeR VIP membership card for free.
3. Follow the best VR content creators on Instagram
360 cameras have opened up a whole new world of unique photos, videos, and vlogs. We invite you to follow the best content creators on VeeR on Instagram. We'll be there too!
4. Consider buying your own 360 camera
There's a wide range of 360 cameras on the market starting as low as around $100. If you're interested in videography, consider purchasing one to explore creating your own VR content.
---
Not Ready for the World of VR? Check Out One of Our Traditional Vlogs