Are you looking for the perfect Fort Myers, Florida itinerary? We were too, so we decided to create one for future travelers. This all-encompassing guide includes the very best things to see and do in and around Fort Myers.
Fort Myers Florida Best Itinerary
The itinerary below is based on five days in the Fort Myers area. It is jam-packed with daily activities and is great for anyone looking for an active vacation. The itinerary starts near downtown Fort Myers and progressively moves outwards towards the islands.
Keep in mind, you could easily spend a few days in each location. It's probably better to pick one or two spots so you have time to enjoy the sites. After all, you're now on island time!
Day 1 – Fort Myers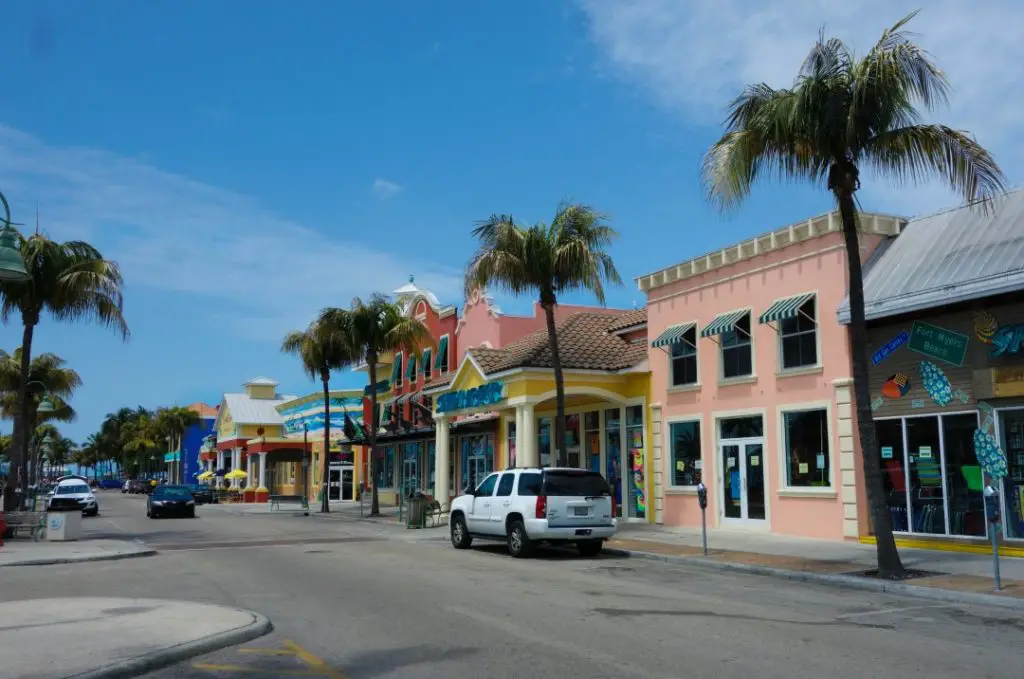 Morning
Kick-off the day with coffee and a homemade donut at Bennett's Fresh Roast in Fort Myers. Afterward, visit the Edison & Ford Winter Estates, located along the Caloosahatchee River. The estate features the Edison Botanic Research Laboratory, where Edison, Ford, and Firestone worked on creating a source of rubber that could be grown in the US.
If you're visiting between December and February, it's worth going a bit further north to Manatee Park. Manatees are generally not present during the warm summer months so plan accordingly.
Day
Tour historic Fort Myers, also known as the River District on foot. Parking can be difficult, so make sure to check out this map ahead of time. Start your self-guided tour at the Franklin Shops on First Street, or take a proper guided walking tour. Force yourself to get lost in the maze of alleyways, courtyards, narrow streets, and brick-lined sidewalks shrouded with palm trees.
Now that you've built up an appetite, head over to nearby The Veranda for a wonderfully fancy lunch, or Capone's Coal Fired Pizza for something a little bit more relaxed. After lunch, go on a river cruise. We prefer the Caloosahatchee River Cruise with Pure Florida.
Night
Tonight, let's reach new heights by warming up at the Firestone Skybar. Afterward, depending on the mood, enjoy live jazz at the Roadhouse Cafe or eat like a local at Lehne Burger in Cape Coral.
If you're finally ready to turn Margaritaville into a way of life, head on over to the Boat House Tiki Bar & Grill for dinner or a nightcap. It's probably better to Uber at this point.
Where to stay: Hibiscus House Bed and Breakfast or Holiday Inn Fort Myers – Downtown
Day 2 – Fort Myers Beach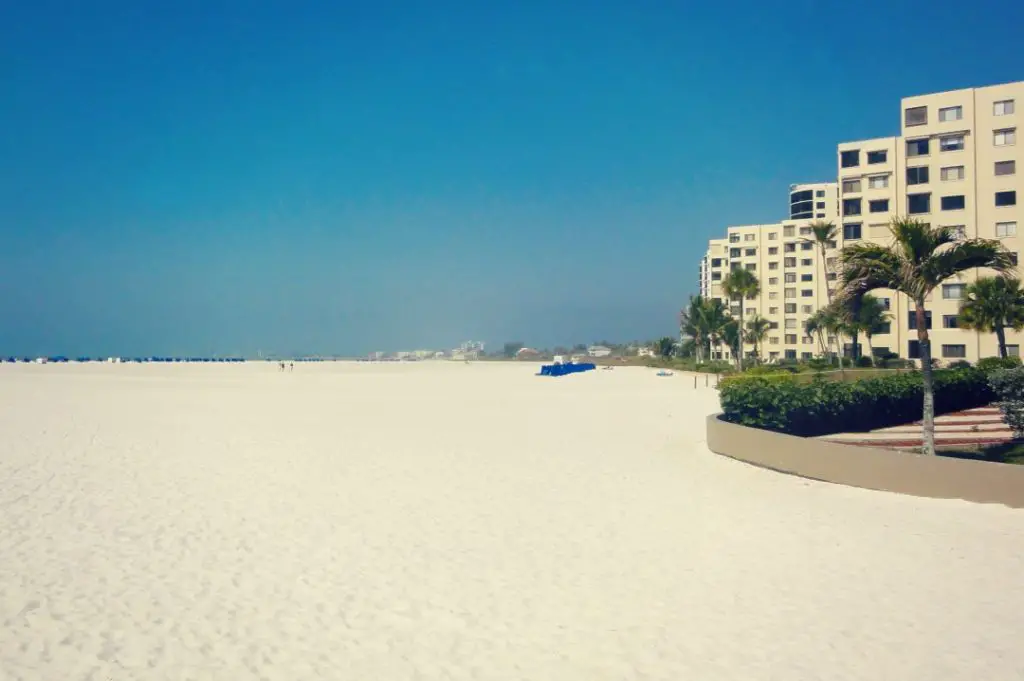 Morning
Start the day with a quick dip at Fort Myers Beach on Estero Island. Afterward, head to Heavenly Biscuit and try their famous cinnamon rolls and biscuits. A good place to park is right around Times Square, the heart of Estero Island's downtown—there's tons of outdoor dining, street performers, and plenty of spots to sit down and relax.
Take some extra rolls or bring additional snacks to Bowditch Point Regional Park to walk, swim, or sunbathe. There's plenty of parking, toilet and shower facilities, and gorgeous soft powdery sand. This is not a beach for shelling though.
Day
Make your way to Doc Ford's Rum Bar & Grille. We recommend trying the Panamaniac's pulled pork sandwich, the Yucatan shrimp tacos, or the deep water mahi-mahi, or all three!
Afterward, walk off all those indulgences at the Matanzas Pass Preserve, where you can enjoy a quiet boardwalk trail walk. You'll be sure to see some unique birds and other wildlife.
Night
Kick-off the late afternoon or early evening with a Party On A Cycleboat Booze Cruise. Next, start the night at Fresh Catch Bistro, where you can take in one of the best sunsets in the world and enjoy a cocktail. Stay for a romantic dinner of fresh fish or head to The Doghouse for street food.
If The Doghouse was exactly what you were looking for, then you've got to hit up The Beach Pub afterward, where you can enjoy the coldest beer in Fort Myers with your toes in the sand. Oh, by the way, it's a dive bar so bring plenty of cash!
Where to stay: Hampton Inn & Suites Fort Myers Beach or Best Western Plus Beach Resort
Day 3 – Sanibel Island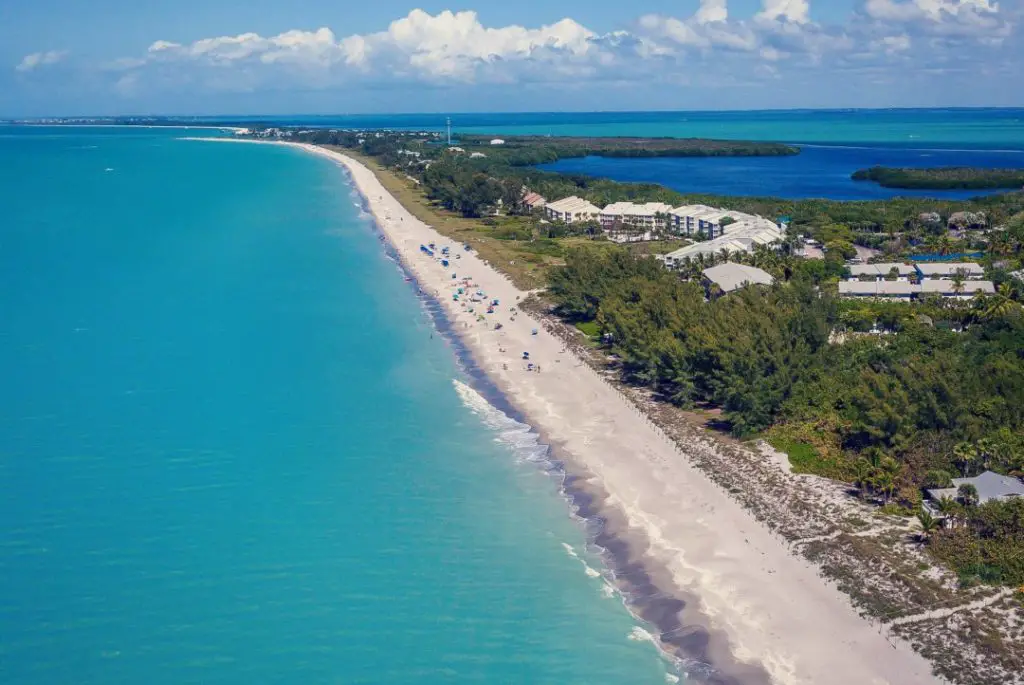 Morning
Start your day at Over Easy Cafe on Sanibel Island with a Sanibel Shrimp Benedict. The dish features grilled shrimp on a toasted English muffin with two poached eggs and Hollandaise sauce. A very local treat!
Cruise on over to J.N. Ding Darling National Wildlife Refuge for a cruise through the park on a bicycle. Here you're looking for exotic birds, alligators, and of course manatees.
Day
Enjoy a light lunch at Cip's Place. They have indoor/outdoor dining and a lunch special—soup and half sandwich served with Cip's Chips. Afterward, explore and discover the rich history of Sanibel up close and personal at the Sanibel Historical Museum & Village.
Next, visit the Bailey Matthews National Shell Museum to view some of the most beautiful shells ever found from around the globe. It's now time to use all this newly acquired knowledge at nearby Blind Pass Beach, and go shelling—however, any beach on Sanibel-Captiva Road will work.
Night
Celebrate the night at the Mad Hatter, a cozy, romantic restaurant on the beach. The food is marvelous and the sunset view is spectacular.
Where to stay: West Wind Inn or Seaside Inn
Day 4 – Pine Island
Morning
Start your day with a delicious breakfast at Hart & Soul Cafe, a small local family-run diner. The food is scrumptious and the service here is quick and friendly.
Day
Afterward, you'll be going on a road trip to Pine Island. Once there, rent a kayak with Carmen's Kayaks to paddle all around Pine Island and Matlacha on the Calusa Blueway paddling trail.
If you're hesitant to explore alone, no worries! They also provide guided tours. After kayaking, make sure to stop by the Randell Research Center along the Calusa Heritage Trail. It's here that you'll be able to tour this internationally significant site and learn about the Calusa culture and its environment.
Night
There are two dinner options depending on the mood. Either head to Tarpon Lodge to enjoy a 4-star waterfront restaurant or Bert's Bar & Grill, a one-of-kind restaurant offering delicious and fresh local seafood, refreshing brews, beautiful views, and nightly entertainment.
Where to stay: Hampton Inn & Suites Cape Coral or The Westin Cape Coral Resort At Marina Village
Day 5 – Boca Grande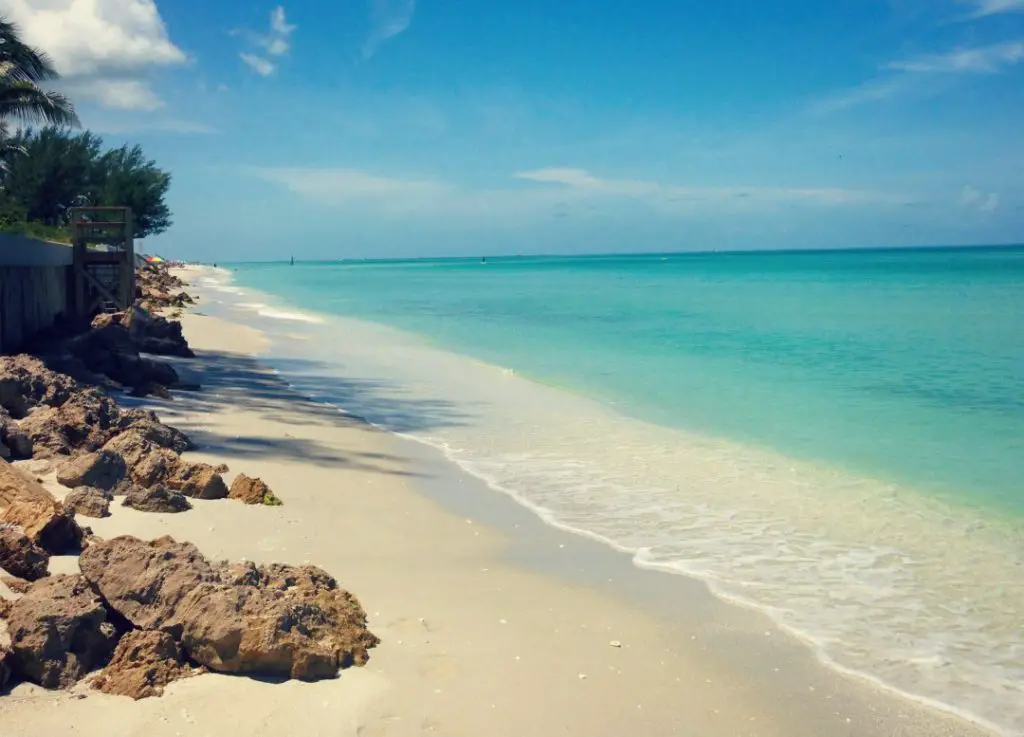 Morning
Sometimes the most productive thing you can do is to relax. And why not? You've earned it! Chill on the beach today or charter a boat with Sailo, their website makes it easy to organize a boat getaway adventure for yourself or a group of friends. This area, known as Cabbage Key is "old Florida," and is where Jimmy Buffet was inspired to write "Cheeseburger in Paradise."
If chartering a boat is a bit out of the budget, take your car to Boca Grande. More specifically, Sandspur Beach which has good restrooms and picnic shelters.
The town of Placida has a Publix so you can pick up some food and drinks here. There are several tolls along the way. Including a small fee to access the beach, but it's all worth it.
Day
If that seems like a bit too much activity for the day, you can simply head to Pine Island and take the ferry to Cayo Costa. Bring a picnic lunch and prepare to relax in the sun all day. I know, it's a tough job but somebody has to do it!
An interesting spot in the area is Whidden's Marina, one of the oldest marinas on Boca Grande. For those of us who are always want to go fishing and avoid all of those adult problems, they also provide fishing charters.
Night
Take a short stroll to the Boca Grande Bayou for a casual dinner at The Pink Elephant. Start the evening with a celebratory drink in the downstairs pub. Afterward, head to the outdoor patio for some regional comfort food.
Where to stay: Boca Grande Hotel
Why Should I Visit Fort Myers?
If you're looking for a quiet, classy vacation spot, then Fort Myers is for you. In Fort Myers, the craziness that you'd come across in Fort Lauderdale and Miami is replaced by a classy "old Florida" feeling and with family-friendly beaches.
The natural areas and state parks are second to none. There are dozens of nature and wildlife preserves sprinkled throughout the area. Most of the coastline is preserved land.
Therefore, many beachgoers flock to Fort Myers Beach or one of the outlying islands. The charming downtown and numerous attractions make it the perfect vacation destination.
Have you visited the Fort Myers region? Tell us about your experience in the comments section below.