We were excited about the opportunity to explore Borneo Island and visit one of the premier, luxury eco-lodges in the world. Harry and I wanted to do something special to document our time spent at the Borneo Rainforest Lodge in the Danum Valley Conservation Area. We worked together to write daily journals and create cinematic videos to offer insight into the travel experience of a lifetime.
Visiting Borneo Rainforest Lodge was a dream trip for us. We hope that our story will inspire others to embrace their inner adventurer and to live their own story of exploration in the Borneo Rainforest.
Explorer Journal Day One
After two hours of bumpy, gravel roads we arrived at "camp." It was a long journey, but being in this beautiful, secluded part of the world, was worth it. With luck on our side, our guide spotted an orangutan off in the distance right away. Hopefully, a good omen for future wildlife crossings to come.
Tonight, we ventured deep into the Rainforest for a night drive. To us, this is our favorite way to view nocturnal animals. We spotted a flying squirrel taking flight, gliding from one tree to another. We whispered to each other, "Damn. That was a National Geographic moment!"
The Rainforest is dark. We laughed imagining that if we were contestants on Naked & Afraid, we'd never make it. Upon our arrival today, I have to admit, I got a bit emotional. The kind staff here joked that it was simply from a long day of travel. But I knew that wasn't the case. This was a bucket list journey that we are so blessed to be on.
Explorer Journal Day Two
We didn't sleep much last night. Maybe it was the anticipation, or maybe it was the unfamiliar sounds of the forest. At 6:30 am, we set out to fulfill a goal – to walk high above the trees on the Borneo Rainforest Lodge canopy.
Ever since I first saw that iconic photo, it's been a dream to walk those swaying bridges. Once there, we took the time the view deserved, just taking the time to enjoy the moment. Still, on our excitement high, we spotted a large male orangutan on our walk back to the lodge.
Late morning, we trekked into the forest. Harry discovered firsthand that all the warnings about leeches weren't just for kicks. I picked four off his legs within minutes. Changing out of our sweaty trekker pants, he quizzically wondered how one got under his pants to bloody up his upper thigh. It's all just part of an explorer's adventure.
Tonight, we braved the forest at night where we spotted frogs, snakes, tarantulas, centipedes, and even a bearded pig!
Explorer Journal Day Three
Last night, we learned that we would be having an extra special morning in the Danum Valley Conservation Area. We woke up excited. As adults, it's not often we receive fun surprises. We were guided towards the forest and came upon a table set up for a romantic breakfast set up along the river.
Over breakfast, we enjoyed "Rainforest TV" featuring a family of Gibbon monkeys swinging from the trees. Afterward, we trekked to the viewpoint that lies high on a hill overlooking the lodge. A hard climb that took us to 250-year-old human bones, coffins, and a breathtaking view of the surrounding area.
On the way down, the Rainforest started doing what it does best….rain. We tramped our way back laughing as we sloshed and slid through the mud. With our bodies feeling the euphoria of physical accomplishment we took the time to rejuvenate. We filled the soaking tub on our balcony and together, listened to the soothing sounds of the Rainforest.
Explorer Journal Day Four
4:30 am. Our team climbs into a trusty Ford pickup truck. The quest for adventure makes the early morning wake-up a little easier. We drive for an hour to reach the Danum Valley Research Center in the Danum Valley Conservation Area. It's the oldest of all of Asia's scientific research stations.
We climb to the top of an observation tower in the dark. We watch the sky turn from black to soft grey, noticing the thick fog in the air. Over hot coffee, guides tell us stories of their past adventures.
Engrossed in our tales, we finally notice the sun has cleared some of the cloud covers, leaving behind an incredible Rainforest landscape. Living a life of travel, we often fall into discussions with other travelers who simply can't answer the question, "What are your favorite travel destinations?" We always wonder, how do you NOT know?
After our second time visiting, without a doubt, Borneo Island ranks as one of the most enchanting and one of our most recommended places to visit in the world.
Explorer Journal Day Five
It's our last full day exploring the Rainforest. We spent the day out on the trails with binoculars in hand. We're on the lookout for all the special, wild things that live here. It's remarkable how many forest creatures appear to come super-sized.
Although it is the rainy season, we trek under sunny skies today, which brings out butterflies with fluorescent colors. Late afternoon, our guide finds a mother orangutan with her child high in the trees. We watch in awe until they've disappeared from our view.
We compare our visit to our carefree childhoods when days were spent playing outside, getting dirty, and exploring the world around us. We're going to miss the rhythm of the Rainforest, the welcoming disconnection from the outside world, and the peaceful essence of being submerged in nature.
Explorer Journal Day Six
Our stay ended on a celebratory high note. Last night, we dined on the riverfront on a private veranda with our modern, posh villa in the background. (Who says you can't live comfortably in the Rainforest?!)
This morning, our wake-up call was the sound of pitter-patter on the roof above. We rushed out to discover a family of Long-tailed macaque monkeys playing right outside our door. As we enjoyed our last few hours in this special place, we drank coffee and listened to the river, taking the time to just be.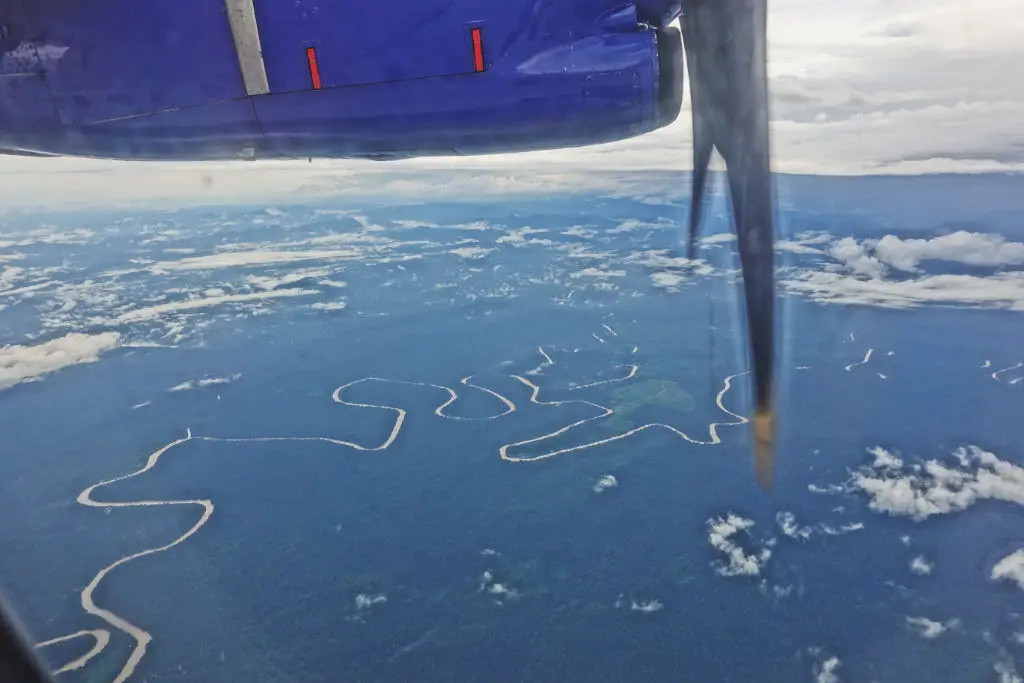 We said farewells to new friends with the hopes of returning someday. Soon, a prop plane flies us over curvy rivers and rolling hills bringing us back to civilization once again. Tomorrow, we explore a different part of this beautiful island.
Explorer Journal Day 7
Our final entry is today. We're here in what locals call 'KK' – or Kota Kinabalu. It's such a trip to be back in a busy city. Today we learn that Sabah just doesn't have the tallest tree on the planet, but also is home to Asia's first skyscraper.
We visit a local artisan batik gallery at the Sabah Foundation. Here, we have fun channeling our inner Bob Ross, using our time in the Rainforest to inspire our silkscreen art. We head to what is the best interactive cultural tour we've ever been on at the Mari Mari Cultural Village.
Through a multi-sensory approach, we learn about 5 different ethnic tribes on Borneo Island. We dance on stage, blow darts, taste and drink native recipes, create fire with our hands, and get inked by a headhunter.
Finally, our last day and our Borneo Island journey end seaside with laughs, tears, and fond farewells. But alas, as adventurers, we knew our time in the jungle needed to be documented to share with others. We hope that our story will inspire other travelers to embrace their inner adventurers and live their own stories of exploration in the Borneo Rainforest.
If you'd like to live out your very own explorer's adventure, please contact the amazing team at Borneo Nature Tours.