Whether you're casting your line from a dock, watercraft, or even from the shore, anglers will be guaranteed a great catch from the best fishing spots in Lake Havasu. With surreal scenery and clear, clean water, Lake Havasu is truly a fisherman's paradise. In fact, from 2016 to 2019, Bassmaster magazine awarded Lake Havasu one of the "Top Best Bass Lakes in the Western U.S."
This guide will share everything you need to know about fishing in Lake Havasu.
Lake Havasu – Where's the Fish
The catch of the day can be spectacular if you know the best fishing spots in Lake Havasu. The beauty of this lake is that there are numerous options to base your fishing expedition on, depending on how you want to spend your day or what equipment you personally possess.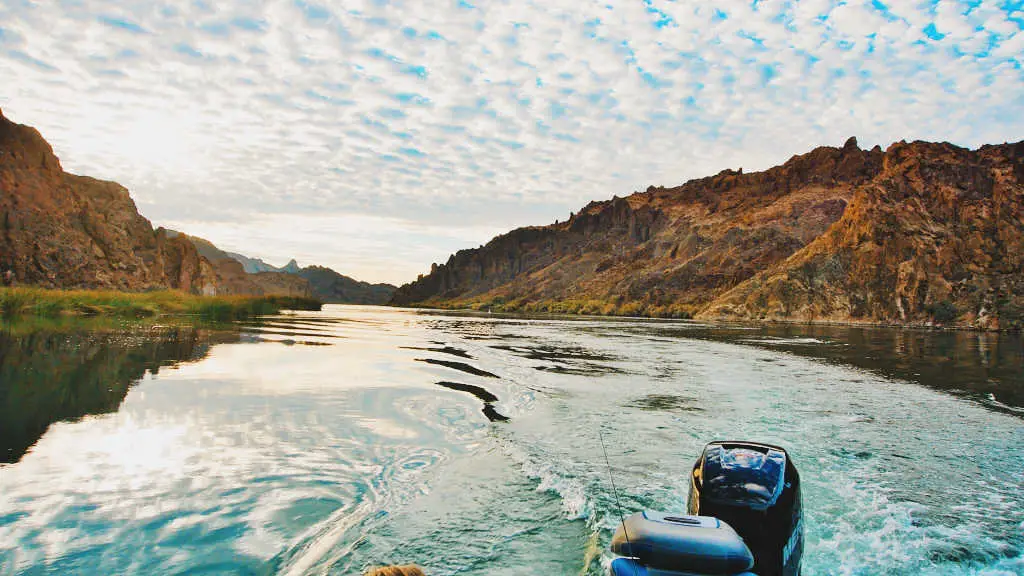 For example, some regional boaters may be champing at the bit to take their brand new Ranger Z520R out on the water, whereas tourists may just want to try their luck at one of the free public fishing docks which are open 24 hours a day.
11 BEST FISHING SPOTS IN LAKE HAVASU
Types of Fish in Lake Havasu
Anglers can take in the lake's scenic beauty while casting for many species—striped bass, panfish, bluegill, redear sunfish, crappies, flathead catfish, large and smallmouth bass, some trout, and giant channel catfish.
No Boat, No Problem: Bring an Inflatable Fishing Pontoon Boat
No matter how you want to spend your day, here are some of the best fishing spots in Lake Havasu.
When you're ready to book your flight, follow these three easy steps to get the best price.
11 Best Fishing Spots in Lake Havasu
Across the 19,300-acre lake, there are several hotspots that offer reputable fishing. It is important to note that one of the hardest tasks will be to find a quiet location to avoid the pleasure boaters. Remember, every cove has the potential of catching big bass. It may take some exploring to discover where the fish are biting.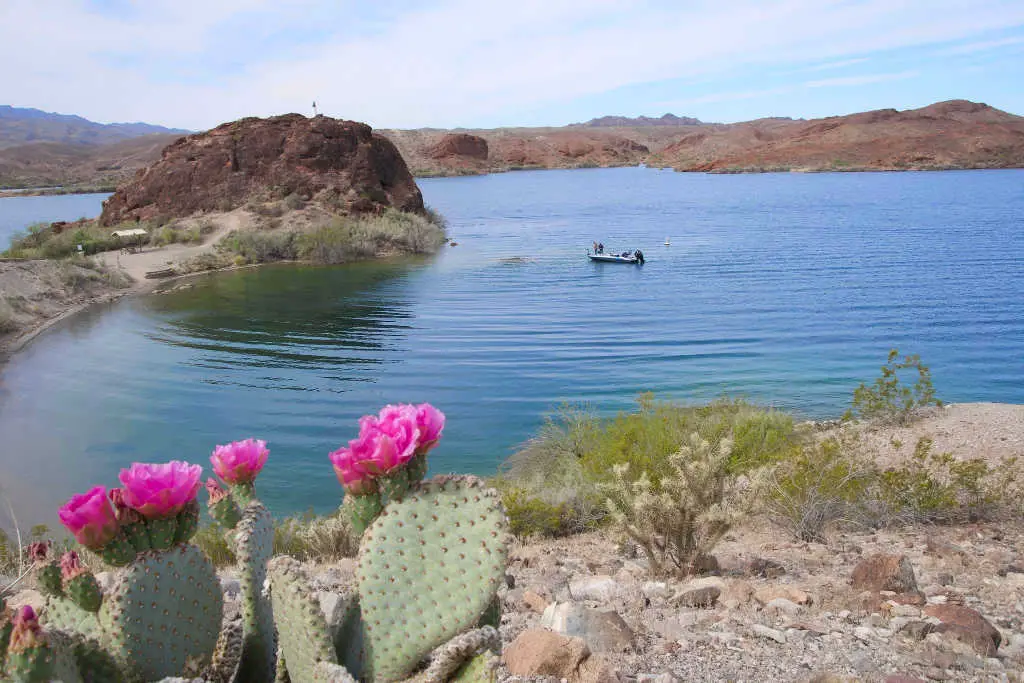 Although a boat really offers an advantage in Lake Havasu, you'd be surprised how successful shoreline fishing from the river banks can be. Not only do piers provide structure and protection which draws fish in from miles away, but it also benefits those who don't want to deal with the cost or hassle of a boat. With a valid fishing license, Lake Havasu offers a few main public fishing docks which are free and open to the public 24 hours a day.
Tip: The sun can get Death Valley hot on Lake Havasu. Make sure to bring a patriotic fishing hat, sunglasses, and a cooler (that will keep everything nice and cold). Also, a nice dry wick long-sleeve t-shirt with UPF 50+ will help prevent excess sun exposure—long sleeves can actually keep skin cool and dry when it's crazy hot.
It doesn't matter whether you're fishing from a dock or a boat there's an amazing fishing hole waiting for you. If you're looking for a successful trip out, consider one of the 11 fishing spots in Lake Havasu below—the first three are fishing docks.
Did you find the perfect hotel in Lake Havasu City? If not, be sure to check these out.
1. Mesquite Bay – Fishing Dock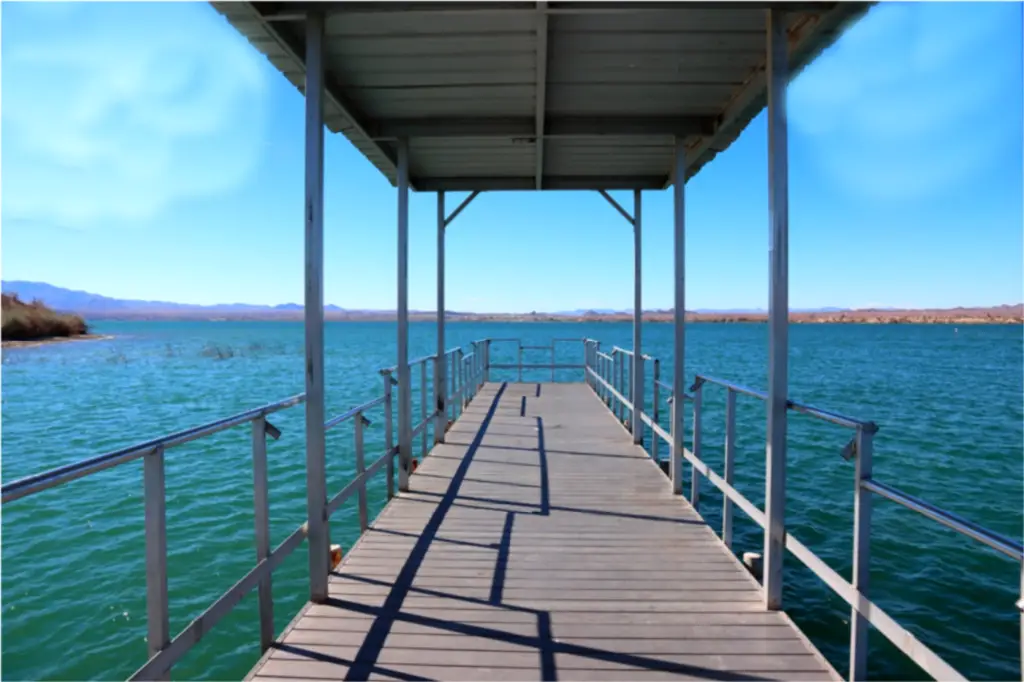 A nice day-use area for land-based fishing is the pier at Mesquite Bay. It offers a walking path, a long fishing dock, and stunning views of the lake.
GPS: 34.51356, -114.36806
Tip: These Are the Best Lake Havasu City Hotels to Park a Fishing Boat.
2. Site Six – Fishing Dock
Site Six is located at 591 Beachcomber Blvd. It provides the only free public launch ramp in Lake Havasu City. Although there is no overnight camping or parking allowed, families can spend the day fishing from the handicap-accessible pier and swimming from the small beach.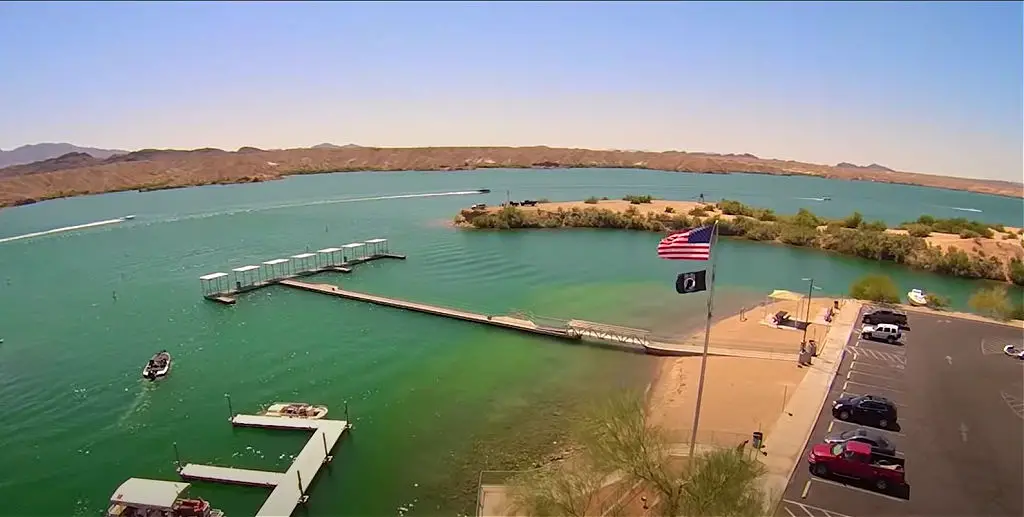 Additionally, there is an on-site fish cleaning station, picnic tables, and BBQ if you'd like to cook up your fresh catch of the day. You'll need to bring your own fish filet knives—these are made in the USA.
With 540 miles of shoreline, there's a lot of potential bass habitat to target here, so much so that really getting a feel for the lake requires multiple trips. It can be a bit overwhelming for a first-time visitor. — Best Fishing In America
GPS: 34.45051, -114.37039
3. Bill Williams River National Wildlife Refuge – Fishing Dock
Along the Peninsula Hiking Trail, lighted fishing piers allow for fantastic fishing—both day and night. Species in the refuge include bluegill, black crappie, striped bass, flathead, channel catfish, and largemouth and smallmouth bass. Moreover, the largest catfish ever caught in Arizona was in the Bill Williams River National Wildlife Refuge.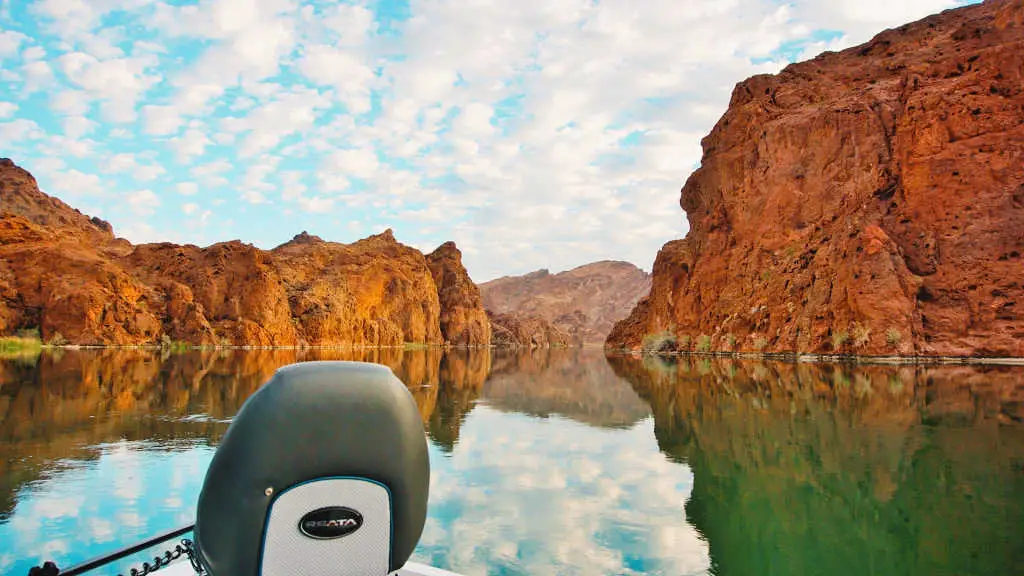 Restrooms are located near the fishing docks. With a valid fishing license, there is no fee to use the three, year-round fishing piers and they are open 24 hours a day. There are catch-and-release rules for native fish in the wildlife refuge. It's a good idea to read the fishing regulations before a visit.
The entry road to the Bill Williams Visitor Center and associated trails and fishing docks are on the right-hand side of the road at mile marker 161.
GPS: 34.29269, -114.10793
4. Skier's Island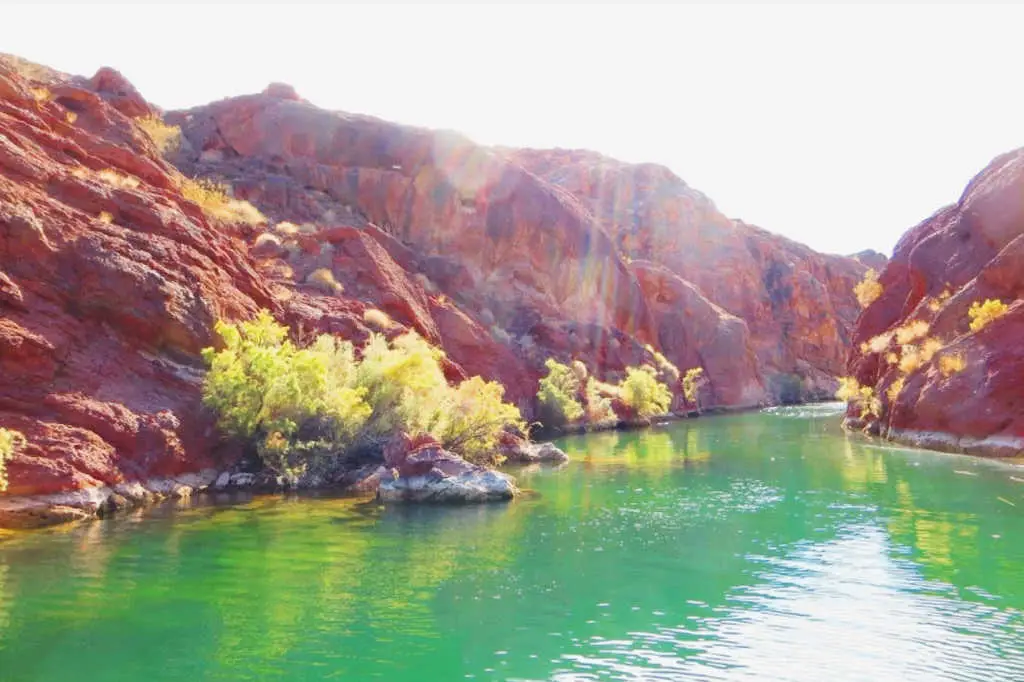 The area around Skier's Island is one of Lake Havasu's best fishing holes. Anglers can take in the lake's scenic beauty while casting for striped bass, bluegill, redear sunfish, crappies, flathead catfish, large and smallmouth bass, and channel catfish.
Fee: Free
GPS: 34.42951, -114.32114
5. Manmade Fish Habitat Locations
The Arizona Game & Fish Department sunk fish-attracting structures all over Lake Havasu. Fishermen humorously deem them "bass bungalows" or "crappie condos." Download their locations to your sonar unit.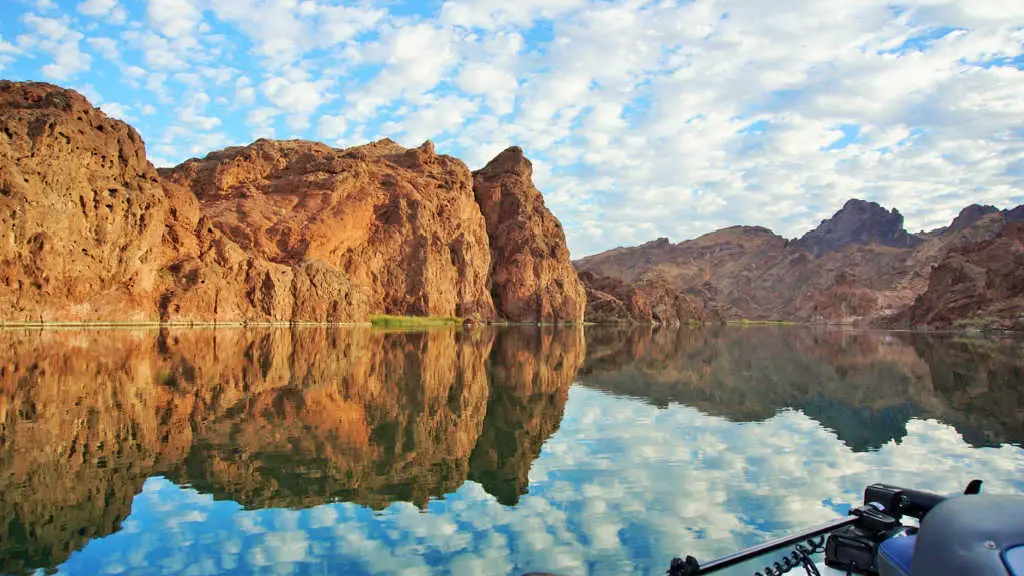 6. Mesquite Cove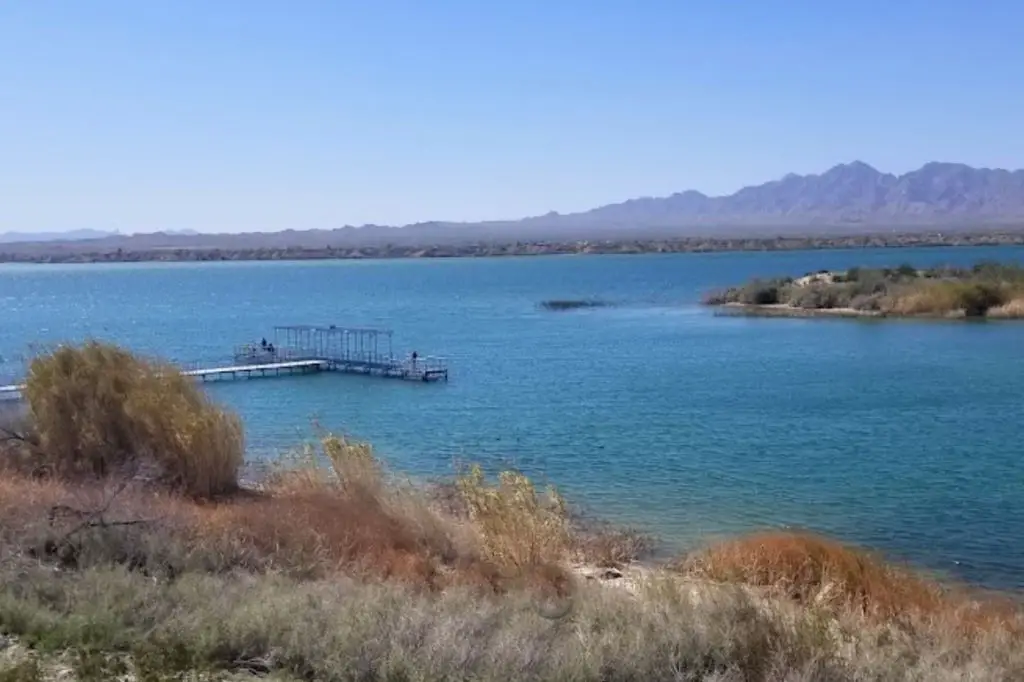 Located near Lake Havasu State Park, this cove is one of the best fishing spots in Lake Havasu for fast action with largemouth bass and possibly stripers.
7. Topock Gorge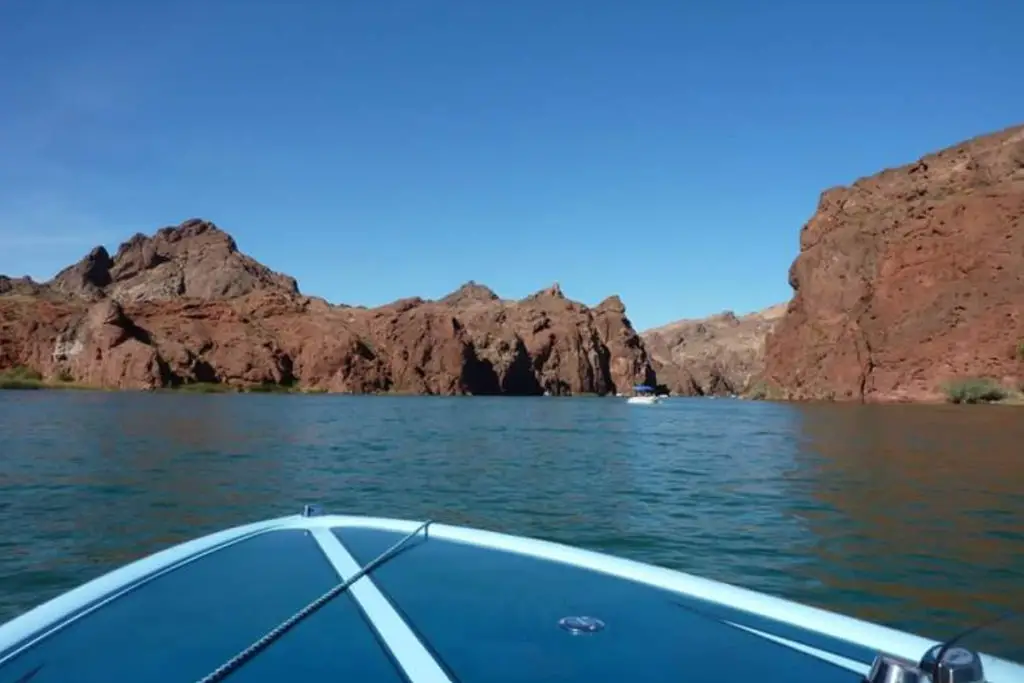 Some locals refer to Topock Gorge as a mini Grand Canyon, with its steep rocky cliffs and wildlife sightings. It appeals to fishermen for two reasons. First, the heart of the gorge is a no-wake zone so the waters are calmer for fishing. Second, due to its location, the water temperature runs about 10 degrees cooler than the rest of the lake.
Fee: Free
GPS: 34.6615, -114.45496
8. Bill Williams River National Wildlife Refuge
Not only is the Bill Williams River Delta open for fishing from the shoreline and pier, but it is also open for boating fishermen. It is at this point that the Bill Williams River drains and connects with Lake Havasu. It is popular with fishermen due to its solitude, heavy tall reed vegetation, and calm waters, especially when the lake is rough and conditions are windy.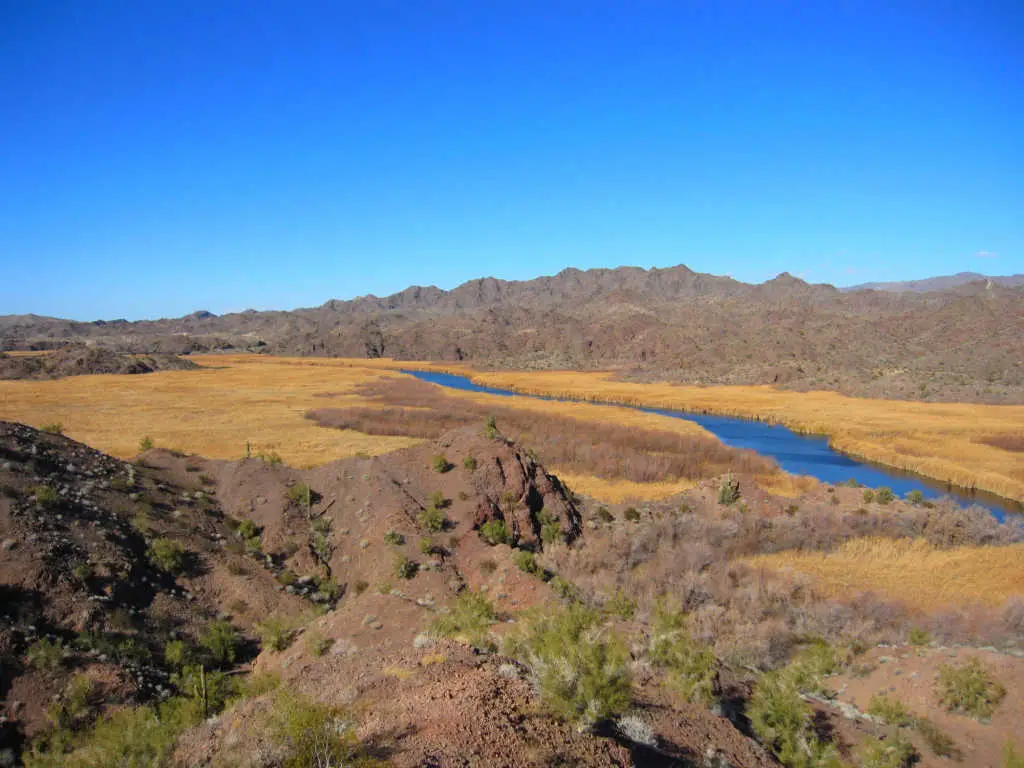 The most popular species targeted here are striped bass, largemouth bass, and smallmouth bass. According to Fishbrain.com, the most popular time to visit is 6 a.m.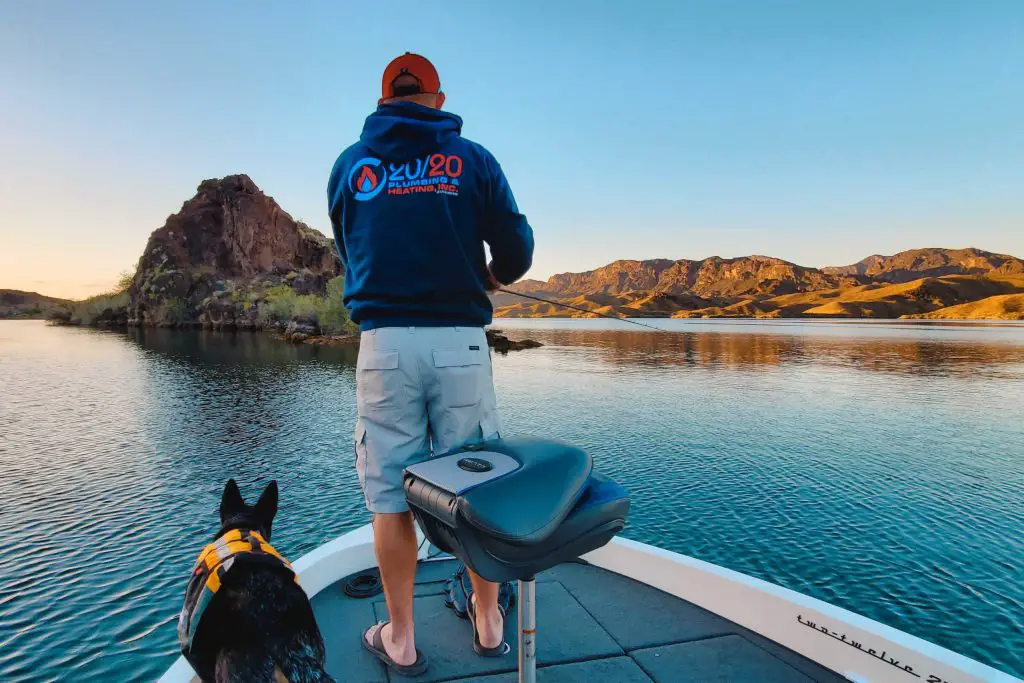 This wildlife refuge is significant because it's a riparian wetland, with surface water supplying the needed hydration to support vegetation. Of course, this is why both fish and birds are drawn to this southern part of Lake Havasu. In fact, one fisherman described it as a "fisherman's paradise."
Find Your Tribe: Fishermen can create a free account to see all the recently logged catches and local fishing activity at Fishbrain.com.
9. Whipple Bay to Steamboat Cove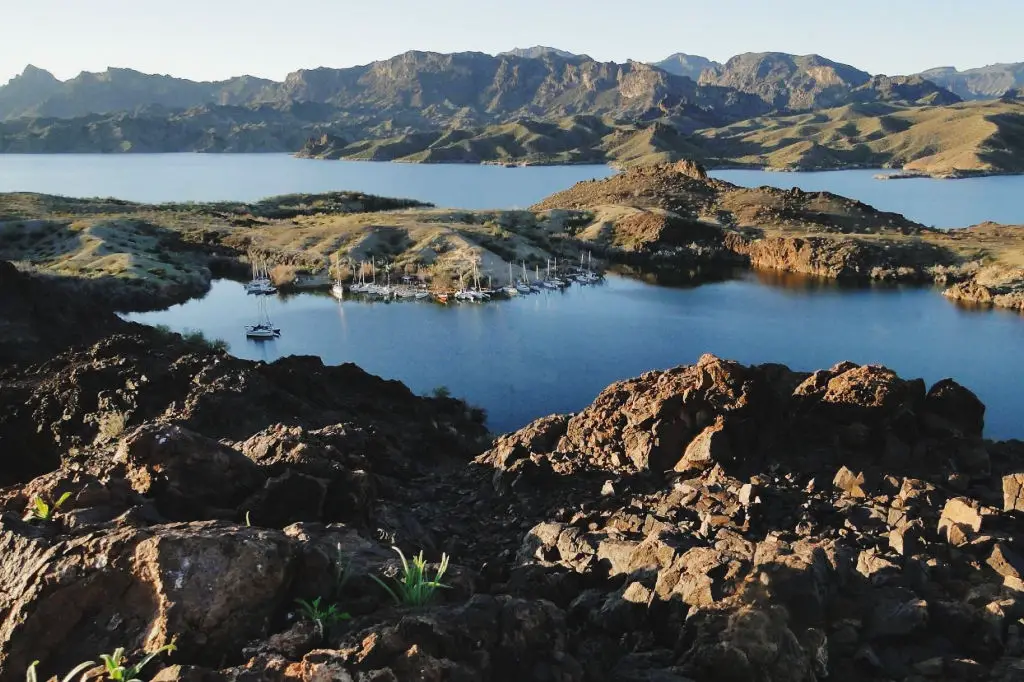 Fishermen often troll the waters between Whipple Bay (California) and Steamboat Cove (Arizona) for striped bass fishing. Steamboat Cove is one of the lake's largest coves, providing calm waters due to its shelter from wind and boat wakes. A map will guide your exploration of the two fishing holes.
10 Catfish Bay and Jops Harbor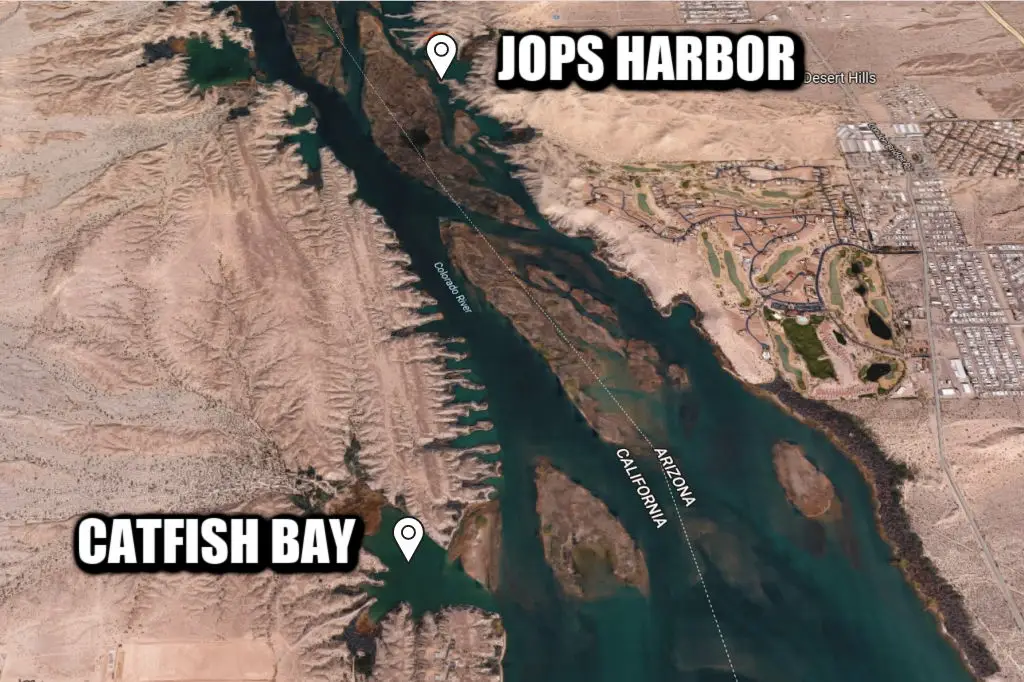 The area with the best largemouth bass fishing on Lake Havasu tends to be toward its uppermost end, where the Colorado River enters the lake. This includes Catfish Bay and Jops Harbor, full of reed-lined banks that attract a lot of big largemouth bass. In fact, a largemouth weighing 4 to 5 pounds is pretty common up here, with possibilities of double-digit bass being a real possibility.
11. Cattail Cove State Park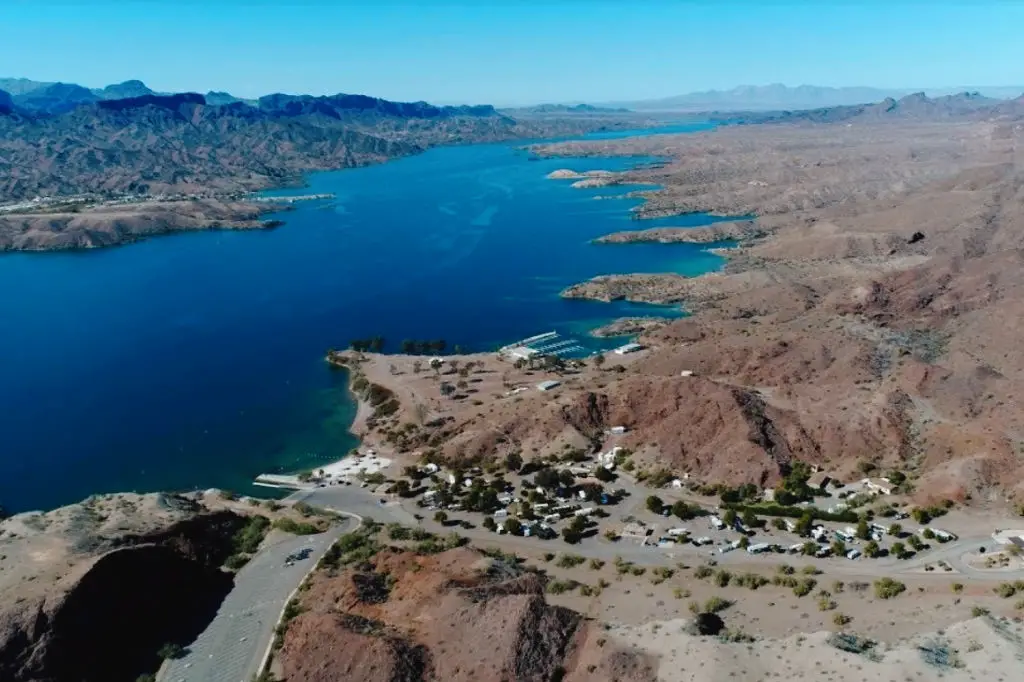 Located about 10 miles south of Lake Havasu's city limits, the waters near Cattail Cove State Park are excellent for bass and catfish. The admission fee grants access to the white sandy beaches and the boat ramp. This is a good option for the fisherman who is traveling with a group or with family—some can stay to enjoy the beach while others can do a little fishing.
Fee: Day-use fee to enter the park per vehicle: $10 (Monday to Thursday), $15 (Friday to Sunday and holidays)
GPS: 34.35133, -114.17036
Two Free Public Boat Launch Ramps
There are a number of launch ramps scattered around Lake Havasu, located in campgrounds, state parks, and marinas. However, only two main boat ramps are free of charge.
1. Site Six Launch Ramp
The Site Six Launch Ramp is located at 591 Beachcomber Blvd., Lake Havasu City, AZ. Also, this free boat launch is accessible 24 hours a day and is free to the public. Site Six has one ramp with three lanes. It offers restrooms, a fishing pier, and a fish-cleaning station.
GPS: 34.45051, -114.37039
2. Parker Dam Launch
The Parker Dam Launch is located at Takeoff Point Rd. in Parker Strip, AZ. The boat launch provides one large ramp with two lanes. Also, it's open 24 hours, with free boat launching and public restrooms.
Best Lures for Lake Havasu Fishing
Of course, successful fishing means being in the right place at the right time. However, there are a few lures that come highly recommended by local bass fishermen for your tackle box.
Useful Tips for Lake Havasu Bass Fishing
Largemouth and smallmouth bass have different preferred habitats. Generally, largemouth bass favor weeds, vegetation, and woody structures. On the contrary, smallmouth bass prefer more rocky areas. Likewise, each fish is colored to blend in with its favored environment.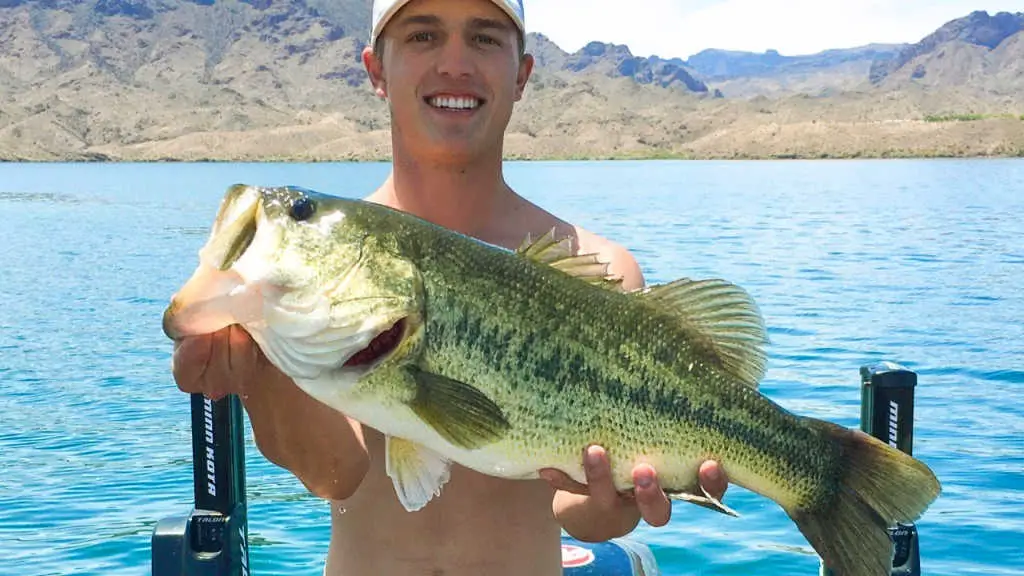 Nevertheless, Lake Havasu's crystal clear waters make it surprisingly more difficult to catch larger fish. Therefore, understanding each species' general preferences will help you plan accordingly.
Helpful Pointers for Fishermen
Before setting off, take time to review some expert tips for bass fishing in Lake Havasu.
Clear waters require a stealthy approach such as lighter fishing lines and smaller lures, although be aware larger fish may break your lines.
In calm, sunny weather, use crankbaits in bluegill patterns to generate a faster reaction strike and allow for heavier fishing lines.
Use polarized sunglasses to improve your vision to sight fish.
A trick of the trade is to always head to deeper water if the fish aren't biting.
In the springtime, stick to warmer, shallower water. Deeper water will warm in the summer.
Bass are drawn to rock piles, artificial structures, rugged shorelines, steep drop-offs, and areas around sheer canyon walls.
Smallmouth bass become more active as the weather cools.
When it's windy, which is common in Lake Havasu, stay close to rocky shorelines with deeper canyon waters.
Anglers recommend yellow-tinted jerkbaits on cloudy days.
Bass don't often bite out of hunger, rather they bite from frustration. If they don't bite right away, keep agitating the water.
In the summer months, striped bass head to deeper waters and are best targeted at night.
Best Time of Year to Fish Lake Havasu
There is a wide variety of fish species available in Lake Havasu. For a successful outing, plan your excursion during the best time of year to fish for each desired species and use the proper bait, as indicated in the quick reference guide above. Also, bag limits, or the number of fish that can be killed or kept, are also indicted.
Bass Species
Largemouth Bass
Peak June through September
Limit: Bag limit 6, minimum length 13 inches, any combination of largemouth or smallmouth bass
Bait: Live bait preferred, however swimbaits, lipless crankbaits, shad imitations, soft plastic lures like the reliable green pumpkin, and spinner baits are other options
Locations: Cattail Cove State Park, Mesquite Cove by Lake Havasu State Park, any small coves
Smallmouth Bass
Peak February through April
Limit: Bag limit 6, minimum length 13 inches, any combination of largemouth or smallmouth bass
Bait: Use craw-colored jigs, small bright-colored swimbaits, and jerkbaits
Locations: Mesquite Cove, Topock Gorge, Take Off Point, Havasu Springs, Parker Strip below the dam
Striped Bass
Peak April through December
Limit: Bag limit 10, any size.
Bait: Frozen squid, anchovies, mackerel/shad or bluegill for live bait/large swimbait or jerkbait lures, like the Pointer 128
Locations: Mohave Rock, Skier's Island, Windsor Basin, Parker Dam, Havasu Springs, the island at Site Six
Other Species
Panfish, Bluegills, and Redears
Peak April through June
Limit: Bag limit 25
Bait: Mealworms, nightcrawlers, small-trout spinning lures, crappie jig lures for all
Location: The Bill Williams Arm (in the shallow water where Lake Havasu meets the Bill Williams River toward the south part of the lake)
Trout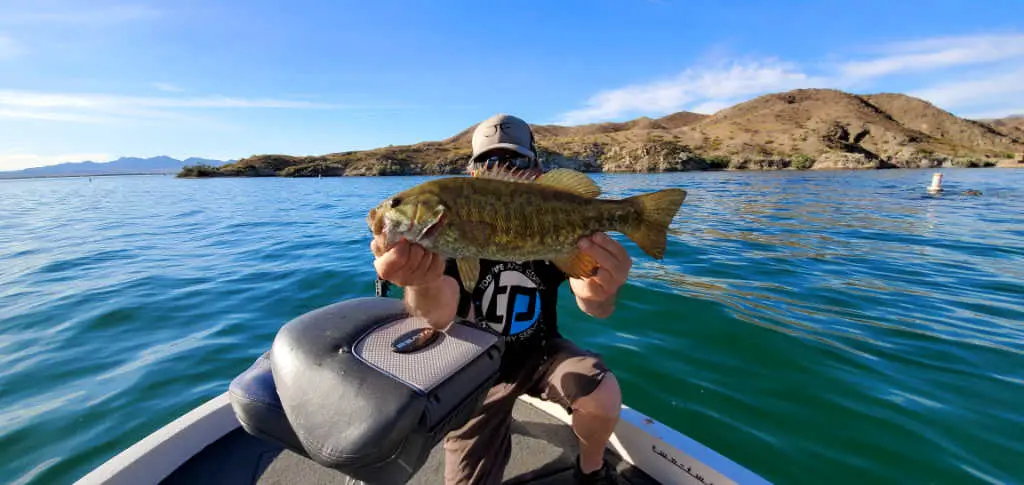 How the Seasons Effect Fishing on Lake Havasu
Arizona's overall warm climate allows for year-round fishing opportunities. However, swings in temperature do occur—with winters being cold and summers being blazingly hot. In both these extremes, bass seek out deeper, more comfortable waters.
As a general rule, fish in 15 to 30 feet of water during the summer and winter months. In the summer, bass feed in shallower water in the cooler morning and evening and head to deeper water during the hotter parts of the day.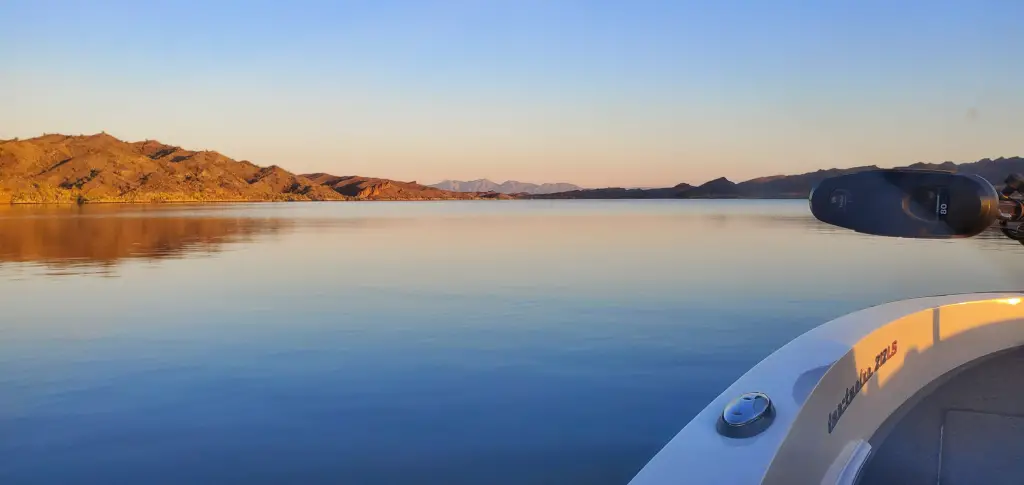 Take note, Arizona's best bass fishing season is spring and then fall. Bass spend time in about 10 feet of water or less when the weather is moderate and mild.
Furthermore, spring is also the spawning season when both large—and smallmouth bass head to shallow, 60-degree waters. Spawning season in Arizona runs from February to June, but March and April are typically the prime time in most lakes.
Fishing License Rules
In order to fish in Lake Havasu's waters, a valid California or Arizona fishing license AND Colorado River stamp are required for fishermen who are 10 years of age and older. Anglers with either a valid California or Arizona license are permitted to fish anywhere on Lake Havasu, either on the shoreline or the shared waters between the two states. To clarify, there is reciprocity between the two states' fishing licenses for those that want to fish in Lake Havasu.
Lake Havasu Fishing License Fees
A one-year fishing license cost $37 for residents and $55 for non-residents. Alternatively, daily licenses are $15 for residents and $20 for non-residents. Fishing licenses and stamps are available online at azgfd.com/fishing/regulations/ for Arizona and wildlife.ca.gov/Regulations for California. Blind residents are exempt from fishing license requirements.
Did you know the word Havasu means "blue-green water" in the Yuman language spoken by the American Indian Havasupai people?
Consider Kayak Fishing
Finally, fishing by kayak is a popular alternative in Lake Havasu. Furthermore, kayak fishing is popular for casual fishermen or for individuals who want to quickly and affordably get out on the water. Some prefer fishing with a nonmotorized watercraft because it provides a more calming, less stimulating fishing experience.
Easy and Affordable Way to Get on the Water: Pro-Angler Fishing Inflatable Kayak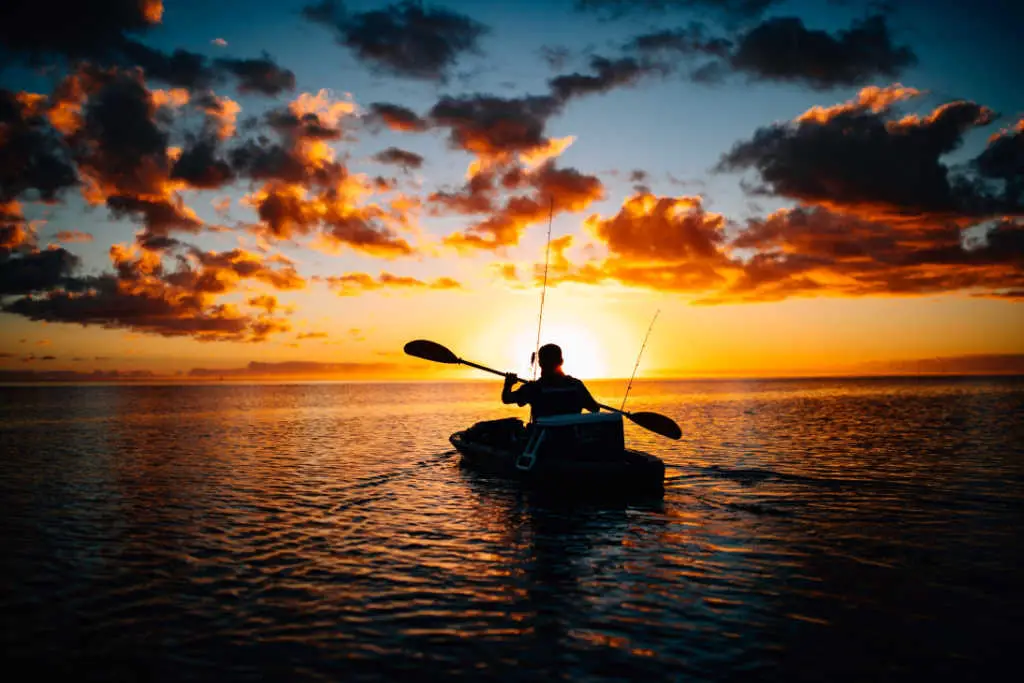 Kayak launches and other non-motorized public launches are located at the following points:
Bill Williams River National Wildlife Refuge (GPS: 34.29977, -114.098217)
Castle Rock Bay (park off Crystal Drive at Crystal Beach)
Mesquite Bay
Havasu National Wildlife Refuge (GPS: 34.301033, -114.224134)
Rotary Community Park
Southwest Kayaks Fishing Expeditions organize both self-guided and guided kayak fishing trips.
Whether you're a rookie or a professional, the best fishing spots in Lake Havasu are a pure joy to fish. With its clear water, amazing views, and lovely weather Lake Havasu City is the perfect destination for a vacation.