Like us, you're probably looking for the best Antarctica packing list. Every year at this time, emails come in from adventurers around the globe seeking firsthand advice about what to pack for an Antarctica expedition. After composing the email many times, I realized it was time to make an official "Ultimate Antarctica Packing Guide" to help others have a successful, enjoyable trip to the last and coldest frontier.
Expedition outfitters often have guides available, but everyone who has reached out to us claims that they are seeking a firsthand account of our personal experience.
Best Antarctica Packing List | Save Money & Don't Forget to Bring This!
Medicine
We cruised with Quark Expeditions and we were unaware that each of their ships has a physician on board!  On our voyage, the physician distributed sea sickness pills for guests that asked for them (for no additional charge). However, I was so apprehensive about our Drake Passage crossing that I did extensive research to come highly prepared for the worst.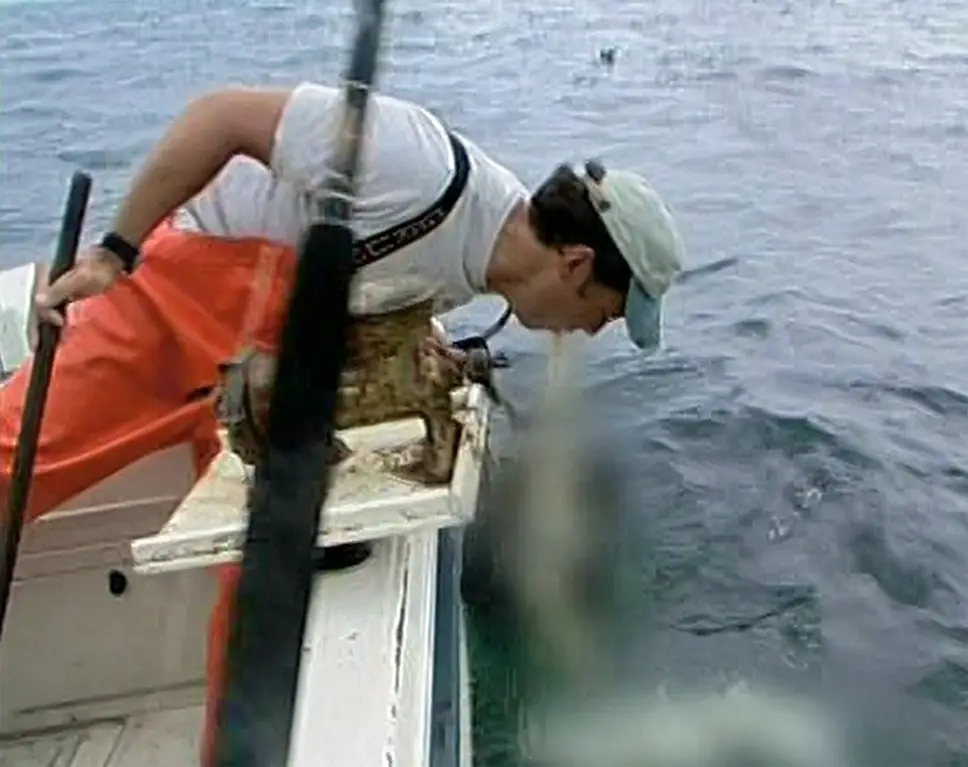 Before we left, we consulted with our primary care physician and received two prescriptions:
1) Phenergan (promethazine) 25mg tablets – Tablets that contain promethazine, an antihistamine that is used to treat allergy, nausea, and vomiting and is also used for sedation, as it has antiemetic (prevents nausea) and sedative properties. This pill got us through a very rough crossing. If you are anxious, highly prone to seasickness, and open to medication options, this should be your first line of defense.
2) Scopolamine Patches – It is a round adhesive patch that you place behind your ear several hours before you travel offering motion sickness and nausea protection for up to three days at a time.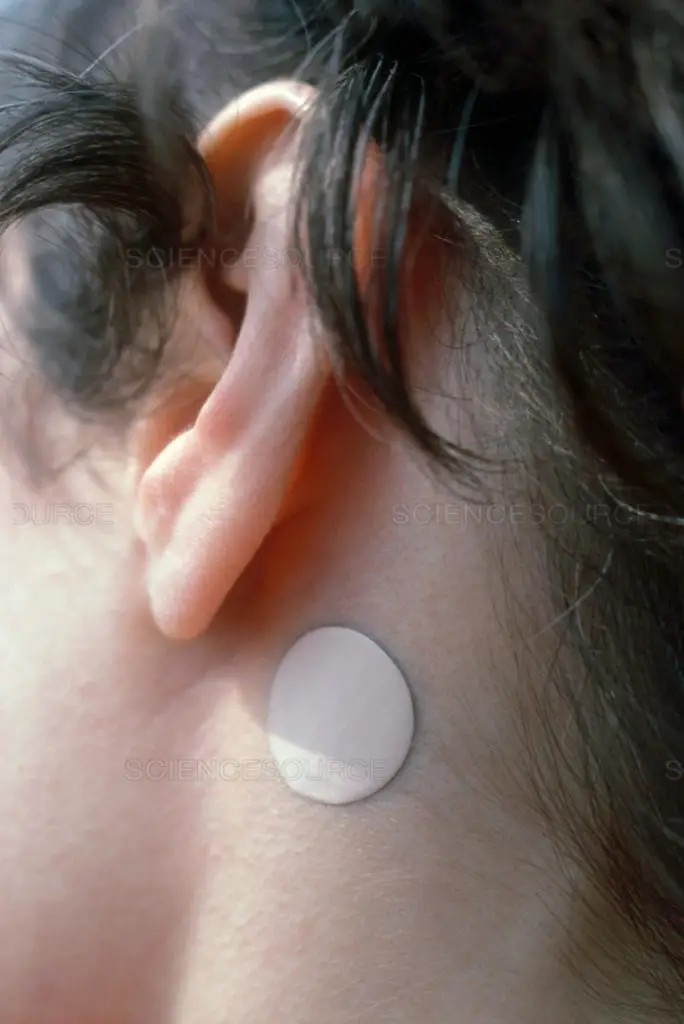 Travel Tip
Make sure to double-check with your outfitter to verify whether there will be a doctor on-board that will provide motion sickness tablets. Depending on the weather and the conditions, prescription-strength medications may be too strong for mild cases of motion sickness.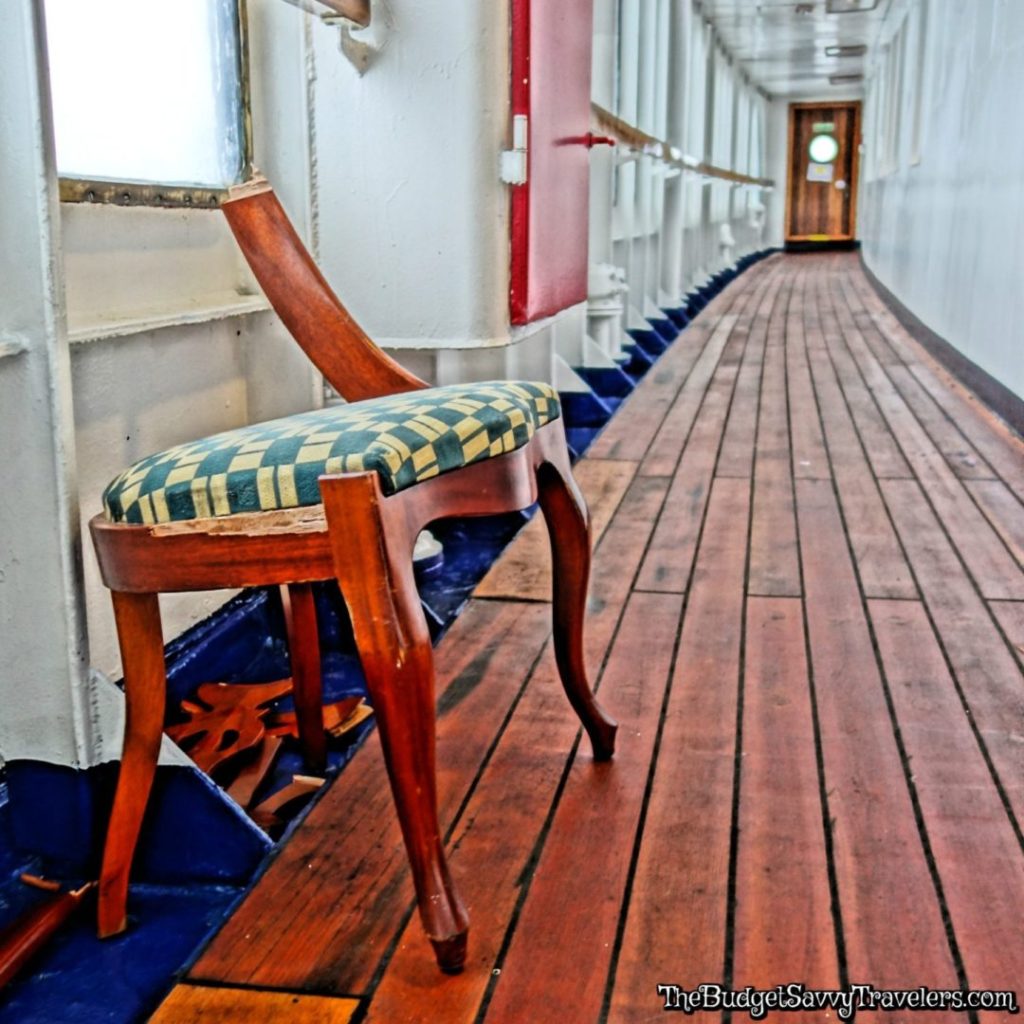 Clothing
Make sure to bring waterproof or water-resistant pants. Our outfitter stated that waterproof pants were mandatory.  During landings, you may spend time sitting, sliding, and taking photos in the snow.
The key is staying dry so you'll stay comfortable. The worst-case scenario can occur on the zodiacs. If you board the zodiac and immediately sit in a wet spot, you could end up walking around uncomfortably wet and cold for 2-3 hours.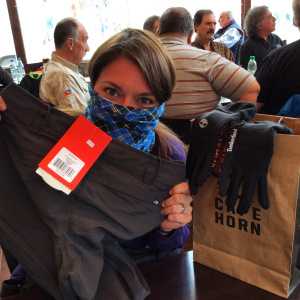 We, however, only brought our North Face Paramount Peak convertible pants. We didn't want to spend money on waterproof pants since we were traveling long term, and we thought we'd only really use them for this specific trip.
Our North Face pants ended up working quite well for us as they seemed to be highly water-resistant. We also highly recommend a buff or scarf to cover and protect your face from windburn. On a last-minute whim, we purchased buffs in Ushuaia and we were so thankful we did.
Gloves and Sunglasses
Make sure the gloves you pack will keep your hands dry and warm. If you are planning on doing side trips, such as camping overnight on the snow, plan accordingly. Those that camped overnight were very honest with us. They came back in the morning telling us that they were really uncomfortable and could not sleep because they were freezing at camp!
Be sure to bring sunglasses too. The snow affects your vision and offers protection from the wind on land and on the zodiac.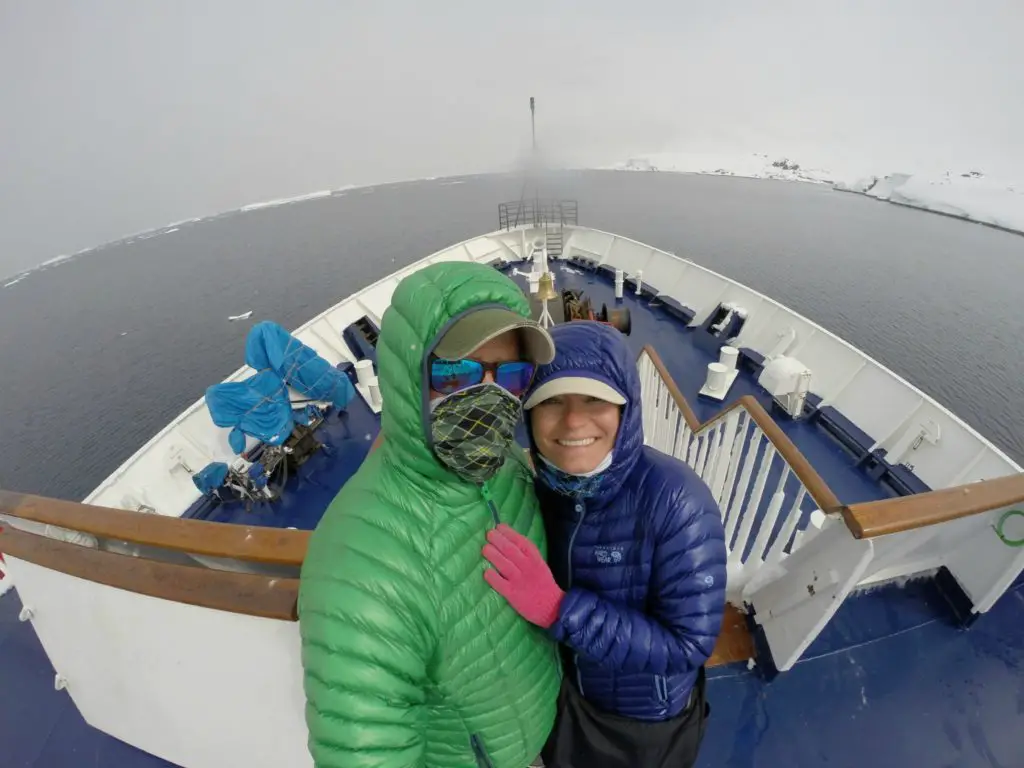 All About the Layers
Many ask us about layers. We went in early November when it was still very snowy and cold. Sometimes, in December and January, the weather gets quite pleasant and you may not need so many layers.
Layering also can depend on if you are a person that typically runs hot or cold. We typically run hot, so a base layer and waterproof/water resistant pants were sufficient on warmer days. Consider that during landings you are trekking, moving, and hiking up some hills, so you do warm-up from movement and exercise.
However, on colder days we did wear three layers:
Underlayer of thermals
Jeans
For our outer-layer water-resistant/waterproof North Face trekker pants.
Remember that this is a trip of a lifetime and you want to be prepared. I would suggest bringing three layers and layer them accordingly per the daily weather and conditions.
Quark provided everyone very nice, comfortable, waterproof boots, so just be sure to bring a few pairs of warm socks too.
Travel Tip
Make sure to double-check with your outfitter to verify whether there will be any clothing provided. Our outfitter provided a yellow 3-in-1 hooded parka that was insulated, waterproof and had reflective patches.
It was mandatory to wear this coat when departing the ship. If you're intending to purchase a new fancy coat for glamour shots (Antarctica photos), you may want to reevaluate that idea.
Equipment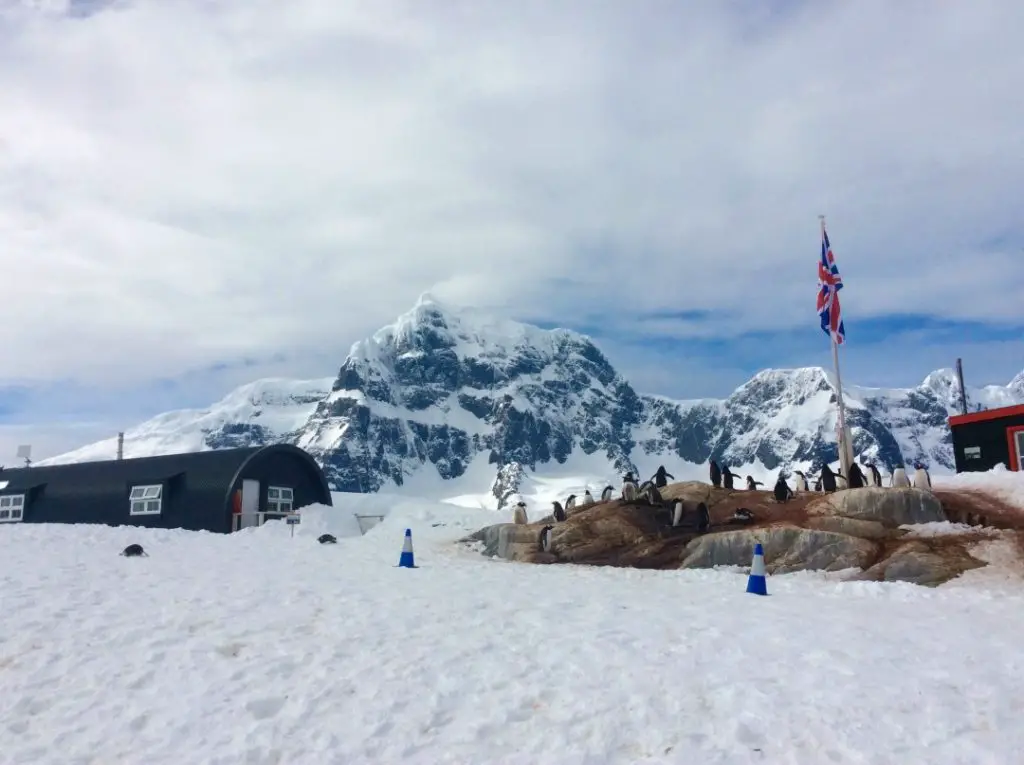 Camera and video equipment, of course, is a given. Make sure you have a small pair of binoculars. While cruising, you are often on the deck looking for whales and birds.
We each had a small pair of binoculars and we definitely used them. You don't need anything fancy, just something that will allow you to observe wildlife a little closer than with your eyes alone.
Travel Tip
If you prefer to hike with walking poles you may also want to consider bringing a pair along. For the most part, the hiking is fairly easy, short, and unchallenging. With that in mind, it can also be very wet and slippery. If you're nervous about falling, contact your outfitter to see if they provide walking poles.
Alcohol
Last, but not least, alcohol is most likely not included in your cruising package and bottles of wine can run around ~$30+ USD. It's actually a very good price considering the location. But if you're on a tight budget (like us), you may want to consider picking up a bottle of your favorite spirit in Ushuaia.
We brought a bottle of booze with us aboard, but as many cruise ships allow, you are only "supposed" to enjoy it in your room. However, if you happen to have a non-transparent water bottle along with you on your trip, well…Antarctica just got a little more interesting.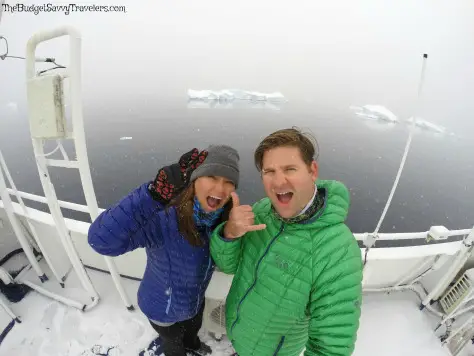 Still, Want to Know More About Our Experience?
We invite you to watch our VLOG below where we discuss our tips and tricks in detail on traveling to Antarctica.
If you have any other questions, please feel free to contact us in the comments section below. Traveling to Antarctica is a trip of a lifetime, and we'd love to help make sure your trip goes off without a hitch.