Hiking and beer always equal fun times in the great outdoors, especially when the day ends in one of these great Illinois breweries. Thankfully, Chicago offers some fantastic opportunities to play in the woods and then afterward enjoy a nearby refreshing brew. Here are seven perfect hikes and hops pairings to enjoy around Chicagoland.
Below are 7 fantastic Illinois breweries to visit after a hike.
1. Hike Here: Kickapoo State Recreation Area – Oakwood
Then Drink Here: Riggs Beer Company – Urbana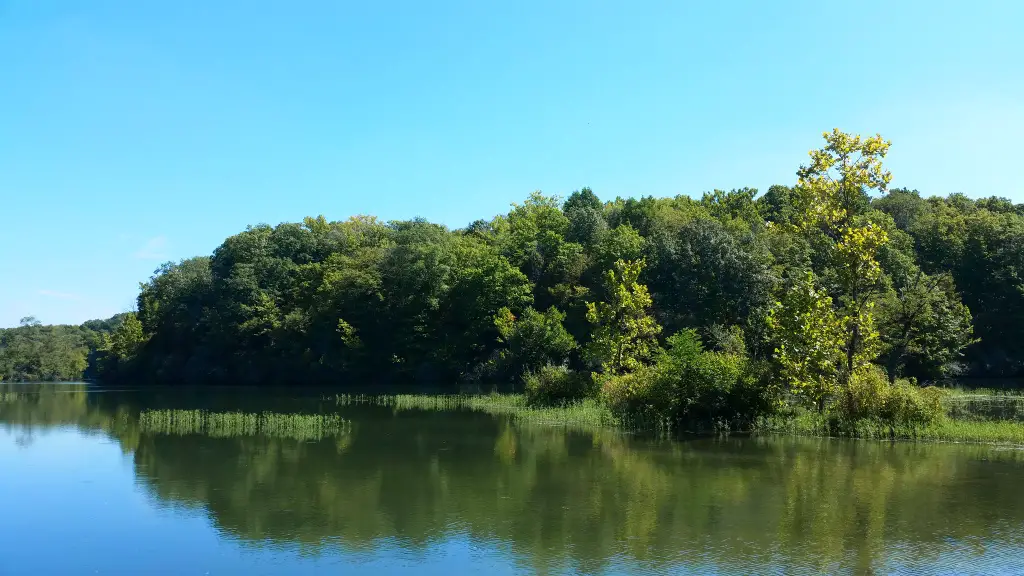 Once the site for a surface mining operation, today the Kickapoo State Recreation Area features a variety of paths and 35 miles of trails. Located near Danville, Illinois, the park offers clear ponds, boating, canoeing, and woodsy hillsides.
The Vermilion River runs through the park, drawing birds and other wildlife. Runners can run through wildflower-laced paths, listening to the sounds of nature while exercising under the shady trees.
There are six maintained paths, ranging from about 2.5 miles to about 8 miles in length. Easy looped trails are an option if you're short on time. Athletes looking for a serious run can take advantage of the 7.6-mile out and back trail which is rated as difficult to meet the demands of experienced runners and hikers.
After all the exertion, head to Urbana, Illinois to enjoy a number of local craft breweries. Riggs Beer Company is a popular option, offering outdoor patio seating, live music events, and a family-friendly atmosphere.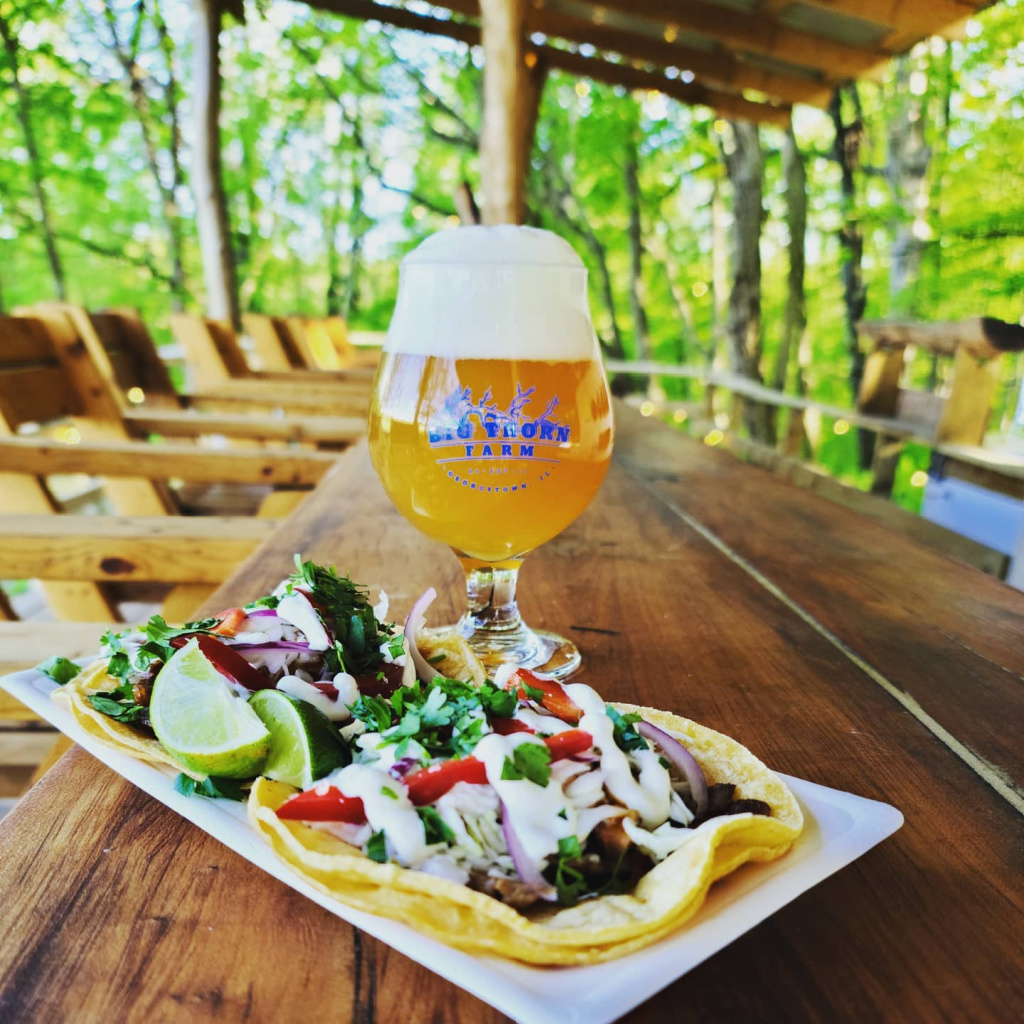 Another unique option is to visit Big Thorn Farm. This Illinois brewery is housed in an off-grid farmhouse with a tree bar built in the woods.
2. Hike Here: Little Red Schoolhouse Nature Center (easy)/Palos Trail System (moderate)
Then Drink Here: Imperial Oak – Willow Springs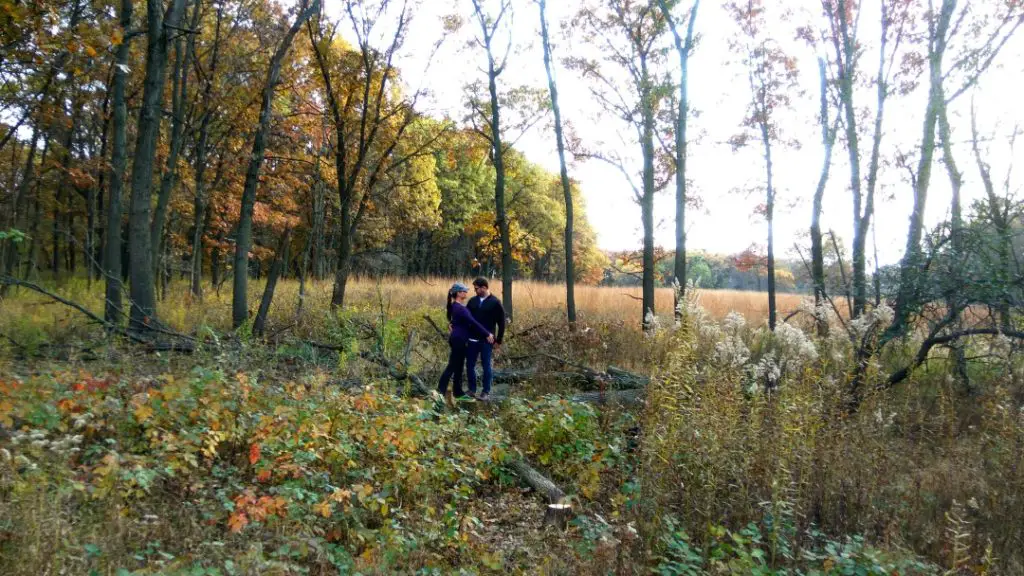 Located near Willow Springs, the White Oak and Black Oak Trail at Little Red School House is a 2.6-mile loop walking path. The easy trail offers the chance to see wildlife and is appropriate for all skill levels. The trail is primarily used for hiking, walking, running, and bird watching. It is accessible year-round.
The Little Red Schoolhouse visitor center is closed on Fridays. However, walking trails are open daily. Admission and parking are free but the parking lot closes at dusk. Those looking for a longer hiking experience should consider connecting to (or simply beginning at) the Palos Trail System or to the Cal-Sag Trail.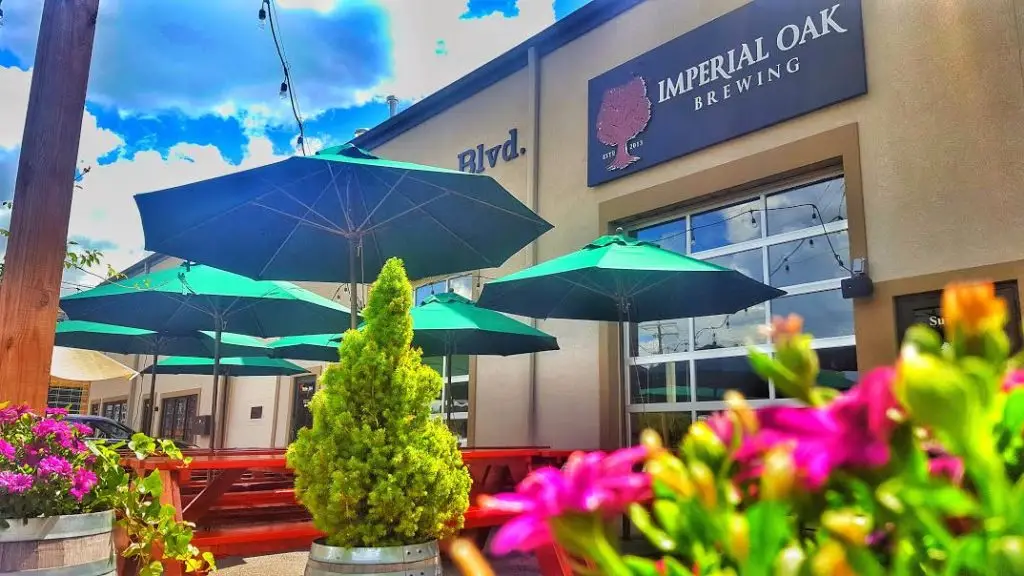 After your hike, the Imperial Oak Brewing is only a short drive away. This small Willow Springs brewery offers outdoor seating, rotating food trucks, and trivia events. The brewery features a variety of ales, stouts, lagers, and IPAs. It really is a popular place to get a cold drink after cycling the Cal-Sag Trail.
3. Hike Here: Waterfall Glen Forest Preserve – Darien
Then Drink Here: Miskatonic Brewing Company – Darien
Waterfall Glen Forest Preserve is probably the best hiking experience in Chicagoland. The preserve has a 9.6-mile loop trail, one of the longest routes accessible to hikers in the region. Highlights of the trail include the Rocky Glen waterfall, the Sawmill Creek bluff overlook, and the old Lincoln Park Nursery Ruins from the 1920s.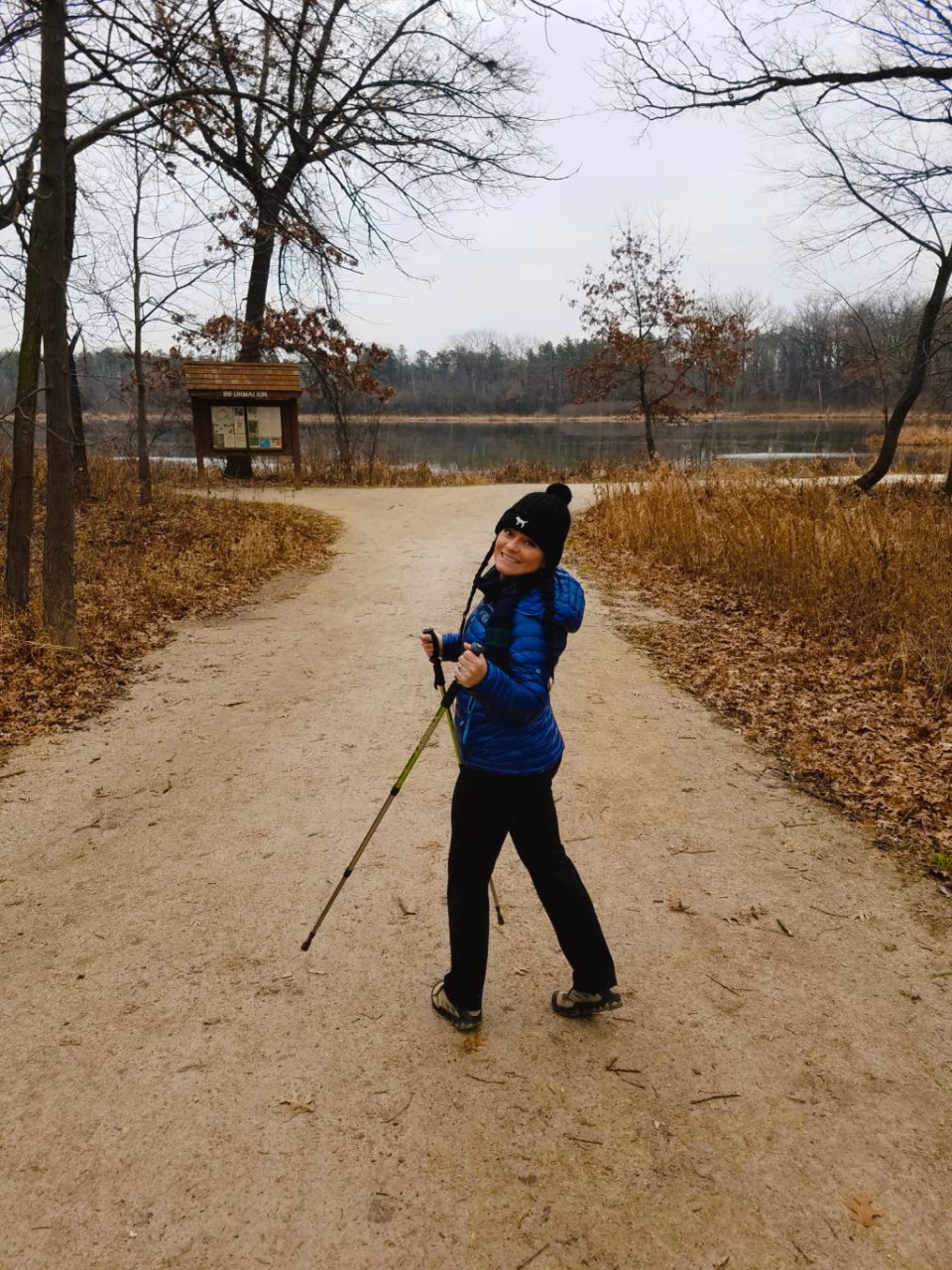 After working up a thirst, head to the nearby Miskatonic Brewing Company. The friendly taproom offers a variety of beers on tap with both indoor and outdoor seating options. Additionally, children and dogs are welcome at the brewery too.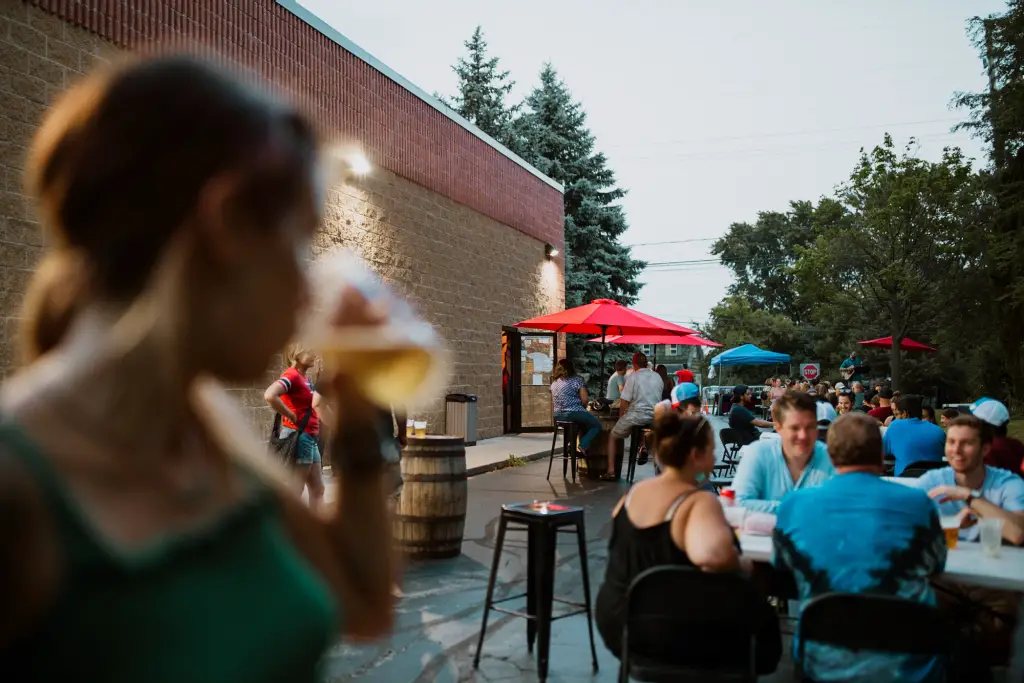 Guests can take advantage of the wall of board games, free professional-grade darts, and beer flights. If the food trucks aren't onsite during your visit, ask the bartender for their local delivery menu book. Consider planning your visit with one of their live music events to compliment your cold brew.
4. Hike Here: The Grove – Glenview
Then Drink Here: Macushla Brewing Company – Glenview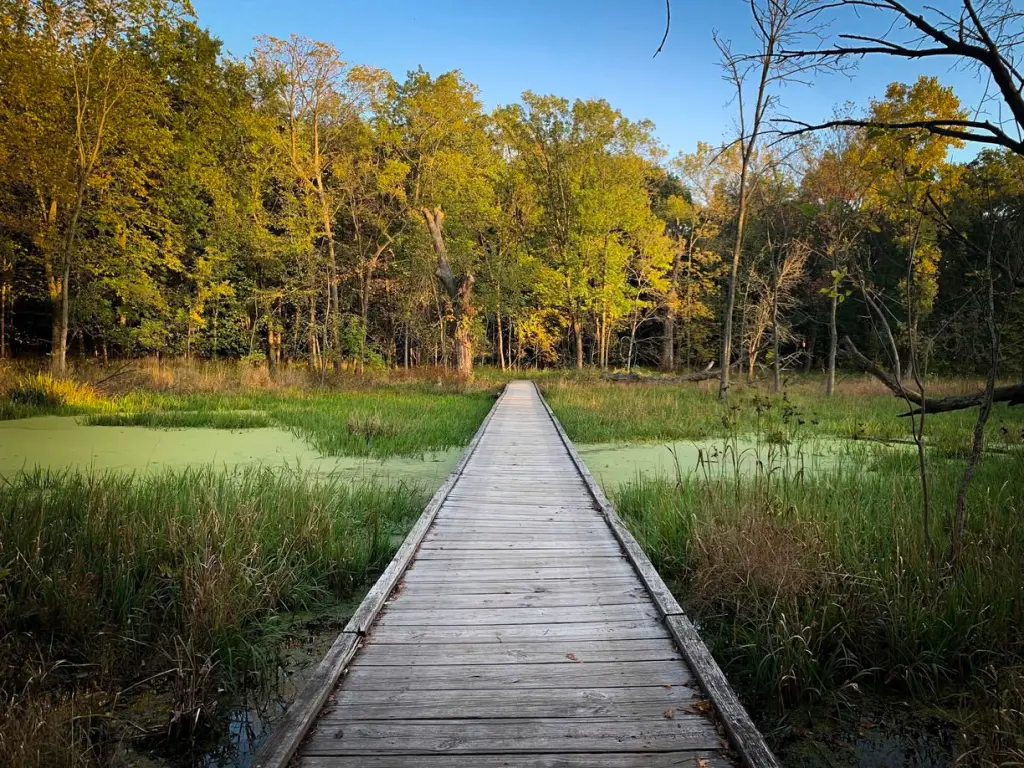 Located in Glenview, The Grove Loop is a family-friendly trail set among 150 sprawling acres. This enjoyable walk offers a 1.5-mile route, with nearby facilities such as an interpretive center, informational signage, and boardwalks. In this preserve, deer sightings are quite common. The grounds are open daily from dawn until dusk. Biking or pets are not permitted.
Additionally, to experience a piece of local history, hike through the oak-hickory savanna that surrounds the former home of naturalist Robert Kennicott. He founded what is now the Peggy Notebaert Nature Museum which is one of the best places to experience wildlife in Illinois 
Please note, if you're looking for a longer route or dog-friendly options, consider the 4.5-mile North Branch Trail at the Skokie Lagoons.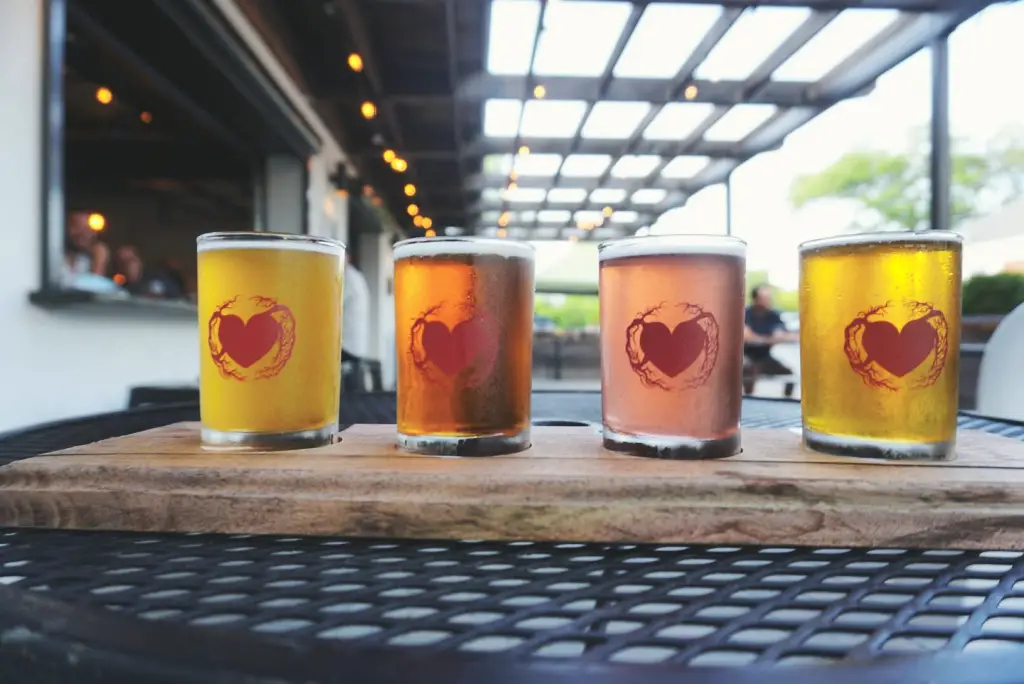 After working up a sweat, Macushla Brewing Company is a good place to cool down. This modern, yet charming microbrewery welcomes kids and pets which is perfect for family weekends. Beer flights, an outdoor patio, and nearby restaurants offering take-out options make it easy to relax here after a long hike in the woods.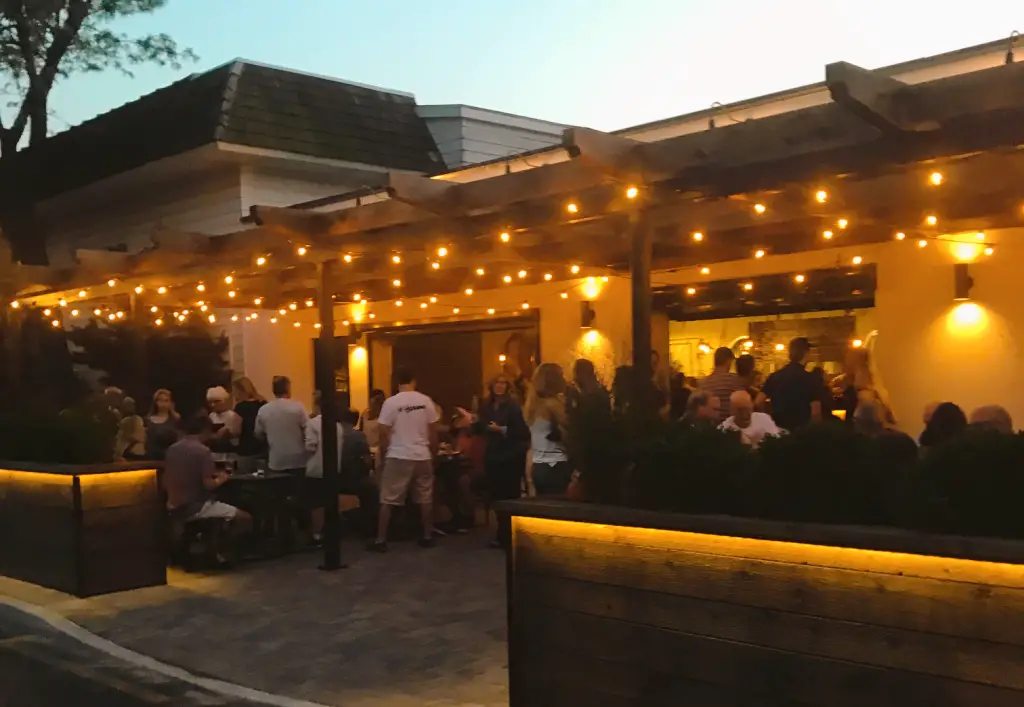 5. Hike Here: Schiller Woods – Chicago
Then Drink Here: Short Fuse Brewing Company – Schiller Park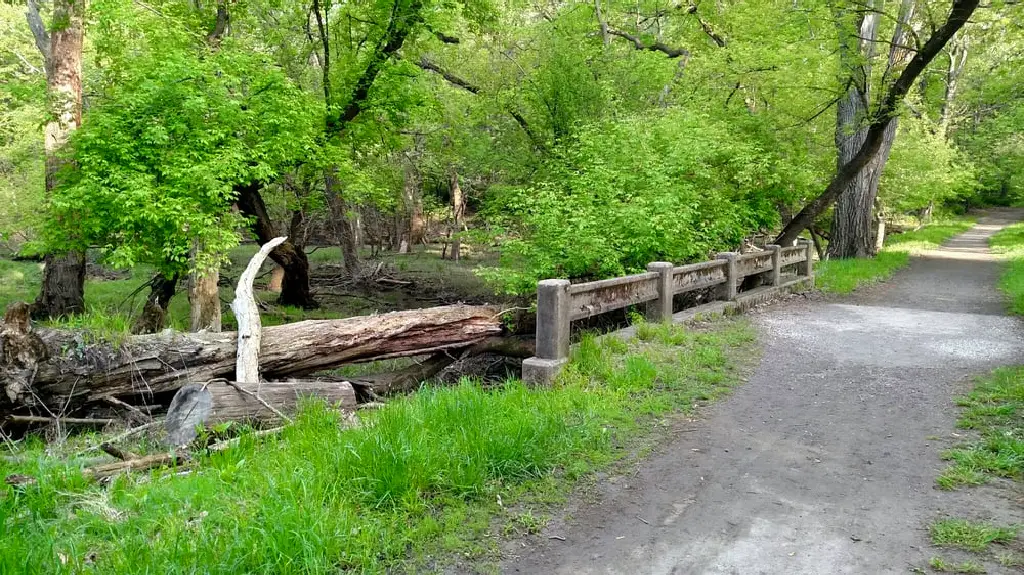 Located just east of O'Hare International Airport, Schiller Woods is one of Chicagoland's most popular green spaces. Many folks come here to enjoy a peaceful stroll along the Des Plaines River.
In fact, the long path connects to other preserves' trails offering a magnitude of hiking options. Visitors remark that they can't believe the number of white-tailed deer that roam the park. If you visit, be sure to research the preserve's locally famous fountain of youth.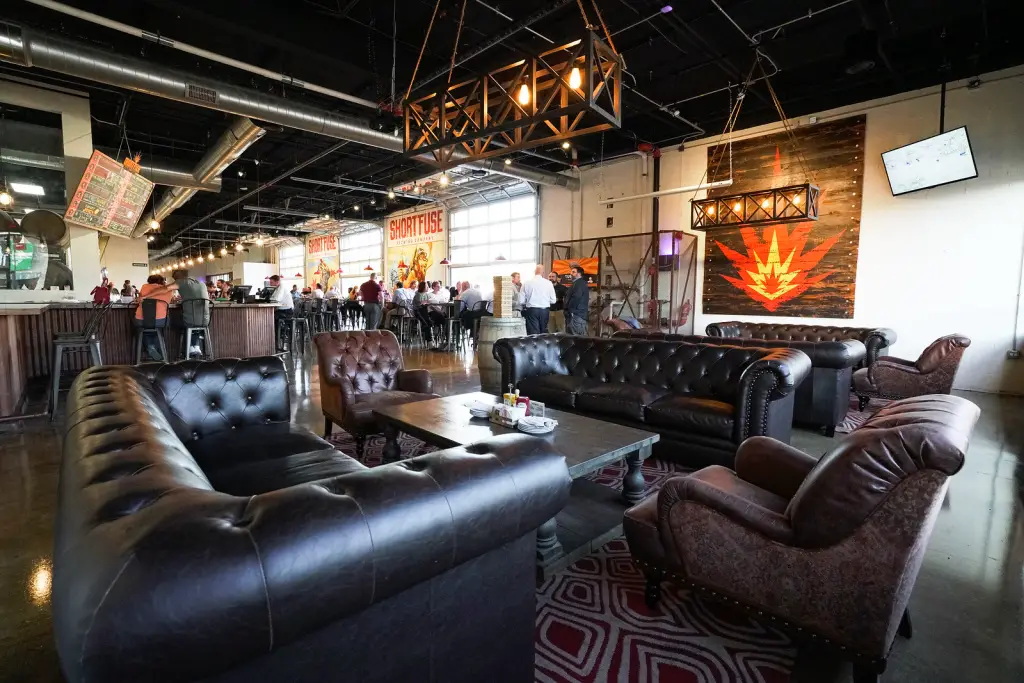 Both hungry and thirsty? The Short Fuse Brewing Company is a production brewery and taproom with a full kitchen. The brewery claims that the secret to its success lies in quality craft beer, many of which offer a fun foodie twist. For example, consider sampling the Peanut Butter Cup Stout, the Guava Margarita, or the Peach Coconut IPA.
The brewery's menu is traditional pub grub. Additionally, snacks like Spudz and Sudz and the Big Pretzel are tasty pairing options. Last, you won't go wrong ordering anything made with their famous beer cheese, especially the Bomb Burger.
6. Hike Here: North Park Village Nature Center – North Park
Then Drink Here: Fibbs Brewing and More!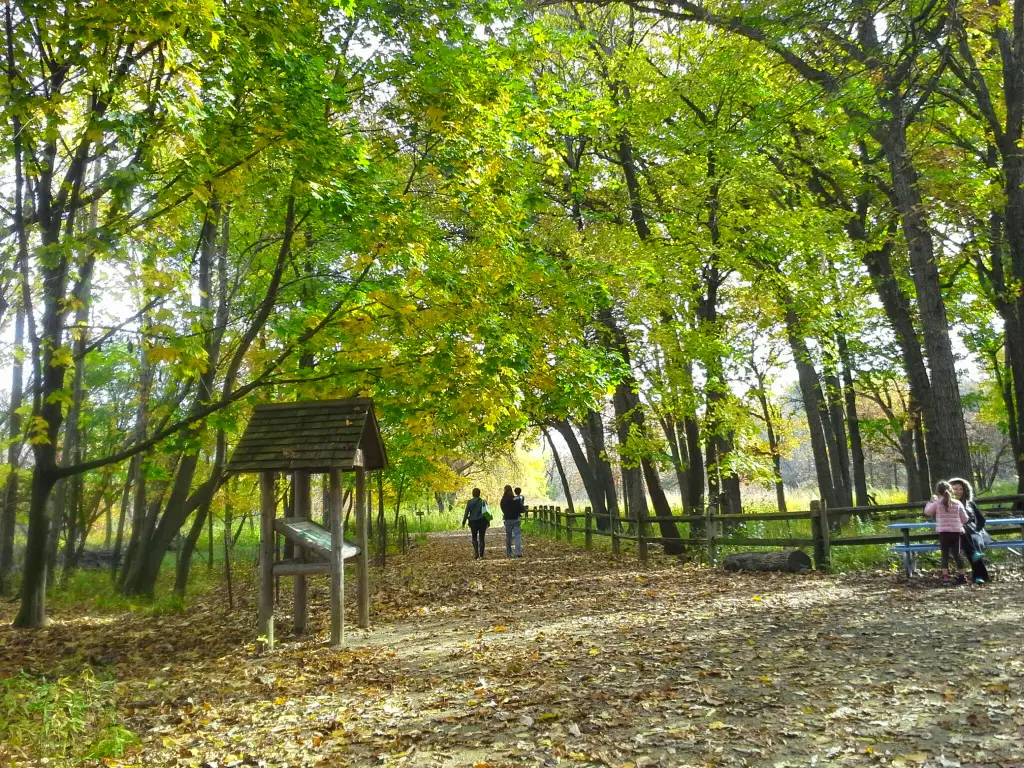 If you're looking for more of an organized, family experience, consider an outing at the North Park Village Nature Center. This easy half-mile loop features footbridges and wide paths that take you through woods, wetlands, and prairies.
The Nature Center offers hands-on exploration and interactive displays. It's open every day from 9 a.m. to 4 p.m. and the cost is free. Additionally, the kids will love playing in the Walking Stick Woods Natural Area. This nature-themed play center is the perfect option for families with small children or a unique outdoor activity to enjoy with the grandparents in tow. The park's nature play spaces are open from 6 a.m. to 11 p.m.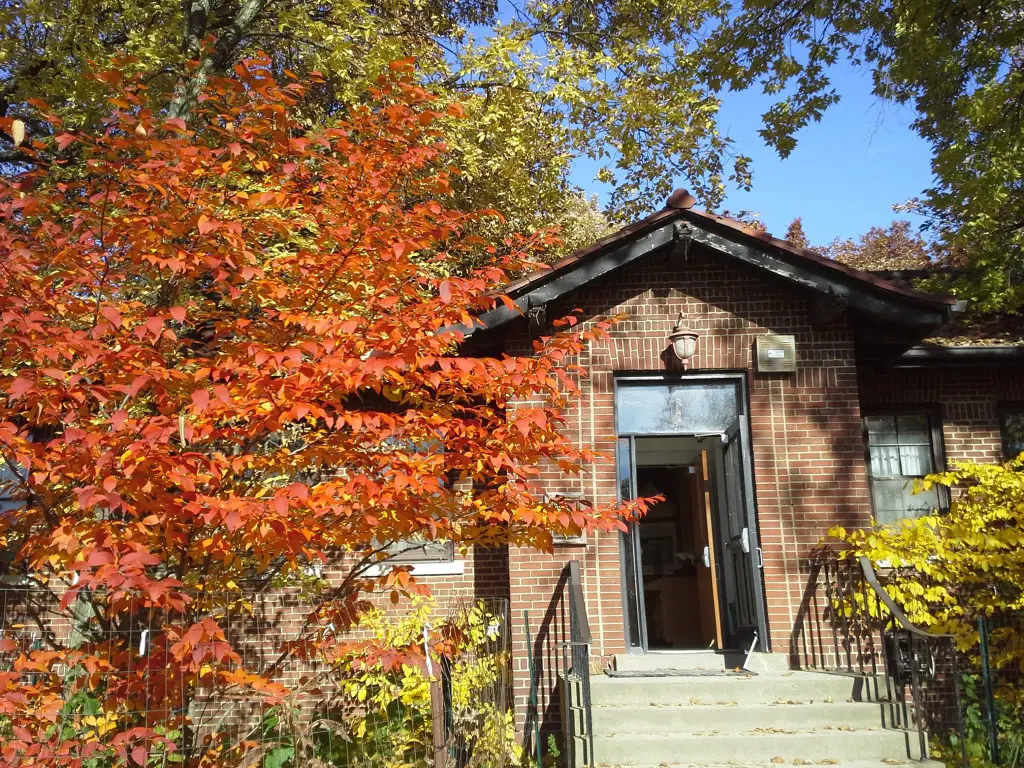 Afterward, there are a plethora of breweries to enjoy all within a 20-minute driving radius. For example, Fibbs Brewing features a small beer garden and is extremely welcoming to its patrons. Locals appreciate the brewery's laidback vibes. Thankfully, kids, pets, and BYOF are all encouraged here. There are also non-beer options, such as wine and spirits.
Empirical Brewing
Empirical Brewing is another good option too. The brewery features a quirky science theme with a shady outdoor patio and indoor/outdoor beer garden. Board games, snacks, BYOF, and easy food delivery options make it easy to relax after your walk. This is one of the quirkiest Illinois breweries where both kids and pets are welcome.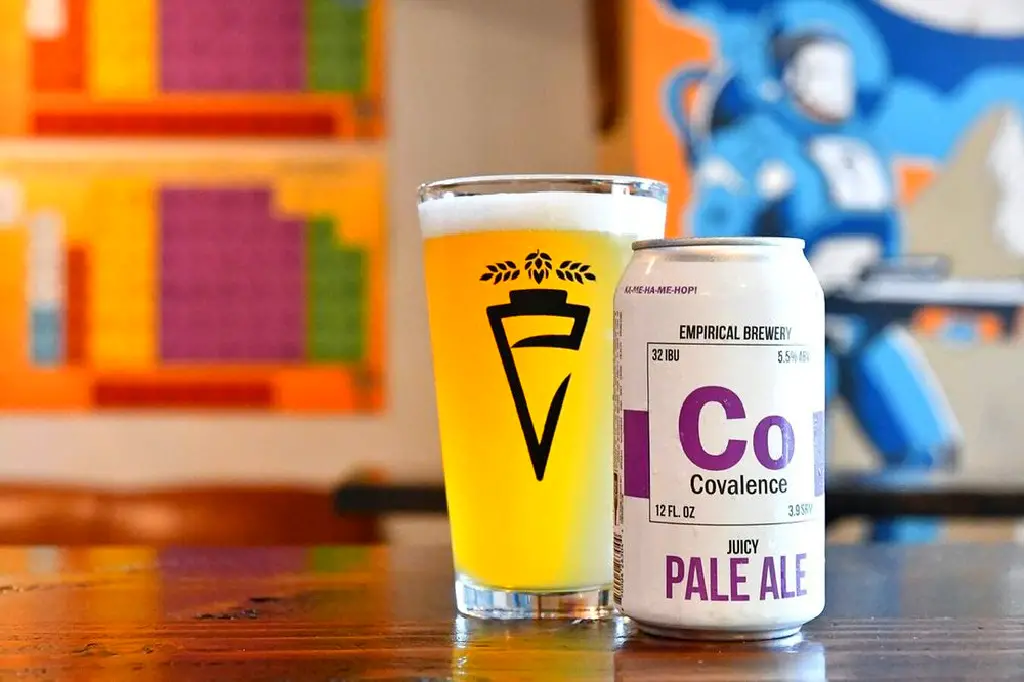 Other neighborhood breweries include Dovetail Brewery, Begyle Brewing, Spiteful Brewing Tap Room, Half Acre Balmoral Beer Garden, Empirical Brewery, and Alarmist Brewing.
However, take note, that some breweries are not as relaxed with kids and pets, while others are quite strict with the continued Illinois COVID restrictions. For example, Half Acre Beer Company serves food and beer in its amazing outdoor beer garden. However, the establishment is strictly adults-only. Always call in advance to be sure the brewery will work for you, your pets, and the hiking group.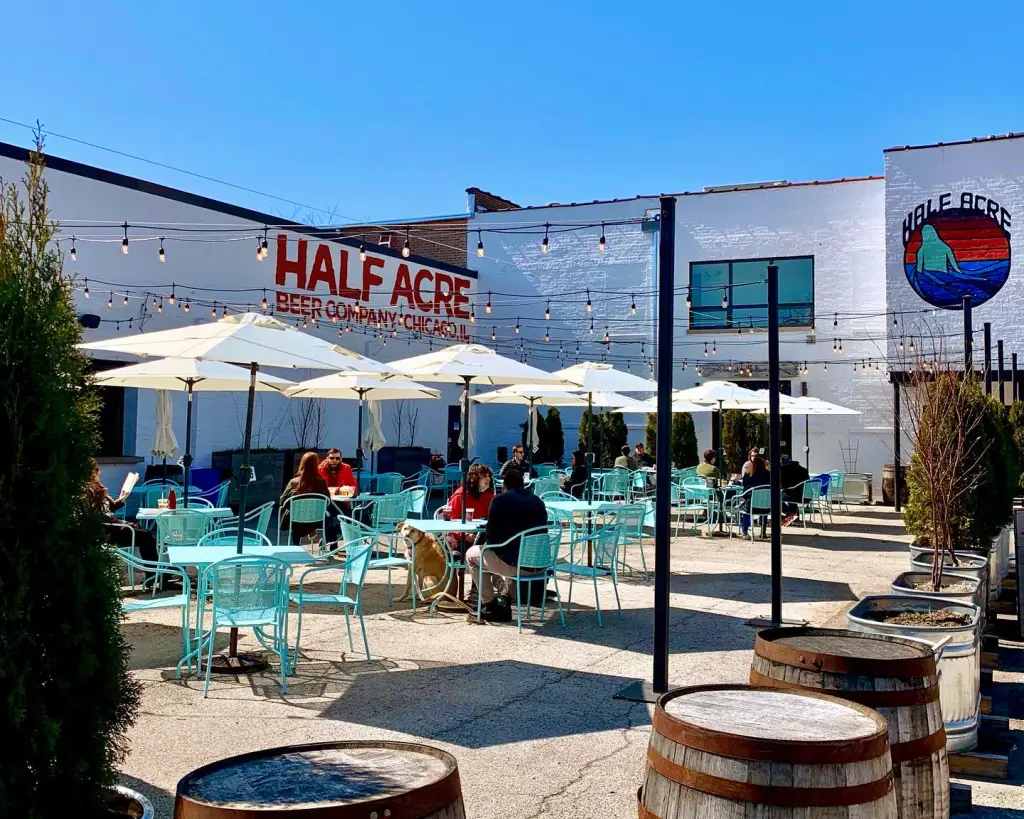 7. Hike Here: Kickapoo Meadows – Riverdale, Illinois
Then Drink Here: Blue Island Beer Co. – Blue Island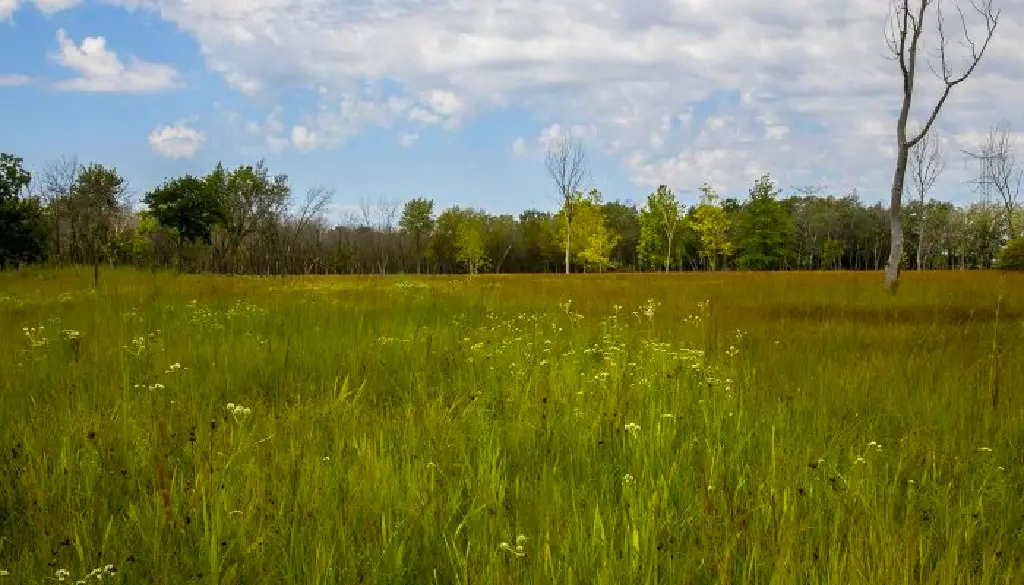 Consider this small park a natural oasis within a busy, urban city. Kickapoo Meadows offers a one-mile paved loop set among wooded areas, wet prairie, and savanna. The park is also a popular site to fly model airplanes.
As part of the Forest Preserves of Cook County, the park has a large picnic shelter and a carry-in canoe landing on the Little Calumet River. Cycling, cross-country skiing, and leashed dog walking are all options too!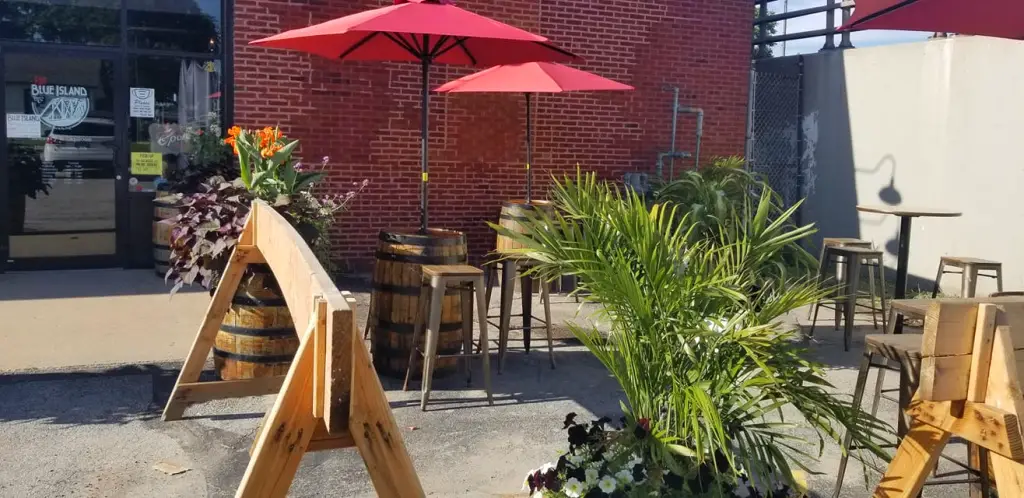 Following your visit, drive 10 minutes to the nearby Blue Island Historic District. The Blue Island Beer Company serves up craft beer on Chicago's south side. The brewery features live music events, an outdoor patio, and drink specials. Food is available for order from neighboring establishments and BYOF (Bring Your Own Food) is welcome.
Before visiting all facilities, be sure to call in advance for operating hours and visit their social media accounts for any updated visitor information or special events. Additionally, remember that many Illinois breweries are only open on weekends and reservations may be necessary. It's best to call in advance so you won't be left disappointed.