There are three easy ways to see Delicate Arch at Arches National Park without hiking to it. Surprisingly, most visitors to Arches National Park automatically assume that the only way to see Delicate Arch is to hike to it. While this may be the best way to experience it, for whatever reason some people may not have that option.
The walk to Delicate Arch is 3.2 miles roundtrip and takes about 1¾ hours to complete, of course, this is without the time spent admiring the arch. Also, with a 629-foot elevation gain, even young healthy hikers may find it moderately challenging. Especially, in the height of summer when temperatures easily reach 100ºF.
Brief Overview – Delicate Arch Trail
From the trailhead, the trip to Delicate Arch is completely uphill. Furthermore, unless you're walking in the early morning hours before dawn, hikers should expect the trail to be quite busy. As a result, don't be surprised to have to wait 15-30 minutes for your group to get an exclusive/uncrowded photo opportunity at the arch.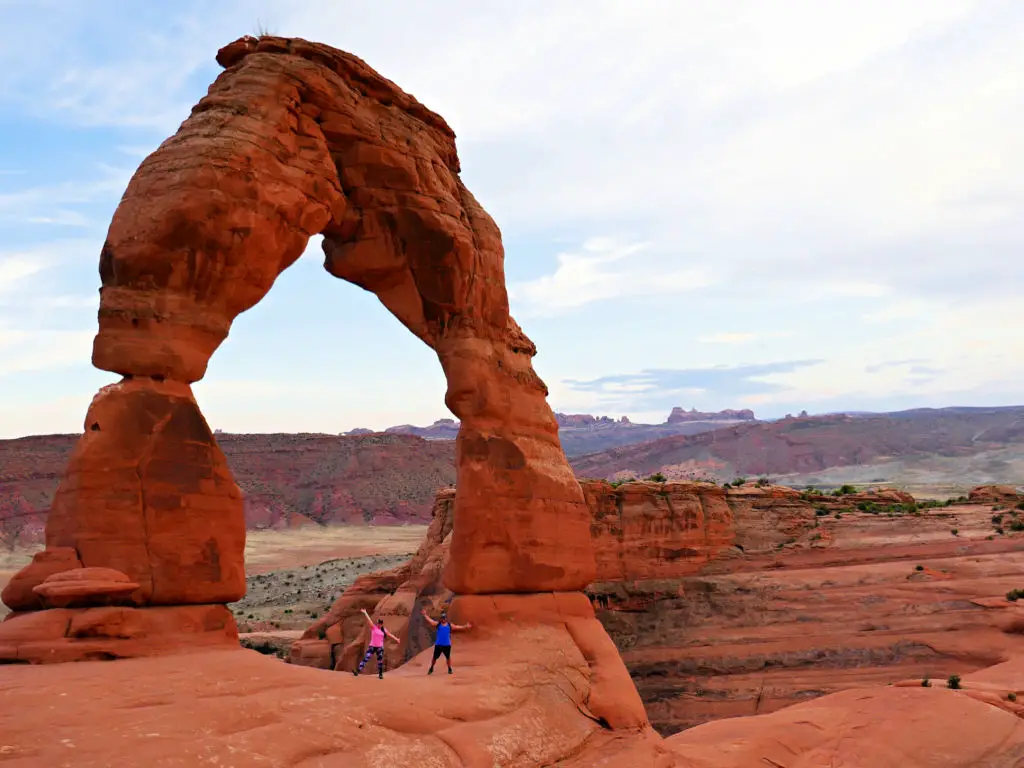 Around 1.0 miles into the hike, the trail reaches a 19 percent incline, much of it along open Slickrock with no protection from the sun. In addition, the last 0.3 miles takes place along a ledge that shrinks down to only three feet wide, with a sheer vertical wall on the right and a steep and dangerous drop-off to the left. Congestion along this area can add an extra layer of difficulty, stress, and risk.
Budget Tip: Lodging around Moab can easily cost hundreds of dollars per night. To save money, we stayed at The Virginian Motel, located in downtown Moab. The simple accommodation is in a fabulous location, was clean, and recently renovated. We paid $73 on Saturday night during spring break and felt like we received excellent value.
Regardless of physical ability, it's intersting to see Delicate Arch from various vantage points. The various viewpoints provide a fascinating perspective in which to admire the arch. ⁠—The Budget Savvy Travelers
Upon wrapping around the ledge, Delicate Arch will suddenly appear for the first and only time along the hike. In other words, the arch is hidden during the entire hike up until the very end.
Walkers should plan on spending about 2½ to complete the hike. This includes the time to complete the walk, take some photos, and perhaps enjoy a snack.
Tip: Camera phone pictures will be extremely pixilated from all viewpoints, so it may be worthwhile to invest in the Nikon COOLPIX P1000. With a 125x zoom, the P1000 is by far the best travel-size wildlife camera on the market―photographers have even taken pictures of the space station with it from Earth!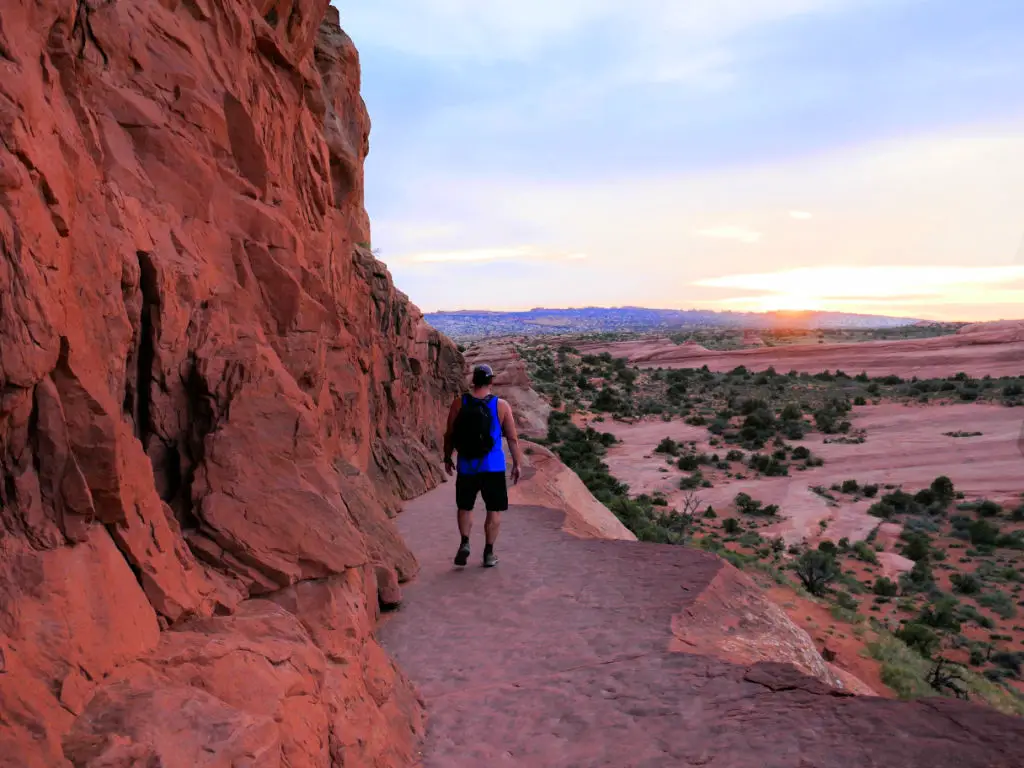 Reasons For Not Hiking to Delicate Arch
There are several reasons why tourists to Arches National Park may opt to simply view Delicate Arch rather than hike to it. For example, visitors may have:
A disability (permanent or temporary)
Time constraints (e.g. related to park closures/delayed entry)
Weather-related issues (e.g. ice, heat, etc.)
Small children or seniors in the group
Whatever the case, there are three easy ways to view Delicate Arch without hiking to it. Surprisingly, many first-time visitors don't know that there's an official Delicate Arch viewpoint. Also, during our tour of the park, we came across two more easily accessible viewpoints from the road that NO ONE knows about.
Check Out the Best Excursion: Hell's Revenge 4×4 Off-Roading Tour from Moab
The best way to view Delicate Arch is with a budget-savvy set of travel size 12×42 binoculars, 10x magnification binoculars probably won't cut it from the distance of the viewing sites.
3 Easy Ways To See Delicate Arch Without Hiking to It
Countless visitors to Arches National Park automatically assume that they have to hike to Delicate Arch to see it. This is completely inaccurate. There are three viewpoints of Delicate Arch that entail either no or limited walking.
1. Lower Delicate Arch Viewpoint
Lower Delicate Arch viewpoint is located at the end of Delicate Arch Rd, just past the Delicate Arch trailhead parking lot. Technically, there are both the lower and upper viewpoints, however, the upper is a 1.0-mile roundtrip journey. On the other hand, the lower is an easy, and flat, 300-foot stroll from the parking lot.
Of the three easy ways to view Delicate Arch without walking to it, this viewpoint will give visitors the best perspective. With a good pair of binoculars, you may be even able to see other people in your group that made the journey to the arch.
This viewpoint is wheelchair accessible and is great for anyone who can easily exit a vehicle and travel about 300 feet. Also, there are a couple of interesting interpretive signs along the way.
2. Arches Nat'l Pk Rd. Viewpoint
Along Arches Nat'l Pk Rd, heading towards Delicate Arch, there's a pull-off about 500 feet before Delicate Arch Rd. It's here, that visitors can view Delicate Arch right from their vehicle.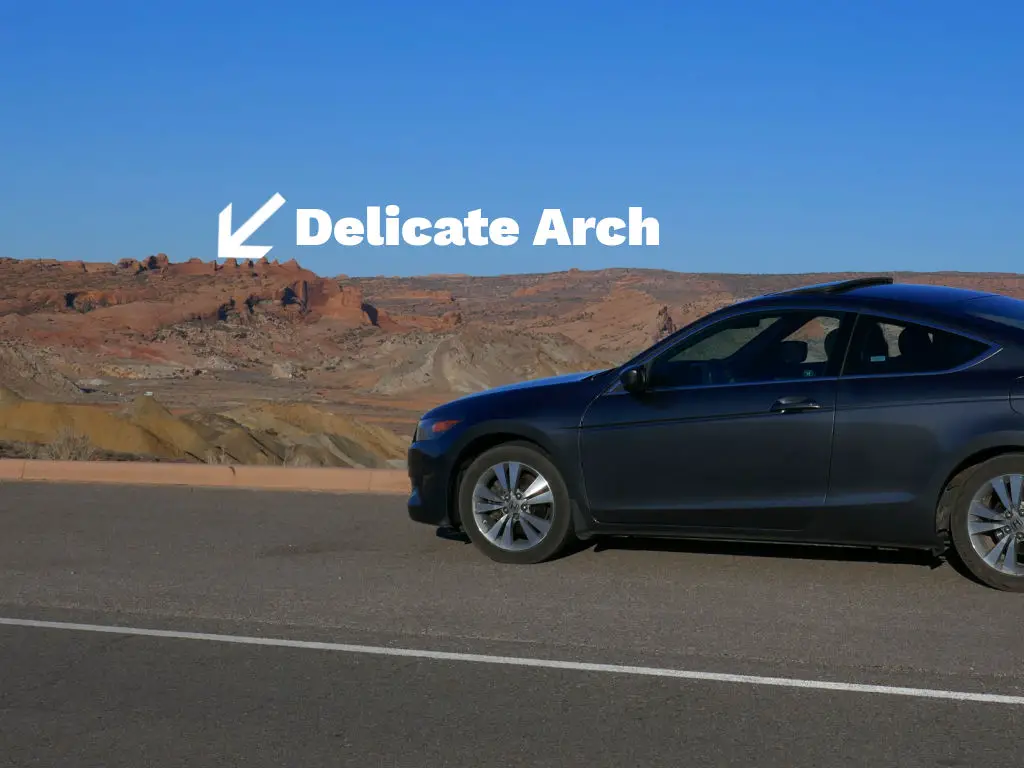 From this angle, visitors will see the western side of the Arch extrados, only the outer curve.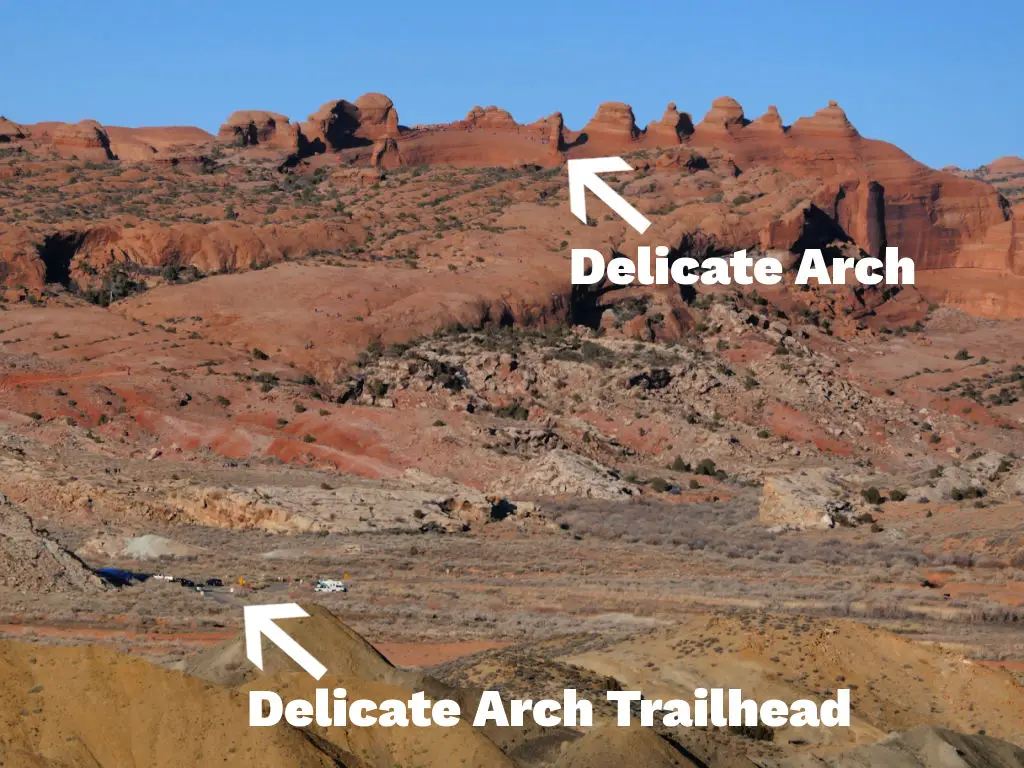 From this location, the arch is about 2.5 miles away. You'll definitely, want to use a good pair of binoculars like the Healsun binoculars that come with a phone adapter, which will allow you to take amazing photos. Also, binoculars will help in enjoying other scenic viewpoints and wildlife across the park.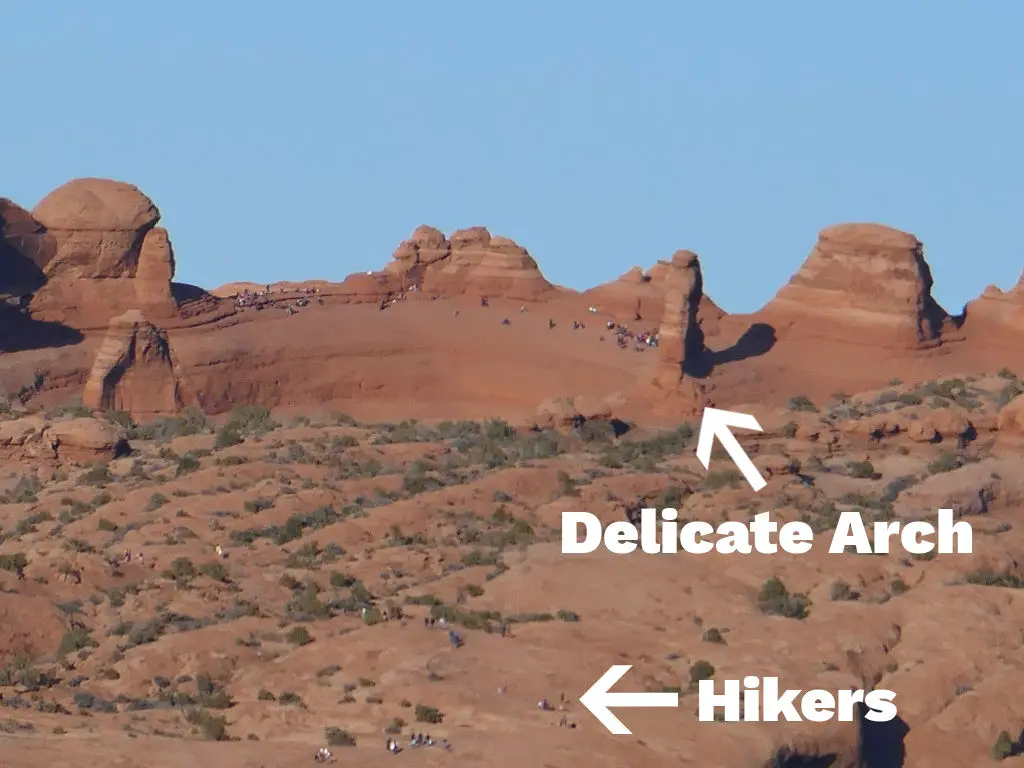 This viewpoint is great for people who are unable or simply don't want to exit their vehicles. Finally, of the three ways to view Delicate Arch without walking to it, this is the second closest vantage point.
3. Windows Rd Viewpoints
While heading into the park, simply turn right on the first road past Balanced Rock. It's called Windows Rd., and guides vehicles towards the Windows Trailhead, i.e., Parade of Elephants, North/South Window Arch, and Turret Arch.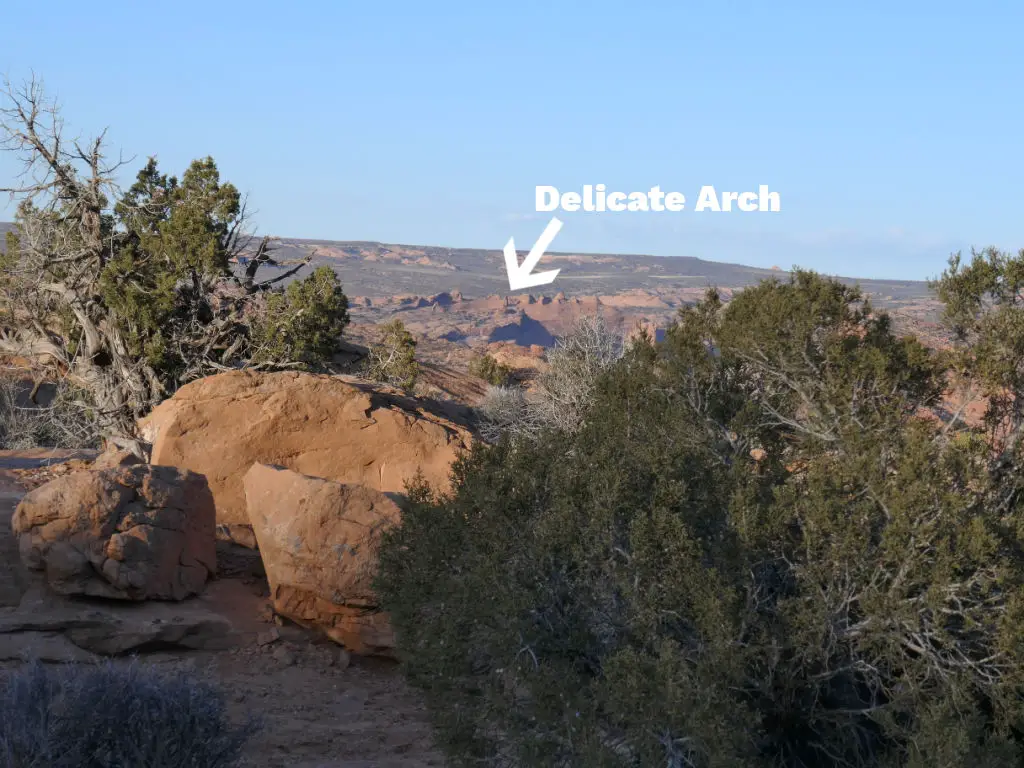 Upon turning onto Windows Rd., there are two pull-offs both on the left-hand side of the road. They're located between 0.25 and 0.50 miles down the road.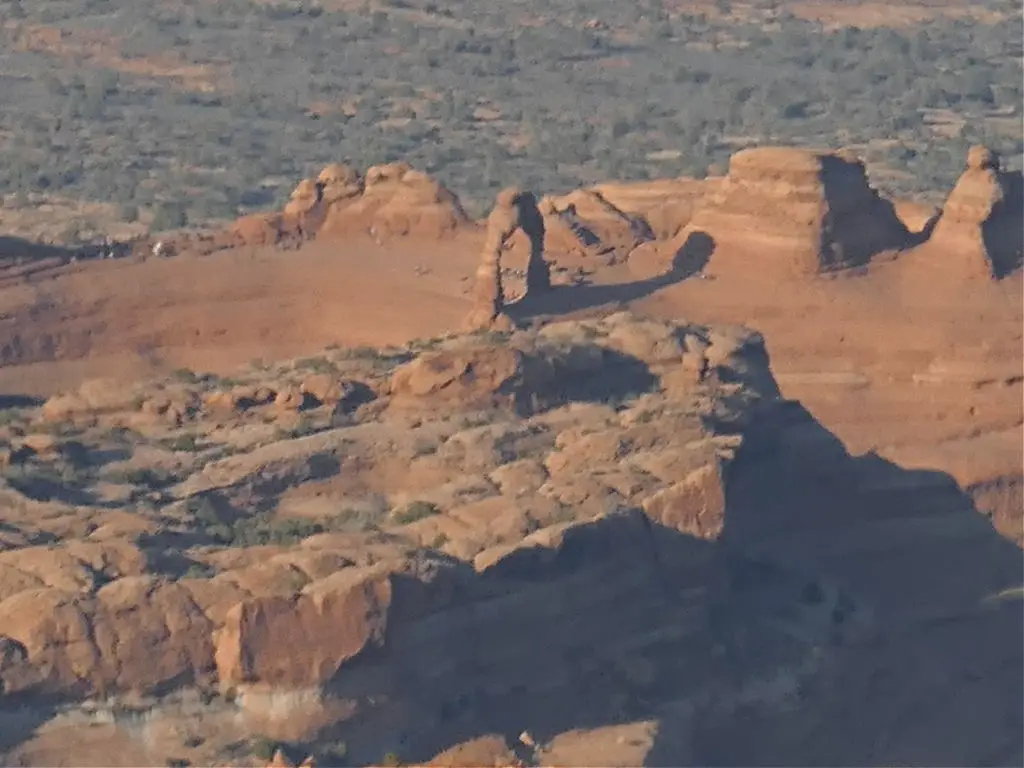 The Windows Rd. viewpoints are about 5 miles from Delicate Arch, making them the farthest vantage points. Also, these viewpoints may require observers to exit their vehicles and walk about 90 feet to the north, towards Delicate Arch.
Tip: The views of Delicate Arc will only get better farther up Windows Rd., while still having the arch in view.
It's worth exploring all three ways to view Delicate Arch without walking to it. Each angle provides visitors with an interesting perspective, just don't forget to bring a good pair of binoculars.