Around the globe, more people than ever are looking for remote jobs. Many times, the key to success is coming across an open position quicker than your competition. Searching for jobs on sites that others are not using may be just the thing to get your virtual foot into the virtual door.
Before you even think about applying for a remote job you should consider your setup—the better it looks the higher your odds will be of getting the job. Do not use the camera on your phone or laptop, it will come across as unprofessional. Make sure you have a proper high-definition webcam that's at an appropriate height, typically eye level or just a bit higher.
Here are 22 websites to find remote jobs quickly and easily.
FlexJobs considers itself the #1 job site to find the best remote work. With over 14 years of helping people find work, many consider it the faster, easier, and safer way to find work. There is a huge range of job categories, over 50 fields exactly. Companies are searching for workers with skills in travel, health, marketing, fitness, translation, graphic design, fashion and beauty, and much more.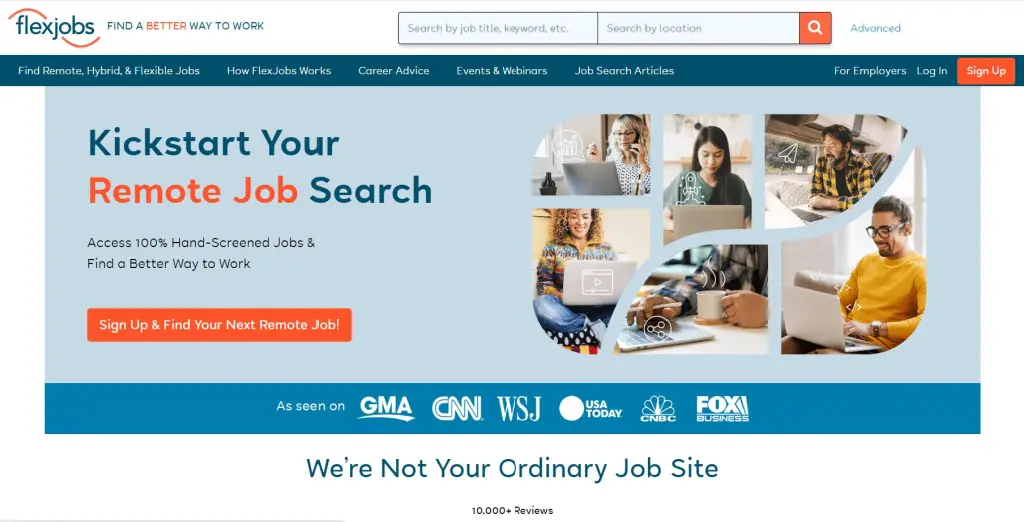 💼💻 FlexJobs Remote Positions > Search Now
💡 Budget Tip: If you're planning on traveling (while working) outside of the country of your remote job's headquarters plan on purchasing travel health insurance. Most likely, your employer's insurance will not work internationally. When we travel, we use Patriot International Lite, a low-cost but comprehensive travel health insurance.
2. 99 Designs
If you are a graphic designer 99 Designs is a great platform to easily connect with clients. Designers from around the world are welcome to sign up to showcase their talent to help create over 99 design categories—from logos and labels to apps and wine labels.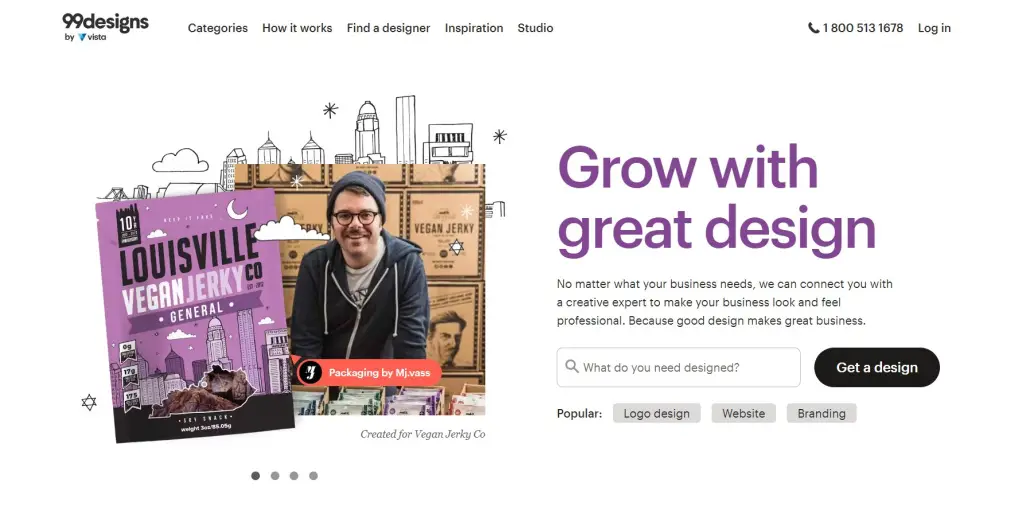 3. Remotive
Geared toward tech jobs, Remotive makes it easy for job-seekers to find active and fully remote jobs from vetted companies. Sign up to get remote job notices delivered daily to your inbox today.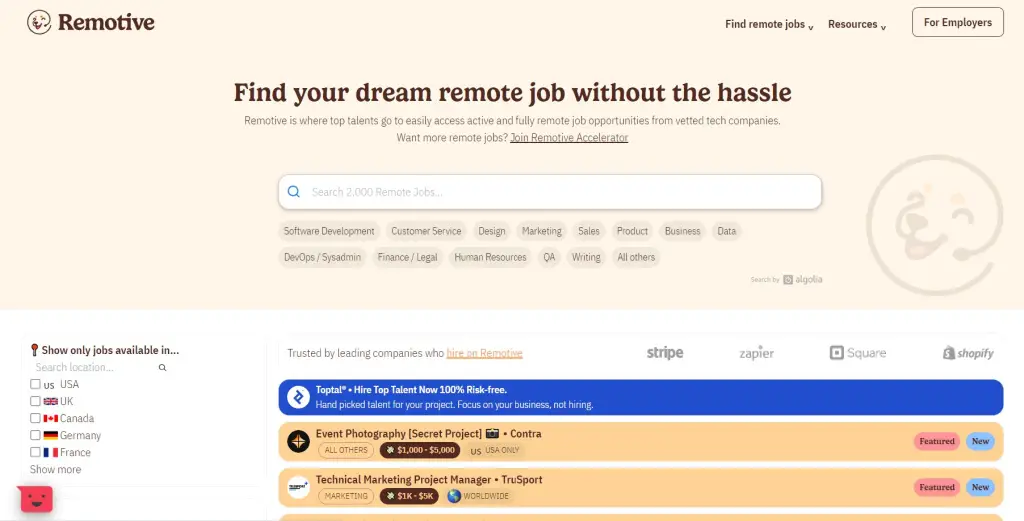 4. Freelance Writing
This easy-to-navigate website makes finding freelance jobs a breeze. In addition, the platform has over 600 instructional articles to help guide writers on many "how-to" topics, such as how to write for social media posts or how to write gear your writing toward magazine articles. It's a great resource on how to learn to become a better freelance writer.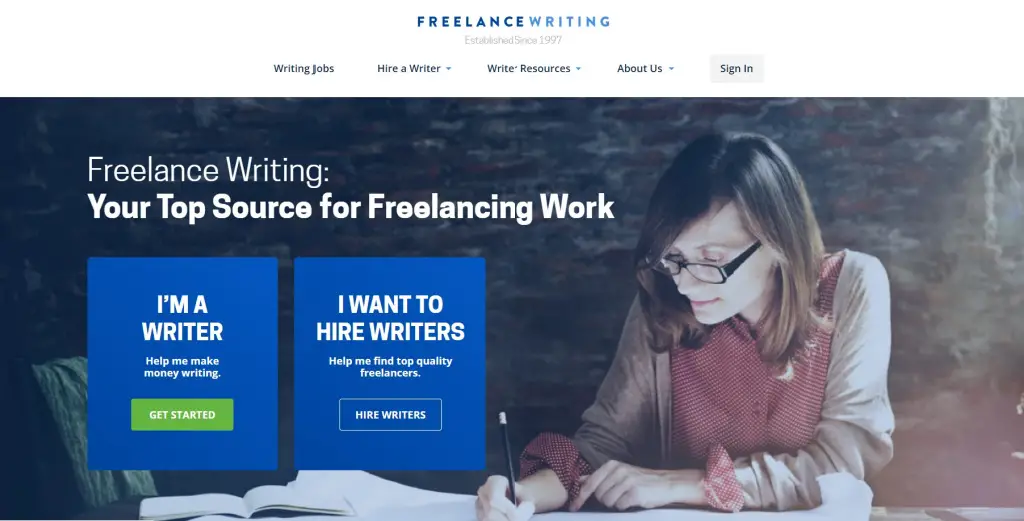 5. Problogger
Many full-time bloggers will find Problogger a helpful resource full of articles sharing how to become a better blogger. Naturally, many beginning bloggers may want to supplement their income by finding work on the Problogger job board with new job listings posted almost every day.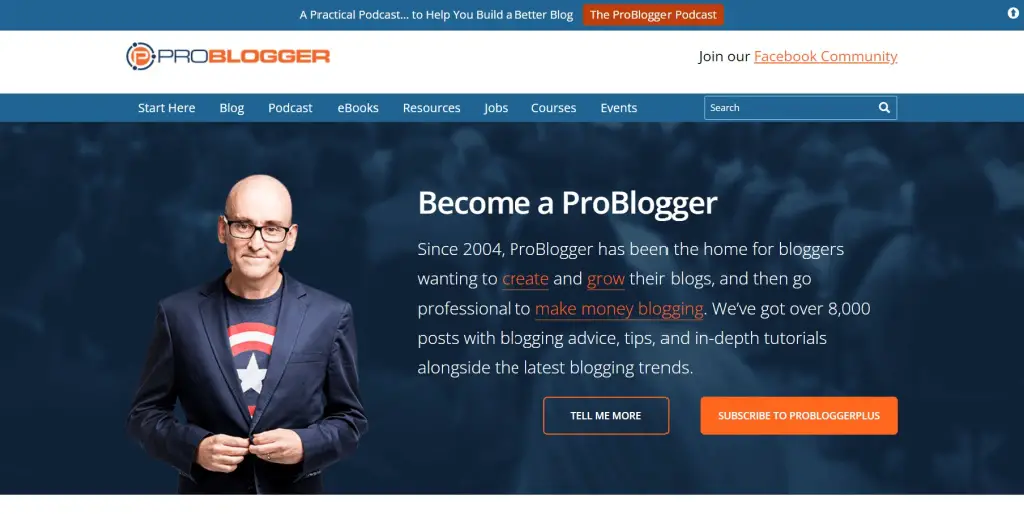 6. Just Remote
Scroll through a long list of remote work, from contract opportunities to permanent positions on Just Remote. This website is unique in that it specializes in hidden opportunities, meaning these are the jobs that don't necessarily get advertised. It's a unique concept that takes away from the strong competition among remote job opportunities.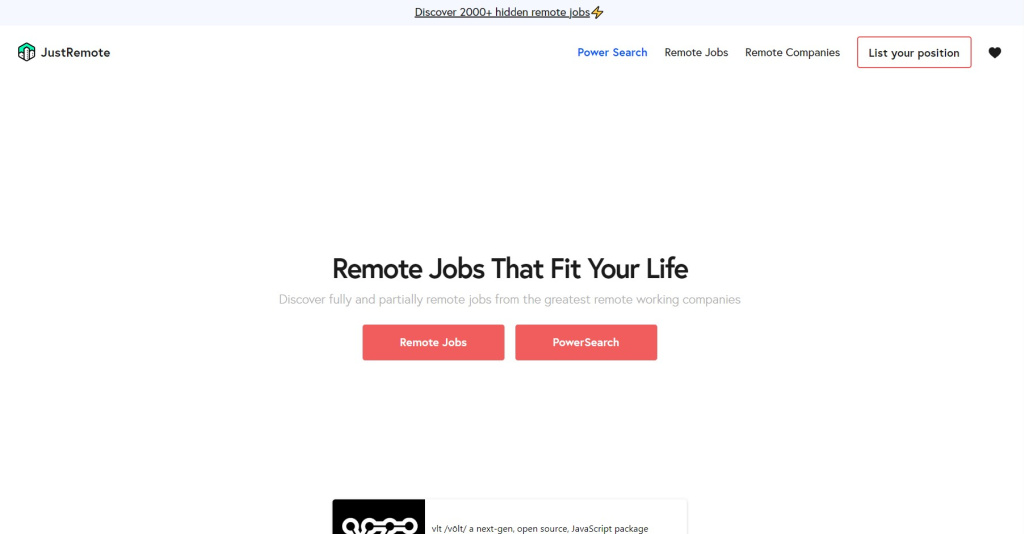 7. We Work Remotely
Claiming to be the largest remote work community in the world, We Work Remotely teams up with the Top 100 Companies that have experience hiring remote employees.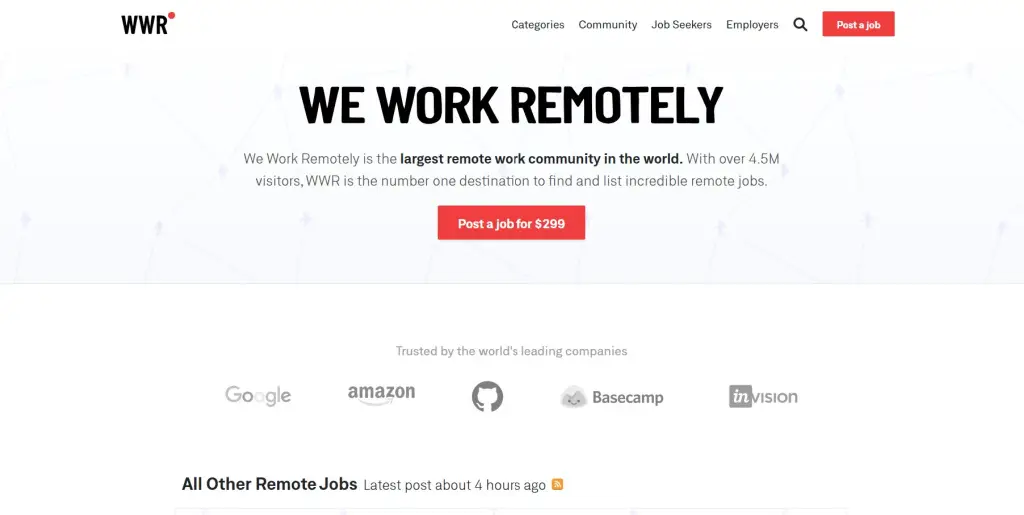 8. Reddit
Fans of Reddit may want to check out r/Remotework and r/WorkOnline. These two subreddits offer an opportunity to connect with startup founders and company owners who are looking for remote workers. It's also a great place to read online discussions about what's new in the world of freelancing and telecommuting.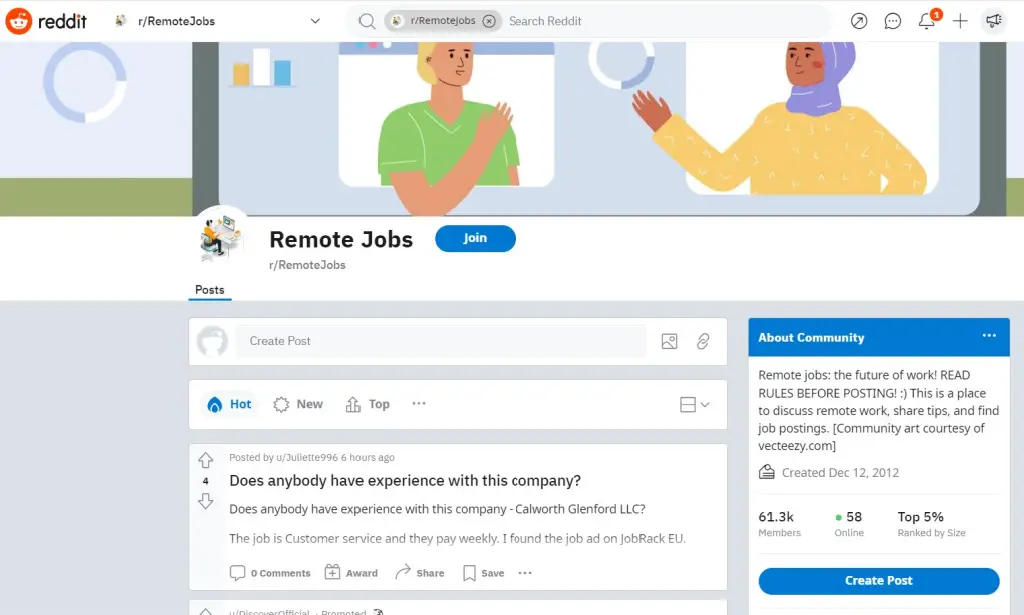 9. Outsourcely
This website has thousands of start-ups looking to fill long-term positions. Unlike some other freelancing platforms, Outsourcely allows workers to keep 100% of their total salary. Some of Outsourcely's competitors take a percentage of remote workers' salaries.
10. Odesk Work
At Odesk Work, it's easy to create a profile and start looking for remote work quickly. The home page is clean, and easy to navigate, with the payment amount openly listed.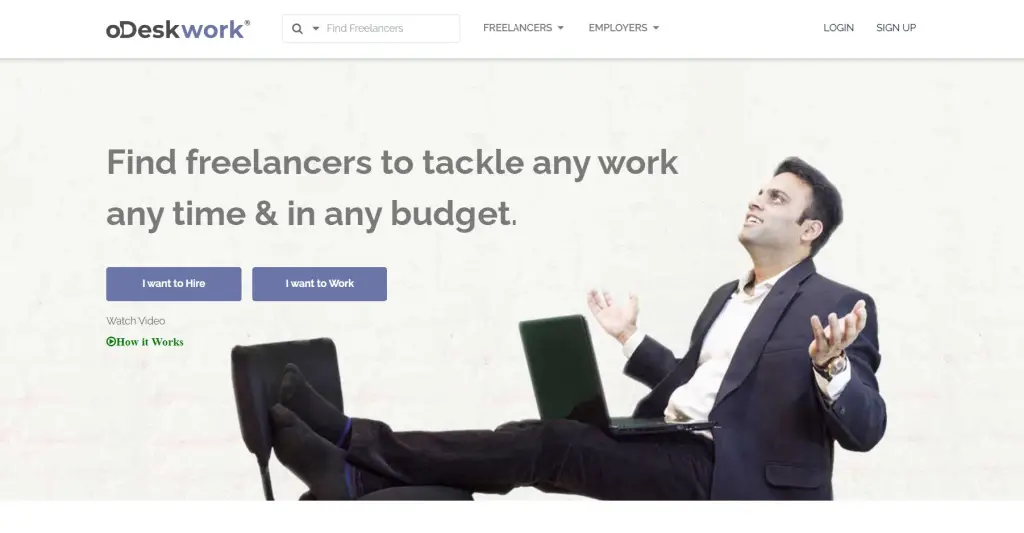 11. Indeed
Founded in 2004, this American company operates globally, operating in over 60 countries and 28 languages. It is one of the highest job-seeking websites in the United States.
12. Dribbble
Geared toward creatives and graphic designers, Dribbble is where millions of artists can showcase their online portfolios. There's an inspiration tab, a job board, and a browse designers page.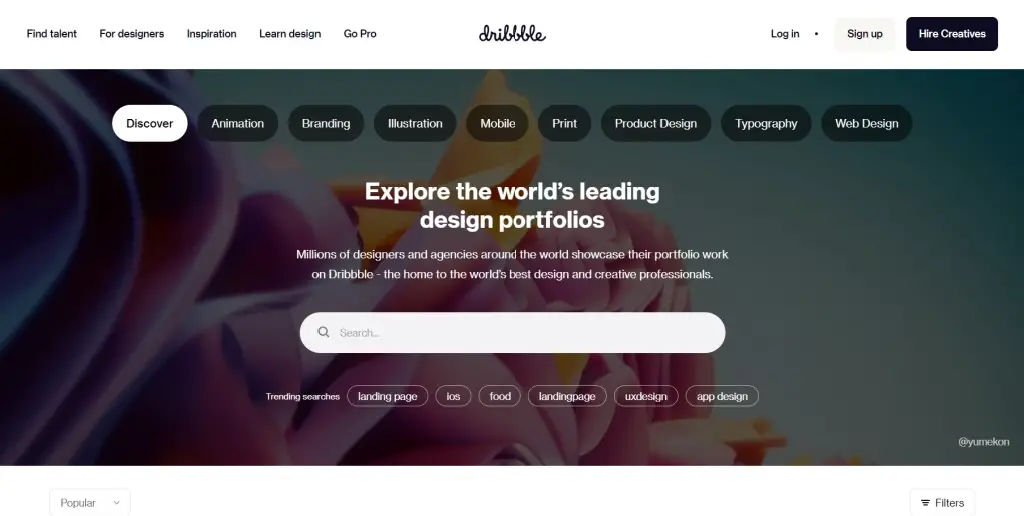 13. Upwork
This American freelancing network is based in California and continues to earn its rating as one of the most influential companies in the world. Unfortunately, this popularity comes with some downsides. As freelancers outnumbered employers, Upwork became ultra-selective and competitive. To provide their clients with only the very best freelancers, in 2020 1.8 million users were removed from the platform.
If you are a beginning freelancer, it is best to expand your portfolio with easy and attainable gigs, even if it's only building a travel blog. Then, use the experience to work your way into the more selective group of established freelancers.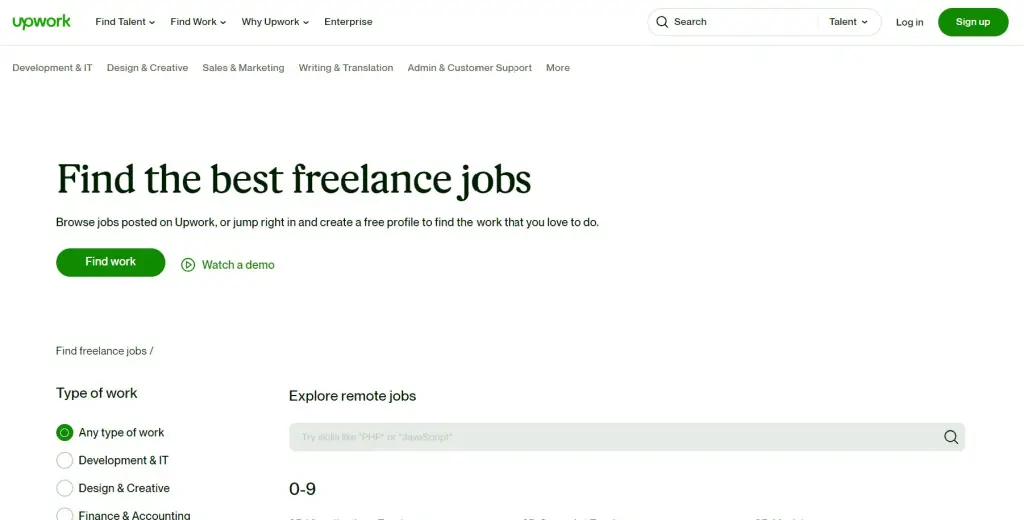 14. Behance
Aesthetically pleasing as a graphic design platform, Behance is a platform where creatives can display their work to get noticed by clients. The social media platform is owned by Adobe and was a finalist in the Silicon Ally Insider Award Finalist as the Most Loved Product or Service.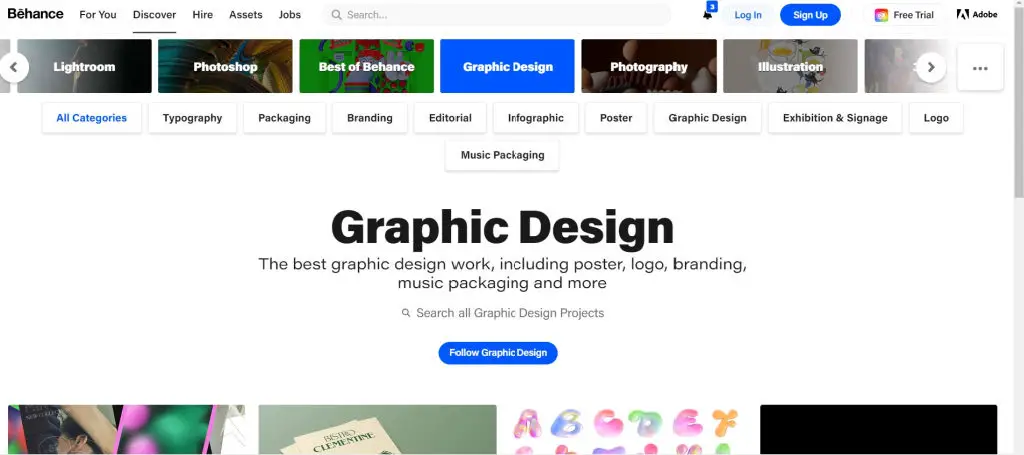 15. Fiverr
With headquarters in Isreal but operating worldwide, Fiverr is an online marketplace for freelance services. The platform connects freelancers and businesses looking for specified services. Listings on the website are quite diverse, ranging from simple tasks like creating a business card to complex IT assistance. The highest-compensated tasks on Fiverr are social media management, copywriting, proofreading, website design, and resume writing.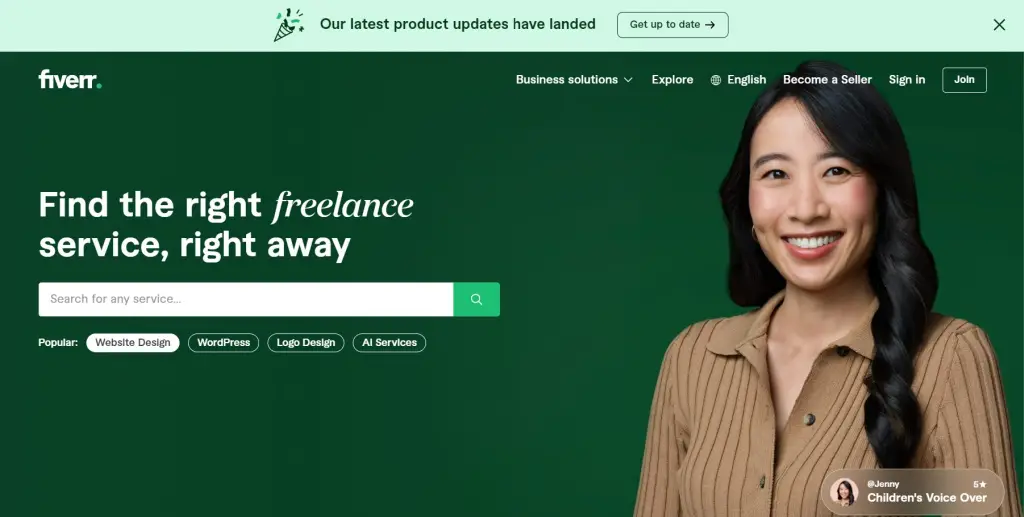 16. Freelancer
This platform offers a huge network of available freelancers with over 1800 categories of different skill sets. These are workers specializing in a variety of creative, technical, IT, and professional domains. Search the Browse Jobs tabs to explore the available postings and job requests. Freelancer is a little more IT-based than other remote job websites.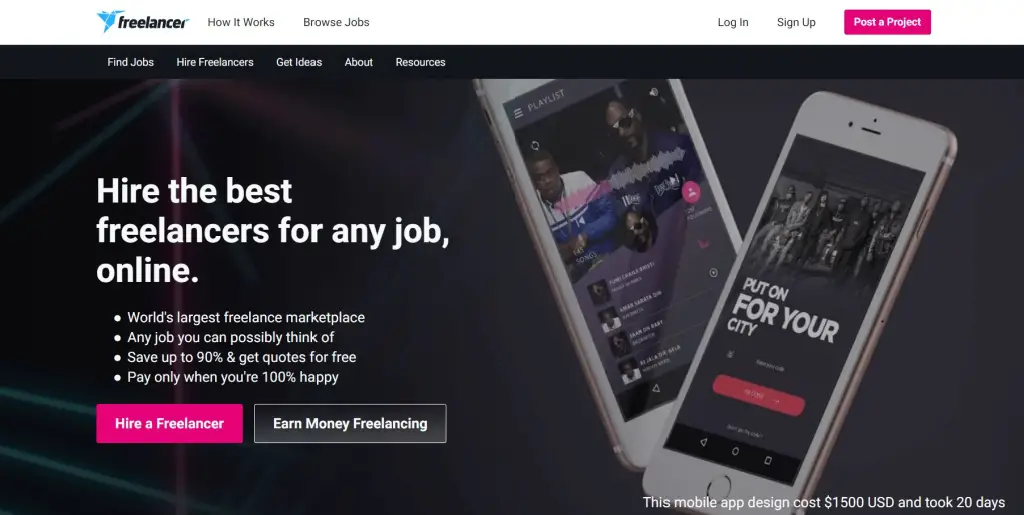 17. Working Nomads
If you are a travel blogger or social media influencer looking to make some extra income while still moving freely, then Working Nomads is for you. This search engine makes it easy with free sign-up with all opportunities geared toward telecommuting.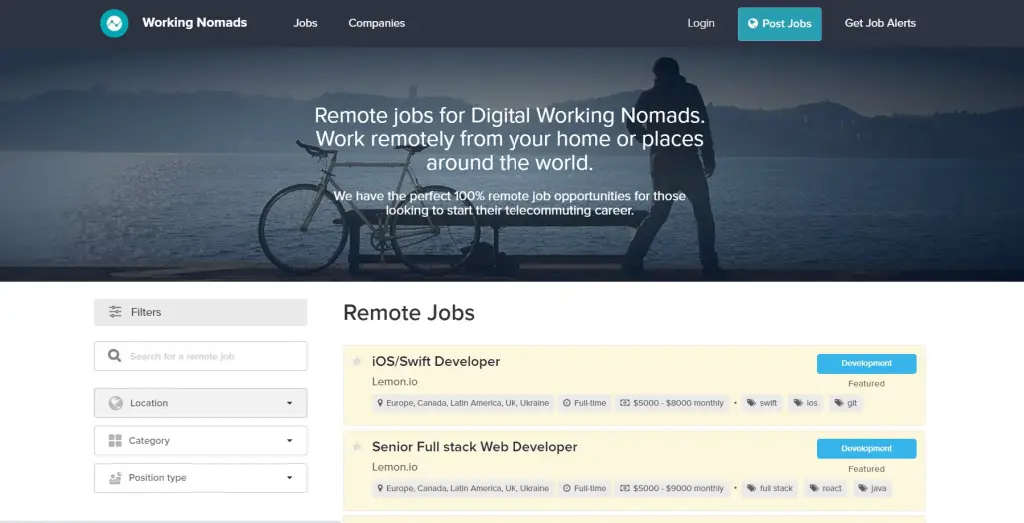 18. Facebook Groups
Joining a Facebook freelance group offers another platform to showcase your services or to post your Fiverr gig. Some remote workers use Facebook groups to quickly build up their online portfolios. For example, a graphic designer may decide to complete a small ad campaign for free in exchange for a positive review on Fiverr.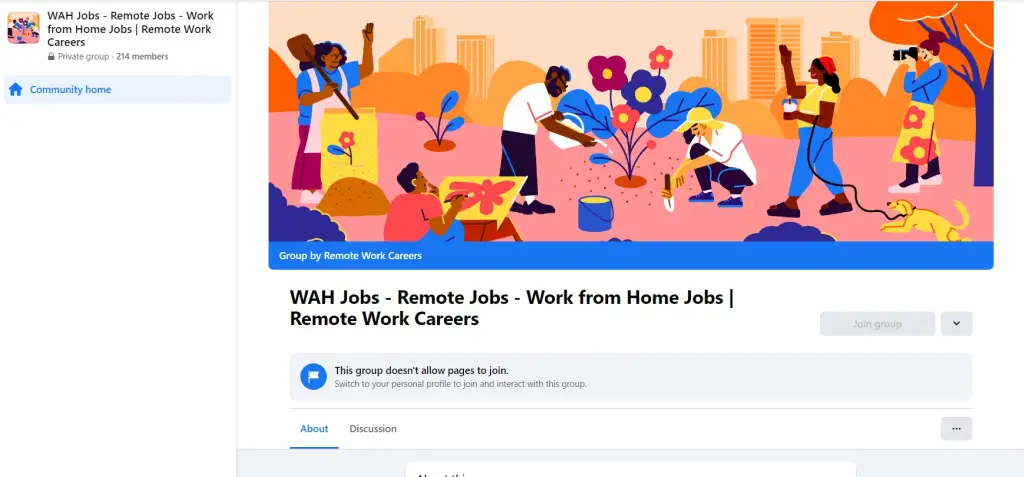 19. Linkedin Jobs
Some consider the Linkedin job section to be highly underrated. This is because you can search for jobs directly related to dual skillset and expertise. Additionally, you can connect with company owners directly by emailing, easily cutting out the middleman. Never underestimate the power of a savvy creative who knows what he wants and reaches out to management to get it.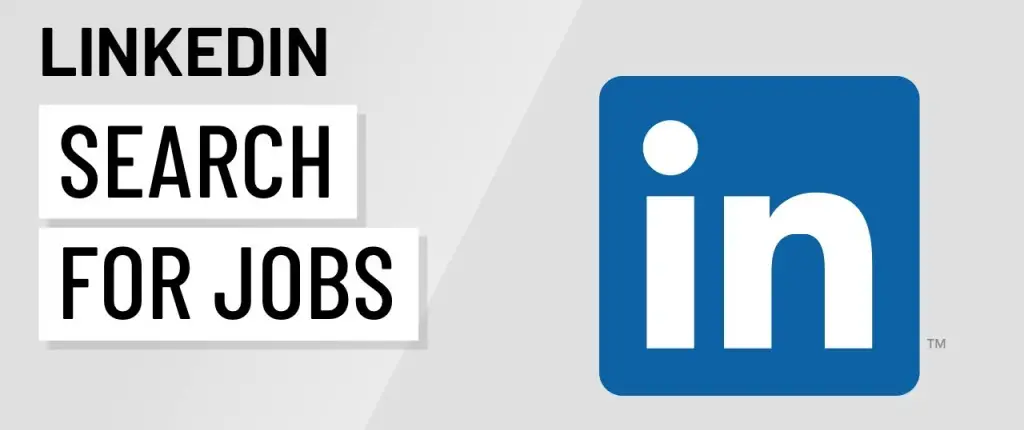 20. Guru
Founded in 1998 in Pittsburgh, Guru connects freelancers and employers for commissioned work. Employers post job requirements and payment offered, while freelancers create profiles showcasing their skills and services. Guru's standout feature is an online workroom, providing a designated space for all communication, discussion, workflow, and payment to be completed in one space.
Another positive aspect is Guru's safe payment system. This unique process allows employees to see that the funds have been deposited digitally into the payment system. Once the task is complete, the funds are released by the employer digitally after approving the work. This means that payments are safe, specified, and secure for both parties involved.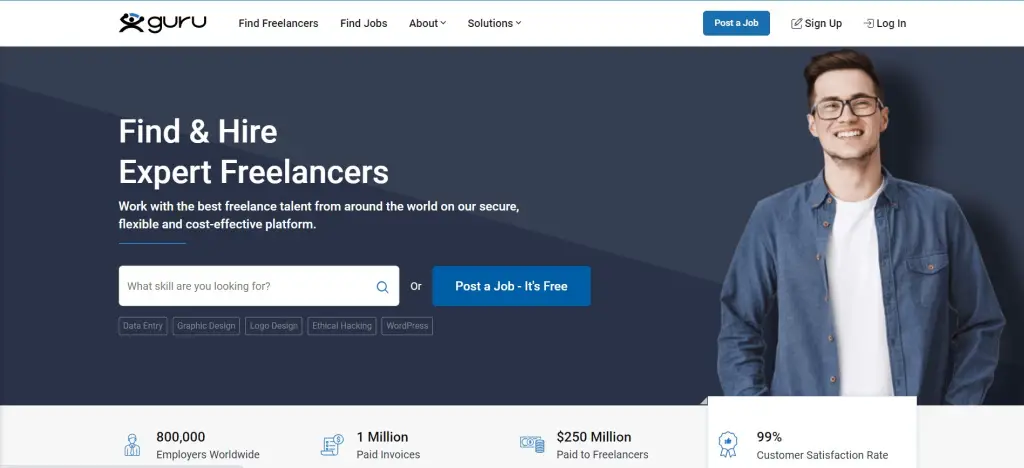 21. PeoplePerHour
Geared toward the European market with offices in London and Athens, PeoplePerHour has a trusted database of expert freelancers and a 24-hour customer service team. The company also offers a money-back guarantee and fraud protection to protect its clients. This particular company is mainly geared toward startups and small and medium enterprises looking to grow by hiring freelancers rather than hiring through temp agencies or taking on full-time employees.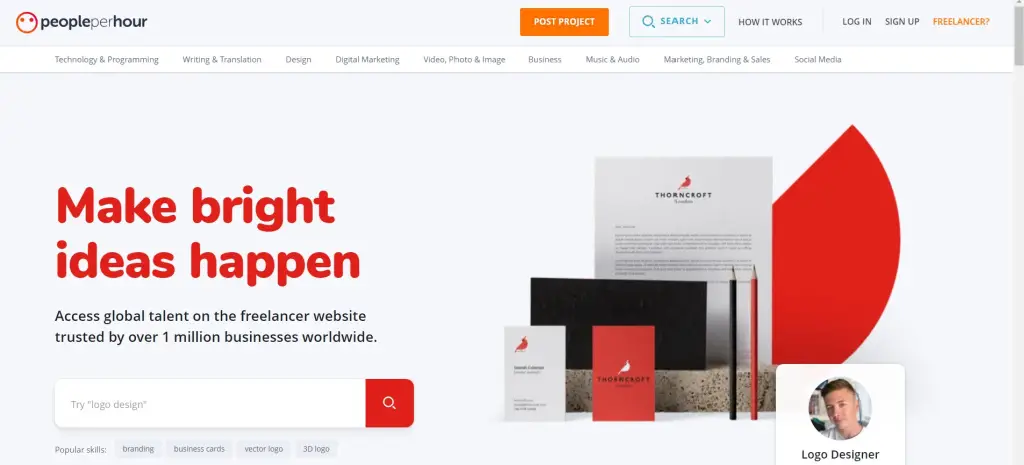 22. Toptal
This global remote work company connects businesses to specific types of freelance specialists. These include software engineers, product managers, designers, project managers, developers, and finance experts. Toptal requires its freelancers to formally apply. Once accepted, these individuals represent the top 3% of freelance talent in business, design, and technology.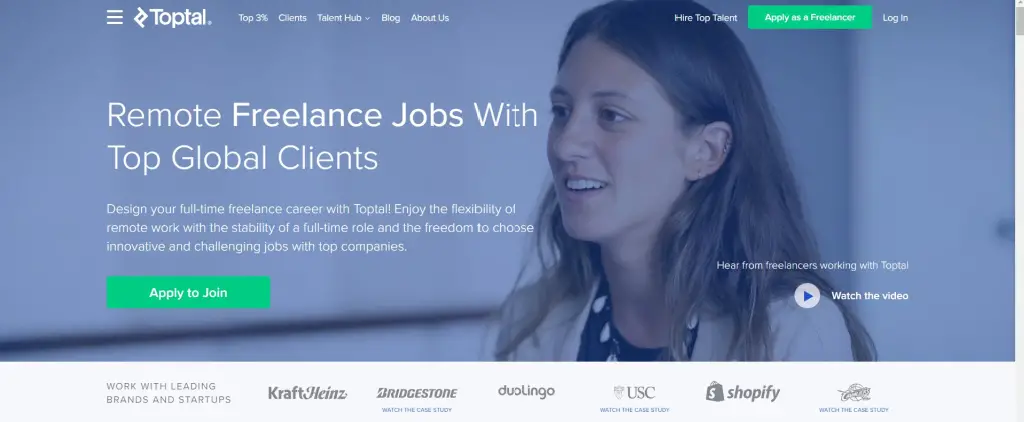 We Need Your Help
Did you find this article helpful? If so, bookmark it and when you're planning your next vacation click on any of the links below before finalizing reservations. You'll get the best price, we'll earn a small commission, and you'll help support future articles.
Thank you!
BEST TRAVEL SEARCH ENGINES
🏘️ Book Your Accommodation
We use Tripadvisor and Priceline's Express Deals to compare prices and reviews in advance and check availability
✈️ Book Your Flight in Advance
To find the cheapest flight options, you can use WayAway and Skyscanner to find the most suitable choice for you
🚗 Reserve Your Rental Car
Use DiscoverCars and Skyscanner to compare prices and view the largest selection of vehicles