Well fam, 2022 has been another surreal year. Those who are awake have endured yet another intense geopolitical year. Often, the key to survival is finding humor in the chaos, making light when times are dark. In the spirit of wrapping up this year with a bang, here are some of the best Christmas gifts sure to trigger your snowflake relatives.
22 Christmas Gifts Sure to Trigger Your Snowflake Relatives
These 22-gag Christmas gifts are the perfect way to be laughing all the way to your next family gathering.
1. Down the Sh*thole We Go!
There's little doubt that the world has gone to sh*t since President Donald J. Trump left office. This toilet paper is a great reminder to those idiotic family members that voted for Brandon.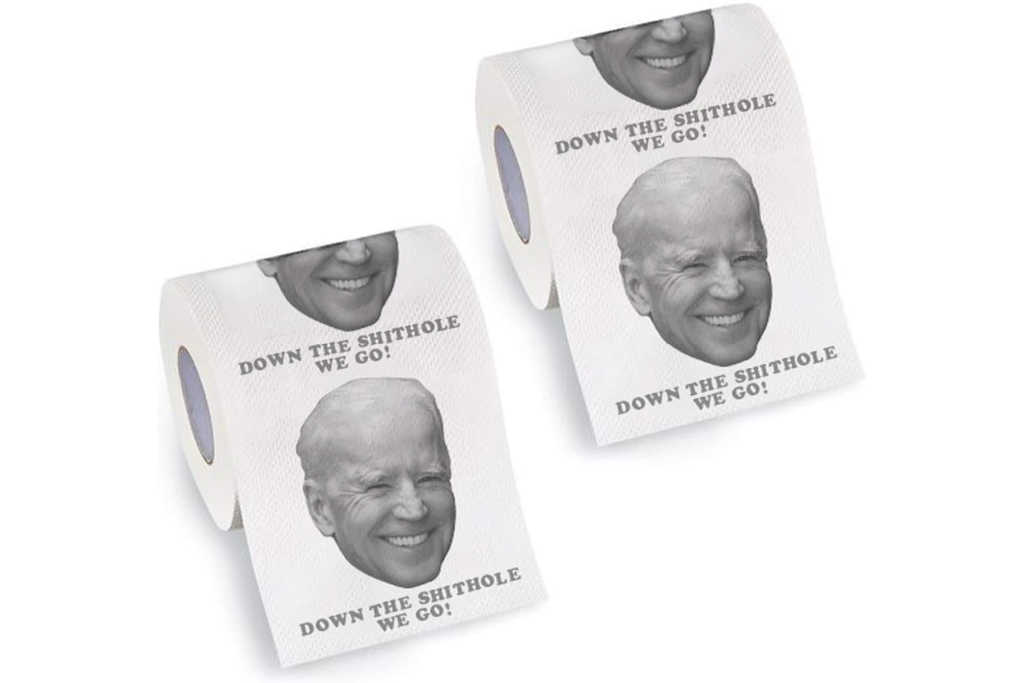 2. Merry 4th of Easter Holiday Sweater
This Merry 4th of Easter Holiday Sweater features Joe Biden's dazed and confused face with such a ridiculous phrase it could only be said by someone with late-stage dementia.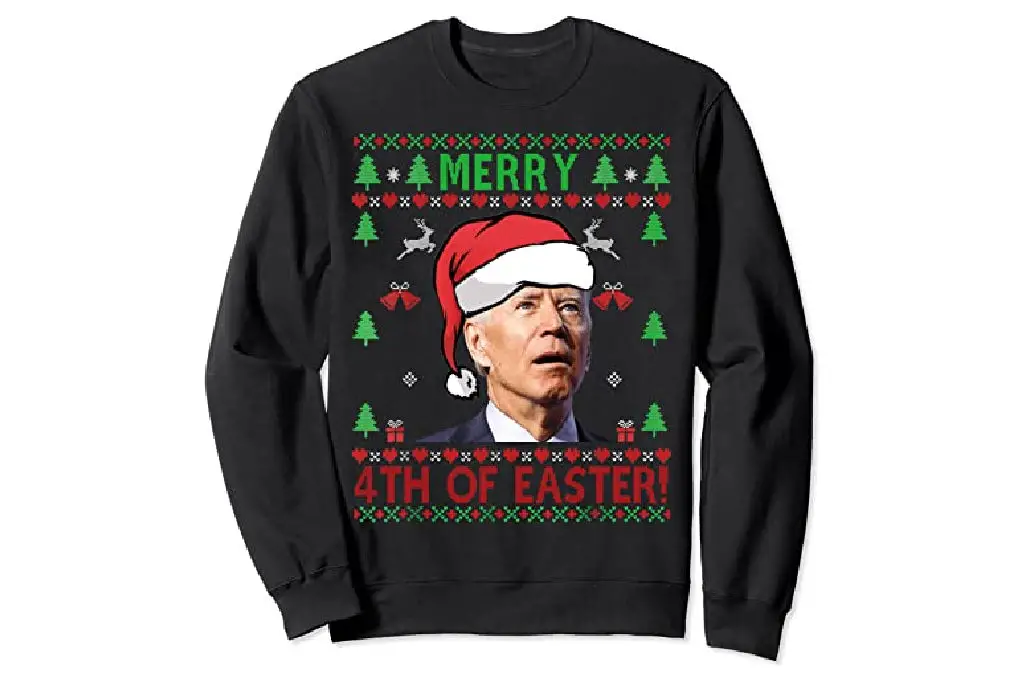 3. I Did That!
Here's a Christmas tree ornament in the shape of a gas station pump featuring the famous "I Did That!" sticker. Furthermore, the screen states, "You could save 30-40% more on everything by switching back to Trump."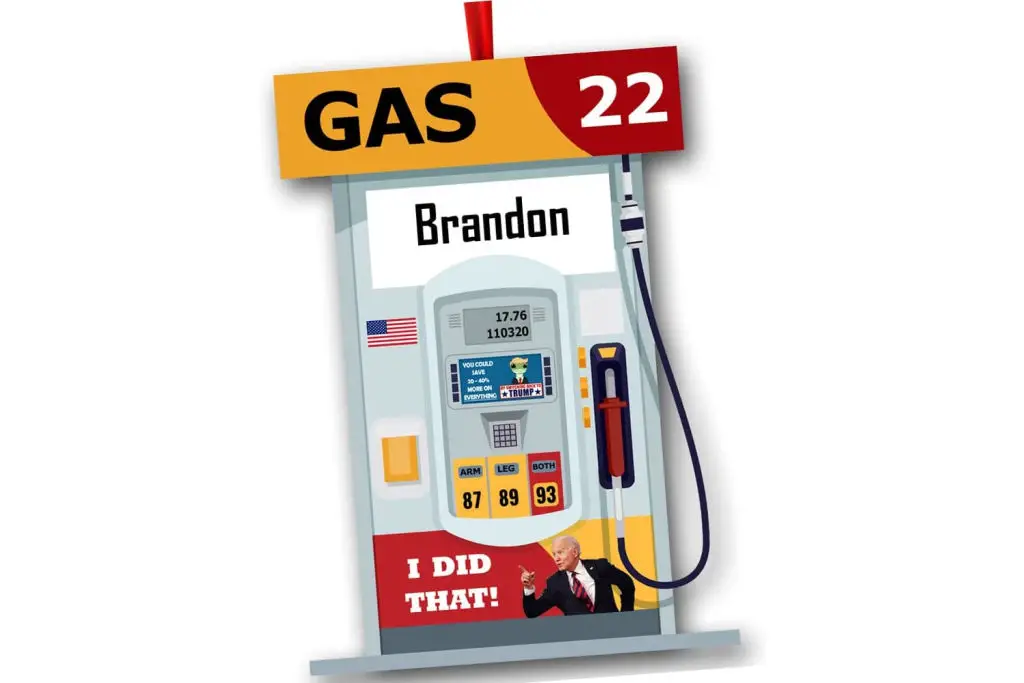 4. Biden Unplugged
Naturally, this book, "Biden Unplugged," about Joe Biden is filled with blank pages. The perfect gag gift.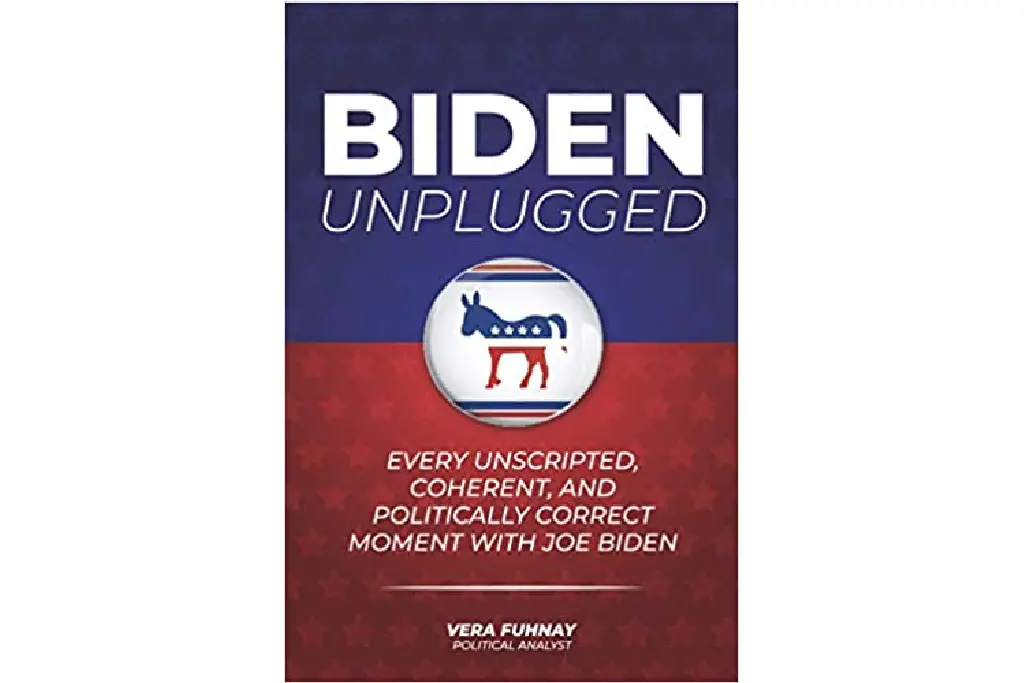 5. Anonymous Mailer
These prank mailers are sent completely anonymously. It will show up in the recipient's mailbox, with an embarrassing, highly visible label.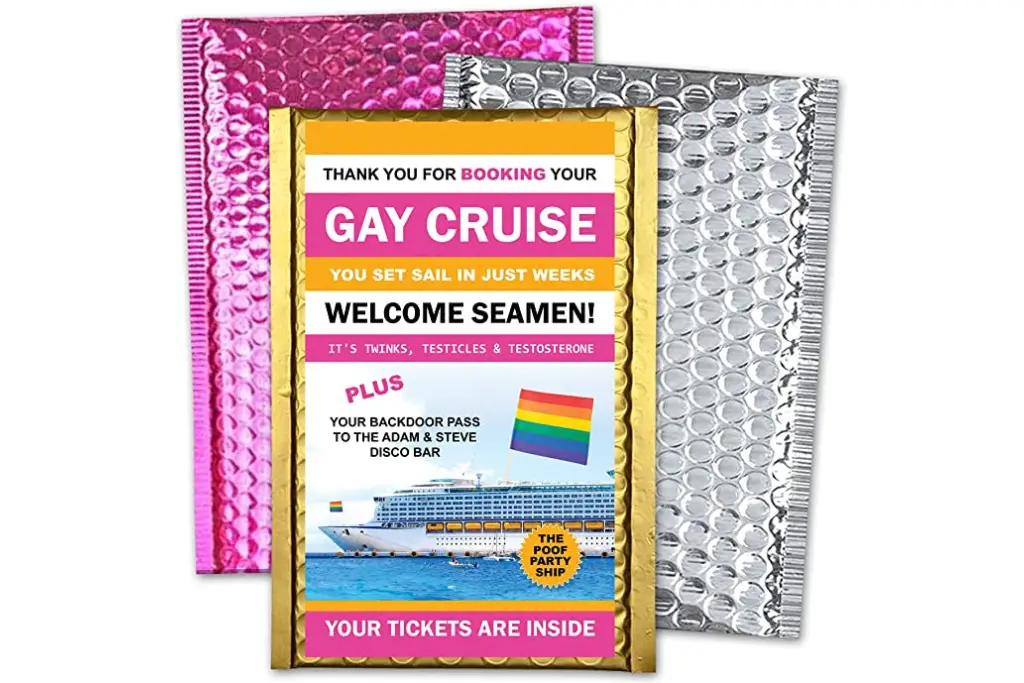 6. No Brainer!
Make drivers do a double-take with these stickers showcasing the very best of the Democratic party because a Biden-Fetterman 2024 ticket is definitely a no-brainer!
7. Traitor Joe's
This long-sleeved comfort tee is the perfect thing to wear while out running weekend errands, especially to stores frequented by granola-loving Dems like Trader Joe's.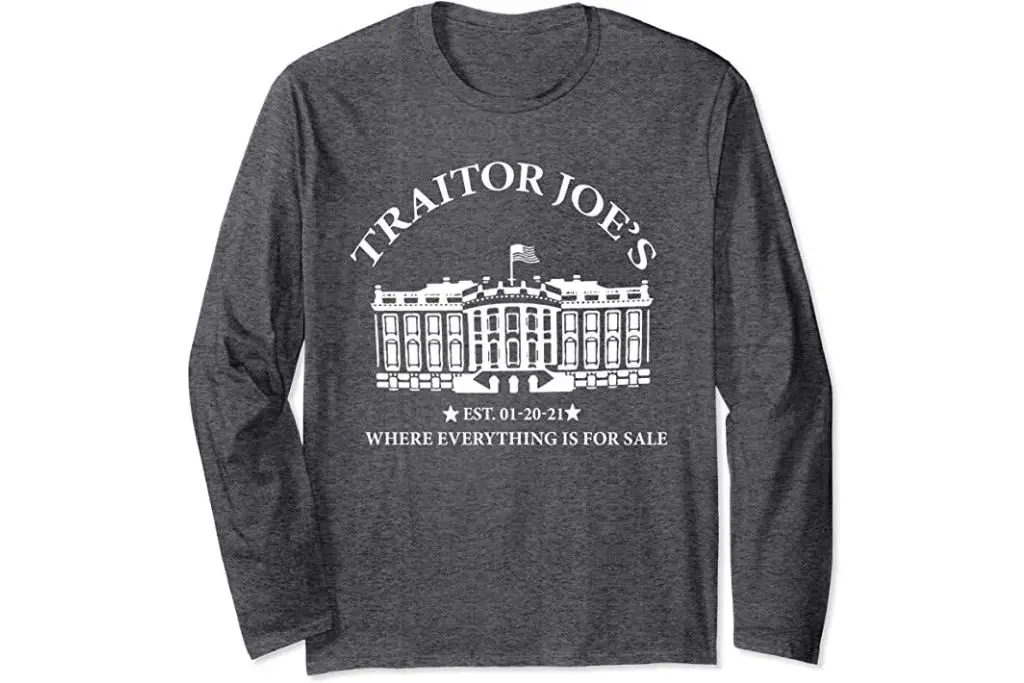 8. Relaxed and Unvaxxed Shot Glasses
Remember the family members who requested PCR tests and vaccine passports to attend holiday gatherings? This year toast to your unvaccinated status, and absence of myocarditis and blood clots, with these clever shot glasses.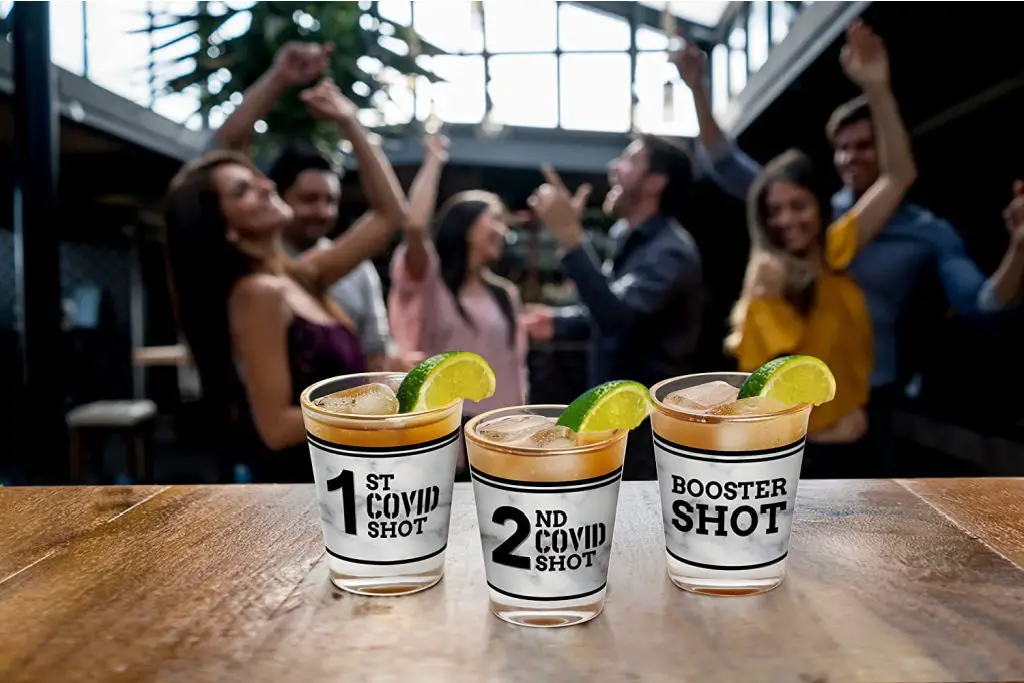 9. Let's Go Brandon Wrapping Paper
Did everyone bring up Joe Biden and his ludicrous policies at Thanksgiving this year to save money on Christmas gifts? If family debates didn't keep your Biden-supporting family away, maybe this funny wrapping paper will help them take the hint.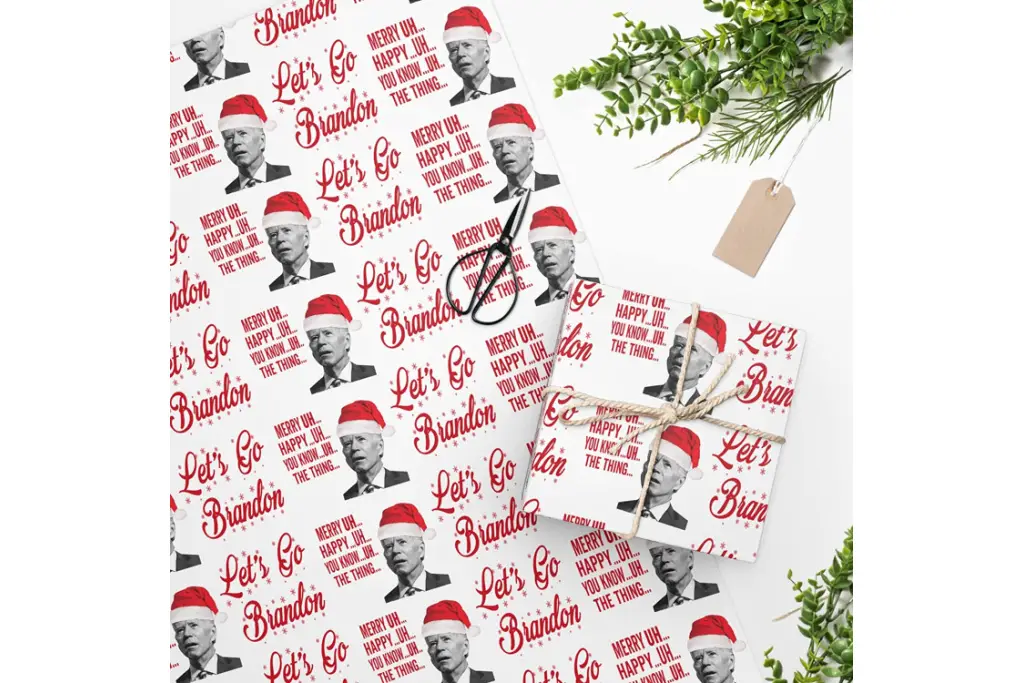 10. How Biden Stole the Election
Have fun at this year's ugly Christmas sweater party with this playful take on How the Grinch Stole Christmas—because everyone knows there is no way that Joe Biden received the most votes in America's political history.
11. Trump 2024 Wrapping Paper
Mailing your relatives their gifts this year? Imagine their faces while opening presents covered in this festive Trump 2024 wrapping paper.
12. See I Told You, I Wouldn't Forget Card…
While family photos are now commonplace, why not send a smile too with this comedic Christmas card?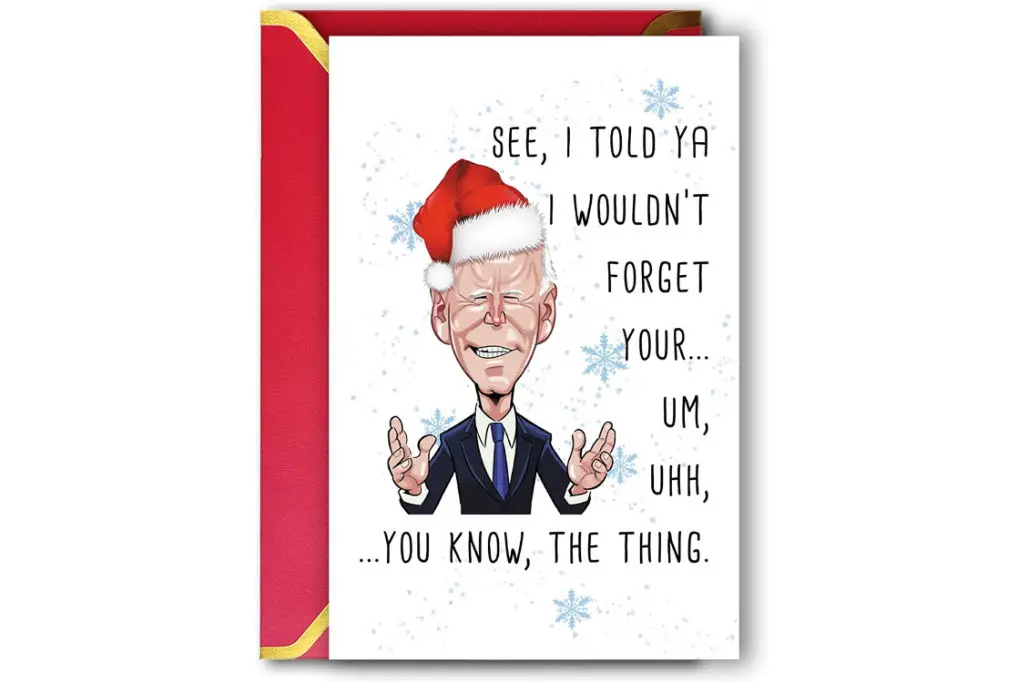 13. When One 'Let's Go Brandon' Wrapping Paper Just Isn't Enough
Support your favorite service member with this military-inspired wrapping paper, featuring the American flag in army green.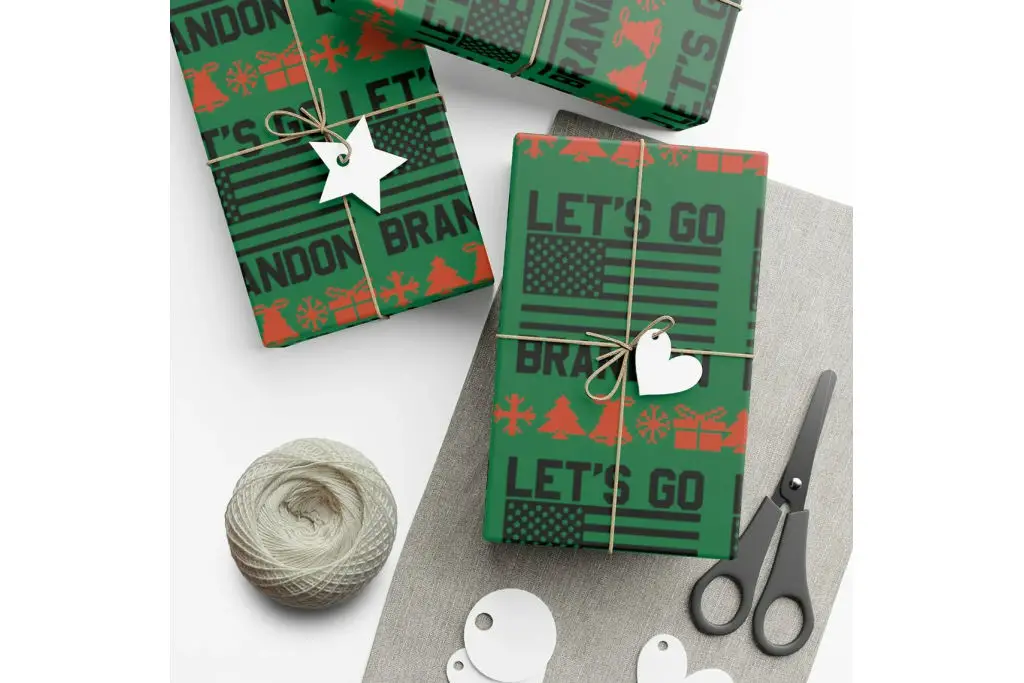 14. You Miss Me Trump Christmas Ornament
We miss you. Americans miss you. The world misses you. Please come back soon. In the meantime, celebrate Christmas with this "You Miss Me" ornament.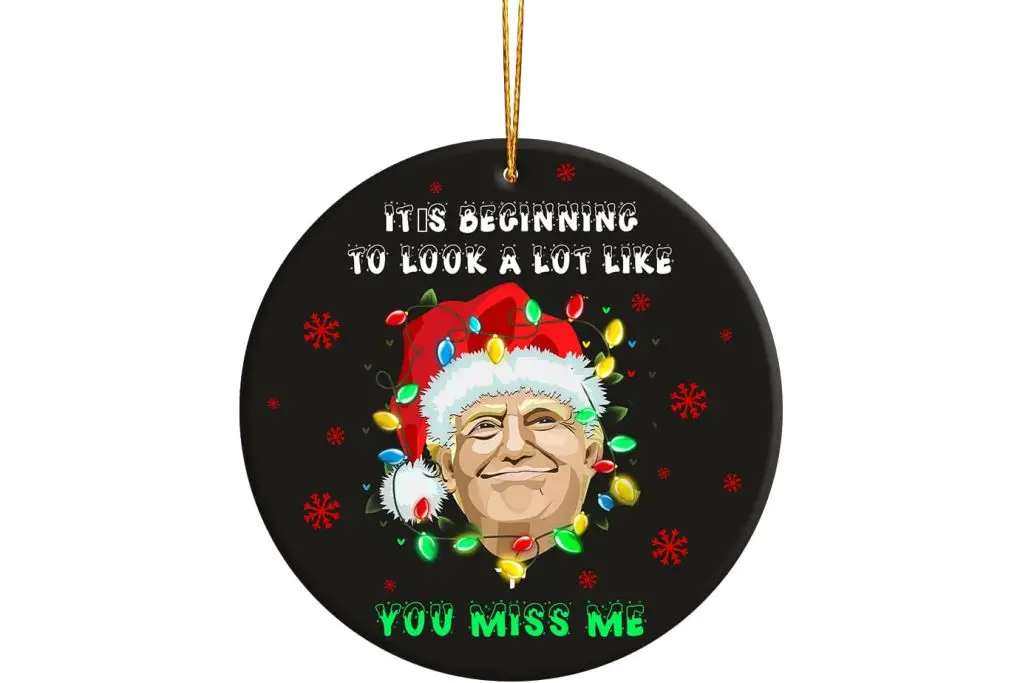 15. Merry 4th of July Christmas Wrapping Paper
The best thing about being Joe Biden is that he can wrap his own presents and still be surprised on Christmas morning. And, with "Merry 4th of July" wrapping paper we can all laugh at the corrupt old man.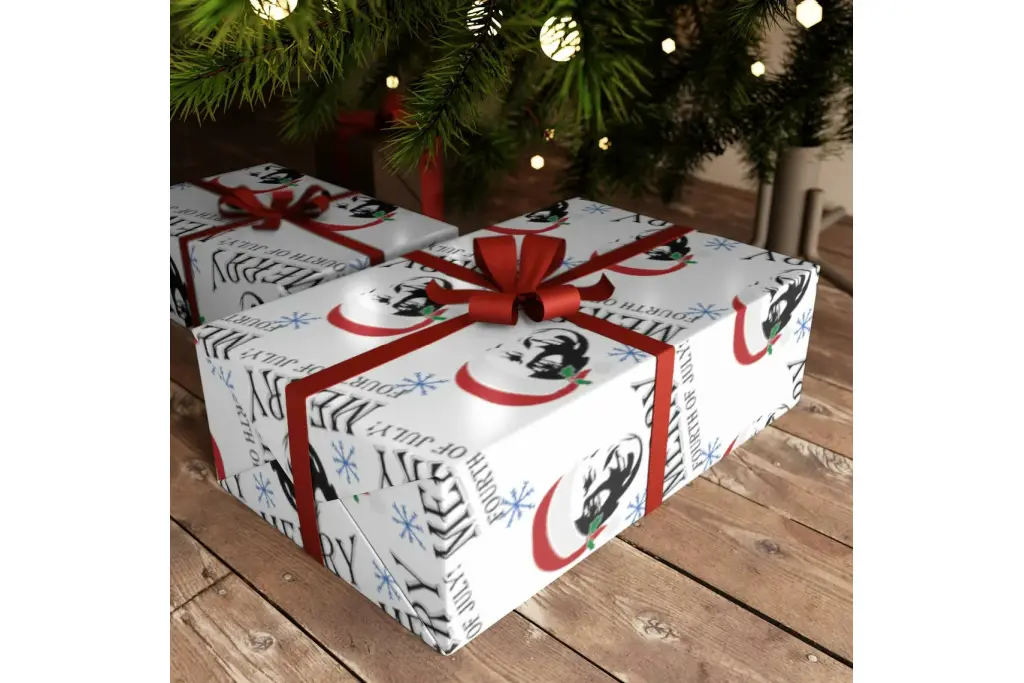 16. Merry Sniffness Sweater
Biden supporters do seem to turn a blind eye to all, don't they? One thing is certain though, the cameras don't lie. This warm hoodie is the perfect way to wish everyone a Merry Sniffness.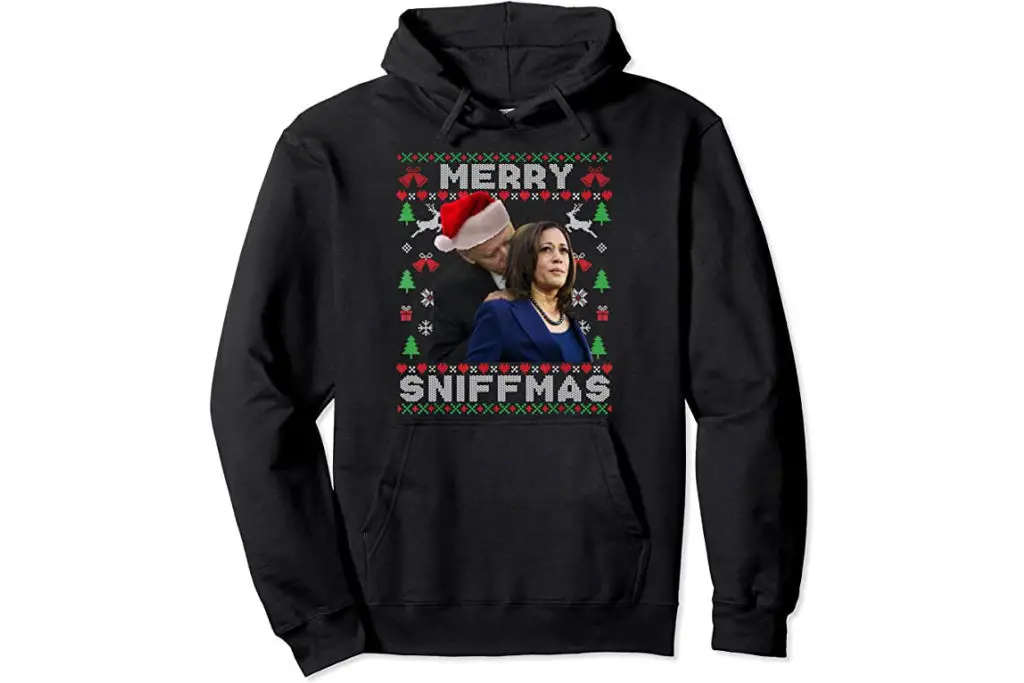 17. Happy Easter Joe Biden's an Idiot Wrapping Paper
Joe Biden wrapping paper is all the rage this year, especially this Happy Easter-themed holiday wrap.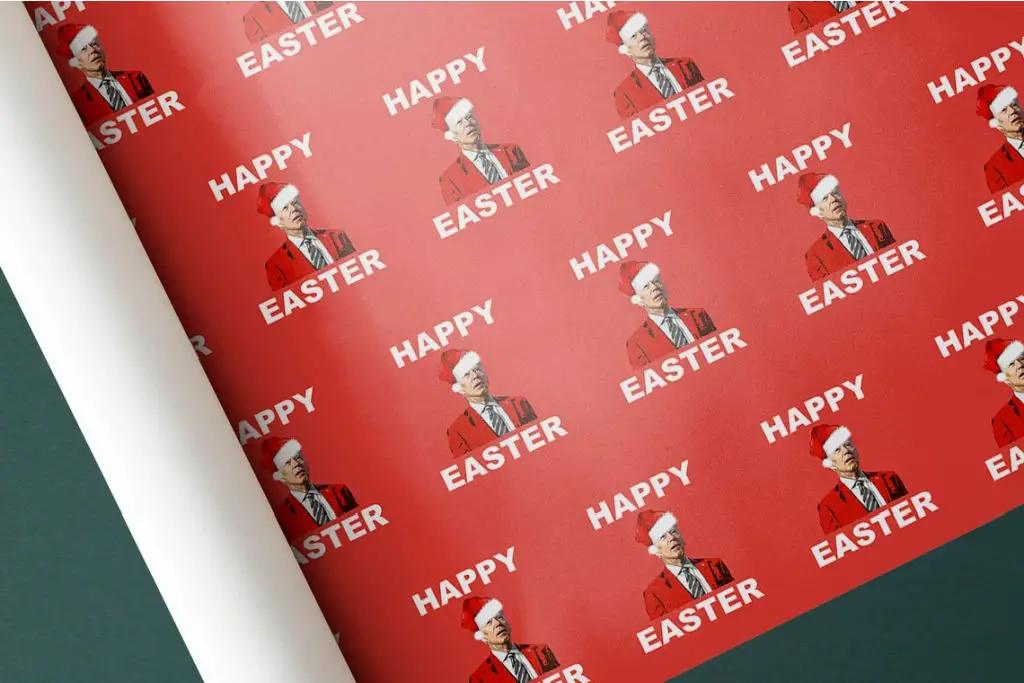 18. Don't Blame Santa – He Voted For Trump
Santa's smart. Smart people voted for Trump. Wear this ULTRA MAGA Santa sweater with pride in knowing that you didn't get bamboozled by the mainstream media.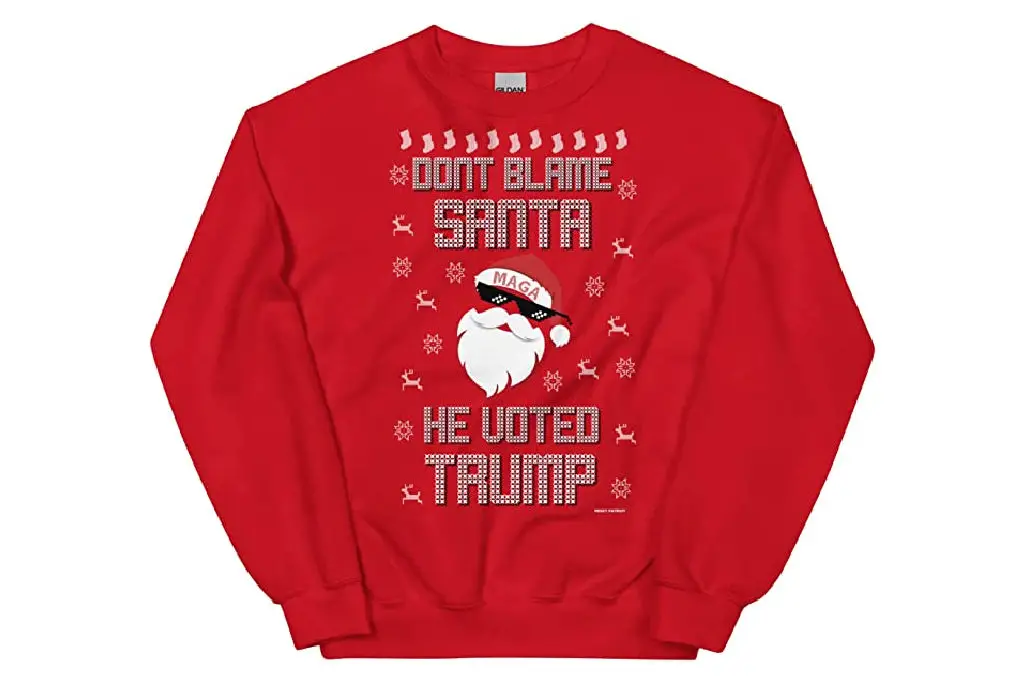 19. Hidin' From Biden
Run children. Run. This "Hidin' From Biden" t-shirt is the perfect way to express to others how much Joe Biden shouldn't be allowed around children.
20. Joe Biden Mumbling Christmas Ornament
Document this crazy year with this "Merry Uh..Uh Happy Uh…You Know the Thing" ornament to remind you and future generations of the worst president in America's history.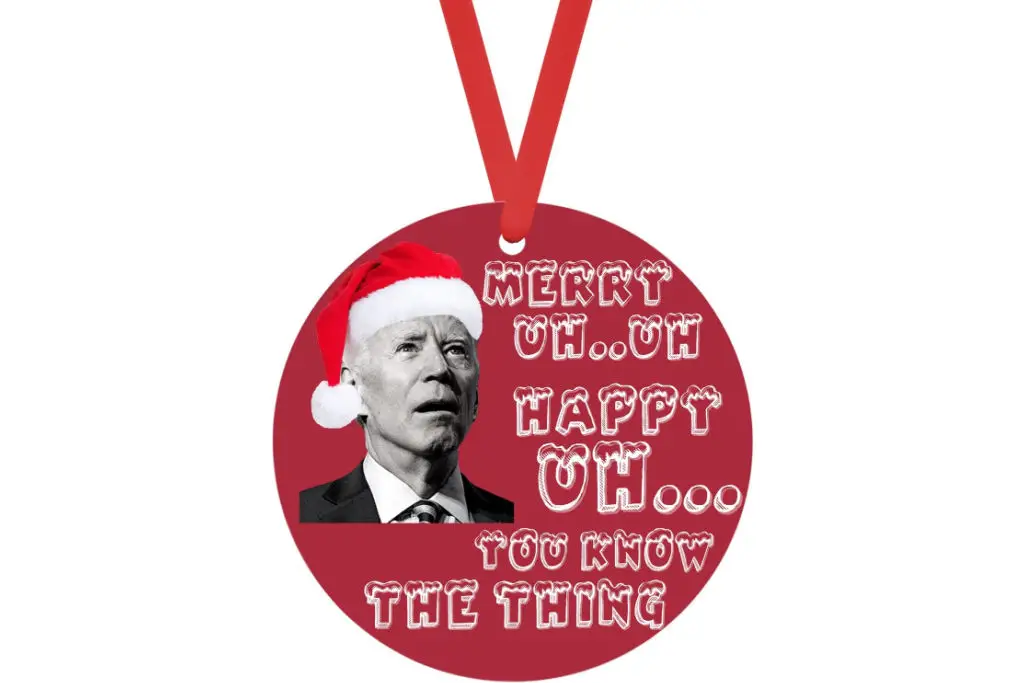 21. Inflation Here to Stay
Inflation is 7.7% and Joe Biden's job approval is 37%. Across America, however, it feels more like Biden's job approval is 7.7% and inflation is 37%. Express your disgust with how Joe Biden tanked the economy in less than two years with this poetic sweater.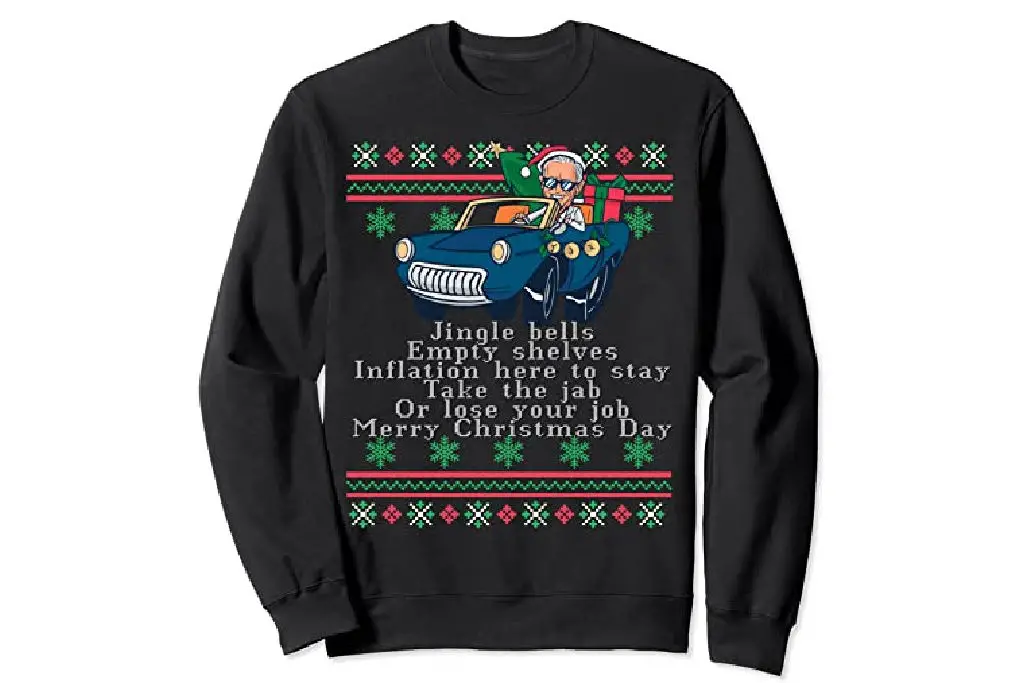 22. All I Want For Christmas…
Patriotic dog lovers will love showcasing their Christmas wish list with this bright and bold comfort tee.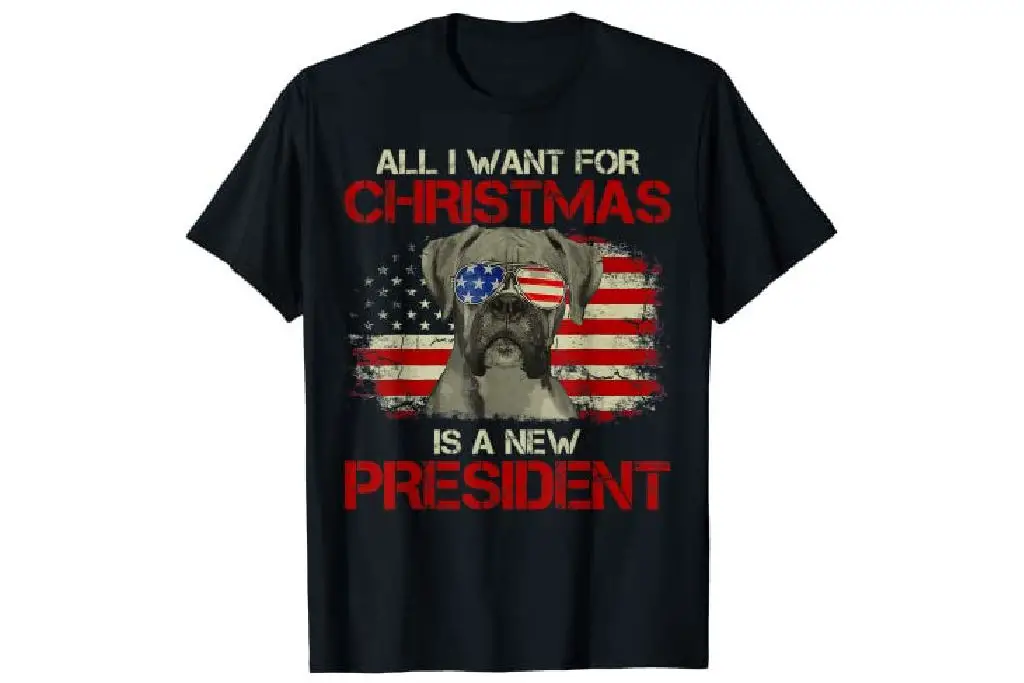 Featured Image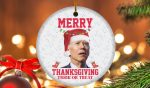 Merry Thanksgiving Trick or Treat Ornament
---
How Can You Help Support Conservative Blogging?
Do you feel like helping conservative travel bloggers? Bookmark this article and click this link to make a hotel reservation and click this link to make a flight reservation before booking your next vacation.
You'll get the best price, we'll earn a small commission, and you'll help support future articles. This way, you're not funding and getting travel advice from a "woke" overweight, pink-haired, "Love is Love" t-shirt bearing, nose ring wearing, chunky glasses donning, rainbow tattoo displaying, modern liberal that hates everything about the USA.