Tomorrow morning we leave Phuket. This transition is going to be surprisingly hard for us after two months of living the Thai life. Living here has been so wonderfully easy. We've been extremely fortunate to live so high on the hog. We've spent two months in two large apartments with comfy beds, beautiful views, and even a drip coffee maker! We've enjoyed access to pools, restaurants and a fitness center.
This will probably be the only time in our life that we'll ever have the luxury of having a housekeeper. I also have been lucky to have been relieved of my job as "head chef" as food here is ridiculously cheap and delicious. Oh, and the fresh watermelon and mango shakes? To die for!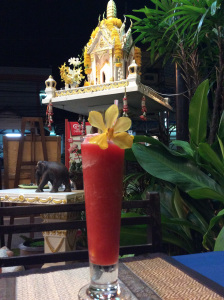 Don't get me wrong, Thailand isn't perfect. We have one more scooter ride tonight before we can say that we've made it out alive. Sounds dramatic, but people die every day on the roads right outside our apartment door due to the crazy Phuket traffic. And although we are surrounded by so many lovely beaches, during certain tides or times of day, sadly lots of garbage washes ashore, covering the sand with plastics and other odds and ends.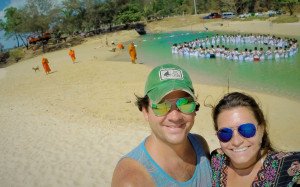 Most travelers and backpackers will attest that the people of Thailand are some of the kindest in the world. We have always felt safe here. People treat us kindly and approach us with a smile. They're always willing to help, even during the very few times when there is a massive language barrier.  Whether it's watching elephants walk along the side of the road on the way to the mall, or a group of Buddhist monks enjoying the beach with tourists, we love the mix of old, Asian charm next to the modern, city vibe.  The icing on the cake is that we can get all our favorite food cravings statisfied here including great pizza, Dunkin Donuts, and even good Mexican cuisine. Seriously? What's not to love?
Thailand was always our respite for our RTW trip. It was a place to live cheap, buy time, and just enjoy the freedom of being beach bums for a while. We enjoyed almost every sunset, often with a drink on the beach or in the infinity pool. It was nice to feel settled for a few months. Spending easy, carefree days in Thailand was our way to try and slow down time. Because, let's face it, it goes by way too fast.
Our amazing view from the Kata Beach apartment. Every night we made sure to stop and watch the sunset. This was the view on our last night.
But now, it's time to pack up the heavy backpacks once again and get back on the road. After Borneo and Japan, we will head to Portugal to explore our 6th continent…Europe! Simple math would indicate that we are getting close to the end. Five continents down, two more to go.
We leave here with two takeaways. First, is that we'll always have Thailand. We weren't kidding when we said we could retire here, joining the large group of ExPats who take advantage of the affordable, simple lifestyle. Living in Thailand may not be our plan A or B, but it could very well be our plan C or D.
And lastly, I share with you our new motto, "It ends, when we say it ends." We continue to feel happy, in love, and at peace as we continue to make our way around the globe and we're going to try our hardest to keep this feeling alive for as long as we can.
It ends, when we say it ends!