Experience the Songkran Festival from the viewpoint of our scooter as we bike through the streets of Phuket. Songkran is the most important celebration of the Thai lunar calendar and is treated as a 'New Year' celebration. It's held throughout Thailand and marks the beginning of the solar calendar (it translates as 'the passing of').
Songkran Water Festival | Thailand | What's It Really Like?
This year, the date of the Maha Songkran or the 'New Year' is set for April 13th, when day and night are of equal length. This will be followed by Nao Day (Middle day) on April 14th, and the New Year itself on April 15th. For some, it's a period of reflection and carrying out of familial shows of respect to elders. But for us, well, for everyone in Thailand, it's a perfect excuse to get crazy, hit the streets, and throw tons of water at anything that moves.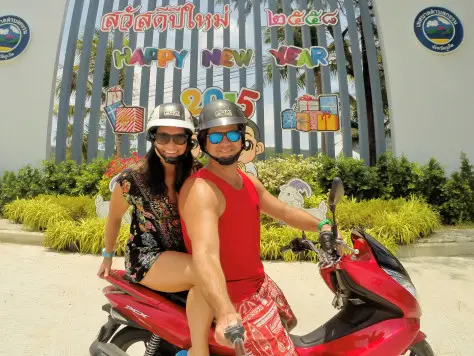 Happy New Year from Phuket!
Next Steps For Us!
But now, it's time to pack up the heavy backpacks once again and get back on the road. After Borneo and Japan, we will head to Portugal to explore our 6th continent…Europe! Simple math would indicate that we are getting close to the end. Five continents down, two more to go.
We leave here with two takeaways. First, is that we'll always have Thailand. We weren't kidding when we said we could retire here, joining the large group of ExPats who take advantage of the affordable, simple lifestyle. Living in Thailand may not be our plan A or B, but it could very well be our plan C or D.
And lastly, I share with you our new motto, "It ends when we say it ends." We continue to feel happy, in love, and at peace, as we continue to make our way around the globe and we're going to try our hardest to keep this feeling alive for as long as we can.