The best places to taste Serbian food will make you wish you were wearing stretchy pants, guaranteed.  Anyone who knows us already can attest that food and wine often drive our travels. We've always felt that you don't truly know a country until you experience its local cuisine. But just like us, most visitors seem to end up traveling to Serbia by accident.
It's not on the typical backpacker route. There's no dramatic scenery, iconic architecture, or beach life that draws travelers in. However, what it lacks in these areas, it makes up for with its food, wine, and nightlife.
Best Places to Taste Serbian Food | Stretchy Pants Needed!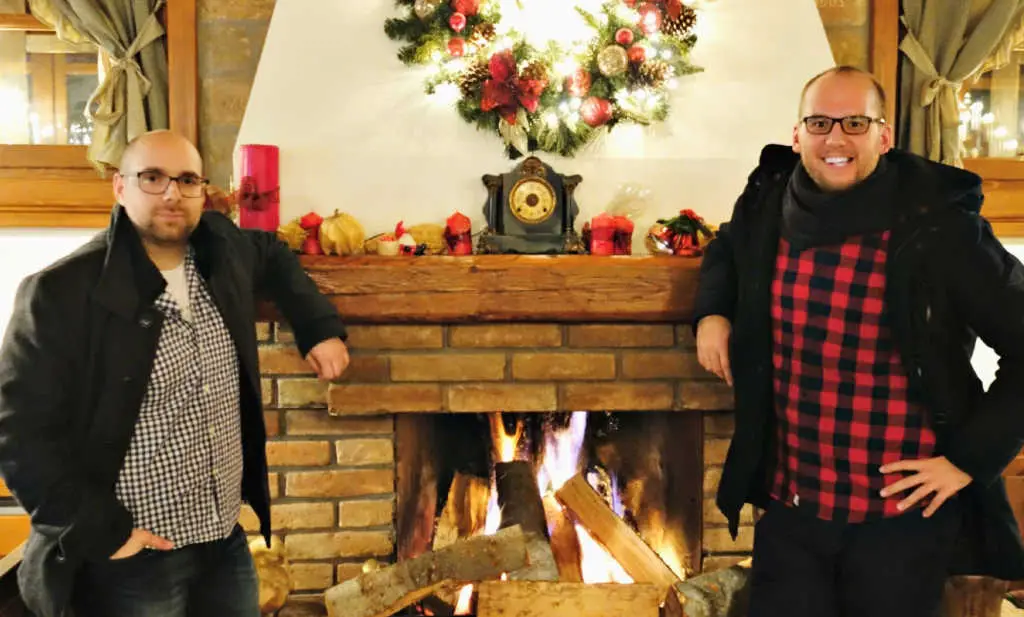 Like the rest of Serbia, Belgrade's pulse seems to awaken at night. And with its affordable prices and high energy vibe, many of Europe's nightlife lovers are flocking to the city to take advantage of what this 'under the radar' city has to offer.
To maximize our short time in the city, we reached out to Goran and Djordje of Taste Serbia to experience true Serbian cuisine. Goran and Djordje aren't just two ordinary locals either. Describing themselves as "IT guys" by day, and "foodies" by night. They have a deep passion for both Serbia's traditional and modern food scene. They started Taste Serbia to bring their love of food to the masses.
On the evening of our tour, Goran and Djordje picked us up at our apartment. Following introductions, we were already laughing like old friends. Our tour was carefully planned to meet our tastes, and we were set to visit two traditional kafanas and a wine and tapas bar. We learned that a kafana is like a local tavern, where friends and family gather to enjoy traditional food, drinks, and live music.
Restaurant #1 – Stara Kafana
Our first stop was Stara Kafana. The fireplaces and warm wood decor make this place a cozy environment to enjoy all the savory goodness of Serbian food.
We were presented with a table full of traditional dishes to try such as kaymak, (a thick cream made from milk) paired with homemade cornbread, potatoes with bacon, a variety of cheeses, pickled vegetables, and crusty spinach and feta pie. Wash it all down with rakia, Serbia's national brandy, and you have one of the most authentic Serbian food experiences in Belgrade.
Restaurant #2 – Epigenia Wine and Tapas Bar
Epigenia Wine and Tapas Bar [Epigenia permanently closed in November 2020. A good alternative is Gvint Brewery and Taproom] is a restaurant where you can enjoy a menu with a great selection of many Balkan wines. Here we dined on beautifully prepared tapas, listening to musicians play high-energy Serbian folk.
The highlight was sharing a bottle of Prokupac, a distinctly Serbian varietal. It's fruity, high in alcohol content, and pairs perfectly with braised meat such as lamb. During our visit, we were lucky to meet with a local sommelier, Jelena Šegrt. He kindly gave us a tour of the downstairs cellar. Teaching us the intricacies of the Serbian and Balkan wine regions.
Restaurant #3 – Restoran Ćiribu Ćiriba
Our last stop on our tour brought us to a quaint, traditional kafana, Restoran Ćiribu Ćiriba. Away from the tourist center, this is truly a place where locals go to get authentic Serbian cuisine. Discreetly tucked away, the location of this kafana would be nearly impossible to find without the help of our hosts.
We loved being greeted in the traditional Serbian way—with glasses of water, four spoons, and a bowl of fruit preserve called slatko. The stand out dish here was this beautiful slab of the most succulent pork we've ever tasted. It was paired with crispy french-fried potatoes on the side.
Our Last Stop | Waddling Included
After our last stop, we waddled back to the car,  wishing we would have worn stretchy pants to make room for all the deliciousness that we just spent hours enjoying. This tour was a foodies dream come true. It was a great way to spend an evening with new friends in Belgrade!
"Often the true heart and soul of a country is found gathered around a dining table, where friends and family share life stories over hearty, authentic food. Taste Serbia is a traveler's way of replicating that same feeling."
– The Budget Savvy Travelers
Special thanks to our fellow foodie friends at Taste Serbia for hosting us and providing us with the opportunity to eat Serbian food to our hearts' content!