Bucharest, Romania is the first city that Harry and I were in disagreement about as a travel couple. He liked the energy of the Old Town, the variety of restaurant options, and the historic architecture. But for me, I had difficulty enjoying the crowded streets, noisy traffic, and the party scene. In addition, it was hard to avoid the abundance of homeless men who were always doing nasty things like drinking while sitting in their own vomit, publicly urinating, and picking on their seeping leg wounds.
Bucharest Romania | Things to See and Do From Romania's Most Hated Travelers
I joked that maybe if I only looked up, maybe I'd like the city more. Maybe that's why so many of my favorite activities took my feet off the ground.
Bucharest is a city where people flock for hen and stag parties, to hang out at packed bars or attend massive, summer concerts. During our stay, I kept feeling the urge to find a quiet corner that I could escape to, someplace that would change my mind about the city. I didn't want to not like it here.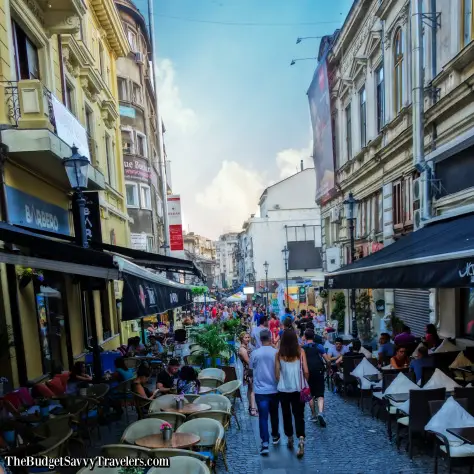 If you're here for the party, you won't have any trouble finding it. However, if you're like me and want to have a more meaningful experience, this is how I'd recommend exploring the city. It was in these moments that I found myself having a fondness for the city.
If you're here for the party, you won't have any trouble finding it.
Hop On Hop Off Bus | Bucharest Romania
One of my favorite memories of Bucharest was touring around in the Hop On Hop Off bus. During our five day stay, it was miserably hot. Bucharest is a big city, with many of the main attractions spread out between long walking distances. When it's hot, touring around quickly gets tiring and unenjoyable. For only $6 USD, the bus takes you on an enjoyable ride around the city. We literally just sat for hours enjoying the cool breeze, admiring the architecture, and views above from the top deck.
There are many negative reviews on Trip Advisor due to crappy headphones, staticky narration, and low-lying tree branches on the route. But seriously? What do you want for $6.00?! It's the cheapest transportation that you'll find for 24 hours of joyriding. Just be aware that there aren't as many buses as in other major cities, so if you do want to hop on and hop off, you may be waiting some time for the next bus to arrive. Just remember to be patient.
Watch this clip of our day traveling through Bucharest Romania
---
While the bus route, you'll view many of the major sites including The Palace of the Parliament, the Arch of Triumph, and the Museum of the National Bank of Romania. From the bus, you'll get an understanding of the layout of the city, and take note of places that you may want to give a closer look.
Check out the slideshow below to experience some of Bucharest's famous architecture. Did you know that Bucharest also has its very own version of the Arch of Triumph? We didn't!
Old Town | Bucharest Romania
Although Old Town is busy, it does warrant a daytime and nighttime stroll. You'll see the cafes, bars, and restaurants come alive and experience the energy of Bucharest. While touring around we were lured into Giradiko, a casual Greek restaurant with great, fresh food and live music. For ~$12 USD we enjoyed two tasty, thick LAMB gyros as we people watched and enjoyed dinner.
Just across the street, there are a variety of foodie trucks where you can dine and drink with your feet in the sand, chill at a picnic table, or swing on a hammock. This area radiated a more relaxed, chill vibe than the crowded bars a few feet away. Worth a stop if you want to enjoy Bucharest's mini beach bar.
While in Old Town, be sure to peek inside one of the world's most beautiful bookstores. Carturesti Carusenl ("Carousel of Light") is located inside a beautifully restored 19th-century building. It features a cafe and a selection of fun books and memorabilia.
Stavropoleos Monastery
Another picturesque, quiet stop is the Stavropoleos Monastery located in the heart of Old Town. Behind the monastery is a quiet courtyard that is a perfect backdrop for a dreamy photo.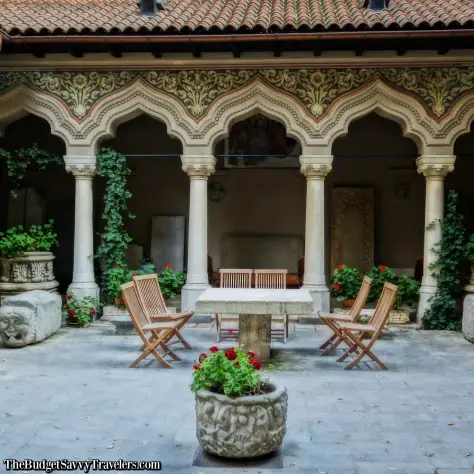 Rooftop Bars | Bucharest Romania
While many may like the "scene to be seen in," we preferred to let Bucharest flaunt its stuff. Head up to Pura Vida Sky Bar which is the only rooftop bar in the Old Town of Bucharest. It's a great place to catch the sunset and have a drink. We would suggest visiting on a weekday night as it gets crowded on weekends. And remember you're here for the view as service, selection, and prices could be better.
Earthquake Warnings
If you're into travel oddities, pay attention to the bright red man-hole sized circles that are on over 300 buildings in Bucharest. These are warnings to anyone in the building that if a major earthquake hits, you do NOT want to be inside. An easy one to spot is on the outside of the tourist information center in Old Town.
Garden Cafes | Bucharest Romania
Another place to find shade on hot, summer days is to head to one of Bucharest's famous garden cafes. We enjoyed Verona Grădină & Cafe with its large umbrellas and cool misting fans. It's a nice stop for lunch for sandwiches, teas, lemonades, or a beer. It's a little pricey for budget standards. Lunch for 2 sandwiches with 2 drinks was around ~$25 USD.
These were our top experiences while touring Bucharest. Do you have any to add? Feel free to shout out your favorite experiences, or your travel reflections of Bucharest, in the comments below.
Travel Reflection 
– Budapest versus Bucharest 
Which is Better F
or the Holidays?
For Christmas 2015, we were on the fence whether to spend the holiday season in Budapest or Bucharest. Ultimately, we decided Budapest due to the lower price of accommodation and the somewhat negative vibe we were receiving from other travel bloggers' write-ups about Bucharest.
This is a personal preference, but I also wanted to be able to celebrate a Catholic Christmas, as opposed to the Orthodox Christmas. We ended up having a very magical holiday season in Hungary. Looking back, I think we made the right choice of visiting Budapest for winter holiday magic and saving Bucharest for summer travels. If another traveler would ask, I'd highly recommend Budapest over Bucharest to spend Christmas.
---
Watch Our Worst Travel Day in Romania
---