The best places to see fall foliage in the US offer some of the most vibrant and vivid colors in the world. Also, for many people, fall is their favorite time of year. It's a great time to be outside enjoying nature. As a result, spectators are frequently blessed with colorful leaves, pleasant weather, improved vitamin D levels, and a feeling of peace.
For many Americans, the best places to see fall foliage in the US are just a short drive away. In short, there's no better way to enjoy an autumn getaway than by getting outside, seeing the fiery colors, smelling the leaves, and perhaps even rolling in them!
6 Best Places To See Fall Foliage in the US
Much of the experience of seeing fall foliage takes place in areas outside of the big cities. For this reason, plan on visiting smaller towns and villages and watching the stresses and chaos of city life fade away. Some of the best activities to do while exploring rural areas include biking, hiking, and boating. In fact, there's probably no better way to enjoy fall foliage than with views from the water.
Below are our recommendations for six of the best places to see fall foliage throughout the U.S. and when is the best time of year to visit them.
1. Galena, IL Fall Colors
Autumn in Galena provides all the perfect "fall feels." Located in the hilly northwest region of Illinois, it is considered one of the most popular Midwest getaways and Illinois' third most popular tourist destination.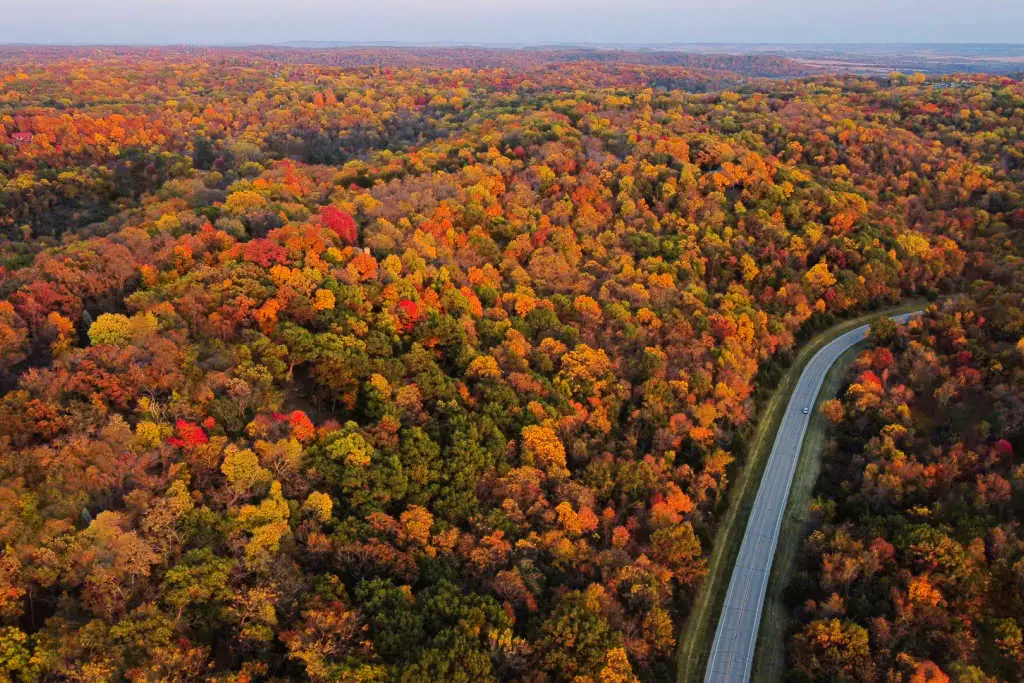 This is the #1 Tour in Galena: The Haunted Galena Tour
The historic downtown is the perfect base to explore the region's natural side. Popular activities include renting a bike to cycle the 8-mile Galena River Trail or renting a canoe or kayak to experience the fall foliage from the Galena River. Alternatively, thrill-seekers can even soar above the fiery colors on an afternoon of zip-lining with Long Hollow Canopy Tours.
Most Original Tour in Galena: Hoof It – Goat Treks
Enjoy fall festivities such as Oktoberfest or the Galena Cellars' Fall Harvest and Art Festival, or for epic time take a hot air balloon ride. There are plenty of organized activities to keep you busy—carriage rides, wine tastings, art shows, vineyard visits, and historic tours.
Book Now: Belle Aire Mansion Guest House ($110)
Best time to visit: mid-to-late September
2. Smoky Mountains Fall Foliage
Gatlinburg is considered the gateway town to the Great Smoky Mountains National Park, and there's basically no better activity than hiking through the Smokies. This mountain town is located in Eastern Tennessee, offering stunning mountain views covered with brilliant autumn colors. When not out exploring the park, head to the touristy downtown to partake in the Smoky Mountain Harvest Festival.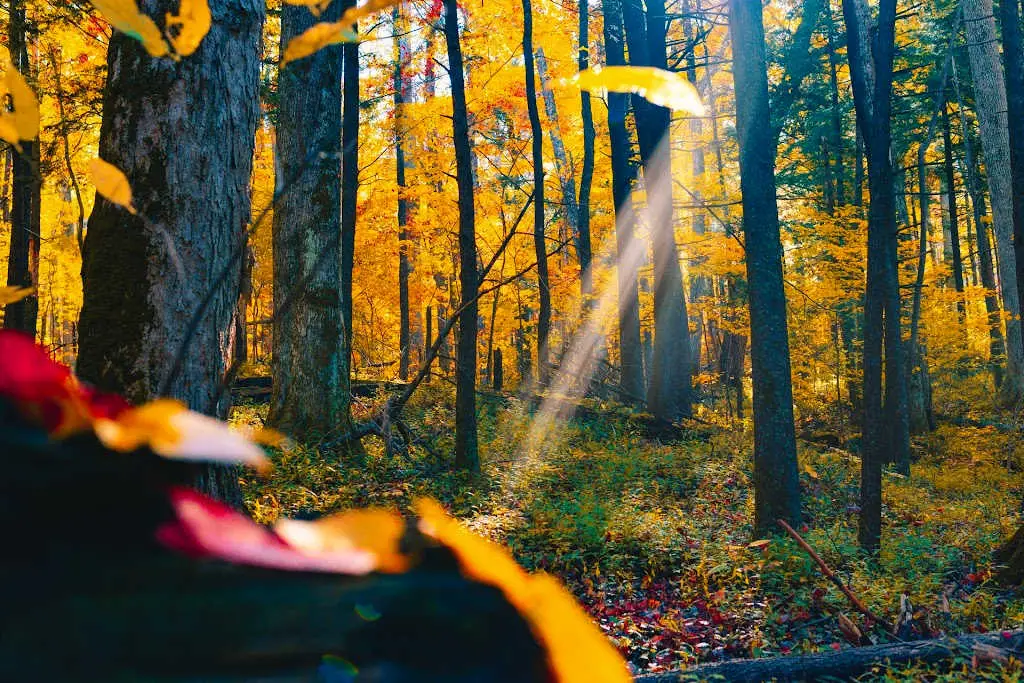 Don't Do This: Haunted Ghost Walking Tour
The entire strip is decorated in festive fall decor, accenting Gatlinburg's many restaurants, shops, and attractions. Other events include Ober Gatlinburg's Oktoberfest, Autumn Adventures at the Gatlinburg SkyLift Park, and Ripley's Fright Nights and Trick or Treat Kick-Off Karnival.
This Can Be a Lot of Fun!: Top Rated Wine and Shine Walking Tour
Book Now: Gatlinburg Mountain Condo ($144)
Best time to visit: late October to early November
3. Greenville, SC Fall Foliage
Caesars Head State Park is a great place to experience some postcard-worthy fall foliage. Located in Cleveland, South Carolina, this stunning region offers time in the brilliant autumn countryside with expansive scenic overlooks.
The Raven Cliff Falls Trail is one of the best places to experience autumn colors. The 4-mile-long trail offers dramatic viewpoints, over 50 waterfalls, and opportunities to see the thousands of migratory raptors that venture into the park.
Fun Activity: Haunted Segway Tour
Many folks decide to plan their visit during the Fall for Greenville Festival. Considered one of the best fall festivals in the country—75 bands provide live music, over 50 restaurants serve up local eats, and over 50 beers and wines are on tap. It is held on Greenville's Main Street. Make sure to taste something from The Lost Cajun and the Carolina Ale House.
Book Now: Cozy Cottage 2 Minutes to Downtown ($169) or Microtel Inn ($79)
Best time to visit: early to mid-October
4. Aspen Fall Leaves
This treasured skiing destination is just as enchanting during the fall as it is in the much colder winter months. One of the best locations for viewing fall foliage is in the White River National Forest, specifically the Maroon Bells Scenic Area.
Maroon Bells is the perfect backdrop for discovering the magic of autumn. With more than 100 miles of trails, hikers will appreciate the excellent hiking opportunities. Furthermore, some of the best places to walk include the Sunnyside Trail and along Aspen Mountain Summer Road. Also, this is one of the best places in the US to go rafting, paddling, horseback riding, hot-air ballooning, and mountain biking.
Book Now: Laurelwood Studios ($144)
Best time to visit: late September
5. Fall Colors Upstate New York
Located amid New York's Catskill Mountains, near the quaint town of Hunter is Hunter Mountain, one of the best places to see fall foliage in the northeast. With an elevation of 3,200 feet, Hunter Mountain provides wonderful vistas of the surrounding area.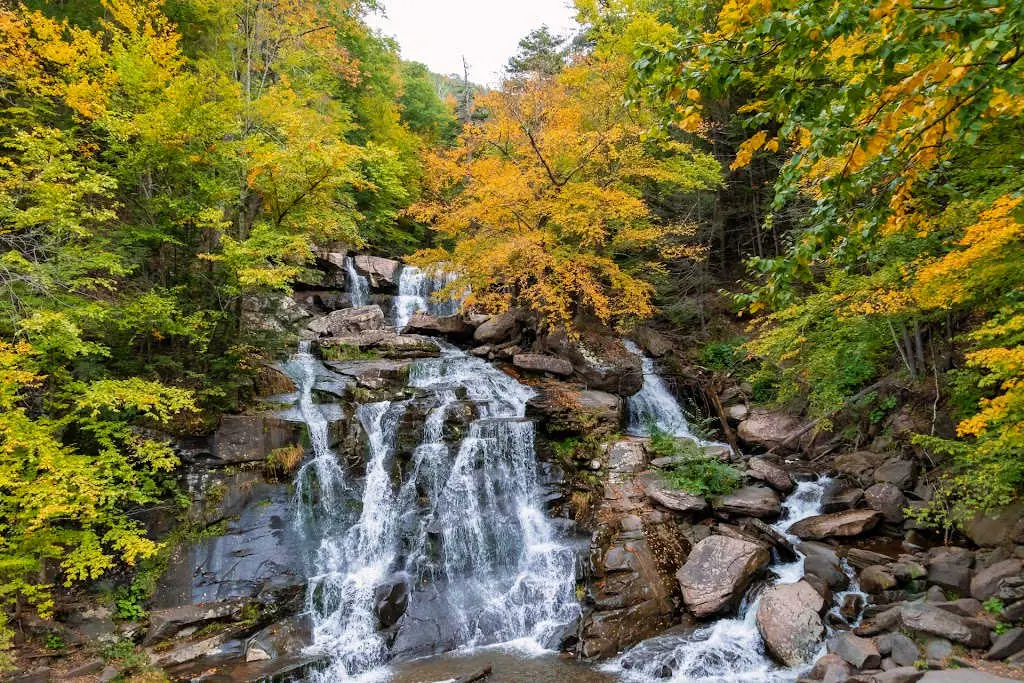 Check This Out:  2 Days-Hiking, Wineries, Walkway Over the Hudson, Luxury Hotel
On clear days near the summit, visitors can see Vermont and Massachusetts. Travelers looking for an adrenaline rush may go zip lining between gigantic treetops or seek out an easygoing experience like the SkyRide—a state-of-the-art six-passenger lift that takes guests directly to the summit of Hunter Mountain. Also, anyone looking for a combination of adventure and relaxation may want to check out Hunter's fabulous fly fishing school.
Book Now: Starlite Motel & Suites ($165)
Best time to visit: early to mid-October
6. Upper Michigan Fall Colors
Outdoor enthusiasts will cherish a charming fall getaway to Upper Michigan, especially to Grayling in the Northeast. Visit Hartwick Pines State Park, a 49-acre public recreation area to admire the fall colors on both hiking and biking trails.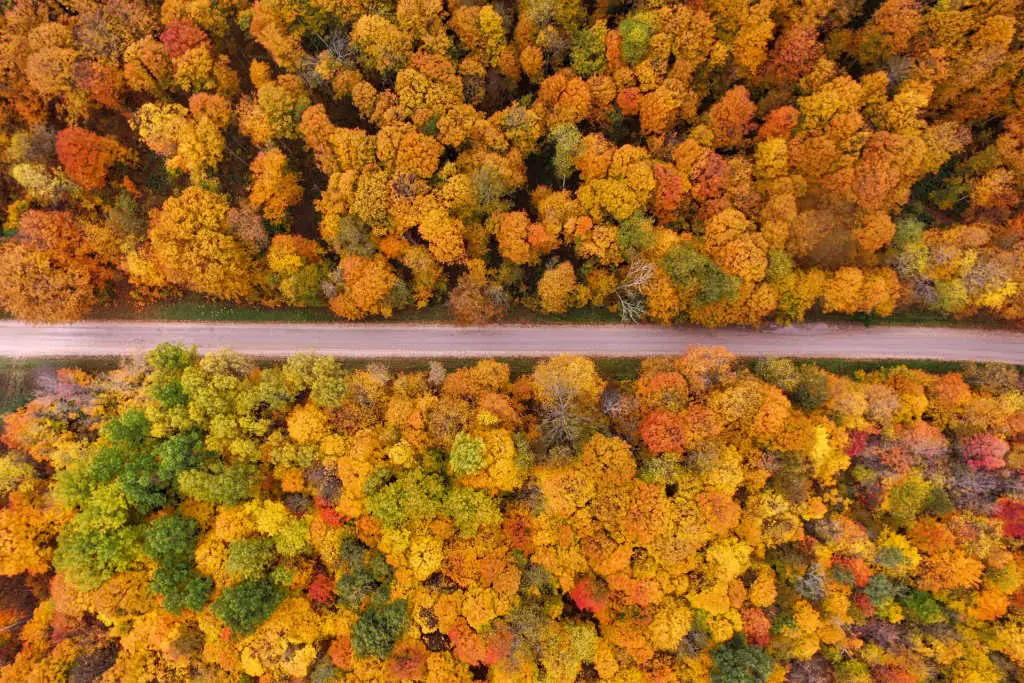 If the weather is pleasant, another wonderful option is to rent a canoe or kayak and paddle or float down the Au Sable River. This is the perfect opportunity to admire the changing leaves, listen to the sounds of nature, and just be.
Book Now: Woodland Motor Lodge ($75)
Best time to visit: mid-to-late October
There are plenty of places around the US to see colorful leaves. However, the best places to see fall foliage will feel like a life-changing event, life will feel more vibrant and beautiful afterward. Visit one of the six places above and don't just see autumn, but feel autumn.