Too Balkan for America. Too American for the Balkans. Living what seems to be dual lives, American travelers Audrey & Harry find themselves in a state of limbo as they try to reconcile life between what they consider two motherlands.
Audrey and Harry have been continually traveling the world for over seven years and during that time have visited Macedonia three times. We sat down with them to find out what makes them tick and to share their perspective on everything Macedonian.
This interview is an English-version preview of the one being prepared by Macedonian media.
How many countries have you visited so far and do you have a favorite?
We've been to 69 countries. We don't necessarily have a favorite country but we do have destinations within many countries that we love. For example, in the Balkans, we have a fondness for Santorini, Greece, Ksamil in Albania, Makarska in Croatia, and Sveti Stefan in Montenegro. In Macedonia, we love visiting the Povardarie wine region, where we can eat and drink very well in a setting that feels like a blend of Napa Valley and Boise, Idaho.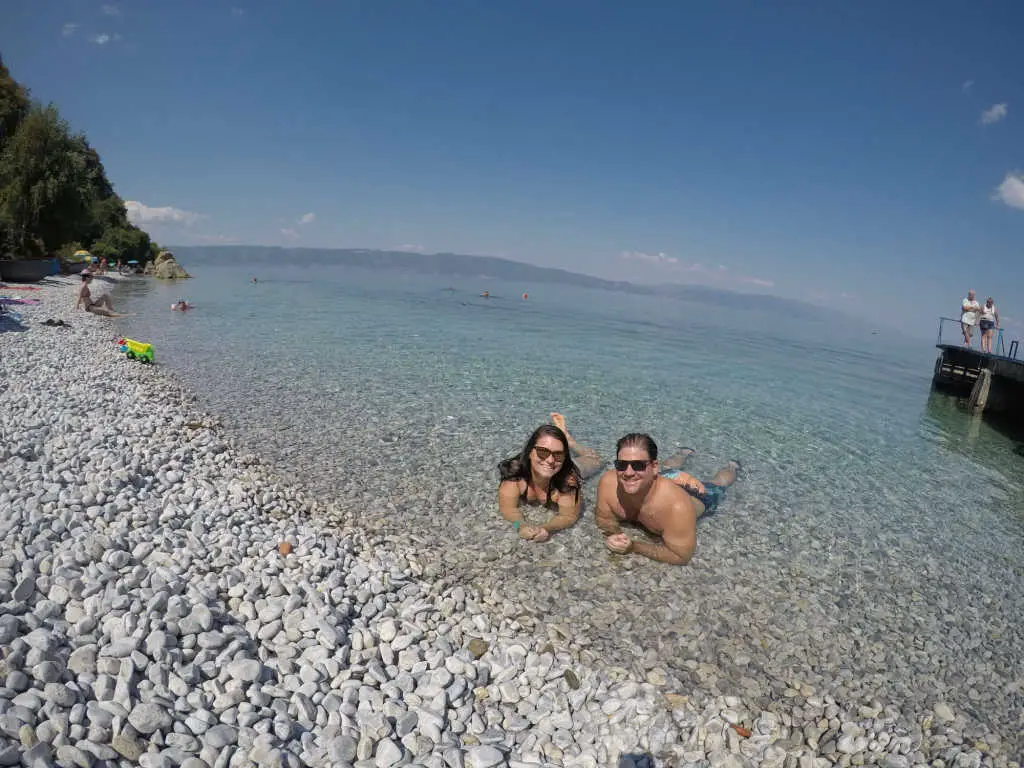 In Skopje, we enjoy staying near the City Park and walking/exercising along the river, and visiting fabulous restaurants at night. Near Lake Ohrid, we take great pleasure in sitting along the River Drim at a restaurant and watching people jump off the bridges and swim. During our latest journey, we explored the eastern part of Macedonia, which we've always talked about doing but could never find the time. We were really inspired by the Stone Dolls of Kuklica and Kokino.
What was your first impression of Macedonia and what do you think now after knowing it better?
We arrived at Alexander the Great Airport late at night. As a result, our first impression of Macedonia occurred in Skopje. Travelers have described Skopje as quirky, unique, and unlike any other place they've ever visited, so we were intrigued to explore it for ourselves. While we did find the price tag of the new architecture to be exorbitant, we did think it created quite a fun atmosphere. It sort of reminded us a bit of what hotels in Las Vegas do to attract tourists.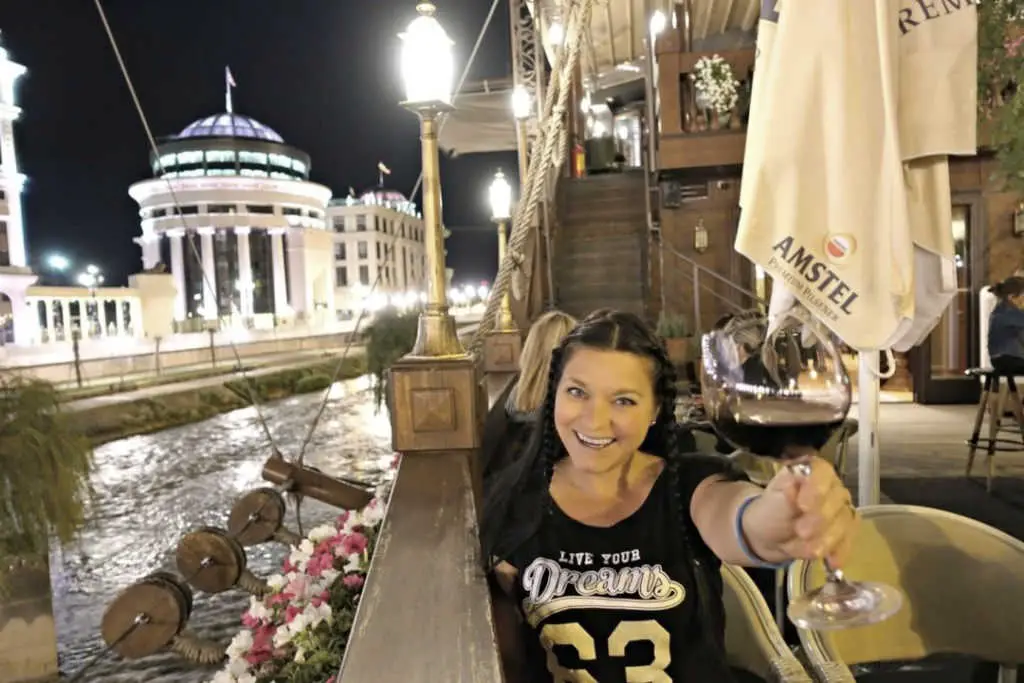 One of our favorite restaurants in Skopje is Senigallia. Dining on a stationary ship, while enjoying cooling river breezes with views of the city, is a fun anomaly! We always make a point to go there for dinner every time we are in Skopje. After spending so many months in Macedonia, we realize though that the country's natural beauty is what keeps us coming back for more. This year we have been blessed to spend time in smaller towns such as Stip and Makedonski Brod which now are some of our favorite cities in Macedonia.
How many times have visited Macedonia?
This is our third time visiting. We visited in 2017, 2019, and now in 2021.
Most of the tourists visit Ohrid and Skopje, but you have been to almost every city, so tell me, which one is your favorite and why?
No matter how big or small a city or town, just about every place around the world has something unique to it. Some of our best travel days are spontaneous. We head out without a guidebook or a pre-planned itinerary and just see where the day takes us. We both have fond memories of our time in both Ohrid and Skopje but if we were going to simplify the answer, let's put it this way, Audrey's a Bitola girl and Harry's a Prilep guy. There's something in Macedonia for everyone, you just have to find it.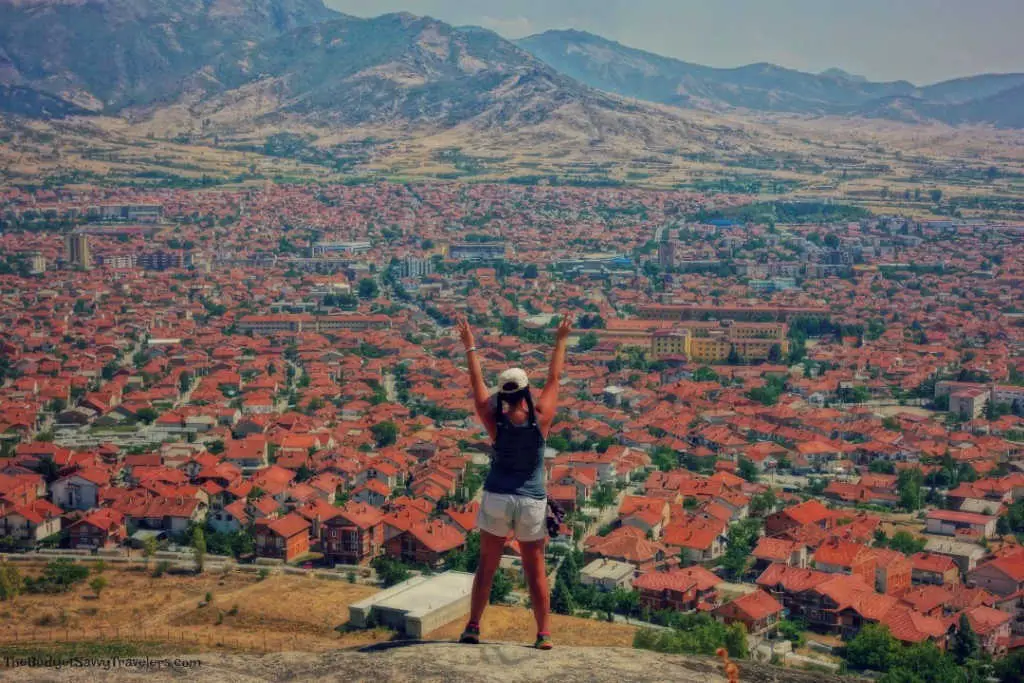 Your opinion about Macedonian cuisine, likes and dislikes, and what was the most unusual for You two?
During our third trip to Macedonia, we finally tried local snails for the first time. They were grilled and had a bit of balsamic vinegar on them. They were nutty, a bit interesting. Now, we'd like to try them again somewhere else to compare them to our first experience.
In terms of likes, we can't get enough of the river trout, pork pastrmajlija with spicy pepper and kaymak, roasted peppers, and chorba. However, it is almost impossible for us to get up early enough to have it. So can we extend the serving time of chorba to 6 p.m.?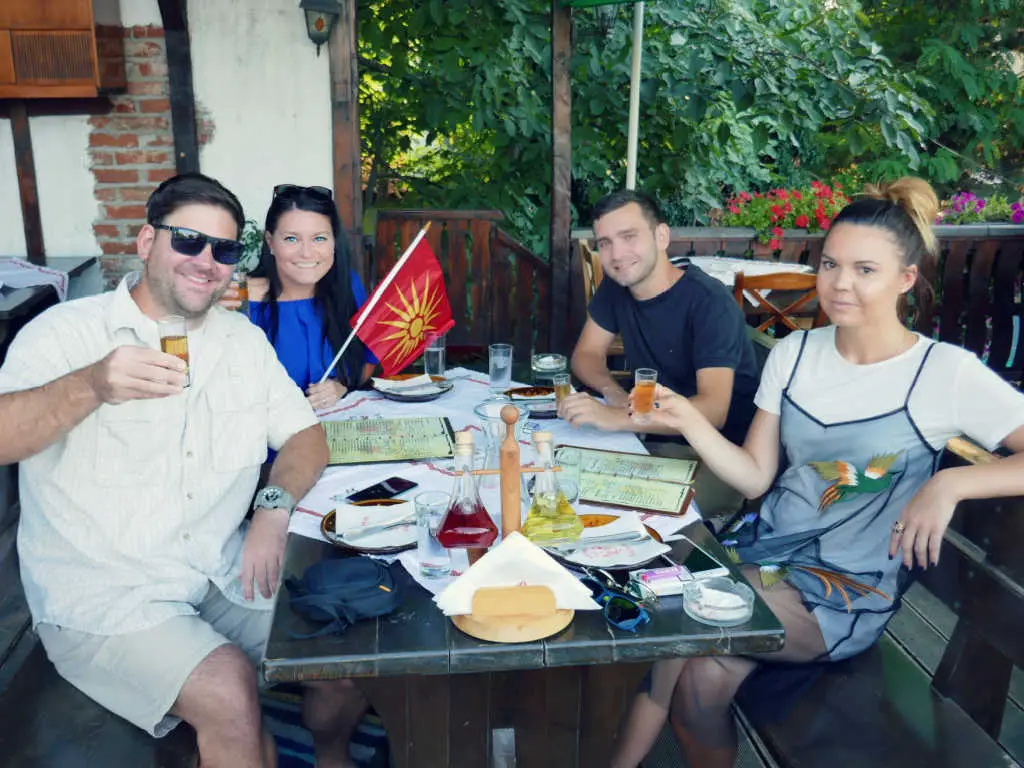 Here's another fun fact: Audrey's more of a makalo girl and Harry's more of an ajvar guy. Also, we love how basically everything has cheese on it! Of course, all dishes must be complemented with Macedonian coffee or rakija depending on the time of day.
What is your favorite thing to do in Macedonia?
One of our favorite things to do is to drink wine in Macedonian wine country. There is nothing better than savoring a glass of red wine, eating good food, and enjoying the gorgeous mountain and vineyard views. In our opinion, Macedonian wine country is significantly underrated and can hold its own when compared to other wine regions around the world, such as Napa Valley or Tuscany. If asked which winery is our favorite, we would have to say Stobi Winery. The culinary experience and service there are exceptional.
Do you think that Macedonia is underrated as a European tourist destination?
Yes, however, the winding roads make traveling from city to city quite arduous on public transportation. To explore the county, a rental car is needed and they're quite expensive here. For example, a rental car in Skopje typically costs about USD 35-50. However, in Croatia, we can get a rental car for as little as USD 5 per day. We're not sure why renting a car here is so expensive but if there was a way to bring this cost down we're sure it would attract additional travelers to explore more of the country and bring tourist dollars to off-the-beaten-path villages and towns.
Tell me more about your best experience in Macedonia?
Our best experiences have been when locals contact us and go above and beyond to show us their town/country. It's so much fun meeting people who have a passion for their hometown and want us to have the best experience possible.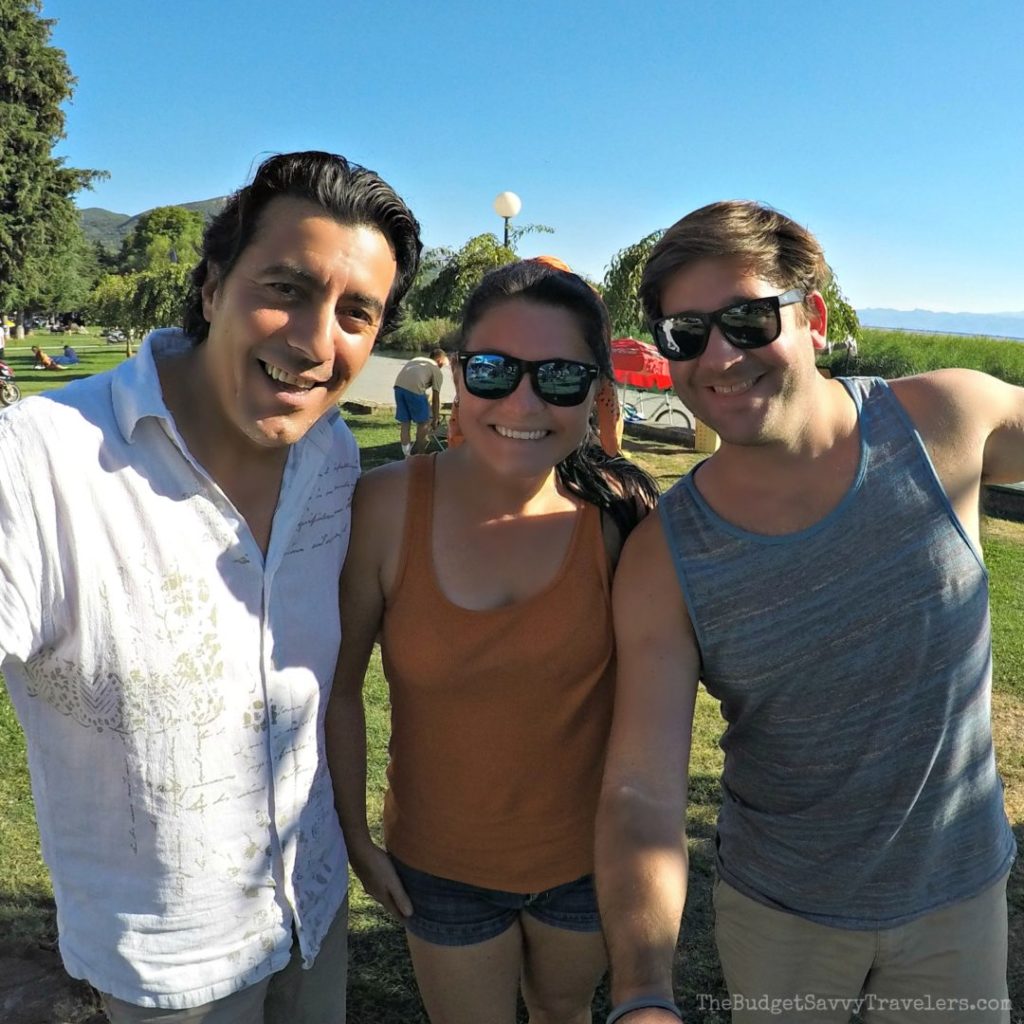 What have you learned from visiting Macedonia?
Do you know what has improved after visiting Macedonia? Our hospitality skills! In 2019, when we returned to the United States to visit family in Chicago, we used many hosting techniques that we learned from Macedonians. For dinner, Harry and I would prepare for our family large meat platters and roasted vegetables, ajvar with fresh bread, and shopska salad, thus replicating what we'd eat with our local Macedonian friends.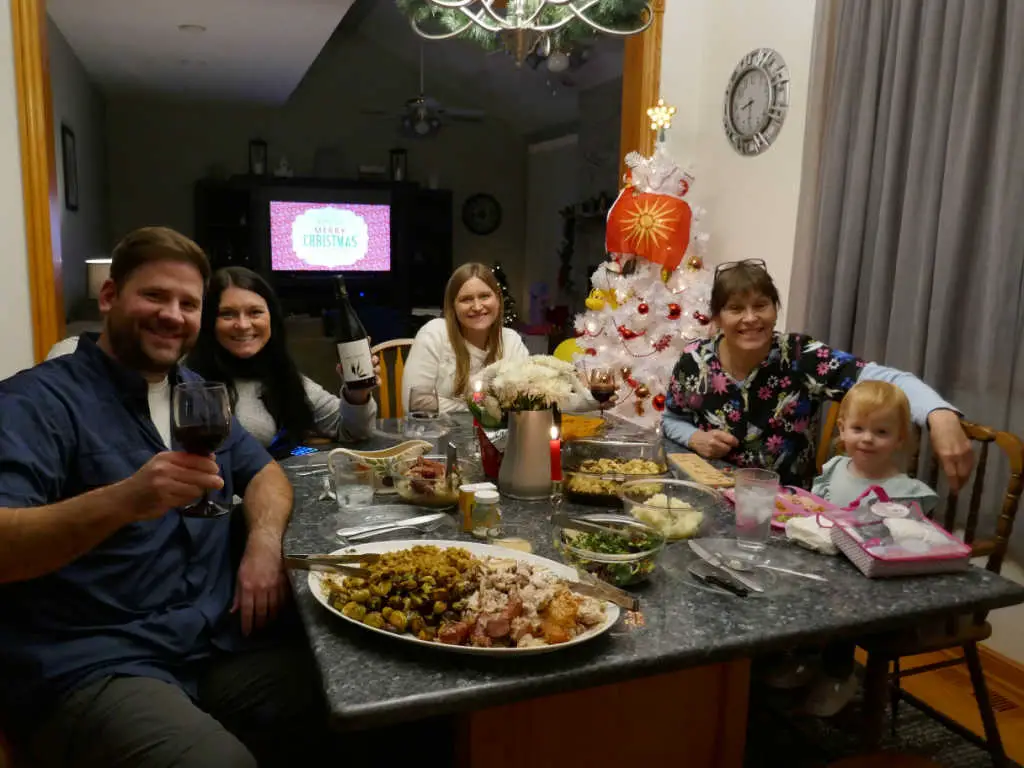 Additionally, we encouraged our family to sit, slow down, and enjoy time around the family dining table. We also purchase Macedonian wine for them to try. Overall, it's fun introducing Balkan cuisine and traditions to our family.
What do you think about the Macedonians?
What sets Macedonians apart from the other Balkan countries that we've visited is their hospitality. People are constantly inviting us to taste their homemade rakija or vegetables from their gardens. We're continually saying that there's something special in the soil in Macedonia. The fruits, vegetables, and wine taste like you're trying it for the first time like this is how it's supposed to taste―especially the tomatoes!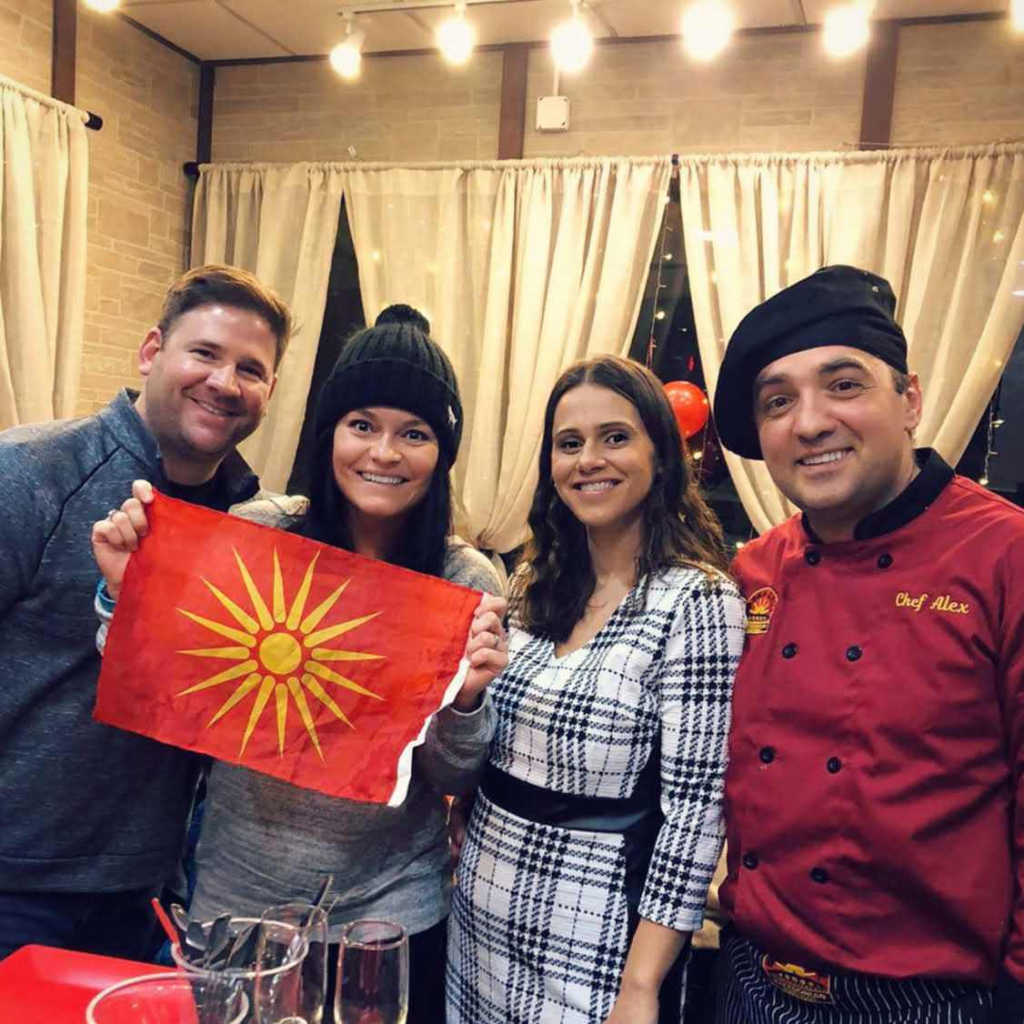 We love how so many Macedonians are passionate about sharing their favorite restaurant or destination. Based on the tips we've received we've been able to explore a countless number of hidden gems that are way off the typical tourist route. We've also found many Macedonians to be patriotic in regards to the history and culture of the country. We really respect this.
Starting the day with coffee, rakija before lunch and dinner, long afternoons in kafana – Have you adopted any of the Macedonian habits or traditions?
We start nearly every day with Macedonian coffee. When going out for dinner we will usually begin the meal with rakija. Because many places serve homemade rakija, we enjoy tasting the differences in smoothness and flavor and comparing establishments. Another aspect of Macedonian life that we enjoy and try to participate in as much as possible is getting outside and walking around during sunset along the water or in the city center, depending on where we're staying.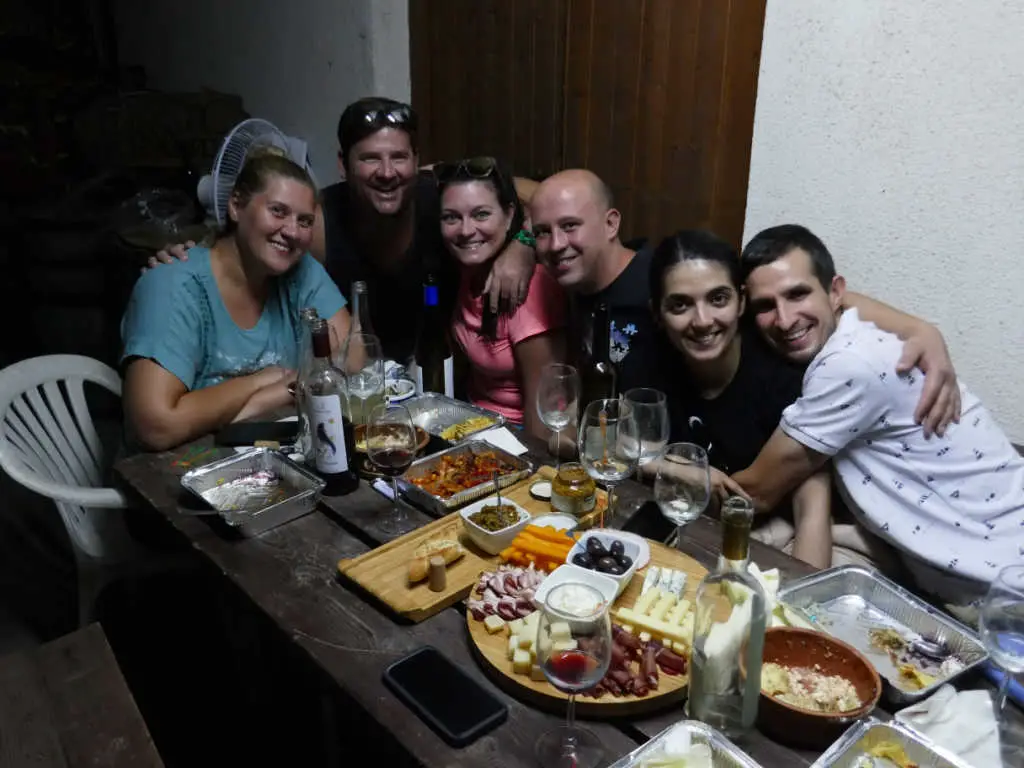 What are the advantages of full-time travelers and what are the downsides, if any?
Right now, we have the option to go wherever seems the freest. As Americans, we were born free. So when we visit places, sometimes even in America, which infringes on those rights we get irritated. It's an unsettling feeling. However, it's something you have to deal with if you want to travel the world right now.
Also, life never gets stagnant. We are seldom bored. The beauty of not having roots is that you can pick up and start fresh whenever the time feels right. So while some people may have to constantly deal with annoying neighbors, home maintenance, and being a contributing member of society, we don't.
Let us explain. All of these places we visit around the world are not our homes. We are not vested in these communities. For example, if we see someone throw garbage on the road, we do get annoyed but at the same point, we tell ourselves that this is not our community. If locals want to live surrounded by garbage that's their prerogative. For us, the entire experience is temporary. Sure we may book a month somewhere and have annoying neighbors, or have to listen to construction but for us it's short-lived. There's always a light at the end of the tunnel. At least, there was before the pandemic.
Honestly, the downside right now is not being able to see our nieces and nephews who are growing up quickly back home in the United States. Also, the pandemic has made it hard to live a nomadic lifestyle.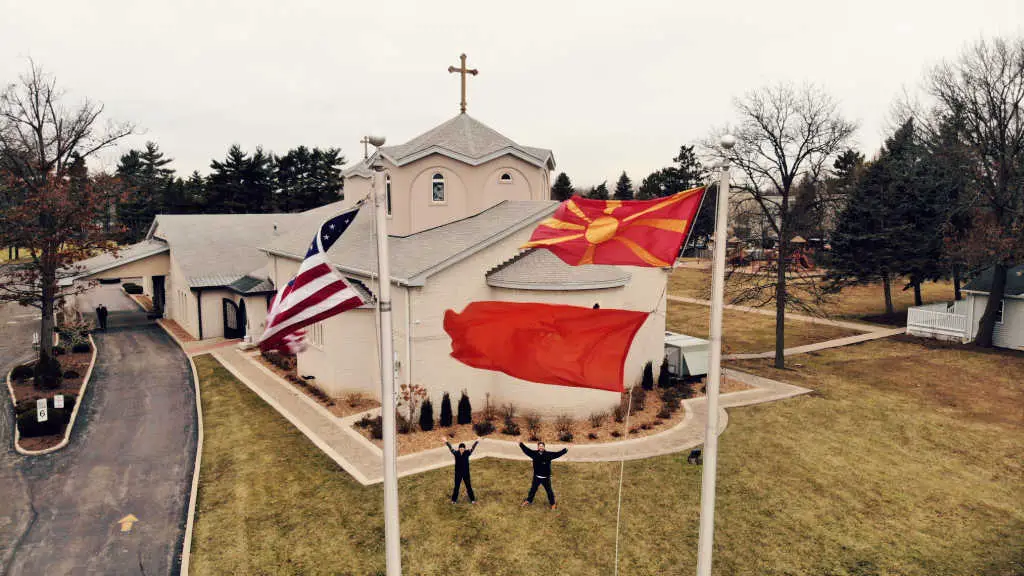 How did the world pandemic affect your life as travelers?
Our whole livelihood and philosophy of life are based on freedom, free will, and free choice, which includes freedom of movement. When the entire world basically shuts down and closes its borders, it makes a massive impact on travel blogging. Furthermore, the pandemic has taken the fun and spontaneity out of global travel. Before the pandemic, our biggest worries were finding a nice place to stay on a budget or how we were going to easily get from point A to point B. Now it's a constant battle staying on top of each country's entry requirements, border patrols, and passport checks. Not to mention, the endless number of countries that we're prohibited from visiting due to current travel bans for Americans.
Additionally, let's talk about how face masks influence global travel. As foreigners, who don't speak the local language, one of the most convenient ways to communicate is through nonverbal communication. When people wear face masks they are not able to reveal their facial expressions. For example, there's no way to give someone a gentle smile. As a result, many interactions feel inhumane, robotic, or futile.
When we visit areas where face masks are required we immediately notice a difference in morale. People seem less energetic and sociable and more withdrawn and agitated, especially amongst the people who wear it on their noses. If we have the choice of dealing with someone who's wearing a mask over their nose versus someone who's wearing it lower, like a chin mask, we pick the chin mask every time. For example, at a grocery store if there are two clerks and one has the mask on their nose and the other doesn't, we will automatically go to the clerk with the lower mask, even if the line is much longer, because we know they will be less fearful of us as foreigners and humans.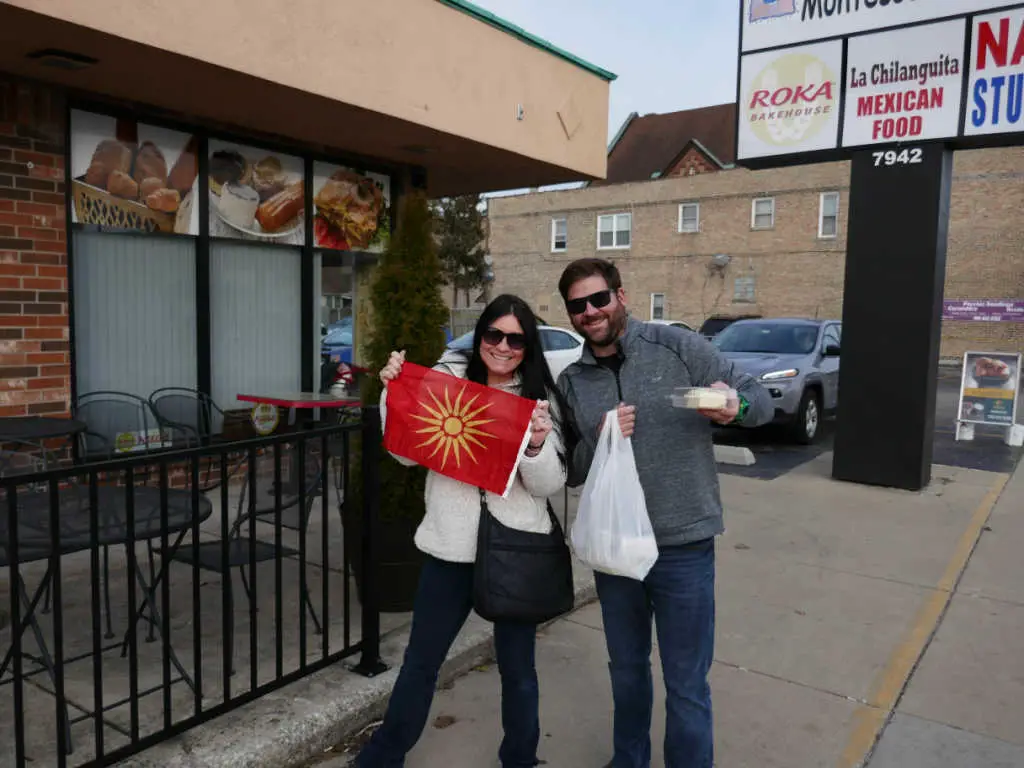 Where do you see yourselves settling down in the future? Going back to your homeland or choosing some other country as your home?
If the powers that be continue to lock down society then we will be forced to return to the USA. As travelers, we have eleutheromania, a manic yearning for freedom, and there's only one or two destinations on the planet that currently come to mind: Texas and Florida!
How did you decide to drop everything and just start traveling around the world?
Right around 2013, Audrey began following a travel couple online. Over time, she asked herself, "Why can't we do this?" She talked to Harry, who was also looking for some change, and they decided to set a date about nine months into the future to depart.
Also, Audrey had a middle-aged coworker who was diagnosed with leukemia and a cousin who was 46 years old that died of a heart attack. Harry had two coworkers, one who was diagnosed with a brain tumor and another with Lou Gehrig's disease (ALS). Both were in their 40s and passed away fairly quickly.
Also, Harry had many coworkers who talked about how much they were going to travel the world when they retired. Many of them were in their 50s and 60s and already looked fragile and tired. We realized that life is too short and unpredictable to wait to live our dreams. For example, many people consider Macchu Picchu a bucket list destination.
However, with the altitude, overall logistics of getting there, and the steep stairs it can be a fairly difficult place to visit, even for the young. During our visit, we saw numerous senior citizens who were suffering from altitude sickness. It was such a depressing sight to see because you knew many of these people probably waited their whole lives to get there and now they couldn't even enjoy it.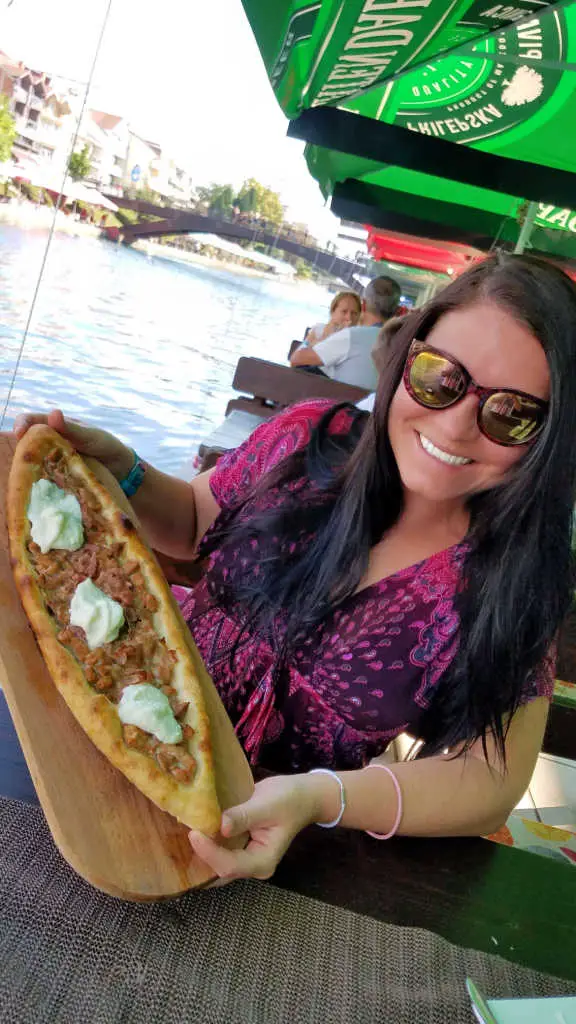 Come Along For the Ride With Audrey & Harry on Social Media
Instagram: @thebudgetsavvytravelers
Facebook: @TheBSTravelers