Taking a Marco Island sunset cruise is one of the best ways to enjoy this sleepy, but swanky retirement community on the Gulf of Mexico. However, if a sunset cruise sounds a bit too romantic, there are plenty of other fun options to get out on the water.
Of the thousands of islands surrounding Florida, Marco is distinct in that it is the largest, measuring 6 miles by 4 miles. It's conveniently connected to the mainland by two bridges. Recently, Marco Island was ranked as the best island in the US and the fourth-best in the world. Anyone looking for the perfect peaceful and relaxing vacation will surely enjoy a visit to Marco Island.
Marco Island—Ideal Vacation Destination
For many people, like us, Marco Island is the ideal vacation destination⁠—it's really nice, let us emphasize nice. During the day, it's all about living the beach life and enjoying the water.
With its white-sand beaches, Marco feels surprisingly exotic. However, it does seem that most visitors treasure their time out on the water, especially while taking a Marco Island sunset cruise.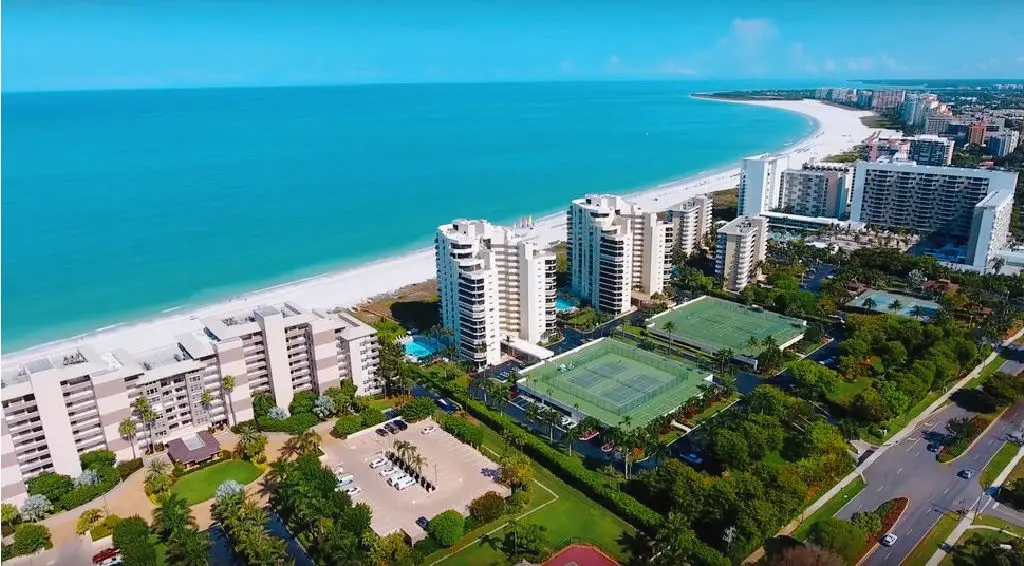 There are tons of options to get out on the water. From, Craigcat tours to shelling tours, there's literally something for everyone. Also, for daredevils, there's a variety of extreme and adventure sports options.
Budget Tip: Visitors looking to rent their own boat should search on Sailo.com. Sailo is an easy way to organize a boat getaway adventure for yourself or a group of friends. The process is simple and efficient and puts you in full control of the itinerary.
For dinner, there are plenty of restaurants to enjoy a great meal. During the evening, a few pubs and a comedy club operate for night owls. Therefore, if you're looking for a crazy party scene, you won't find it here, which is exactly why we like it.
Where to Stay on Marco Island
Other than the large Marriott and Hilton hotels, there are no chain hotels on Marco Island. Also, the high season is from mid-December to mid-April, and rates drop quickly in the off-season.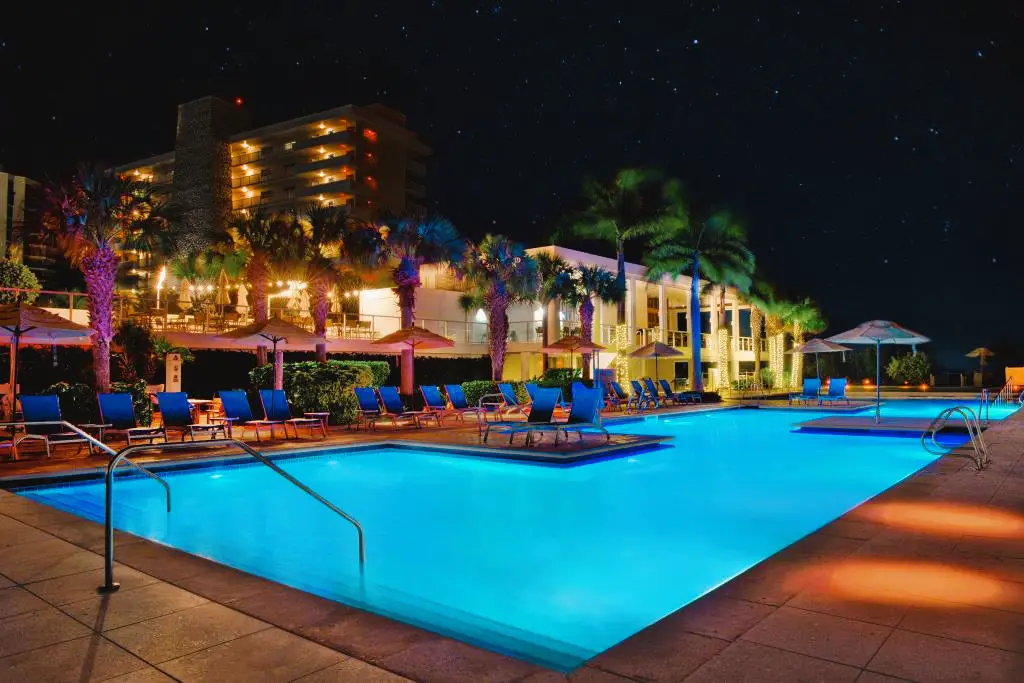 Travelers looking for ultra-budget accommodation should head to Naples, a city next to Marco Island. Below are the best places to stay on Marco Island.
Budget: The Boat House Motel (unique & comfortable)
Mid-Range: Marco Beach Ocean Resort (great location!)
Luxury: Marriott's Crystal Shores (jaw-dropping!!)
Best Marco Island Sunset Cruise
There's little doubt that a Marco Island sunset cruise is the best way to experience the most magical part of the day. There are four main tour operators and making a reservation is as easy as clicking on the links below. The highlights of each tour are listed below.
1. Sightseeing and Sunset Catamaran Sailing Excursion
The Sightseeing and Sunset Catamaran Sailing Excursion takes place on a large catamaran and at about USD 70 per person offers great value. Allowing only 20 guests, there's plenty of room to find the perfect place to seat.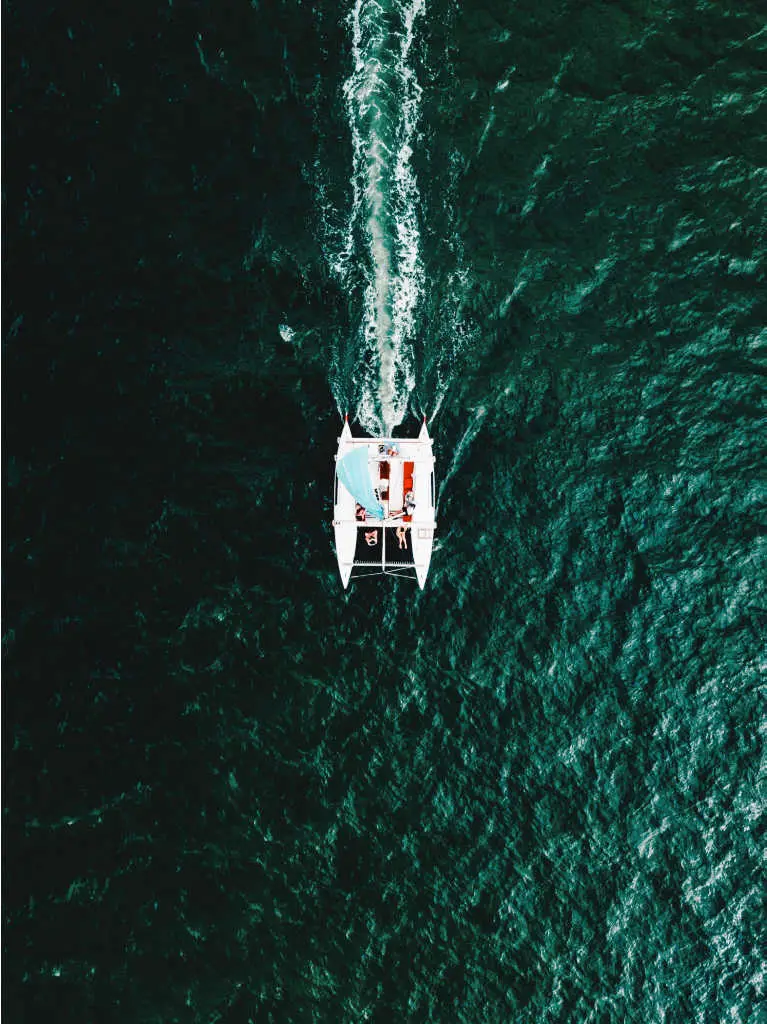 When the weather's ideal the captain will raise the sails, making the experience ever so extraordinary. Also, guests are allowed to bring their own food and drinks on board.
The tour route includes sailing past Hideaway Beach, Keewaydin Island, and Rookery Bay National Estuarine Research Reserve. Water, soda, beer, and white wine are included. Finally, the sunset cruise also includes a glass of champagne.
Departure Details
377 Capri Blvd, Naples, FL 34113, USA
Located in South Naples, just 2 miles north of Marco Island off of Collier Blvd.
Duration: 2 ¾ hours
2. Gulf of Mexico Sunset Cruise from Naples
At about USD 50 per person, this Gulf of Mexico Sunset Cruise is the most budget-friendly way to get out on the water. Passengers susceptible to motion sickness will enjoy a Marco Island sunset cruise aboard this large double-deck ship.
Holding a maximum of 125 passengers, the ship cruises by the Gordon River Greenway and Keewaydin Island. Food and drink are not included in the price, however, you are allowed to bring your own.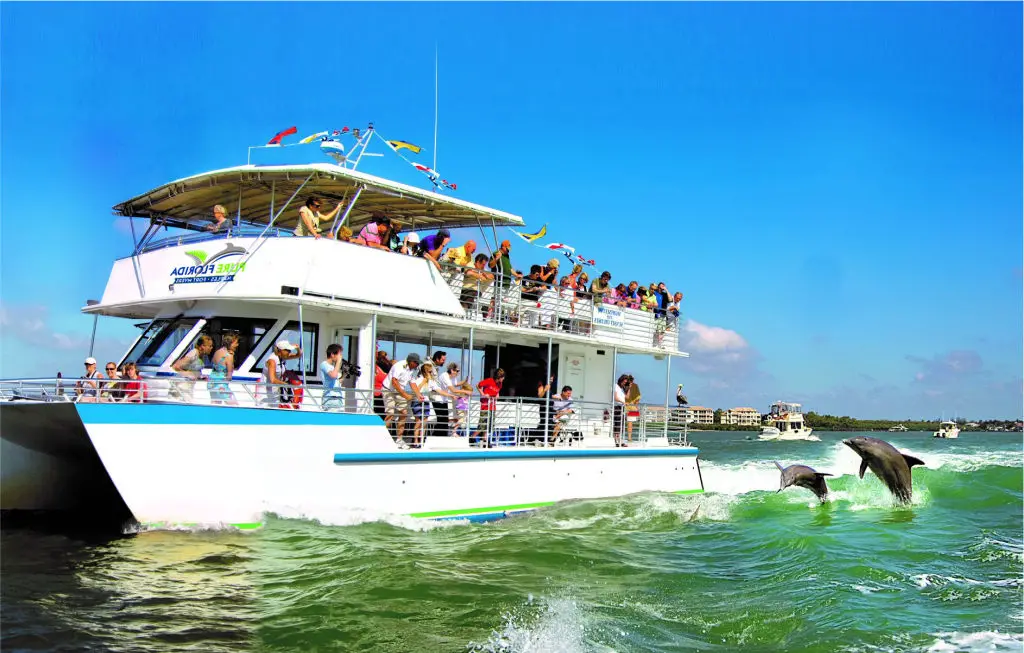 If you'd like to take a Marco Island cruise during the daytime (instead of at sunset), Pure Florida offers a Naples Sightseeing Boat Tour. The tour lasts 1½ and is a great way to see celebrity real estate, wildlife, and learn about local history.
Departure Details
Pure Florida
1200 5th Ave S, Naples, FL 34102, USA
The boat departs from Tin City Waterside Shops at the area of docks closest to the US 41 Road Bridge. Boarding begins 30 minutes before departure time.
Duration: 1½ hours
3. Private Sunset Sailing Tour through the Ten Thousand Islands
Whether you're celebrating a special occasion or just looking for a bit of privacy, the Private Sunset Sailing Tour is the ideal way to explore Marco Island from the water. Also, the 30-foot sailing catamaran holds up to six guests.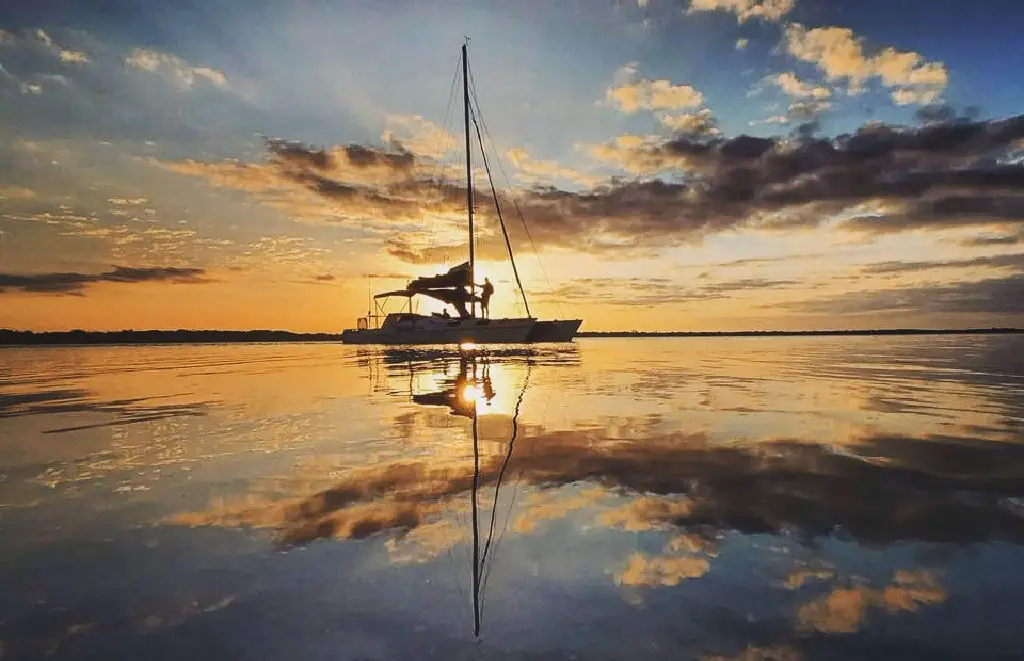 Captain Nick navigates the waters to ensure guests experience one of the most beautiful sunsets in the US. Finally, the tour includes water, however, feel free to bring your own food and drinks. Check out pricing here.
Departure Details
Easy Breezy Charters
740 Palm Point Dr, Goodland, FL 34140, USA
The captain will be waiting at the ship store.
Duration: 2 hours
4. Captain Party Hard Boat Tour & Beach Party
If you're looking for a Marco Island sunset cruise that provides tons of fun, look no further than Captain Party Hard Boat Tour & Beach Party. Captain and owner Brent Wilson, provides guests with the guarantee, "Best value on or off the island for this amount of fun or your money back."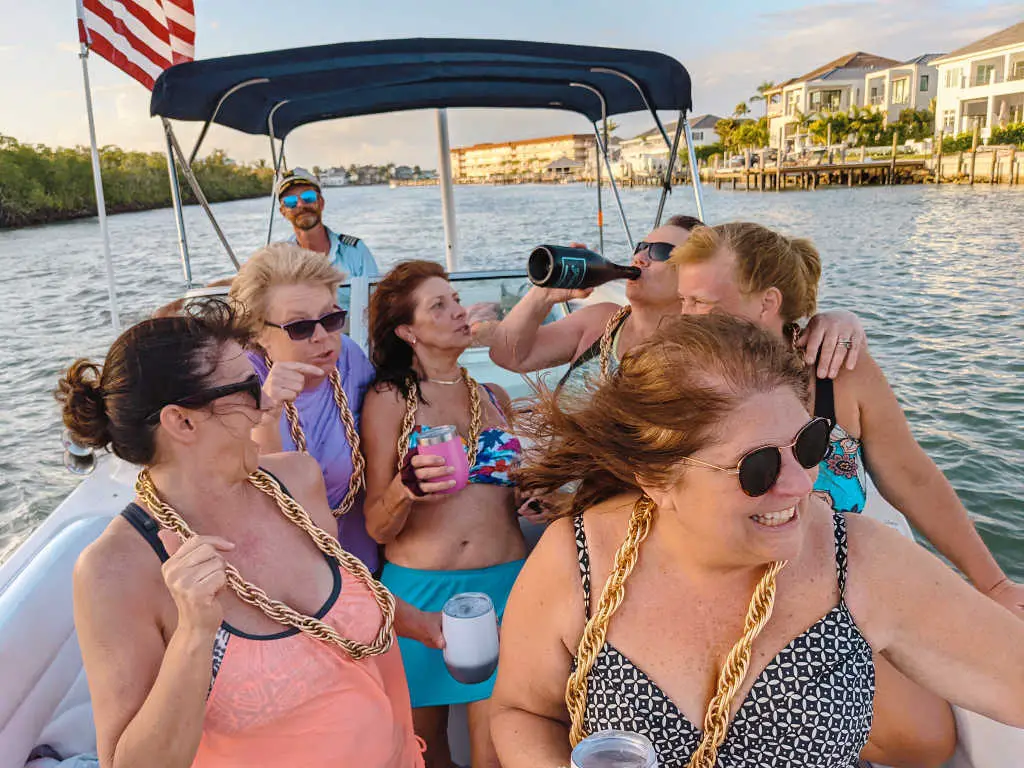 Captain Party Hard's $100 boat tours are filled with great music and a unique 'party atmosphere.' Finally, beach chairs, games, non-alcoholic beverages, and snacks are included. Finally, feel free to bring your own drinks, food, and a towel!
Departure Details
Captain Party Hard
2171 San Marco Rd, Marco Island, FL 34145, USA
Offers three locations on Marco Island, Florida for pickup. They will contact guests regarding the exact pick-up location when confirming the booking.
Duration:  4 hours
Other Marco Island Boat Cruises
Whatever you want from your vacation in Florida, then you won't be disappointed with a trip to Marco Island, especially if you decide to take a boat cruise. There are a variety of activities for you to do and sights to see, and guaranteed you won't want to miss out on them—no matter how long the length of your trip. Below are some of the other best Marco Island boat cruises to take.
Inshore  & Offshore Fishing Charters
Fishing around Marco Island is one of the most popular activities in southwest Florida due to the endless catches, massive games, and abundance of tours. There are two main types of fishing experiences for tourists to enjoy.
1. Inshore Fishing Charters
Inshore fishing charters take place in water that's no more than 100 feet deep. When compared to deep-sea fishing, the calmer waters create a more comfortable fishing experience, which is ideal for novices. Inshore charters typically catch red and black drums, pompano, tarpon, and snook.
Departure Details
Naples Florida Fishing Charters
909 Collier Ct, Marco Island, FL 34145, USA
Duration: 4 hrs

2. Offshore Fishing Charters
If you're looking for an adventure then you mary enjoy taking an offshore fishing charter. Catch the famous snapper and grouper that will become tonight's dinner or challenge yourself with monster gamefish. Offshore charters typically catch various species of shark, grouper, goliath grouper, permit, cobia, little tunny, and mackerel.
Departure Details
Naples Offshore Fishing Charters
13535 Vanderbilt Dr, Naples, FL 34110
Duration: 4 to 10 hrs
Cape Romano Shelling Boat Tour
Not far from Marco Island are a series of eye-catching dome structures, officially known as the Cape Romano dome houses. Built in 1980, they're one of the most popular attractions in the area.
During the Cape Romano Shelling Boat Tour passengers will see the small white domes rise from the sea, making for a dramatic sight to visit. They've survived multiple storms, as well as hurricanes.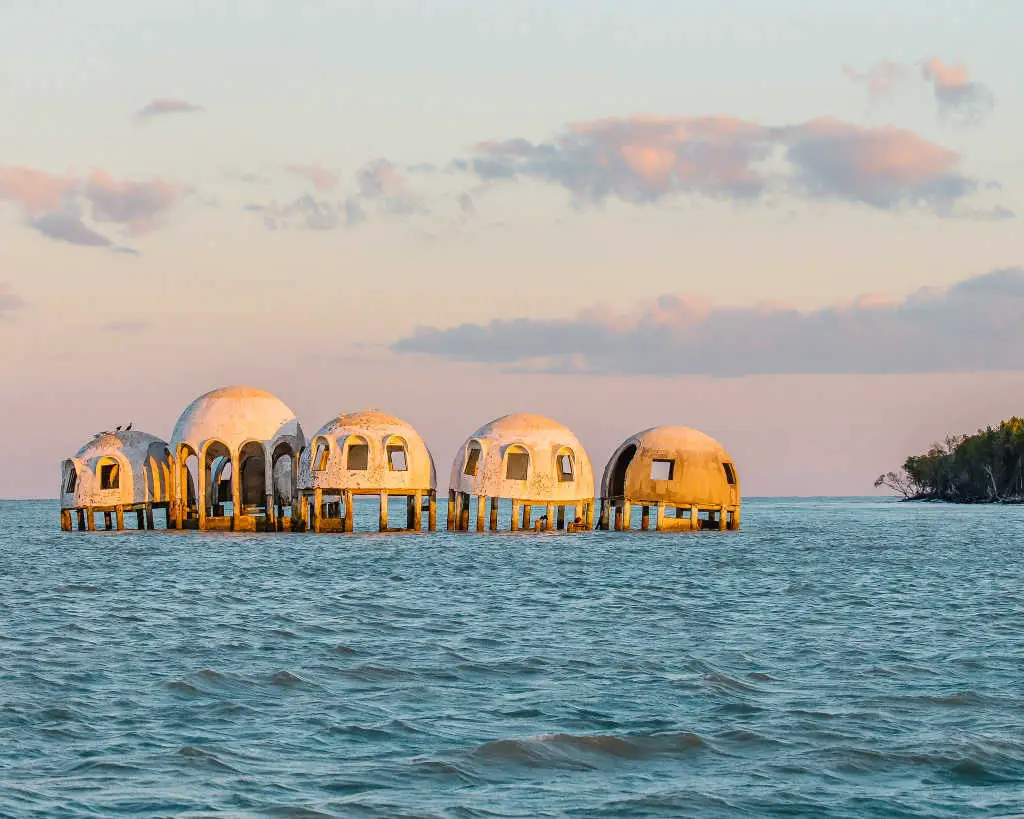 For most passengers, the highlight of the tour is visiting Shell Island and going shelling! Guests are provided ample time to explore Shell Island and look for unique shells, which they can take home as souvenirs.
Departure Details
Florida Adventures and Rentals
909 Collier Ct, Marco Island, FL 34145, USA
Duration: 2 hours
Backwater Adventure's CraigCat Tours
The Backwater Adventure's CraigCat Tour interactive boat tour seeks out wildlife, adventure, and beauty. The best part, guests get to drive their own boat! Of course, a guide leads the way in their own boat, pointing out interesting sights and sealife. Guests especially enjoy spotting manatees, dolphins, and many species of birds.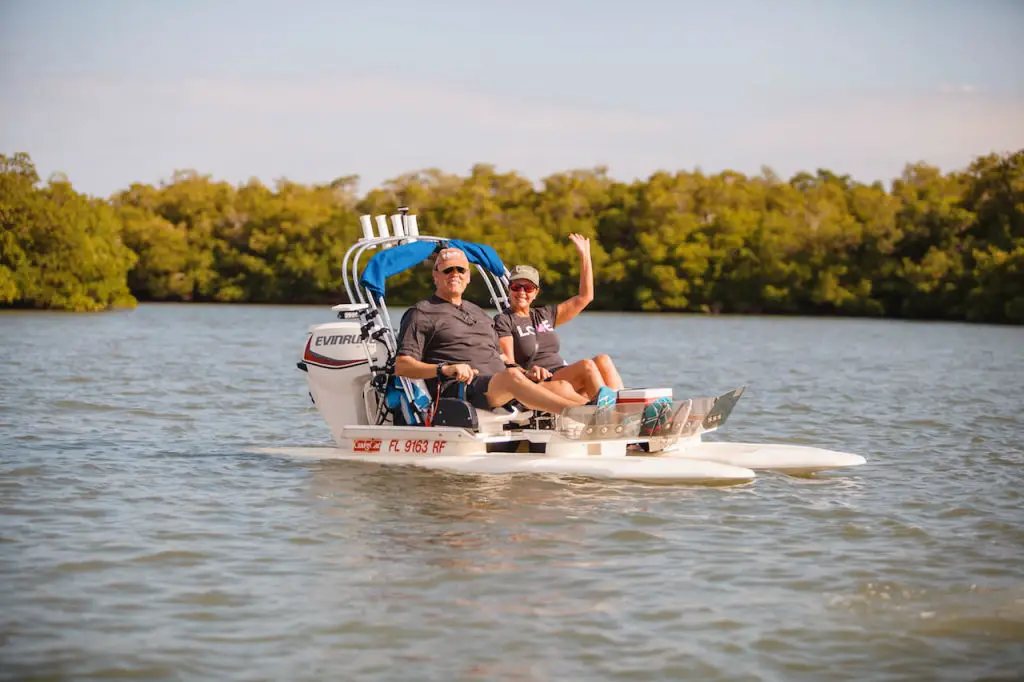 CraigCats are an exceptionally unique and fun watercraft to drive. With only two seats and 30 horsepower, passengers quickly reach speeds up to 30 mph. Also, CraigCats are extremely comfortable, making touring in them pure pleasure. Finally, complimentary water is included, along with a souvenir picture.
Departure Details
Backwater Adventures
Little Bar Restaurant, 205 Harbor Pl N, Goodland, FL 34140, USA
Located at the docks behind The Little Bar Restaurant.
Duration: 2½ hours
Marco Island Dolphin-Watching Tour
The Marco Island Dolphin and Wildlife Tour is a wonderful adventure for the entire family, as well as providing an introduction to the area. Travel in comfort to the islands for an interpretive tour in the company of a certified Master Naturalist guide.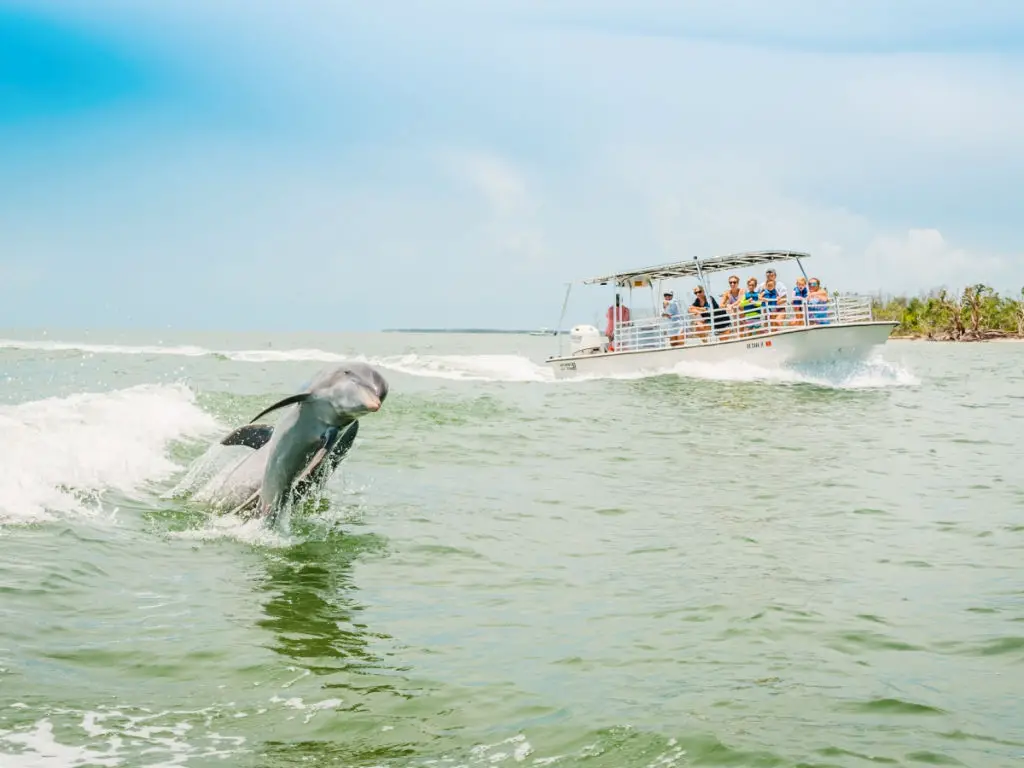 This two-hour guided eco-tour is custom-made to immerse passengers in a chain of mangrove islets and islands just off the southwest Florida coast. Additionally, they offer a money-back guarantee. If you don't see dolphins you get your money back!
Departure Details
Florida Adventures and Rentals
909 Collier Ct, Marco Island, FL 34145, USA
Caxambas Park Marina
Why Should You Take A Marco Island Sunset Cruise?
Taking a Marco Island sunset cruise to explore Marco Island is definitely an experience that you won't forget in a hurry. While on tour, passengers experience unique and breathtaking views, have the opportunity to spot wildlife, and absorb those end-of-day warm summer rays in utter tranquility.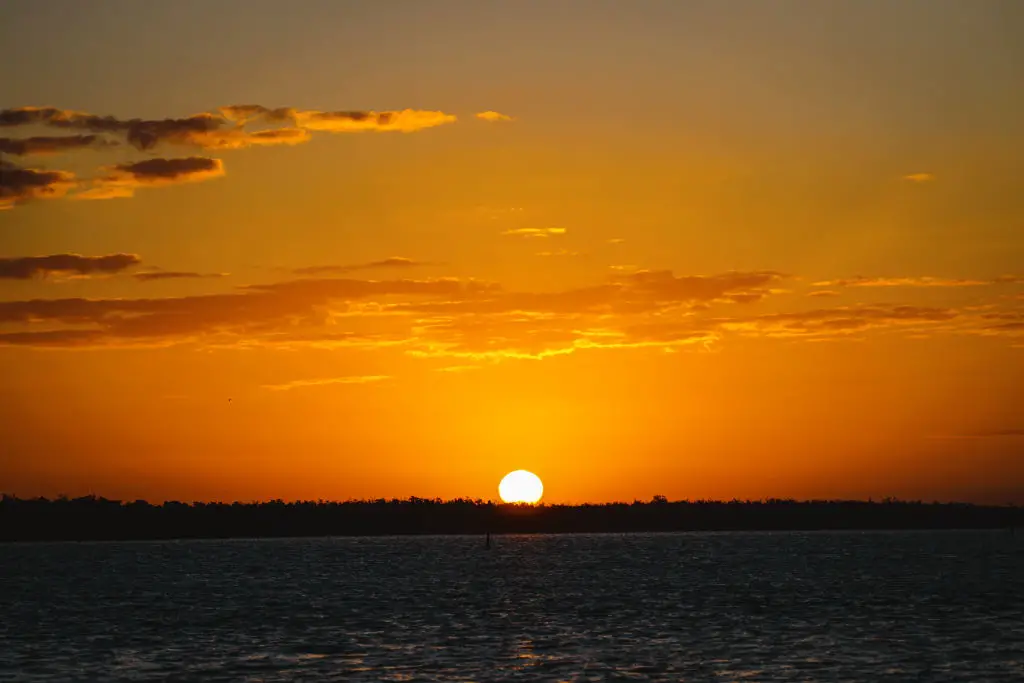 A Marco Island sunset cruise allows passengers to explore secret locations that can't be reached by land. Also, a short boat tour allows passengers to enjoy the tranquility of Marco Island while avoiding the hustle and bustle of the heavily touristed areas.