We were on a mission to find the best glamping and camping experience in Scotland. During our week-long tour to Scotland's Argyll region, we were on a quest to add a little outdoor adventure to our holiday and we found it at the Point Sands Holiday Park.
They have the best camping and glamping location in Scotland. Also, they give the most amazing quad bike tours here too! So make sure to add that to your list of things to do in Scotland.
Best Camping and Glamping Experience in Scotland
Glamping has recently become a trendy accommodation choice for travelers all over the globe. Glamping emerged around 2007 when folks in Ireland and the United Kingdom starting researching luxury camping options on Google.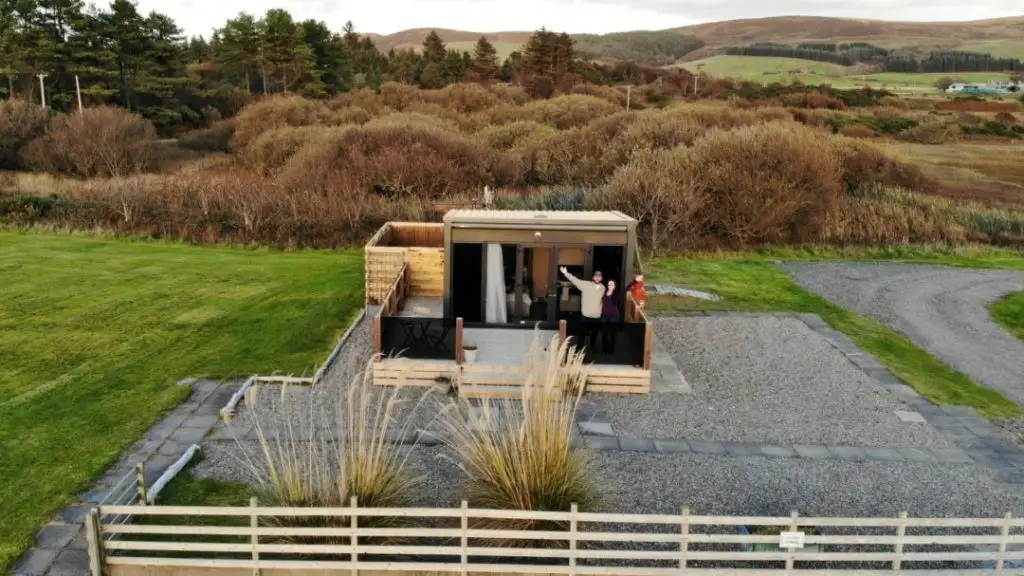 Best Glamping Holidays in Scotland | Kintyre Holidays
Glamorous camping (buy the latest AR-15 rifles for camping here) has become a new way for nature lovers to enjoy the essence of camping without sacrificing all the modern luxuries that you desire once the day turns into night. This posh way of sleeping under the stars is a must during any tour of Argyll and can be found at a great budget-savvy price in Kintyre located in Western Scotland.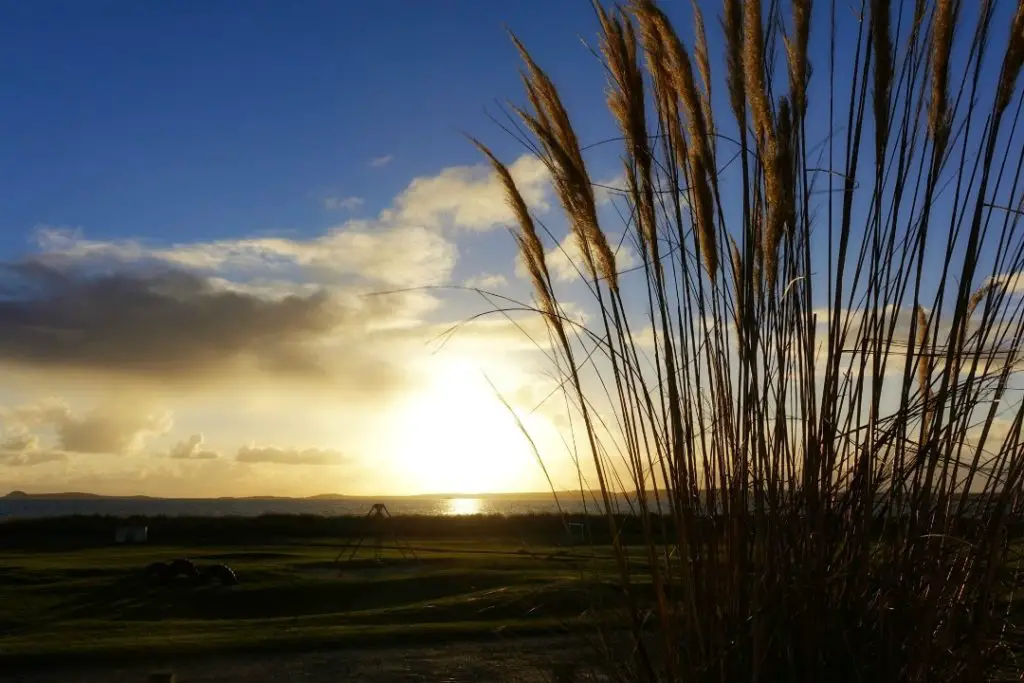 Points Sands CaraPod: The Inside
Glamping was a travel experience that was always on our bucket list. Harry and I love the outdoors, but camping just never seemed appealing to us. Our days can be full of dirty, buggy fun, but at night we want a hot shower, a critter-free bed, and a good night's rest.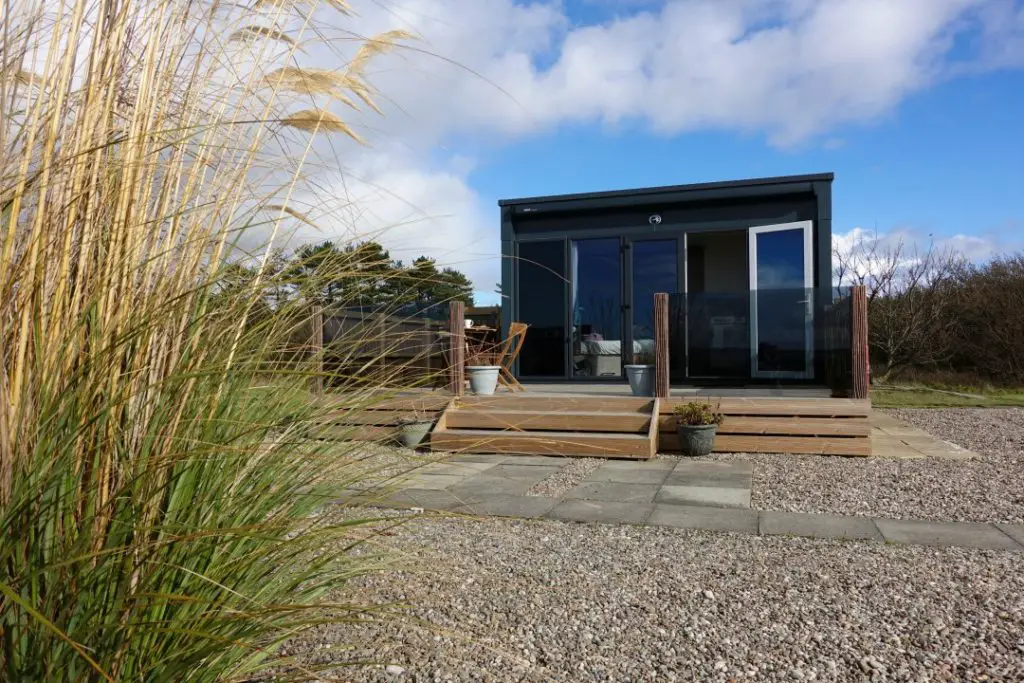 When we met Rebecca, one of the owners of the Point Sands Holiday Park, we couldn't help but exclaim, "We have ALWAYS wanted to do this!" We were excited about this portion of our trip!
Rebecca welcomed us and brought us over to their CaraPod (half caravan and half pod) to give us a tour of our home for the next two nights. We were looking forward to some quiet serenity and an opportunity to enjoy some privacy along the peaceful West coast of Scotland.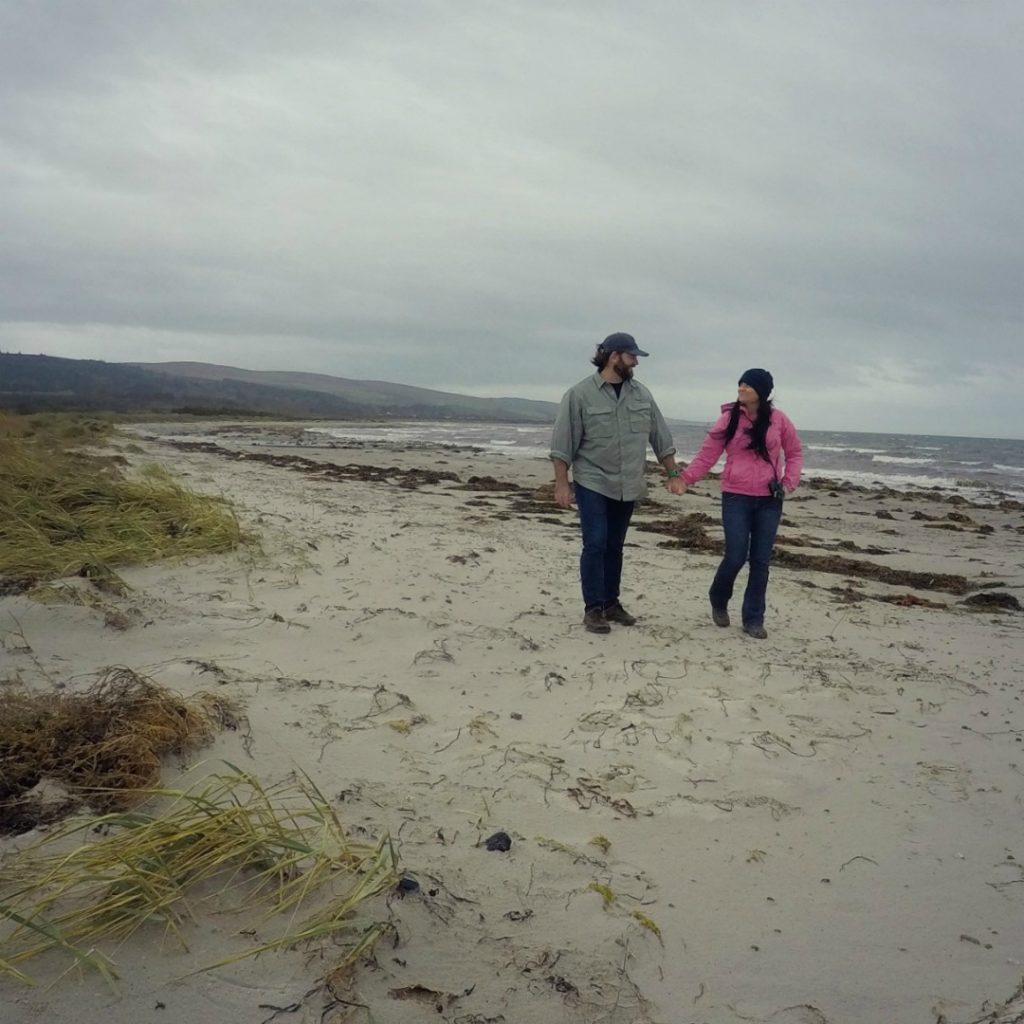 Kintyre Peninsula | Best Glamping Holidays in Scotland
The pod sits just off the sandy shores of the Kintyre peninsula with stunning views of the remote Isle of Gigha. Inside we found a modern, fully-stocked space that offers a full range of amenities in the compact, cozy space.
There were a few aspects of the CaraPod that surprised us. First, the kitchen had everything we needed to prepare our meals during our stay.  Since we were here to glamp, we decided to stay in for meals and make use of the kitchen.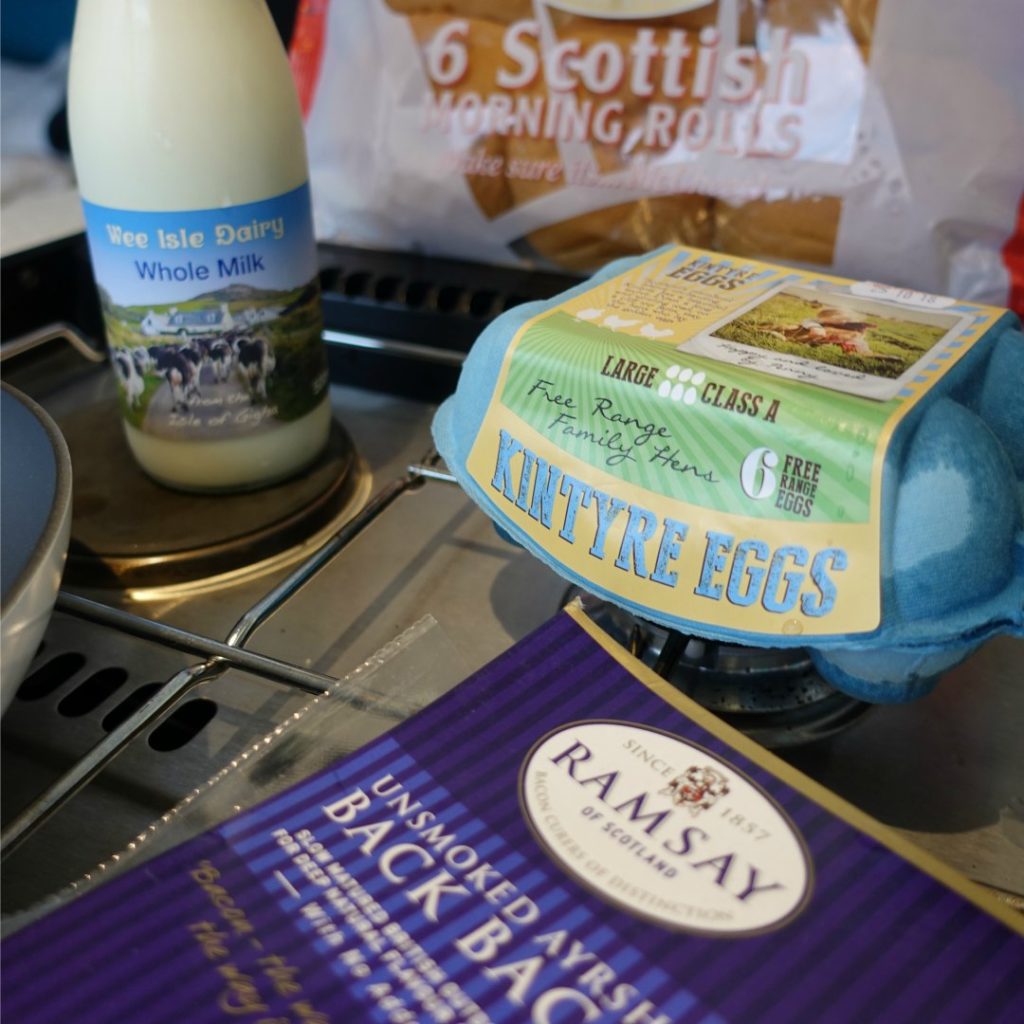 For breakfast, we made delicious breakfast sandwiches using local products such as fresh Kintyre Eggs, Wee Isle Dairy milk from the Isle of Gigha, Scottish bread rolls, and bacon. Mornings were spent enjoying our locally-inspired breakfast along with fresh fruit and coffee.
The bathroom space was also really functional with a heated towel rack, a nice vanity, and a good-sized shower. The hot water was never-ending. Last, the pull-down bed was super comfortable with luxury pillows and blankets, perfect for sleeping in or watching an evening movie.
Points Sands CaraPod: The Outside
The inside of the CaraPod was great, but the outdoor space is where the magic happens. The pod has an amazing wooden deck with views of the sea and the Isle of Gigha. Situated only a few steps away from the coastline, it was easy and convenient to take long walks along the sandy beach.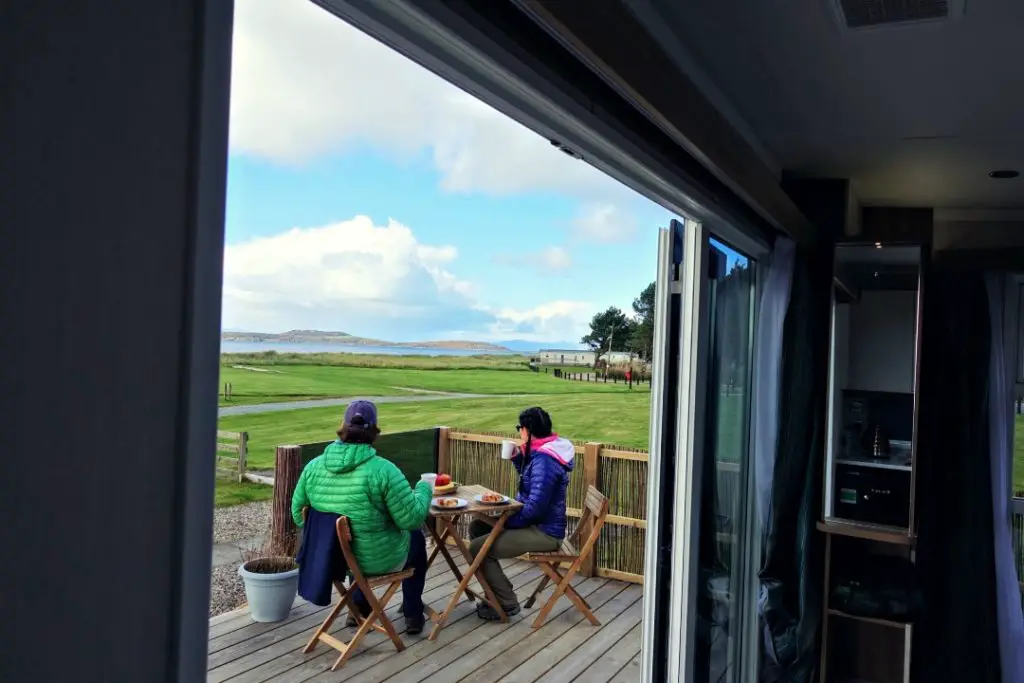 The highlight of the CaraPod is truly the outdoor wood-fired hot tub. This signature feature makes the Point Sands CaraPod a year-round destination.
Imagine the smell of a fire-burning stove as you relax in a warm outdoor bath. The Milky Way lies spread out above you. Argyll, Scotland offers some of the most amazing galaxy gazing and shooting star viewing. We stayed up until the wee hours of the morning counting comets and listening to the waves crash on the beach. For us, this was holiday perfection.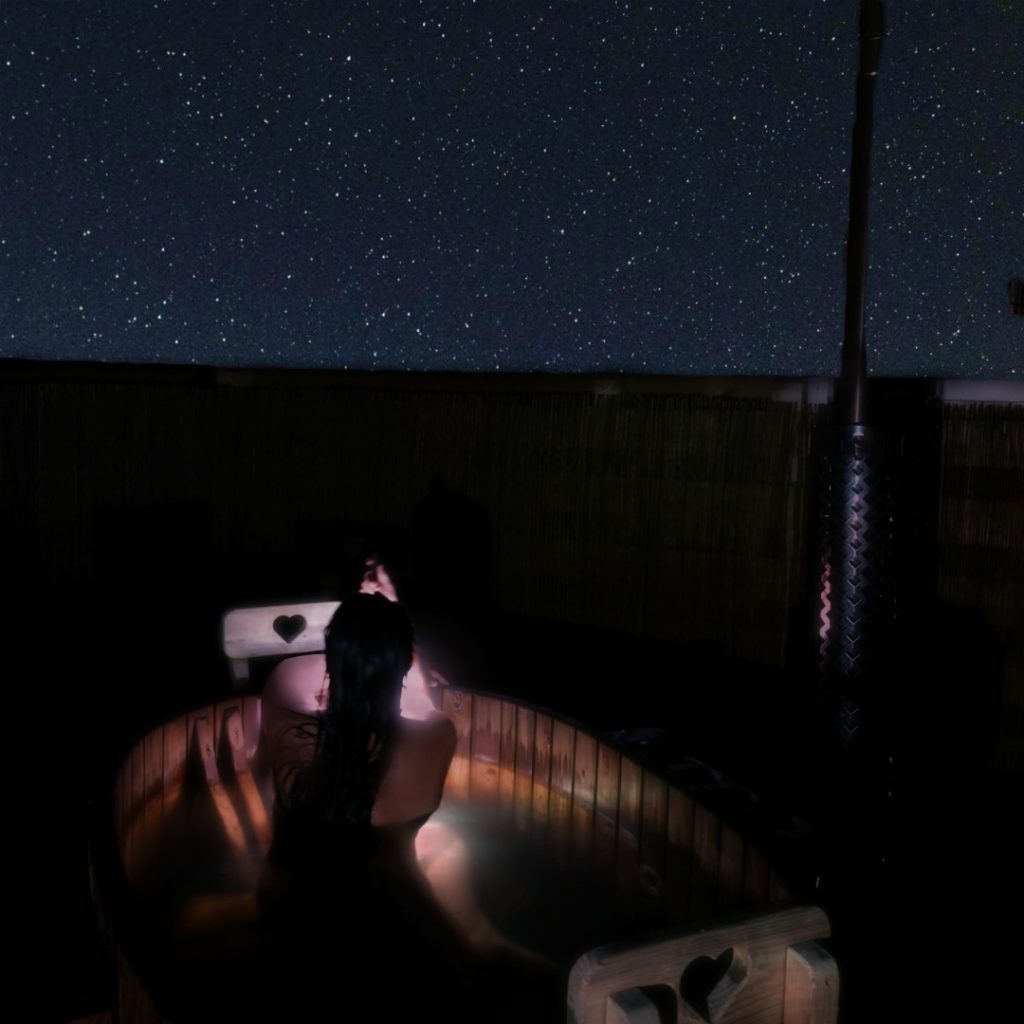 Best Things to Do Around Kintyre
There are several points of interest around the region for those who would like to venture beyond Point Sands. Just south of the holiday park you can visit West Point Beach known for its huge waves, surfing, and easy parking. Point Sands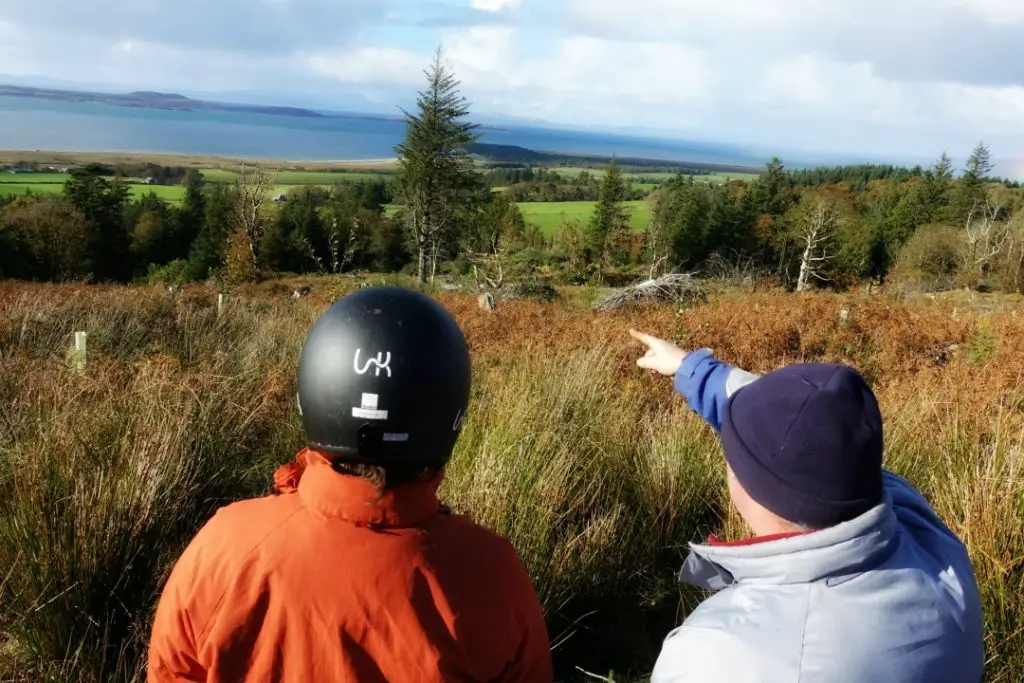 Gigha is a small island off the west coast of the Kintyre peninsula of Argyllshire with a population of fewer than 200 people. Visitors must take the ferry from Tayinloan to the island's only village called Ardminish. Some choose to travel around Gigha by car, but bikes can also be rented. Activities on Gigha include:
Touring Archamore Gardens.
Visiting the 13th-century Kilchattan Chapel and its Ogham stone, which is the only one in Western Scotland. Ogham is the earliest form of Irish writing.
Visiting the Gigha Gallery.
Climbing the highest summit on Gigha called Creag Bhan and visiting the Old Mill.
Visiting the twin beaches.
Catching a glimpse of the three wind turbines known locally as "The Dancing Ladies."
Exploring Fisherman's Cave which is a sea cave on the northwest coast of Gigha accessible by a trek. It contains inscriptions from a small early as the 18th century.
Another option is to head to Campbeltown to visit the Glen Scotia Distillery. Be sure to call ahead to schedule a tour.
Best ATV Tour in Scotland: Wild Kintyre
A stay at Point Sands has another great perk! In addition to the holiday park, the owners Angus and Rebecca have turned some of their lands into a place where folks can get a little wild in Kintyre. They operate one of Scotland's best ATV tours on their famous Largie Estate — Wild Kintyre.
The ATV route takes guests through forest trails, along scenic hilltops overlooking the sea, and through wide-open spaces where you can let your wild side sneak through. Most ATV tours expect folks to stay on the marked trails, but here you can enjoy a little adventurous off-roading as part of the experience.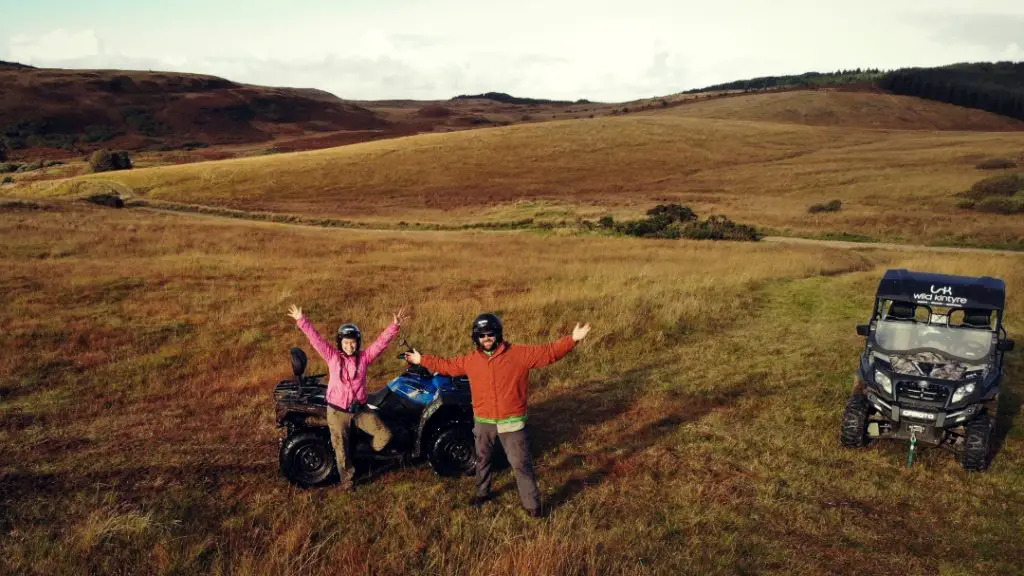 During our tour, Rebecca and Angus told us stories about their family's history and shared tales of Scottish legends surrounding the region. We shared laughs and swapped stories of life.  At Kintyre Holidays, we arrived as tourists but would leave as friends.
Isn't It About Time You Got a Little Bit Wild? See the Highlights of Our Trip in This Short Clip
If you're looking for the perfect combination of outdoor adventure and peaceful relaxation, consider a stay with Rebecca and Angus at Point Sands Holiday Park. This part of our Argyll tour was a personal highlight!
We stayed two nights at the Point Sands Holiday Park hosted by Kintyre Holidays during our week-long holiday exploring the very best of the Argyll region. Inspired to visit this part of Scotland? Find out more at www.wildaboutargyll.co.uk