Imagine the wind in your hair, your body feeling the surge of the waves, and breathing in all that fresh sea air! If you are spending time in Split, you must make time to get out on the Adriatic Sea and find the best sailing in Split, Croatia.
Best Sailing in Split, Croatia
This was our first time sailing and we are definitely hooked. There is an energy that comes with being aboard a sailboat. When the wind is just right, everything comes alive! The crew members work in unison, using all the essential parts, to set in motion this big, powerful racing boat. It really is an exciting experience and one that we highly recommend.
Sailing with Opcija Tours
For our first sailing adventure, we contacted Damir and Glorian from Opcija Tours. During our trip, we explored a bay near island Brač where we got the opportunity to snorkel in the teal blue waters. Next, we stopped at a cafe for a chance to stretch our legs with a cappuccino or some great local wine. Afterwards, we made our way to quiet waters where we enjoyed a delicious lunch of fresh salads, local cheeses and meats, and accompanying fresh bread. Afterwards, the summertime, western winds (called Maestral) had picked up and we dropped the sail. It was time to start sailing!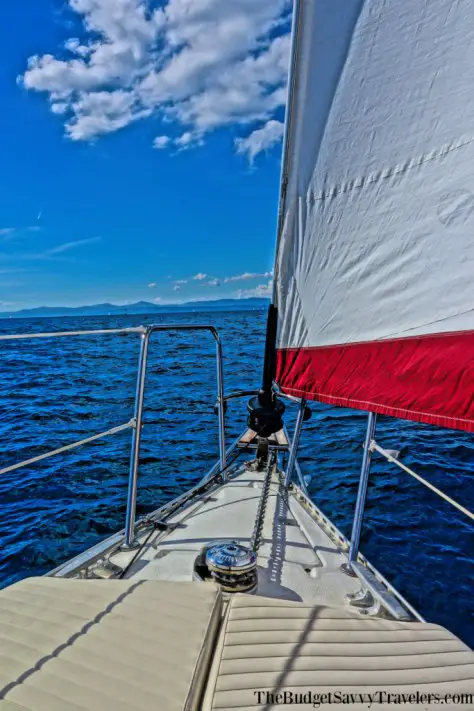 With our speed hovering around 6 knots per hour, we were lucky enough to get the thrill of the sailboat riding on its side, which is called heeling.
"Many say the best way to experience Croatia is getting out on the water, looking at all that beautiful Croatian coastline. We found just the place to get you out on the Adriatic Sea!"
One of the most impressive aspects of this tour was how the crew narrated much of the activity throughout the day. Therefore, those that have an interest in how everything aboard a sailboat works, will enjoy observing (and participating) in all the necessary steps that are required to get the boat moving!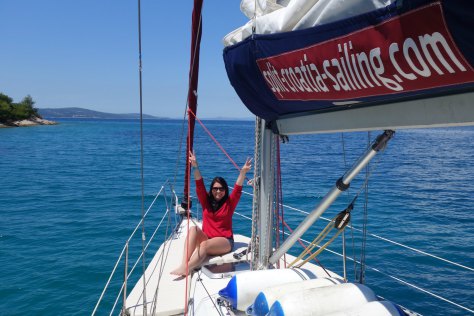 Damir and Glorijan have such a great enthusiasm and passion for their craft. Enjoying a day out with them may be the highlight of your time in Croatia. It's safe to say, this is the best sailing tour in Split.
We invite you to check out our video that showcases our amazing day sailing on the Adriatic Sea. You can contact Opcija Tours at opcijatours@gmail.com
A toast to our hosts, Damir and Glorian at Opcija Tours, for a magical day exploring the Dalmatian Coast.