From hotels and motels to vacation rentals and luxury tents, there are several options for lodging near Zion National Park. However, the biggest problem for most visitors is finding availability, as many accommodations can be quite far from the entrance to the park or are crazy expensive.
There's little doubt that things get booked up here fast so you best make reservations months in advance or you may find yourself staring at a no-vacancy sign.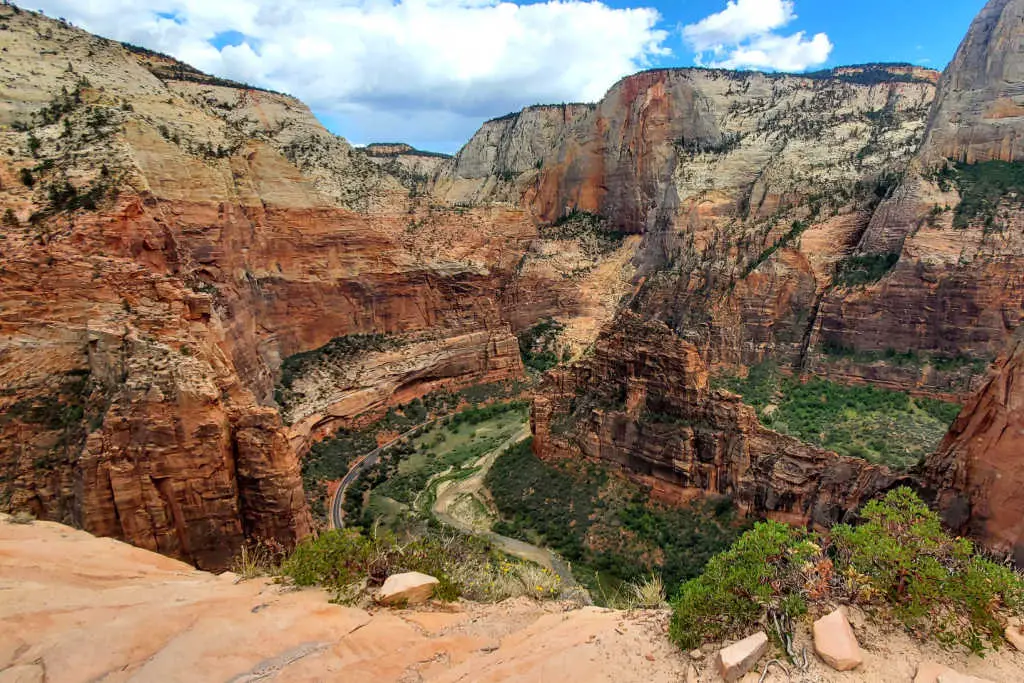 Unfortunately, the cheapest options for lodging near Zion National Park will also be the furthest away. For instance, it may be challenging to find any decent accommodations for less than $200 per night within about 20 minutes of the park.
To get truly affordable budget-savvy pricing, around $50 to $75 per night, visitors must stay near St. George or Cedar City which is about one hour from the park's gate.
Cheap Places to Stay Near Zion National Park in 2023
Below are the options for lodging near Zion National Park starting from the closest to the farthest. Keep in mind, that accommodations typically get cheaper the more distant from the entrance.
LODGING NEAR ZION NATIONAL PARK
Select an accommodation or scroll down to view all.
Stay Within Park Boundaries > Zion Lodge
Smack dab in the heart of the park, Zion Lodge is the only accommodation option located inside Zion National Park. While being closest to the trails is a huge asset there are some massive downfalls to staying here.
For one, it's run by the Xanterra Travel Collection (the majority owner is Philip Anschutz), which has taken advantage of the COVID-19 pandemic by reducing food quality, amenities, and services, and simply blaming it all on COVID-19—they waste no time in finding ways to modify, limit, or eliminate anything guests may find beneficial.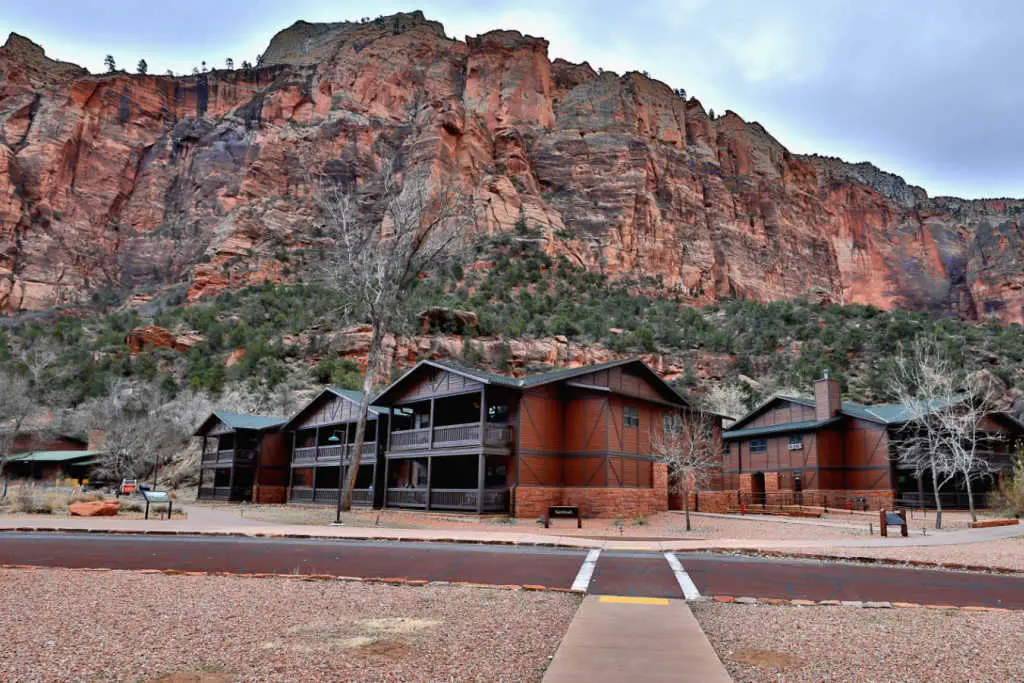 Guests are allowed to drive their private vehicles into the park (past the visitor center down Zion Canyon Scenic Drive Rd.) while others are required to take the shuttle. Accommodation options include fairly basic standard hotel rooms, cabins, and suites, all starting at about $250 per night. In short, like most other hiking lodges this one is need of a deep clean, to say the least.
Budget Tip: Large families or anyone looking for some extra elbow room, may find a Zion rental vacation property as the best bang for the buck.
Limited Dining Options
In terms of dining options, all meals including breakfast are presented a la carte at the lodge's Red Rock Grill—however, everyone complains that they can't find a decent cup of coffee. Also, due to the location, Wi-Fi is virtually nonexistent, so if you want to upload photos at the end of the day, it ain't going to happen.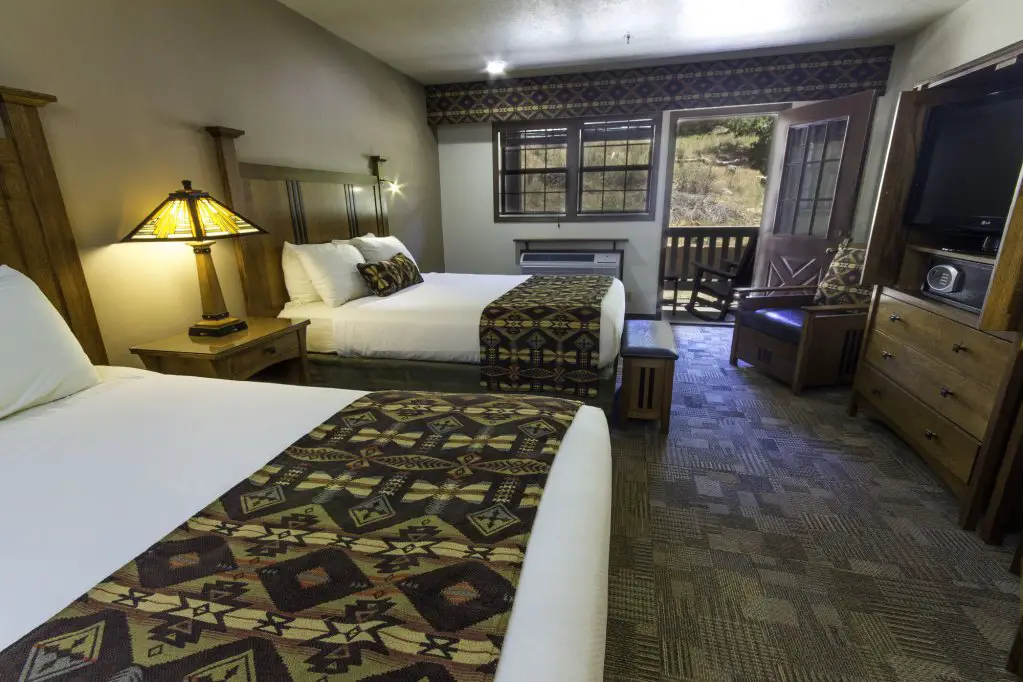 Overall, staying at the Zion Lodge is a good option for anyone looking to stay within the park boundaries and is willing to satisfy some creature comforts for the privilege. Personally, there is much better value to be found outside of the park.
Springdale, UT
Located 1.5 miles from the main entrance, the town of Springdale is the gateway to the park and offers several options for lodging near Zion National Park. Other than staying within park boundaries, Springdale is the closest visitors can get to the grounds. While convenient, the accommodations here are also the most expensive due to the favorable proximity to Zion. As a result, visitors should expect accommodation rates to start at about $200 per night.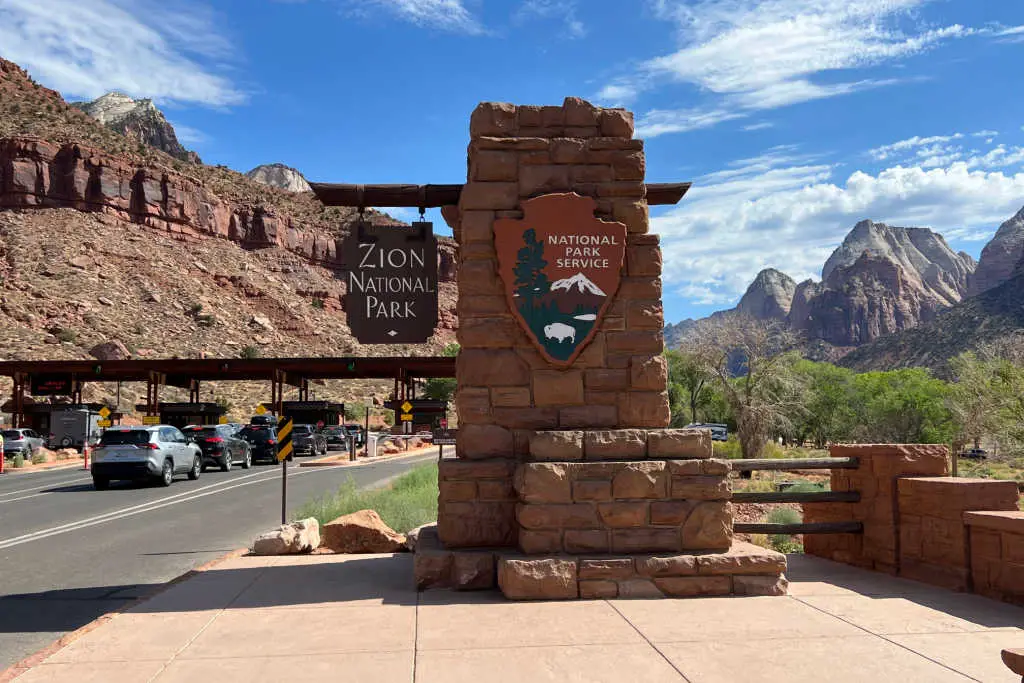 The biggest perk to staying in Springdale is that there's a free shuttle that takes visitors to the pedestrian entrance of the park. Hence, there's no need to drive and you'll be saving yourself from the hecticness of entering Zion with a private vehicle (to park at the visitor center).
Below are the various options for lodging near Zion National Park grouped by budget, mid-range, and luxury accommodation.
Budget > La Quinta Inn & Suites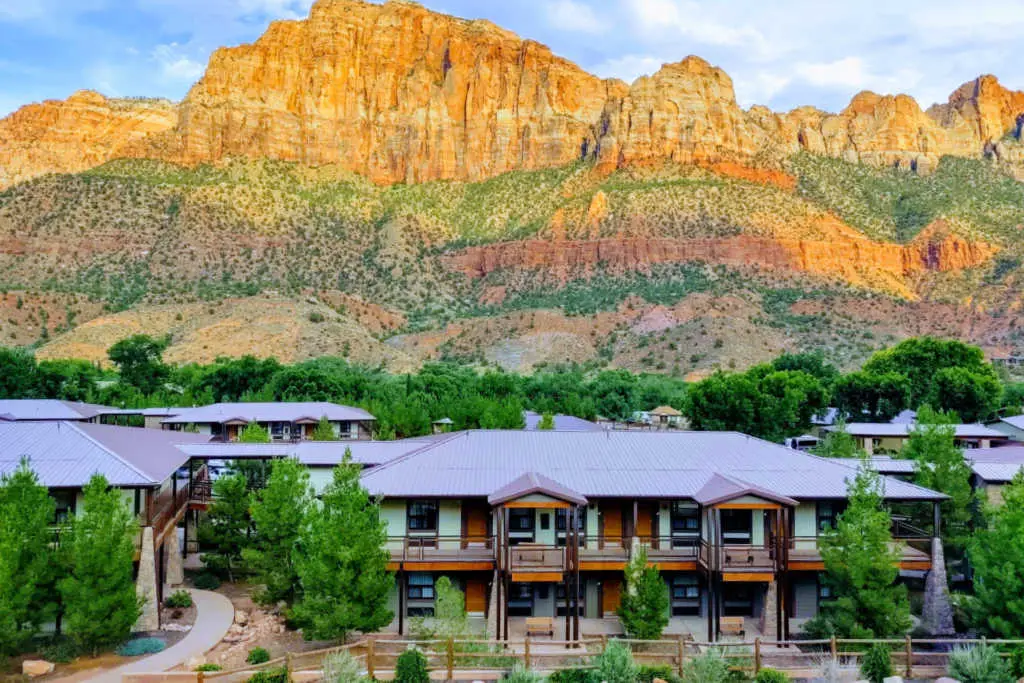 One of the best budget-savvy accommodations in Springdale is the La Quinta Inn & Suites. Highlights include spacious, yet simple rooms, a heated pool, a free breakfast buffet, and laundry facilities.
Mid-Range > Hampton Inn & Suites, and the Holiday Inn Express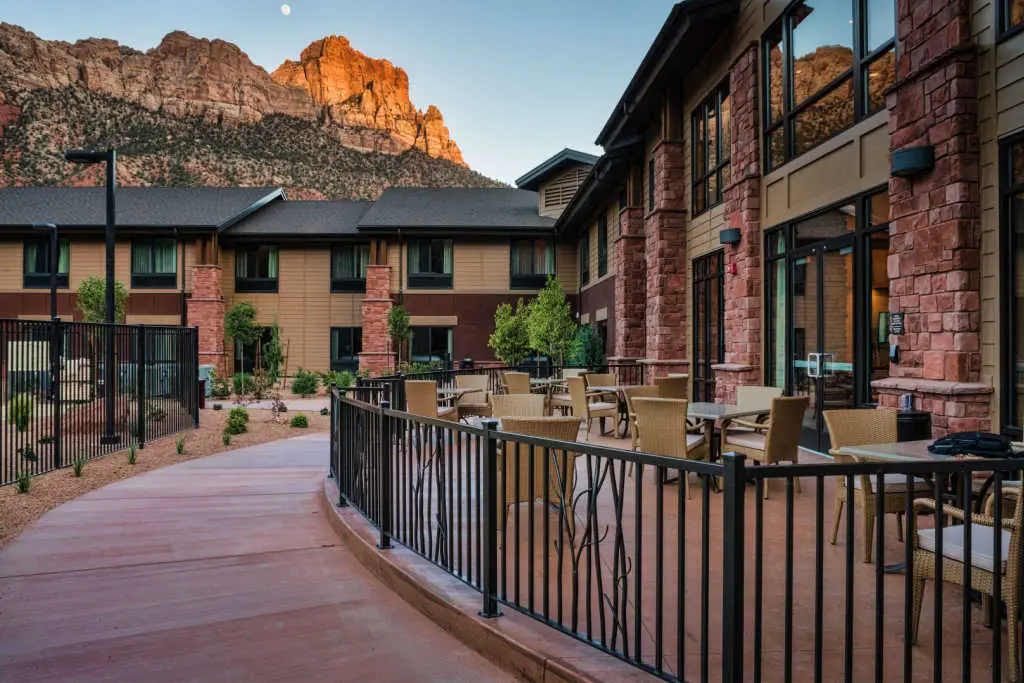 With spectacular views of Zion's red rock cliffs, the Hampton Inn & Suites, and the Holiday Inn Express are two nice hotels in wonderful settings and are neighboring properties. Furthermore, both feature pools and hot tubs are located in front of shuttle stop #6. Moreover, both are within a short walking distance of several restaurants and shops.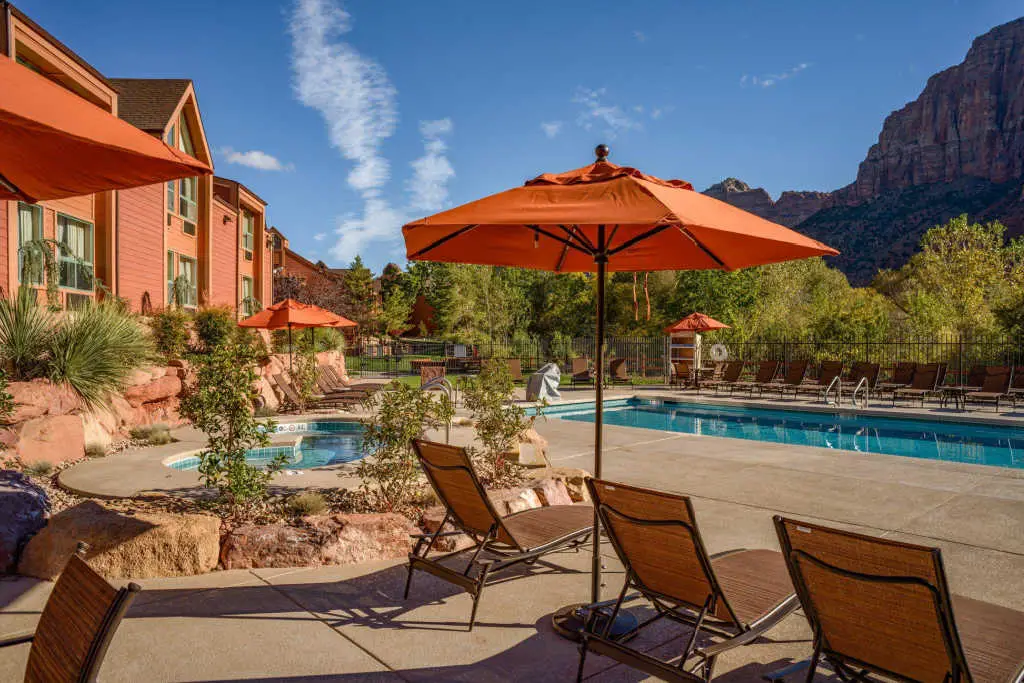 Finally, the Hampton Inn & Suites will cost about $250 per night and the Holiday Inn Express is about $300 per night, respectively.
Luxury > Cable Mountain, Cliffrose, and Desert Pearl Inn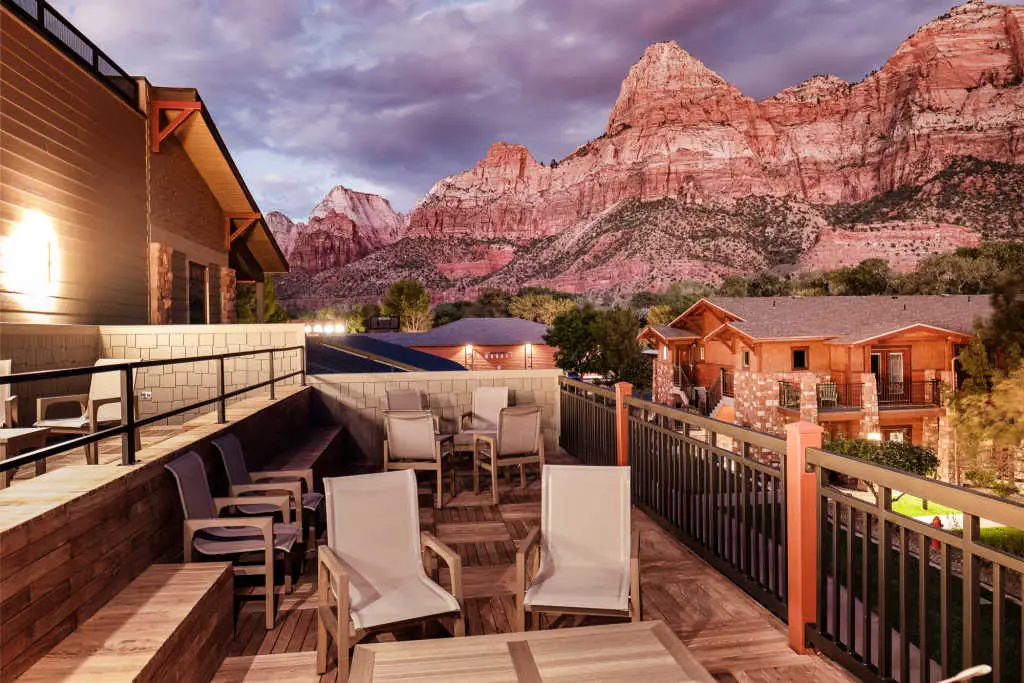 The Residences at Cable Mountain Lodge have the craziest rooftop balconies. As the closest lodge to the Zion visitor center, Cable Mountain Lodge is ultra-luxurious and ultra-convenient—guests can walk to the Zion visitor center in about 5 minutes.
Studios are priced just shy of $400 per night. However, suites and residence options are the highlights here, starting at about $500 and exceeding $2,000 per night.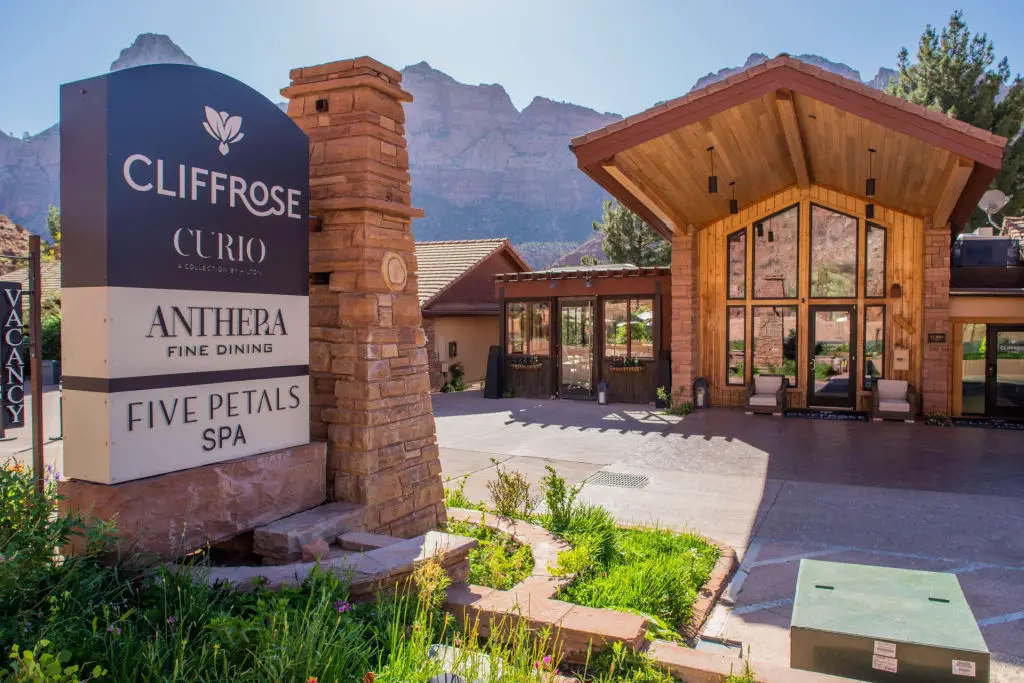 While there are plenty of dining options in the area, visitors looking for a resort with an on-site restaurant should consider Cliffrose Springdale, Curio Collection by Hilton, the second closest accommodation to the park.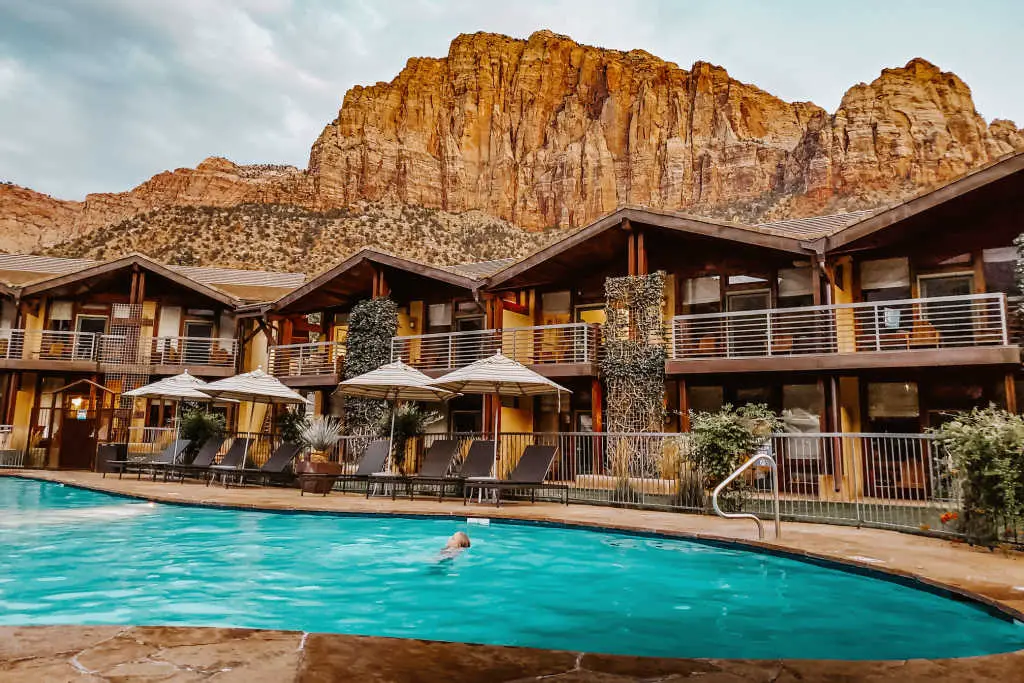 Whether you're looking for a bit of romance or family time, the Desert Pearl Inn is the perfect sanctuary and one of the best options for lodging near Zion National Park. Kitchenettes, balconies, and the best pool scene in Springdale make this an ideal stay for less than $400 per night.
Glamping > Under Canvas, and Zion White Bison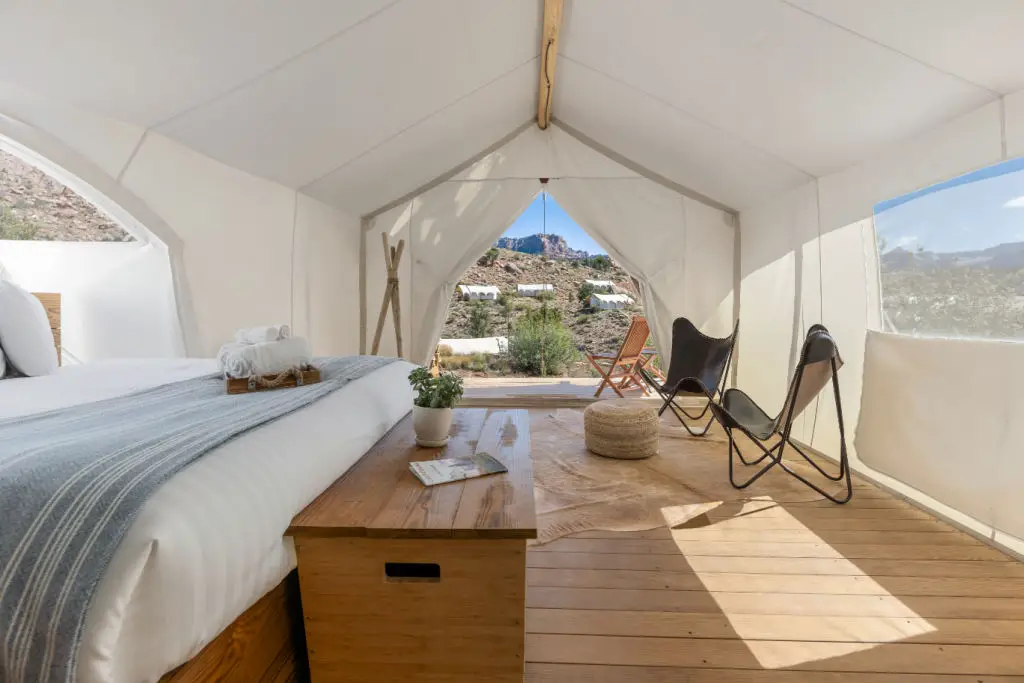 Two fun and glorious glamping options include Under Canvas (about 40 minutes from the park) and Zion White Bison Glamping & RV Resort (about 25 minutes from the park).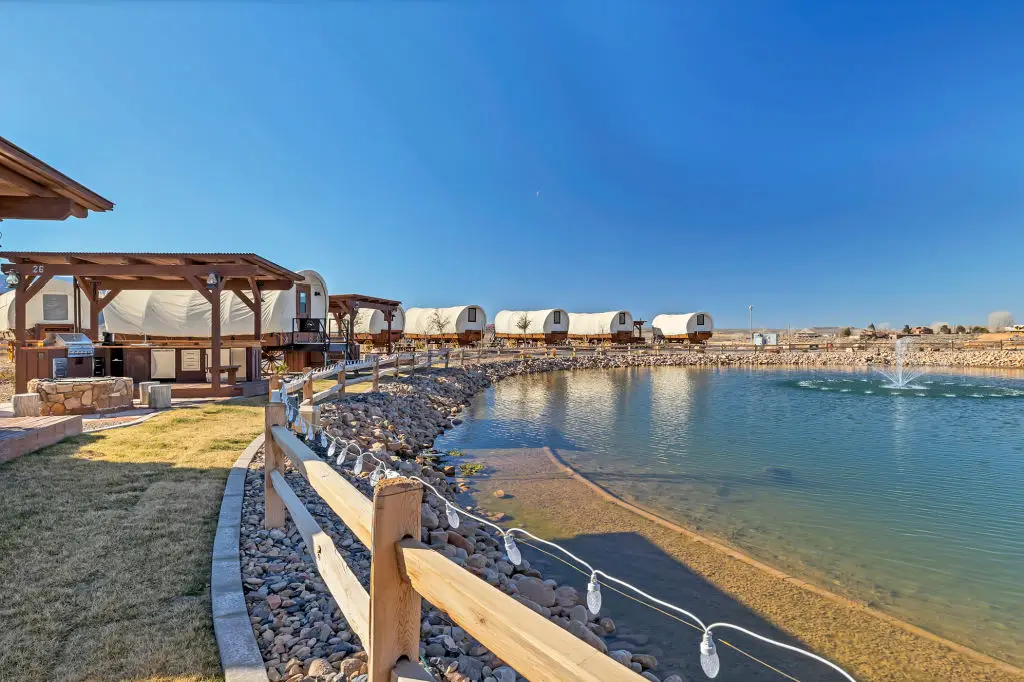 Under Canvas is a luxury tent accommodation while Zion White Bison Glamping & RV Resort offers covered wagons, tipis, and cliff dwellings—truly unique!
Pet-Friendly
With Zion being an unfriendly pet park and most hotels not allowing guests to leave pets unattended, you may be wondering what to do with your dog. Doggy Dude Ranch, which does daycare and boarding may be the answer.
Other Cheap Options for Lodging
Visitors willing to stay further from the park have the opportunity to save a lot of money on lodging. As you get closer to St. George and Cedar City prices drop dramatically. For this reason, we stayed in Cedar City at a VRBO for about $55 per night and commuted the hour to Zion. From this location, we also visited Bryce Canyon National Park where we did some epic hiking, and Cedar Breaks National Monument.
Nevertheless, below are more great options for lodging near Zion National Park outside of the near vicinity of the park.
20 Minutes From Zion NP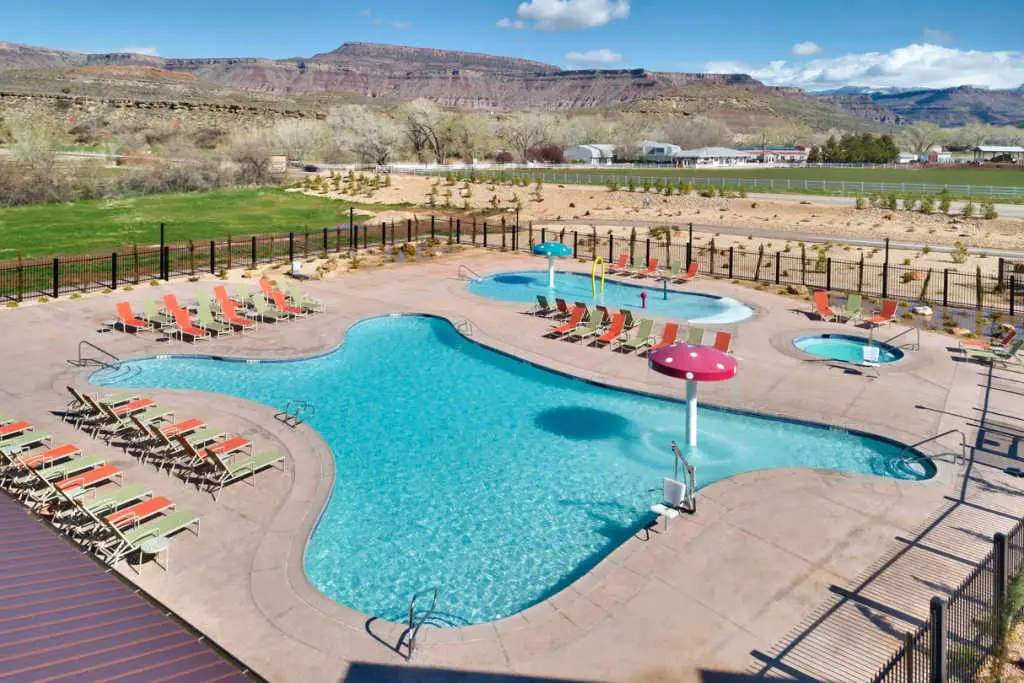 Probably one of the most underrated and nicest places to stay in is the Fairfield Inn & Suites in Virgin, about 20 minutes from the park. As one of the newer modern hotels in the area, the Fairfield features spacious rooms with balconies, a pool, a hot tub, and a breakfast buffet. Shoulder season rates start as low as about $100 per night.
30+ Minutes From Zion NP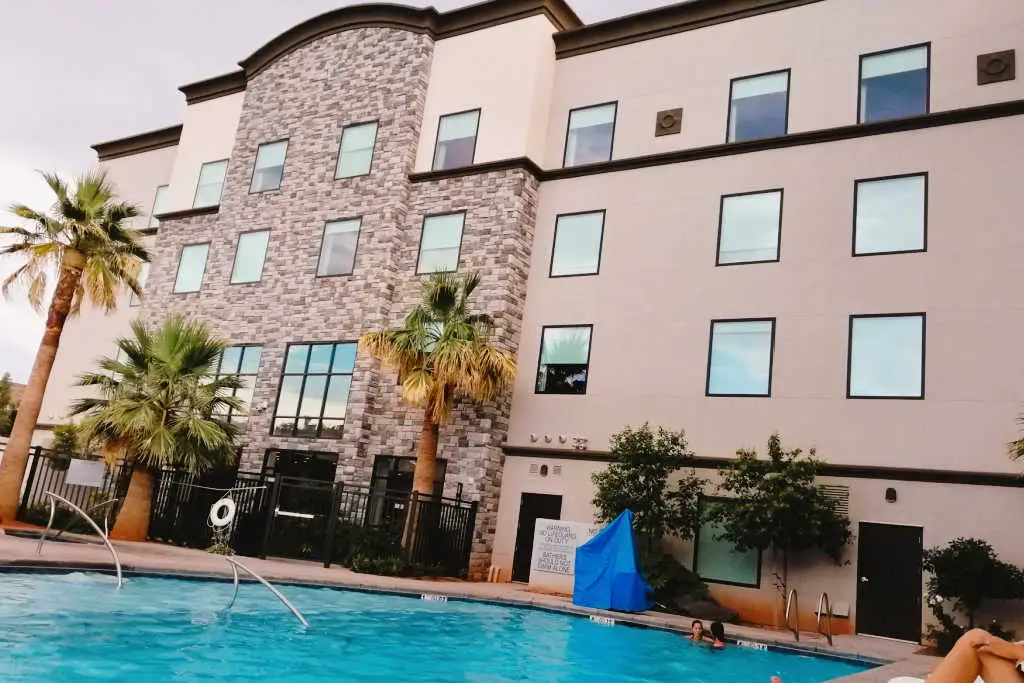 Staying 30+ minutes from the park is a great opportunity to save a lot of money on lodging. The Hurricane Wingate at Zion is about 35 minutes from Zion and rates start at about $75 per night.
1 Hr From Zion NP (Multiple Parks) > Abbey Inn Cedar City and Apple Hollow Cabins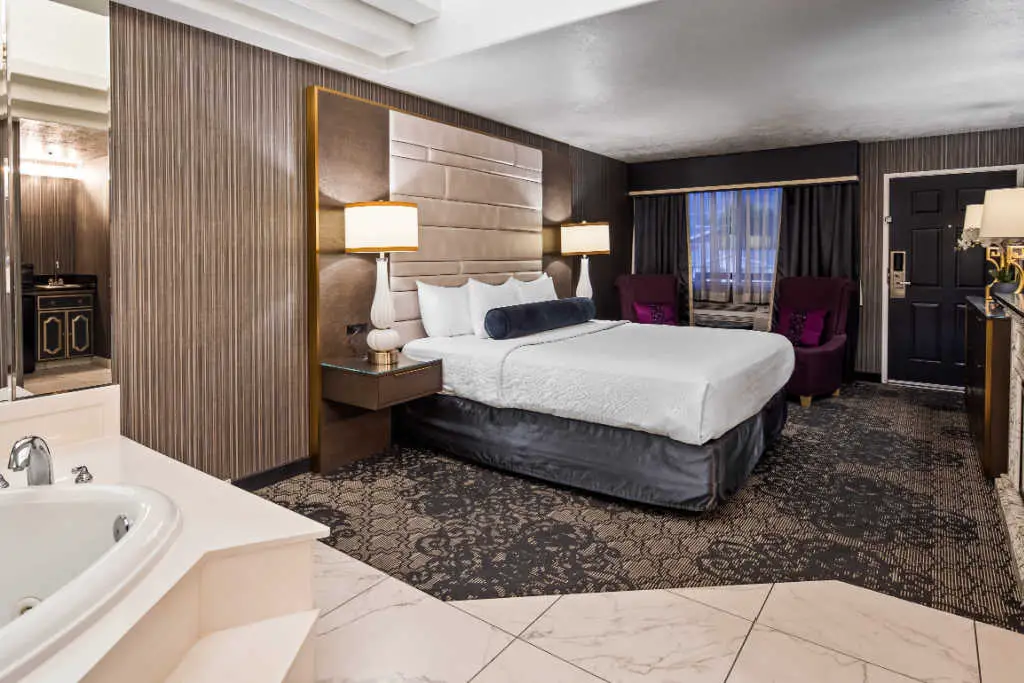 If you're interested in having one home base to explore the area for a few days then the Abbey Inn Cedar City is a great option. It's about 1 hour from Zion NP and 1½ hours to Bryce Canyon NP, and 40 minutes from Cedar Breaks National Monument, one way. If you have the time to drive, at less than $100 per night this is quite the budget-savvy option.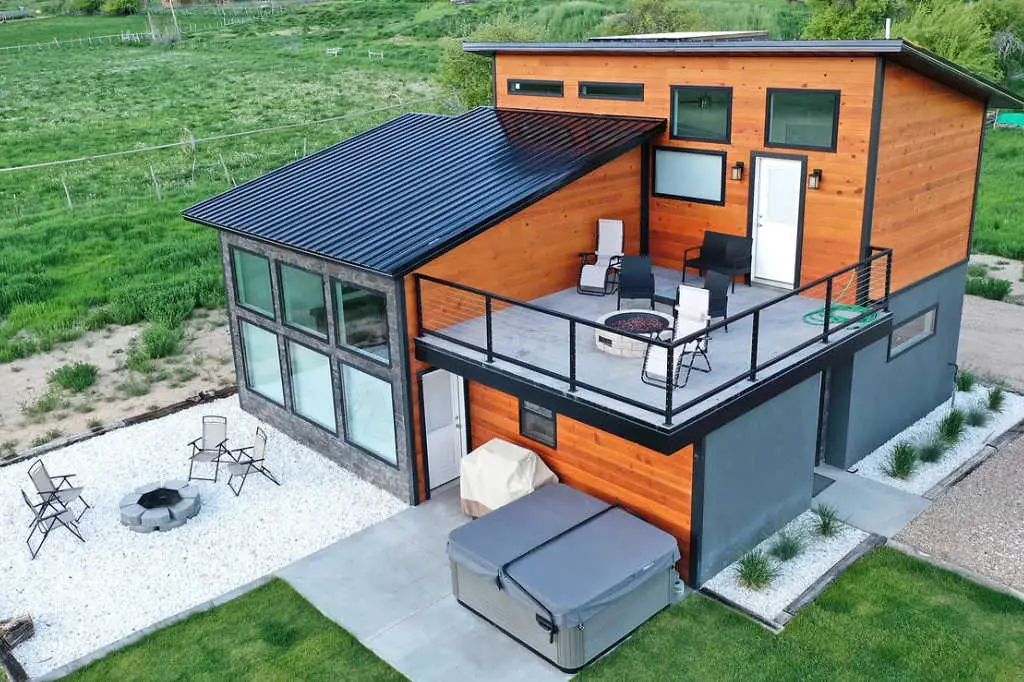 Centrally located in Glendale, Apple Hollow Cabins is about one hour from each of the three parks above. Also, it's only about 30 minutes from Coral Pink Sand Dunes State Park. They offer a one-bedroom house which sleeps four and a holiday home which sleeps nine.
Getting Away From the Crowds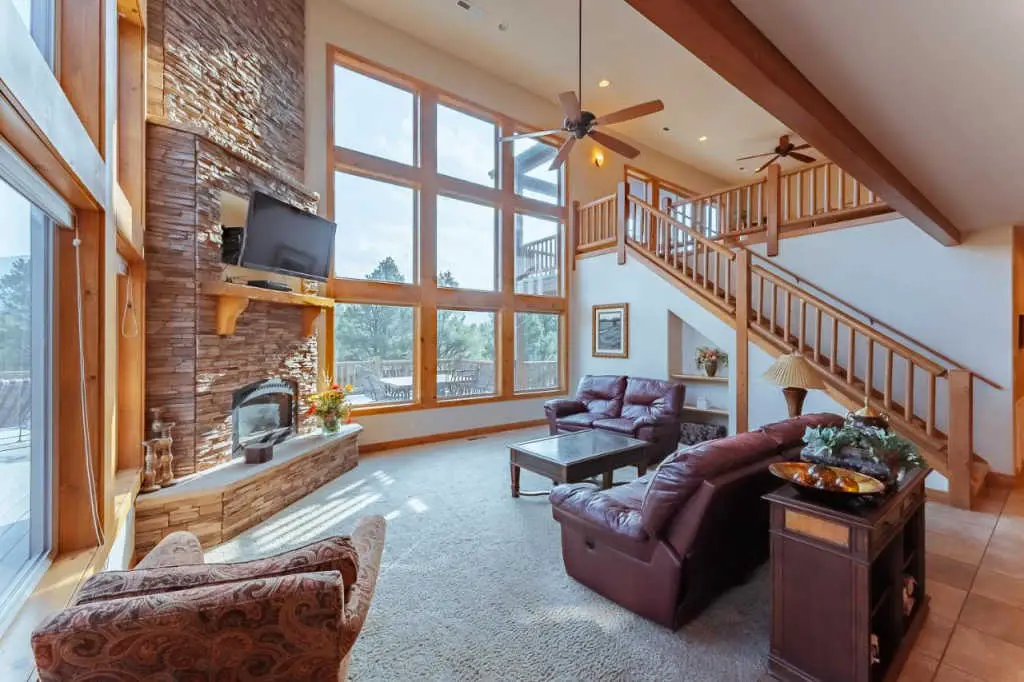 Visitors looking to get off the beaten path may be interested in staying near Zion's east walking trails. Two good choices include Zion Ponderosa Ranch Resort and the Free Spirit Rental Home. Zion Ponderosa has a whole plethora of accommodation options including glamping, cabins, covered wagons, and multi-bedroom homes.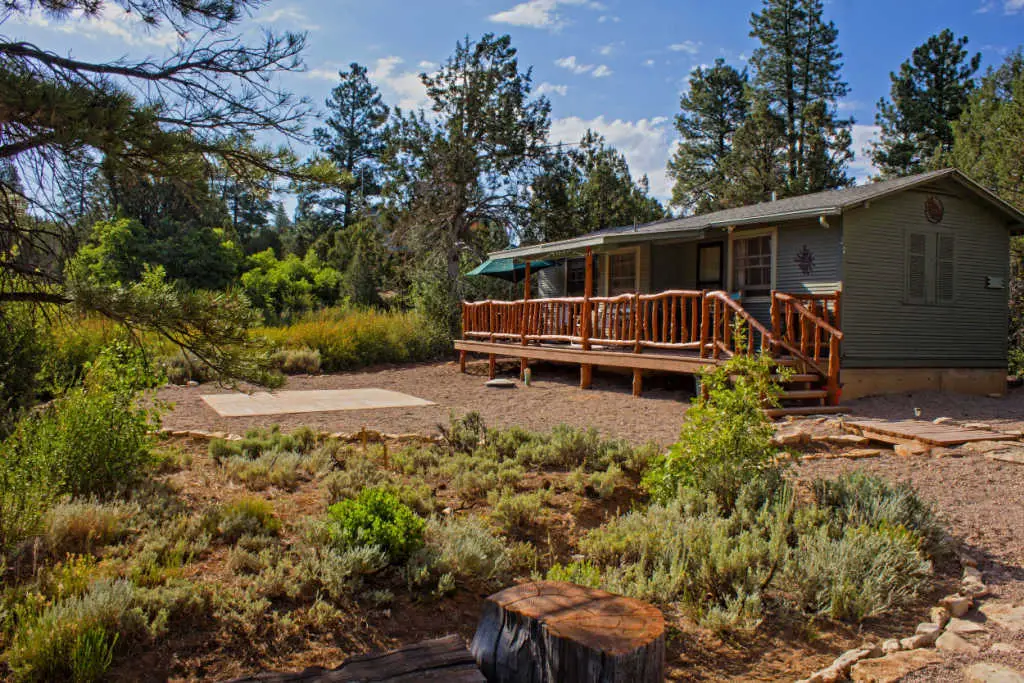 Free Spirit, on the other hand, is a one-bedroom home that sleeps three. Both accommodations are about 40 minutes from the entrance but only minutes away from the park's eastern trails.
Willing to choose the best places to stay by yourself or are you interested in getting off the beaten path? Try Trivago: a service comparing the best prices.