With some of the most expensive real estate in the world, trying to find cheap hotels in Manhattan, New York can feel like a struggle. Especially, when you're on a tight budget. Nevertheless, it's not impossible. Below are a few tips and accommodation recommendations to make sure you're not overspending on your next trip to the Big Apple.
First off, cheap nice hotels in Manhattan are extremely limited. Everyone wants to stay somewhere nice and affordable in Manhattan. For this reason, you'll want to make reservations well in advance of your stay. Do not hesitate as prices will typically increase the closer you get to your desired dates.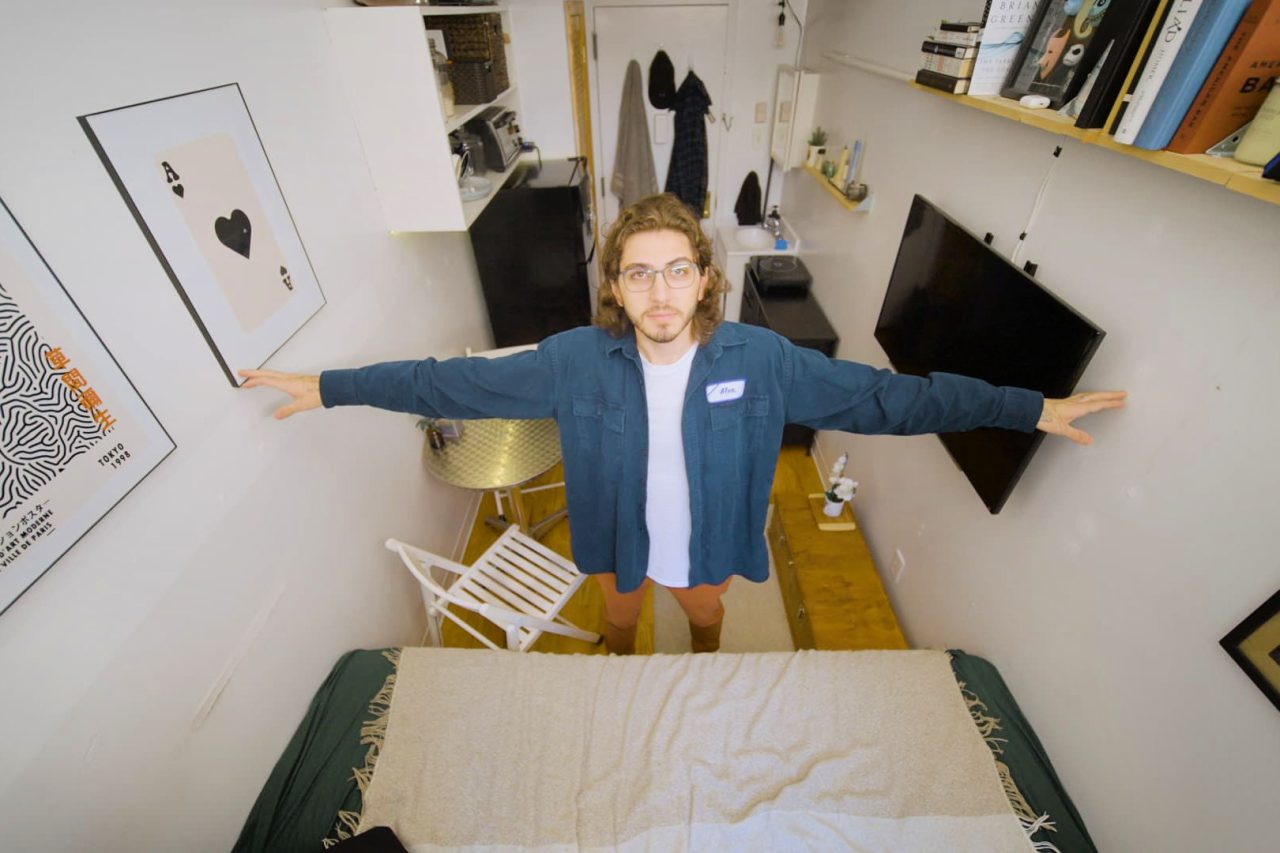 Currently, the average monthly rent for a one-bedroom apartment in Manhattan is about $4,600. This means that renters are paying about $150 per day, and they probably signed a long-term lease. As a result, any accommodation that you can find for less than or equal to this amount is considered a deal—we have quite a few hotels listed below that cost well below $150 per night!
3 Popular Cheap Tours in Manhattan
The five tours below are some of the most popular in NYC.
🤠 Feeling adventurous? Willing to choose the best tour of Manhattan for yourself or are you interested in getting off the beaten path? Check out other cheap tour options on Viator, a TripAdvisor company.
Unfortunately, if you thought you'd land a crazy-cheap hotel deal, Manhattan is certainly not the kind of place you're going to find one. Simply put, there's too much demand for housing and lodging from locals and tourists. In fact, the average nightly rate for a hotel room in Manhattan is about $300! For example, a BestWestern in Manhattan will cost you about $325 for a Saturday night in the summer months.
18 Cheap Nice Hotels in Manhattan, New York
No worries! We got you covered. There's something for everyone on the list below of 18 cheap but nice hotels in Manhattan, New York.
Also, all 18 options are located on Manhattan Island. Sure, you could venture out to other nearby boroughs and pay less but if you're looking to stay in Manhattan then the accommodation options below are your best bet.
🏨 18 CHEAP BUT NICE HOTELS IN MANHATTAN
First, we'll list the best pods & hostels, which are surprisingly nice—they vary in price from about $75 to $125 per night.
Then, we'll discuss the best cheap hotels which are priced from about $100 to $175 per night.
Best Cheap Pods & Hostels in Manhattan
1. Nap York Central Park Sleep Station
Located just three blocks south of Central Park, Nap York Central Park Sleep Station is ideally positioned for a great stay in Manhattan. Also, at about $75 per night, this accommodation is one of the best deals in Manhattan.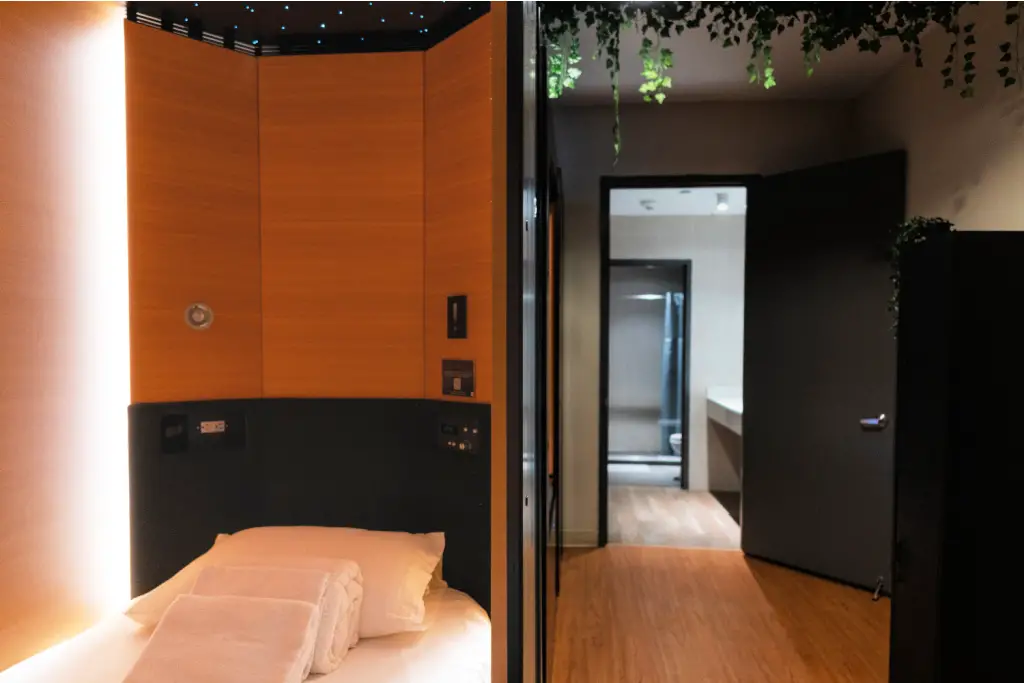 With enclosed pods instead of open bunk beds, and rooms limited to two, four, or six people the hostel atmosphere feels a bit more sophisticated. Also, each room has a private shower and toilet so guests only share with the few other people in their room. Moreover, there's a kitchen area and rooftop access. Finally, couples will enjoy the two-person "business class pod."
Nap York Central Park Sleep Station > Check Availability
2. HI New York City Hostel
You'll find the traditional hostel surroundings at HI New York City Hostel, along with a few other pleasant surprises. For example, communal areas are spacious and the kitchen is high-end. Also, there's a conveniently located cafe on site serving beverages and snacks.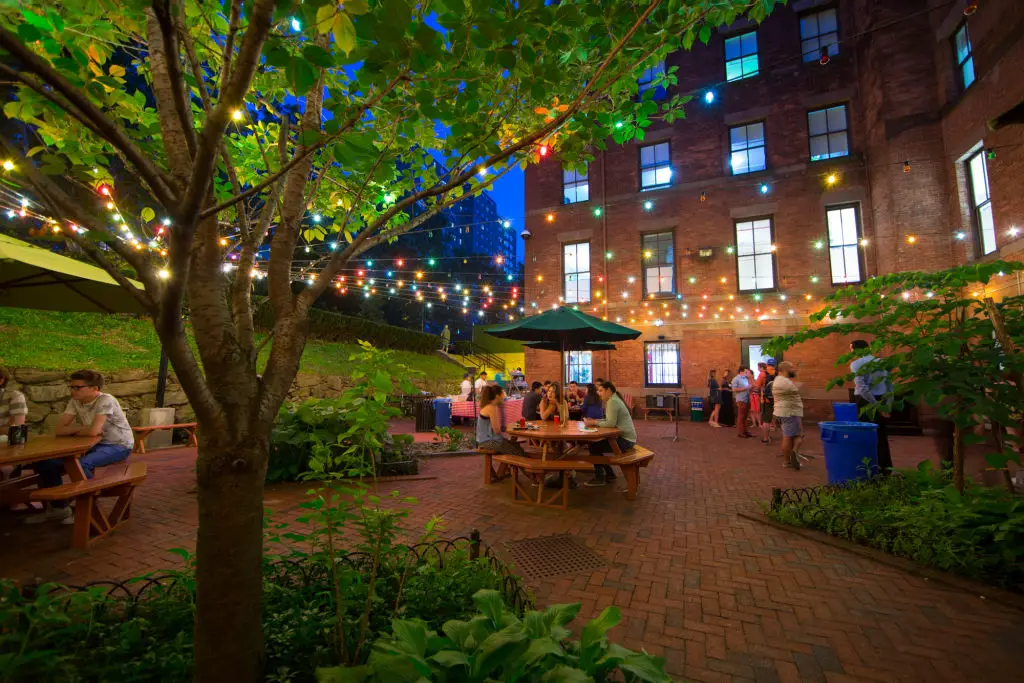 Staff help organize activities such as pub crawls or guests can simply enjoy the large outdoor patio. Finally, located in Manhattan Valley, the hostel is only about a 10-minute from Central Park.
HI New York City Hostel > Check Availability
Save up to 50% on NYC Attractions
One of the easiest ways to save a ton of money in New York City is with a Go City Explorer Pass. It includes all the best attractions, tours, and activities at one affordable rate. If you plan on hitting up just a couple of the major tourist attractions, it's an absolute no-brainer. 👇
3. Pod Times Square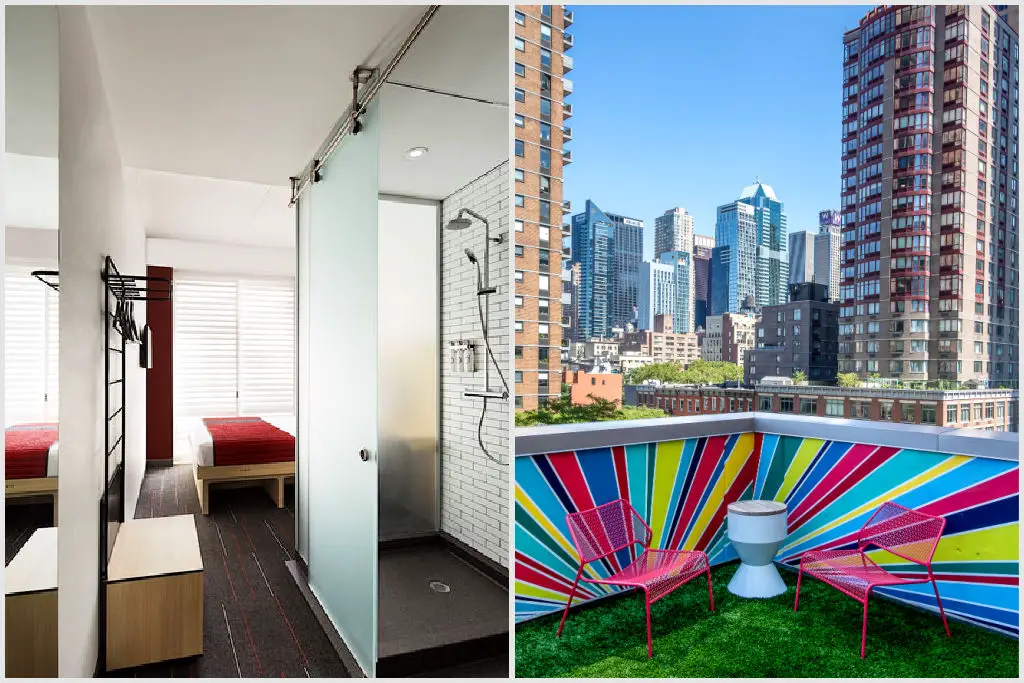 If you're familiar with the Microtel hotel brand then Pod Times Square will seem familiar. Essentially, they're just mini hotel rooms equipped with either a queen, full-size, or bunk bed. All rooms are private with showers and toilets. Finally, Pod Times Square is located in the Hell's Kitchen neighborhood, just a few short blocks from the attraction sharing its name: Times Square.
Pod Times Square > Check Availability
4. Kama Central Park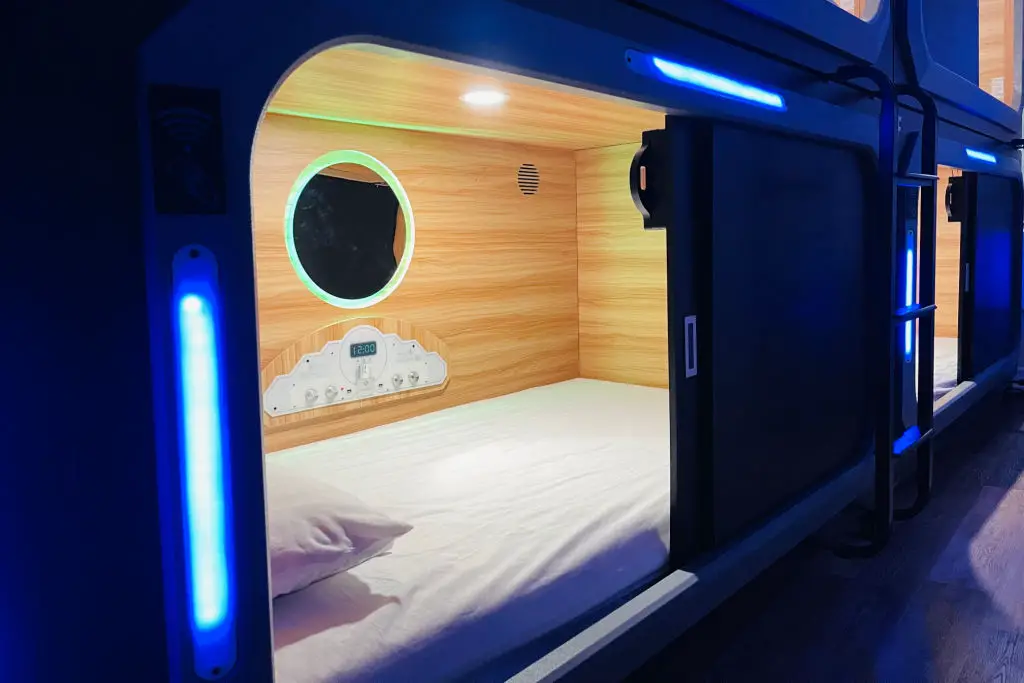 Resembling futuristic Japanese pods, Kama Central Park is simple, clean, and cheap. Located in the Manhattan Valley neighborhood, guests can easily walk across the park to visit the Museum of the City of New York.
Kama Central Park Check > Availability
5. Pod 51
With everything from shared bunk bed rooms to private double and queen rooms with private showers, there's something for everyone at Pod 51. Located in Midtown East, this budget-savvy accommodation feels more like a boutique hotel rather than one of the other cheap hotels in Manhattan.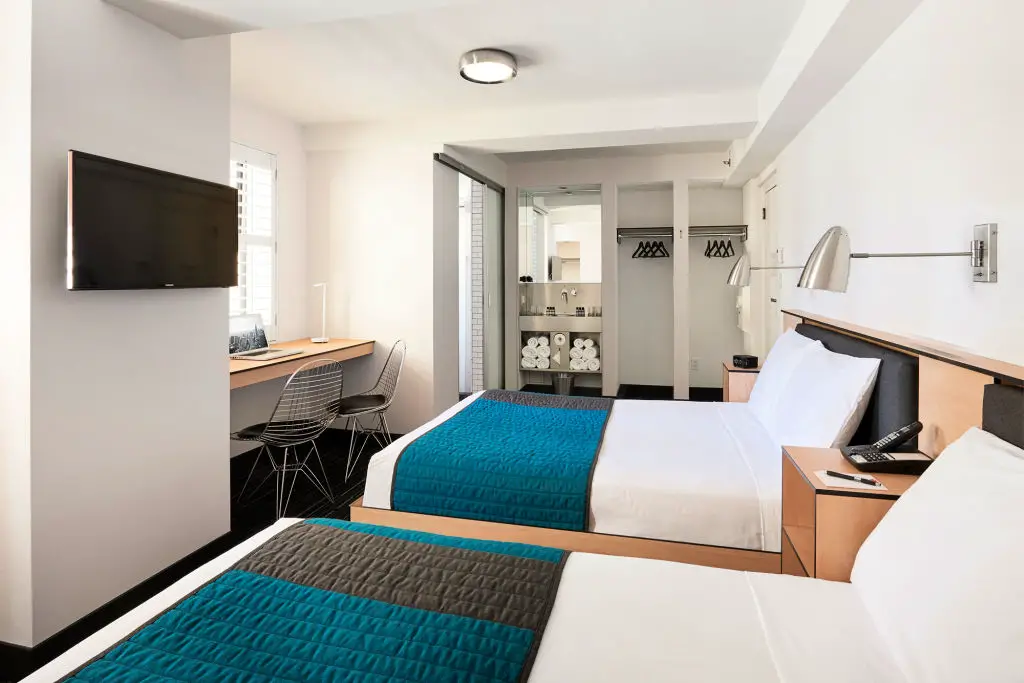 We particularly like how the staff helps guests by organizing day trips and tours while also suggesting free activities in the area. Finally, there's an on-site cafe and lounge which serves three meals a day so you'll never be scavenging for food.
6. American Dream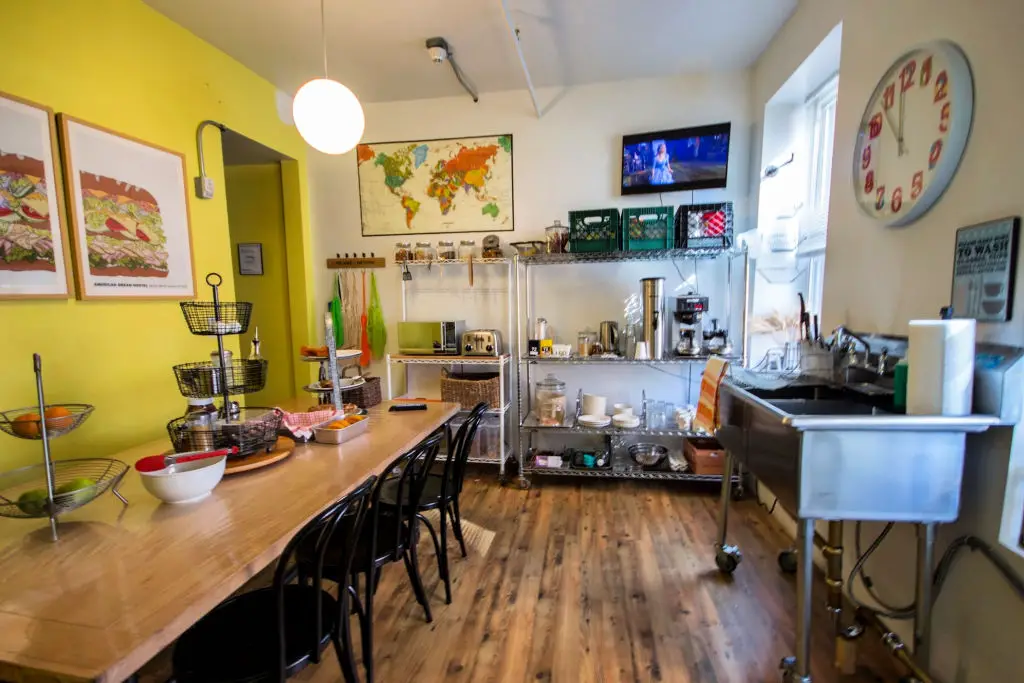 In short, travelers like this hostel. Why? All rooms are private but with shared bathrooms. Personally, we'd stay here only if all of the above accommodations had no vacancies. This is probably a good time to remind you to make reservations as soon as possible. This way you're sure to stay in one of the best cheap hotels in Manhattan.
American Dream > Check Availability
7. West Side YMCA
While we probably wouldn't choose the West Side YMCA as our first, second, or third, etc., accommodation option, there are travelers who find it nostalgic. Also, the YMCA will appeal to the solo traveler who's used to ruffing it and doesn't plan on spending a lot of time at the hostel or someone who's looking to meet a lot of other international travelers.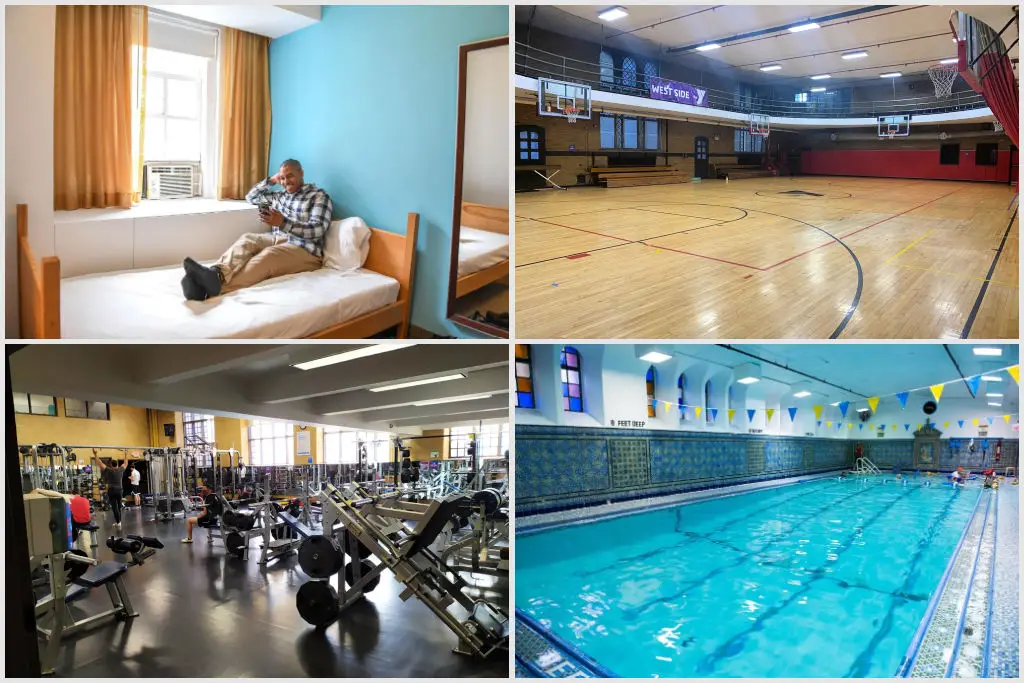 As a positive note, at just ½ block from Central Park, the West Side YMCA comes with an excellent location, Finally, if this doesn't sound appealing to you, be sure to make a reservation at one of the above (or below) options otherwise you will get stuck here as there are very limited low-cost options in Manhattan.
West Side YMCA > Check Availability
Best Cheap Hotels in Manhattan
8. Pod 39 Hotel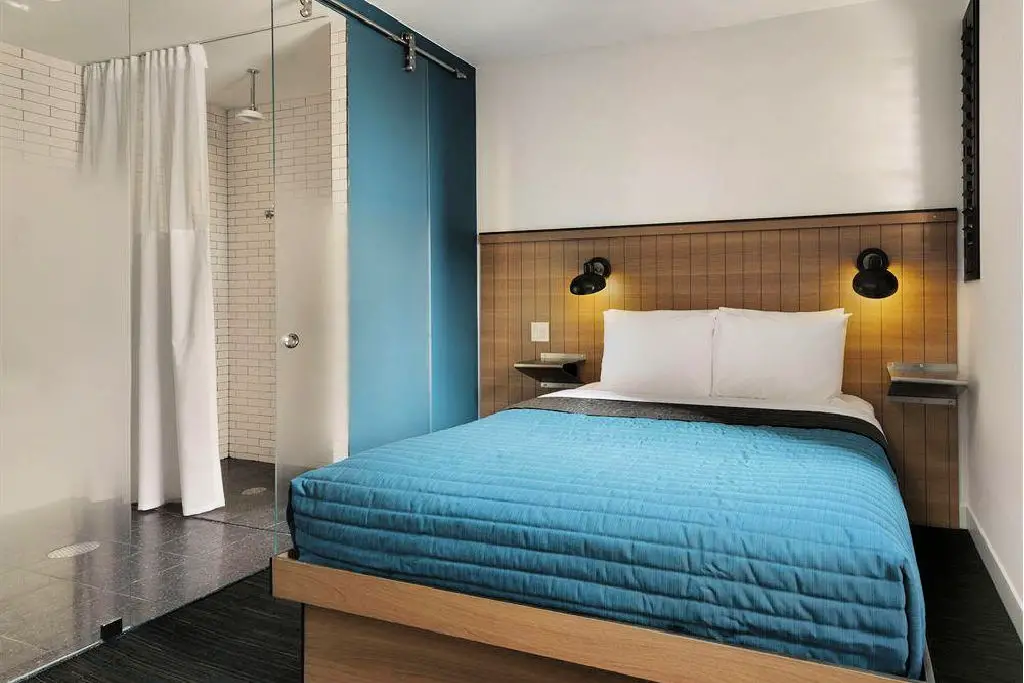 Near Rockefeller Center and in between the Empire State Building and the Chrysler Building, Pod 39 Hotel features a variety of comfortable rooms, a fun rooftop bar, a laid-back lounge, and a game room. If it's available—book it. You can't go wrong. This is one of the best budget-savvy cheap hotels in Manhattan.
9. Hotel Mimosa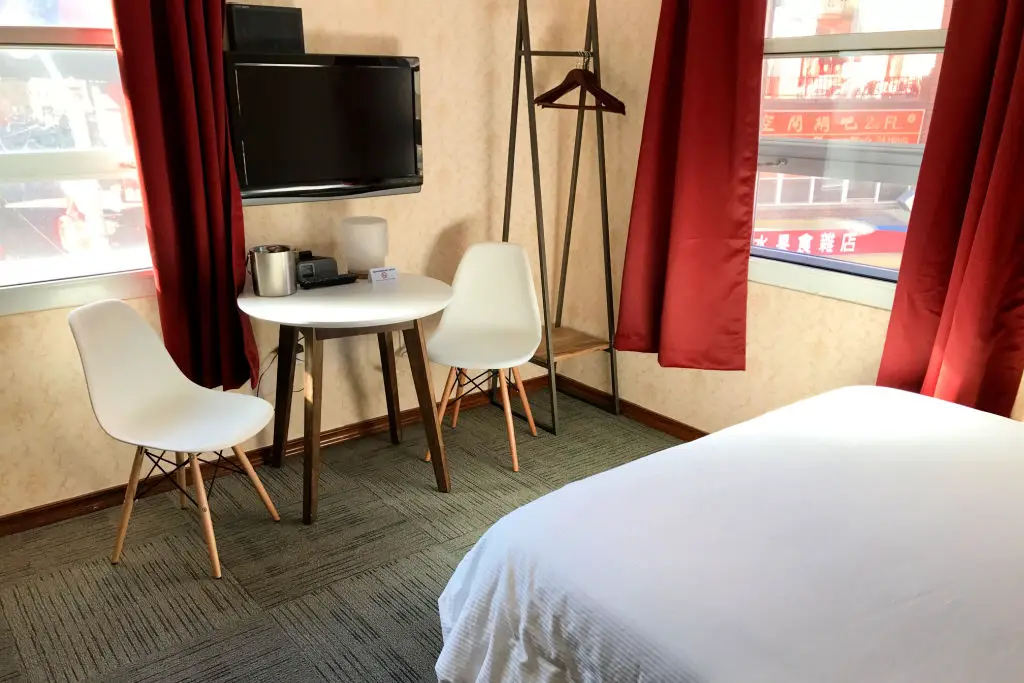 Providing excellent value, cleanliness, and hospitality, and located in Chinatown, Hotel Mimosa is a great budget-savvy option. For one thing, it's surrounded by many fantastic restaurants. Also, the hotel serves up scrumptious Coco Bubble Tea and Taiwanese teas and juices. You won't be disappointed.
Hotel Mimosa > Check Availability
10. Artezen Hotel
Okay, this is definitely one of the more posh cheap but nice hotels in Manhattan. In fact, for many travelers, this will be pushing toward a mid-range price point. Nevertheless, for those willing to pony up a few more bucks, a stay at Artezen Hotel is well worth it.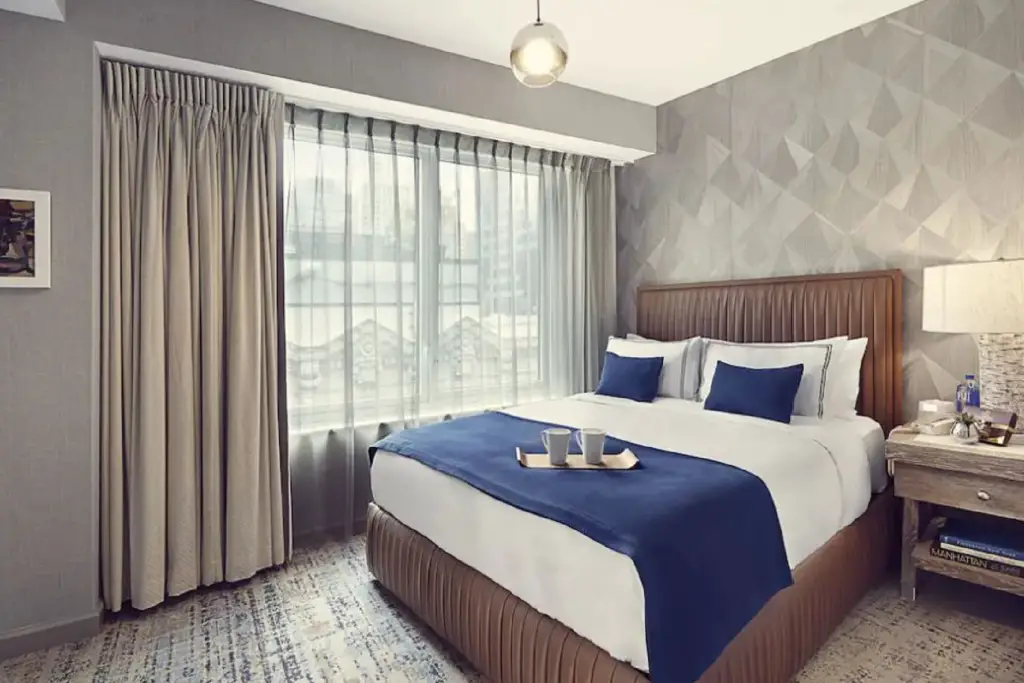 Located in the Wall Street – Financial District neighborhood, Artzen is close to the action but provides shelter from the chaos. In fact, their Petite Queen Room is soundproof and one of the best value accommodations in Manhattan.
Artezen Hotel > Check Availability
11. Lex Boutique Hotel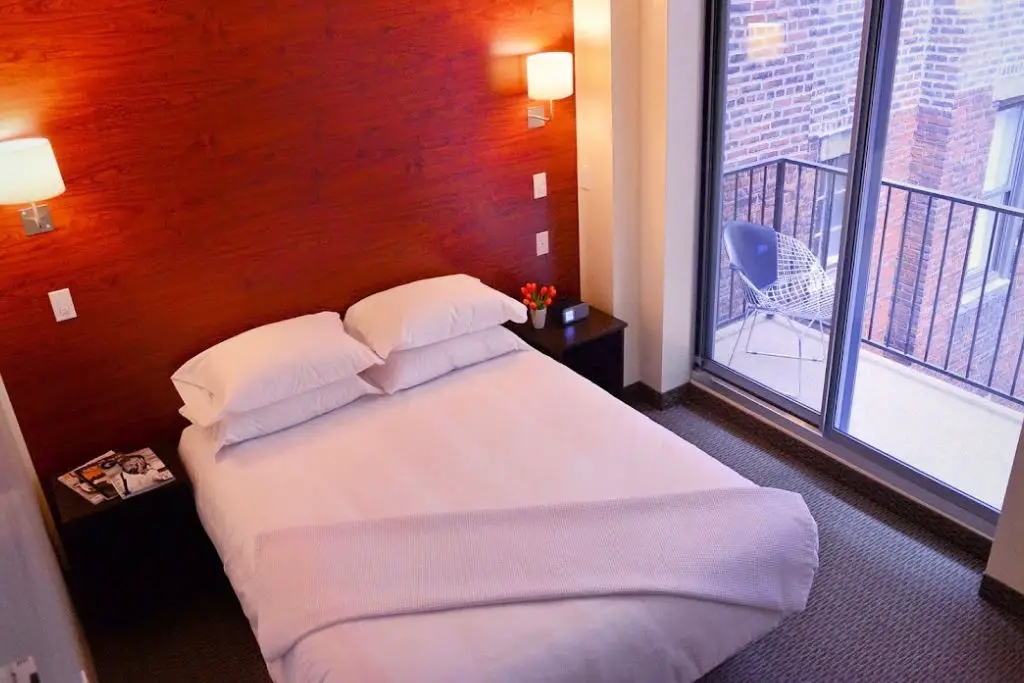 Within walking distance of four metro stations, and offering free breakfast, Lex Boutique Hotel is a great value accommodation option in Manhattan. Staff are nice and cleanliness is a priority. Budget-savvy travelers will appreciate a stay here.
Lex Boutique Hotel  > Check Availability
12. Blue Angel Hotel NYC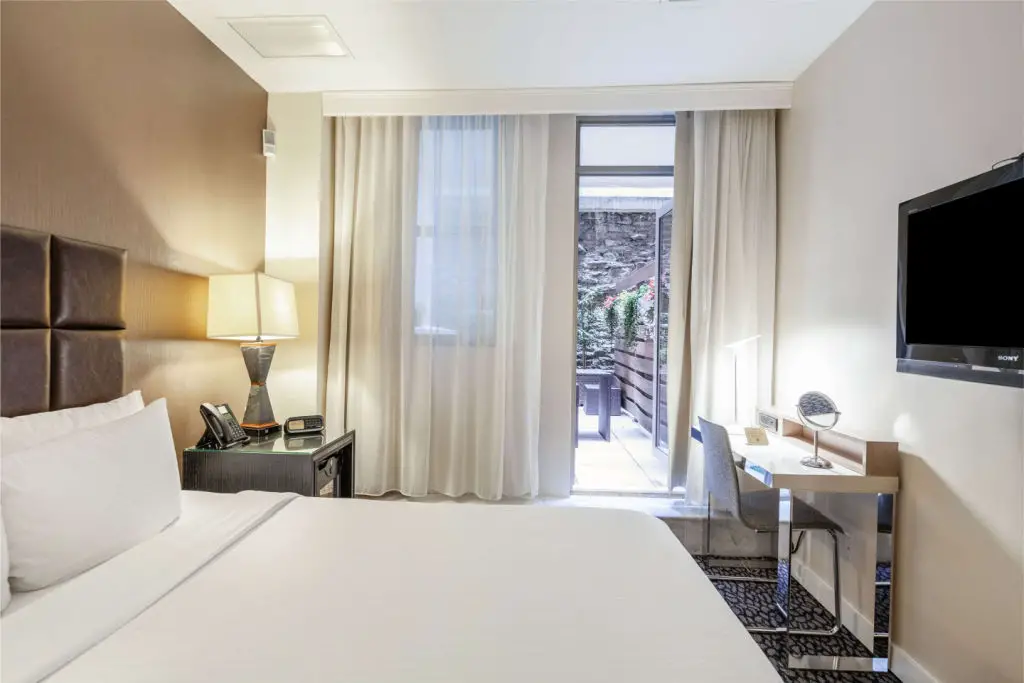 The atmosphere at the Blue Angel Hotel NYC is very Zen-like. Guests can save quite a bit of money by choosing the Interior Room with no windows—no worries, though. The higher-end finishes make the space feel calm and regal.
Blue Angel Hotel > Check Availability 
13. The Washington by LuxUrban
With modern vibes and lines and angles that seem futuristic, The Washington considers itself to be a luxury hotel with affordable pricing—and we agree. In fact, we're seeing rates go as low as $150 per night! If you can land a deal anywhere near this price, take it.
The Washington > Check Availability
14. Hotel Indigo NYC Downtown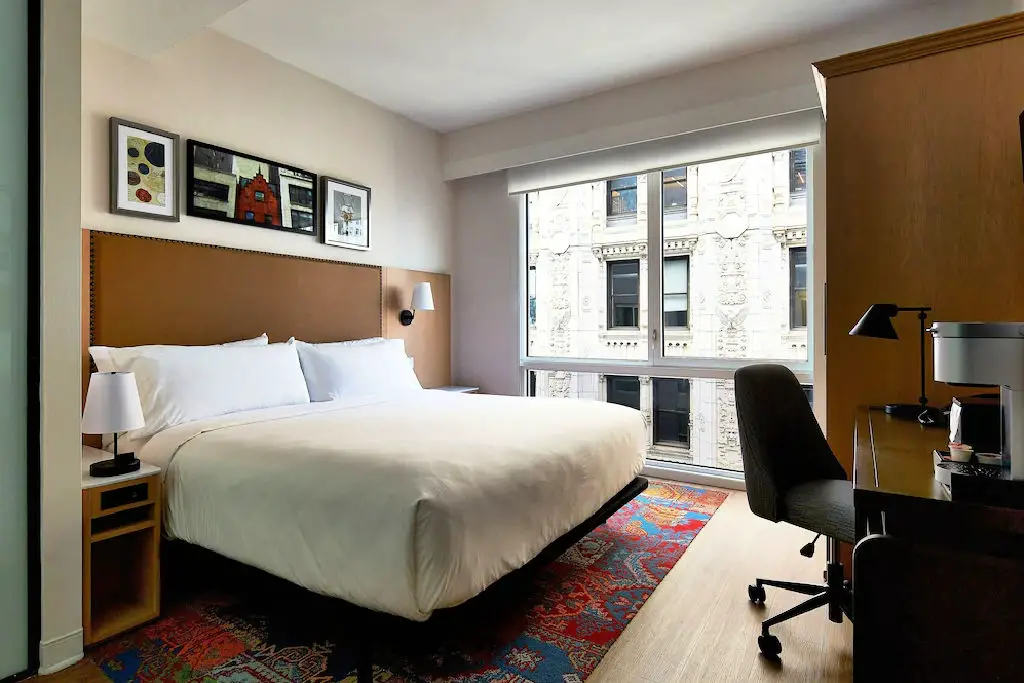 Just two blocks from Pier 11 and the same distance from the Wall Street/William Street metro station, Hotel Indigo is a pleasant surprise in the Financial District. As an IHG hotel, you'll find this to be a similar experience to a stay at a nice Holiday Inn, with similar amenities. Personal secret: one of Audrey's favorite budget-friendly hotels is Holiday Inn Express—for this reason, there's a good chance we'd book this cheap hotel in Manhattan!
Hotel Indigo NYC Downtown > Check Availability
Want to See the New York Yankees?
If you're planning on seeing a game at Yankee Stadium then you may be interested in staying in Upper Manhattan. Irving Manor is located just 1.6 miles away and features a shared kitchen. Surprisingly affordable, rates are about $100 per night!
15. The Park Ave North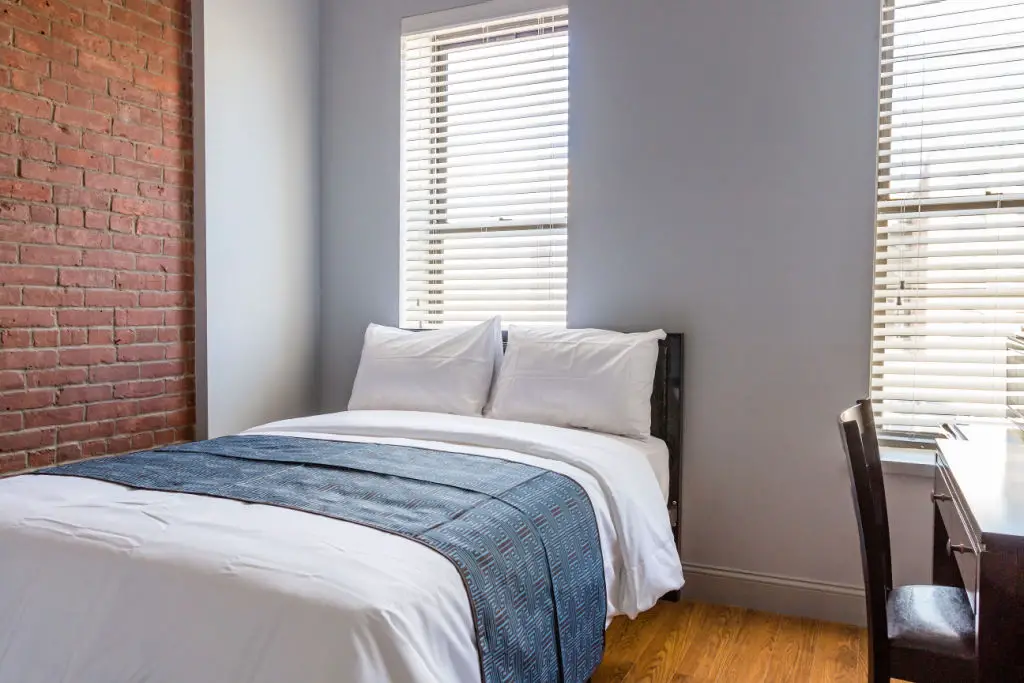 Simple, small, and comfortable for a short stay, The Park Ave North is clean, and the neighborhood (Harlem) is calm. Located on northern Manhattan Island, the accommodation is close to several good Spanish restaurants including Ellat Kitchen and Bar, Pio Pio 6, and Boqueria Spanish Tapas Bar and Restaurant.
The Park Ave North > Check Availability
16. Moxy NYC Lower East Side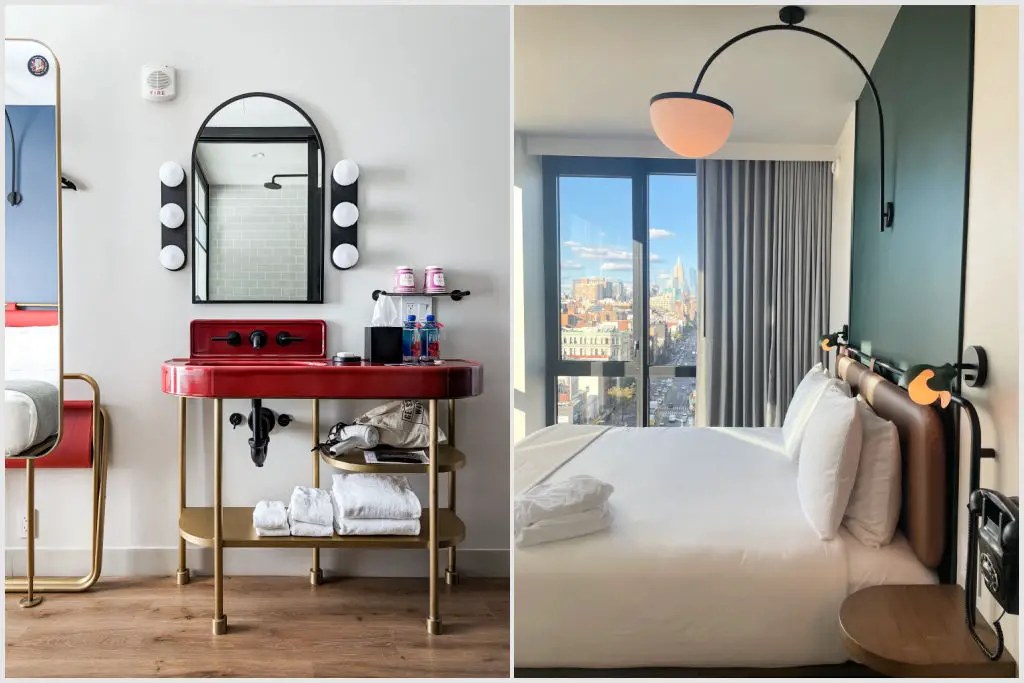 Located in the Lower East Side neighborhood, near SoHo, China Town, and East Village. There are several good restaurants nearby and a metro station. Also, there are some nice amenities including a coffee shop, fitness center, and rooftop bar. Finally, an abundance of staff ensures the hotel is kept nice and tidy.
Moxy NYC Lower East Side > Check Availability
17. Off SoHo Suites Hotel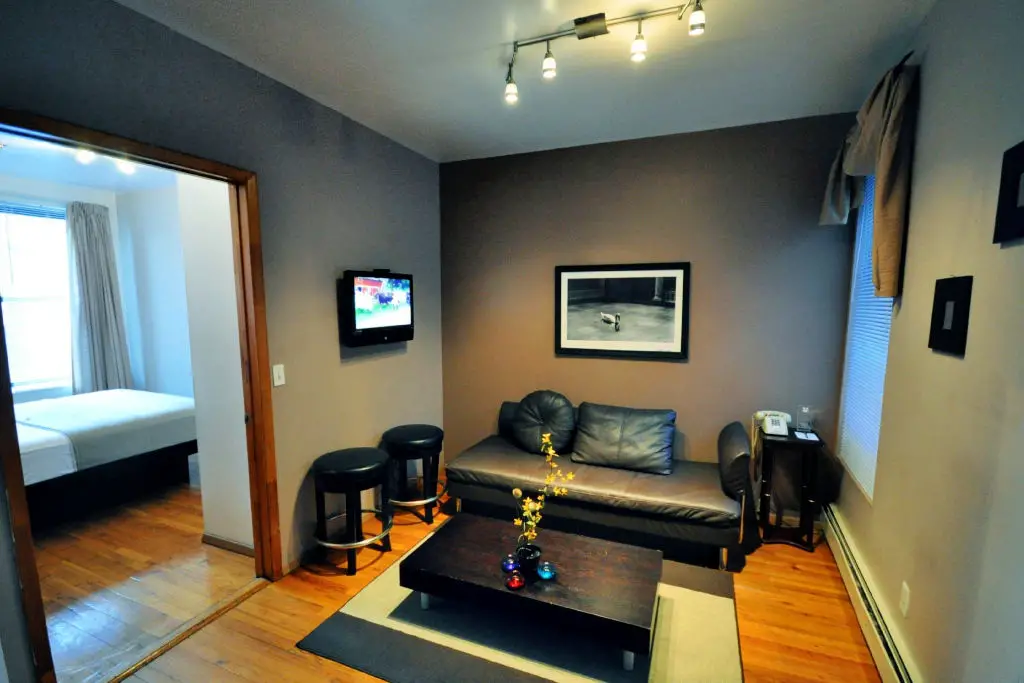 Located only one block from the Bowery metro station, Off SoHo Suites Hotel provides guests with European-style one-bedroom suites that include a private kitchen and bathroom—it's a bit pricey though.
Off SoHo Suites Hotel > Check Availability
18. Carlton Arms Hotel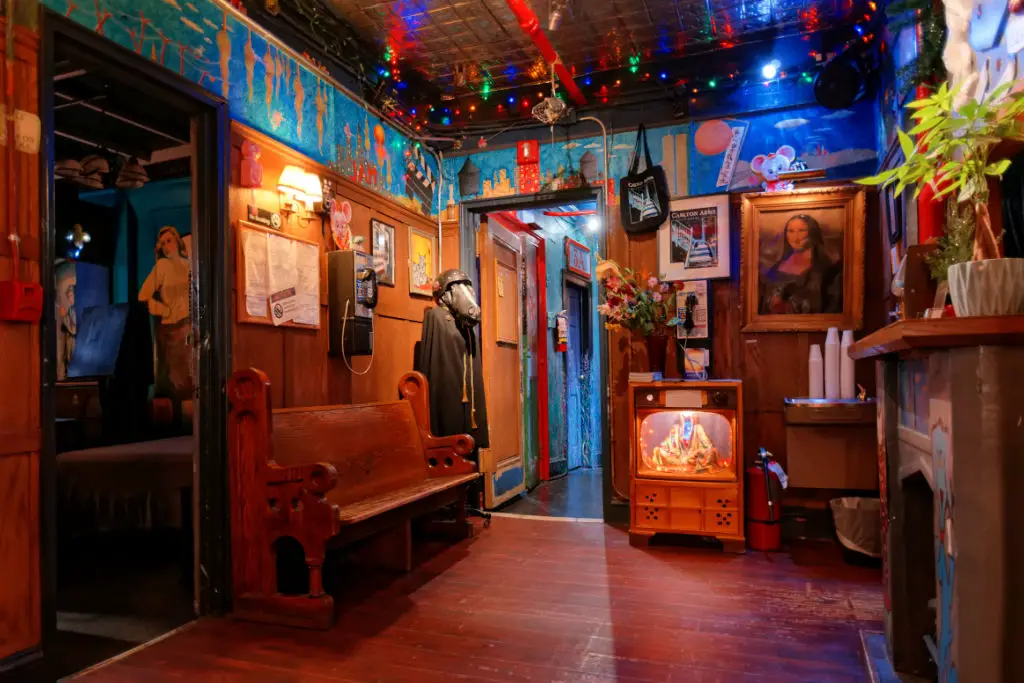 Super quirky and artistic, the Carlton Arms Hotel offers good value if you can get past the peculiar decor. Some people love it, others hate it. It's definitely not for everyone. Finally, there are no elevators, no breakfast, and hallways and stairways are narrow.