We were on a mission, to find Bulgaria's Best Beaches. As we explored the Balkans in the summer, the unbearable heat was driving us to the nearest coast we could find. So while in Bulgaria, we decided to make a point of visiting its coastline in order to create the budget guide to Bulgaria's beaches. The Black Sea always seemed like this sexy place to visit and we were determined to step our feet onto its shores.
Bulgaria's Best Beaches | Find the Best Beach For You!
While touring Bulgaria's major inland cities, we decided to ask almost every local their opinion of Bulgaria's beaches seeking out the best experience. Unfortunately, we kept hearing a recurring recommendation, "We don't visit Bulgaria's beaches for our holidays. We go to Greece!"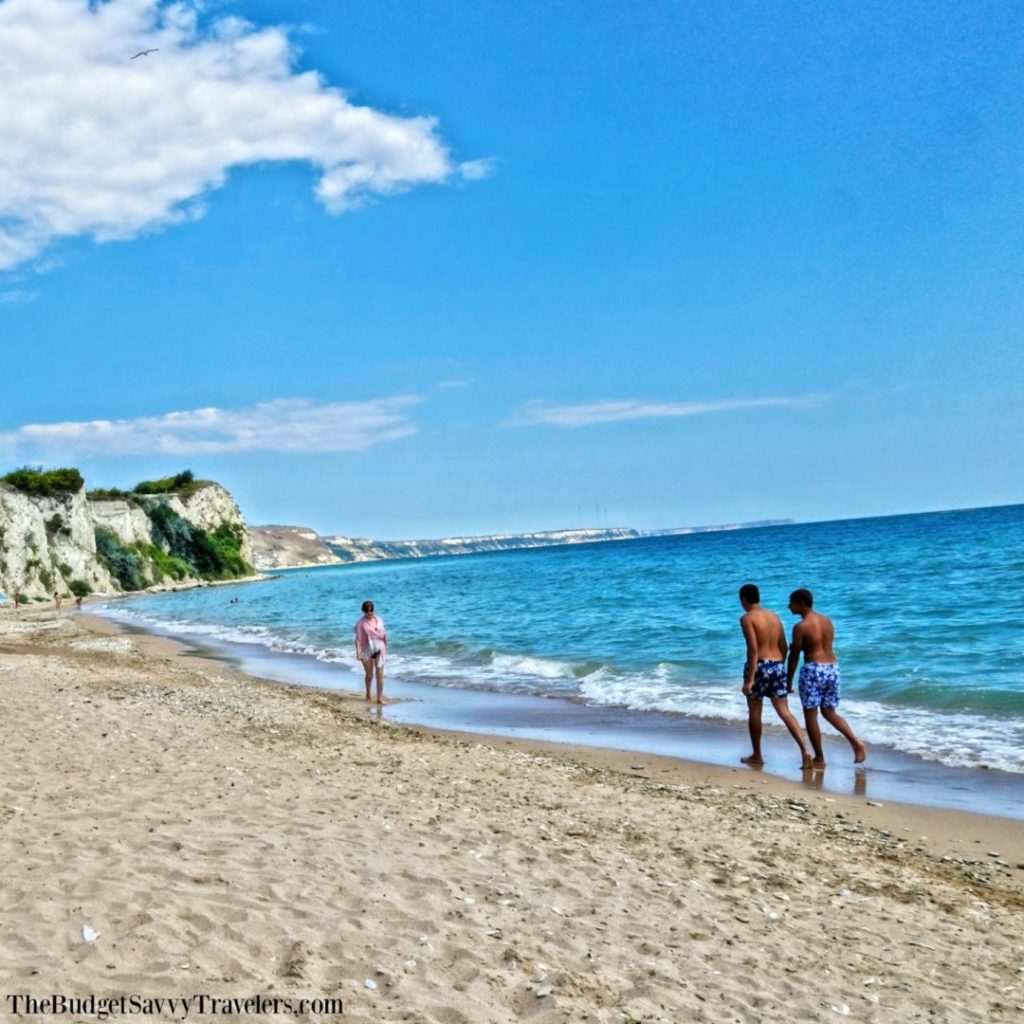 So we took a chance and decided to explore on our own. We already knew to stay clear of touristy and overrun Sunny Beach, where the summer party scene is known to quickly escalate out of control. Many new Bulgarian friends shared horror stories from here. It sounded similar to trying to have a vacation in Cancun or Panama City Beach, Florida during college spring break week.
Northern Bulgaria | Bulgaria's Best Beaches
Our first stop took us to Kavarna, one of the gateway cities to Bulgaria's wild, northern beaches. (Bulgarians describe them off the beaten path beaches as "wild.") With its rugged coastline, this was a very pretty part of the country.
Unfortunately, it was very difficult to find budget-friendly accommodation here. In this particular area, there are three resorts available with a variety of price ranges. We sought out to spend approximately $50 USD per night or less.
We booked a week stay at Kaliakria Resort at $47 USD night. We wish we could recommend the unit we stayed in, however, our Russian host ended up causing us an Airbnb nightmare. Despite our many issues, we ended up having an enjoyable week here.
If you're unable to find a budget-friendly room at one of the few resorts, look into the nearby towns of Kavarna and Balchik. These small towns have a handful of hotels and apartments that can provide a great beach getaway close to the beautiful beaches.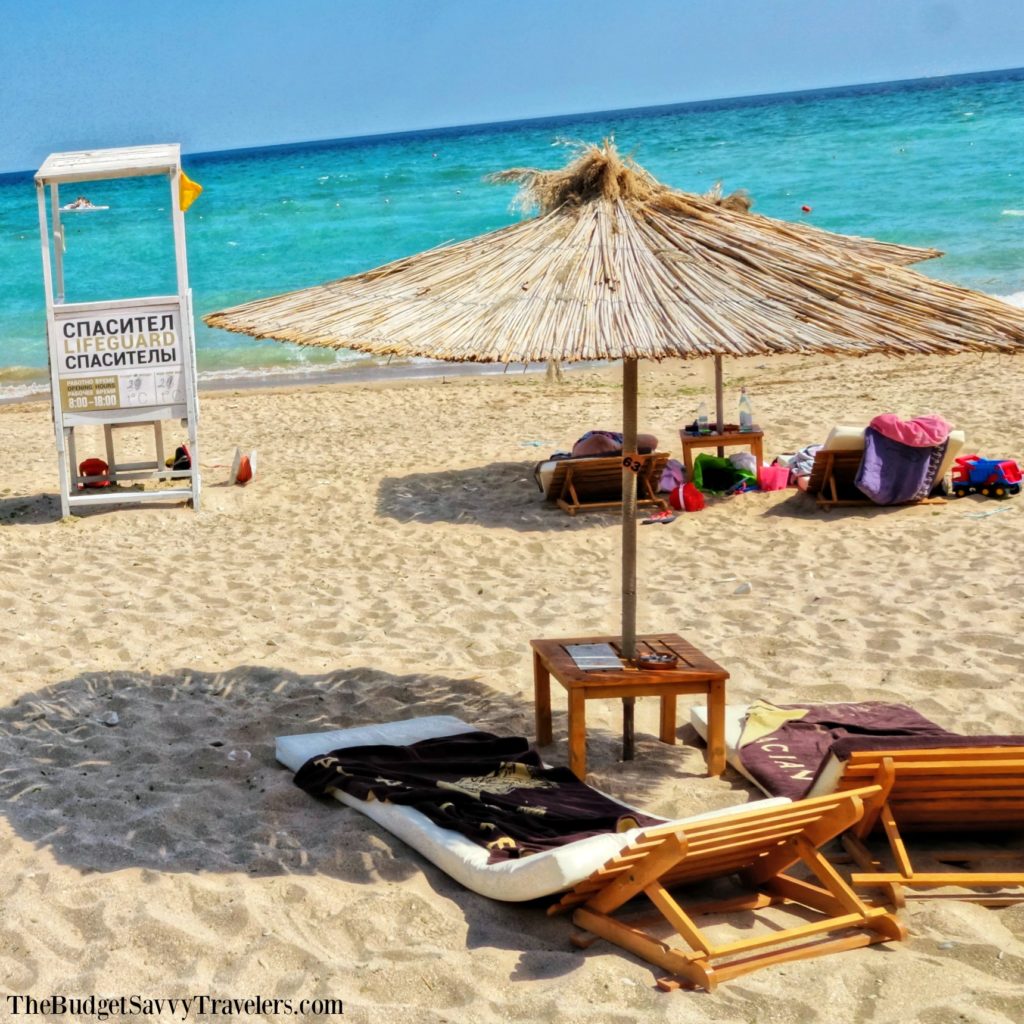 Varna Bulgaria | Bulgaria's Best Beaches
We weren't ready to leave the coast quite yet, so we ventured to Varna to explore its beach scene. We stayed in Varna for ten nights. The area can be described as very touristy, but family-friendly.
It was reminiscent of a summer beach vacation in Myrtle Beach, South Carolina. Yes, it's busy because it's summer AND you're at the beach. However, we noticed crowds waxing and waning throughout our stay with some weekdays being fairly quiet.
Many people talk about the Black Sea being dirty. Just like any beach, tides often change the quality of the water. We didn't observe litter, but sometimes the water has what we called sea lettuce, and other days it was pretty clear.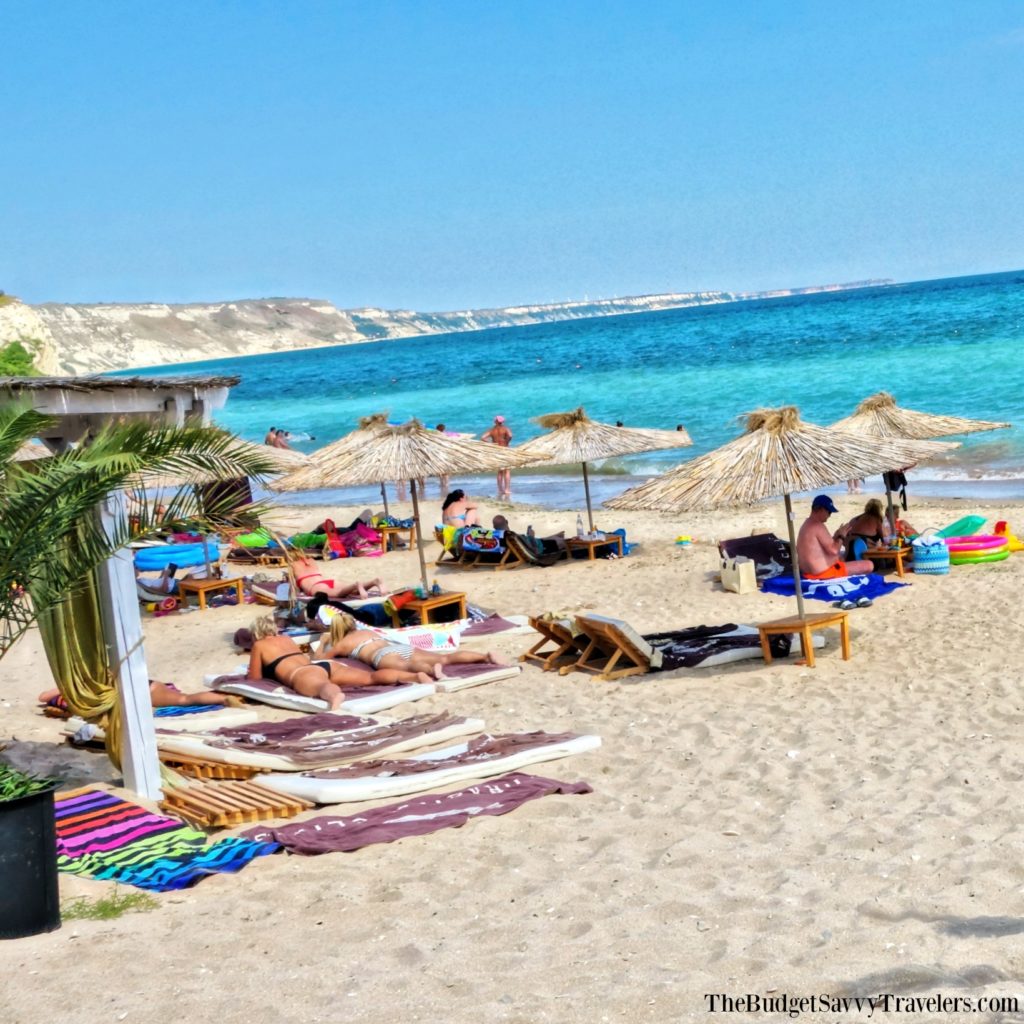 Free Spa Treatment | Bulgaria's Best Beaches
Knowing that celebs pay huge sums to have this stuff rubbed on their bodies at a luxury spa, it didn't bother me any. In fact, my skin felt silky smooth by the end of our Black Sea stay. In actuality, due to the plant life and photo-plankton in the water, the Black Sea is actually quite a unique marine environment. The water is also the perfect temperature, not too warm and not too cold.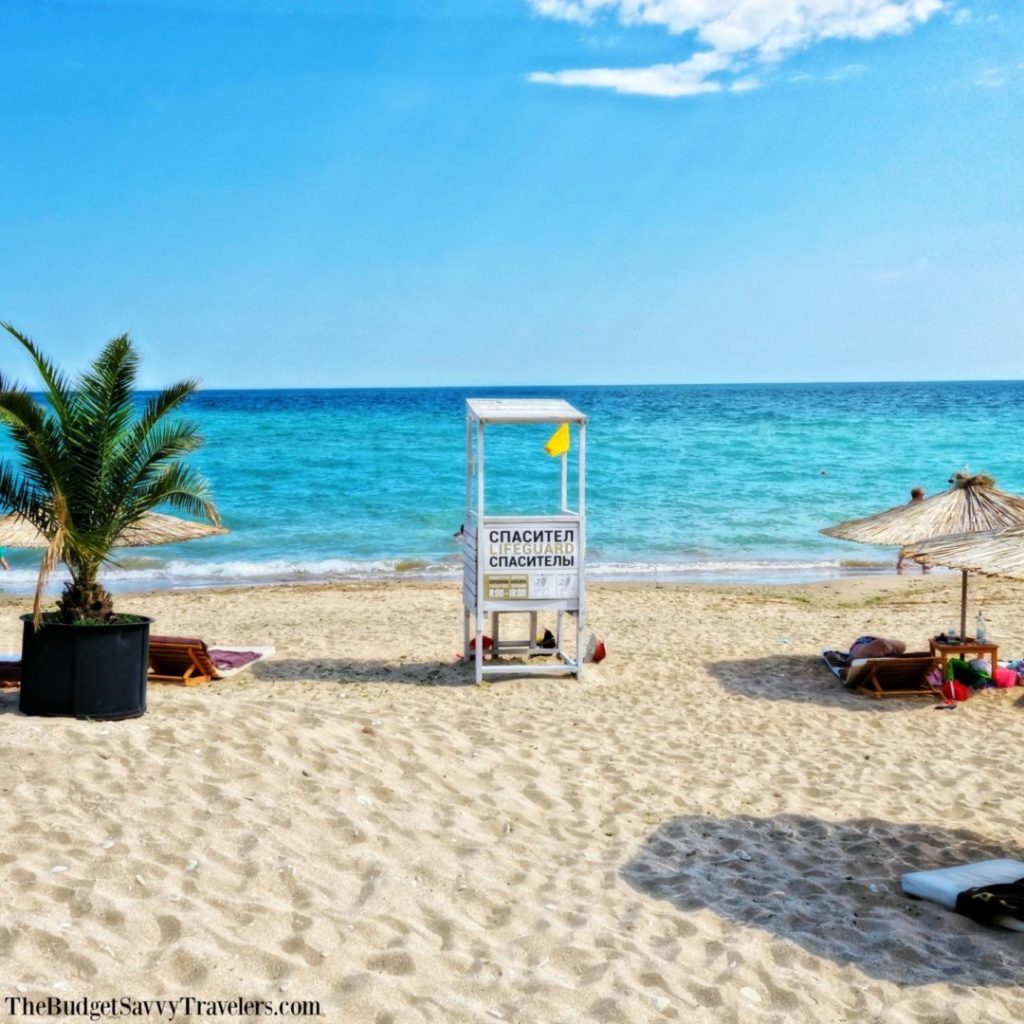 On Varna's coast, there are many different beaches. Our Airbnb host kindly supplied us with free bikes so we loved exploring by around by bike. If you are visiting here, visit each beach and see what one looks good to you.
Some beaches offer sea sports, beach cafes, others a fun music scene, and some are better for swimming. In Varna, our favorite beaches to hang out were South Beach (near Grand Hotel Varna) and Sunny Day Resort Beaches.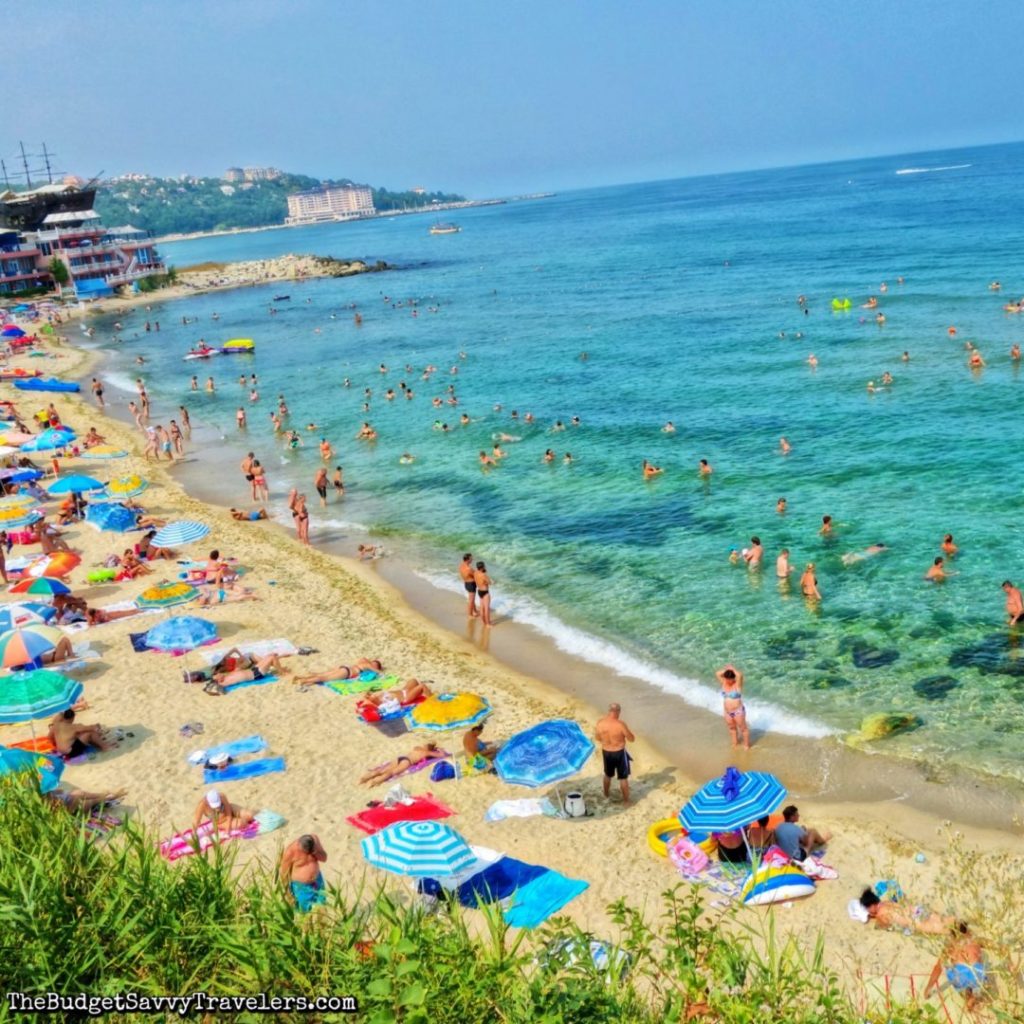 We rented a nice Airbnb that was about a 5-minute bike ride, or a 10-minute walk from the beaches. This ended up working in our favor as the building was quiet and away from the crowds.
Our host, Ruslan was great, he graciously worked within our budget. If you're looking for a great local host to reach out you can contact him at [email protected] He's a busy guy, so communication may not be immediate, but he took good care of us while we were there. We paid about ~$34 USD per night.
It is important to note that many locals recommend Bulgaria's southern beaches and coastline. This area sounds less touristy and wilder. This area was too far off our planned route, so we didn't venture that far down the coast. This is an area we want to explore further in the future. More information will be added here once it comes available!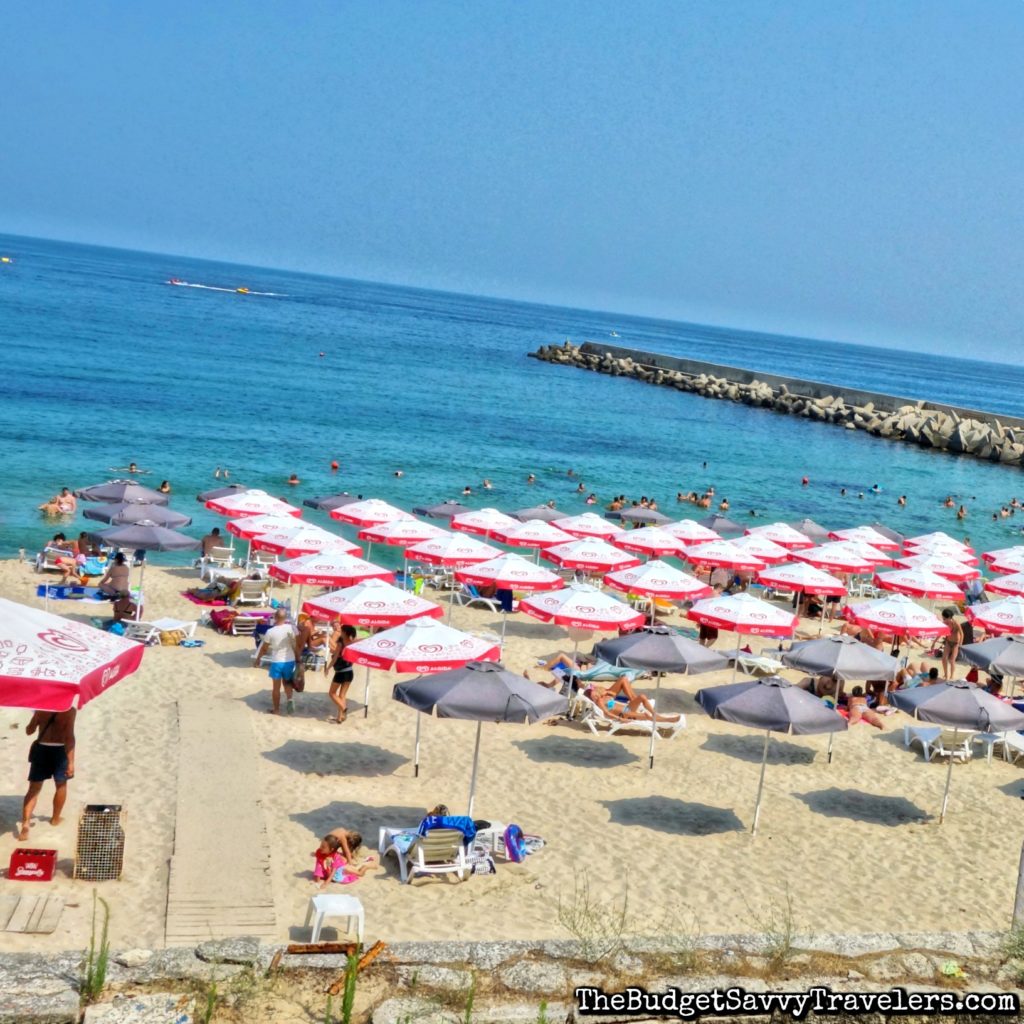 Black Sea Travel Tips
Locals on the Black Sea coast recommend travelers NOT to drink the tap water. The water is safe, but often causes those that don't typically drink it stomach issues. Even with a filter, there might be minerals in the water that don't agree with most. We switched to drinking bottled water because it wasn't agreeing with us either.
Take time to explore different beaches along the coastline where you are visiting. Beaches in close proximity to one another can vary greatly. Find your favorite for sunbathing, swimming, or to enjoy a local beer.
Our host provided us with beach towels in Varna, so we didn't rent beach umbrellas or beach chairs. Renting an umbrella and two beach chairs in Varna was actually quite reasonable (~$5.00 USD). It was very expensive at the luxury resorts in Kavarna though (~$25-30 USD).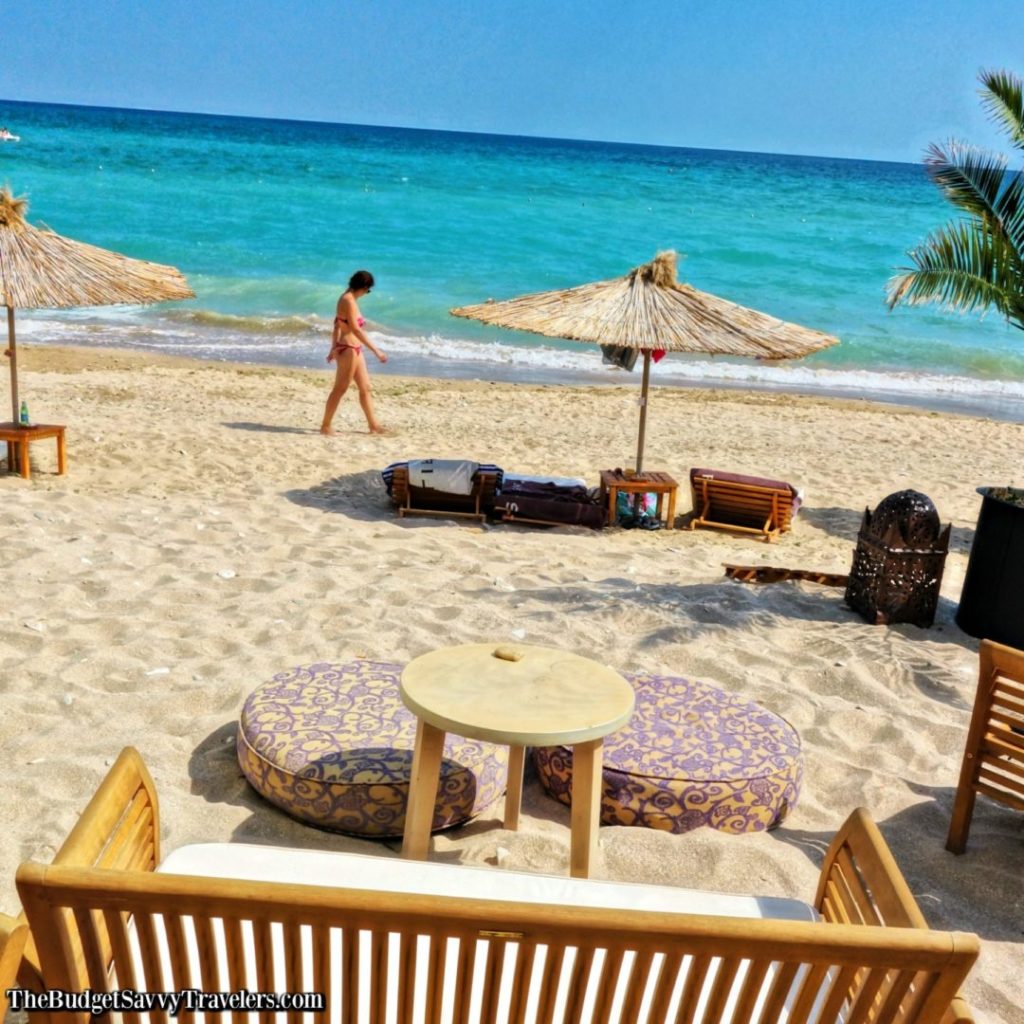 Look at that teal water! You may ask, "Is this the Caribbean?" No, it's Bulgaria! (Bendida Beach, Bulgaria).
Transportation & Costs
If you're backpacking Bulgaria's coastline, be aware that the main mode of transport is a bus, which typically is a van. Costs vary of course but expect to pay around $4 USD per person each way.
You must taxi to your accommodation if your host or hotel doesn't offer to pick up from the bus station. As an example, we paid ~$7 USD taxi from Kavarna bus station to Kaliakria Resort.
We headed to the coast by bus from Veliko Tarnovo to Varna ($11 USD per person). Then, we took a van to reach Kavarna from Varna which we boarded from the Varna bus station. From Kavarna, we took another van back to Varna. (Time between Varna to Kavarna is ~1.5 hours).
We left Varna by train and headed to Ruse, Bulgaria. This was our last stop in Bulgaria before heading towards Romania. Lots of folks love to talk about their favorite beach destinations in Bulgaria. If you have any recommendations or suggestions, please sound off in the comments section below. We'd love your thoughts. It's definitely one of our favorite European countries.