What are the best day trips from Podstrana, Croatia by scooter? Podstrana is a small seaside community located about 5 miles south of Split, Croatia. It's popular for its beautiful turquoise beaches, which stretch along a 4.5-mile coastline making it an attractive location to visit. Along with its beaches, the area is famous for is olive orchards, vineyards, and peach trees. Perun Hill and Mount Mosor offer a backdrop to this majestic setting, creating a picturesque Mediterranean experience.
You could easily spend your time visiting the local beaches and Split's Old Town and walk away completely satisfied. However, if you're looking to add a little bit more sightseeing and excitement to your life, it's possible to rent a 50cc scooter to enjoy some amazing day trips.
Inner Dalmatia
You're doing yourself a great disservice by not exploring inner Dalmatia. Instead of hanging out at the beach all day consider taking a trip into the mountains where you can enjoy solitude and nature. You can take a short hike up Perun Hill or a long one to the top of Mount Mosor, both will provide spectacular views of the surrounding area. Game of Thrones fans will appreciate the fact that both Perun Hill and Mount Mosor were featured in the famous television show.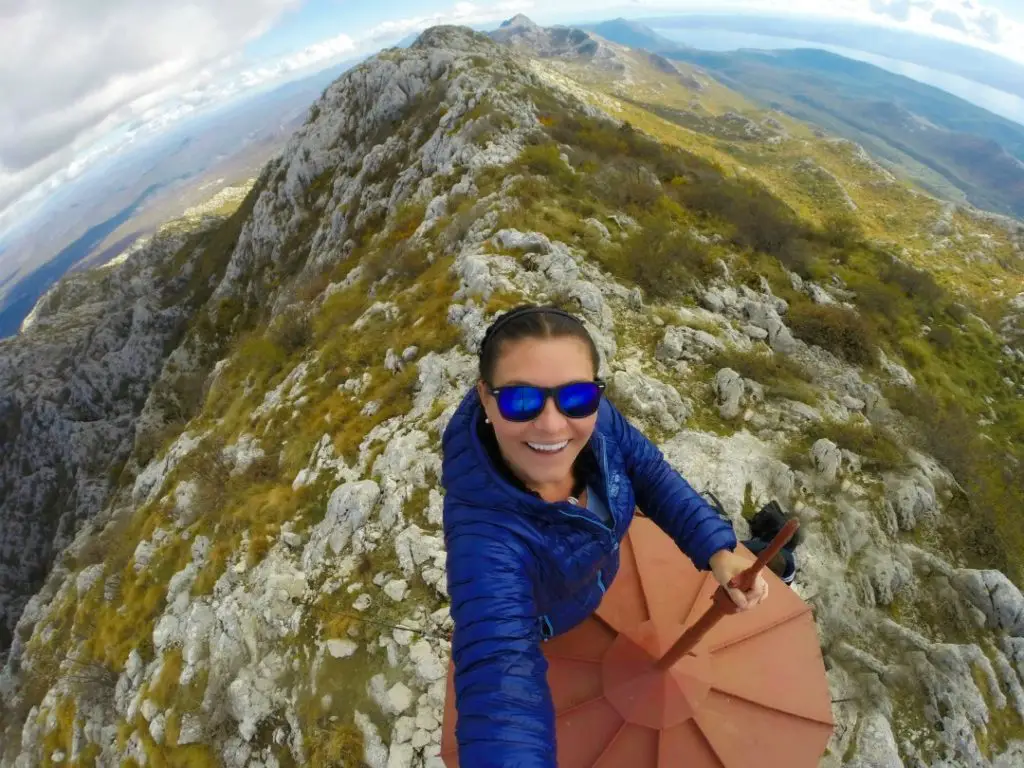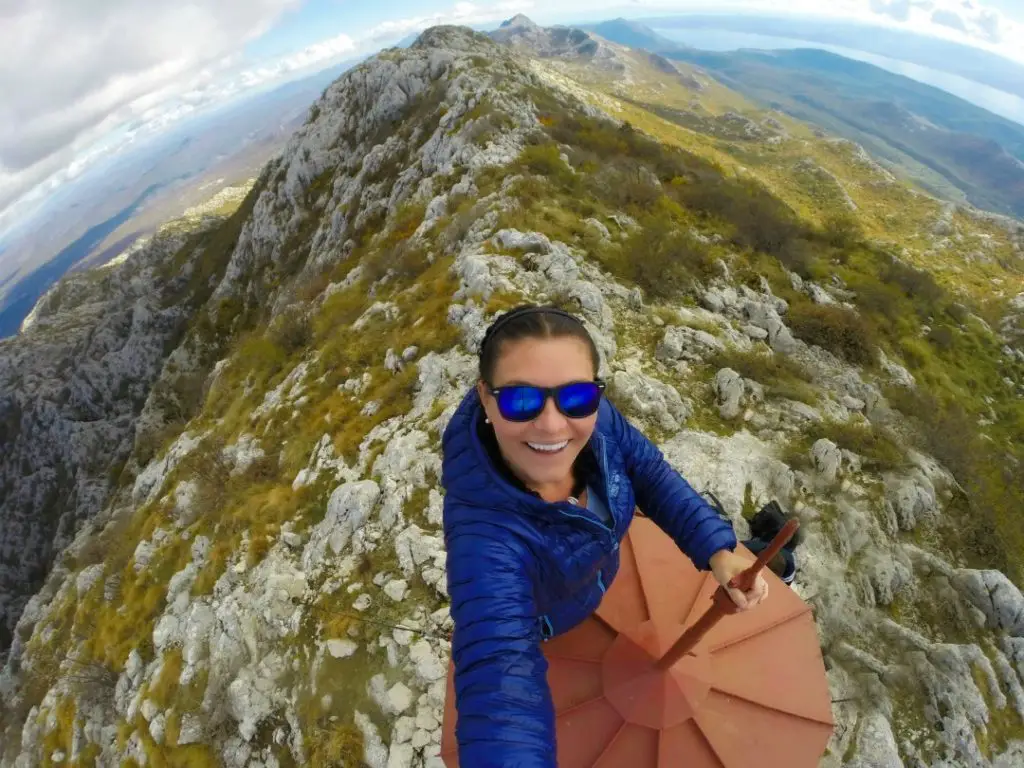 Our favorite hike up Mount Mosor begins near Gornje Sitno. Park your scooter at the lot specified on the map below. There are two options for hiking: a short 45-minute hike to the Mountain Home or the longer three-hour hike to the top of Mount Mosor. Remember those time frames are only one way.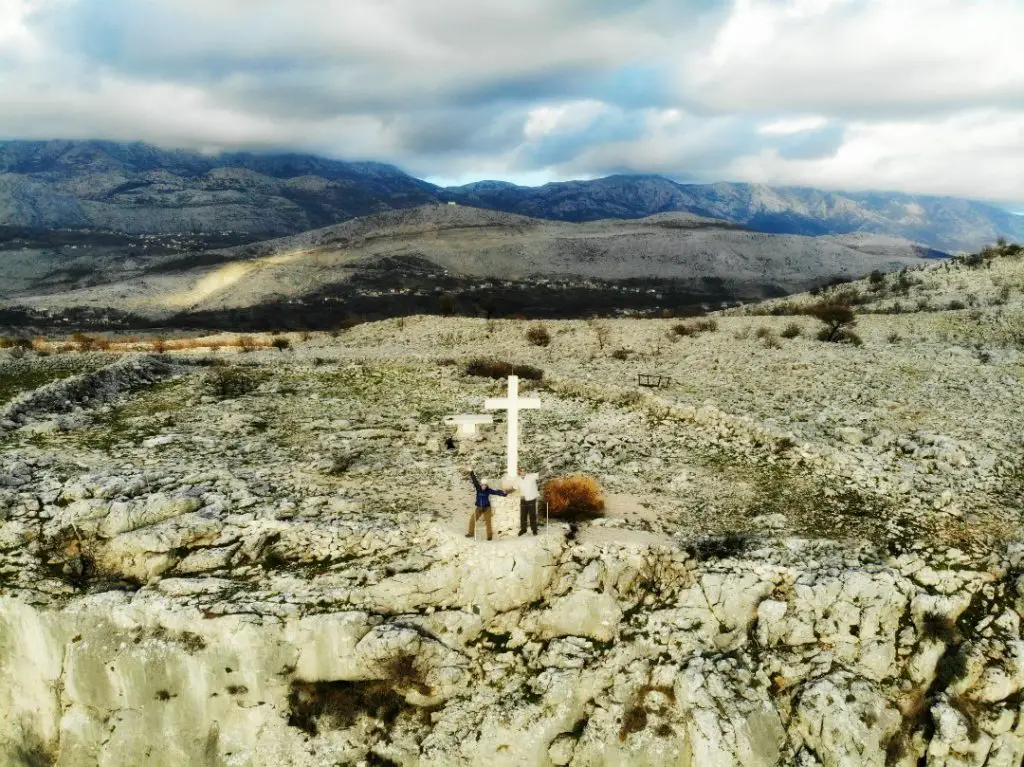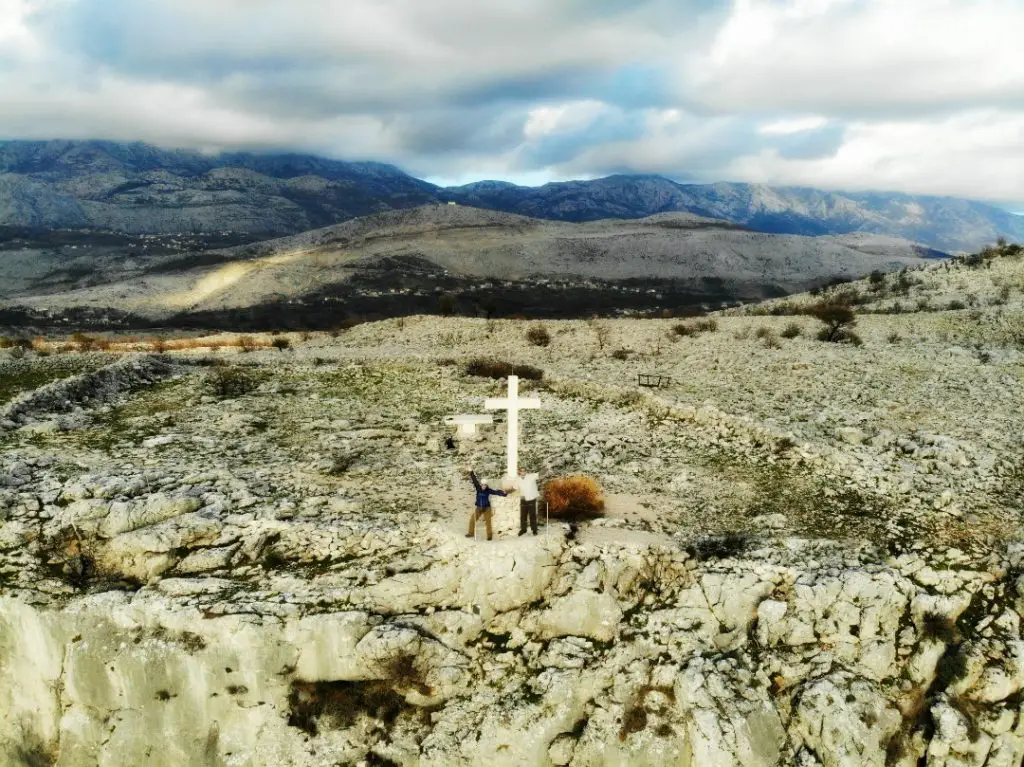 Our favorite hike up Perun Hill begins at Old Podstrana. The Stations of the Cross walk will take you to the Chapel of Saint George. This old church is dated no later than the 11th century.
Cetina Canyon & Omiš
Our route will take you from the mountains down to Omiš. Along the ride, you'll have the opportunity to stop at the Church of the Assumption of the Blessed Virgin Mary and the Ivan Meštrović – Mila Gojsalić statue. Right next to the statue is a beautiful waterfall.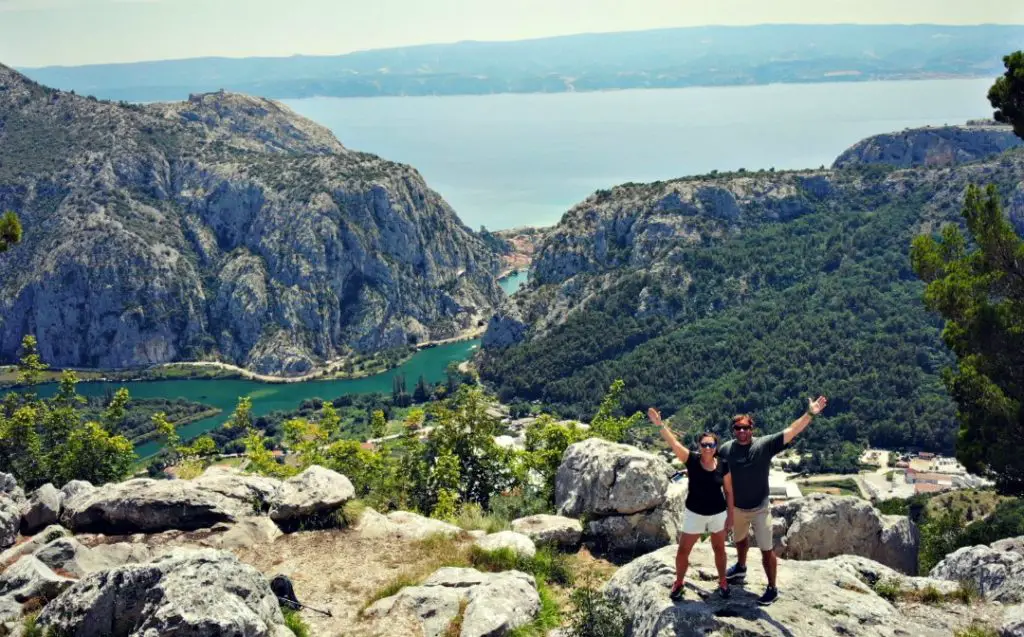 The greatest opportunities for an active vacation are provided in the Cetina canyon, which has enjoyed the status of a protected landscape since 1963. This is where you'll find your extreme activities such as zip-lining, canyoning, kayaking, and rafting. This area also provides scenic walks along the river and sightseeing riverboat tours which depart directly from Omiš.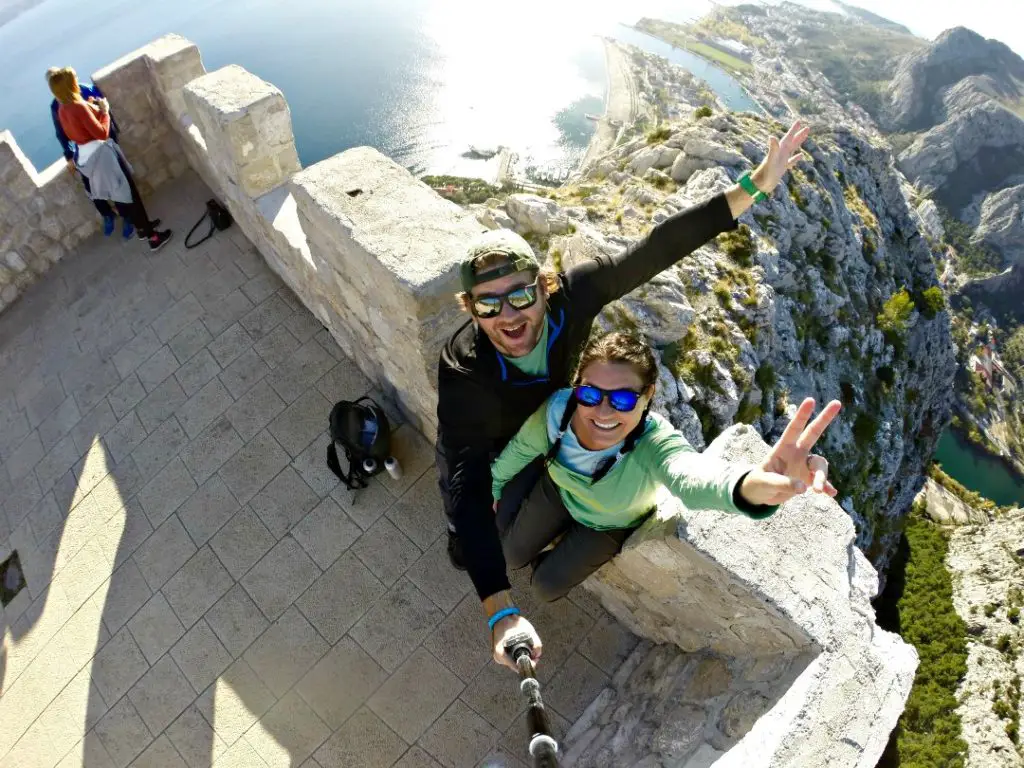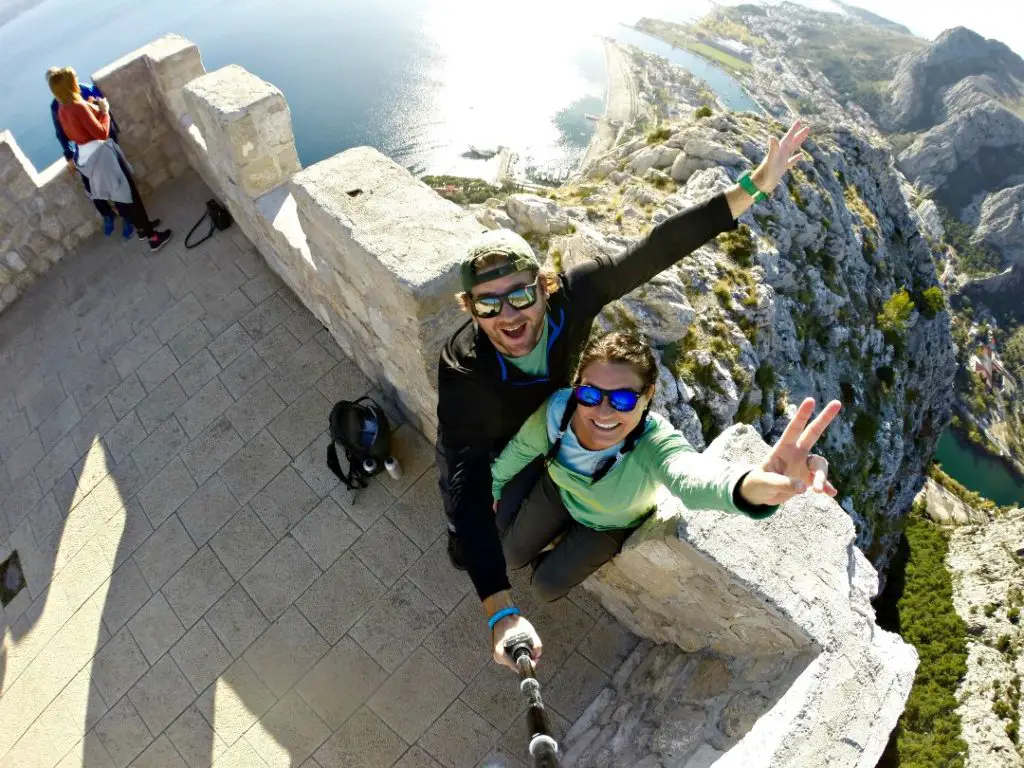 The mouth of the Cetina River hits the Adriatic Sea in Omiš. We encourage you to visit the Old Town and take a stroll up to either the much higher Starigrad Fortress or the lower Mirabella Fortress. Those looking for a coffee stop may appreciate the outdoor rooftop bar called Eol Bar which offers gorgeous views of the fortresses.
Podstrana Riviera
The Podstrana Riviera was blessed with an abundance of beautiful beaches. With a scooter, it's easy to stop and enjoy a beach that may not be very easily accessible by car.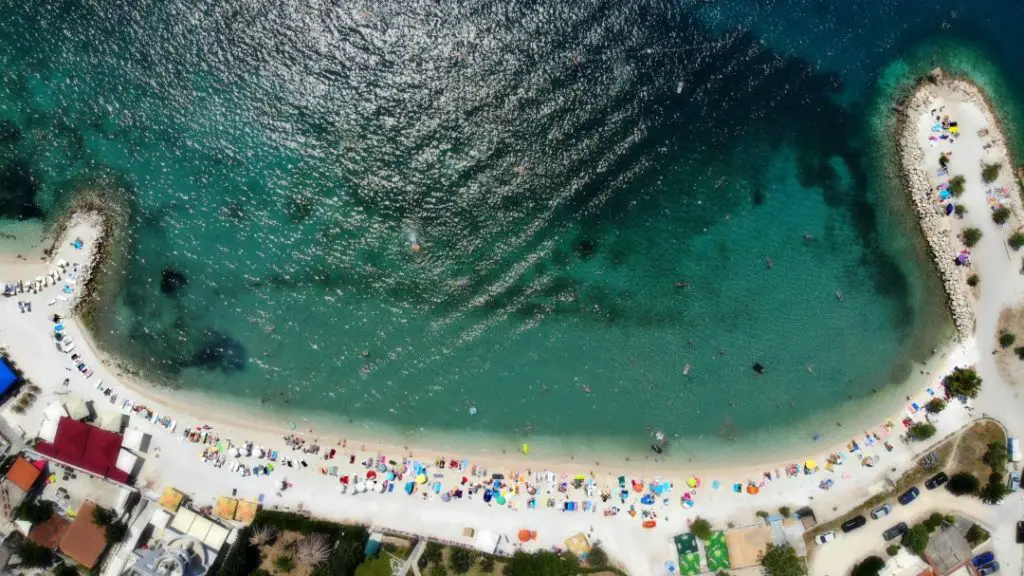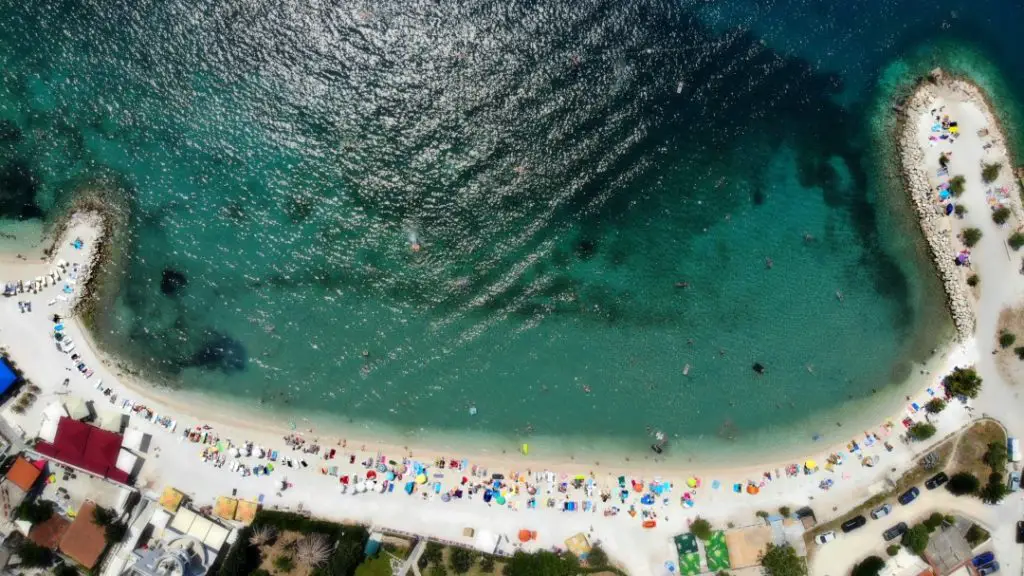 For a great photo opportunity, make sure to stop at the huge stone-made replica of the legendary King Arthur's sword sticking out of the beach near Cafe Porat.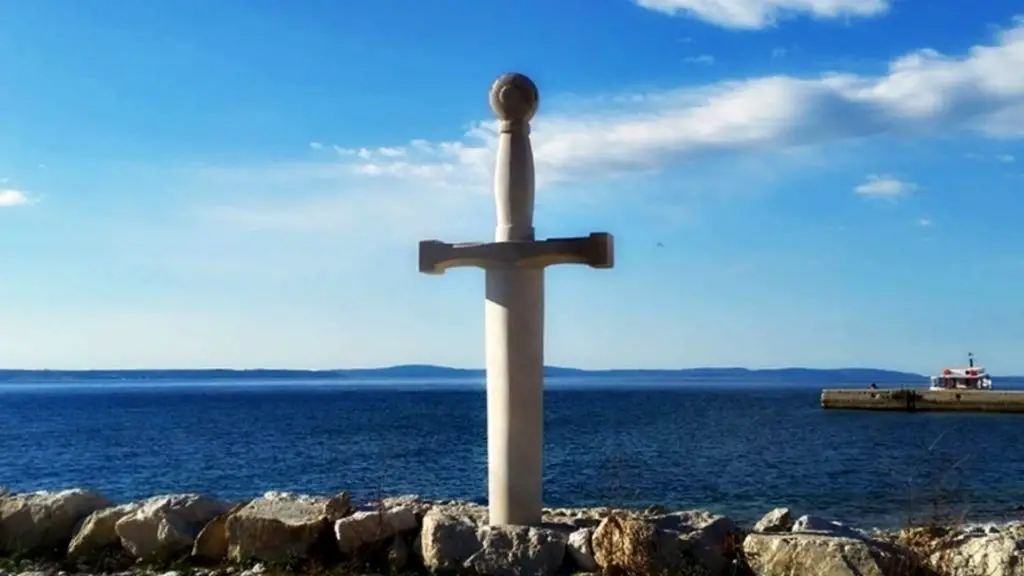 Apparently, fragments of the inscription on the sarcophagus of Lucius Artorius Castus (2nd century AD), found in the nearby fence surrounding the old church of St. Martin, document historic evidence of his ancient asylum and a long time gone empire. In other words, King Arthur may have been buried in Podstrana.
Salona
Many tourists visiting Split will often skip visiting the ruins of the Roman city of Salona, even though it's only about 3 miles away. The ancient city has been overshadowed by the much more popular Diocletian's Palace.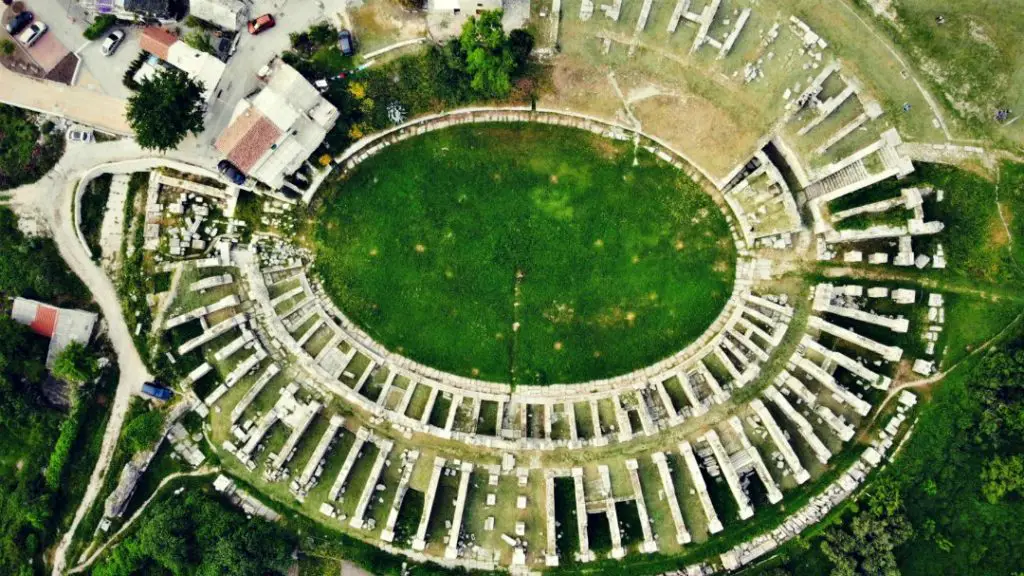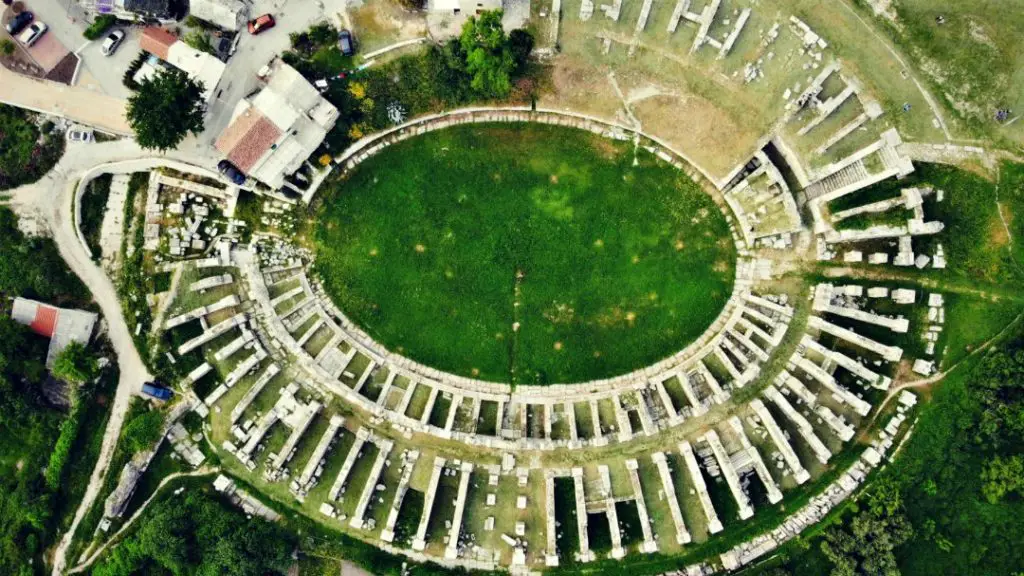 The highlight of visiting Salona is the magnificent remains of a 2nd-century amphitheater, which is regarded to have had a capacity of holding about 20,000 spectators.
Trogir & Čiovo Island
Delightful Trogir is set on a tiny island within medieval walls. It's linked to both the mainland and to the far larger Čiovo Island by two small bridges. During the summer months, the Trogir Riva is jam-packed with tourists looking to enjoy the small Old Town. Parking a car in this area can be a real nightmare. However, on a scooter, it's a piece of cake. Speaking of cake, find a nice spot on the Riva and order a coffee and cake and savor the views of the swaying palm trees and sea breezes.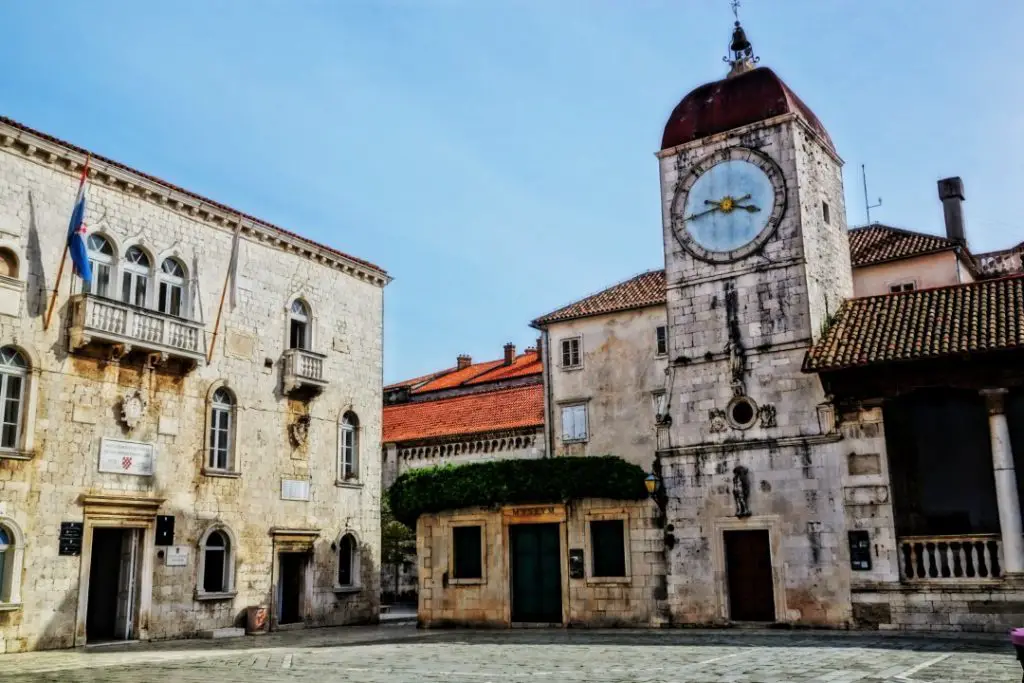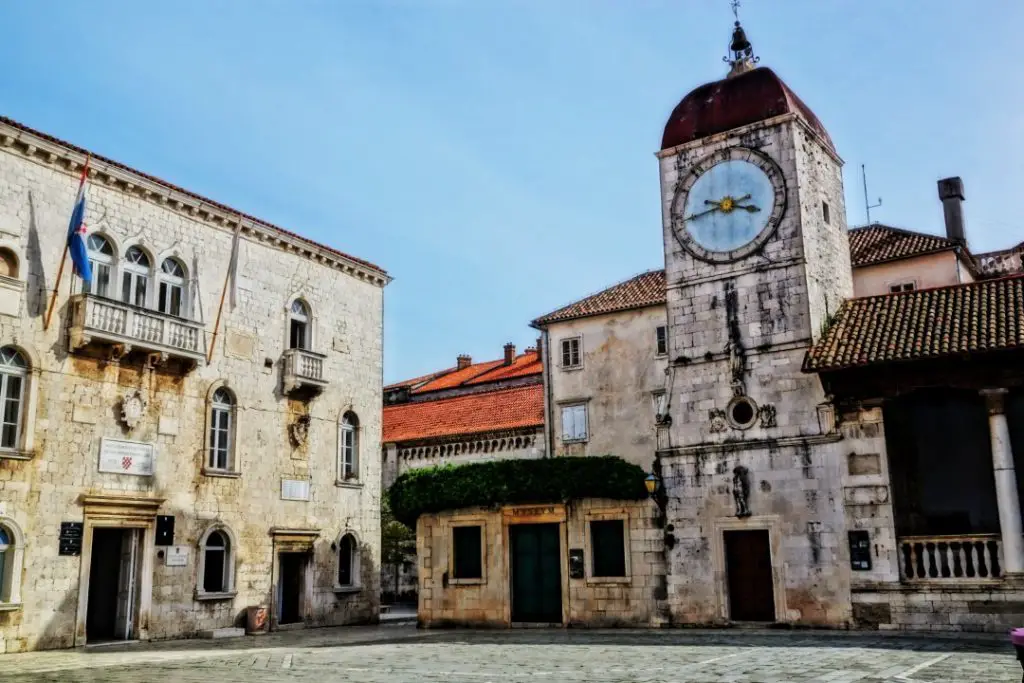 The extremely nearby island of Čiovo has one spectacular beach that you simply must go to…you must! Labadusa beach is in a protected bay and provides swimmers with crystal clear calm water. This relaxed hidden beach provides views of Marjan Hill and Split.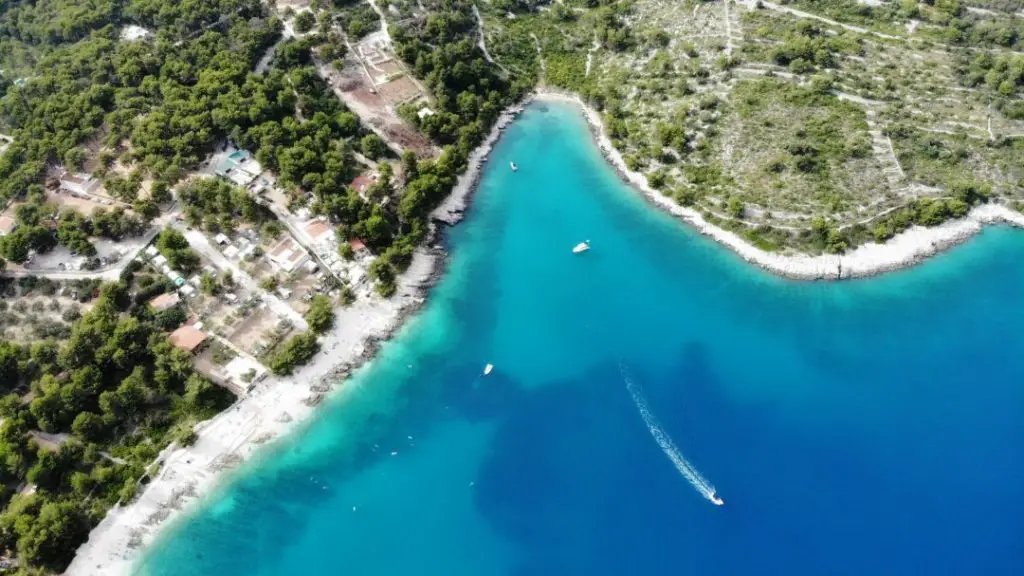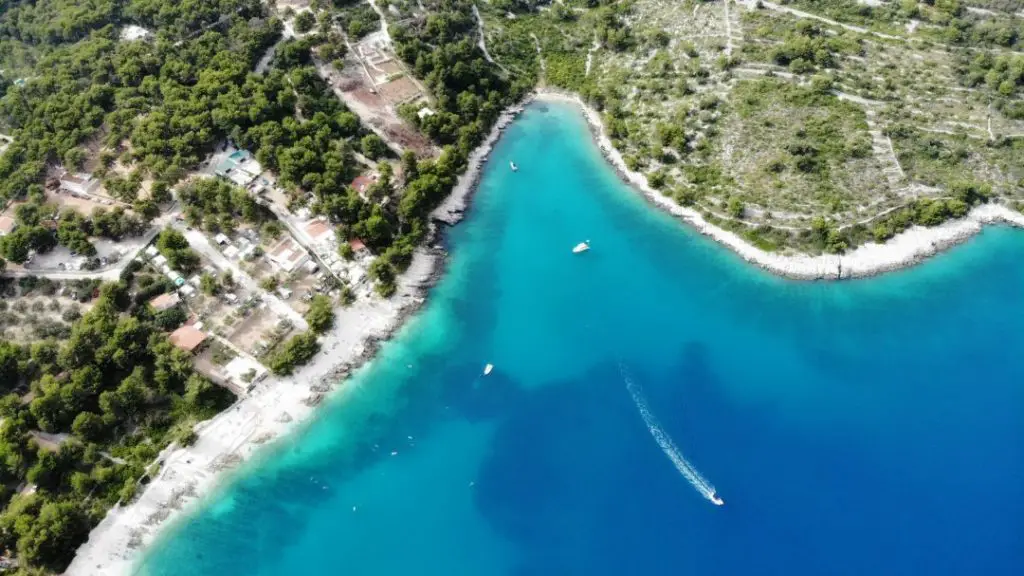 Looking for a little more excitement? Head over to Okrug Gornji beach to add a little bit of spice to life. This beach has everything from restaurants to cafes, bars, water sports, and supermarkets.
Šolta Island
Although it's the closest island to Split, no one seems to talk about the island of Šolta very much. However, Šolta is probably the best island to explore by scooter on a day trip from Podstrana. It's only a 45-minute ferry ride from Split to the main port of Rogač. As opposed to the other nearby islands, like Brač and Hvar, the terrain on Šolta is quite manageable on a 50cc scooter.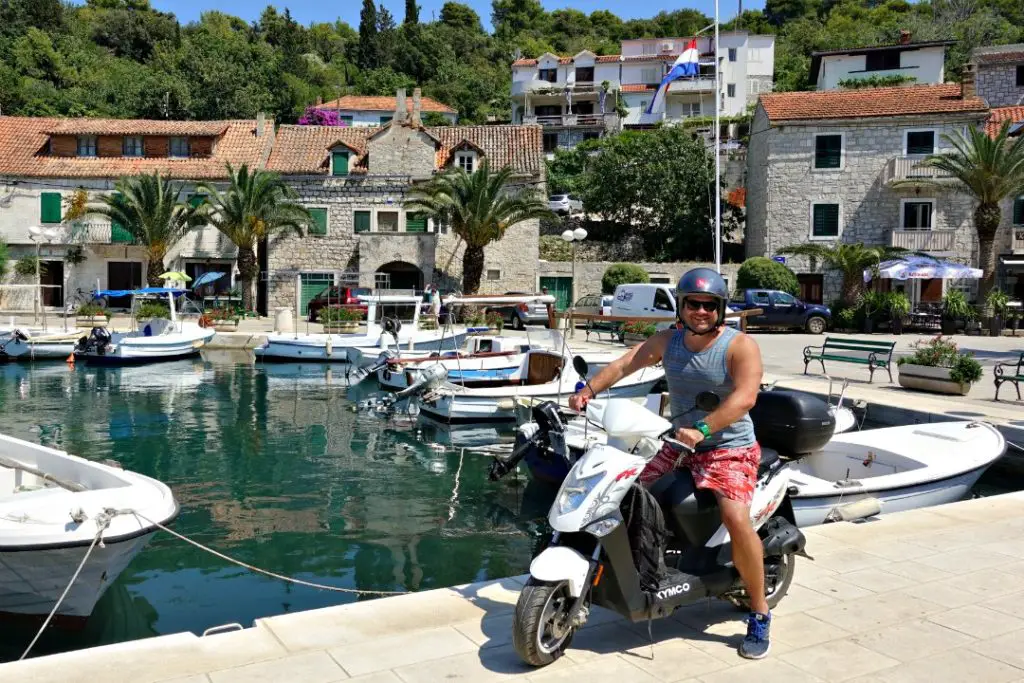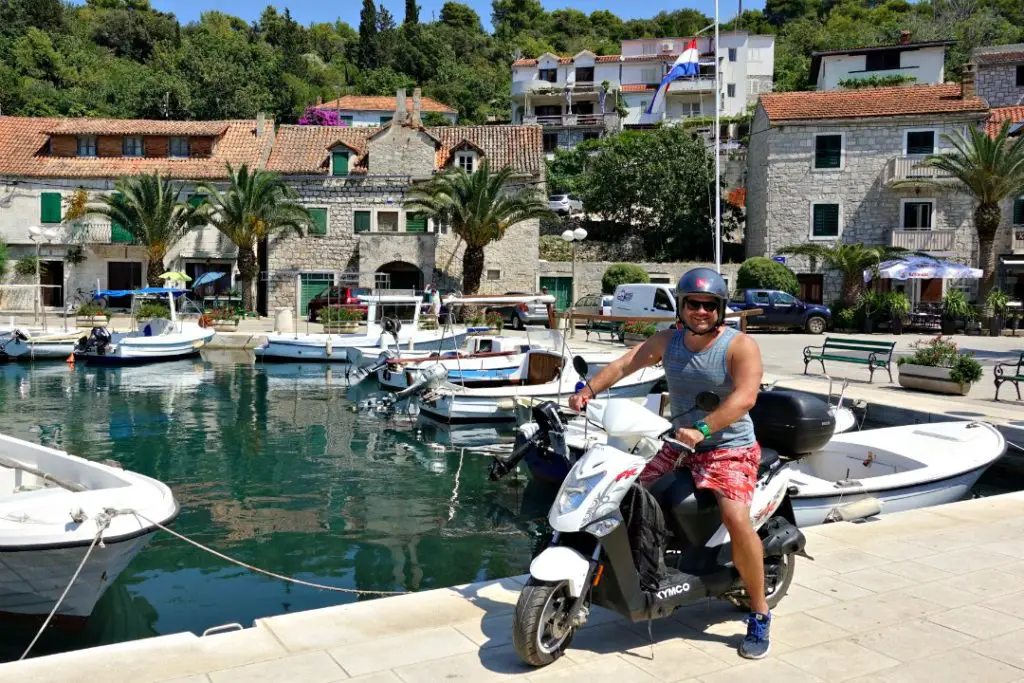 Šolta offers open roads, secluded bays, and lovely rental homes along the coast. When the hordes of summer tourists are flocking to Hvar, Brač, and Vis, Šolta remains quiet and serene. If you're looking for an island to find peace, this may be your best bet.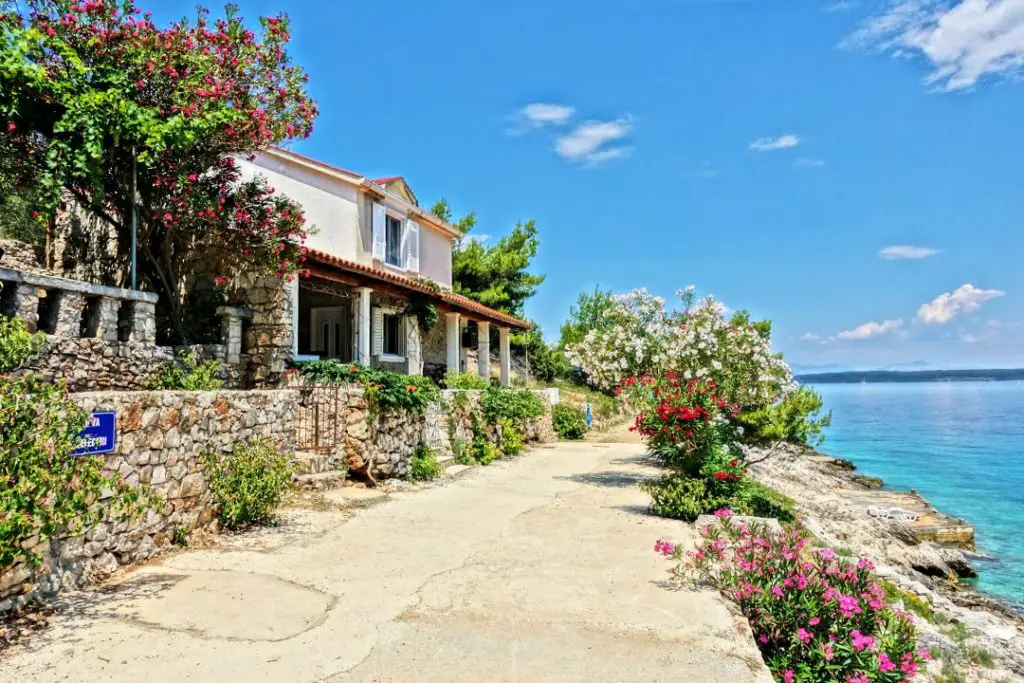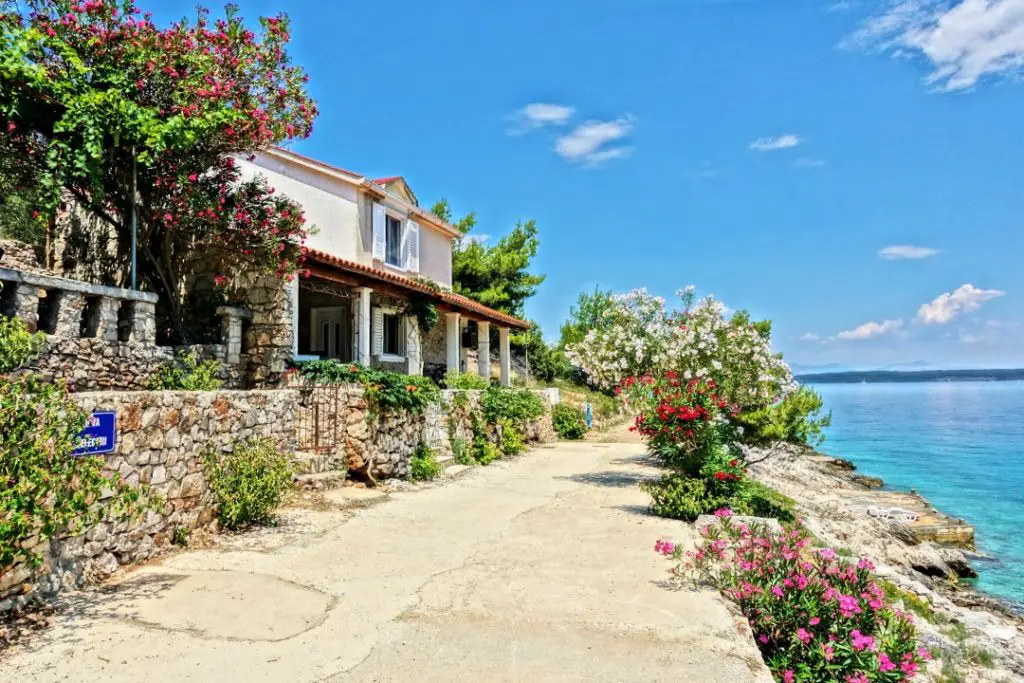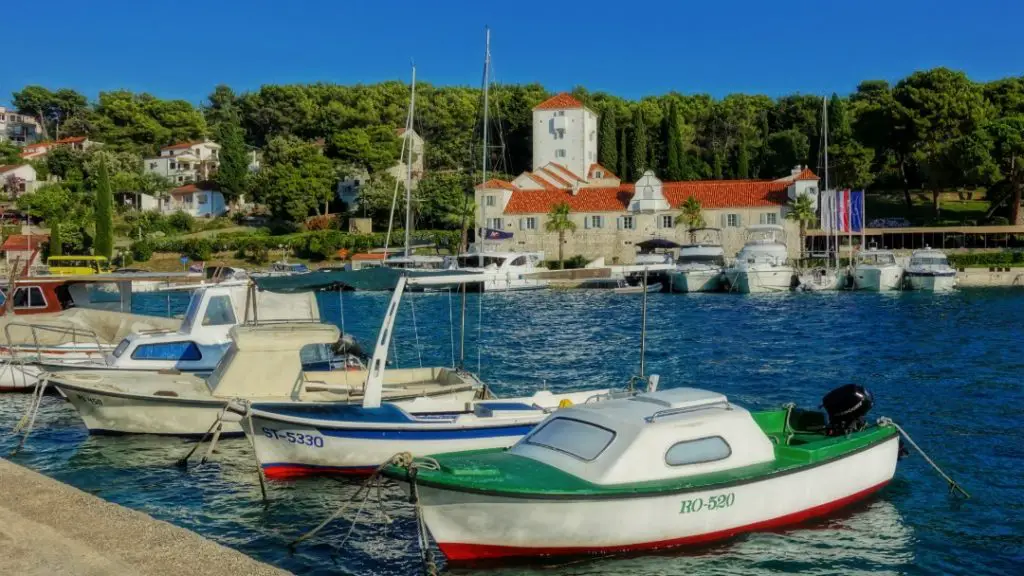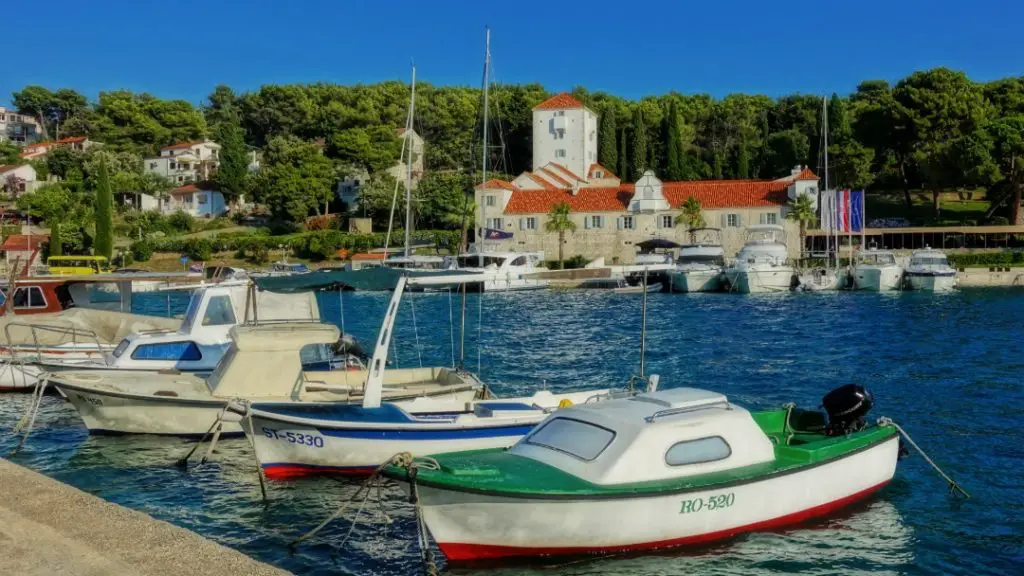 Driving around, you'll notice vineyards and olive groves. In fact, Šolta has olive trees older than 1,000 years old. Be sure to stop at the Slavića castle and Martinis Marchi castle which has been converted into a luxury hotel.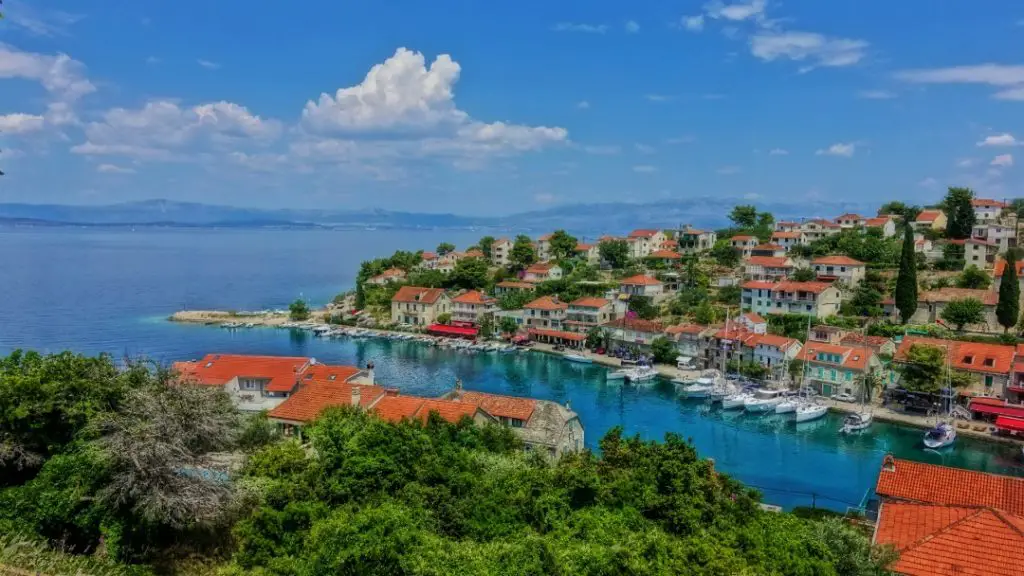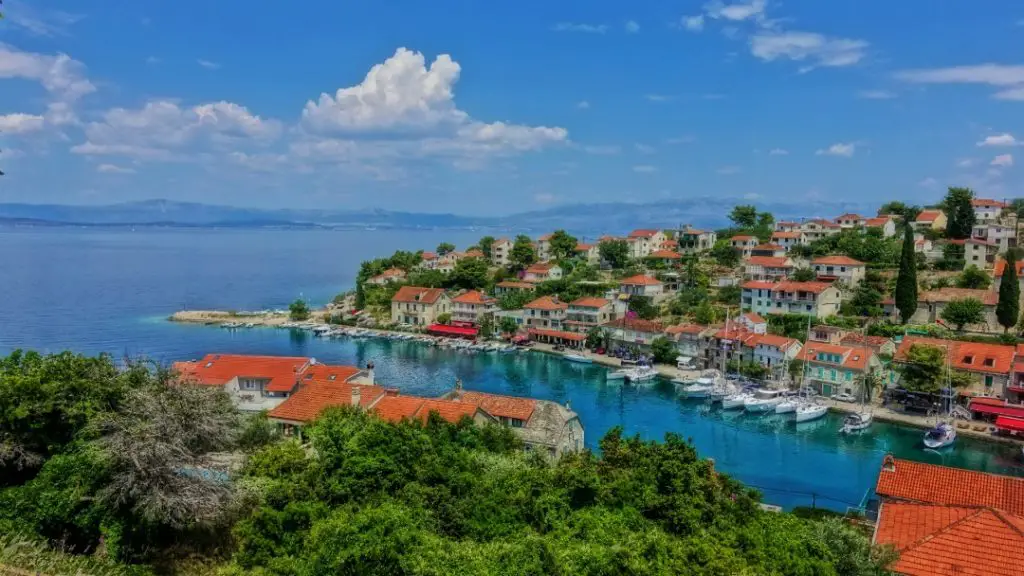 Stomorska is the largest and most developed village. It is located on the northeastern part of the island. Here you'll find the busiest part of the island with the most excitement and energy. Stomorska offers a charming promenade, cafes and restaurants, a public drinking well, and some nearby turquoise bays for easily accessible swimming.
Maslinica, on the western side of the island, offers a more laid-back, beachy vibe with seaside cafes bars. The main beach is opposite the marina. It sometimes has more turbulent waters as it isn't as protected as some of the other bays and beaches on the island.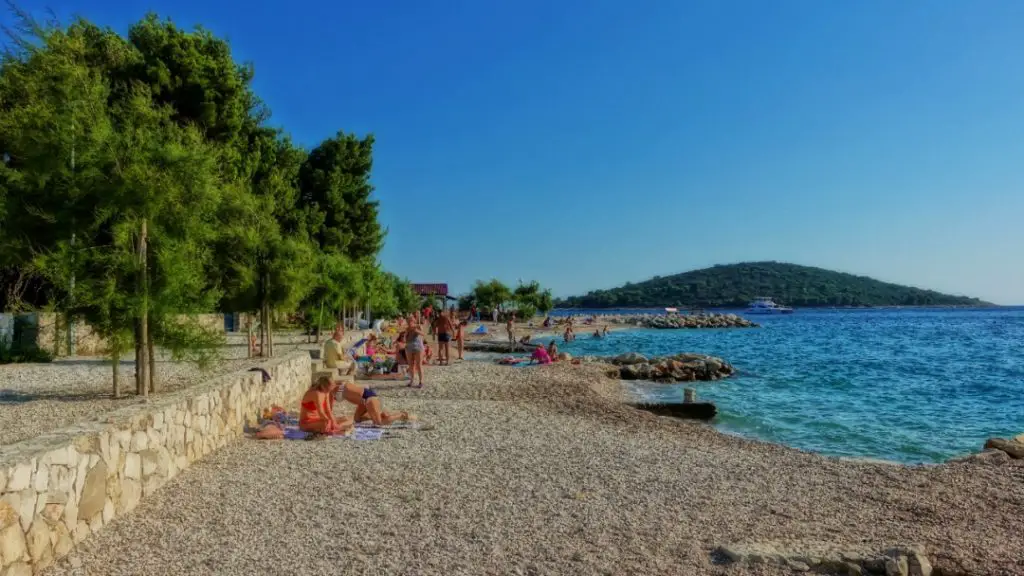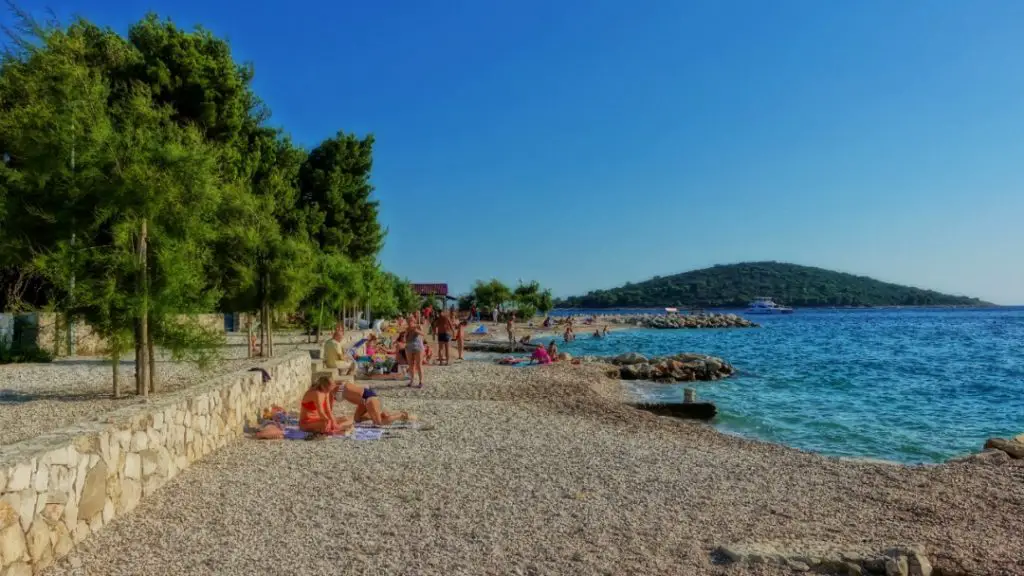 Stračinska Bay
Located on Šolta, Stračinska Bay is probably the most beautiful beach on the island. Due to its remote location, you'll likely have this dreamy destination all to yourself. Although many of Šolta's 24 bays are only accessible by boat, Stračinska Bay is accessible by scooter.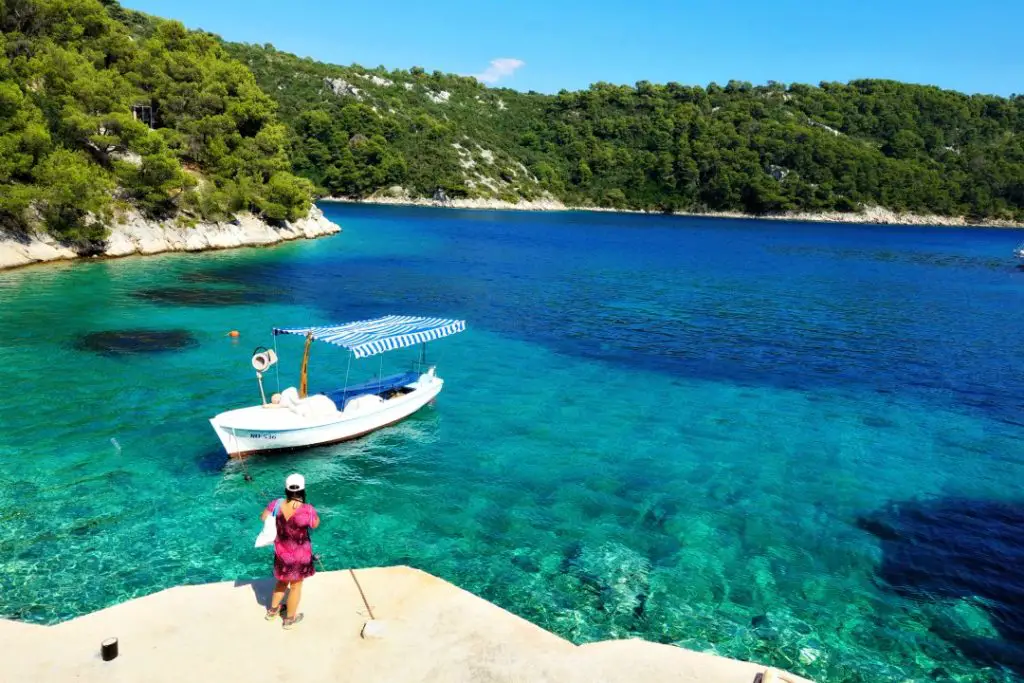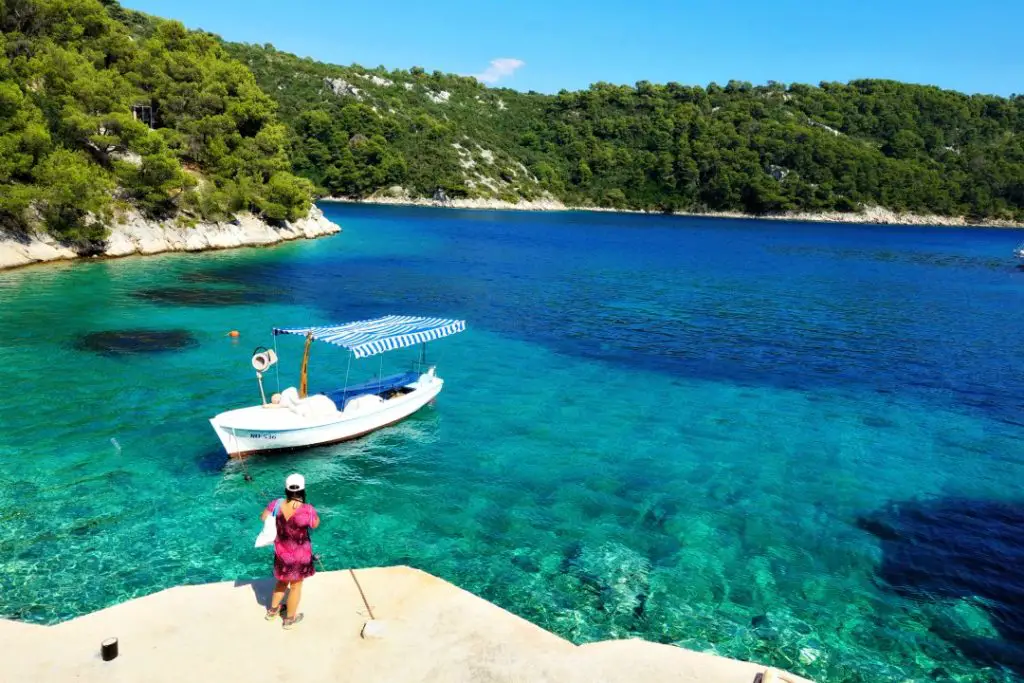 ---
The Best Place to Rent a Scooter in Podstrana
Inspired to get your own set of wheels to explore beyond Podstrana? We rented our 50cc scooter easily through Avere Tourism. They offer scooter rentals with helmets and insurance. The office is conveniently located in the village of Podstrana, next to the Visit Podstrana Tourism Board. They offer a support team that is available 24/7 and tours to all the hotspots in the region. Tell them The Budget Savvy Travelers sent you!