If you're looking for the best restaurant at Las Vegas Airport (Harry Reid International) and not simply fast food then you're going to want to eat at one of these 10 restaurants. Whether you're looking to enjoy a filling meal before or after your flight, the restaurants below provide the best dining options for Vegas travelers.
Naturally, the restaurants available to you will depend on what terminal you've been assigned. Therefore, travelers should choose a restaurant based on the terminal and gate that they're departing from or arriving at.
Most of all, remember, it's an airport restaurant, you're not eating at the best restaurants on the Strip. Expect high prices and lackluster service. Nothing in Las Vegas is set up to save you money. Generally, you're paying for convenience and a comfortable place to sit to kill time.
Airport Terminal Overview
As a small airport, Harry Reid International International Airport is easy to navigate. There are only two terminals: Terminal 1 and Terminal 3.
Terminal 1: The main domestic terminal with flights operating from A, B, C, and D gates.
Terminal 3: The international and domestic terminal with flights operating from D and E gates.
If you're curious why there is no Terminal 2, it was demolished after Terminal 3 was constructed. Consequently, Terminals 1 and 3 are not connected so verify your terminal before arrival.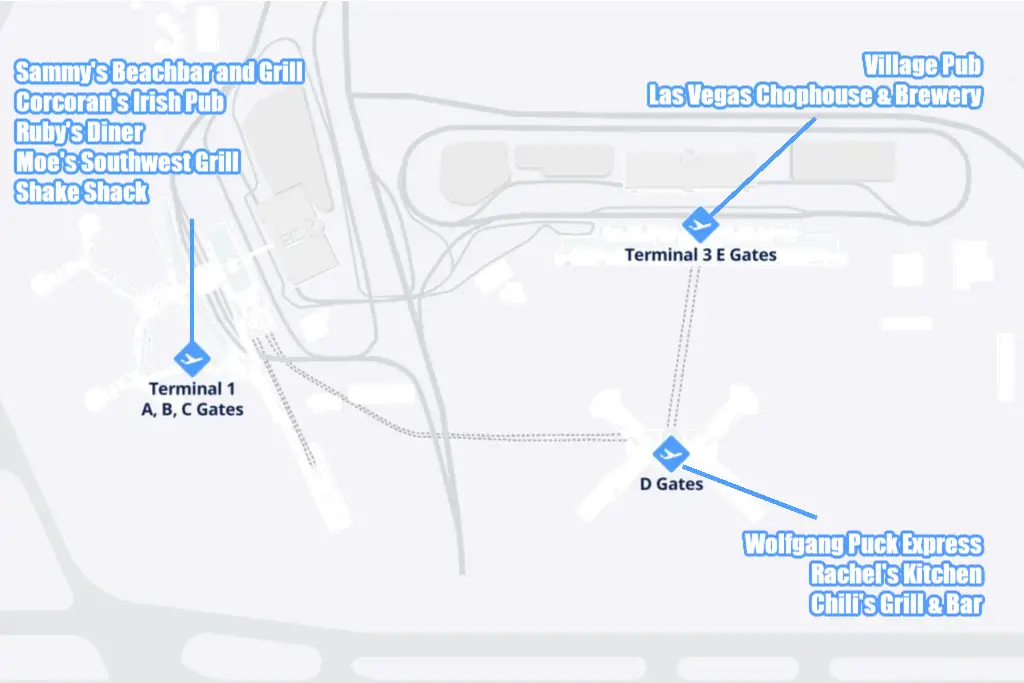 In the unfortunate event that you go to the wrong terminal, there is a shuttle bus that takes passengers between the two. The shuttle bus stop is on Level 0 of Terminals 1 and 3 and runs every 15 minutes.
Quick Foodie Guide Las Vegas Restaurants
Want something specific? This easy foodie guide provides a quick summary. If you're looking for…
Steak Dinner: Las Vegas Chophouse & Brewery
Beer Flights: Village Pub
Pizza: Wolfgang Puck Express
Fine(st) Dining: Las Vegas Chophouse & Brewery
Fish & Chips: Village Pub
Healthiest Options: Rachel's Kitchen
Gluten-Free Options: Wolfgang Puck Express, Shake Shack
Vegan Options: Shake Shack, Rachel's Kitchen
Pescatarian Options: Las Vegas Chophouse & Brewery
Below is a brief description of each of the 10 best Las Vegas Airport Restaurants. However, before we get into that let's talk about what you should do in Vegas.
Top-5 Tours in Las Vegas
💡 After you've hit up the Strip, add one of these thrilling tours to your itinerary!
Do you want to do something unique or get off the beaten path? Click here and Try Viator: the world's largest online marketplace for tours, activities, and attractions with the best prices.
Terminal 1 – Las Vegas Airport Restaurants
1. Sammy's Beachbar and Grill (⭐ 3.7)
Owned by Sammy Hagar, some travelers choose to dine at a celebrity-owned restaurant, even if it's in the airport. While the beach-themed atmosphere lures many into the restaurant, and seating can be tight. Also, breakfast burritos and coffee are good options in the morning. Overall, portions are large and most guests enjoy the West Coast vibes.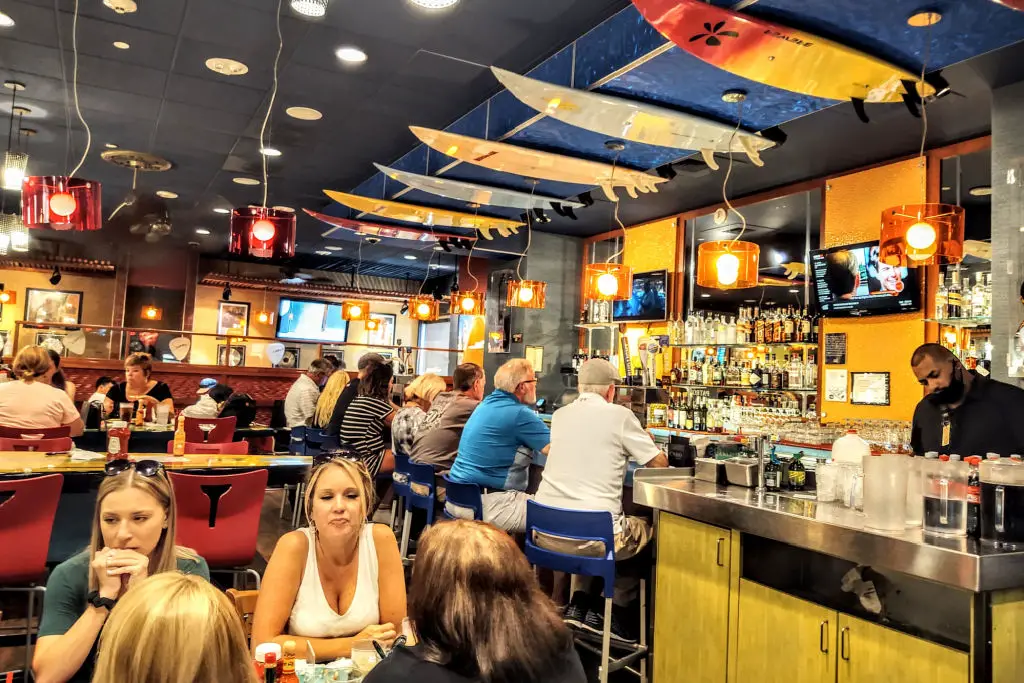 Finally, watch out for hidden fees. For example, if you order nachos and the server asks if you'd like sour cream or guacamole with it—it ain't complimentary, you're going to pay for it.
Best bets: Cocktails, Bloody Mary
2. Corcoran's Irish Pub (⭐ 3.8)
Earning the rank as the best bar at Harry Reid Airport, Corcoran's Irish Pub serves up cold beer and a clean, cozy environment. Pub food here is prepackaged deli-style items but if you purchase a drink, travelers may bring outside food to the bar.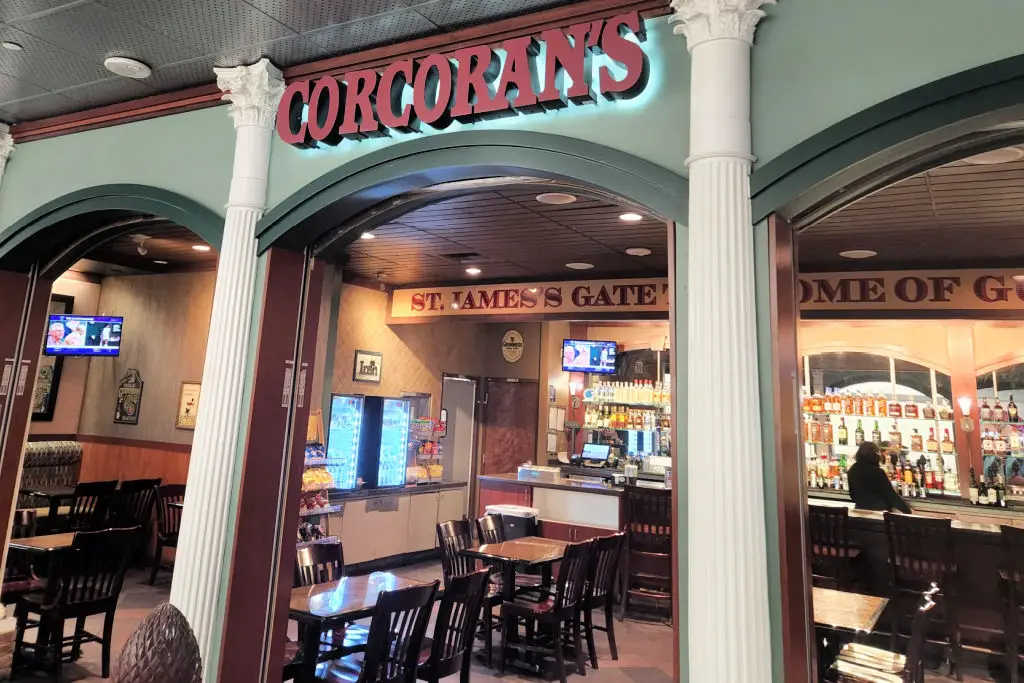 Generally, most travelers come for the cold Guinness and to enjoy a quiet spot in the busy airport. Considering that most of the restaurants serve up the same pre-frozen burgers and fries, the grab-and-go fresh salads, turkey sandwiches, chicken wraps, and chips may not be the worst option before a long flight.
Best bets: Guinness, Southwest Chicken Wrap
3. Ruby's Diner (⭐ 3.6)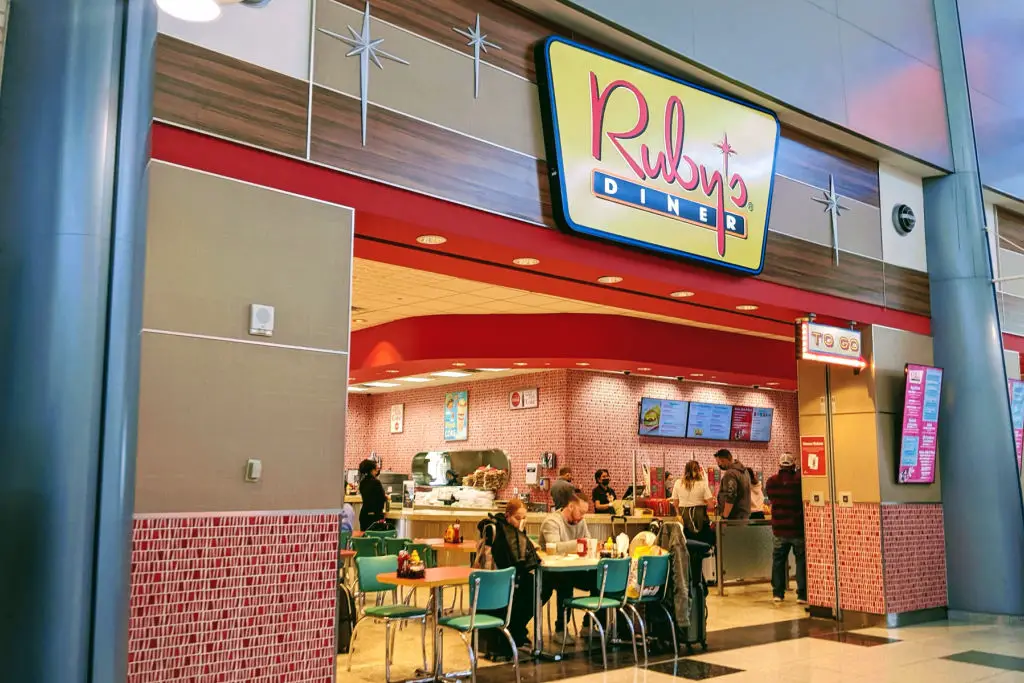 A retro American-style restaurant, Ruby's Diner lures people in with jukebox tunes and lots of space to relax before a flight. The menu consists of classic comfort food and breakfast items are served until 10:30 a.m. Just be aware that service can be lacking and all orders are served in plastic to-go containers.
Best bets: Onion Rings, Shakes and Floats
4. Moe's Southwest Grill (⭐ 3.6)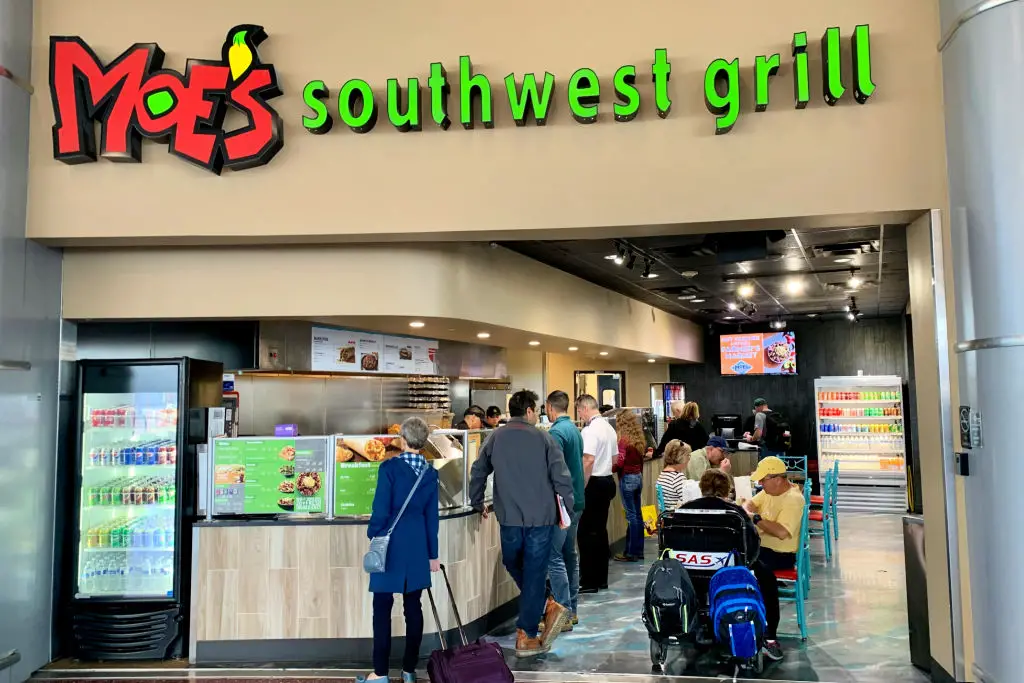 Some describe Moe's Southwest Grill as a Chiptole knockoff, offering pricey Americanized Mexican food. Considering the more expensive alternatives nearby, Moe's is regarded as the more budget-friendly option. Morning travelers do appreciate breakfast burritos and coffee. Repeatedly, traveler reviews state that the steak burritos and nachos are the best items on the menu.
Best bets: Steak Burrito or Bowl
5. Shake Shack (⭐ 4.0)
The Shake Shack may be your best choice for Terminal 1 airport eats. One of the newer restaurants in the airport, this New York gourmet burger chain specializes in buttery potato bun burgers, cheesy fries, and shakes.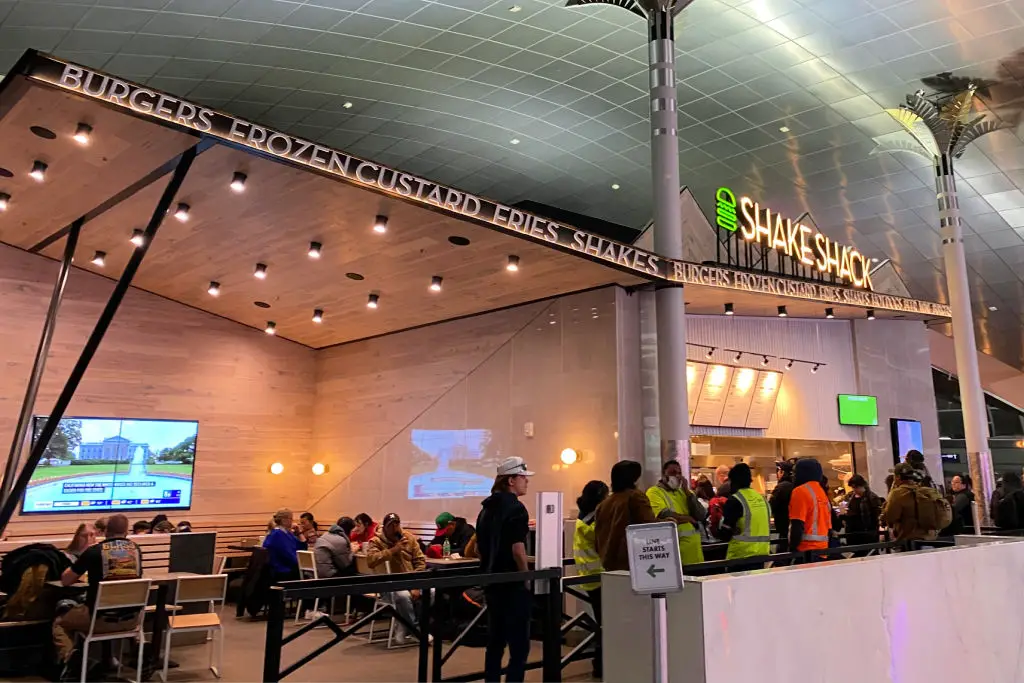 Shake Shack also serves breakfast versions on the same hamburger buns. Those with dietary restrictions can get lettuce-wrapped burgers for gluten-free and fried portobello mushroom burgers for vegans. Expect long lines and wait times.
Best bets: Chicken Sandwich, Shack Burger, Cheese Fries
Terminal 3 – Las Vegas Airport Restaurants
6. Wolfgang Puck Express (⭐ 3.9)
Travelers looking for something beyond burgers and burritos at a sit-down restaurant may consider Wolfgang Puck Express. Described as "lighter fare" and "high-quality airport food," signature dishes include breakfast omelets, chicken wraps, and pizzas.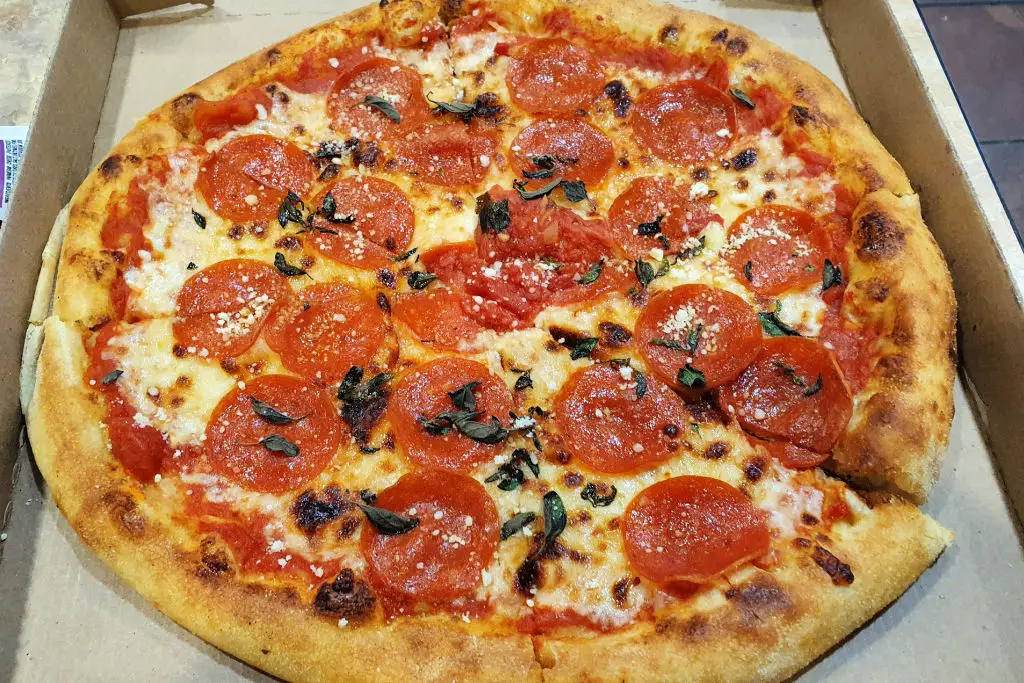 Gluten-free pizzas are also available. With everything served in plastic to-go containers, grabbing a chicken wrap for the flight is a popular travel hack.
Best bets: Avocado Toast, Thai Chicken Wrap, Meat-Based Pizzas
7. Village Pub (⭐ 4.2)
The Village Pub is the highest-ranked sit-down restaurant at the Las Vegas airport. Friendlier staff and consistent food quality leave many reviewers claiming "surprisingly good for airport food."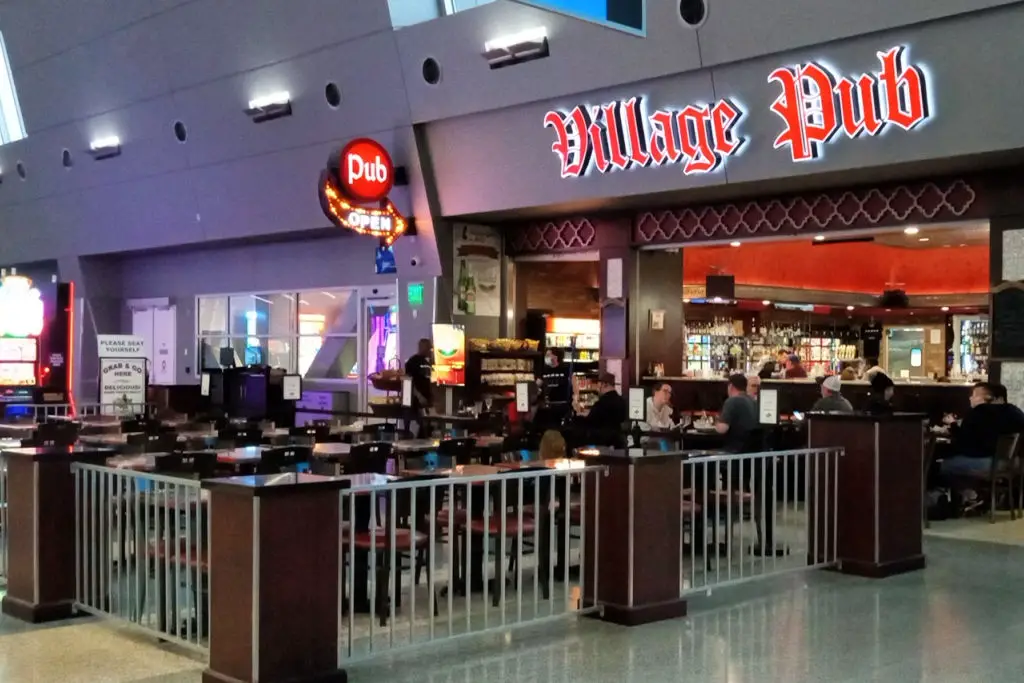 Large portions, comfortable seating, and attentive bartenders bring back repeat customers. Due to its popularity and pub atmosphere, the restaurant can get busy so plan your time accordingly. Fish and chips and Southern Fried Chicken are the house specialties, along with an assortment of microbrews. Enjoy a beer flight if you have time.
Best bets: Fish and Chips, Southern Fried Chicken, Onion Rings
8. Las Vegas Chophouse & Brewery (⭐ 4.0)
Compared to other sit-down restaurants in the Vegas airport, Chophouse tends to leave a better impression on travelers. It also is considered the nicest restaurant in the airport.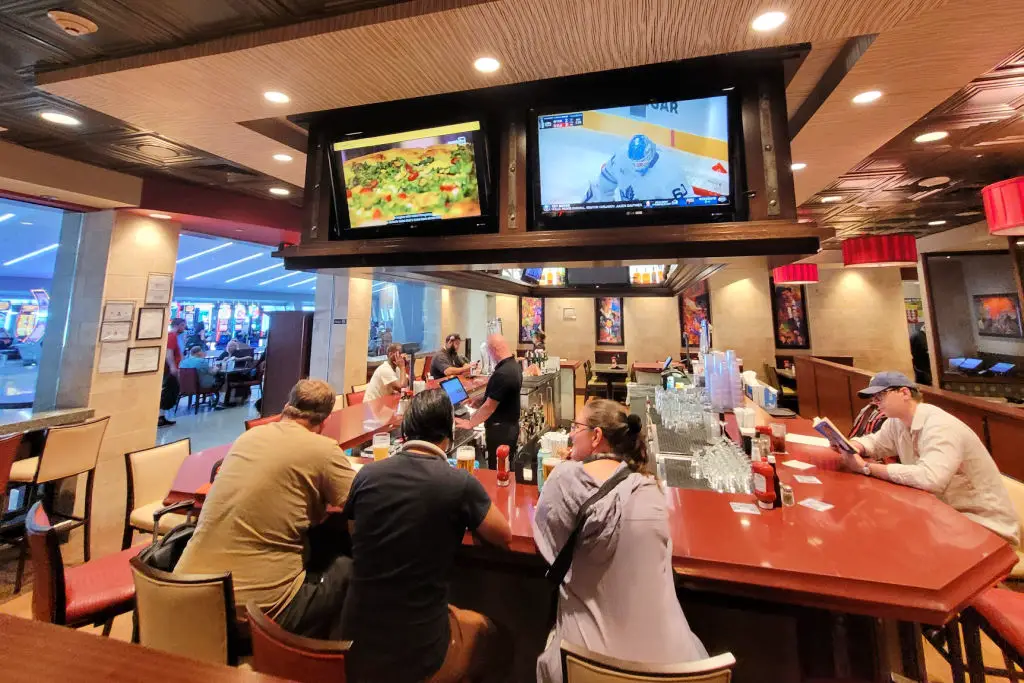 The menu offers more variety and substance than some of the other sit-down restaurants, with lots of dishes to choose from. Fan favorites include the Chicken Chop Salad and Chicago-style prime rib sandwich. The hearty prime rib breakfast burrito also gets positive feedback.
Be sure you allow yourself plenty of time to order and enjoy your meal.
Best bets: Chicago-Style Prime Rib Sandwich, Rueben Sandwich, French Onion Soup, Prime Rib Breakfast Burrito, Chicken Chop Salad
9. Rachel's Kitchen (⭐ 4.2)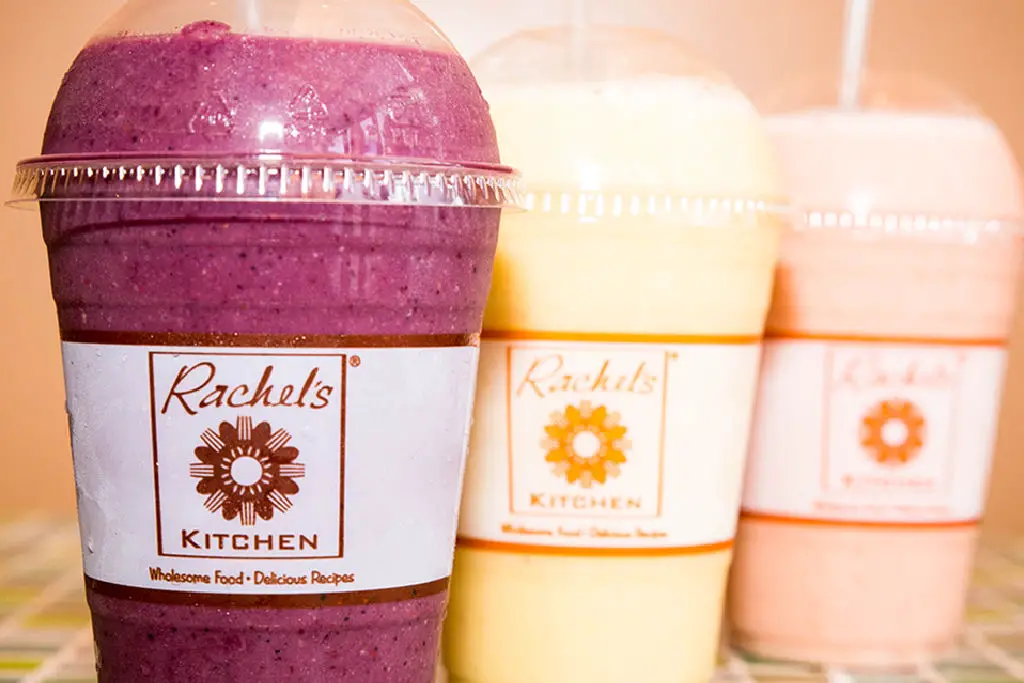 While technically not a restaurant, Rachel's Kitchen is geared toward healthy and fresh, Rachel's Kitchen is probably the best choice for light and tasty food options. Travelers appreciate cleansing food that sits easy on the stomach, especially before a long flight. Choices include smoothies, fresh juices, sandwiches, fruit bowls, oatmeal, and salads,
Best bets: Hawaiian Bliss Smoothie, Breakfast Sandwiches, Watermelon Juice
10. Chili's Grill & Bar (⭐ 3.7)
Chili's is an option for travelers looking for a familiar restaurant chain to sit and relax for a while. This location tends to be very slow so it works for passengers hoping to kill some time before a flight.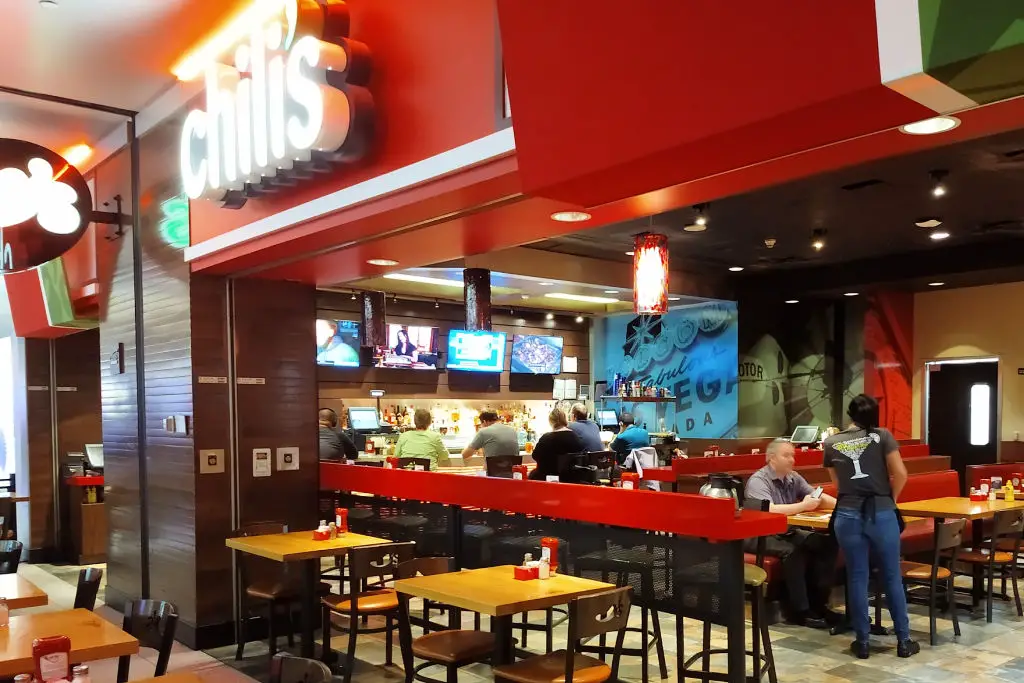 Be advised that the airport location does not offer the same menu, prices, or friendliness as your neighborhood Chili's Grill. It probably only works best for non-picky eaters looking for a sit-down meal that has something besides pizza and burgers.
Best bets: Southwestern Egg Rolls, Chicken Crispers, Chili, Boneless Chicken Wings
There you have the best Las Vegas Airport Restaurants—now you just have to choose one!
We Need Your Help
Did you find this article useful? If so, bookmark it and when you're planning your next vacation click on any of the links below before finalizing reservations. You'll get the best price, we'll earn a small commission, and you'll help support future articles.
Thank you!
TRAVEL TIPS
🏘️ Book Your Accommodation
We use Tripadvisor and Priceline's Express Deals to compare prices and reviews in advance and check availability
✈️ Book Your Flight in Advance
To find the cheapest flight options, you can use WayAway and Skyscanner to find the most suitable choice for you
🚗 Reserve Your Rental Car
Use DiscoverCars and Skyscanner to compare prices and view the largest selection of vehicles